Sid Lapworth

Photo © James V. Roy
Sid was a good friend of ours and as a former salesman and manager at O.K. Houcks in Memphis in the '50s was responsible for selling the instruments that many of the area musicians would go on to use to help shape the course of Rock and Roll and hence American Pop Culture.
Sid's obituary:
Thomas Sidney "Sid" Lapworth, Sr., Sunday, March 3, 2013.

Born in Memphis, Tennessee on September 12, 1924.

Sid was a lifelong professional musician, having begun his career in an ROTC band in high school. He served during World War II in an Army band playing for departing and returning troops. After graduating from Memphis State College he continued his musical career as a high school band director and choir director. In addition to playing in big bands and jazz bands, he had a long tenure in music sales. Currently Sid was on leave from a Columbus band, Trombones Plus.
Preceded in death by first wife, Mary Ann Lapworth and second wife, Lois Lapworth, he is survived by sons Tom (Nancy) and Paul (Cathy) Lapworth, Tim (Stephanie) and Hugh (Mary) McMichael; daughters Patricia Pellerite, Susan (Dale) Linebaugh, Mary Beth (Brent) Apgear, Joan (David) Hawkins, Theresa (John) Reed, and Cheri (Danny) Leasure; sisters-in-law Helen Hogan and Charlene Shafer; brother-in-law Paul Grusenmeyer; 22 grandchildren and 6 great-grandchildren; numerous nieces and nephews.
Friends may call Wednesday, March 6 from 2 to 4 P.M. and 6 to 8 P.M. at EGAN-RYAN FUNERAL HOME NORTHWEST CHAPEL, 4661 Kenny Road, Columbus Ohio 43220 where a Prayer Service will be held at 7:45 P.M. Mass of Christian Burial will be Thursday, March 7 10:15 A.M at Immaculate Conception Catholic Church, 414 E. North Broadway, Columbus, Ohio 43214, Monsignor Stephan Moloney, Celebrant. Entombment at Resurrection Cemetery, 9571 North High Street, Lewis Center, Ohio 43035.
In lieu of flowers donations may be made in his name to the Diocese of Columbus Tuition Assistance Fund, 197 E. Gay Street, Columbus, Ohio 43215.

courtesy Egan Ryan Funeral Service

Sid worked at Houcks from 1954 to 1964 and then relocated to Ohio, finally settling in Columbus.
As a musician he was more inclined to jazz with his first love being the Trombone but took up playing bass while playing with Bill Justis' band. This enabled him to get more work and on June 5, 1957 he played bass on the recordings of Bill Justis' "Raunchy" and "Midnight Man" at Sun Records. He played with Bill from 1950 to 1961.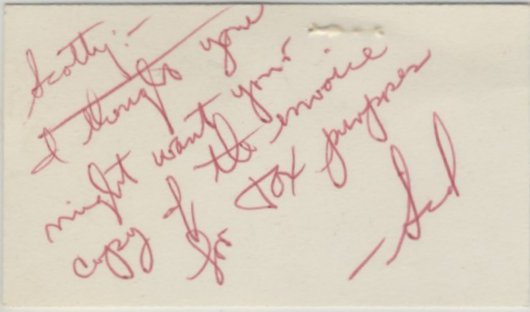 Note to Scotty on his business card when he sent him the invoice for his 1954 L5
Photo © James V. Roy
In 1954 he was the original owner of Bill Black's Kay bass that is now owned by Paul McCartney. He would recollect the sale of it when Bill went into the store looking for an upright bass. They didn't have any in stock at the time so Sid offered to sell him his own. Bill, with clothes still soiled from his job at Firestone, went straight to Sid's house to check out the bass. Sid in the meantime forgot to phone his wife and much to Bill's amusement she refused to let him in when he arrived (more on Sid's experiences and sales here).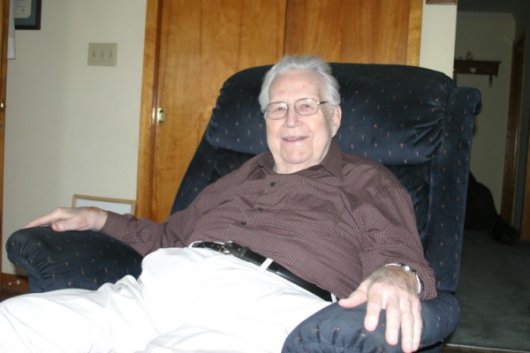 Sid at home in Columbus, OH - Sep. 22, 2008
Photo © James V. Roy
Throughout the remainder of his life he would continue to perform, with both bass and trombone in various bands. He used to say how much he enjoyed his time in Memphis and his experiences with the many musicians he knew there of which Luther Perkins and Scotty always stood out. He had been working on a short memoir about those times recently and he hoped to share it in someway but we don't know if he ever completed it. In any case, his contributions to, and assistance with this website pertaining to the instruments and local history is priceless and he will be sadly missed.
added March 19, 2013
---
Sid's Framus Bass and Ampeg Amp
Though I spoke with Sid fairly often, the last time I saw him was in 2008 while en rout to Nashville. I was taking one of the Elvis Tribute Martin D-28s to Scotty to sign and I took a detour to Columbus to visit with him. Sid, always a fan of Martin guitars having sold several to Elvis, Johnny Cash and others, was glad to see it though regrettably we didn't take his picture with it. While there though I did take pictures of his bass for him. He had since stopped playing it due to problems with mobility and was contemplating selling it and his Ampeg amp.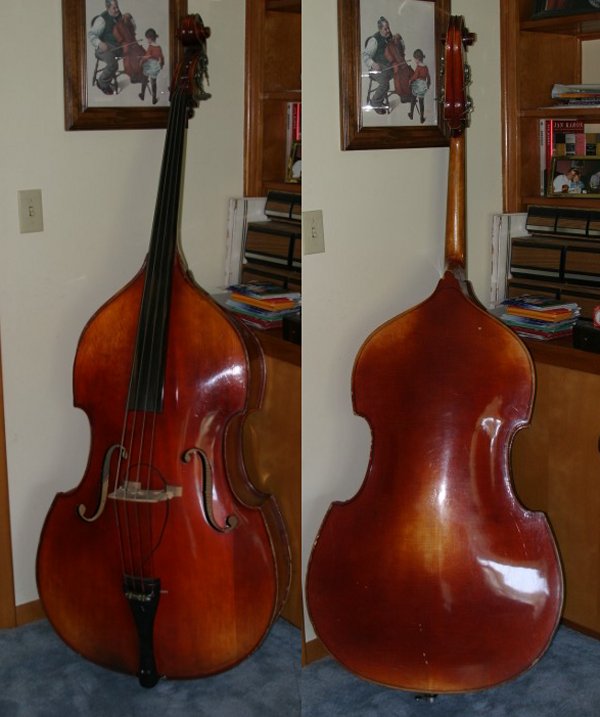 Sid's Framus bass - Sep. 22, 2008
Photo © James V. Roy

Sid's Framus bass - Sep. 22, 2008
Photo © James V. Roy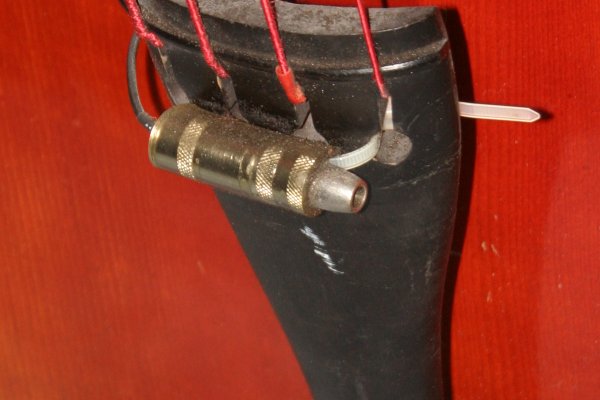 The pick-up on Sid's Framus bass - Sep. 22, 2008
Photo © James V. Roy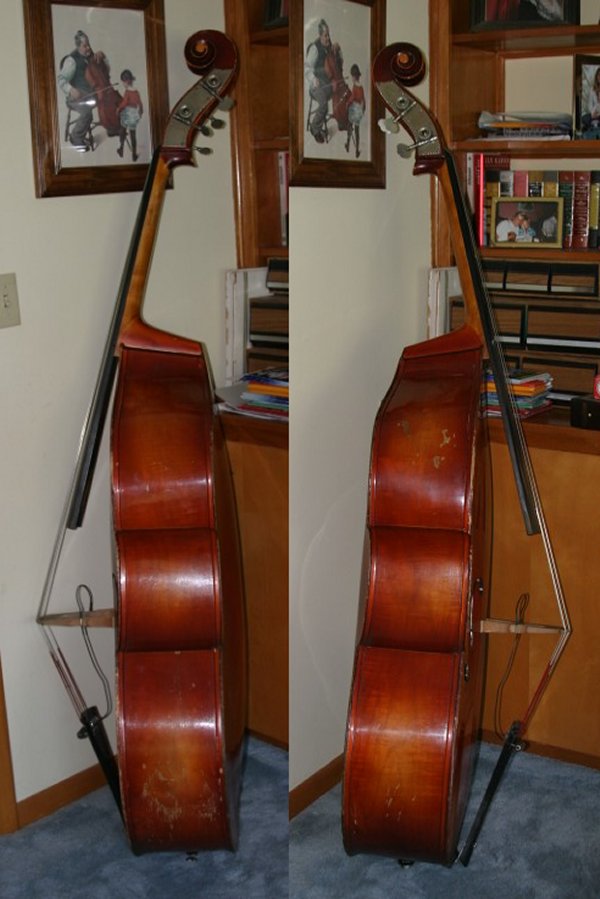 Sid's Framus bass - Sep. 22, 2008
Photo © James V. Roy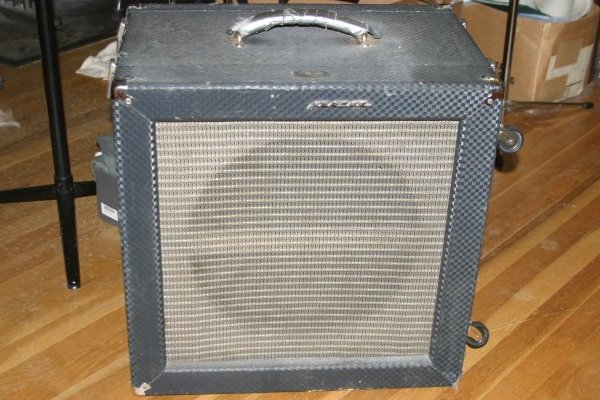 Sid's Ampeg B-15NC Portaflex bass amp - Sep. 22, 2008
Photo © James V. Roy

Sid's Ampeg B-15NC Portaflex bass amp - Sep. 22, 2008
Photo © James V. Roy

Sid's Ampeg B-15NC Portaflex bass amp - Sep. 22, 2008
Photo © James V. Roy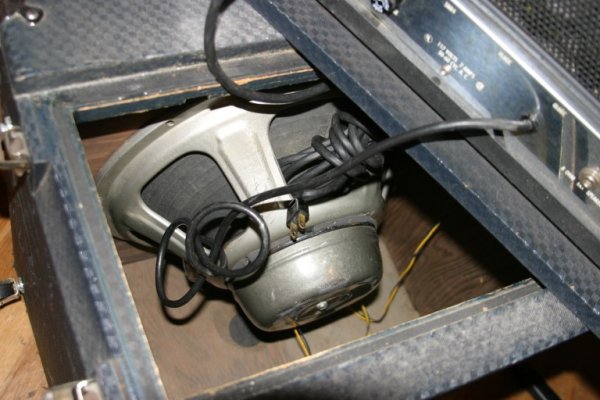 Sid's Ampeg B-15NC Portaflex bass amp - Sep. 22, 2008
Photo © James V. Roy
I don't recall though if he mentioned if this is the bass he used at Sun or not and I'm not sure if he ever actually sold it. His health overtime took priority and the pictures remained forgotten about until recently.
added March 19, 2013