Elvis Tribute Martin D-28
Sid Lapworth, the guitar manager at OK Houck's in Memphis that sold Elvis his first three Martin's said when the new guitars from Martin used to come in to the store he would have to inspect them and almost always they'd still be in tune, even after shipping, "close enough so that you could almost perform with them right out of the box." He said the D-28's used to sell at the time for $210 each and $40 for a case.

Elvis commemorative Martin D-28 (with cover)
Photo © courtesy C. F. Martin, Inc.
In tribute to Elvis Presley on the 30th anniversary of his passing – also, coincidentally, the 175th anniversary of the Martin Guitar Company – Martin is excited to offer two exceptional commemorative edition guitars fit for the King and his legion of fans.*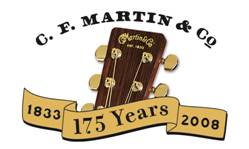 Limited to just 175 guitars to mark C. F. Martin's 175th anniversary, the D-28M Elvis Presley Commemorative Limited Edition features rare Madagascar rosewood back and sides (which closely resembles Brazilian rosewood), and an Adirondack spruce top with 5/16" scalloped Adirondack spruce braces for brilliant, powerful tone. Fine black and white inlay lines highlight the Style 28 soundhole rosette and purfling, the latter accented by elegant grained ivoroid binding.*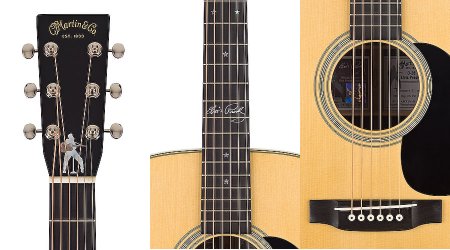 Elvis commemorative Martin D-28 Headstock, fretboard and bridge
Photo © courtesy C. F. Martin, Inc.
The Elvis motif of these Dreadnoughts begins on the polished black ebony headstock just above the nut, where the silhouette of the King and his Martin – modeled after a famous 1956 photograph – are inlaid in mother of pearl and black pearl. Small pearl bordered abalone star position marker inlays at the 5th, 7th (two), 9th, 15th, and 17th frets on the fingerboard flank Elvis' signature at the 12th fret. The black Micarta heelcap features his "TCB Lightning Bolt" logo – a design that originated with the "Taking Care of Business" pendants Elvis gave to friends – inlaid in mother of pearl.*
Each D-28M and D-28 Elvis Presley Commemorative Edition guitar bears two interior labels specially designed for these models. The primary interior label for the D-28M Elvis Presley is numbered in sequence with the total number of guitars in the edition, while the primary label for the D-28 Elvis Presley is numbered in sequence without total: both include a holographic, official "Elvis Presley Signature" sticker of authenticity. Authorized C. F. Martin dealers will begin taking orders for the Martin D-28M and D-28 Elvis Presley Commemorative Edition guitars immediately and participating dealers will be listed on this website.*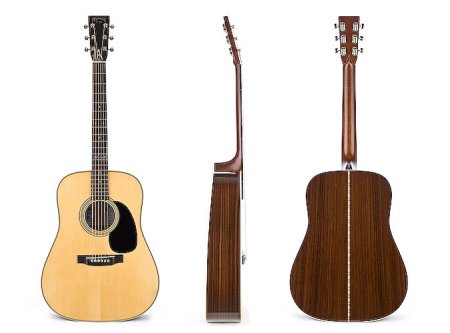 Elvis commemorative Martin D-28 (without cover)
Photo © courtesy C. F. Martin, Inc.
The D-28 Elvis Presley Commemorative Special Edition features back and sides of East Indian rosewood and a top of Carpathian spruce. The combination of these fine tonewoods and 5/16" scalloped top bracing produces a responsive guitar with impressive volume, punch and sustain. The Style 28 rosette is matched by Style 28 purfling around the top and back. The body is bound in grained ivoroid.*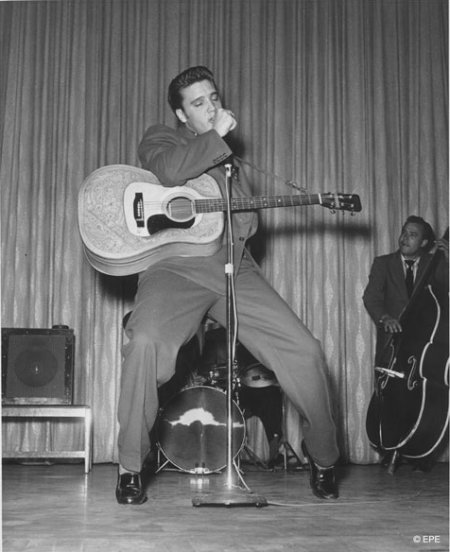 Elvis and Bill at the New Frontier Hotel in Las Vegas - Apr/May 1956
Photo © courtesy EPE, Inc.
Classic 1950s-inspired Martin appointments common to these beautiful guitars include a 1 11/16" neck with diamond volute carved from genuine mahogany and satin finished, Grover deluxe nickel Kluson™ tuners with small oval metal buttons, the old style Martin decal logo on the headstock, black ebony fingerboard and belly bridge, genuine bone nut and saddle, and a flawless polished gloss lacquer finish with vintage-appropriate light amber aging toner on the top. In keeping with their black and white palette, these Limited Editions come with white bridge and end pins topped with black dots, and a polished and beveled black pickguard.*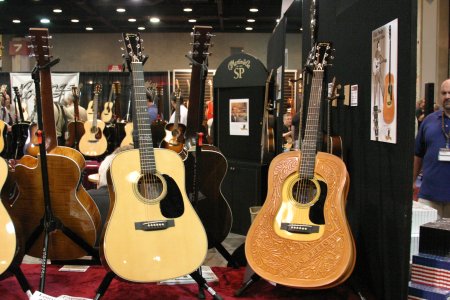 When introduced last week at the Winter NAMM show in Anaheim and announced on Martin's website they listed the prices as $7000.00 and $8500.00 for the tribute D-28 (the difference being the tooled leather cover) and $11,500.00 for the D-28M. Considering the recent trend with manufactures making tribute replica celebrity guitars and the prices they charge, the $11,500.00 price tag for a Martin seems a bargain. These guitars will likely sell for less when dealers start quoting a street price but they are obviously targeted for the collector more than a player.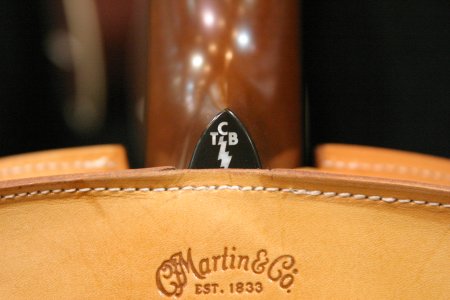 * courtesy C.F. Martin Website
January 19, 2008
---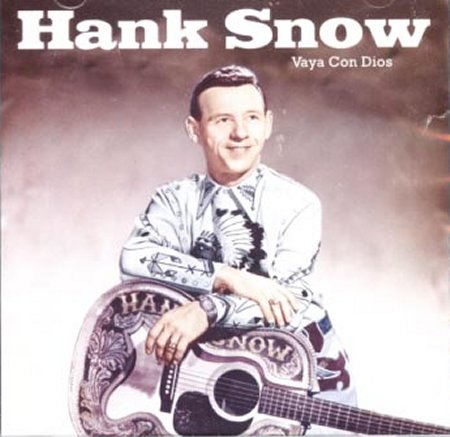 Hank Snow with his Martin and tooled leather cover
Photo courtesy Web
These guitars come with a replica tooled leather cover (D-28 optional) of the cover used by Elvis and bearing his name on his original D-28. He liked the one he saw used by Hank Snow after touring with him on the Hank Snow Jamborees in 1955. Elvis' was made in the basement of OK Houck's Piano Company in Memphis by Sun Record Alumni, Marcus Van Story.