Sun Record Company

Photo © James V. Roy
It is necessary to first make a distinction between some of the businesses talked about on this page so as to clear up some confusion. The "Memphis Recording Service" is a business that Sam Phillips started and located at 706 Union Ave in Memphis, TN. "Sun Record Company" is a label that he founded a couple of years after to produce the product recorded by the Memphis Recording Service and then later at the Sam Phillips Recording Service. "Sun Studio" is now the business that was started in the '80s at the former home of the Memphis Recording Service but is quite often used to refer to the studio of Sun Records.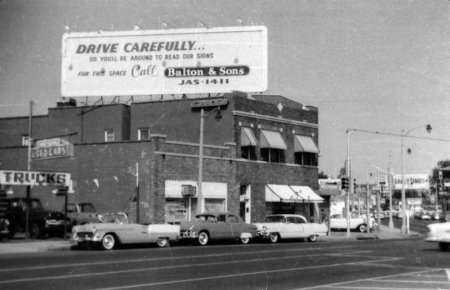 Memphis Recording Service at 706 Union Ave. - ca. 1950s
Photo courtesy Elvis Presley Community added May 6, 2013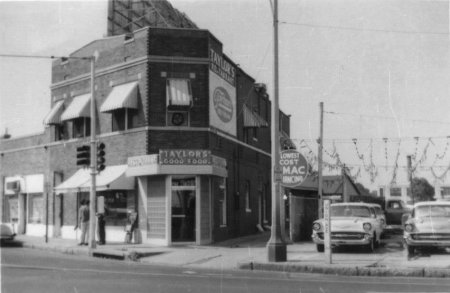 Taylor's Restaurant adjacent to the Memphis Recording Service - ca. 1950s
Photo from Memphis Public Library courtesy Ana Fernández Sangil added May 6, 2013
On January 2, 1950 Sam Phillips opened the Memphis Recording Service at 706 Union Ave. in Memphis. The building, centrally located just east of downtown, had been the former home of a radiator repair shop. The storefront he rented cost him approximately $75 to $80 a month and shared the building with Mrs. Dell Taylor's restaurant next door on the corner. The space consisted of a small area in front upon entry that served as the office where Marion Keisker sat, the recording room (or studio) and then the control room in the rear. A wall with a large window separated each room.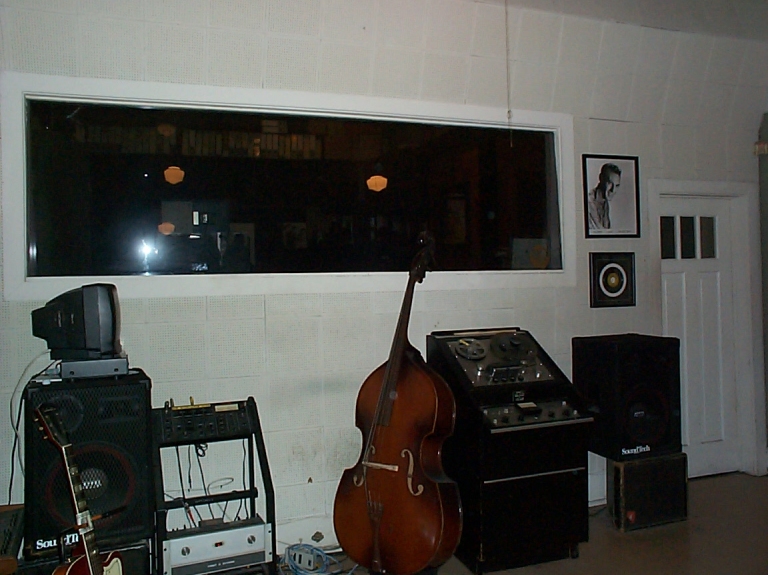 North wall of studio with window to control room
Photo © James V. Roy
Lacking in funds, Sam, with the aid of one carpenter, did most of the renovations himself. In an interview Sam said "I used the old 1-foot-square acoustic tiles, and I knew there were a lot of ways to approach it to make a live-er studio or deader studio. I never truly liked a dead room for what was I going to do with a very sparse number of people on the session - maybe two to four or five was a big band - so all that was taken into account."

Northwest corner of Studio
Photo © James V. Roy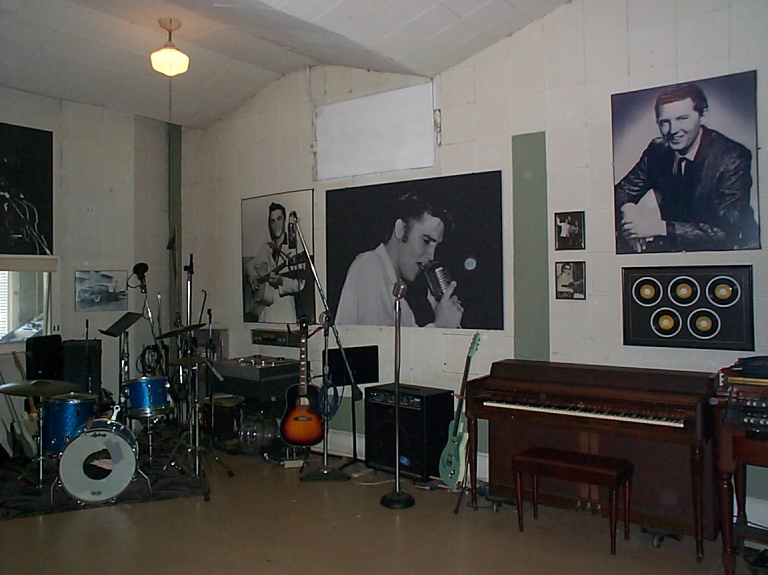 West front wall and ceiling of studio with V-Type ceiling
Photo © James V. Roy
The room itself measures 18' by 33' and Sam went about designing by going around the room clapping his hands to feel the vibe of the room trying to get a sound that he felt was natural. Jim Dickinson, who worked as a producer at both Sun and Phillips Recording Service, said "The room sound, even with the gear they have in there now, is still special. It has to do with that old asbestos square acoustic tile, which covers everything but the floor. When you speak, you can feel the air pressure in the room. The more volume that you put into that room, the more the midrange compresses. It is sort of like the Phil Spector principle of putting in too much in too small of a space, and the whole room becomes a compressor."3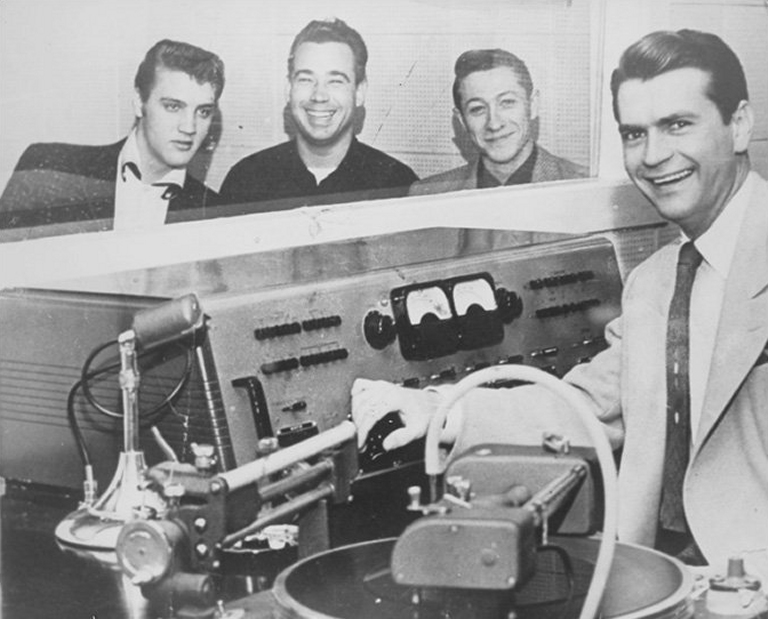 RCA 76D General Purpose Mixing console and Presto 6N lathe
photo courtesy Gary Hardy - Sun Studio
Most of his studio equipment at first was made by Presto Recording Corporation, which included a portable five input mixer with four microphone ports and a fifth with a multi-selector input/output toggle switch. This allowed him to record at various off site locations. His motto was "We Record Anything, Anywhere, Anytime."

Presto Model 6N Lathe (portable model) similar to Sam's
photo courtesy Alan Graves
Prior to switching to magnetic tape in 1951 Sam did all of his recording directly to 16" acetate discs. He did them at 78 rpm to get the highest quality before making masters on his Presto 6N lathe and turntable. "Acetates", or reference records, contain a "soft" surface on an aluminum base so they can be "cut". This is the same process as cutting masters for pressing. Masters are then electroplated to become stampers and then pressed to become the vinyl you buy in a record store. Masters are cut on oversize 16" discs; dubs are actual size (7, 10, or 12"). 1

Ampex 350 Tape Recorder (console)
When he first switched to magnetic tape he used Crestwood and Bell Tape machines and then a Presto 900P recorder recording at 7 1/2 ips (inches per second) due to the high cost of tape at the time. By 1954 Sam had upgraded the tape machines to a couple of Ampex 350 recorders, one a console model and the other rack mounted and used primarily to achieve his signature slapback delay echo.2 He also acquired a used RCA 76D broadcast mixing console for $500 from a little station in South Carolina. He had to essentially rebuild and retube it but it had 6 inputs, all that he felt he needed.

Sam at the RCA 76D consol
A mixing console is used to mix all the audio input signals (in this case microphones) adjusting for volume, tone and balance on to, in this case, a single output channel for recording. The RCA 76D was somewhat rare and is basically the same as a 76C with two VU meters. It is a mono mixer with 6 mic preamps, 1 program channel and output, and 1 audition channel with a monitor output.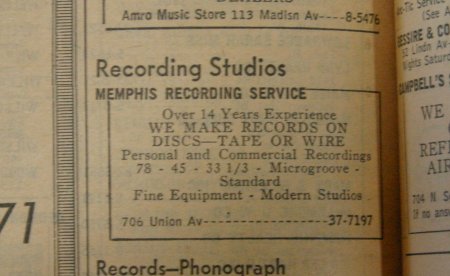 1954 Memphis Phone Book listing
Photo © James V. Roy
From 1950 to 1952 Sam recorded artists such as Junior Parker, Howlin Wolf, Jackie Brenston and Ike Turner ("Rocket 88"). This was usually for such labels as Chess and Modern but in 1952 he started his own label, Sun Record Company. Scotty began his association with Sam in 1952 after leaving the Navy because he felt that for any band, even a local one to successfully get gigs he'd need a record. He would usually go by after work and he and Sam would have coffee in the restaurant next door and discuss what they thought would be the future of music. He and Bill Black first recorded there in early 1954 with the Starlite Wranglers prior to auditioning Elvis and then were brought in on July 5 to accompany Elvis to see how he'd sound on tape. That turned into the first session and yielded the recording of "That's Alright Mama".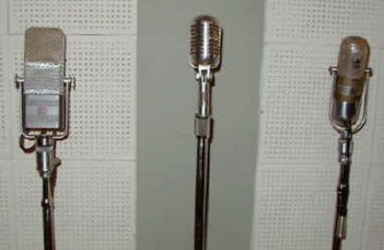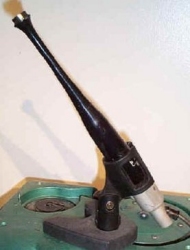 RCA 44BX, Shure 55, 77DX and Altec 21B "coke bottle" microphones
courtesy web and www.chalkilmedia.org
"All of the great recordings at Sun were literally made with five microphones," says Jim Dickinson, which included a RCA 77DX, Shure 55, RCA 44BX and an Altec Lansing pencil mic (more likely a 21B "coke bottle"). The RCA 44-BX microphones and 77-DX (introduced in 1954) Poly-directional microphones are high-fidelity microphones of the ribbon type that are specially designed for broadcast studio use. The Shure 55 has all but become synonymous and easily identifiable as "the Elvis mic." Most of these microphones at the time were bought in abundance for the military and could be picked up used as surplus very cheaply.
Sam worked with how each different vocalist would work the microphone. Some he'd have directly in front, maybe six inches back, others he would have work across the mic. Jim Dickinson said "even when Sam was using the RCA as a vocal mic, it was a room mic, if you get my point. The instruments were clustered around them, so the major character that you hear in those recordings is the room, or sometimes the room with slapback added."3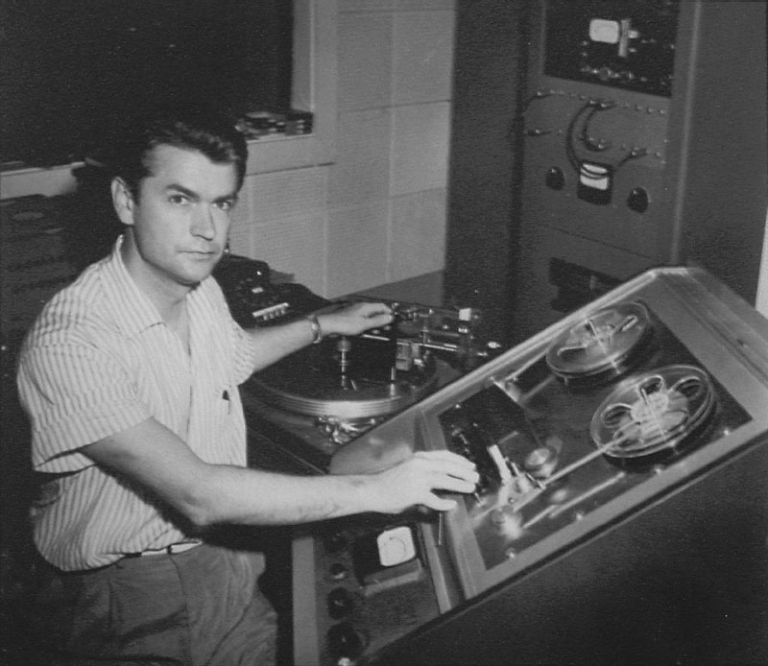 Sam in the control room with Presto 6N and Ampex 350
photo courtesy Gary Hardy - Sun Studio
Sam never used EQ (equalization), which is adjustment of frequency response to obtain a desired quality of sound, until they got to the mastering stage. He had a homemade compressor that he made in case something got out of hand but he had very little limiting and compression. Compression is used to control or smooth the volume peaks of an input signal to deliver a more even signal while a limiter reduces the volume or gain of a signal to prevent overload. Though he did his own mastering early on he eventually would have Bill Putnam and his wife at Universal Recording in Chicago do most of the acetate mastering. He felt that the one deep-cutting head on the Presto lathe that he had just wasn't adequate to get the level that he needed.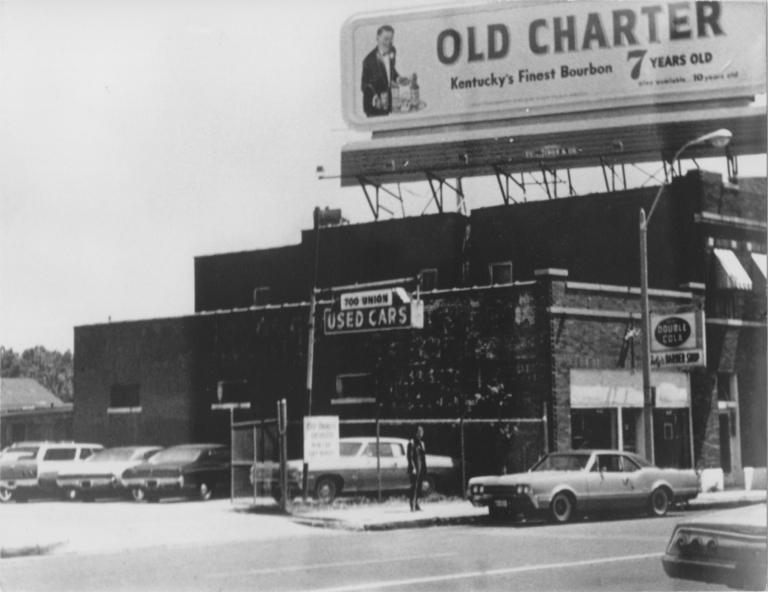 706 Union as Andy's Barber Shop - ca. 1970s
The masters, or stampers, were sent to Plastic Products at 1746 Chelsea Ave. in Memphis for pressing. Robert "Buster" Williams had opened the record pressing plant in 1949, only a short time before Sam opened for business at 706 Union. They pressed records for most of the area's independent labels like Sun, Hi, Fernwood, Stax, Meteor, and other country, rockabilly and Soul labels. In July of 1954 Elvis went down to the plant to watch the first records of Sun #209 "That's All Right/Blue Moon of Kentucky" come off the press. By the time it was officially released on July 19, 1954 Sam already had 6,000 local orders.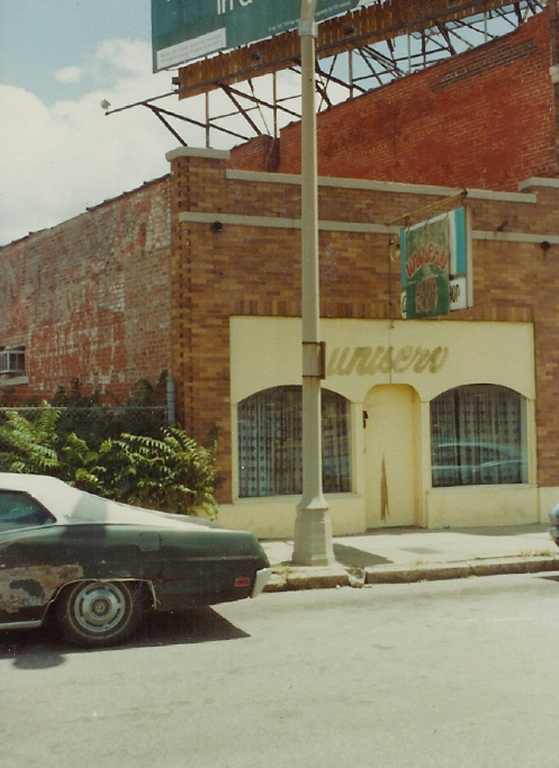 706 Union Avenue - ca. 1978
Photo courtesy web
Coupled with the cost to fill orders and distribute the ever-growing popularity of the recordings and the desire to produce other artists Sam sold Elvis' contract by November of 1955 and the band left Sun. In 1958 Sam began building a new studio almost around the corner on Madison Ave. and by 1960 had moved out of the location at 706 Union. It briefly became first a scuba shop and then a garage but then would remain empty for many years.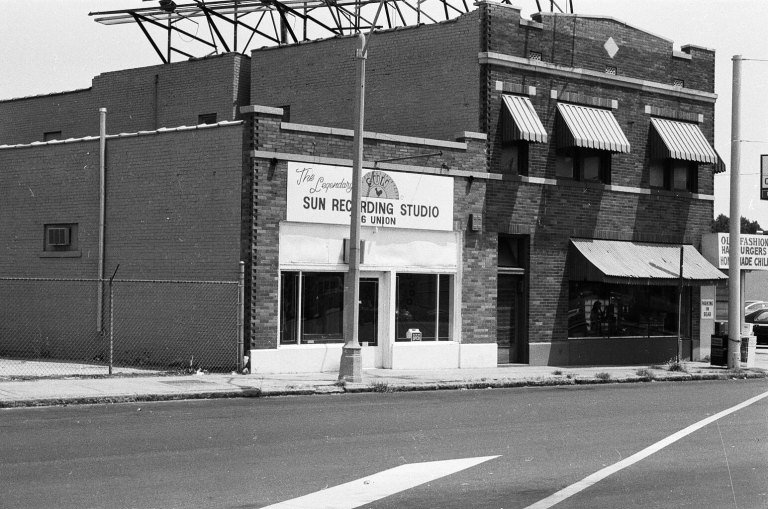 706 Union Avenue reopened as Sun Recording Studios - ca. 1980s
Photo courtesy Ger Rijff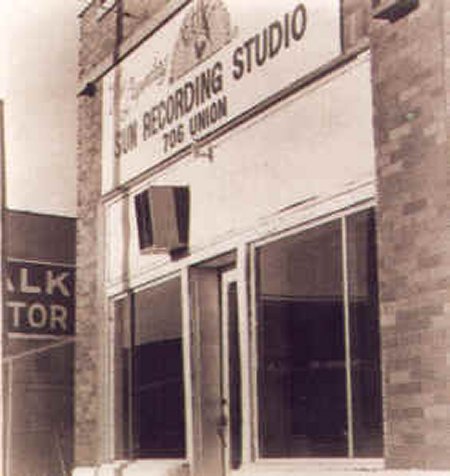 706 Union Avenue reopened as Sun Recording Studios - ca. 1980s
Photo courtesy web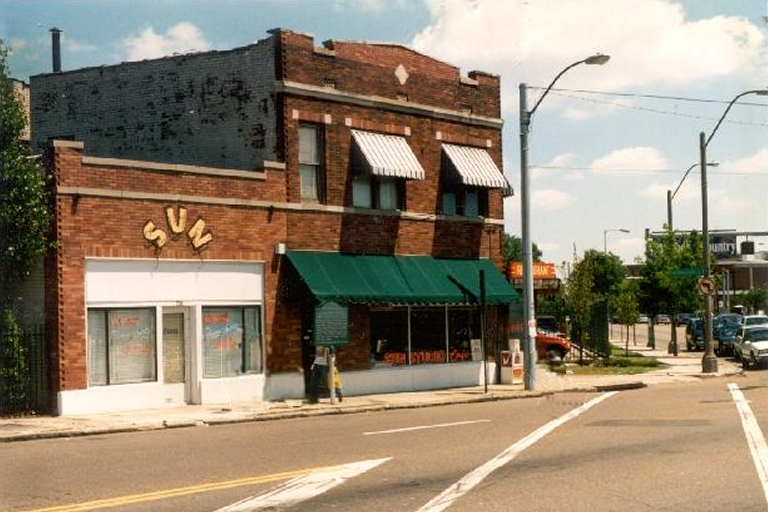 A more contemporary look of 706 Union Avenue and former restaurant - ca.1990s
Today a lot of Sam's original equipment like the RCA 76D mixer is on loan for display at the Rock 'N' Soul Museum in Memphis. In the mid '80s the building at 706 Union Ave. was restored for use as a studio and many bands have since recorded there. Scotty returned there once again to record with Carl Perkins in 1992. It is now on the National Register as a historic landmark and a favorite attraction for the many Elvis fans that still flock to Memphis each year.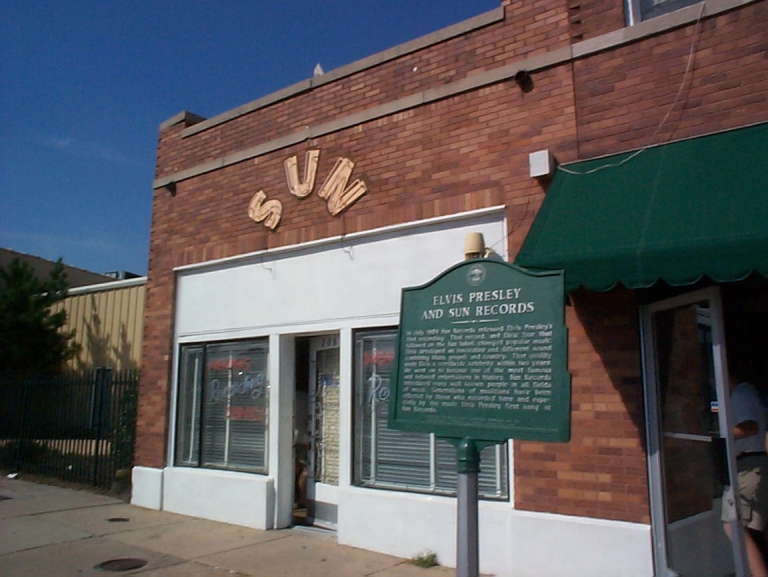 Sun Studios at 706 Union Avenue - Aug. 14, 2001
James V. Roy
February 2004

---
Sam Phillips donated the equipment from Sun pictured below to the Memphis Rock 'N Soul Museum where they currently are on display. We especially wish to thank Chuck Porter, the Curator of the Museum for his assistance and permission to photograph these items.

Photo © James V. Roy

Photo © James V. Roy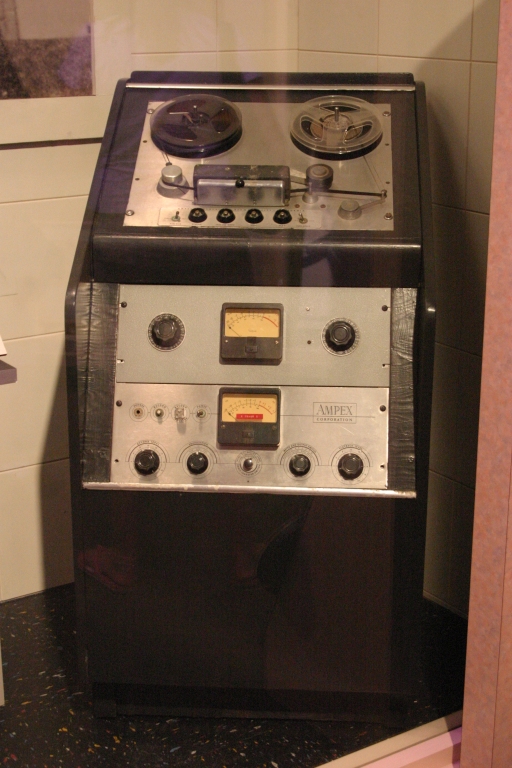 Photo © James V. Roy

Photo © James V. Roy
1 courtesy Alan Graves - Presto History
2 courtesy "Good Vibrations - A history of Record Production" by Mark Cunningham
3 courtesy "Temples of Sound: Inside the Great Recording Studios" by Clark, Cogan and Jones
To learn more about old microphones click here and also Virtual Microphone Museum
---
Plastic Products Record Plant
Historical Landmark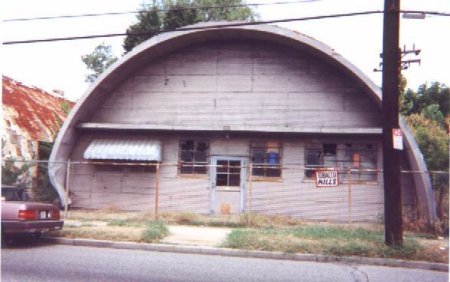 Plastic Products, 1746 Chelsea Ave.
photo by Sloppy Joe courtesy Juke 'n Jam
As mentioned on the page above, Plastic Products pressed records for most of the Memphis area's independent labels including Sun and in July of 1954 Elvis was there to watch the first records of Sun #209 "That's All Right/Blue Moon of Kentucky" come off the press.

copy of one of Sam Phillip's' Plastic Products receipts (enhanced) - Aug. 30, 1950
courtesy Colin Escott and Good Rockin' Tonight

In January 1946 Robert E. "Buster" Williams and Clarence Camp had launched a record distributorship in Memphis and New Orleans called Music Sales. The major labels largely controlled their own distribution, but small distributors handled the indies. Music Sales distributed most of the R&B labels, such as Atlantic and Chess. In 1949 Williams started a pressing plant, Plastic Products, on Chelsea Avenue in Memphis. His intention was to press some product for the labels he distributed, thereby taking advantage of the shipping location of Memphis, in the center of the country. Williams found the major plants unwilling to share their technology, though, and, in a display of rugged individualism, he designed his own presses and compound (the shellac-based amalgam from which records were made). Williams and [Sam] Phillips became fast friends, and Williams supplied the manufacturing credit and local distribution that Phillips came to need after he started Sun, as well as supplying a warehousing and shipping point.

courtesy Good Rockin' Tonight by Colin Escott with Martin Hawkins

The four Quonset huts that comprised the Record Plant in an industrial part of Memphis can easily be an overlooked landmark of Rock 'n Roll history, but worth visiting even though they can only be viewed from the outside. On August 17th, during Elvis Week 2012 in Memphis there will be a dedication of a historical marker there for Plastic Products. It is free to attend.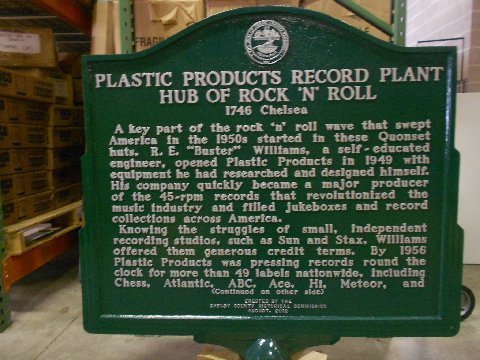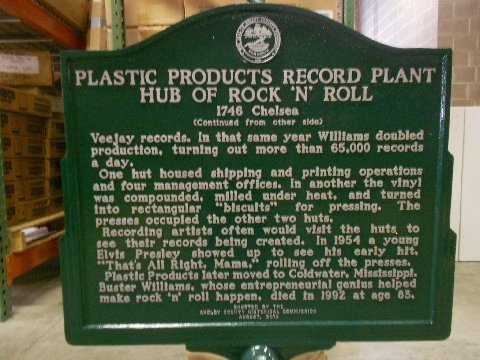 Here are the first images of the marker
Photos © Andrea Shaw
Special thanks to Andrea Shaw for this addition
section
added August 6, 2012


See also How Phonograph Records Are Made - Shown in Memphis Plant and the section on Plastic Products
---
Billy Lee Riley at Sun
Photos courtesy Martin Willis
Multi-instrumentalist and Bill Black Combo alumni Martin Willis got his musical start as a fifth grader at Hollywood Jr. High in Memphis watching saxophonist John Henry (Ace) Cannon play for the class. Later he began a long musical association with classmate J. M. Van Eaton in a talent show at Memphis Tech. High School. They joined Conway Twitty's band in 56 and in 57 left to join Billy Lee Riley and the Little Green Men. These pictures of them in the studio at 706 Union Ave. in 1958 or 1959* provide an excellent view of a working band in the studio during its "hay days" and are courtesy of Willis' Facebook page.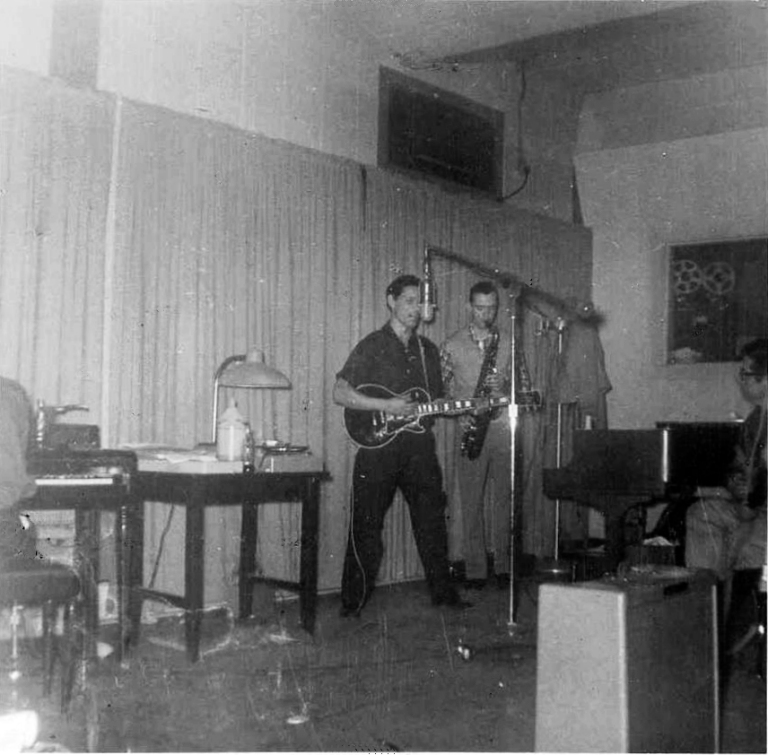 Jimmy Wilson, Billy Lee Riley, Martin Willis and Pat O'Neil recording in the studio at Sun in Memphis - ca. 1958*
Photo courtesy Martin Willis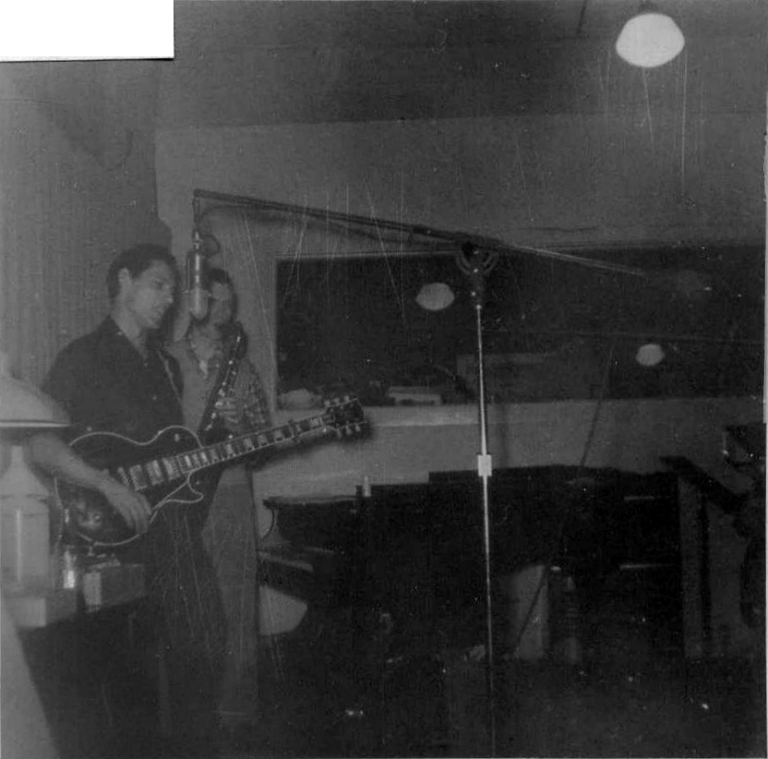 Billy Lee Riley and Martin Willis at Sun in Memphis - ca. 1958*
Photo courtesy Martin Willis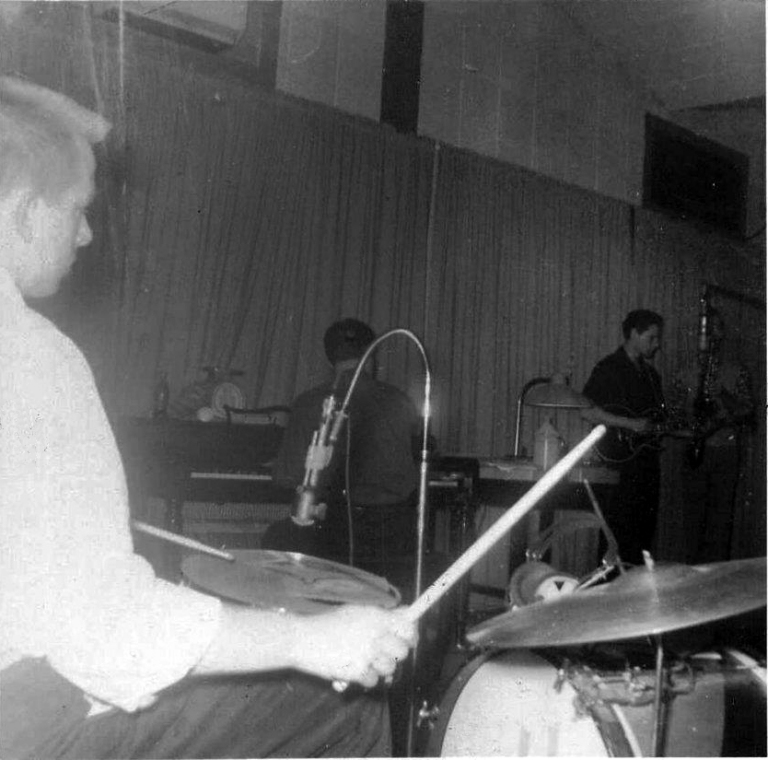 J. M. Van Eaton, Jimmy Wilson, Billy Lee Riley and Martin Willis recording in the studio at Sun in Memphis - ca. 1958*
Photo courtesy Martin Willis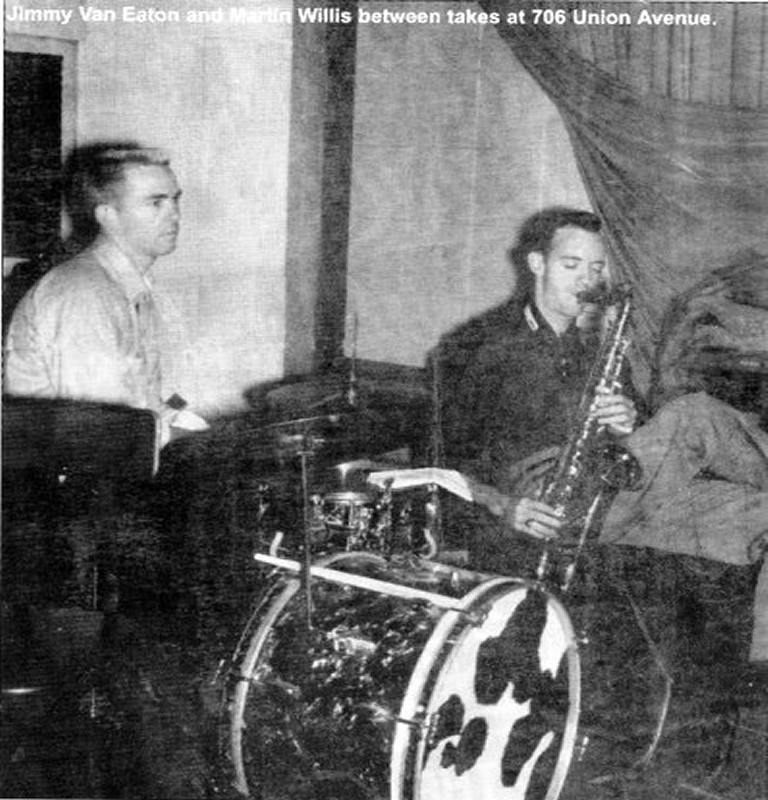 J. M. Van Eaton and Martin Willis between takes at Sun in Memphis (different session) - ca. 1958*
Photo courtesy Martin Willis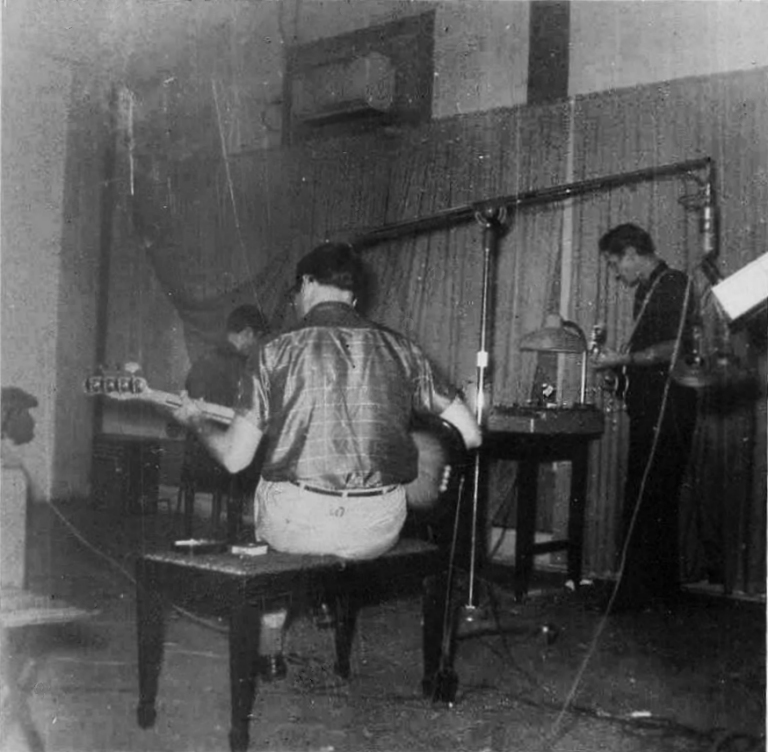 Jimmy Wilson, Pat O'Neil and Billy Lee Riley recording in the studio at Sun in Memphis - ca. 1958*
Photo courtesy Martin Willis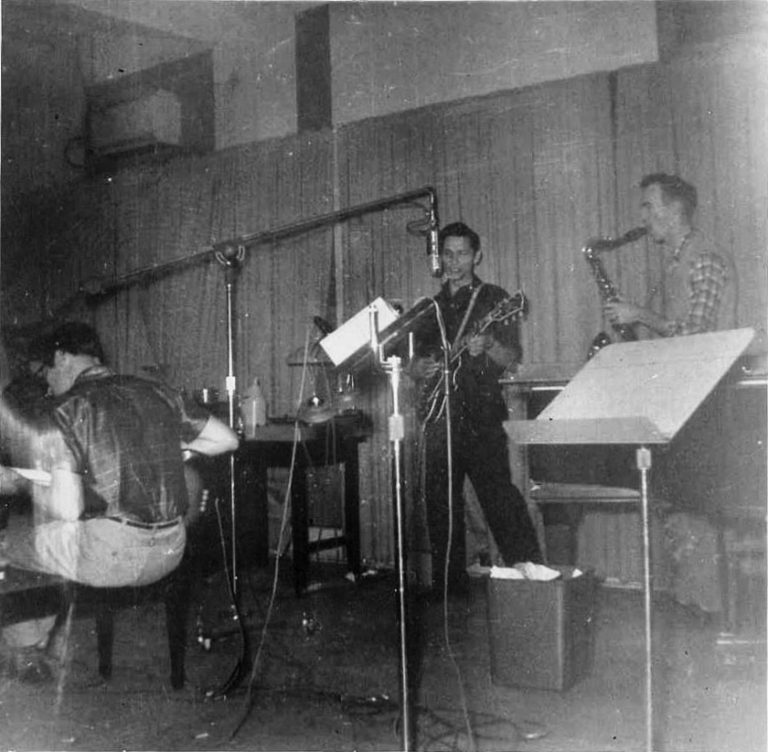 Pat O'Neil, Billy Lee Riley and Martin Willis recording in the studio at Sun in Memphis - ca. 1958*
Photo courtesy Martin Willis

Billy Lee Riley, J. M. Van Eaton, Jimmy Wilson and Martin Willis read the March '58 issue of MAD Magazine at Sun in Memphis - ca. 1958*
Photo courtesy Martin Willis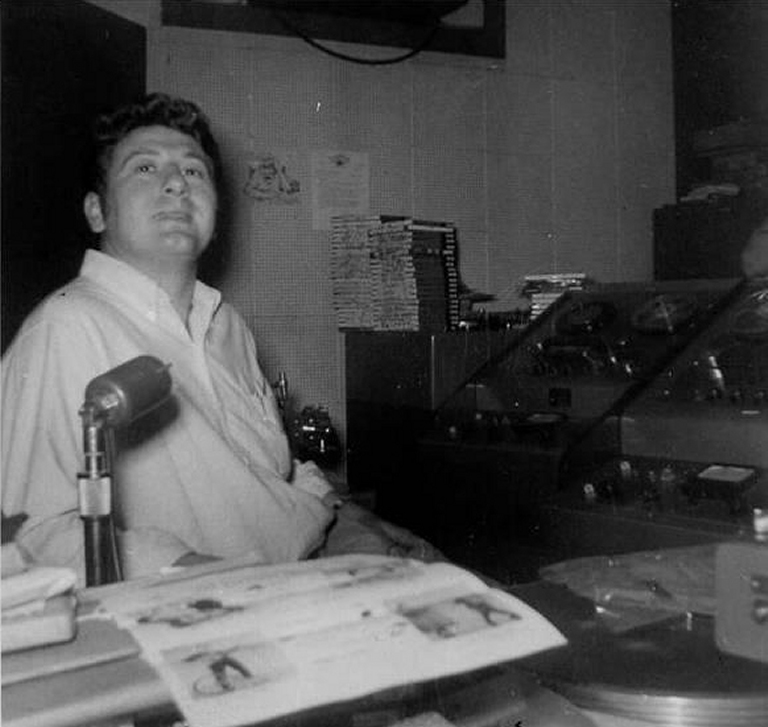 Jack Clement at Sun in Memphis - ca. 1958
Photo courtesy Martin Willis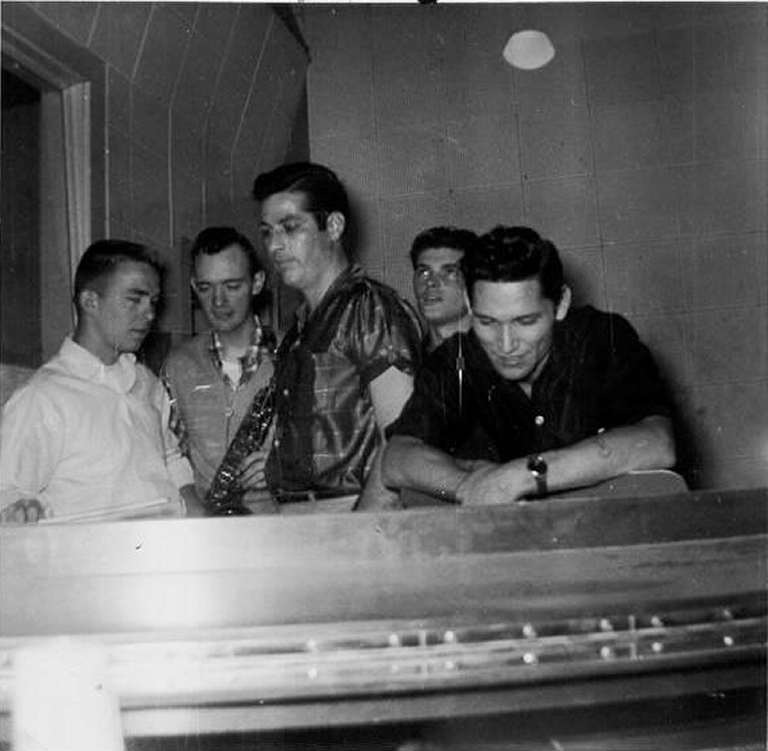 J. M. Van Eaton, Martin Willis, Pat O'Neil, Jimmy Wilson and Billy Lee Riley listening to a playback at Sun in Memphis - ca. 1958*
Photo courtesy Martin Willis
Martin went on to play with several combos and recorded with many artists before leaving music professionally in 1966 to pursue a career in the hotel and hospitality business. In 2006 he came out of retirement to perform again in Memphis with Riley and Van Eaton.
section added March 20, 2015
*this is just a guess - but I'm thinking these pictures were taken on January 7th, 1959 for the "Down By The Riverside" session. You'll notice in this set that the curtain is pulled away from the furnace indicating that the furnace was probably on (a cold season.) The personnel is the same in the pictures as was on the Down By the Riverside session too. Also note that Billy Riley's LP Custom is capo'd on the 3rd fret, so most likely the song being recorded is in G - like DBTR. I know these pictures are often dated as 1958, but Billy had left Sun during the early part of '58. I can't find a session on the books with the material in the key of G until this session on January 7, 1959. I need to look up Jerry Lee Lewis' touring schedule during that year. Roland Janes would have been out on the road with JLL, otherwise he would have been at this session - but he's not present in the photos. Might be another clue as to when these pictures where taken/ what session they were from. Hope this helps some what. I was very excited to see the rest of the pictures from this set! I'm currently working on a presentation proposal to the AES on the "Sun Sound" and these pictures will prove really handy in understanding mic placement and other things of that nature. - Carl DaCorte - March 21, 2015
---

Carlos and Dell Taylor at the entrance to the restaurant - ca. 1948
Photo © Carlos Holcomb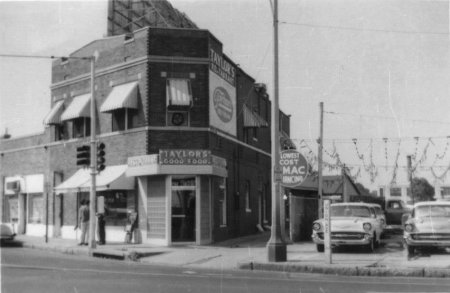 Mrs. Dell Taylor's Restaurant - ca. 1950s
Photo from Memphis Public Library courtesy Ana Fernández Sangil

Rosemary and mom, Dell Taylor in the restaurant - ca. 1950s
Photo courtesy Rosemary Holcomb, nee Taylor
Here are a few pictures courtesy of Carlos Holcomb, the grandson of Mrs. Dell Taylor, and his mom Rosemary who were kind enough to share them with us. Dell owned and operated the restaurant adjacent to the studio at 706 Union Avenue from about 1948 to 1977.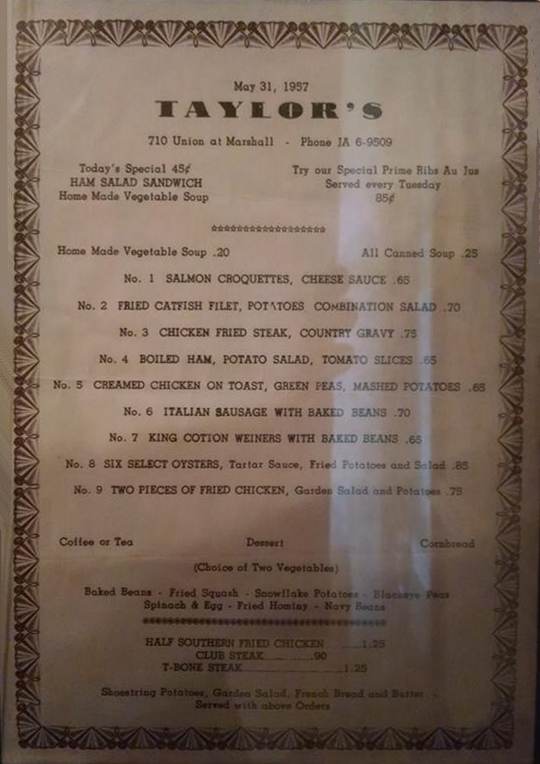 menu for May 31, 1957
Photo © Carlos Holcomb
"I was still working until mid afternoon, and then I'd drive by the studio a couple of times a week. If Sam wasn't busy cutting demos for somebody, we'd go next door to Miss Taylor's Restaurant and have coffee and just sit and talk about music and stuff. Then one day, his secretary Marion Keisker came over and had coffee with us, and she says: 'Sam, did you ever talk to that boy who was in here a few weeks back? He had a real good voice.'

"A couple of weeks went by, and Sam still hadn't called him, so he asked Marion to give his number to me. I looked at it and I said: 'Elvis Presley? What kind of a name is that?' I called his house that afternoon, and his mother answered and said that he was at a movie and that she'd have him call me.

"He called me when he got home, and I told him I was working in conjunction with Sam Phillips of Sun Records and that we were looking for new artists, and then I asked him if he was interested. I didn't realize this at the time, but in the back of my mind I was hoping to get some work in the studio from Sam with other artists. So I asked Elvis if he could come over to my house the next day, which was actually the 4th of July."

Scott Moore, in an interview with Jonathan Wingate

Taylor's restaurant ashtray
Photo © Carlos Holcomb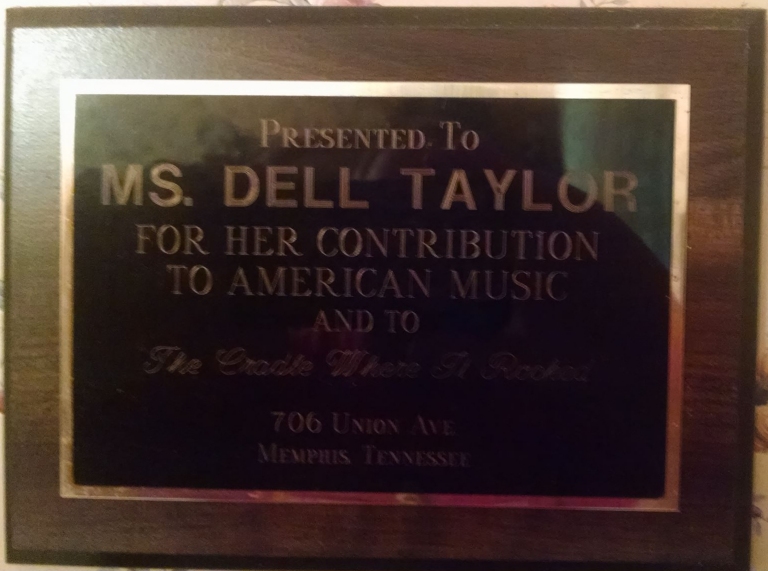 Plaque presented to Dell Taylor
Photo © Carlos Holcomb
The Restaurant operated at least until the early 1980s after the studio reopened but according to Carlos' father, Dell sold the business around 1977.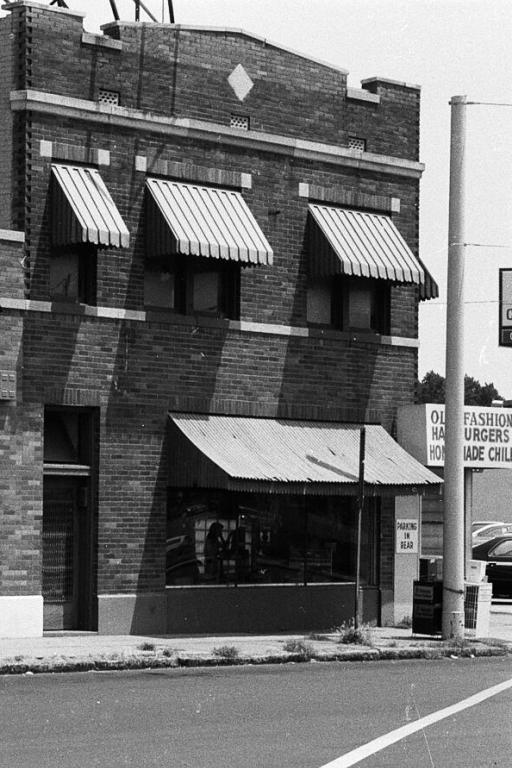 The restaurant at 710 Union Avenue - ca. 1980s
Photo courtesy Ger Rijff
section added June 30, 2015