1954 L5 CESN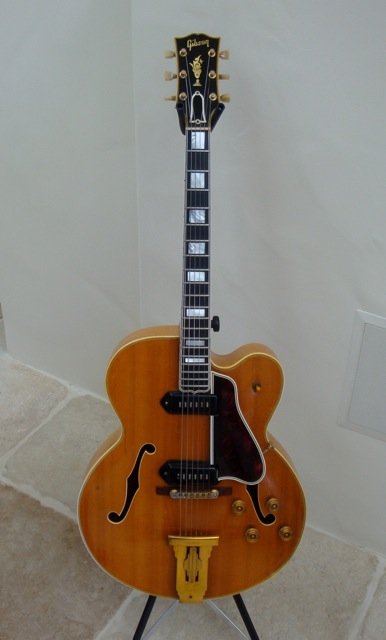 Scotty's 1954 L5 CESN
Photo © H. Mozart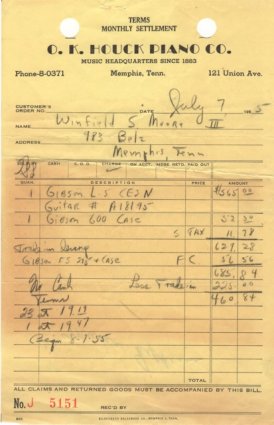 Scotty's original receipt for the L5
Photo © H. Mozart
Scotty traded his ES-295 in on July 7, 1955 at the O.K. Houck Piano Co. located on 121 Union Avenue in Memphis for this Gibson L5 "mainly because the workmanship was just so much better in the L5, of course it cost more too" ($565.00). It was first used to record Mystery Train and on most of the subsequent RCA recordings until January of 57 (though it was apparently used on stage at least in Buffalo, NY on April 1, and Toronto on April 2, 1957). Scotty used it extensively with a custom--built Echosonic amplifier by Ray Butts acquired around April of 55 (which allowed the ability to perform live with the signature slap-back echo sound of the recordings).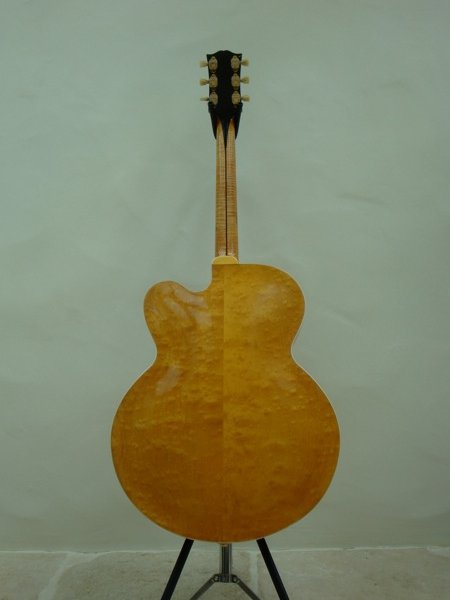 rear of Scotty's 1954 L5 CESN
Photo © H. Mozart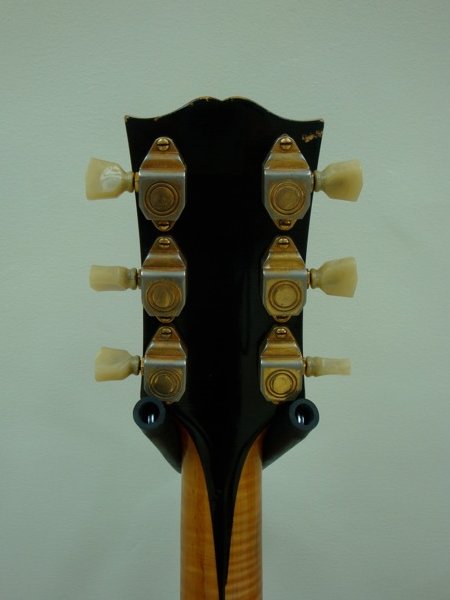 Close up of rear headstock on Scotty's 1954 L5 CESN
Photo © H. Mozart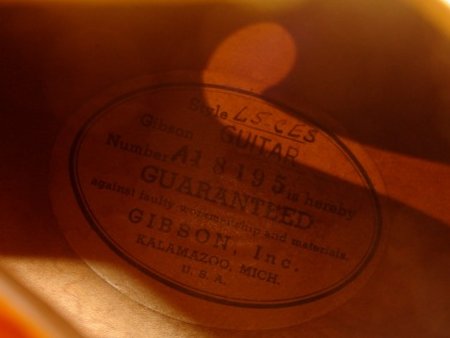 Label with serial #A18195 inside Scotty's 1954 L5
Photo © H. Mozart
This guitar was owned by Robert A. Johnson for many years and had been on loan for display at the Memphis Rock 'N' Soul Museum. It was sold in 2004 and expected to be on display at the Elvis-A-Rama museum in Las Vegas, NV. In September of 2005 CKX, Inc ( the parent company to EPE, Inc.) announced that it had agreed to acquire the assets of Elvis-A-Rama with the intent of closing it with an overall plan to bring a world class Elvis-themed attraction to the Las Vegas strip. Prior to that though this L5 was sold to a private collector in the UK and is no longer on display.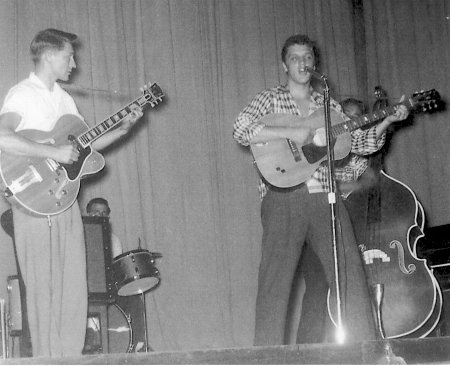 Scotty (with L5), D.J., Elvis (with 1951 Epiphone FT-79*) and Bill in Texarkana, AR 1955
Photo© courtesy Steve Bonner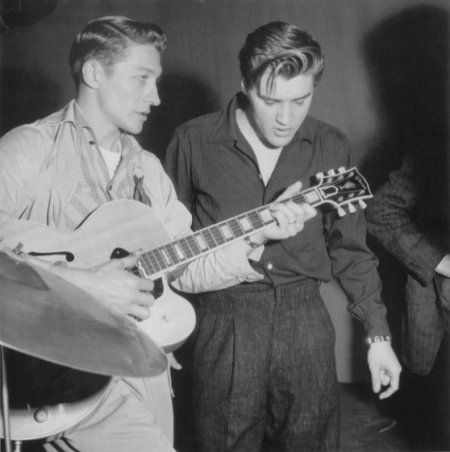 Scotty and Elvis rehearse for the Milton Berle show, June 1956
Photo© courtesy Michael Ochs Archives
The Gibson L5 CES features a single rounded cutaway 17" wide bound hollow body, solid carved spruce top, layered tortoise pickguard, single bound f-holes, maple back/sides/neck, 20 fret bound pointed ebony fingerboard with pearl block inlay, adjustable rosewood bridge, model name engraved trapeze tailpiece with chrome insert, multibound blackface peghead with pearl flame/logo inlay, 3 per side tuners, gold hardware, 2 pickups (P90 single coil in 51, Alnico V in 54 and Humbucker in 57) , 2 volume/2 tone controls, 3 position switch. Available in Natural (Scotty's) and Sunburst finish. Mfd. 1951 to date.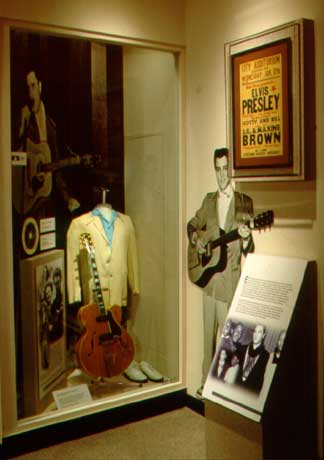 The guitar when displayed at the Memphis Rock 'N' Soul Museum
Photo© by Jeff Tinsley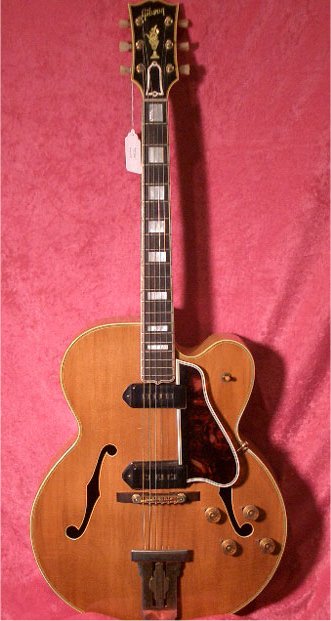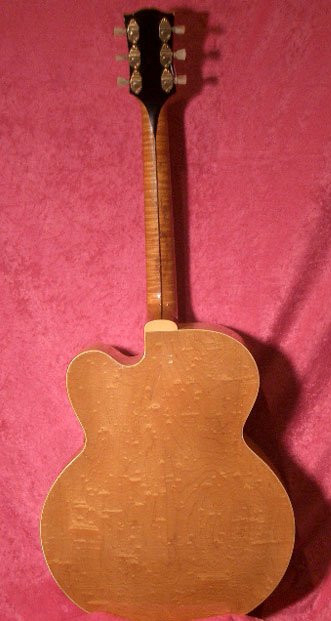 1955 L5 CESN identical to Scotty's 54
Photos© courtesy Gary's Classic Guitars

Ad for 1954 L5CES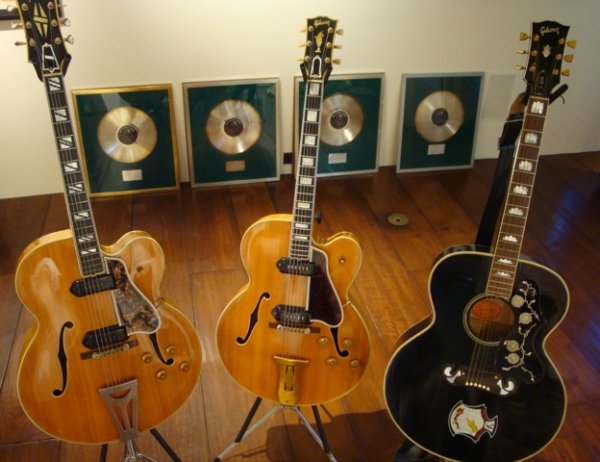 Scotty's original 1956 Super 400, 1954 L5 and Elvis' 1968 J200 (Elvis' record awards in rear)
Photo © H. Mozart
Scotty's L5 was purchased from the UK collector in February of 2005 by Heather Mozart shortly after the auction and along with Scotty's 1956 Super 400, Elvis' 1968 Ebony J200 and many other items remains part of her collection.
*The 1951 Epiphone Elvis is playing belonged to Charline Arthur