The Day Jobs
Their second record on Sun, I Don't Care if the Sun Don't Shine backed with Good Rockin' Tonight, was released on September 25, 1954. Given the recent contract with the Louisiana Hayride and the hopes and promises of further bookings, by the end of October Elvis, Scotty and Bill decided that it was time to quit their day jobs and devote themselves full time to their music.

Memphis Business Directory listing for Crown Electric - 1954
courtesy Mike Freeman
Papers of the day would always describe Elvis as a former "truck driver" before hitting it big, which is really a bit of a misnomer. One of the jobs he had and the one he was working when they released their first record was driving a pick up truck for Crown Electric Company, Inc. James R. Tipler, with his wife Gladys, had opened their electrical contractor business around 1953, originally at 475 N Dunlap St.1

the site of the former Crown Electric Company at 475 N. Dunlap St. in Memphis - Sep. 2008
Photo courtesy Google Streeview
Elvis started working there around April of 1954. The employment agency that sent him to them advised them he was a good boy in spite of the way he looked and dressed. He would however become well liked by the Tiplers.2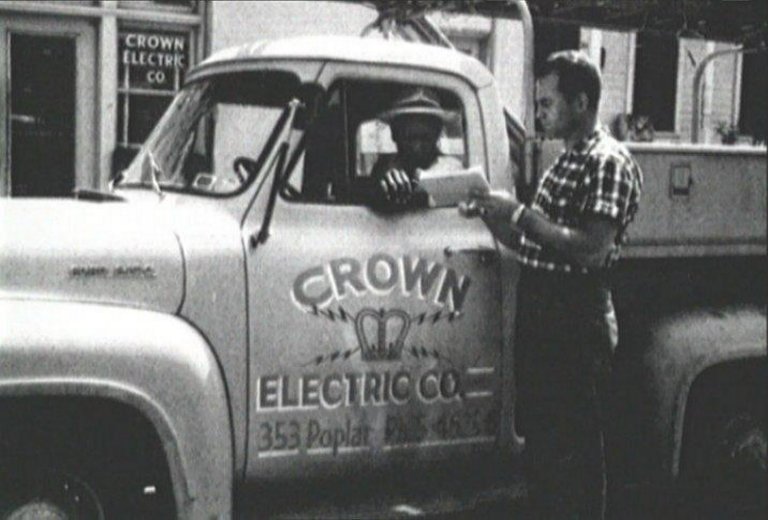 Utility truck at Crown Electric on Poplar Ave.
Photo courtesy Ana Fernández Sangil, web source unknown
As a driver he didn't need to know too much. All he had to do was deliver materials to the electricians on the job. With night school, the opportunity existed for him to study to be an electrician. While there he also worked with Paul Burlison, who was almost a master electrician, and Dorsey Burnette, who was studying to be an apprentice. From them he may have first heard of Scotty and Bill when, according to Peter Guralnick, they told him about having played with them one night in a club and younger brother Johnny Burnette was stabbed in the tailbone. Elvis had known the Burnette brothers since living in Lauderdale Courts and possibly Johnny Black, Bill's younger brother, since their mother still lived at the Courts at that time.2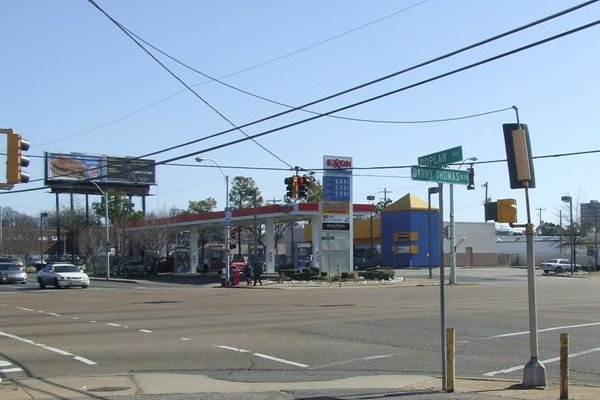 Former site of Crown Electric at 353 Poplar Ave in Memphis - Feb 2007
Photo © Mike Freeman
By 1956 Crown Electric had relocated to 353 Poplar Avenue though that building today no longer stands.2 The original location on N Dunlap is occupied by the Southern Steel Company. The Burnettes and Burlison, also musicians, went onto rockabilly fame known as The Rock And Roll Trio, Johnny Burnette and the Rock and Roll Trio, and sometimes simply as The Johnny Burnette Trio.

Firestone Tire and Rubber Plant at Firestone Ave and Morehead St. in Memphis - ca.1940s
Photo © Newman Collection
Bill Black worked at the Firestone Tire and Rubber Plant in Memphis. The plant had opened in the late 1930s. Run by Raymond Firestone, the son of company founder Harvey Firestone, the Memphis plant would eventually cover almost 40 acres and produce 2,500 tires a day.3
Bill's daughter Nancy, though young, remembers him working there saying, he worked on the assembly line. She said they lived about four blocks from the plant and you could see it, the smokestack, from our duplex. She remembers the smells of the rubber being heated for the tires. Bill's brother Johnny later worked there also.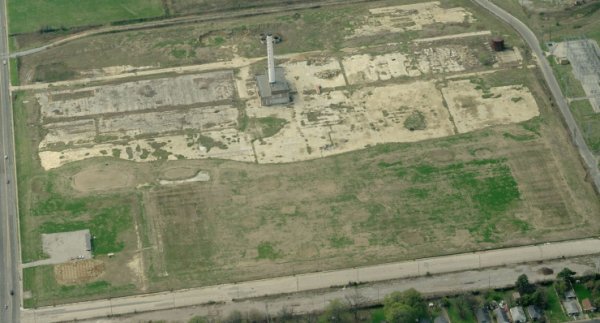 Vacant lot and smokestack of the former Firestone plant in Memphis - 2012
Photo © Microsoft Earthdata
The plant became the largest tire manufacturer in the company's entire worldwide operation and before it closed in 1983 it had become the largest industrial employer in Memphis, with a work force exceeding 3,200. For several years acres of empty shops and warehouses filled an entire block off North Thomas Street until the mid-1990s when the vacant buildings were bulldozed. Only the building with the smokestack remains but the lot is vacant still.3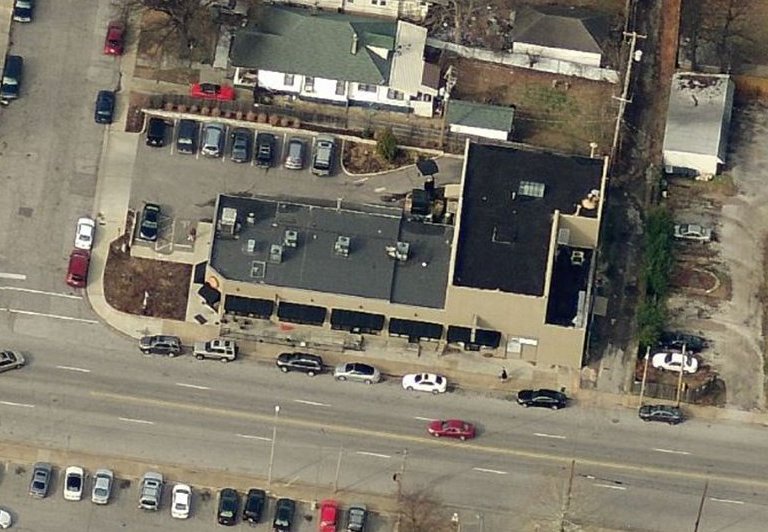 University Park Cleaners at 613 N McLean Blvd in Memphis - ca. 2012
Photo © Microsoft Earthdata
Scotty was working at University Park Cleaners, located in midtown at 613 N McLean Boulevard not far from Overton Park. It was owned and operated by his brother Carney and his wife Auzella. At the dry cleaners Scotty was the official hatter which involved disassembly for cleaning then reassembly and blocking after. In addition to that he made hats from scratch, all kinds, for women and men.4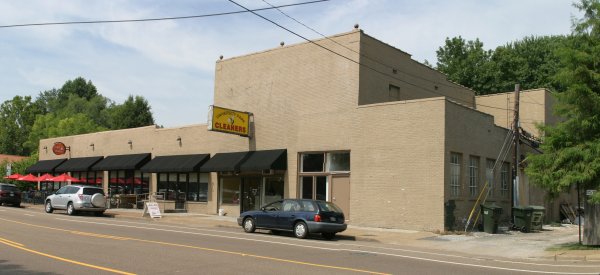 University Park Cleaners at 613 N McLean Blvd in Memphis - Aug. 2, 2013
Photo © James V. Roy, replaced August 5, 2013
Scotty got the job right out of the Navy, replacing the guy that had recently left. He said he got about three hours training and each morning would make the rounds picking up the day's work and delivering the previous day's. Scotty used to bring his guitar to work and play during lunch. Thirteen years old at the time, Wynnette Pugh would often hang around because her mother worked in the office. Carney, Auzella, and Scotty would take turns pushing her around in a clothes cart. She would later recall and say, "Oh, yes. I watched Scotty many times. There was this old black guy who worked in the back and Scotty would go back there with his guitar, and this old black man and him would talk back and forth about guitar licks."4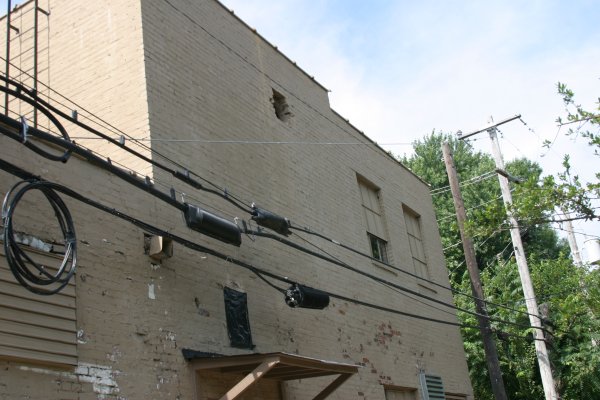 The upstairs in the rear from the side Alley - Aug. 2, 2013
Photo © James V. Roy, added August 5, 2013
When he started the Starlite Wranglers the guys would come by after their day jobs and Carney would let them use the room upstairs in the back to rehearse where he worked on the hats. Afterwards, needing to learn songs for performances after their first record Scotty, Elvis and Bill used the room upstairs to practice after work, in the early evenings or when they could all get off work together. "The day I remember the most was the one when they were coming down the stairs and Auzella looked up and said, 'My, my, my. Look at the stars,'" Wynette said. "Elvis was nothing then, but he looked at her with that little smile of his and he said, 'Auzella, one of these days I'll wrap you up in hundred dollar bills.'" Wynette would grow up to be known as The first lady of Country Music, Tammy Wynette.4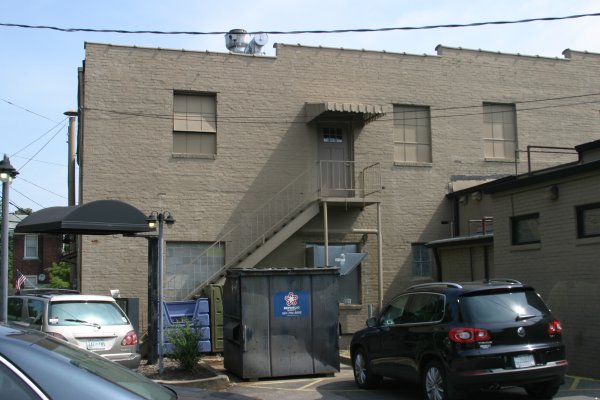 The upstairs in the rear from the opposite side - Aug. 2, 2013
Photo © James V. Roy, added August 5, 2013
Though no longer a family business, the dry cleaners is still there, though it now only occupies the front part of the building. The back at one time was a bakery but is now vacant and being renovated. The upstairs where Scotty used to work and the boys used to rehearse will soon be an apartment.

Scotty revisits University Park Cleaners - ca. 1998
courtesy A&E Biography's Sam Phillips: The Man Who Invented Rock 'n' Roll - 2000
page added May 7, 2013

1 according to Mike Freeman in Where Did Elvis Work?
2 according to Peter Guralnick in Last Train to Memphis
3 according to several back issues of The Memphis Flyer
4 according to Scotty Moore and Jim Dickinson in That's Alright Elvis