Oscar Davis
Oscar Davis was one of Nashville's most revered and earliest promoters, who had established a model for the modern country music promoter back when it was still called hillbilly music. Labeled the Box Office Baron by Billboard Magazine, Peter Guralnick described him as a flamboyant veteran of the vaudeville, carnival, and country circuits with a jaunty boutonniere, an elegant cigarette holder with a habit of fixing his listener in his gaze and focusing all of his considerable charm upon them with his drawling Boston accent. A true bon vivant, he lived up to the advertising slogan he used for every show that he promoted: DON'T YOU DARE MISS IT! Because, though, of his lavish spending and impecunious ways, he was perennially broke and occasionally found himself in the employ of one or another of his protégés.1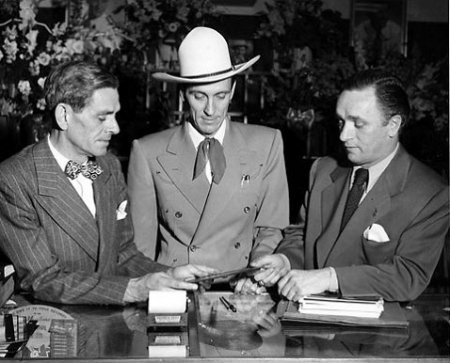 WSM manager, Harry Stone, Ernest Tubb and Oscar Davis - ca. June 1947
Photo courtesy Ernest Tubb Record Shop
Oscar was born on May 20, 1902 in Providence, RI.2 He himself has alluded to exposure to the industry, no doubt through his father, as early as 1912.3 He was a veteran of the first World War and studied law at the American University in Paris and later at Boston University, but eventually followed his father into the theater business. Though he was an actor, a singer, and a violinist as a young man, Davis also showed a flair for promoting dance marathons and walkathons.2 By the mid '30s he was promoting Hillbilly Jamborees through the South he had formed in partnership with Happy Hal Burns a deejay, promoter, manager and songwriter in Birmingham, Alabama.3
Davis plugged his own shows using very little billing but a fair amount of newspaper and more importantly radio announcements, since radio listeners were the chief audience potential. He hyped the shows through such gimmicks as yodeling and fiddling contests and onstage weddings and held the shows in large auditorium and fairgrounds. By the early '40s they were the leaders in the South and literally developed the market making a specialty of hillbilly personal appearances with units consisting of two or three widely known radio artists surrounded by lesser known people, often from stations in the territory played. Many of their acts were pooled from the Opry and one such show in 1942 at the Mid South Fairgrounds in Memphis featured Roy Acuff and the Hoosier Hotshots and Ernest Tubb.3

By the mid '40s he was managing Ernest Tubb when he first met Colonel Parker in Florida. The Colonel had tried to become Acuff's manager on one such Opry show in Tampa but didn't really get on board until he met and signed on to manage Eddie Arnold in 1944.1 During this time Tubb became a major attraction on WSM's Grand Ole Opry, had recorded for Decca and made films for Columbia and Republic. Tubb had opened his Record Shop on lower Broadway in Nashville in 1947, where he hosted his Saturday night midnight jamboree each week after the Opry.3
In August on 1947 Davis was the first to book country music in Carnegie Hall in New York. The show which played two nights to capacity houses featured Ernest Tubb, Minnie Pearl, the Sharp Brothers and George D. Hay and the Solemn Old Judge. That same year Connie B. Gay, a deejay at WARL in Arlington, VA promoted a successful two night package show headlined by Eddie Arnold at DAR's Constitution Hall in Washington. According to Gay, he would develop sort of an unspoken gentleman's agreement with Davis, Parker and Jim Denny for an exclusivity to promote top country acts in the Northeast and Mid-Atlantic States, at the time an area they considered to be "the short end of the stick."3

By September of 1949 Billboard announced that Davis had dropped all other attractions to manage Hank Williams exclusively. The pairing would last less than a year and the two would part company by June the following year. Months later a short lived endeavor with another booker, Lou Wagner, resulted in a breach of contract suit with the American Federation of Musicians against them for failing to fulfill a series of engagements for gospel singer Sister Rosetta Tharpe. By the end of 1951 Davis had teamed up with Connie Gay to promote shows in Baltimore and Washington that featured Hank Williams, Moon Mullican, Jimmy Dickens and Pee Wee King, and in Spartanburg, SC Ernest Tubb and Grandpa Jones.3
By October of 1952 Billboard announced that Davis was again working with Hank Williams as his promotions manager though Williams had returned to the Hayride. Unfortunately William would be dead by the end of the year.3 1952 was also the year that Bob Neal started Memphis Promotions which brought package shows to Overton Park the first of which featured Hank Snow and Webb Pierce. Through these and shows he emceed at Russwood Park he was first introduced to Davis and the Colonel.1
By 1953 Eddie Arnold had fired the Colonel as his manager but an agreement provided that he would still book shows in certain regions.1 In October of 1954, through the Colonel Snow's Jamboree attractions, Arnold started a 10 day tour through the South that took him to venues in Nashville and Georgia, Norfolk, VA and the Mosque in Richmond, Baton Rouge, the Municipal Auditorium in New Orleans, the YMCA in Lexington, NC and also Ellis Auditorium in Memphis. Billboard reported that the contingent included Minnie Pearl, Hank Garland, Roy Wiggins, the Jordanaires, and Robert Powers and Dona Dempsey. The Colonel traveled with the unit as did Tom Diskin as auditor in charge of the box office while Oscar Davis working for Parker was the advance man handling advertising and promotion.3
At the time, Neal was not yet managing Elvis though in July at Sam Phillip's request he added him, Scotty and Bill to a show at Overton Park. After their only appearance on the Opry on the 2nd to less than stellar reviews, introduced coincidentally by Snow, they had since signed on as regulars at the Hayride and the night before Arnold's Memphis stop on the tour, Oscar Davis was introduced to the boys by Neal during one of their last shows at the Eagles Nest. He invited Elvis to the show at Ellis the next night, the 31st, where backstage he met Arnold and Hoyt Hawkins of the Jordanaires. According to Peter Guralnick, Davis suggested they go across the street for coffee and when Elvis asked who the guy with the cigar who eyed them briefly in the backstage area was, he responded as they exited that it was Colonel Parker.1
According to Alanna Nash, Davis then had made a tentative deal to take over management of Elvis from Scotty. She wrote that according to Charlie Lamb, "It was really Oscar who found Elvis," and the Colonel first heard about him when Davis returned to Nashville and drove out to Parker's house and said, 'I saw the darnedest act you ever imagined, this kid who does this twisting around and so forth." After hearing more reports from Texarkana deejay Uncle Dudley (Ernest Hackworth) and Gabe Tucker, the Colonel and Tom Diskin attended a performance at the Hayride on January 15th.4 Scotty remembered hearing that they were in the audience but he made no contact with the musicians.1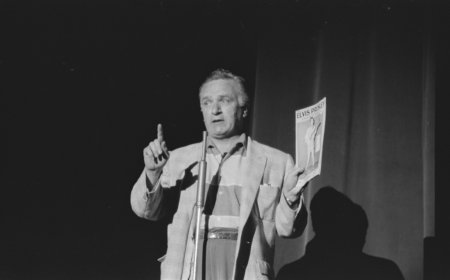 Oscar plugs Elvis Presley Juke Box Favorites in Columbus, OH - May 26, 1956
Photo by Phil Harrington © Evan Harrington
By early February the Colonel, Diskin and Davis met with Bob Neal, Sam Phillips and the boys to work out an arrangement by which Hank Snow Attractions (the Colonel) would handle some of Elvis' bookings though from the outset it was the Colonel's intent to take over management feeling he'd get nowhere on Sun. By the end of the year he had accomplished that and got him signed with RCA.1&4
Peter wrote that according to Davis, Parker "as a manager was tops, the greatest in the world," but in style the two were worlds apart. Oscar's expansive manner charmed every local newspaperman, promoter, desk clerk, and bellhop in sight, while the Colonel was scrupulous in detail with an almost contemptuous dismissal of the niceties of human behavior. Oscar frequently complained to his cronies that he embarrassed him running "around like a goddam carny, with his damn shirttail hanging out and no necktie," but they complimented each other with Oscar as the advance man, and the Colonel coming in behind him to set up the show, hauling pictures, programs, and all the concessions that he was now personally peddling.1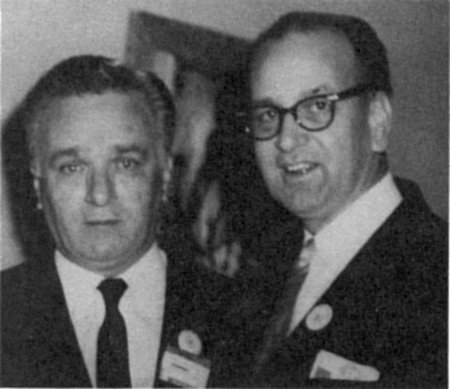 Oscar Davis and Gabe Tucker - Nov. 1958
Photo courtesy Up and Down with Elvis Presley
Sometime, though, in 1956 the Colonel suffered a mild heart attack, brought on, according to Bitsy Mott, by an argument with Elvis, who "was getting a little belligerent and didn't want to show up for appearances on time."4 Gabe Tucker wrote, the strain of dealing with a pouting Star, coupled with his own health problems, led Parker to offer Elvis's contract to Oscar Davis, a box-office baron and typical early-day promoter who was always either in the chips or broke. "You can make a million dollars with my boy, Oscar," Parker said. "If you give me $100,000 he's yours." Davis was broke at the time, but he agreed the Elvis contract at that price was a steal. "I believe I can borrow the money," Davis said. But Davis had a poor reputation for repaying his debts and couldn't raise the cash.5
Davis' association with Elvis' camp lasted until the spring of 1957 when in Canada, acting on the split induced and nurtured by the Colonel between Elvis and the band, and their exploitation, Davis made an unsuccessful bid to represent them. Though he offered them a better deal, the Jordanaires didn't trust him and were the lone holdouts. Without them there simply would not be enough leverage.1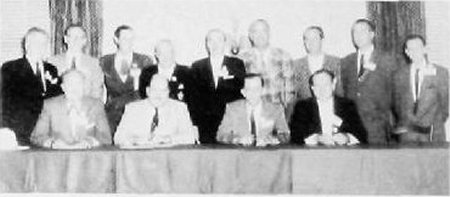 The first officers and directors of the CMA were elected on Nov. 20 and 21, 1958. Pictured standing, from left to right, are: Oscar Davis, artist management, booking agent representative; Ken Nelson, record company rep; Ernest Tubb, artist rep; Bob Burton, director-at-large; Wesley Rose, chairman of the board; "Cracker" Jim Brooker, DJ rep; Vic McAlpin, songwriter rep; W.D. "Dee" Kilpatrick, radio and TV rep; and Charlie Lamb, trade publication rep. Seated from left are: Hubert Long, treasurer; William Harold Moon, vice president; Connie B. Gay, president; and Mac Wiseman, secretary. Not pictured: Eddy Arnold, vice president.
Billboard March 19, 1983
Soon after Davis teamed with Jim Denny's Artist Bureau in Nashville and was doing advance promotion for the Philip Morris Country Music Show through the South with acts like Carl Smith and Goldie Hill, Little Jimmy Dickens, George Morgan and Red Sovine. By the end of 1957 he was managing Jerry Lee Lewis though by November of 1958, after Jerry Lee's ill-fated British excursion resulted in further hits of infrequent occurrence, he was replaced by Judd Phillips, the unsung brother of Sam and Sun Records.3
It's often said that Elvis, with the recording of "Heartbreak Hotel," virtually killed country music overnight. It took the redefinition of the genre, from "hillbilly" to "country," a new sophistication of the music, like the "Nashville sound" developed by Owen Bradley and Chet Atkins, and a host of new artists: Jim Reeves, Patsy Cline and Brenda Lee to name a few, to help re-popularize it. It's almost ironic then that Davis, someone instrumental in the early promotion of Elvis' career, would in 1958 be one of the founding members of the Country Music Association (CMA), an organization formed for the purpose of fostering, publicizing and promoting the growth and interest in country music. Connie B. Gay was its first president.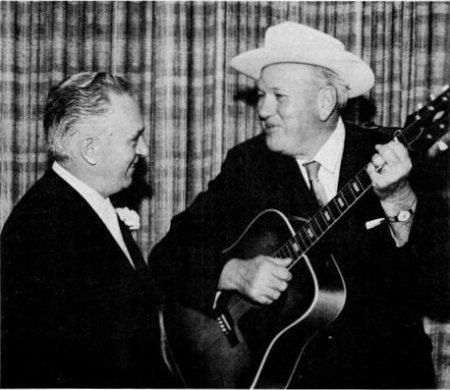 BIG PITCH: Dizzy Dean, the Falstaff Beer man, auditions for Oscar Davis, dean of country music promoters, during a visit to Davis' mammoth country music spec at Cobo Hall, Detroit, Sunday May 5. To display his wares, Dizzy gave a rendition of his famous "Wabash Cannonball." Unimpressed, Davis probed further with: "What else do you do, and what's your background?" No deal yet.
Billboard May 18, 1963
By 1963 Davis was back on top of his game managing Ray Price and promoting large multi-city C&W package shows that included Price, Webb Pierce, Minnie Pearl, George Jones, Kitty Wells, Faron Young and others. However, in mid summer while with a tour in New York he suffered a heart attack and stroke that left him virtually paralyzed. Connie B. Gay took over promotions for the remaining dates and the following year, with Davis somewhat involved organized the new Nashville Division of his organization to promote similar "C&W Spectacular shows." In 1964, Gay along with Davis' other friends formed the Oscar Davis Rehabilitation Foundation and held annual parties each Christmas to raise money to pay for medicine, supplies and therapy for him.3

Decca's Warner Mack signs an exclusive booking agreement with the Buddy Lee Agency as Lee, left, and impresario Oscar Davis look on.
Billboard Jan 16, 1971

A Double occasion is observed in a surprised party hosted by ASCAP's Ed Shea. The occasion was recognition of a new album by Sam McGee, a veteran of 45 years on the "Grand Ole Opry," and the birthday of Oscar Davis, veteran promoter. Davis and McGee blow out the candles on the cake as Shea, right and agent Earl Owens look on.
Billboard June 5, 1971
In the seventies he was working with the Buddy Lee Agency in Nashville and in February of 1974 Billboard Country presented him a "special Pioneer" award.3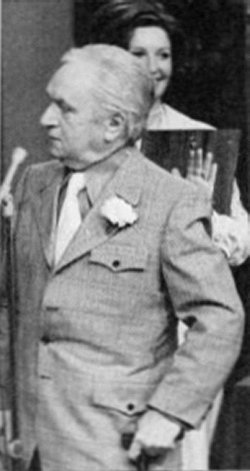 Oscar at the 1974 Billboard Country Awards
Billboard Feb. 16, 1974
Oscar died on April 5, 1975.2
page added May 4, 2011

1 according to or excerpt from Last Train To Memphis: The Rise of Elvis Presley by Peter Guralnick
2 according to or excerpt from The Encyclopedia of Country Music: The Ultimate Guide to the Music by Paul Kingsbury
3 according to or excerpt from Billboard Magazine - multiple issues 1942-1983
4 according to or excerpt from The Colonel: The Extraordinary Story of Colonel Tom Parker and Elvis Presley by Alanna Nash
5 according to or excerpt from Up and Down with Elvis Presley by Gabe Tucker and Marge Crumbaker