Carolina Theater
Spartanburg, SC

The Montgomery Building and Theater in Spartanburg, SC - ca. 1924
Photo courtesy The Lawrence Group
The former Carolina Theatre in Spartanburg, South Carolina, was originally built as the Montgomery Theatre with, and adjacent to, the ten story Montgomery office building. Located downtown at 187 North Church Street at the intersection of St. John Street the building, designed by the Boston architectural and engineering firm of Lockwood Greene & Company was completed in 1924 when modern office building space was still scarce in Spartanburg and the town was experiencing a new growth era. The site was originally the residence of Captain John H. Montgomery who's family were textile leaders in the South.1

The crest on the face of Montgomery Building in Spartanburg, SC
William Lynch Postcard Collection courtesy SCPL
Montgomery's sons, Victor, Walter and Ben, received the property from the estate of their father and transferred the property's title to the Montgomery Building, Inc., thus the building was named. Architecturally it is an excellent example of a Chicago skeletal frame construction skyscraper with a highly developed limestone facing and features Italian Renaissance Revival detailing throughout.1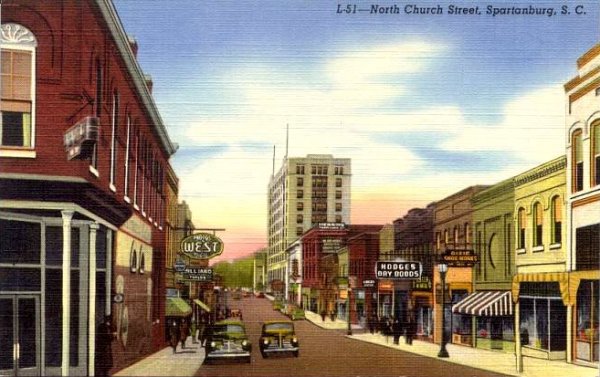 North Church Street with the Montgomery Building in the distance - ca. 1940s
Postcard courtesy ebay
It was the tallest building in Spartanburg until the 1950s. Many well-known tenants including textile companies, cotton brokers and factories had offices there. Lockwood Greene also owned one seventh of the total shares in the building and was a tenant from 1924 until 1966 while a variety of businesses have occupied its first-floor retail space over the years. It also housed Spartanburg's first commercial radio station, WSPA.1

Interior of the Carolina Theater in Spartanburg, SC - ca. 1920s
Photo courtesy Marion Peter Holt
The 1,000 seat theater, located on the right side rear area of the first two floors of the building, opened in October of 1925 and featured an interior box office, thirty-six foot wide proscenium, chandeliers, and a large balcony. The two-story lobby area includes an original wrought iron railing on the second floor and the ceiling, slightly arched, featured an ornate metal grille in the center.1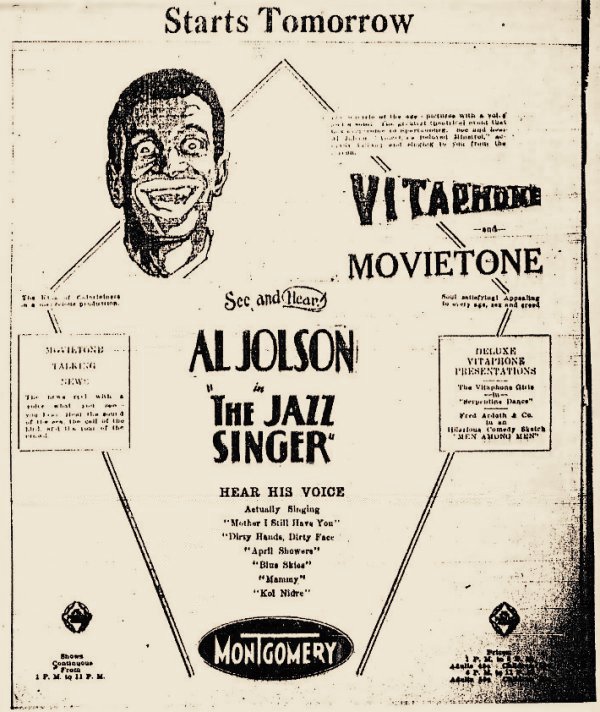 Ad for the Jazz Singer - September 17, 1928
Photo courtesy Marion Peter Holt
Until the arrival of sound features, it offered live entertainment almost nightly--plays, musicals with music by Gershwin, Kern, Friml and others--as well as frequent Keith Vaudeville from New York. In 1926 the Montgomery installed both Vitaphone and Movietone sound to show the new Vitaphone shorts and newsreels with sound, but there was little stir until September of 1928 when "The Jazz Singer" played for a week; two years later Garbo talked in "Anna Christie" and a new era had begun. Still, vaudeville and hour-long revues would continue onstage weekly throughout the depression years.2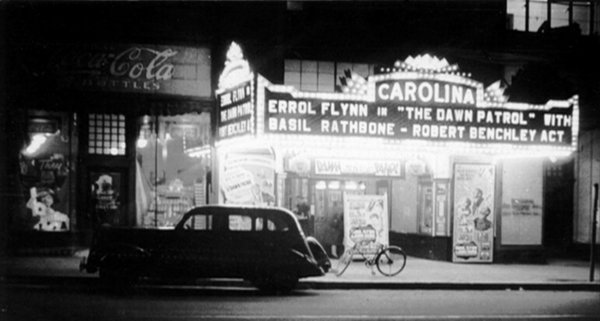 Carolina Theater Marquee at night in Spartanburg, SC - ca.1938
Photo courtesy montgomerybuilding.net
Intended to be equipped with a theatre organ, organ chambers and associated wiring and air duct lines were incorporated into the design, but an organ was never installed, a white grand piano being used in it's stead. As the Carolina Theatre, it was operated by Paramount's Publix Theatre chain and once described as "The Finest Theatre in South Carolina."3

Carolina Theater and the Montgomery Building in Spartanburg, SC - ca. 1941
William Lynch Postcard Collection courtesy SCPL
It was significant in the areas of commerce and entertainment/recreation for its association with the commercial and entertainment history of Spartanburg from 1924 to 1958.1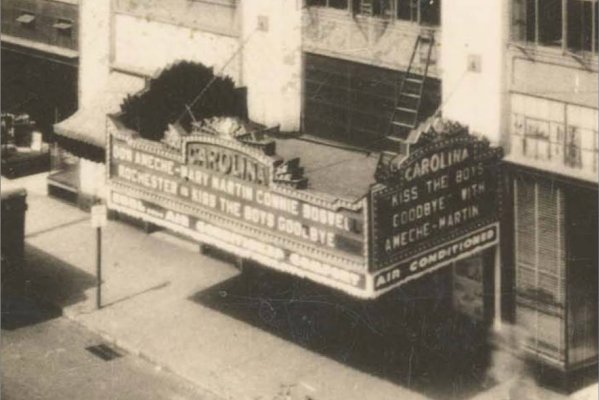 Carolina Theater Marquee in Spartanburg, SC - ca. 1941
William Lynch Postcard Collection courtesy SCPL
On Sunday, February 5, 1956 the day after their second national television appearance on the Dorsey's Brother's Stage Show produced by Jackie Gleason, Elvis and the boys began a tour of the south east with shows at the Mosque theater in Richmond. Oscar Davis acted as the advance man, and the Colonel came in behind him to set up the show, hauling pictures, programs, and all the concessions that he was now personally peddling, taking away a lucrative source of outside income from Bill.4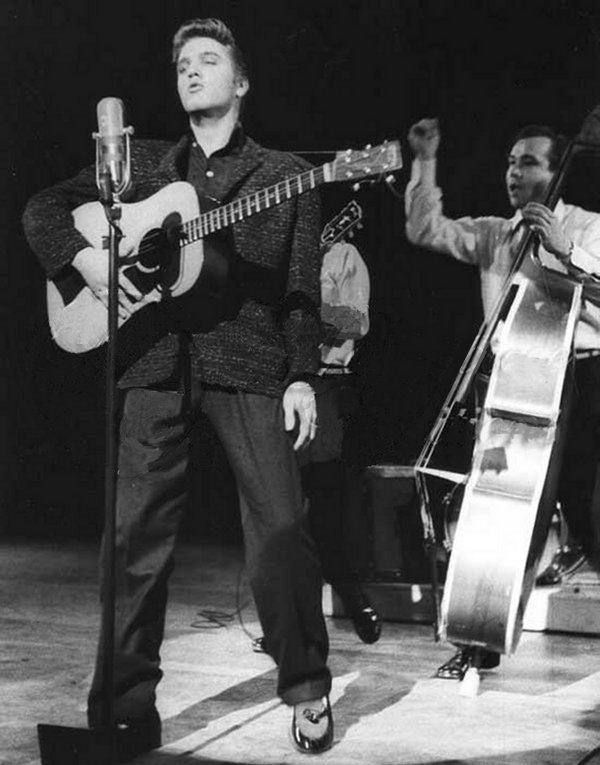 Elvis, Scotty and Bill at Studio 50 rehearsal for Stage Show - (believed to be ) Feb. 4, 1956
Photo courtesy Brain Petersen
Initially only booked for four television appearances, the tour would break for dates to allow them to keep their Saturday night commitments in New York and end in Pensacola on the 26th making a total of 18 road appearances in all. Before the end though Jackie Gleason Enterprises had picked up the option on Presley's contract and scheduled two more appearances on Stage Show for the end of March at the agreed-upon $1,250 each.4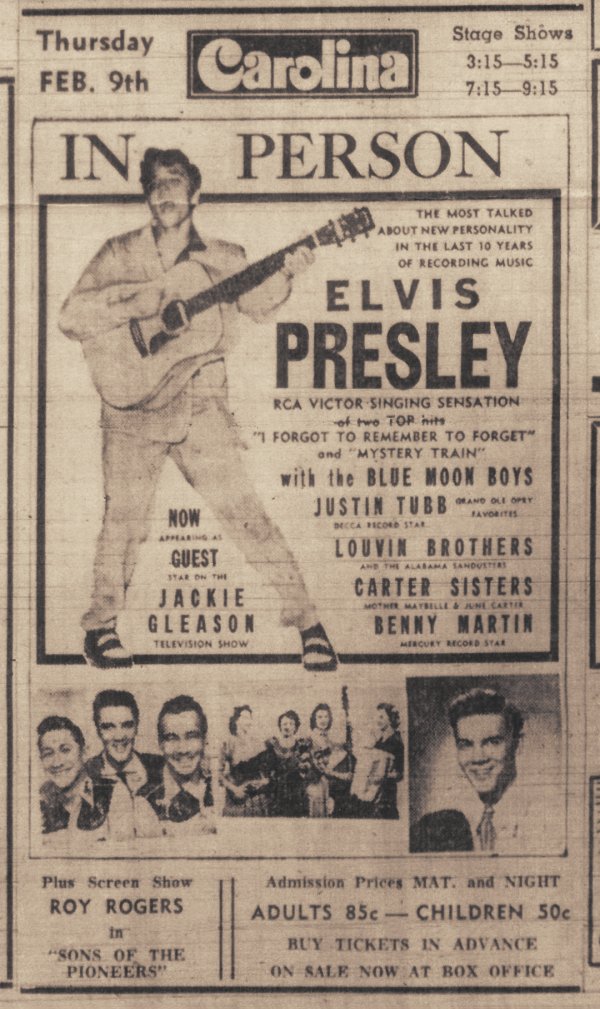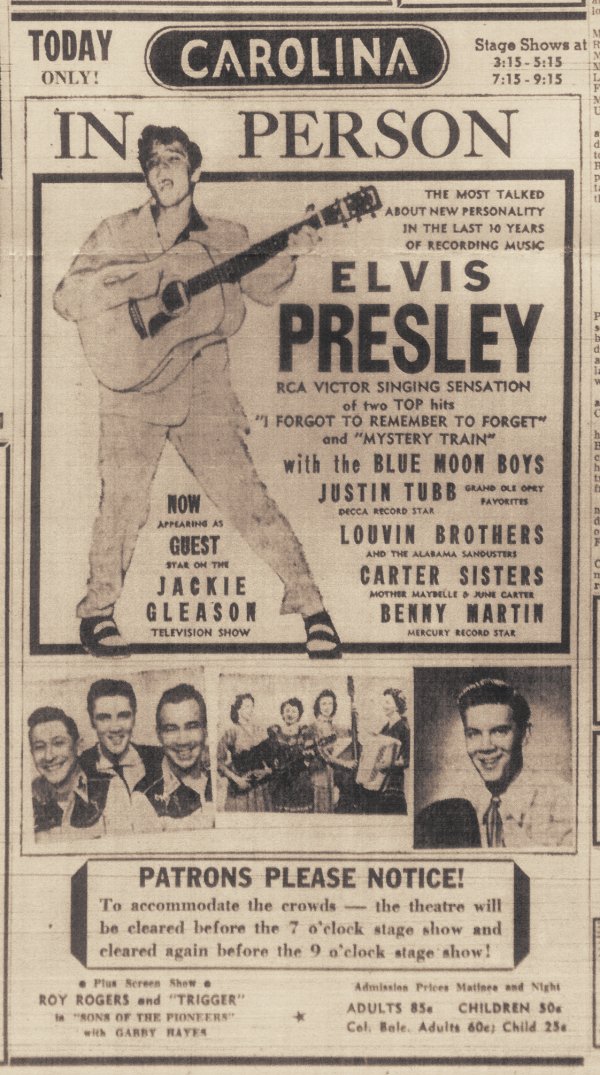 Ads in the Spartanburg Herald for Feb 8th and 9th, 1956
courtesy Kennedy Room of the SCPL
They were again appearing with Opry acts that included Mother Maybelle and the Carter sisters with June Carter, The Louvin Brothers, Justin Tubb, and Benny Martin though now they were the headliners. That week the tour took them from Richmond to Greensboro, High Point and Raleigh in North Carolina and on the 9th to Spartanburg for four shows at the Carolina. The Louvin's were said to be a favorite of Elvis' mother and he would often watch them perform from the wings. Peter Guralnick wrote:
To Justin Tubb, who had grown up in the business and at twenty had already had three country hits and was a member of the Opry in his own right, everything about the tour was different right from the start. "The audiences were a lot younger, and it was the first time I'd ever seen them start screaming and waving their arms and hollering. You know, country singers and pickers had always been [considered] almost second class, pop musicians looked down on us. The kind of feeling you got was that here was somebody who was kind of using country music to get going, and yet he would go out and do his rockabilly stuff, his real raunchy stuff, and that's what the girls wanted to hear." 4

Red West and Elvis backstage in Spartanburg, SC - Feb. 9, 1956
Photo courtesy Kevan Budd
Red West was along on this tour and according to Peter did most of the driving, towing a little trailer cart for the instruments that Elvis' father, Vernon, had made up and painted pink. Red wrote that "it looked more like a rolling toilet than anything else, but the way Elvis' dad went on about that thing, you would have thought it was a goddamned yacht." 4
In one photo said to have been taken backstage in Spartanburg, Elvis and Scotty are pictured posing with their guitars and Bill is holding what appears to be the Martin D-18 that Elvis used as an alternate guitar for the next several months. The origin of this guitar has never really been established and oddly, in this particular instance it features a capo, something not used by Elvis or Scotty. The only artists on that tour that are known to have performed with one were Mother Maybelle though she traditionally played her Gibson L5, and Charlie Louvin, who played a D-28. Elvis in any case was pictured with the guitar (sans capo) for the first time at what is believed to be a rehearsal for the second Stage Show appearance on the 4th and would be again the following day backstage in Charlotte, NC where the tour would go from here.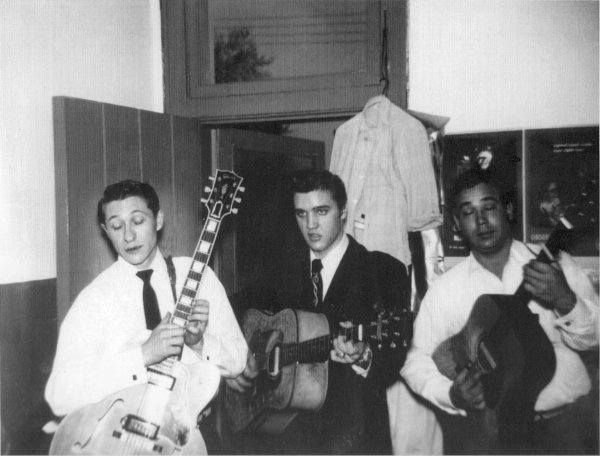 Scotty, Elvis and Bill (with D-18) backstage in Spartanburg, SC - Feb. 9, 1956
Photo courtesy George Klein's Elvis Presley Family Album
On Saturday, the 11th, they were back in New York and Peter Guralnick wrote that all of the acts watched Elvis' performance [on television]. Scotty, Bill and DJ were kept back in darkness and the Dorsey's band accompanied them for a version of Heartbreak Hotel that featured a trumpet solo. The performance was said to be lacking and Peter had implied that aside from the Carters the other acts were probably not too disappointed to see the performance not go over as well. Peter, quoting Justin, also wrote:
"I'm sure there was some real-not jealousy, but envy, because he was happening and you could feel it. Not only in the audiences but in the importance of 'Heartbreak Hotel' just being released and RCA buying his deal and him flying to New York to do the TV show and our all sitting there watching him. "He was like a diamond in the rough. When he walked offstage, he would be just soaked, just dripping. He worked hard, and he put everything he had into it, and everything he did worked, because the audience just didn't care ——we had never seen anything like it before. My feeling was that they didn't capture him on the television show- of course we had already seen him in action, and it could have been envy, but he seemed a little reserved from what we had seen, he seemed a little nervous, they didn't seem to get his magnetism or charisma." 4

Elvis and Red West with (Speedy?)a fan backstage in Spartanburg, SC - Feb. 9, 1956
Photo courtesy Kevan Budd
In Wilson, North Carolina the show was oversold and the Colonel had tried to get them to work another show at no additional pay. Elvis, on the other hand, because of the the contract for the tour signed on January 24th, would still be entitled to 50% of the net proceeds. This naturally caused a fair amount of discontent and resentment toward Elvis, with Ira Louvin being the most verbal.4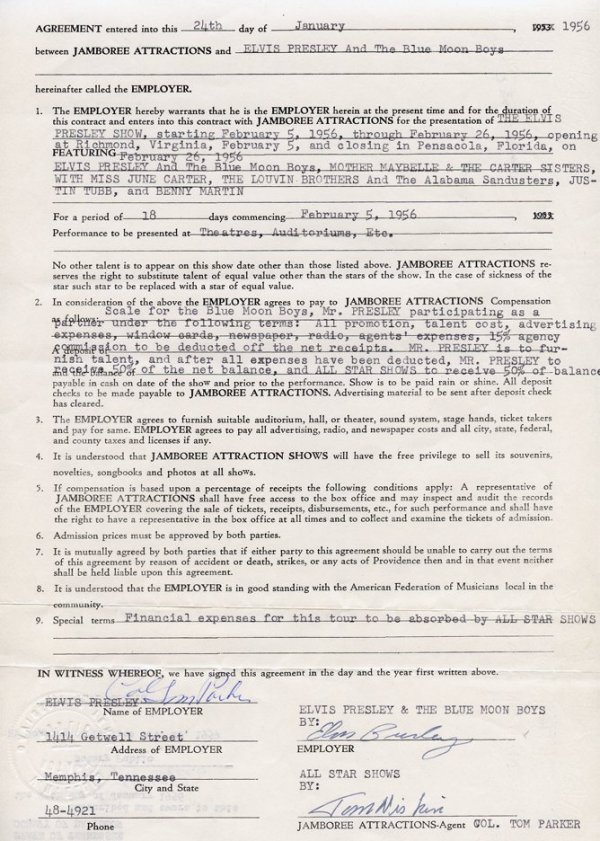 February 1956 tour contract
© EPE courtesy FECC/Terry
According to Gabe Tucker, who managed Tubb at the time, Justin was elected the spokesperson for the others.5 He had known the Colonel since childhood and while Ira was irate to say the least, Justin made a calmer, more reasonable argument.4 In the end they all got paid but, unfairly, it cost Justin his standing with Tucker and any further influence of Colonel Parker's. According to Tucker, the Colonel told them, "none of you will ever have to worry again about working with Elvis. After this tour, I'll never again hire a one of you. But I have a signed union contract with every damn one of you, and I expect you to complete this tour."5 Given the interests of the Colonel were primarily his own and that of Elvis' you can only guess the worth of what "further influence" would have been.

Justin Tubb and Elvis backstage in Spartanburg, SC - Feb. 9, 1956
Photo courtesy The David McCormick Collection
The third week of the tour would take them to Georgia and Florida where they would also perform shows in Waycross, Sarasota, Tampa, West Palm Beach and Jacksonville, though not without further controversy reputedly:
A couple of days after the incident in Wilson, things came to a head backstage between shows. Elvis was hanging around the dressing room with the Louvins, singing hymns and playing the piano when, in the recollection of Ira's younger brother, Charlie, "Elvis said, 'Boy, this is my favorite music.' Well, Ira walked up and said, 'Why, you white nigger, if that's your favorite music, why don't you do that out yonder? Why do you do that nigger trash out there?' Presley said, 'When I'm out there, I do what they want to hear — when I'm back here, I can do what I want to do.' " Ira flashed and "tried to strangle him," according to Charlie, "and they were very distant from that point on."4
Ira's alcoholism and frequent bickering caused The Louvin Brothers to eventually split up in 1963 and both pursued solo careers. Charlie though had the most success. Ira died in the summer of '65 in a car accident with a drunk driver.6 Like most things, events sometimes get taken out of context and stories get embellished over time. In spite of Ira's issues, both Justin Tubb and Charlie Louvin recognized Elvis for his talent and ability. Charlie would later say "he was a good boy and a very large artist, no doubt about it."7 Justin Tubb died in Nashville on January 24, 1998. Charlie continued to perform until his death on January 26, 2011.

The Carolina Theatre after a remodeling in the 1970s
Photo by Bob Willis courtesy Herald-Journal Willis Collection, SCPL
In the 1970s the Montgomery building's historic windows were replaced. Several cosmetic changes were also made to the arcade and other public spaces, including the theater space. The Montgomery Building continued to be a popular business address until the 1980s.1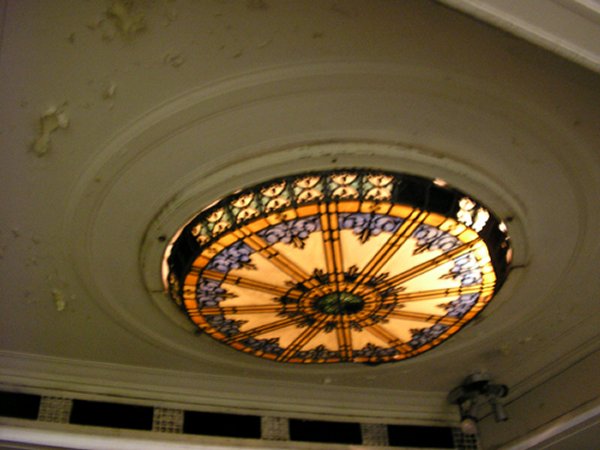 original stained glass lighting in the Carolina's auditorium
Photo courtesy Slobot About Town
As the textile industry continued to flounder, those offices were closed and tenants began vacating the building. Businesses began building their own buildings or renting spaces in stand alone buildings. During the 1990s tenants continued to vacate the Montgomery Building. WSPA housed some its offices and a satellite broadcasting studio in the building into the early 2000s.1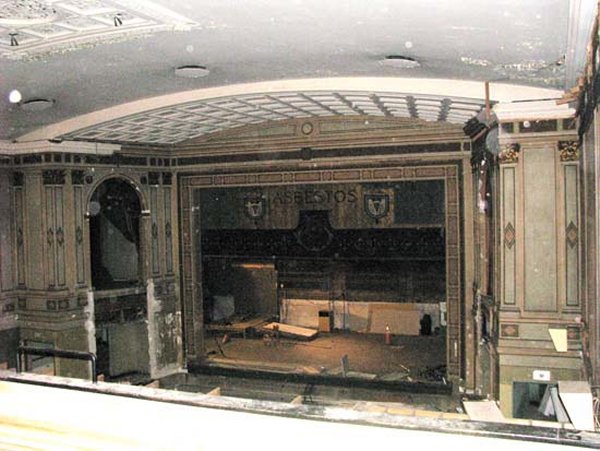 The interior of the vacant auditorium - ca. 2008
Photo courtesy South Carolina Department of Archives and History
In 2007 the building was set to be renovated with new office space and housing as part of the Renaissance Park project, however, by June the project had stalled and the owner, Arthur Cleveland, lost it when he defaulted on a $2.7 million loan. It was purchased at auction by Florida-based Cypress Lending for $1.9 million. When the building went into foreclosure the remaining tenants vacated.8

The St. John Street side and rear of the Montgomery Building in Spartanburg - ca. 2008
Photo courtesy South Carolina Department of Archives and History
The theater, now accessed from the arcade on the St. John Street end of the building, remained vacant and in a state of deterioration since. Being the only historic movie theater remaining in Spartanburg, a rehabilitation of the building and theater had been hoped.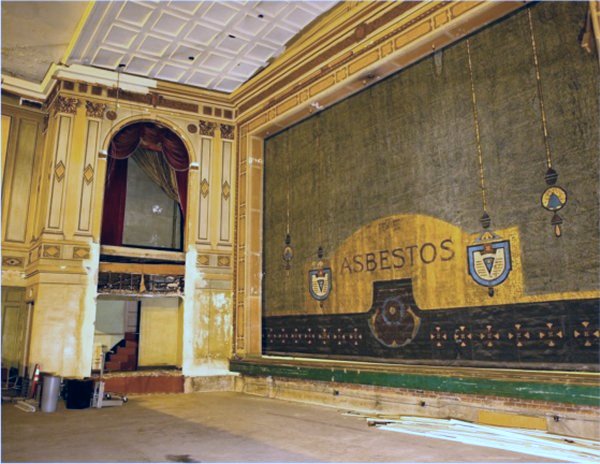 The theater stage from the main floor in the Montgomery Building during renovation - 2012
Photo © montgomerybuilding.net
By 2009, Cypress, consulting with city leaders on the right course for the historic building, had enlisted a developer and a local builder to create drawings and was still exploring options and making cost analyses for the building's renovation.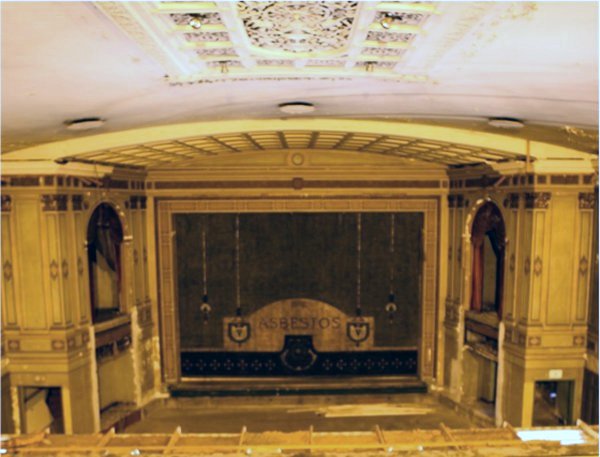 The theater auditorium from the balcony in the Montgomery Building during renovation - 2012
Photo © montgomerybuilding.net
In 2010 at least part of it housed the Spartanburg Science Center and the Spartanburg Dance Center, which along with two other buildings on a five acre campus made up the Chapman Cultural Center operated by The Arts Partnership of Greater Spartanburg.9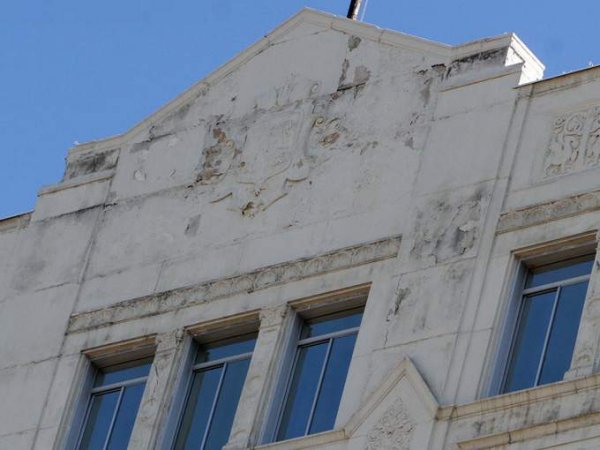 Montgomery Building Facade - Feb. 2012
Photo by Mike Bonner courtesy GoUpstate.com
On May 25, 2011, the building was listed on the National Register of Historic Places and is now adjacent to the new George Dean Johnson, Jr. College of Business. In February of 2012 it was announced that a team of investors intended to restore the ten-story building and open it for use as commercial office space, student housing and retail space by Autumn of 2013.10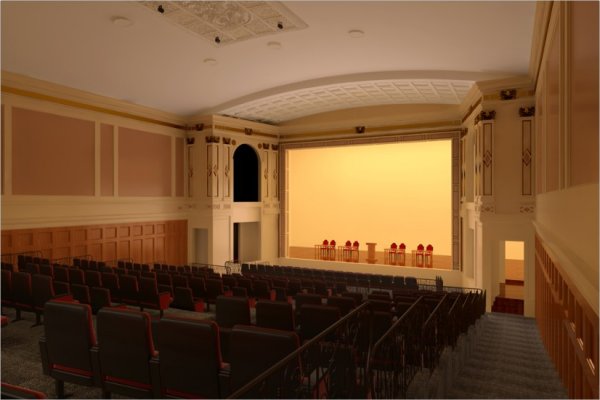 The restored theater auditorium from the balcony in the Montgomery Building - 2012
Photo © montgomerybuilding.net
Their plan involved restoring the historical façade and floor plan, as well as the building's theater. Their goal is to "restore the Montgomery Building to its original prominence and once again allow it to be a landmark to the historic perseverance of the people of Spartanburg." 10

The Montgomery Building in Spartanburg, SC - 2012
Photo © montgomerybuilding.net





Aerial views courtesy Microsoft
Coming in 2018, The Montgomery Building, newly renovated, will again serve the downtown community as a mixed-use complex. The ground floor will feature select boutique retail stores and intimate restaurants, topped by nine floors of high-end residential apartments. Listed on the National Register of Historic Places, The Montgomery Building will retain its unique architecture, while catering to the modern needs and interests of urban residents. (added May 2016)
Page added February 9, 2013
Special thanks to Susan Thoms in the Kennedy Room of the Spartanburg County Public Libraries for her assistance with this page. Visit the Montgomery Building's website and Facebook page to view more photos.
1 according to the National Register nomination form for the Montgomery Building courtesy the South Carolina Department of Archives and History.
2 according to Marion Peter Holt, former native of Spartanburg
3 according to Cinema Treasures
4 according to or excerpt from Last Train to Memphis by Peter Guralnick
5 according to or excerpt from Up and Down with Elvis Presley by Gabe Tucker and Marge Crumbaker
6 according to The Louvin Brothers: Charlie Louvin courtesy Porch Spins and Whiskey Rants
7 according to CHARLIE LOUVIN REDISCOVERED By Paul Freeman - 2008 courtesy Pop Culture Classics
8 according to Historic building sells for $1.9 million by Lynne P. Shackleford June 5, 2007
9 according to Visiting Chapman Cultural Center in Spartanburg, SC By Dawn Allison
10 according to Developer wants to renovate Montgomery Building By Andrew Doughman - February 18, 2012