The Mosque Theater - Richmond, VA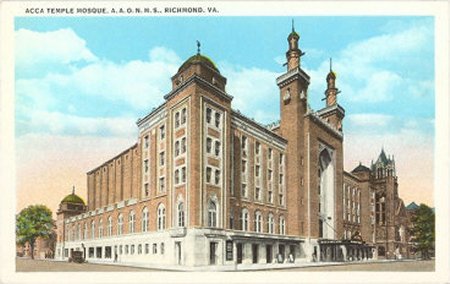 Vintage postcard featuring the Mosque
courtesy Art.com
Located at 6 North Laurel Street, to the west of downtown Richmond, Virginia, the Mosque was built in 1926 by the Shriners as their Acca Temple Shrine and contained the most elaborate and the largest theater ever built in Richmond with approximately 4,600 seats and the largest proscenium arch stage on the East Coast. It was designed in 1925 by Marcellus Wright, Sr. in association with Charles M. Robinson and Charles Custer Robinson. Though it opened in October of 1927 it was officially dedicated on January 9, 1928 and completed at a cost of $1.65 million.

The Landmark (Mosque) Theater in Richmond - Mar. 2008
Photo © Annie Bissett
The building is a lavish replica of a Moslem Temple. Twin minarets and a tall arch mark the entrance while corners have small domes. Glazed terra cotta ornament is used throughout. 75,000 square feet of gold leaf went into the dome alone, and another 35,000 square feet of aluminum leaf was used.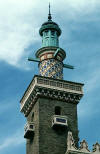 Entrance arch, corner tower dome and minaret
Photoc © 2002 Mary Ann Sullivan
The Auditorium decorations include Saracenic decorations and five paintings bordering the proscenium arch of the stage. Ornamental tile used in the interior was imported from Spain, Italy and Tunis, along with lush carpets, silken curtains and paintings. Besides the auditorium the building contains 24,300 square feet of office space, an 18,000 square foot ballroom and a 20 by 70 foot swimming pool. Some of America's greatest entertainers have appeared on its stage.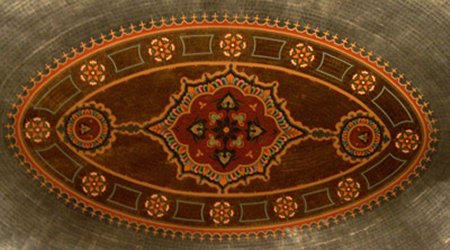 Ceiling tile in The Mosque in Richmond - Mar. 2008
Photo © Annie Bissett
Through the 1930s the Mosque Theater played host to films, concerts and a plethora of entertainers and theatrical productions which included the Ziegfield Follies, Ethel Barrymore, Maude Adams, George Gershwin and Sergei Rachmaninoff, to name but a few. In 1935 the ACCA temple was financially strapped and forfeited the mortgage on the Mosque to the New York Life Insurance Co. In 1940 it was purchased by the city of Richmond for $200,000.00, $375,000 less than New York Life's asking price in 1939.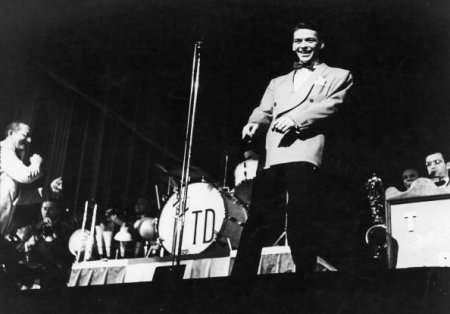 Frank Sinatra with the Tommy Dorsey Orchestra c.1941
Photo courtesy web
In 1941 the Tommy Dorsey Orchestra performed there with a new young vocalist, Frank Sinatra. When Frank Sinatra joined the Tommy Dorsey Orchestra in 1940, he was just another struggling singer, trying to strike fame and fortune. Minor success had led him to trumpeter Harry James' new band, but in 1940 he was lured away to the Dorsey's Orchestra. This was his big break. Big band music was traditionally listened to by an older crowd, but a younger and more energetic audience was attracted to Sinatra's youthful persona and these Bobbysoxers made Sinatra a star.1

The War Department activated the Anti-Aircraft Command in March of 1942 during World War II and formally separated the Antiaircraft Artillery from the Coast Artillery. Under the command of General Green the Mosque in Richmond served as the headquarters for the Anti-Aircraft Command from April of 1942 until October of 1944.2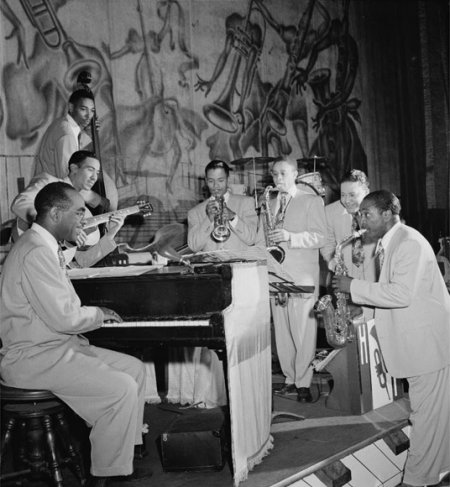 Louis Jordan and the Tympany Five
Photo courtesy Rock N Roll Heaven
In May of 1953 Louis Jordan and the Tympany Five performed at the Mosque. Louis has been called "the Father of Rhythm & Blues" and "the Grandfather of Rock 'n' Roll." The swinging shuffle rhythms played by singer/saxophonist Jordan and his Tympany Five got called "jump blues" or "jumpin' jive," and it served as a forerunner of rhythm & blues and rock and roll. It has been plausibly argued that "Saturday Night Fish Fry," (Listen) released in 1949, is worthy of consideration as the first rock and roll record, containing many of the genre's key ingredients: a distorted electric guitar, an early use of the word rocking, party-themed lyrics, and danceable, up-tempo music.3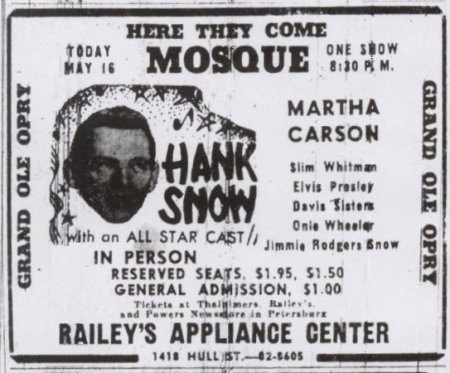 ad in Richmond Times-Dispatch - May 16, 1955
On May 16, 1955 Elvis, Scotty, and Bill made their first appearance at the Mosque with the Hank Snow Jamboree. Martha Carson was the headliner and the show also featured Slim Whitman, the Davis Sisters, Onie Wheeler and Jimmie Rodgers Snow. All of the shows in Richmond were apparently sponsored by Bill Railey of Railey's Appliance Center.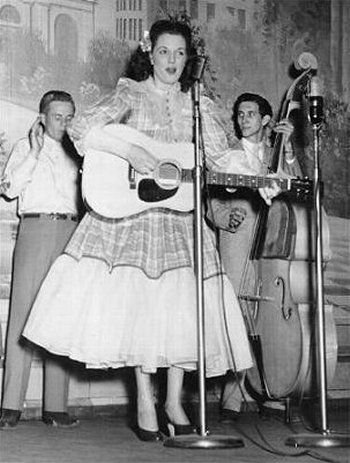 Buddy Killen, Martha Carson and Jerry Rivers at the Opry
Photo courtesy web
Having performed in acts with her sisters and then her since divorced husband, Martha recorded her first solo session for Capitol in 1951 with Chet Atkins, Bill Carlisle, and her sisters Jean and Berthy as musicians. The song "Satisfied," one of the first million selling gospel songs sung by a woman would noted by the Smithsonian Institute for its popularity and number of album sales. In 1952 Martha would be asked to perform on the Grand Ole Opry. In late 1954 and 1955 she shared many dates touring the south with Elvis, Scotty and Bill. Elvis "asked me to show him the move I did at the close of my show," says Martha, "I would go down on one knee and hold the mic stand at an angle. He went on to do that pose a lot on his shows," Martha recalled.4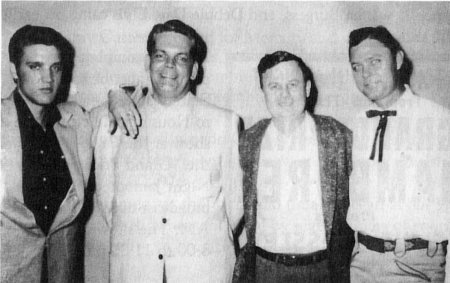 Elvis, Bob Neal, Jimmy Work and Onie Wheeler - Mar. 9, 1955
Photo courtesy Charlie Terrell and Lee Cotten's "Did Elvis Sing in Your Hometown"
Onie Wheeler recorded traditional country, bluegrass, and rockabilly (for Sun) in a career that stretched from a small radio show in Missouri all the way to the Grand Ole Opry. After reaching Nashville, Onie recorded with Columbia in 1953. By the mid-'50s, his repertoire began to lean toward rockabilly; he signed to Sun Records in 1957. He later recorded for Epic, Starday, United Artists, and Musicor during the '60s. Onie would later collapse and die during a performance in May of 1984 playing at the Opry with Jimmie Rodgers Snow.5

Backstage at the Mosque - May 16, 1955
Photo Courtesy Brian Peterson
Of the May 16th performance, Peter Guralnick and Ernst Jorgensen in Elvis Day by Day wrote, RCA field representative Brad McCuen (responsible for east Tennessee, Virginia, and the Carolinas) and country--and--western promotion manager Chick Crumpacker are in the audience to check out some of their acts. Crumpacker remembers being bowled over. "What really got the listeners was his energy and the way he sang the songs. The effect was galvanic." Subsequently Crumpacker makes a point of taking all of Elvis' records back to New York to give to his boss, Steve Sholes, who, unbeknownst to him, is already well aware of the new act.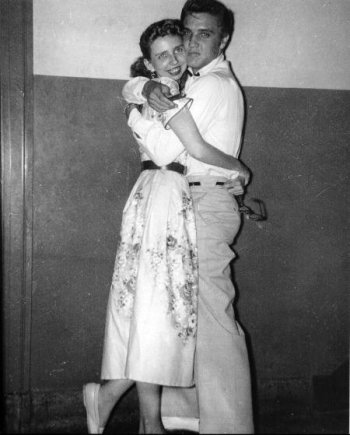 Backstage at the Mosque with fan Jan Edwards - May 16, 1955
Photo courtesy "Candids of the Kin" by Jim Curtin
A subsequent article in the Richmond Times-Dispatch the following September announcing Elvis' next appearance in Richmond at the WRVA Theater read, Presley was here with Hank Snow in May and was given the greatest ovation ever accorded a hillbilly performer here.

The Day by Day book lists them performing again at the Mosque in Richmond with the Hank Snow Jamboree for the Philip Morris Employees Night on November 29, 1955. However, no review or advertisement in the Times-Dispatch found at this time confirmed that. The show though, and one the following week in Louisville on December 8, was mentioned as the forerunner of Philip Morris Country Western tour announced in Billboard magazine, a year to the day after Elvis' Louisville appearance. An advertisement for their next public appearance at the Mosque on February 5, 1956 refers back only to the September appearance at the WRVA Theater.


Feb. 5, 1956 ad in Richmond Times-Dispatch
Hillbilly Shows Here At Mosque - Richmond hillbilly and Western-music fans have had a hand in boosting a number of young entertainers in their field up that ladder of success. Latest of the lot is Elvis Presley, the youngster who will head the shows at the Mosque at 2:30 and 8:30 P.M. today. Elvis took the city's folk-music addicts by storm last September. Since then he has met with similar applause wherever he has whammed his guitar to accompany himself in such numbers as "Blue Moon of Kentucky," "Mystery Train," and other record releases. He is backed by his own outfit, called the Blue Mooners, as a tribute to the first song which brought him to public attention. Others on the bill today will be The Carter Sisters and Mother Maybelle, who got their start at local stations WRNL and WRVA; the Louvin Brothers, a pair of former mail clerks who turned their music making hobby into a career; Justin Tubb, son of famed Ernest Tubb; Rod Brasfield, Benny Martin and others.


February tour contract
© EPE courtesy FECC/Terry
By the time of this appearance at the Mosque on February 5th, Elvis, Scotty, Bill and DJ had appeared on National Television on The Dorsey Brothers' StageShow twice, most recently the night before on February 4th. They are now the headliner of the tour. This was the beginning of a broken three-week tour. Dates would include shows in North Carolina, South Carolina, Virginia, Waycross, Georgia and Florida surrounding their next two television appearances in New York on Saturday nights.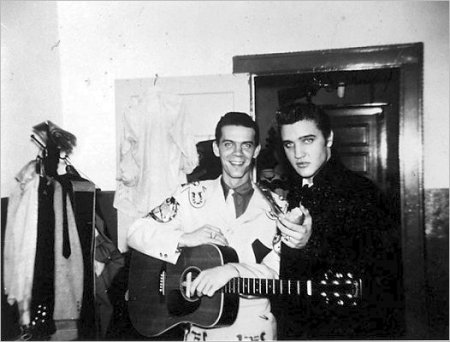 Justin Tubb and Elvis backstage (reputedly Spartanburg, SC, February 9, 1956)
Photo courtesy The David McCormick Collection
According to Peter Guralnick and Ernst Jorgensen in Elvis Day by Day, After witnessing both of Elvis' television performances and the show in Richmond, William Morris agent Harry Kalcheim writes the Colonel to suggest that on television it would be better if Elvis' singing stood out more from the contributions of the other musicians. "As a matter of suggestion in Elvis' act," he writes in reference to the Richmond package show, "he should avoid too much clowning as it detracts from his singing. . . . After sitting through two hours of singing and clowning, when the star of the show, Elvis Presley, comes on, they really want to hear Elvis go to town instead of the clowning, which gets a little repetitious even though some of it is funny. Was pleasantly amazed at the reaction. One has to see this to understand and appreciate what he does to an audience.

On March 22, 1956 the band performed at the Mosque again. This time the ad mistakenly referred to Scotty, Bill and DJ as the "The Blue Mooners" instead of "The Blue Moon Boys" as did the write-up in February. They had by now appeared on the Dorsey Brothers television show five times and were weeks away from making an appearance on the Milton Berle show from the deck of the aircraft carrier USS Hancock. They had one commitment on the Dorsey show left. The last time on the show they had piqued the interest of New York photographer Al Wertheimer who had been hired by Ann Fulchino of RCA to shoot some promotional photos. Al would later arrange to meet up with Elvis in Richmond for his next (and final) appearance at the Mosque on June 30, 1956 and follow him from there to New York and back to Memphis where he would take several thousand photographs, many of which are now world famous.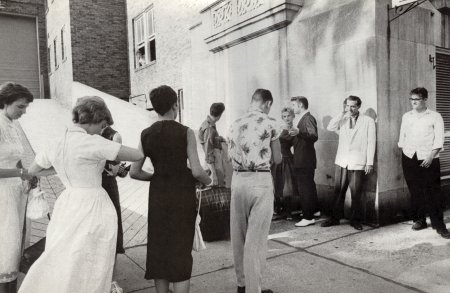 on the backstage ramp at the Mosque - June 30, 1956
Photo © Alfred Wertheimer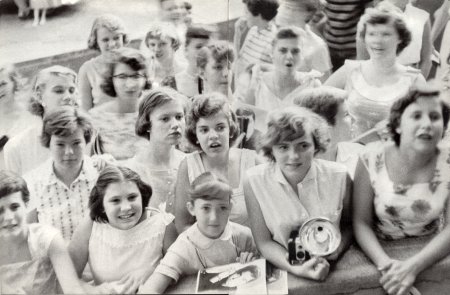 Fans backstage at the Mosque - June 30, 1956
Photo © Alfred Wertheimer
According to Al, The cab drove up Main St., drifting through the still heat until it landed at the rear of the Mosque Theatre. I had expected Elvis to march directly up the backstage ramp, it was only twenty minutes to showtime, but instead, he laid back and held court with a the few young ladies who had gathered, all primly dressed in their Sunday best and ready with their Brownie cameras. For someone who was moving up pretty fast he never seemed to be in a rush. He always had time for the fans.6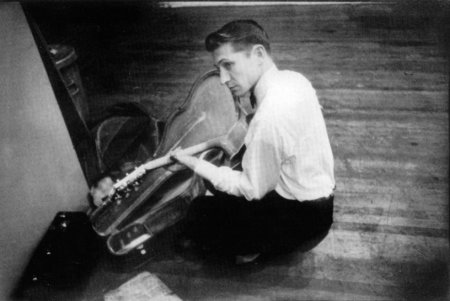 Scotty backstage at the Mosque - June 30, 1956
Photo © Alfred Wertheimer
Backstage, musicians unpacked their instruments, reporters milled around looking for an opportunity, and young wives and mothers sat against the wall drinking Pepsi and smoking cigarettes. On stage, under the beam of spotlights, a small brass band rehearsed. The stage was a shallow blond floor separated from the audience by a think fading red curtain. Elvis wandered around the stage, feeling its size like builder inspecting a piece of land. When he finished his survey he nodded to his musicians in the wings and proceeded toward what could be called the green room.6

Warming up with the Jordanaires amidst the screams of girls outside - June 30, 1956
Photo © Alfred Wertheimer

Sneaking a kiss from Bobbi Owens moments before going onstage - June 30, 1956
Photo © Alfred Wertheimer
The act onstage was a square dance troupe. Colonel Parker would hire acts out of various country and western circuits or variety shows and package them with Elvis when he toured the South. They got little or no billing. On this night the colonel hired Doris and Lee Strom, a dancing team; the Flaim Brothers, musical comedians; and Phil Marquin, a magician.6

Waiting in the wings of the Mosque stage - June 30, 1956
Photo © Alfred Wertheimer
Elvis was crouched in the wings watching the procession of acts. After the magician went through his tricks, the curtain closed, the applause fell away and quickly the shouts of 'Where's Elvis?" became a chorus. The comedians went into their routine while behind the curtain Scotty, DJ and Bill set up their instruments. The lights dimmed. A spotlight popped on, and Elvis rushed out onto the stage, propelled. The was an explosion, screaming, screeching, whistling, girls jumping, surging towards the stage.6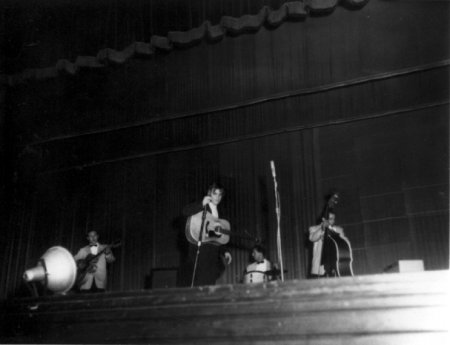 Scotty, Elvis, DJ and Bill onstage at the Mosque
Photo courtesy Ger Rijff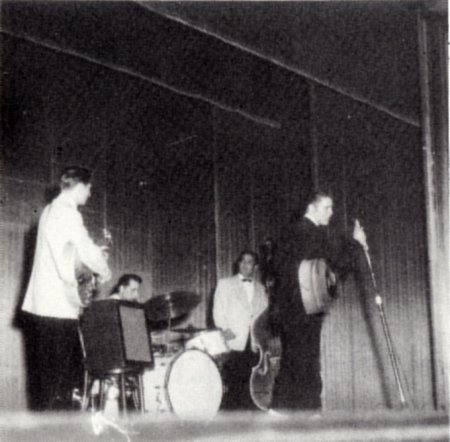 Scotty, DJ, Bill and Elvis onstage at the Mosque
Photo courtesy Ger Rijff''s "Long Lonely Highway"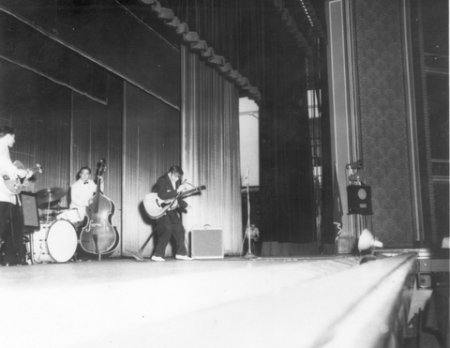 Bill and Elvis onstage at the Mosque
Photo courtesy FECC/denon3910
After the first show was over, somebody gave him a Pepsi, and as soon as he joined the present, the momentum of his nervous energy sent him back to center stage where he sat down and started playing with the drums. A reporter in bowtie and glasses pulled up a chair and asked questions like he was covering a fire and Elvis was the fire chief. As the reporter filled in the answers to his prepared questions, Elvis fiddled with the drumsticks, tapping them on his hands, setting them down, them picking them up and bumping them against his chin.6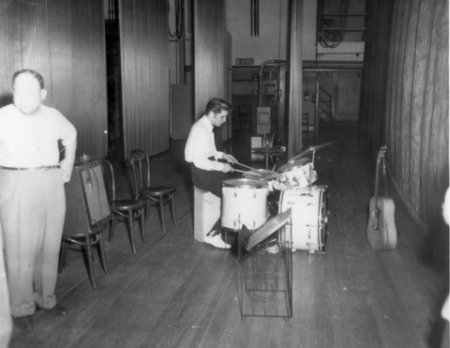 Elvis at the drums - June 30, 1956
Photo courtesy FECC/denon3910
Before the screaming started Elvis Aron Presley, 21, ambled over to the drum set in the center of the Mosque stage. His white, knit tie was yanked loose and his shirt was ringing wet. The first show was over. He had finished an interview with the London Mirror and had a couple of hours to kill before the next show. Presley, a Tupelo, Miss. boy who drove a pickup truck for an electric company until 1954, is America's newest adolescent sensation, a sort of Rock 'n' Roll Caruso. To his followers, he's a "living doll." To his critics he's "vulgar" and "indecent." To the Jukebox merchants he's the hottest rage since Frankie Boy (Sinatra), vintage 1943.7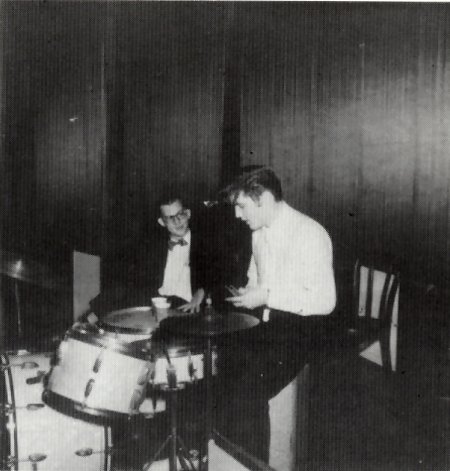 Reporter Gene Miller interviewing Elvis - June 30, 1956
Photo courtesy Ger Rijff''s "Long Lonely Highway"
At the drums the black sapphires and diamond studded horseshoe rings glittered as he tapped gently at the snare, careful not to upset the two Cokes on the tom tom. "I can't play," he drawled. "I learned this when I was in the ROTC in a Memphis High School."7
Elvis now owns a ranch style home on Audubon Dr. in Memphis. He also owns a motorcycle and four Cadillacs -- pink, blue, yellow and white. The white one goes 115 mph. Why so many? "I might go broke. They've got a very high resale value know."7

Elvis and young fan - June 30, 1956
Photo courtesy FECC/Desert Storm
Offstage, Elvis is quiet likable and a little aloof conversationally. If he is awed by his catapult to fame, it is well insulated with nonchalance. He is careful to say "sir." on several occasions he added, "I don't mean to be smart." An hour and a half later he publicly dedicated a song to the New York Press, "You Ain't Nothing but a Hound Dog" and added, "I've got pretty far the way I taked away the stage steps so am and no one is gonna change me!"7
A few days ago he bit the finger of a woman reporter in Charleston, S.C. "I was sitting in my car and she stuck her hand in and grabbed my coat and said 'I got a deadline! I got a deadline!' so I bit her finger. I was just being friendly, but she tried to make a big deal."7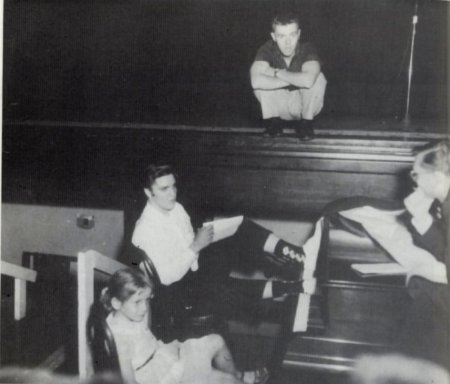 In the orchestra pit at the piano - June 30, 1956
Photo courtesy Ger Rijff''s "Long Lonely Highway"

In the orchestra pit at the piano - June 30, 1956
Photo courtesy Ger Rijff''s "Long Lonely Highway"
The curtain went up on the empty Mosque and Elvis jumped into the orchestra pit to the piano. He played a little boogie and Dragner's dum de-dum dum. The young ushers and two girls rushed to the front row. "Hit, ladies," he said with a grin. "Hi, man." The ushers told him they had he wouldn't get mobbed. "It isn't so bad. I enjoy it." Pointing to the ceiling, he said, "They can jump to the lights if they want to, That's okay with me."7
Elvis' favorite pastime is watching movies. He also likes pool shooting, swimming and motorcycle riding. "I hate to sound like I'm bragging, but I don't have much time." He talked to the ushers for 10 minutes. They learned Elvis never has to rehearse. The crowd began to wander in and Elvis climbed back onto the stage and the curtain came down again.7

fooling around with an accordion
Photos courtesy "Candids of the King" by Jim Curtin and Ger Rijff''s "Long Lonely Highway"
He fooled around unprofessionally with an accordion, obliged half a dozen photographers and told two TV movie cameramen they couldn't shoot because his contract said "no movement." He playfully chased an attractive young blonde across the stage into the wings, and ignored his frantic fans who were rattling the big steel doors outside. Soon he was back at the drums. An orbit of musicians, girls and well wishers spun around him.7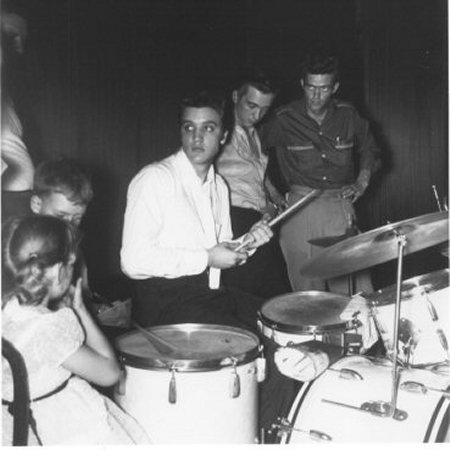 Elvis back at the drums in between shows at the Mosque - June 30, 1956
Photo courtesy Ger Rijff''s "Long Lonely Highway"
He isn't married and has no steady girl. The one gloomy thing bothering Elvis is the army. He hasn't heard one word from his Memphis draft board yet, but figures it will come all too soon. Sipping his fifth or sixth Coke, said, "I don't eat before a show. It makes you sweat." He admitted he was a fingernail biter and he still gets a little nervous before going on.7
The show started and Elvis headed for the dressing room. It took him about five minutes to get his hair combed just right. He didn't do anything to his sideburns.7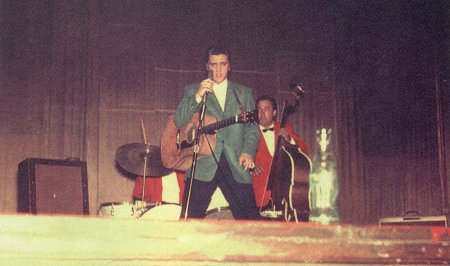 DJ, Elvis and Bill onstage at the Mosque - June 30, 1956
Photo courtesy "Elvis Word for Word" by Jerry Osborne
Patrons over 21 might have felt as if they were suddenly rip Van Winkled into senility upon entering the almost packed Mosque Saturday. It looked like a high school pep rally. Before Elvis went on, an assortment of singers, dancers and comedians tried to soothe and amuse the impatient. A fist fight broke out and someone called the police. Then the lights dimmed a reddish-blue and Elvis was in the spotlight.7
Screams, waves of screams, drenched the Mosque. Elvis squirmed. Elvis sang. Elvis reeled back and forth. "Heartbreak Hotel," "Blue Suede Shoes," "Long Tall Sally" reverberated in a fantastic cacophony of squeals, screeches and screams.7

DJ and Elvis onstage at the Mosque
Photo courtesy Ger Rijff''s "Long Lonely Highway"
Swivel-hipped, quivering and panting, he gyrated across the stage dragging the microphone in a death grip. He sang "Hi want you! Hi need you! Hi luh-huh-huh-huv yew-hew!" His loud intense baritone soared over the deafening thud-thud-thud rock 'n' roll beat.7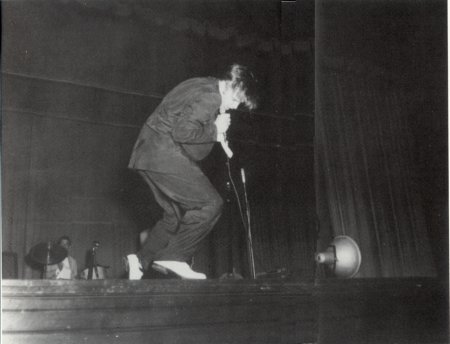 DJ and Elvis onstage at the Mosque
Photo courtesy Ger Rijff''s "Long Lonely Highway"
He staggered, stalked and wiggled his fingers in voodoo fashion. His hair was in his eyes. His face twisted in agony. He stopped chewing his chewing gum. Still, clinging to the mike, he sprawled almost prone as amateur girl photographers rushed into the orchestra pit. The flashbulbs exploded like a swarm of monstrous fireflies.7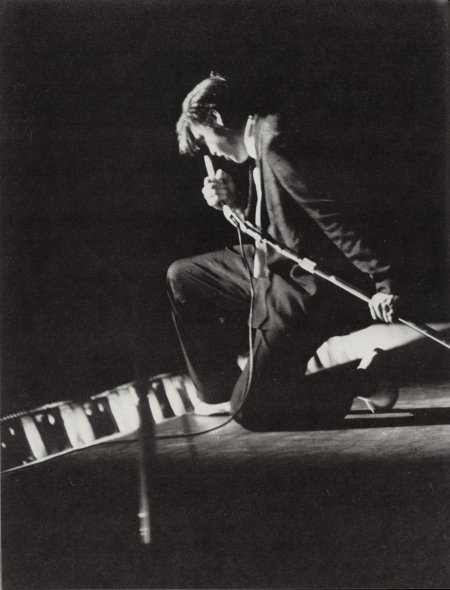 Closing a show (the way Martha Carson taught him?) - June 30, 1956
Photo © Alfred Wertheimer
When it was all over, three teen-age girls, obviously weakened emotionally, stood by a side door. They babbled happily. Big tears streamed down their cheeks.7
After the show they left for New York by train and then back to Memphis for a performance at Russwood Park on the 4th of July. After the Memphis performance Al Wertheimer would only see Elvis again one more time, when he was in the Army and sailed for Germany from Brooklyn, New York in 1958. When asked recently Al said, all of the Elvis photographs were made with two black Nikon S-2, split range finder cameras - one of which had a 35mm f2.0 Nikor lens and the other had a 105mm f2.8 lens. All the lenses were black. My theory was after seeing a photograph of David Douglas Duncan in Life Magazine, a very well known war photographer who did work in Korea, with black Nikons, I said to myself if I get those same type of cameras not only will I become invisible, I may become as good as Duncan.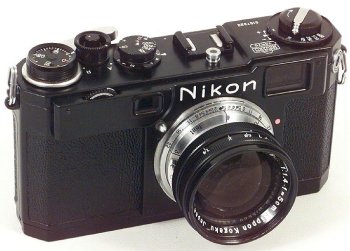 Black Nikon S2 introduced in 1955
courtesy Pacific Rim Camera
As far as the film is concerned most of the shooting, probably 70%, was done with Kodak Tri-X. Another 15% was done with Ilford high speed probably the equivalent of Tri-X and there were also some images in color with Anscochrome and Kodachrome. That's just about it. The rest of it required curiosity, patience and a little bit of luck, and of course Elvis, who permitted closeness.

Courtesy Eddie Cochran Photo gallery
The remainder of the '50s saw acts at the Mosque that included Sarah Vaughan, Count Basie, Fats Domino, LaVern Baker, Clyde McPhatter, Frankie Lymon, Chuck Berry, the Everly Brothers, Buddy Holly, Paul Anka and Eddie Cochran.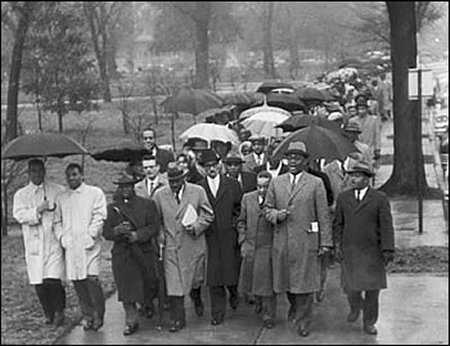 "Pilgrimage of Prayer," January 1, 1959
Photo courtesy Richmond Times-Dispatch
On January 1, 1959, about 1800 people met at The Mosque for a two-hour "Pilgrimage of Prayer" meeting sponsored by the Congress of Racial Equality (CORE). Then, about 800 participants marched in the rain to the Capitol, where they passed a resolution urging appointment of a biracial commission to seek a solution to Virginia's school integration crisis. The resolution requested "a change of heart and change of policy by the state of Virginia." Reverend Wyatt Tee Walker of Petersburg said the protesters were "just as concerned about 13,000 white children being locked out of school as they are about segregated schools."8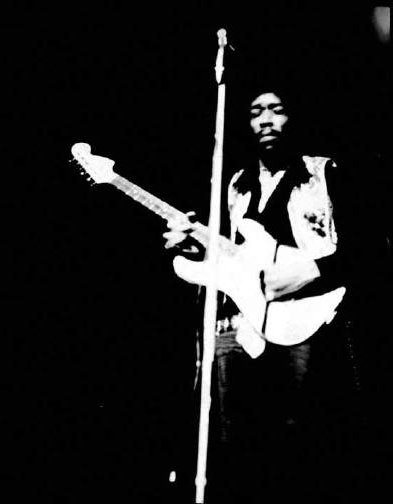 Jimi Hendrix at "The Mosque" - Aug. 20, 1968
Photo © Bill Emory
In July of 1963 the Mosque was condemned because of electrical problems, prompting electrical renovations and in 1966 the first major renovation began with a five-year project that cost $1.5 million. In July of 1968 The Who performed and Pete Townshend smashed his custom colored Fender Jazzmaster guitar during the performance. The following month Jimi Hendrix and the Experience played two shows. 1968 also saw an appearance by the Supremes and 1969 saw James Brown and Sly and the Family Stone.

Duke Ellington Sacred Music Concert ad 1968
courtesy Virginia historical society
Late in his career, jazz great Edward Kennedy "Duke" Ellington composed three "Sacred Concerts," longer works made up of vocal and instrumental pieces stemming from a religious theme. First performed in 1965, during the 1968 series, Ellington performed in Richmond at the Mosque on November 8, accompanied by the choir of the Fifth Street Baptist Church.9

Ellington merged components of jazz, blues, gospel, classical music, and choral expression in the arrangements, which were performed by his jazz orchestra and a full chorus. Setting Christian ideals to a varied score allowed Ellington's devout beliefs to come to the fore in both the music and in the subsequent publicity, as he openly discussed his earnest intentions with a somewhat skeptical press. It is perhaps unsurprising that in the tumultuous year of 1968 some critics found Ellington's religious direction to be either disingenuous or a bald advertisement for organized religion. But Ellington insisted otherwise: "This music is the most important thing I've ever done or am ever likely to do. This is personal, not career. Now I can say out loud to all the world what I've been saying to myself for years on my knees."9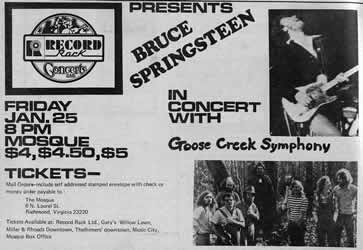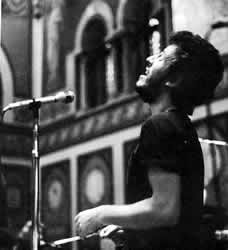 Bruce at The Mosque in Richmond on January 25, 1974
courtesy Brucebase.org
In the early '70s Bruce Springsteen performed several times at the Mosque. An audience recording captured his 45 minute opening act on February 14, 1973 with his pre David Sancious lineup of the E Street Band and contains what is believed to be the earliest live performance of his staple "Rosalita", which he performed in an encore. The following year after a performance in Cambridge, Massachusetts a critic dubbed him "the future of "Rock 'n Roll."

Franks Sinatra's final performance - Feb. 25, 1995
Photo courtesy web
Through the years the Mosque also saw the run of ballets like "The Nutcracker" to week long sold out openings of theatricals like "Cats" and "Les Miserable". Then, on March 6, 1994, 43 years after his debut there, Frank Sinatra, at 78, returned and collapsed before a packed house. Witnesses said he collapsed about two hours after the concert began, was sitting on a stool, singing the last chorus of "My Way," when he suddenly stopped. "In a real clear voice, he said, 'Get me a chair, ' "then he fell to the floor. When they brought a wheelchair, everybody clapped, because they didn't seem to need a stretcher." Frank gave his final performance almost a year later, in California.10 On July 31, 1994, the city of Richmond closed the building.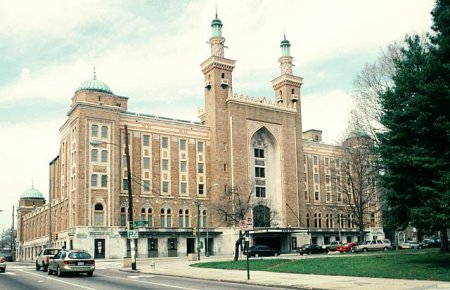 Photo © 2002 Mary Ann Sullivan
In October of 1995, after a $5.4 million restoration to its original splendor, the building was reopened and renamed the "Landmark Theater." With seating of 3667, and known for its excellent acoustics it ranks among the Richmond's most popular stages for theatrical and musical performances. The Landmark's 1100 capacity ballroom may be rented and is also host of numerous gala affairs.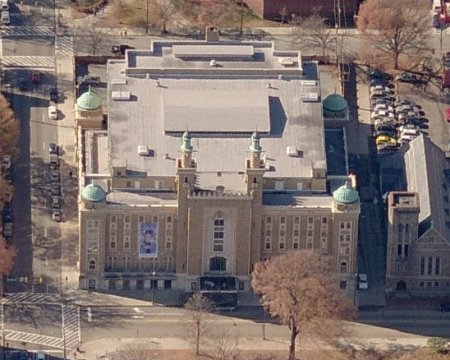 Aerial of the Landmark Theater - 2007
courtesy Microsoft Corporation © EathData
page added May 7, 2008
see also The Mosque Theater Revisited (The Who, Hendrix and Supremes)
1 courtesy The Kennedy Center: ArtsEdge
2 courtesy The National Archives Records of Headquarters Army Ground Forces [AGF]
3 excerpt courtesy Rock and Roll Hall of Fame - Louis Jordon
4 excerpt courtesy "In-depth Bios - Martha Carson" by Donna Chapel
5 excerpt courtesy "All Music.com Onie Wheeler by John Bush
6 excerpt from "Elvis '56 In the Beginning" a photo-journal by Alfred Wertheimer
7 July 2, 1956 Richmond Times-Dispatch article "Screams Squirms and Song Elvis Aron Presley" by Gene Miller
8 excerpt from The Civil rights Movement in Virginia exhibition courtesy Virginia Historical Society
9 excerpt by The Library of the Virginia Historical Society on Duke Ellington
10 courtesy New York Times article March 7, 1994
All ads and articles from the Richmond Times-Dispatch courtesy Helen Ogden and Shannon L. Humphreys of the Richmond Public Library. Other sites used, quoted and collected for the history of the Mosque include Richmond's Department of Parks and Recreation and Discover Richmond.

Interview with Al Wertheimer
---
Elvis Mystery Kisser Found! - An EIN Spotlight by Ron Brandon - (added July 13, 2010)
The Elvis Kiss Mystery—Solved! - Vanity Fair by Alanna Nash - (Aug. 8, 2011)

---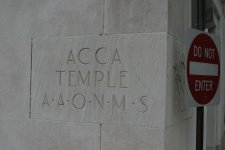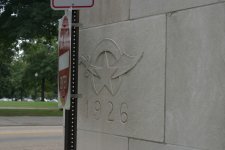 cornerstone laid 1926 - Sept, 2008


Lobby, orchestra level entrance and stage - Sept. 2008





orchestra pit and view from the stage - Sept. 2008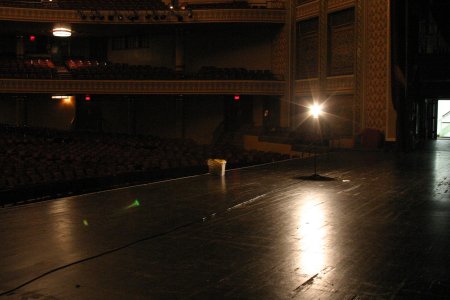 From the wings - Sept. 2008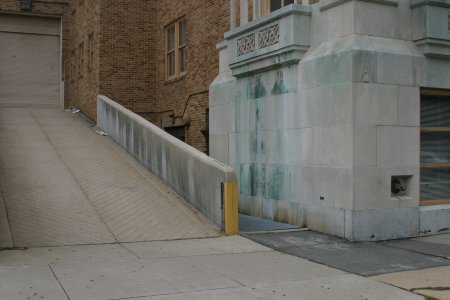 Rear stage ramp - Sept. - 2008
---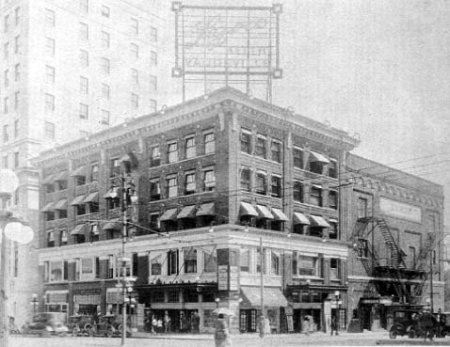 Lyric Theater at 9th & Broad Street
Photo courtesy Richmond Then and Now
The Lyric theater at 9th and Broad Street in Richmond, Virginia was built in 1913 as a vaudeville theater.1 American Vaudeville, more so than any other mass entertainment, grew out of the culture of incorporation that defined American life after the Civil War. The development of vaudeville marked the beginning of popular entertainment as big business, dependent on the organizational efforts of a growing number of white-collar workers and the increased leisure time, spending power, and changing tastes of an urban middle class audience. Business savvy showmen utilized improved transportation and communication technologies, creating and controlling vast networks of theatre circuits standardizing, professionalizing, and institutionalizing American popular entertainment.2
By 1900 there were 67 vaudeville houses in America. Between 1914 and 1922 there were 4,000 new theatres opened with Keith's and the Orpheum Circuit, along with their subsidiaries controlling the largest percentage of the market, and independents like Loews, Ackerman & Harris, West Coast Theatres, Pantages, C.H. Miles, Gus Sun, M.R. Sheedy, Wm. Fox and the Negro Circuits taking up the balance., and from 1930 to 1932 the number of operating theatres fell from 22,000 to 14,000.3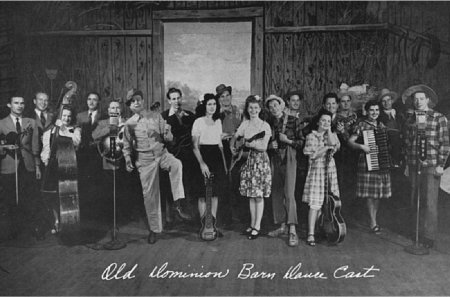 Old Dominion Barn Dance Cast at WRVA Theater
Photo courtesy The Library of Virginia
WRVA's Old Dominion Barn Dance, a country music variety show, began in 1946 with Mary Higdon "Sunshine Sue" Workman and her husband, John Workman, as hosts and was held and broadcast on WRVA each Saturday night at the Lyric Theater, two shows each Saturday. Every third Saturday of the month, it was broadcast coast-to-coast on CBS. The show made Sunshine Sue a star as she was anointed "Queen of the Hillbillies." During its run it featured such performers as the Mother Maybelle and The Carter Sisters, Grampa Jones and Ramona, The Saddle Sweethearts, Crazy Joe Maphis, the Tobacco Tags, Quincy Snodgrass, Toby Stroud, Buster Puffenbarger, Curly Collins, Benny Kissinger, Little Robert, Chet Atkins, and Earl Scruggs.4

After working on WRNL Radio in Richmond from 1943 to 1946, Mother Maybelle and the Carter Sisters moved to WRVA for 18 months. Chet Atkins after leaving Nashville also performed there on the barn dance. They joined up at WNOX in Knoxville, Tennessee and eventually ended up at KWTO, Springfield, Missouri where they were finally tapped by the Grand Ole Opry (originally known as the WSM Barn Dance) back in Nashville.5 The Carters would share many dates in the '50s with Elvis, Scotty and Bill and Chet would eventually oversee sessions with the boys in Nashville after Elvis signed with RCA.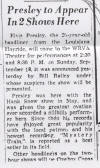 On September 18th, and 19th, 1955, Elvis, Scotty and Bill performed at the WRVA (Lyric) Theater. A blurb in the advertisement section of the Richmond Times-Dispatch announced:
Presley to Appear In 2 Shows Here
Elvis Presley, the 20-year-old headliner from the Louisiana Hayride, will come to the WRVA Theater for performances at 2:30 and 8:30 P.M. on Sunday, September 18, it was announced yesterday by Bill Railey under whose auspices the show will be presented.
Presley was here with Hank Snow in May, and was given the greatest ovation ever accorded a hillbilly performer here. Since then his records have enjoyed great popularity with the local patrons and his newest recording, "Mystery Train," is reported as a best seller in its field.
Other headliners in the show will be Cowboy Copas and the Louvin Brothers.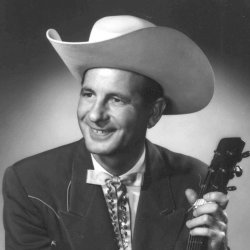 Cowboy Copas
Photo courtesy Honky Tonk Angel
Cowboy Copas was basically a honky tonk singer, and was very popular in the late 1940's, and made something of a comeback in the early 1960's before he died in the tragic airplane crash that also took the lives of Randy Hughes, Hawkshaw Hawkins and Patsy Cline. Randy was Patsy's manager, Copas' son in law and the pilot of the plane.
At some point during the tenure of The Old Dominion Barn Dance the Lyric Theater became known as the WRVA Theater. The Barn Dance ran until 1957 and in 1963 the theater was torn down.
page added May 7, 2008
1 according to Richmond Then and Now
2 excerpt from Vaudeville, A History
3 excerpt from International Theaters Part Obe (B) United States
4 according to The Library of Virginia
5 according to Southern Music Network
All ads and articles from the Richmond Times-Dispatch courtesy Helen Ogden and Shannon L. Humphreys of the Richmond Public Library.