RCA Victor Studio B Nashville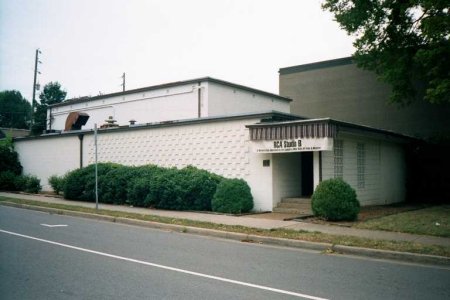 RCA Studio B in Nashville - July 2001
Photo © James V. Roy
In June of 1958, while Elvis was on two weeks leave from the Army, RCA scheduled what would be Elvis' final recording session of the 1950s. It was at their new facility on Music Row in Nashville. It was his final session until he came back from the Army and the first (aside from "Love Me Tender") to use "mainly" studio musicians. It was becoming the norm in Nashville and elsewhere that, in the studio, recording was done with the "house band", not the "touring band". The last sessions with the original band, aside from DJ Fontana, had been at Radio Recorders in February. The band put together by Chet Atkins consisted of Nashville A-Teamers Hank Garland on guitar, Bob Moore on bass, Floyd Cramer on piano and Buddy Harman along with DJ on drums. The Jordanaires were brought in on vocals with newcomer Ray Walker replacing Hugh Jarrett as the new bass singer with the group from then on. Scotty and Bill Black were not participants.

Elvis singing into a Nuemann M49 at Studio B - June 10, 1958
Photo © courtesy EPE, Inc
Chet had been named as RCA's Manager of Operations in Nashville in early 1957. Dissatisfied with the limits of the McGavock St. facility, he and Steve Sholes convinced the label that it needed to build its own office and studio. The success of "Heartbreak Hotel" recorded there in 1956 gave them the clout they needed. RCA contracted with local businessman Dan Maddox to build it and lease it to them long-term. Chet said in his autobiography "Bill Miltenburg [RCA's chief engineer and recording manager] drew the plans for the building out on a dinner napkin". Located on the corner of 17th Avenue and Hawkins (now Roy Acuff Place) it took four months and cost $37,515 to build and in November of 1957 it opened for business.

RCA Studio B - August 2003
Photo © James V. Roy
It is basically a single story building with offices occupying the front but the area of the studio and control room has a second story that contained an echo chamber. The actual studio itself measures 42.5' by 27' by 13'. In 1960 and 61 an addition was added with office space and rooms for tape mastering and a lacquer mastering lab. A larger studio was built on 17th avenue in 1964 that they called Studio A and the existing studio was named Studio B.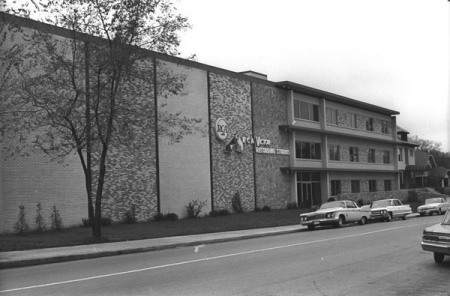 RCA Studio A at 30 Music Sq. W in Nashville - ca. 1965
Photo courtesy Michael Ochs Archives via Rolling Stone, added June 26, 2014
It's practically an injustice to have any discussion about Chet, Studio B or their impact on pop country music that doesn't include Owen Bradley and The Quonset Hut. In essence Chet's accomplishments mirrored Owen's using the same techniques and musicians. Owen's studio was one of the first in Nashville and was actually the very first in what has become Music Row.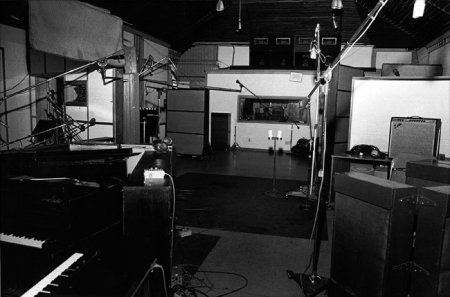 Bradley's Studio (Quonset Hut) at 804 16th Avenue South
Photo © courtesy R. Stevie Moore
"In 1952, Owen Bradley and his brother Harold built their own recording studio (one of the first in Nashville), where initially they produced short documentary films. However, they also began to record singers such as Ernest Tubb and Kitty Wells. By 1956, they had moved to larger premises and had their famed Quonset hut studio on 16th Avenue South, Nashville. It was only a surplus army building but it contained superb recording equipment and facilities. It was here that Buddy Holly and Gene Vincent recorded some of their earliest sessions, although in the latter's case production was by Ken Nelson. Bradley also recorded several of the new country artists of the time, including Johnny Cash and Marty Robbins."1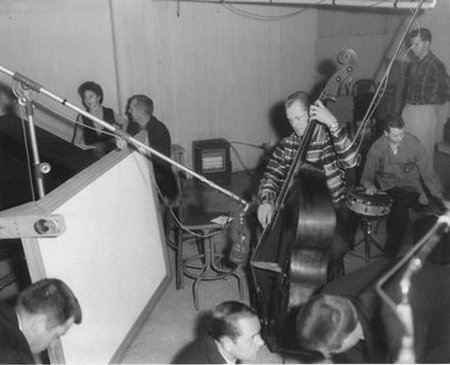 Brenda Lee session at The Quonset Hut - Brenda, Owen Bradley, Bob Moore Buddy Harman and Floyd Cramer in rear Grady Martin, Hank Garland and unidentified in front bass mic'd with an Altec 639A "Birdcage"
Photo © courtesy Kittra Moore
Owen at the Quonset Hut and Chet at Studio B are responsible for developing what has been called the "Nashville Sound". By lessening the use of steel guitars and fiddles, adding mellow strings and backing vocal choruses they essentially smoothed country out and gave it a pop oriented treatment. It began to have a wider public acceptance. Chet did it with pop and country artists like Don Gibson, Eddy Arnold, Jim Reeves and the Everly Brothers while Owen produced stars like Patsy Cline, Red Foley, Brenda Lee and Loretta Lynn.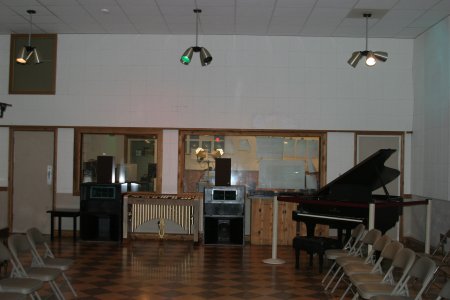 Studio B looking towards control room wall
Photo © James V. Roy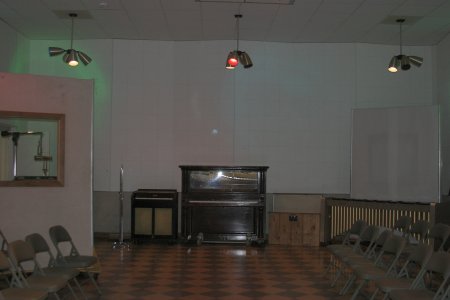 Studio B rear wall
Photo © James V. Roy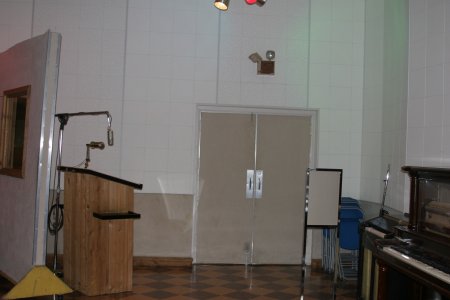 Studio B side rear double-doors
Photo © James V. Roy
The walls at Studio B were acoustically designed in an accordion shape changing angles every 4 feet in an attempt to make the room as 'dead' as possible. They are covered in 1-foot square acoustic tiles all the way to the ceiling beginning 3 feet from the floor. The floor itself has a diagonal checkered pattern linoleum tile. It is separated from the control room by a wall with two double pane windows and accessible by either of two doors on the control room wall or a large set of double doors at the rear corner.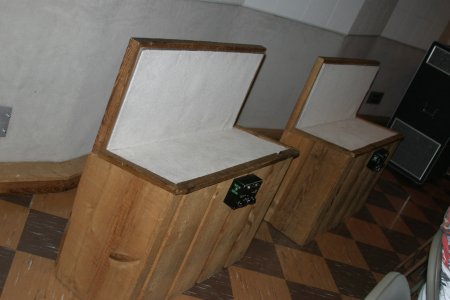 amp stands of barn-board construction with amp inputs
Photo © James V. Roy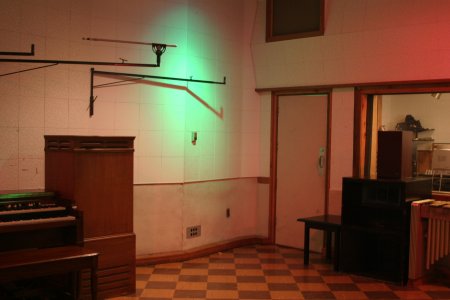 studio entrance to control room rear
Photo © James V. Roy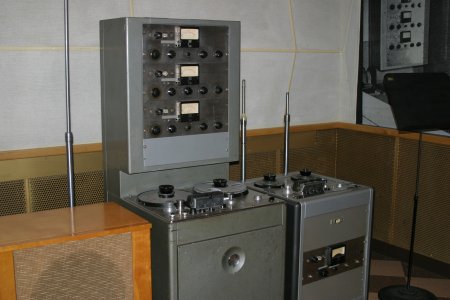 recorders in rear control room
Photo © James V. Roy
In just about every RCA studio they recorded in was a Hammond Organ and either a Hammond tone cabinet or a Leslie speaker cabinet and usually a RCA Loudspeaker (a MI-11401 or varient). Studio B also had a Steinway piano and Xylophone. Most of the microphones used, for vocals anyway, were Nuemann, made in Germany. In the control room was a custom made RCA broadcast type tube mixing console with 12 mic inputs and four outputs. The recorders early on were single-track Ampex recorders eventually updating to two, three and four-track as the new technologies emerged.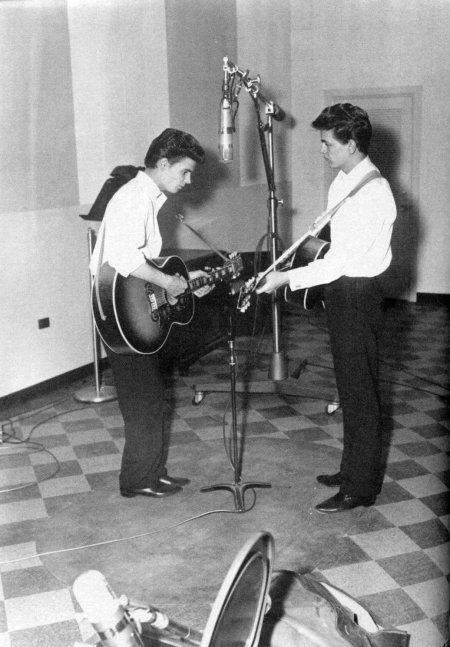 The Everly Bros. at Studio B with a Neumann U47 long body (tube) hanging in a 1950's RCA yoke
Photo courtesy Temples of Sound
Though state of the art when it opened the musicians that recorded there initially didn't like the sound of the room. There were areas of standing waves and washy, muddy acoustics. Bob Moore said, "Bill Porter changed the sound of the room when he got there in 1959." Bill described how he did it this way, "Tommy Strong and I went out and bought these acoustical tiles, 24 inches wide and four feet long. We cut those up into sections of three and made triangle tents out of them. We hung them from different heights around the ceiling, and it solved so much of the problems that musicians would come in during playback and say, 'My God, it's never sounded so good in here before.' 2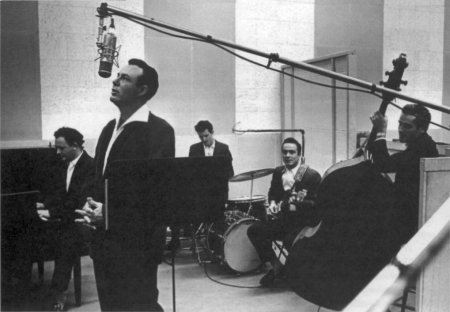 Dean Manuel, Jim Reeves, Mel Rogers, Leo Jackson and James Kirkland - Jim is singing into a Neumann U47 (tube) long body, with a Neumann shock mount (ca. 1960s)
Photo courtesy Temples of Sound
"They called those tents 'Porter's Pyramids." The room took on a neutral characteristic, so the signals from the instruments were basically clean. We found dead spots where the standing waves [sounds that double back on themselves] canceled each other. Then we marked X's on the floor where we needed a lot of mic [level], so we'd get minimal mic leakage. For our sound source we beat on a tom-tom to get a low-frequency, resonant-type sound, then we'd move the mics around." 2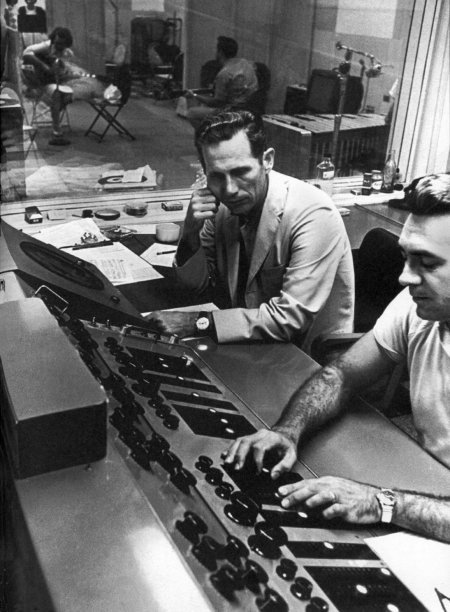 Chet Atkins and Bill Porter in the control room mixing at Studio B - ca. 1960s
Photo courtesy Temples of Sound
Bill's efforts and contributions at Studio B can not be overstated. In addition to the many other sessions, it was Bill that engineered and mixed Elvis' during the early '60s. He preferred the sound of the stereo two-track stuff. The three track was, for him, merely backup. Instead of the built in second floor echo chamber Bill preferred to use a German-made EMT 140 echo plate. It was paramount to his sound. "We kept the plates chilled," he explained. "The air conditioning was very chilly up in that room. The cold air contracts the metal and the sound [of the plate] is a little brighter."2

EMT 140 Echo Plate at Studio B
Photo © courtesy Kittra Moore
Scotty's first session at Studio B was in March of 1960 when Elvis returned from the Army. Aside from a television appearance soon after and a couple of charity benefits in 1960 and 61 the days of touring as a band were over while Elvis went 'head on' into his movie career. Scotty and DJ both returned as session players but this time with a much bigger band. In Nashville they were augmented by members of Nashville's A-Team consisting of Bob Moore on bass and at different times feature guitarists like Hank Garland, Harold Bradley and Grady Martin among others, Boots Randolph on Sax, Buddy Harman on drums and Millie Kirkham and the Jordanaires on vocals.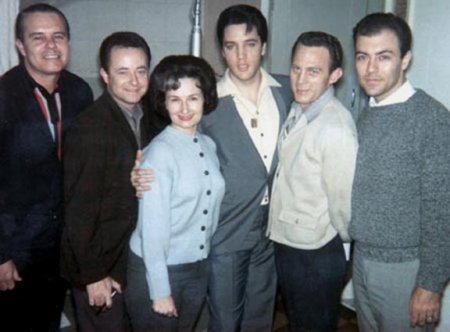 Neal Matthews, Gordon Stoker, Millie Kirkham, Elvis, Hoyt Hawkins and Ray Walker - May 1966
Photo © courtesy The Jordanaires
Sessions at Studio B were typically scheduled for 10:00, 2:00 and 6:00 (though often subject to musician availability times could vary) with the standard expectation for a 3-hour session to produce 4 cuts. With Elvis though, there was essentially no clock. Gordon Stoker describes a typical Elvis session; "He'd get into the studio around seven at night for a six o'clock session. If he was hungry he'd order out for Krystal burgers, then we'd eat and go sit with him around the piano. He liked to get warmed up with old spirituals, gospel stuff. This would help him get relaxed. After a couple of hours, we'd get around to recording." Chet said he initially tried to keep up after recording all day but eventually he would "just come down, say 'hello' and go home to bed while they recorded all night."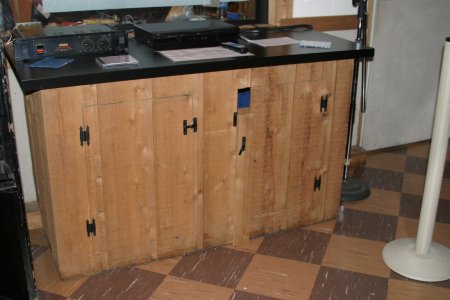 Demo counter with broken barn-board door
Photo © James V. Roy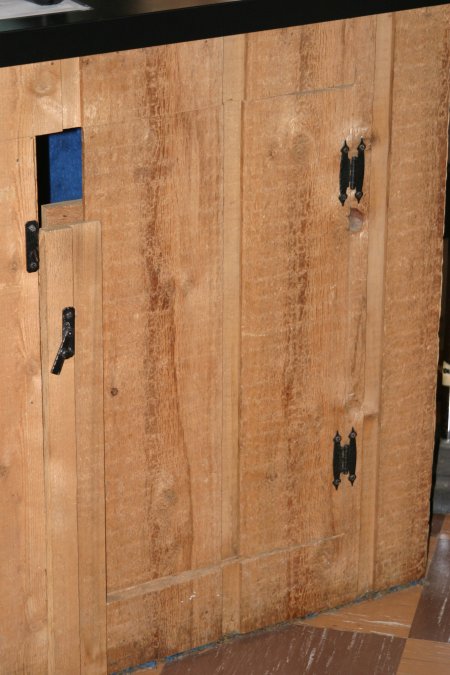 The broken barn-board door reputedly kicked in by Elvis
Photo © James V. Roy
Hill and Range, Elvis' publishing company, would have demos for him to listen to that he'd play and decide which to record. Scotty would usually leave the room and go for a coffee so as not to be influenced by anyone's playing on the demos. RCA had an inexpensive player on a counter and in one instance during a demo the needle tracked across the entire record scratching it. Elvis got angry and kicked the counter, breaking the barn-board door. Neither he nor Chet in their stubbornness would agree to pay for repairs and it remains broken to this day.
On January 17, 1968 in Studio B Scotty played his last recording session with Elvis*. Elvis' last session there though was on June 10, 1971, 13 years to the day after his first. After a growing power struggle between the musicians' union and the crew at studio B the union threatened to close down B if the union employees could not perform their "duties", deemed superfluous. Their bluff was called and in 1977 after a successful 20-year run Studio B was closed.
It remained closed and unused for many years. On May 20, 1993 Dan and Margaret Maddox donated it to the Country Music Foundation who on occasion opened it for tours. The original RCA mixing board from the control room along with other equipment used on most of the hits is now on display at the Hall of Fame Museum. Several times in 2001 Bob Moore approached Kyle Young wanting to buy Studio B and also suggesting the possibility of developing a business partnership with the Foundation in the interest of "firing up Studio B and producing some 'real' Country music once again". Nothing became of it but on January 23, 2002 it was bought by the Mike Curb Family Foundation who lease it in perpetuity (with no expiration) to the Country Music Hall of Fame and Museum.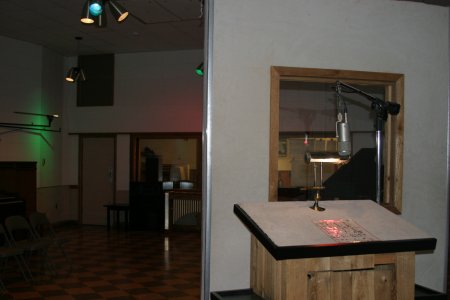 booth with '70s Neumann U47 (Fet) mic and Jordanaires' Blue Christmas sheet
Photo © James V. Roy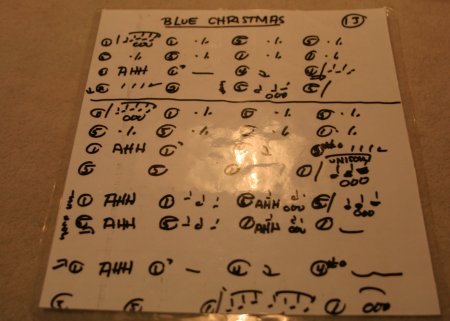 Jordanaires' Blue Christmas sheet
Photo © James V. Roy
It has since been renovated, "Porter's Pyramids" are gone, one of the interior walls to the studio and control room have been installed with large observation windows and the sound of the room is no doubt altered forever. Tours are once again offered by the Museum and it is also used as a learning laboratory in conjunction with Nashville's Belmont University. The days of the "hits' are now long gone but for one last look at what a session was like there in its "hey day" watch the rare video at the Jim Reeves fan club site

.
James V. Roy
April 2004
1 courtesy IceBergMedia.com Inc.
2 courtesy "Temples of Sound: Inside the Great Recording Studios" by Clark, Cogan and Jones
*January 17, 1968 was Scotty's last studio recording session with Elvis but on June 29th of that year he performed with him for the very last time for a segment of Elvis' NBC-TV special in Burbank, CA
Special thanks to Bob and Kittra Moore and also to Bavo Dekker.
---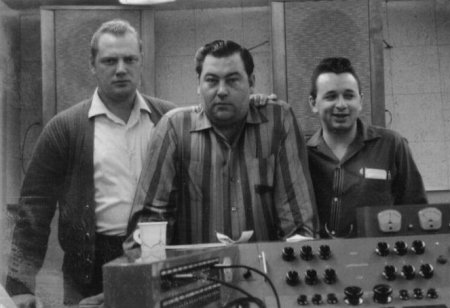 Bob Moore, Grady Martin and Buddy Harman intimidating the engineer
Photo by Bill Porter courtesy Bob Moore ©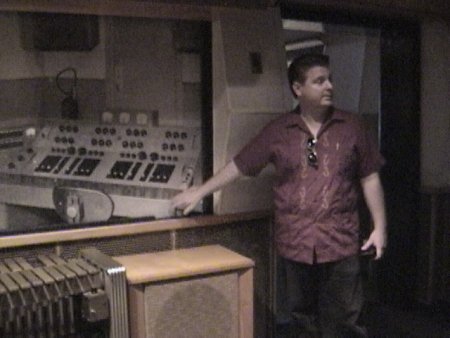 Mark Neill at Studio B with original mixing board in back (prior to sale)
Photo © Kittra Moore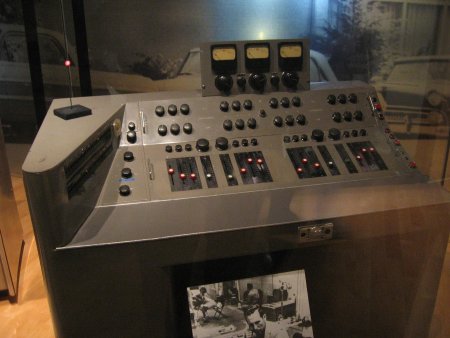 Original Studio B mixing board on display at the CMHOF in Nashville
Photo © courtesy Chris Girgenti