Multnomah Civic Stadium
Portland, OR
The Multnomah Amateur Athletic Club in Portland, Oregon is a private club formed in 1891 by twentysix football players. Football, the newer version born from rugby was the inspiration for forming the club while its name Multnomah refers to the county in Oregon named after the Native Americans recorded in the journal of Lewis and Clark. "Amateur" would eventually be dropped from the club's name.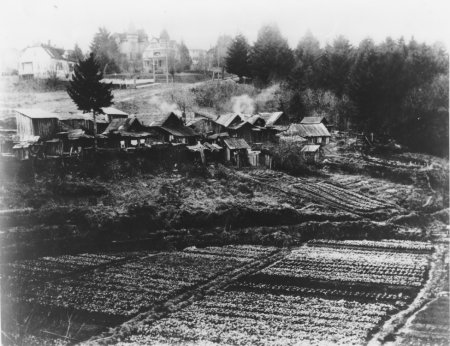 The Chinese vegetable garden that will become the site of Multnomah field - c1890
Photo courtesy Pete Wright
In 1893, the two-year-old club leased a plot of pastureland in an area then known as Tanner Creek Gulch to build a stadium. The site had earlier been a tannery and then a large Chinese vegetable garden that supplied produce to much of Portland. The athletic club built a small 3000 seat grandstand in the northwest corner close to the end of the field and a training house in the southwest corner and called it Multnomah Field.1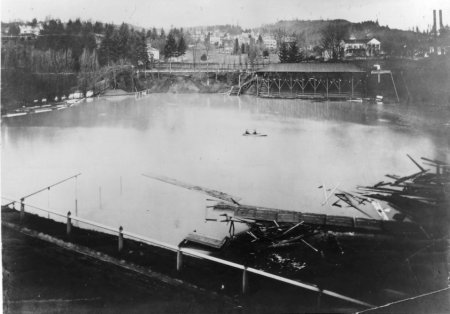 Multnomah Field, Flooded - 1904
Photo courtesy Pete Wright
It was home to every popular outdoor athletic event of the day: baseball, football, track and field, bicycle racing, cricket, and many others. In 1895, the site even hosted a major league baseball exhibition game.1 Professional baseball was first played there when the Portland Giants, renamed the Beavers in 1906, played their first games there in 1905 while their 12000 seat Vaughn Street Stadium was used as a track venue by the Lewis and Clark Exposition and World Fair.2 In 1907 the city began a "festival of roses" and a group of ten businessmen formally organized the Portland Rose Festival to plan and finance the annual event.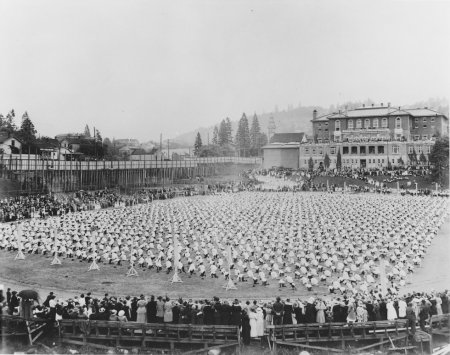 Multnomah Field with Athletic club in rear - 1915
Photo courtesy Pete Wright
By the end of the first decade of the 20th century, a new steel grandstand had been erected, affording seating for more than 10,000 fans. The north side of the field was bounded by the huge wooden Exposition Building, touted as the largest wooden structure west of the Mississippi. In 1909, President William H. Taft visited Multnomah Field and nine months later on July 14, 1910, the Exposition Building caught fire destroying the MAAC clubhouse, the new grandstand and eventually seven city blocks.1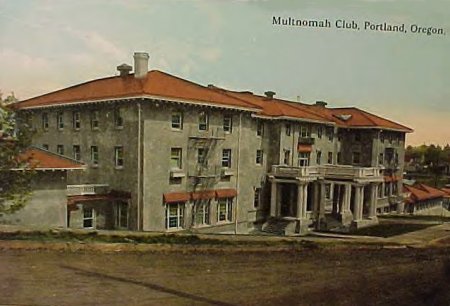 Multnomah Athletic Club
Postcard courtesy Multnomah County, Oregon Genweb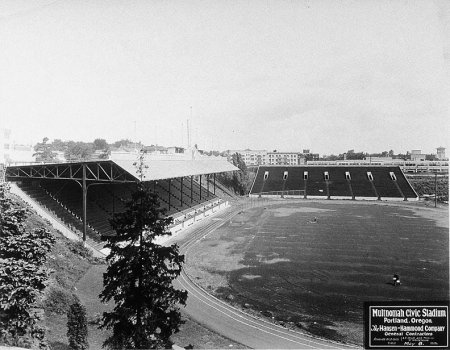 Multnomah Civic Stadium - May 8, 1926
Photo courtesy Oregon Historical Society
The grandstand was replaced the following summer though even then it was considered too small to support Portland's rate of growth. By 1923 it had been noted that Portland had no big athletic or community stadium and evident when President Warren G. Harding visited and a crowd estimated to be between 25,000 and 30,000 people packed themselves into every nook and cranny of Multnomah Field.1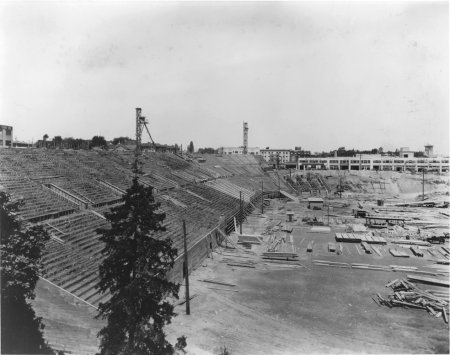 Construction of the new Multnomah Stadium - 1926
Photo courtesy Pete Wright
In 1925 the club approved plans for a new $500,000 28,000-seat Multnomah Stadium and in two months $300,000 had been raised and construction began. Designed by A.E. Doyle, the original plans called for a grandstand on the east side of the stadium in parallel with the present grandstand on the west side completing a horseshoe shape but the club didn't own all the property along 18th Avenue.1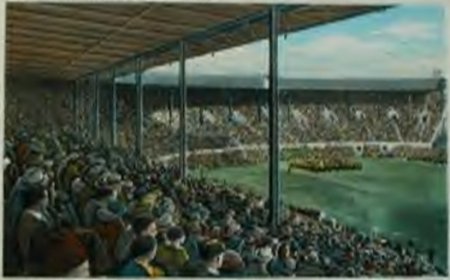 Multnomah Stadium
Postcard courtesy Multnomah County, Oregon Genweb
Multnomah Civic Stadium was completed at a cost of $502,000 and formally dedicated on October 9, 1926 when the University of Washington football team beat the University of Oregon, 23-9 with more than 24,000 fans in attendance.1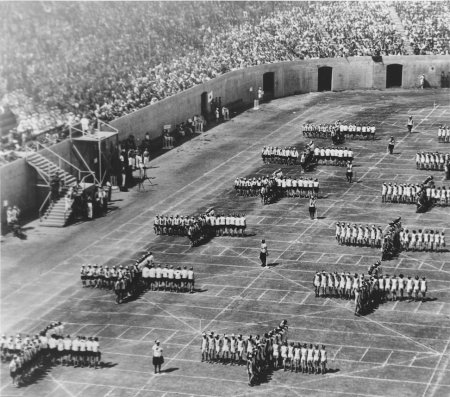 Rose Festival at Multnomah Stadium - 1930
Photo courtesy Pete Wright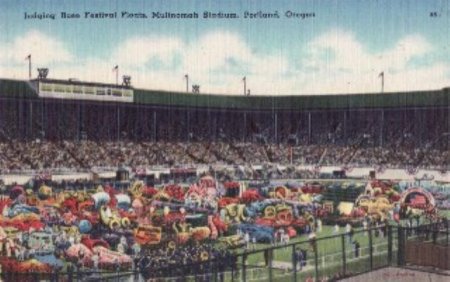 Judging Rose Festival Floats at the Stadium
Postcard courtesy web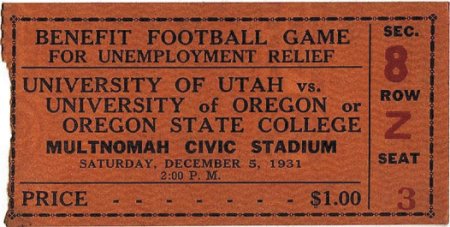 Ticket for benefit football game at the Stadium - Dec 5, 1931
courtesy Vintage football Memorabilia
College football only used the stadium occasionally though and it wasn't until 1933 when Oregon lawmakers approved pari-mutuel betting that the stadium had a major tenant and consistent source of income in Greyhound racing. The Multnomah Kennel Club, formed by group of principals from the Belmont Greyhound Track in California, was the stadium's lone major tenant and biggest source of revenue from 1933 until 1955.1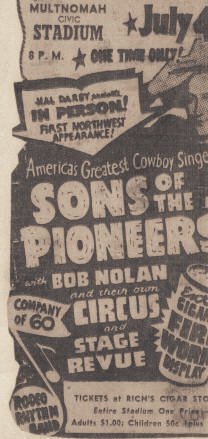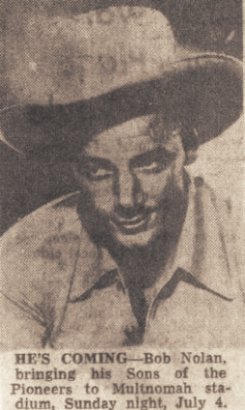 Advertisement for "Sons of the Pioneers" - 1949
ads courtesy Joan "Josie" Shapira
In 1949, the Sons of the Pioneers made an appearance at the stadium at the time that they were the foremost vocal and instrumental group in western music, specializing in cowboy songs. They were initially formed in 1933 by Leonard Slye, with Tim Spencer and Bob Nolan, and in 1934 hit it big with "Cool Water" and "Tumbling Tumbleweeds." Slye would eventually leave the band as his film career took off. He became better known as Roy Rogers. In 1944 the Sons of the Pioneers were signed to RCA Victor by Steve Sholes, the head of company's country music division, and would remain with the label for 24 years. The Sons of the Pioneers continued their popularity through the 1950s. Although Rogers was no longer a member, they often appeared as Rogers' backup group in films, radio, and television.3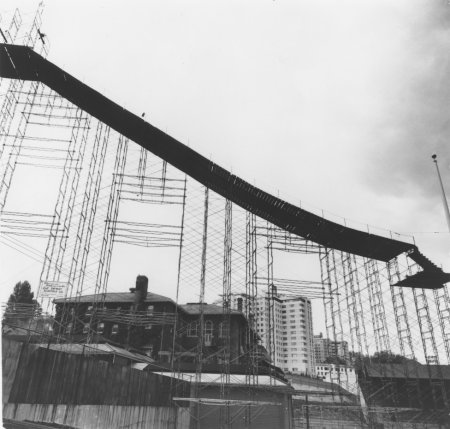 Multnomah Stadium Ski Jump - 1953
Photo courtesy Pete Wright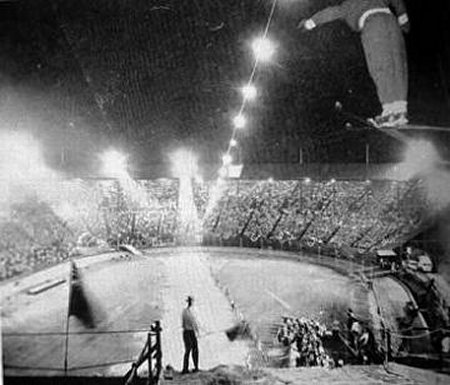 Multnomah Stadium Ski Jump - 1953
Photo courtesy Ski Jumping Hill Archive
In June of 1953 the Cascade Ski Club organized the "Portland Rose Festival" and a ski jump was built in the stadium. The steal pipe hill construction was covered with about 200 tons of artificially made snow, which was produced by four ice powder machines of a local company. Despite the warm rain which was falling in evening hours this artificial snow outlived the whole event due to the first time use of a chemical snow additive called ďsnow cementĒ which stabilizes melting snow surfaces on ski jumping hills. Most of the 40,000 spectators had never had seen ski jumping or an alpine slalom before.4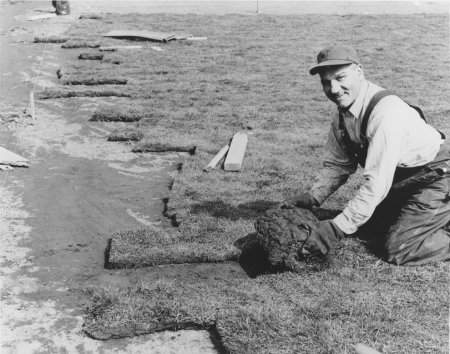 Turf rolling
Photo courtesy Pete Wright
The stadium made sports history when on August 28, 1955 it was host to the first pre-season NFL game to be decided in overtime when the Los Angeles Rams beat the New York Giants 23 to 17, sudden death. In 1956 the greyhounds moved to the Portland Meadows horse track and the stadium got another major tenant when baseball returned and the Portland Beavers of the Pacific Coast League moved from Vaughn Street to play their home games.1 The Beavers transplanted the grass from the Vaughn Street Stadium to Civic Stadium.2
On September 2, 1957, Elvis, Scotty, Bill and DJ performed one show at Multnomah Civic Stadium as the last stop on a whirlwind five city, four day tour of the Pacific Northwest that included Spokane, Vancouver, Tacoma, and Seattle. It was only the second tour that year and was promoted by Lee Gordon, who had promoted the earlier tour in the Spring of Canada and the Midwest. According to Peter Guralnick, he had also been trying unsuccessfully to get the Colonel to agree to a tour of Australia.5 Gordon, originally from Detroit, had been promoting big names acts in Australia since 1953.
The Oregon papers had been announcing the show and tour several weeks before the Portland date and a blurb in the local paper on Sunday, September 1st, the day before the show, announced tickets still available.
TICKETS LEFT FOR PRESLEY
Multnomah stadium will probably have one of the most enthusiastic crowds in its long history this Monday night.
Elvis Presley will stand in the spotlight on the field stage and give out with guitar and songs, a combination that has brought him great wealth and a vast following of young people.
With Presley will be a full-scale orchestra, comedians, dancers and more singers to back up the show.
Frank Breall, an associate of the company bringing the Presley show to Portland, said Sunday good seats are still available. A ticket wagon will be open all day this Monday until show time at S.W. 20th avenue and Morrison street.
Reports by writers Don Horine and Dorothy Lois Smith in the Portland Journal the day following the show described the event as follows: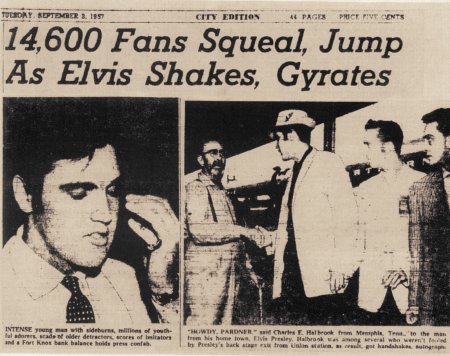 Portland Journal Staff Photo courtesy Ger Rijff''s Long Lonely Highway
A gold suit, an oft-plucked guitar and a sideburned bundle of the most enchanting, gyrating and just plain drooliní rock íní roll charmer ever to hit this world plopped right into the laps Monday of thousands of hysterical Portland teenagers. How they loved it! 6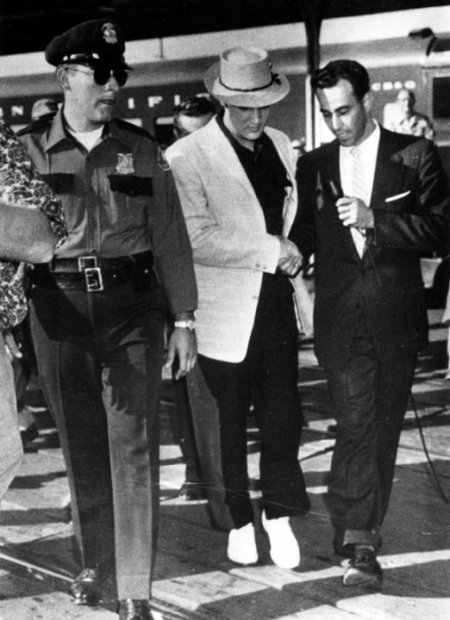 Elvis briefly interviewed at Union Station - Sept. 2, 1957
Photo courtesy FECC/LittleSister
They jammed the Union station, the Multnomah hotel, the Multnomah stadium gateways. They thrilled to every word, every breath of the famed entertainer. Here was heaven, a haven in otherwise conservative life of studies, dishes and mowing the lawn. Here was a miracle wrapped handsomely in a single package-a miracle wearing the exciting name of Elvis Presley.6
THERE WERE many who at the end of the day were slightly frustrated, in some cases even disillusioned. Some of these were among the 500 first jubilant and later disappointed Presley fans who crowded Union station at 4:30 p.m. Monday for a glimpse-oh, please, just a glimpse-of the man.6

Arrival at Union Station and press conference - Sept. 2, 1957
Others were included in the hundreds who blocked the front entrance of the Multnomah hotel where the man of the hour was to while away several of his Portland hours only to later discover that clever agents had smuggled him through the side door, unobserved by teenage eyes.6
At the station he escaped the crowd by edging quickly from the last car on the train to a waiting convertible. Scarcely more than 15 fans not among the official party were able to reach the scene before the auto made its fast exit. Meanwhile, those 500 Presleyites at the station slowly grew aware of the disappearing act.6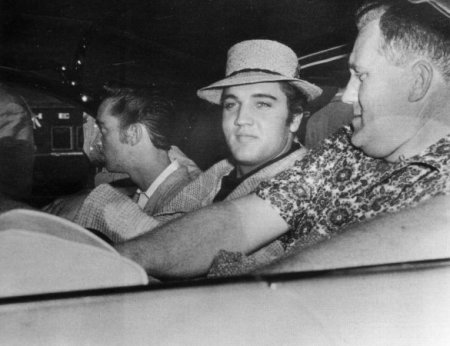 Gene Smith, Elvis and Ken Moore departing Union Station in Portland - Sept. 2, 1957
Photo courtesy FECC/LittleSister
IN THE eighth-floor governorís suite at the hotel he stayed with 12 troupe headliners, eating and making merry over the sounds of Presley records. No unauthorized persons were allowed near the floor, and the few diehards who did slip by advance guards were halted and quickly ushered from the area by an efficient squad of policemen, Presleyís three security officers and cleaning women. Then, at 8 p.m., on to the stadium, where again he bypassed scores of you-know-who expecting their idol to travel down the ramp into the stadium. No sir.6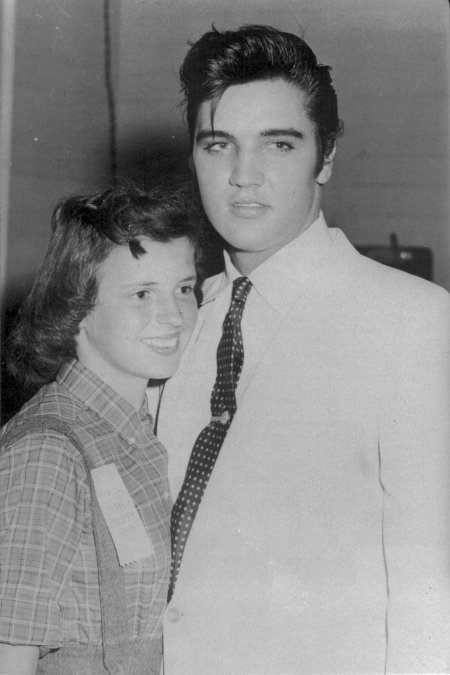 Elvis and contest winner at Multnomah Athletic Club - Sept. 2, 1957
Photo courtesy Ger Rijff''s Long Lonely Highway
Instead, he jumped from a cab at the head of the Multnomah Athletic club, adjacent to the stadium, where he met with newsmen and photographers in a half-hour press conference. Numerous winners of local disc jockey shows posed with him following the conference. Everywhere, photographersí shutters clicked.6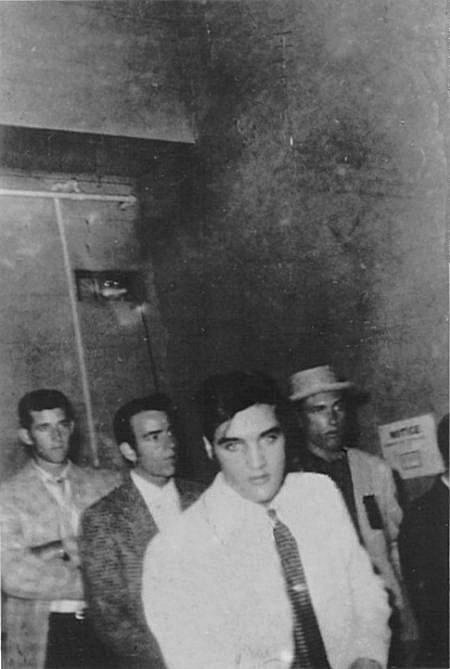 Elvis at press conference at Multnomah Athletic Club - Sept. 2, 1957
Photo courtesy eBay
I [Dorothy Smith] was completely shook up Monday night. Who wouldnít be after exposure to two Elvis Presleys, in one evening? Thereís definitely the on-stage Elvis and the off-stage Elvis.7
And there was an equally shakeable Elvis in his dressing room for the mass press radio and TV interview before he donned the gold jacket to enter the stadium. This Elvis was impeccably clad in black slacks and shoes, white shirt with handsome black and silver tie and stickpin, and a suave, light blue dinner jacket.7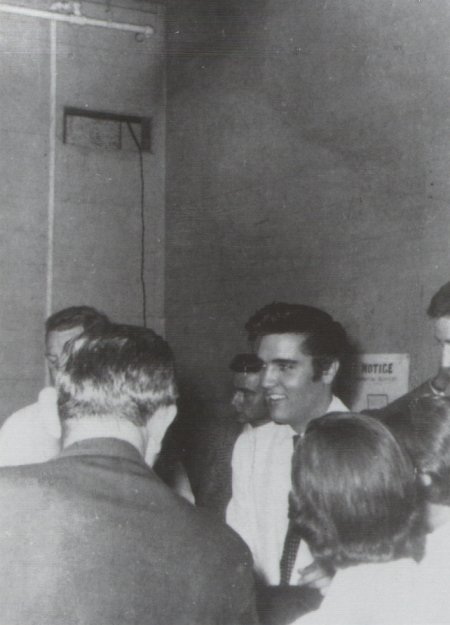 Elvis at press conference at Multnomah Athletic Club - Sept. 2, 1957
Photo courtesy FECC/Hilton22000
The off-stage Presley answered the countless questions fired at him during the interviewóa few of them sharply barbed-with poise and good humor. Concerning Anita Wood, the glamor-girl whose name is romantically linked with his. "Thereís nothiní serious. Weíre more than friends, but nothiní serious."7

Elvis at press conference at Multnomah Athletic Club - Sept. 2, 1957
The Oregonian Staff Photo by de Lay courtesy Robert Gordon's King on The Road
WHEN ASKED about the many rumors of marriage, he explained. "Often when Iím supposed to be marrying one girl a certain night, Iím out with another girl on a date. This is confusing to me, and I may be surprised and wake up and hear Iím married sometime," he laughed.7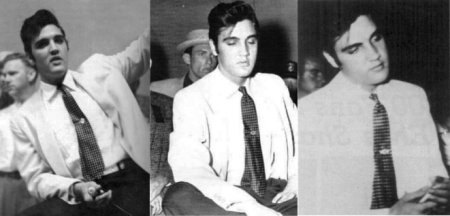 Elvis at press conference at Multnomah Athletic Club - Sept. 2, 1957
Photos courtesy FECC/LittleSiter, FunkyAngel and Ger Rijff''s Long Lonely Highway
THE IDOL is equally candid about his voice and the misconception, that he "discovered" rock íní roll.
When asked if he had to get in a special mood before making his recordings, he said: "I donít have the best voice in the world, so I must feel it. When youíre singing ballads, I guess you do always think of some girl."7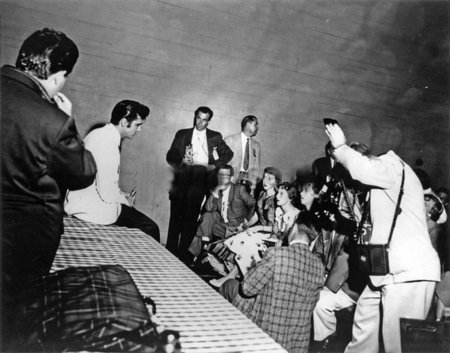 Elvis at press conference at Multnomah Athletic Club - Sept. 2, 1957
Photo courtesy web
"Rock íní roll," he added, "was around a long time before meóit was really rhythm in blues. I just got on the bandwagon with it. Then, I lived in a country where there were all-day singings, and sang religious songs when I was real young in church. They were the rockiní type of music-spirituals.7

Elvis at press conference at Multnomah Athletic Club - Sept. 2, 1957
Photo courtesy web
One disc jockey asked pointedly if Elvis had any other recording favorites "other than yourself."7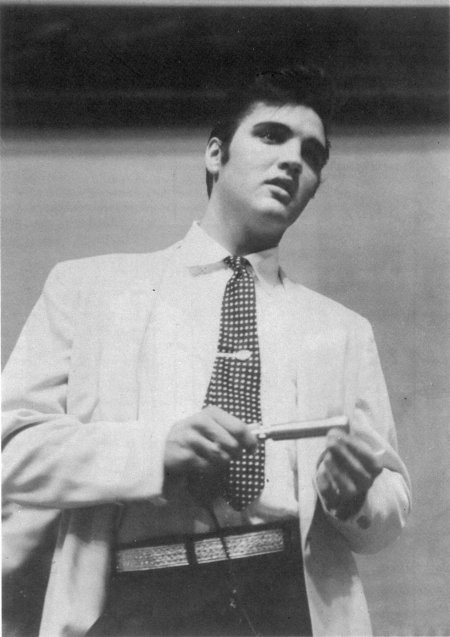 Elvis at press conference at Multnomah Athletic Club - Sept. 2, 1957
Photo courtesy Ger Rijff''s Long Lonely Highway
TO THIS, Presley answered goodnaturedly that he had many, including the Four Aces, Nat King Cole, Dean Martin and Pat Boone. When asked what he thinks of Little Richard, he laughingly conceded: "I'l1 say thereís no one in the world as long-winded as he." Elvis said he has taken his physical for entering the service and is "waiting for them to let me know." "I just take every day as it comes and donít look into the future," he said.7

Elvis at press conference at Multnomah Athletic Club - Sept. 2, 1957
courtesy YouTube
BUT BY NOW the stadium show was in progress, mellowing an estimated 14,000 persons. Band instrumentals, tapdancing, comedy routines, vocals and numbers by the four Jordonaires all brought polite applause from a crowd still thirsting for Mr. Elvis. And he didnít disappoint. Not this time. It was l0 p.m. on the nose. The second act started with a rambunctious vibraphone player setting the pace. It was zero hour.6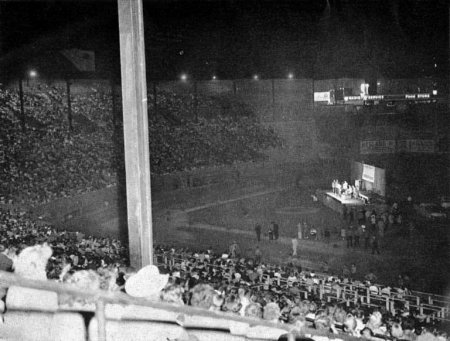 Elvis, Scotty, Bill, DJ and the Jordanaires at Multnomah Park - Sept. 2, 1957
Photo courtesy Keith Flynn
PRESLEY DID NOT appear in the stadium until the second half of his big show. By that time the more than 14,000 fans were stamping and chanting: "We want Elvis! We want Elvis!" 7
Down from the stadium ramp roared the convertible, carrying in it Mayor Terry D. Schrunk, Ken Moore, Presleyís chief security officer, and the gilt-crested Elvis Presley. The roar was deafening. Voices pitched high above a normal screech echoed from one stadium wall to the next. He was here.6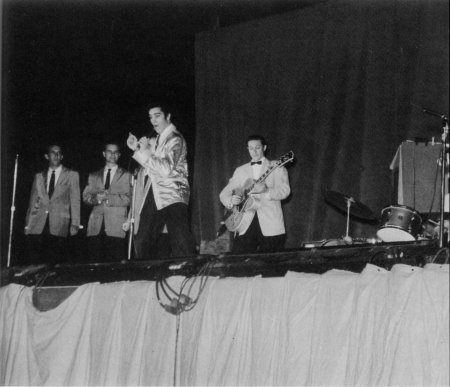 The Jordanaires, Elvis and Scotty at Multnomah Park - Sept. 2, 1957
Photo courtesy Ger Rijff''s Long Lonely Highway
From the time his convertible swept along the track and the gold sleeve waved to the top row of the stadium, his fans became one vocal acclaim of ear-splitting tumult. It was sometimes almost impossible to know which of his rock íní roll hits he was singing, burping and wiggling for his fans. The blare of the music whistled through the right ear and the screaming of the audience pierced the left ear conking out my equilibrium. But my eyesight was perfect, and thereís no doubt that itís the bumps and grinds, the wiggles and the sinuous writhings that the fans love most. Each wiggle brought forth another in the succession of ecstatic screams.7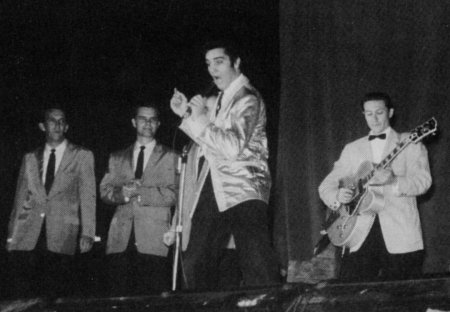 The Jordanaires, Elvis and Scotty at Multnomah Park - Sept. 2, 1957
Photo courtesy Ger Rijff''s Long Lonely Highway
HOWEVER, the mass eruption from the stands of beserk teen-agers, such as greeted Elvis in Chicago and recently in Vancouver, B.C., did not materialize. Instead, the woozy fans, many of them members of two Presley fan clubs here, were content to stay at their seats, to shake and wiggle hands, hips and feet, and to convince the singer that Portland, like all other U.S. cities, is "real gone." 6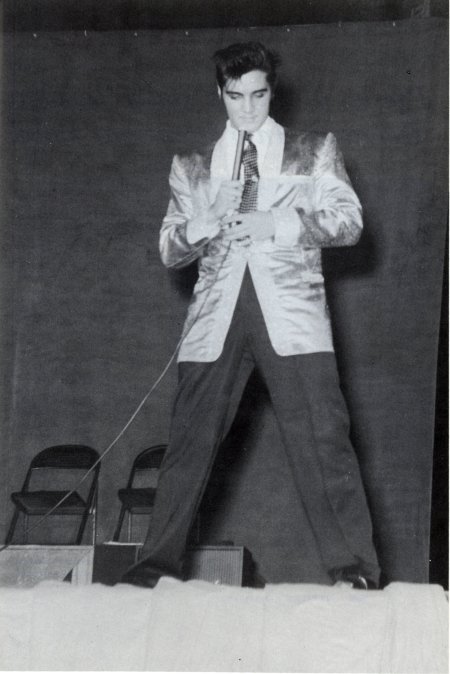 Elvis at Multnomah Park - Sept. 2, 1957
Photo courtesy Ger Rijff''s Long Lonely Highway
There was the dazzling, writhing, rock íní roll Elvis in his gold jacket with rhinestone lapels, sorcering his madly screaming fans at Multnomah stadium into one frenzy of ear-splitting ecstasy after another, mounting in intensity to a bomb-burst of emotion with his concluding "Hound Dawg" number.7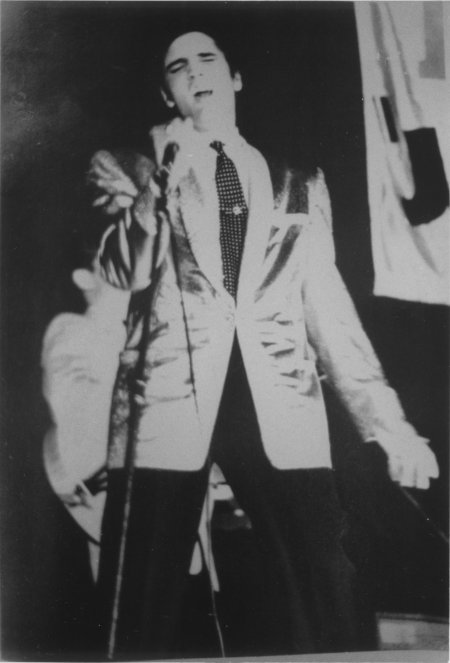 Elvis and Scotty at Multnomah Park - Sept. 2, 1957
Photo replaced with personal collection Aug. 10, 2012
SEEMED AS IF the shrill adulation couldnít be more intense than during the "I Got a Woman" number, when the rock íní roll idol grabbed his guitar and did his rhythmic contortions back of it-sort of like doing a cheek-to-cheek dance with it instead of playing it.7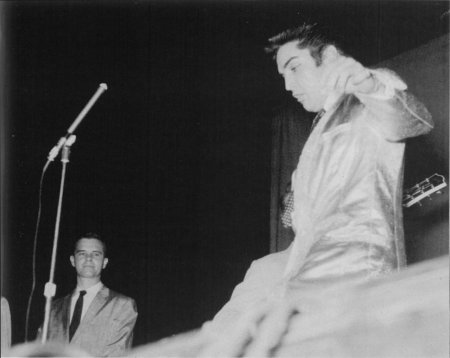 Neal Matthews and Elvis at Multnomah Park - Sept. 2, 1957
Photo courtesy Ger Rijff''s Long Lonely Highway
But it was the "Hound Dawg" numberóthe last on the list of hits-that created pandemonium. If the audience was going to swarm out onto the field, completely out of control, it would have swarmed during that number. Presley sat on the edge of the stage, swinging his long legs. Then he wiggled to the turf and writhed in a half-crawling position during much of the song. With the last moan of agony, he appeared completely exhausted, and dragged himself back of the stage.7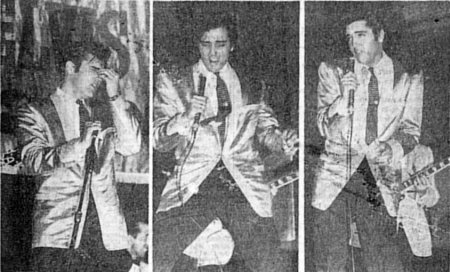 Elvis at Multnomah Park - Sept. 2, 1957
The Oregonian Staff Photo by de Lay courtesy Robert Gordon's King on The Road

Elvis at Multnomah Park - Sept. 2, 1957
The Oregonian Staff Photo by de Lay courtesy FECC/Little Sister
Following a 40-minute performance, Presley issued a hurried goodbye and sped in the convertible from the tumultuous cheers, an enthusiastic but very much exhausted young man. 6
IN A FLASH he was into the convertible, and the 14,000 were still wildly screaming and stamping when the loud speaker blared: "Ladies and gentlemen. Elvis Presley has left the stadium!" The silence was as deafening as the performance.7

Fans at Multnomah Park - Sept. 2, 1957
The Oregonian Staff Photo by de Lay courtesy Robert Gordon's King on The Road
THE SUDDEN departure of Elvis left many of the fans in a frenzied, stifled condition. The announcement from the stage that Elvis had gone and the show was concluded was certainly not news. They had lost him, the lead actor in so many teenage dreams, and he was not to return. But for seven hours, give or take a few precious minutes, he belonged to Portland.6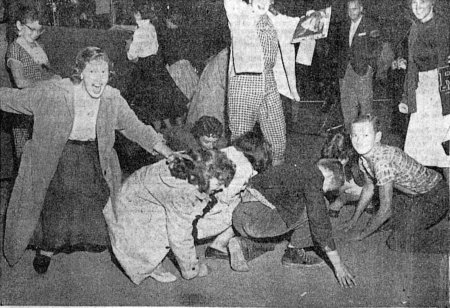 Elvis scoop dirt where Elvis sang at Multnomah Park - Sept. 2, 1957
The Oregonian Staff Photo by de Lay courtesy Robert Gordon's King on The Road

The Oregonian reported that even the dirt Elvis Presley kneeled on was a souvenir for about 50 teenagers who swooped down out of the grandstand for a handful after Presley left the stadium. The crowd was extremely noisy but well-behaved.
---


Front page of The Oregonian - Sept. 3, 1957
courtesy Robert Gordon's King on The Road

Critic of Elvis Convinced He 'Must Have Something'
BY PHYLLIS LAURITZ
Staff Writer The Oregonian
All right, kids, I give in. He really isnít horrible. It just seems that way to us grown-ups.
But anybody, and I do mean Elvis Presley, who can do what he did to you in Tacoma, and Seattle, and Vancouver, and Portland, must have something.
What it is, I donít know. How could I? You whooped and hollered so I couldnít hear him. At his performances, that is.
But I did hear him at his press conferences, and maybe I have some answers to some questions you might have asked.
He does not wear pancake makeup. That pasty skin is natural.
Why does he wear sideburns?
Because when he was a kid he admired truck drivers, and they wore sideburns. Or so he says.

Elvis Not Engaged
How does he feel about Anita Woods, his latest girl?
He "more than likes her," but he is not engaged.
He would like to be married, when the time comes. The time is not now.
Where does he stand on the draft? He is ready and willing, when they call him. Yes, he will part with his long locks and not reluctantly, because he wants to be one of the boys, and they wear crew-cuts.
Does he ever get lonely? You bet.
Does he take orders from Colonel Tom Parker, to the point where he is not an individual?
Nope-heís real independent.
But he respects what his father and mother tell him.
He doesnít smoke, or drink, and I donít think he cusses. He didnít, in front of people, and he had provocation.

He Likes Religious Songs
By that I mean he was pestered, and I would conjecture that to a performer it must be aggravating to have people making so much noise that you could not be heard, no matter what you sang.
Classics like "Hound Dog," and "Teddy Bear," that is.
He likes to "send you" with the best songs, but he also likes to sing the religious songs you hear on records.
The wiggle, he says, comes naturally.
Is there anything wrong with it?
Can you see it on a record?
Do his records sell well?
No comment.
And if people complain that they cannot distinguish the words on his record, thatís their fault.
They should have been raised in Memphis.
They dig him good there.

TEENER TELLS ELVIS STORY
By HOLLY JOHNSON
I am an average teen-ager, one of many who were present at Elvis Presleyís performance in the Multnomah stadium, Monday night. At eight oíclock the stadium was more than half filled with eager kids from everywhere.
I think these teen-agers were quite well-behaved considering the large crowd. They were bustling with excitement and remarks as follows were overheard: "Oh, I canít wait to see Elvis," and "Oh, Iím so nervous!"
The first half of the show, which started around 8:30 p.m. consisted of a few instrumentals and comic routines done by various performers. The kids were pretty good sports about giving their attention, so the show started out successfully. The Jordanaires were featured in the first half, also, and they were great!
After the first half of the show, there was a short intermission, and then in a few minutes it started again. The air was filled with nervous tension, because everyone knew that Elvis was coming on soon!
Girls Scream for Elvis
Finally around ten oíclock Elvis rode down the field in his white convertible. The girls in the audience let out a scream that could be heard in Memphis, Tenn.
Without wasting any time, he got out, gold suit coat and all, and started up the platform. The band was assembled, and so were the Jordanaires.
He shyly walked onto the stage, shook hands with the band director, and just stood there for a moment. He let out one note and the girls went wild! Then he burst out into "Heartbreak Hotel," which came out louder and clearer than ever.
You know, I think all of the songs he sang sounded as good as his records, even better.
Anyway almost everybody loved him and his show was a success. It goes to prove that somebody who became successful overnight and has been so popular in the past two years has a talent that cannot be ignored, as long as teen-agers love Elvis!

all Portland articles courtesy Ger Rijff

---
Following the concert they returned to LA for recording sessions at Radio Recorders scheduled for September 5-7 where Millie Kirkham would join them for the first time. The sessions would produce Elvis' Christmas album in addition to several singles by songwriters Jerry Leiber and Mike Stoller who were also present for the session.5 During the session on a dare, they would write "Santa Claus is Back in town" in about fifteen minutes which will become one of Elvis' greatest bluesy tracks.
"Scotty and Bill were especially eager for this session. Elvis had been talking to them for months about doing an album of instrumentals on which Elvis would play piano. The project was his own idea. Financially, they were getting desperate. Every time Scotty or Bill put something together that would allow them to make extra money or receive items in exchange for endorsements, Colonel Parker shot it down. After they completed work on the singles and the Christmas album, they got ready to record the instrumentals. We had even picked the name out for the group: the Continentals, says Scotty. Elvis booked studio time for us. We even rehearsed some songs for the album. But before we got started, Parker found out about it and shut us down."8
That was essentially the last straw for them and they finally came to the realization that "there was not going to be any sharing of the wealth as Elvis had promised. When they had started out they were Elvis and the Blue Moon Boys, the musical equivalent of the Three Musketeers: all for one, and one for all. Now Scotty and Bill were struggling to make a living wage."8 In an attempt to get more money they drafted a letter of resignation and sent it to Elvis but by the time they returned to Memphis the media had got the story (see here), tempers flared and the result was that they had to make good on their resignation as they were prepared to. For the rest of September until the issue was resolved by the end of October, they set out on their own.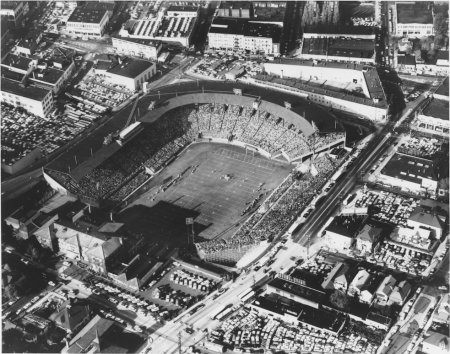 Aerial view of Multnomah Civic Stadium - 1959
Photo courtesy Pete Wright
In 1958, the Pacific Coast League was transformed from baseballís third major league into a AAA classification league. The Beavers become a Major League farm team for the first time affiliated with the St. Louis Cardinals in 1961, the Kansas City Athletics in 1962 and the Cleveland Indians in 1964.9

In 1966 the Multnomah Athletic Club sold the stadium to the city of Portland for $2.1 million and in 1969 it became the first outdoor baseball facility to install artificial turf (AstroTurf). After an unusually wet winter the '69 opener had to be delayed by two weeks because the new Tartan Turf surface could not be installed on time.1 The Beavers then became the first Triple A affiliate of the Milwaukee Brewers in 1970, the Minnesota Twins in 1971 and then the Cleveland Indians in 1972 before moving to Spokane in 1973.9 The park was remodeled once in the 1970s with a new roof being added and football pressboxes being moved from the top of the roof to right below it. 2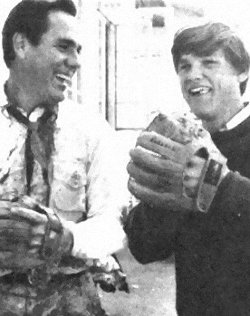 Bing and Kurt Russell
Photo courtesy web
Single A Baseball came to Portland with the Mavericks, the only independent team in the Class A Northwest League, which was owned by actor Bing Russell. His son, Kurt attended nearly every game.9 Coincidentally, Bing portrayed Vernon Presley in the 1979 TV movie "Elvis" featuring his son Kurt as Elvis.
In 1977 the stadium was host to the NASLís Soccer Bowl í77, drawing a record crowd of 35,548 and in 1985 the Portland Breakers of the short lived United States Football League (USFL) played one season there.2


Rodney McCray crashes through the "Flav-R-Pac" - May 27, 1991
Portland rejoined the PCL in 1978 with the Beavers as an expansion team and the Triple A affiliate of the Cleveland Indians, the Pittsburgh Pirates in 1979, the Philadelphia Phillies in 1983 and the Minnesota Twins in 1987.9 In 1991 during the seventh inning of a game between the Beavers and the Vancouver Canadians, Canadian outfielder Rodney McCray crashed through the "Flav-R-Pac" outfield sign while chasing a fly ball, earning him blooper immortality. Beavers owner Joe Buzas moved the team to Salt Lake City after the 1993 season and from 1995 to 2000 Civic Stadium was home to the Portland Rockies of the Northwest League.1 At that time the facility became the largest park in Class A, and AA baseball.2

PGE Park - 2003
Photo © Brian Merzbach courtesy Ballpark Reviews
The park underwent a $38.5 million renovation in 2001, including Nexturf as the new playing surface, luxury boxes, and the installation of club seating. Naming rights were sold to Portland General Electric and Civic Stadium was renamed PGE Park. The park now holds 20,000 with room for expansion as a temporary home for a relocated Major League team. The stadiumís dimensions are 317 feet to leftfield with a 25-foot wall, 405 feet to center with an 8- foot wall, and 320 feet to right field, also with an 8-foot wall.2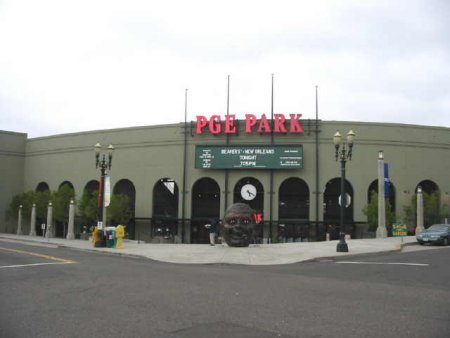 PGE Park - 2003
Photo © Brian Merzbach courtesy Ballpark Reviews
The 2001 season marked the return of Triple-A Baseball to Portland, as the Albuquerque Dukes franchise was purchased and relocated to Portland and revived the name Beavers. The new Portland Beavers, now affiliated with the San Diego Padres, opened the retrofitted park on April 30, 2001 after playing their first eight "home" games in Pasco, Washington. The season also marked the return of outdoor professional soccer to the city, as the Portland Timbers joined the A-League (now USL First Division) as an expansion franchise.1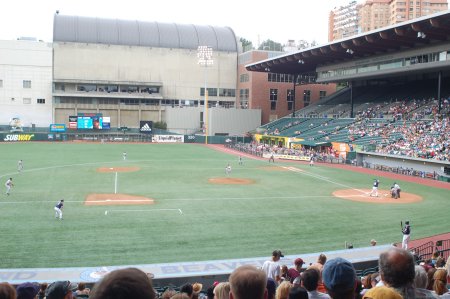 Field view of PGE Park with the MAC past right field - 2008
Photo courtesy Bus Leagues Baseball
Today the Multnomah Athletic Club is still a private, not-for-profit athletic and social club located in downtown Portland, Oregon at 18th Street and SW Salmon Street with an eight-level main Clubhouse that overlooks PGE Park.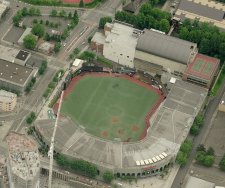 Aerial views of PGE Park - 2009
Photos © Microsoft Earthdata
page added June 18, 2009
1 courtesy PGE Park and "The Rebirth of a Grand Ballpark" by Rich Burk
2 according to "Oregon and Portland's Baseball History" courtesy Oregon Stadium Campaign
3 according to The Sons of the Pioneers - Biography by Bruce Eder courtesy Allmusic.com
4 according to "Multanomah Civic Stadium Ski Jump" courtesy Ski Jumping Hill Archive
5 according to "Last Train To Memphis" by Peter Guralnick
6 from "Portland Teenager Frenzied Over Elvis" By Don Horine - Portland Journal, Sep 3, 1957 courtesy Ger Rijff
7 from "2 DEFINITE PRESLEYS APPARENT TO WRITERS" By Dorothy Lois Smith - Portland Journal, Sep 3, 1957 courtesy Ger Rijff
8 excerpt from "That's Allright Elvis" by Scotty Moore and James Dickerson
9 according to "Portland Baseball" courtesy PdxHistory.com