Radio Recorders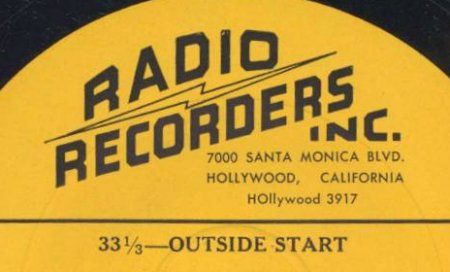 Logo on radio spot recording from the '40s
scan courtesy Radio Archives
In September of 1956, while Elvis was in Hollywood filming "Love Me Tender", RCA Victor booked time at Radio Recorders for the band to go in and record what would become Elvis' second album. After "Love Me Tender," Elvis insisted on doing soundtrack recording with his own band in a regular studio setting as well.

7000 Santa Monica Blvd. - formerly "Radio Recorders"
Photo © Robert M. Vera
The studio, located at 7000 Santa Monica Boulevard on the corner of Orange Drive in Hollywood was at the time known to be the best recording facility in LA. The Santa Monica Blvd. location contained several studios for recording with the band mostly using the largest, Studio B (in 1959 Studio B rented for $32.50 per hour). Finding the facilities, the engineer, Thorne Nogar (Thorny), and his assistants Jim Malloy and Bones Howe much more conducive to the bands productivity than the motion picture soundstages, while in Hollywood, they would score many of the subsequent movies and albums there commencing with "Loving You" in January of 1957.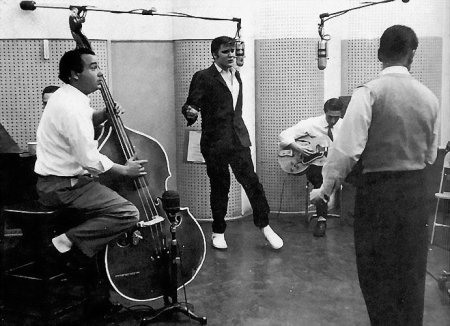 Bill Black, Elvis and Scotty in Studio B - Feb. 1957
Photo by Leigh Vance*
The studio was built in 1929 by the Victor Talking Machine Company, no doubt in attempts to get into the new sound-on-film business, and completed sometime after the acquisition of Victor by RCA on March 15, 1929. Variety Magazine advertised at the time that at a cost of $250,000 the complex went from Orange Drive to Sycamore Avenue between Santa Monica Blvd. and Romaine St. Though now officially RCA Victor, the company was still being referred to simply as "Victor" and record labels did not carry "RCA Victor" until much later, sometime in the late 1930s or early '40s. One of the first stars on its label to record there was Jimmie Rodgers in July of 1930 accompanied by Louis Armstrong on trumpet.1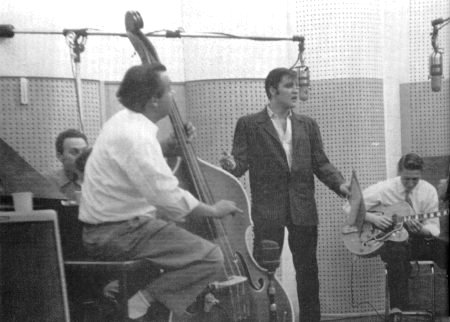 Bill Black, Elvis and Scotty in Studio B - Feb. 1957
Photo by Leigh Vance*
Radio Recorders itself was founded around 1933 and the 1937 Broadcasting Yearbook lists it as being located at 932 N. Western Ave. By 1949 they had taken over the facilities at 7000 Santa Monica Blvd. and were on the road to becoming one of the largest independent recording studios in Hollywood. Mostly all of the major labels used Radio Recorders' studios because most of them did not have facilities on the West Coast initially. Capitol Records did all their early recordings there and then stole away some of their engineering staff when they built their own studios. In addition to popular music the facilities there were also extensively used to record jingles, commercials and shows for broadcast radio.

Dudley Brooks, Tiny Timbrell, DJ and Elvis in Studio B - Feb. 1957
Photo by Leigh Vance*
Like the RCA Victor studios in New York the wall treatment in the studios there featured a series of "polycylindrical diffusers", or rounded walls. John Palladino, who worked as an engineer there, called them "splays" when interviewed by Susan Schmidt Horning. Other rooms featured a series of slightly curved sections spaced by sections of 1-foot square acoustic tiles. Again, they serve to dampen, deaden, or diffuse the sound and prevented "standing waves" allowing engineers much more control during recording and the ability to add effects in the post-mix.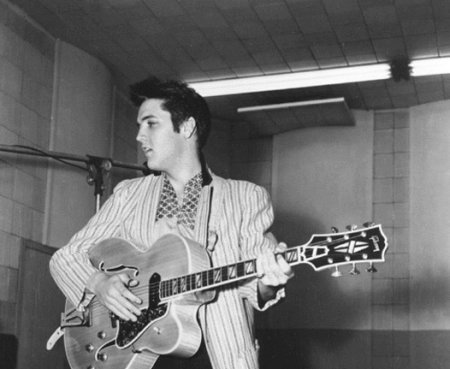 Elvis with Scotty's Super 400 in Studio1 at Radio Recorders Annex - April 30, 1957
Most of the microphones used in the studios there by the band (at least in the '50s) were RCA 77DX's and 44BX's with Elvis sometimes using two for his vocals allowing him to move as he would often do when singing and still be picked up. Bill evidently used an Altec 639A "Bird Cage" microphone to mic his Kay Bass and DJ's drums were mic'd with an Electro-Voice Model 666(a) or 667. A 77DX was also used to record Dudley Brooks on piano. During the '50's all of the bands recordings there were recorded monaural at 15 ips (inches per second) as were several of the sound tracks in the '60s.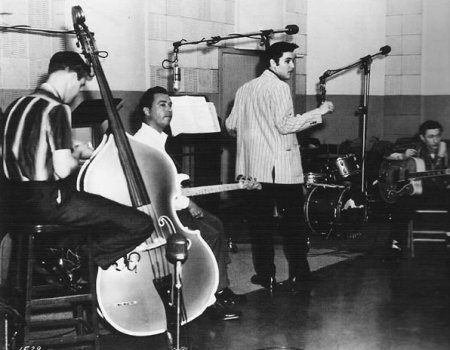 Bill, Elvis and Scotty in Studio 1 at Radio Recorders Annex, JHR Sessions - April 30, 1957
Jim Malloy has been quoted as saying, "What I remember most about those days were the technical innovations. We made the first stereo album in the United States, 'Louis Armstrong Plays King Oliver', in 1957. In '58 we had the first 2 track and 3 track Ampex tape machines. Warren Dace and I also made the first stereo 8 track cassettes by hand at Radio Recorders." However, Warren, who worked there in the '50s and '60s, said "we didn't create the 'first 8 track stereo cassette recording.' Jim always had a creative imagination."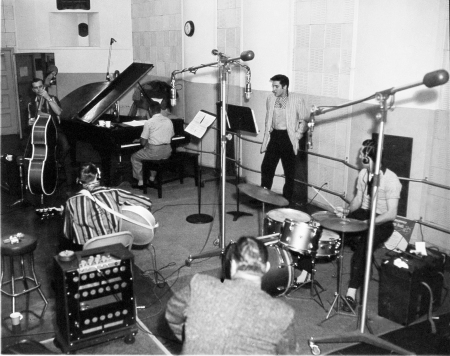 Scotty, Dudley, Elvis and D.J. in Studio 1 at Radio Recorders Annex,
Jail House Rock sessions - April 30, 1957
Photo courtesy Erik Lorentzen
Warren further recalled, one time, when my wife came to pick me up, we were taking a shortcut through Studio B, where a session had just ended. My wife said "Who's that guy over there, playing the piano and singing to himself?" I looked over and told her, "Oh, that's Elvis Presley."2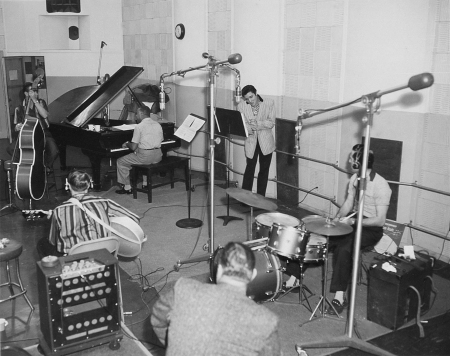 Scotty, Dudley, Elvis and D.J. in Studio 1 at Radio Recorders Annex,
Jail House Rock sessions - April 30, 1957
Photo courtesy Erik Lorentzen
The "Loving You" soundtrack sessions were the first time that Dudley Brooks would play piano with the band and that Hilmer J. "Tiny" Timbrell would play rhythm guitar. They were hired by Paramount Pictures. Dudley in addition to soundtrack work had played with Charlie Christian and Bennie Goodman and had also been an arranger for Count Basie. Tiny had played with Harry James and Gene Krupa and as the Gibson representative for the West Coast, was instrumental in getting Scotty his endorsement with Gibson. He was also a big help with the soundtracks because he could read music while Scotty used the Nashville number system, so Tiny helped transfer the scores over before the actual recording sessions.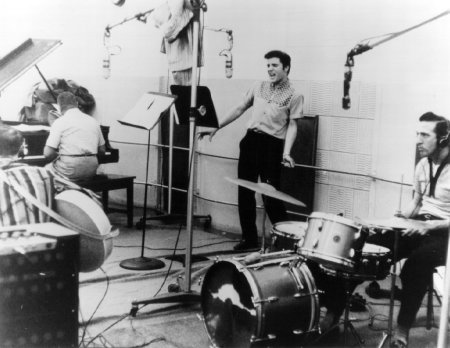 Scotty, Dudley, Elvis and D.J. in Studio 1 at Radio Recorders Annex, Jail House Rock sessions - April 30, 1957
The time between the band's last recording sessions there, for "King Creole" and RCA in January and February of 1958, until after Elvis returned from the Army, saw another growth period for Radio Recorders. Radio Recorders' affiliate, MP-TV Services, acquired the rights to sound effect, jingle and commercial aid libraries of Standard Radio Transcription, Inc. in October of 1959. In July of 1960 they merged with Universal Recorders, located at 6757 Hollywood Blvd., making them the largest recording studio in America. Around this time they also opened a facility at 1441 North McCadden Place with a 45' x 75' studio, which they called their Sunset-Highland Division. They now offered state of the art technology for recording tape and disc, both stereo and mono, editing and mastering, pressing, magnetic film recording, dubbing, slide films and complete sound on film service.

map of block between Radio Recorders and Annex
courtesy LA County Assessor office
They also had another facility around the corner from 7000 Santa Monica Blvd at 1032 Sycamore St. called "The Annex" or "Radio Recorders Annex". All of the studios at the 7000 address were identified alphabetically 'A' thru 'F' with B being the largest. A was a smaller studio, seldom used for music recording. C was strictly for dubbing to tape or disc - mostly for CBS radio network. D was for tape editing, E was for speech only - a table & chair and one mic, and F was disc mastering. In the Annex the studios were identified numerically. There was the large Studio 1 and a bunch of tape editing and mix-down rooms, plus a mastering studio.2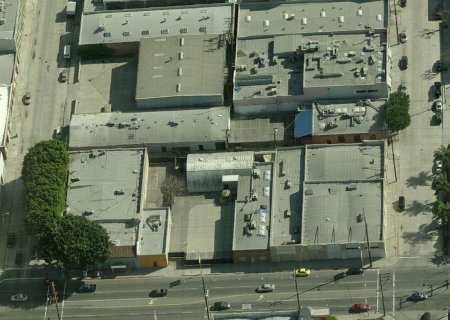 7000 Santa Monica in the lower left, the Annex in top right
Photo courtesy Microsoft EarthData
In addition to studios, the Annex contained Echo Chambers, which are totally "live" rooms with reflective walls that don't absorb any driven sound. One of the chambers was a room at the end of the garage with plaster walls. Though reflective, the walls in the echo chamber were non-parallel, designed to achieve an even and natural sounding decay of reverberant sound. They had a microphone in the room on a stand and an Altec speaker box with a 15" woofer and a horn. You adjusted the decay and direct vs. reflected sound by relocating the position of the mic in the room and the loudness of the speaker. There were audio tie lines that ran down the alley to and from the studios on Santa Monica Blvd.3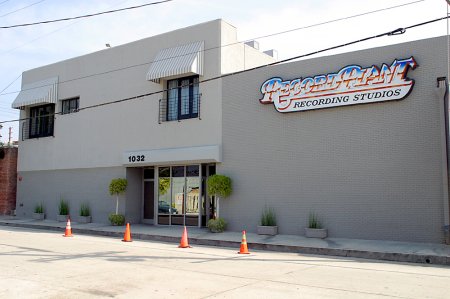 1032 Sycamore St - formerly "the Annex"
Photo © Robert M. Vera
Jerry Yester of "The Lovin' Spoonful" and "MFQ" (Modern Folk Quartet) worked as a freelance engineer for Thorny at the Annex from 1973 to 1983. During that time he recalls there were 3 working live echo chambers: A, B & C. "The A sounded great, but it was hard to get at in the patching system, and a little noisy if you could get it. The B & C were normaled to Studio 4. I'm pretty sure the speakers in them would have been Altec, smaller than 604's, and the mics may have been Electro-Voice RE-10's. There was also an EMT plate available, if Studio 1 wasn't using it, and an experimental chamber in the Star Wars type attic, that wasn't used that I ever knew of. I think it was an experiment that failed. It was a long tube running nearly the complete length of the studio (East/West). It's characteristics were kind of like putting a vacuum cleaner hose in your mouth and singing. It had kind of a built in yodel."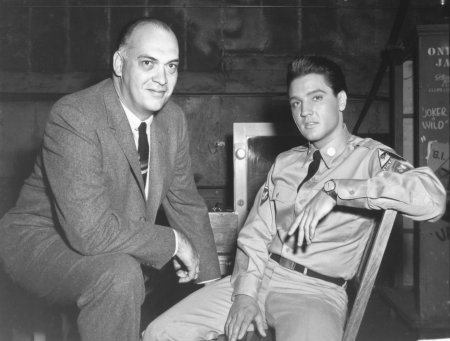 Thorne Nogar and Elvis on the set of G.I. Blues - April 1960
Photo courtesy David English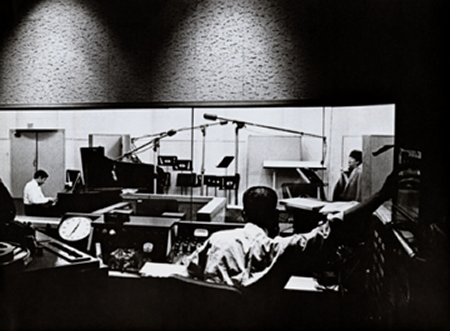 Studio B control room during an André Previn session in the '60s
Photo © Digital Excellence
In 1960 (May) Elvis, Scotty and D.J. were back recording at Radio Recorders again commencing with soundtrack work for G.I. Blues which started in April at RCA. Radio Recorders was later called Radio-TV Recorders an later still Radio/Universal Recorders.2 In 1963 Radio Recorders became a division EMC Corporation. EMC was a St. Paul, MN based firm specializing in industrial and educational communications and magnetic tape duplication.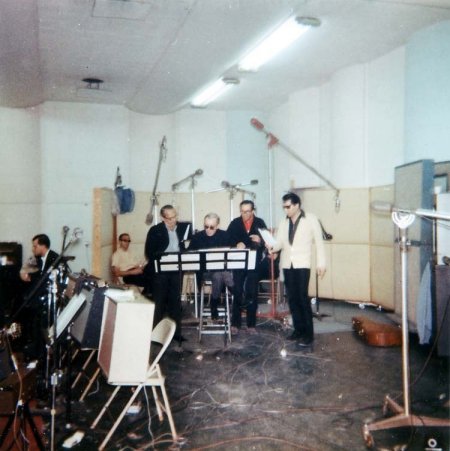 sessions for Frankie and Johnny in Radio Recorders' renovated Studio B - May 1965
Photo JeanRogers/Studio courtesy FECC/Terry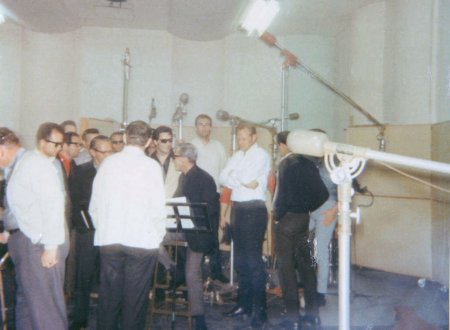 sessions for Frankie and Johnny in Radio Recorders' renovated Studio B - May 1965
Photo courtesy FECC/Patori
In June of 1966 while recording the soundtrack to "Double Trouble", MGM moved some sessions to its own soundstage to save money. This evidently set a precedent with each subsequent producer insisting the same and the band's days of recording at Radio Recorders were over.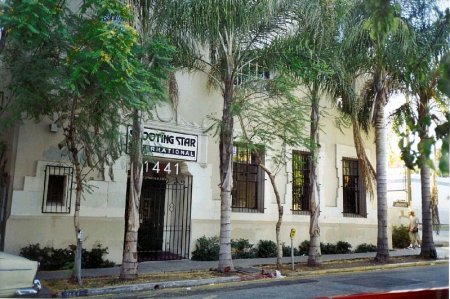 1441 N. McCadden Place - formerly "Sunset-Highland Recording"
Photo © courtesy Peter Mackay
At the end of 1977 EMC sold off its assets in California and returned to Minnesota. In 1996 they renamed their production division Digital Excellence and in 2002 sold it to a private investment group. Thorne Nogar purchased "The Annex" and operated it for many years until The Record Plant bought it and relocated there in 1985. Jimi Hendrix and also Frank Zappa had recorded at the Sunset-Highland facility in the late '60s and in 1980 it became the home of Shooting Star International. Radio Recorders at 7000 Santa Monica Blvd. was bought by Paul Ring who renovated it and along with Rick Perotta operated it as Golden Sound Studios until the '80s. It was purchased by Paul Schwartz who has operated it as Studio 56 since 1986.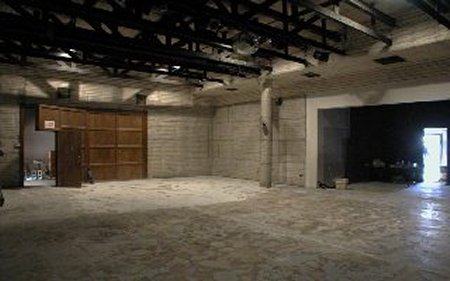 Studio E (formerly B) from the stage (control room) in a state of renovation
Photo courtesy Studio Club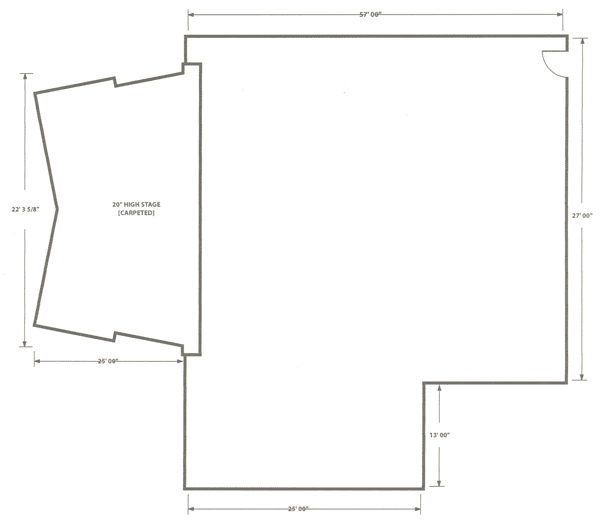 Studio E 82' x 40' (formerly Radio Recorders Studio B)
Plans courtesy Explosive Records
Today the old Radio Recorders still features studios (A, B, C and E) but has been completely renovated and modernized. Studio B where most of the hits were recorded is now a studio with a "live soundstage" and full 5.1 Surround Sound DVD recording capabilities. It has been renamed Studio E ('E' for Elvis) and the control room that was along the west wall is now a 22 foot wide, 20" high stage. The soundstage has been the location for TCM's January 2001, "Elvis, Artist of the Month" featuring Priscilla Presley plus many, many more. Currently there are plans to use the facilities to stage a live performance - documentary style show called eHaw LA, the theme of which will focus on music of the past.

Entrance to 7000 Santa Monica Blvd.
Photo © courtesy Robert M. Vera
James V. Roy
March 2004
1 according to Jimmie Rodgers: The Life and Times of America's Blue Yodeler by Nolan Porterfield
2 according to Warren Dace, employee at Radio Recorders in the '50s and '60s
3 courtesy Eric Acosta, employee at "The Annex" in the '70s

Special thanks to Dick Stevens* at Digital Excellence , Susan Schmidt Horning and Jerry Yester. I especially wish to thank Warren Dace for his input and studio identification.
* Sorry to say that Dick Stevens passed away on April 28th, 2013
* According to recent observations by FECC's djc, the Leigh Vance photo credits for the February 1957 photos are sourced from a 1980's bootleg LP liner notes, specifically VIK EPP 254, and in reality were likely shot by LA photographer Bill Avery. (added January 9, 2013)
---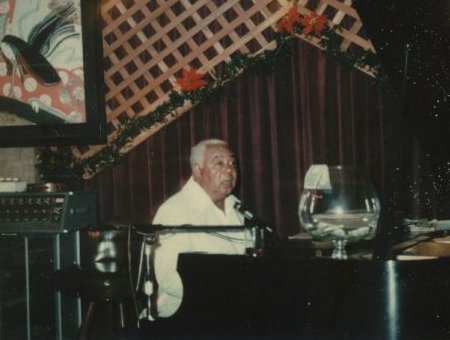 Dudley Brooks performing in a piano bar in LA in October 1997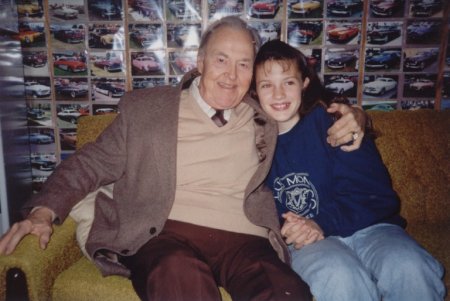 Tiny Timbrell and Laurie Dalziel - Nov 9, 1991 Victoria BC
Photo courtesy R Dalziel
---
I thought that some of you may like to know, that at their old site on Western Avenue in the 1930s and '40s, Radio Recorders made a lot of "air checks" of old time radio shows for the radio stars and their advertising agencies. For instance, after 1936 until the late-1940s, all of the "Jack Benny" radio programs were recorded by Radio Recorders on disc or electrical transcriptions, as there was no magnetic tape yet at that time...So, if you ever hear an old Jack Benny Program from radio taken from the 1930s or '40s, it was recorded by Radio Recorders of Hollywood.
Jim Hilliker
Monterey, CA April 17, 2005
---
Chet Baker was just 22 when he was discovered by Charlie Parker in 1951. It was the heyday of the California jazz scene, and the handsome, brooding young trumpeter skyrocketed to fame. During a glorious period that stretched from 1952 to 1957 Baker, the "James Dean of jazz," captured the hearts and souls of a generation that was infatuated with "cool," yet deeply moved by the musician's underlying tone of seductive melancholy.1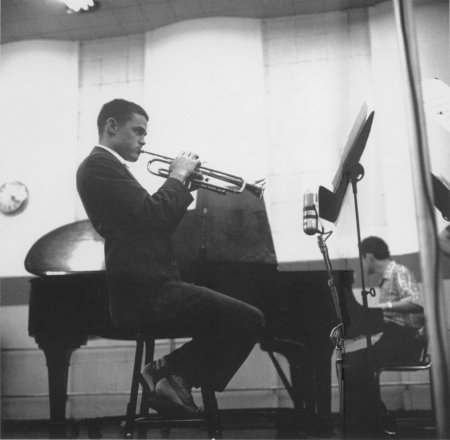 Chet Baker and Russ Freeman in Radio Recorders Studio 1 - 1953
Photo © by William Claxton courtesy Young Chet
Among Bakers admirers was jazz photographer William Claxton, who accompanied Chet to concerts, performances and studio sessions. The seventy stunning duotone photos in this classic volume, Young Chet, reprinted in an attractive smaller format show a dreamily introverted musician whose charisma and appearance matched the suggestiveness of his art. And they document a vibrant period in our country's musical history; when youth and beauty ruled the day and which paved the way for Americas obsession with glamorous, fast-living entertainers. Accompanied by Claxton's affecting, personal memories of Baker, these photographs document not just an artist at work but a friendship in the making.1 Several of Claxton's photographs from different sessions at Radio Recorders are presented here because they provide an unparalleled perspective of the studios themselves.
Radio Recorders Studio 1 (the Annex)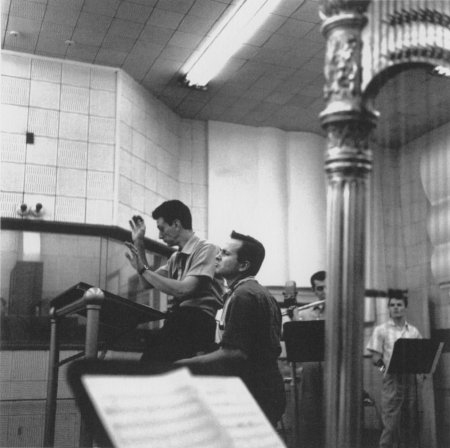 Johnny Mandel conducts for Chet Baker in Radio Recorders Studio 1 - 1954
Photo © by William Claxton courtesy Young Chet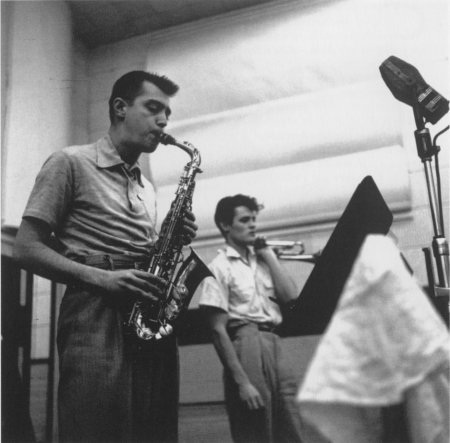 Bud Shank and Chet Baker in Radio Recorders Studio 1 - 1954
Photo © by William Claxton courtesy Young Chet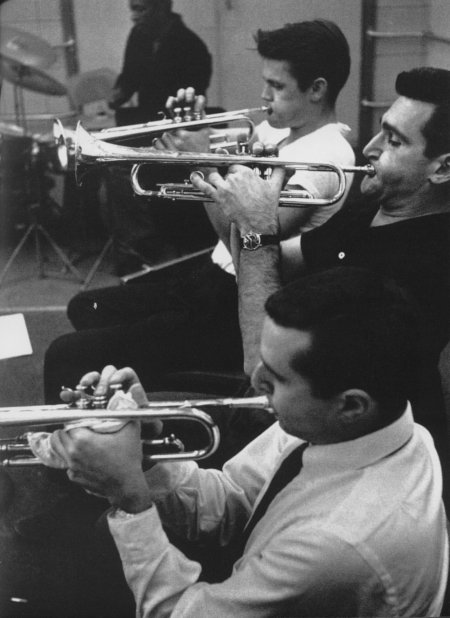 Lawrence Marble, Chet, Conte Candoli and Norman Faye in Studio 1 - 1954
Photo © by William Claxton courtesy Young Chet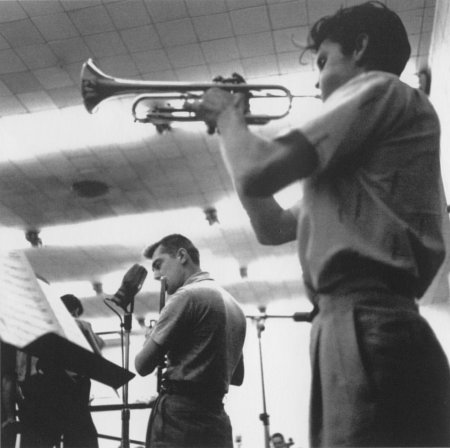 Bud Shank and Chet Baker in Radio Recorders Studio 1 - 1954
Photo © by William Claxton courtesy Young Chet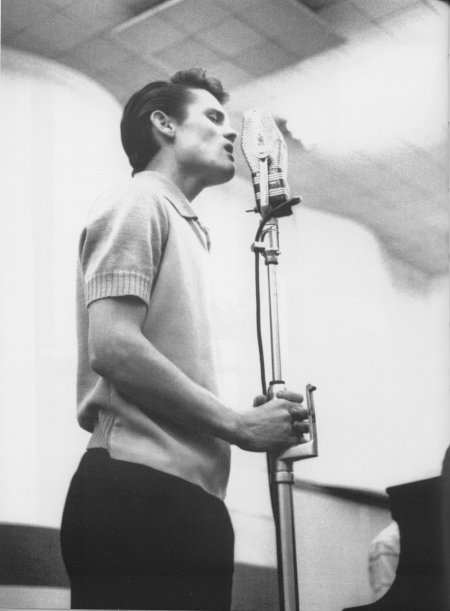 Chet Baker records hi first vocal album in Radio Recorders Studio 1 - 1954
Photo © by William Claxton courtesy Young Chet
Radio Recorders Studio B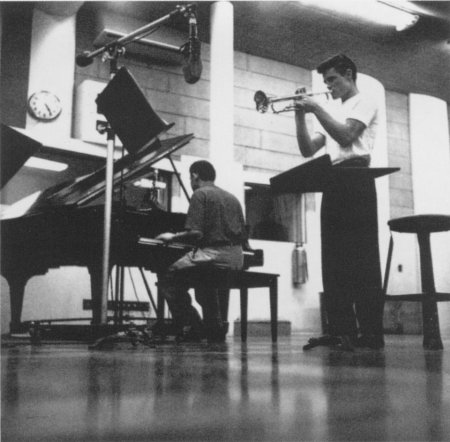 Russ Freeman and Chet Baker in Radio Recorders Studio B - 1954
Photo © by William Claxton courtesy Young Chet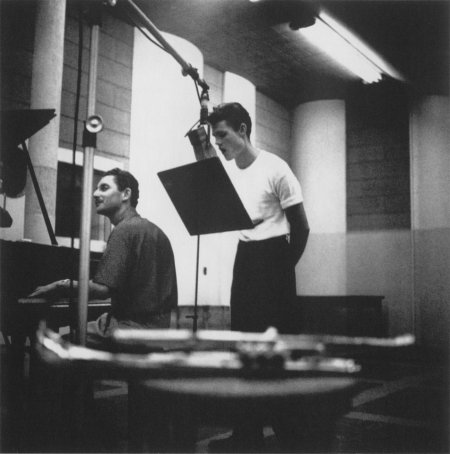 Russ Freeman and Chet record The Thrill is Gone in Radio Recorders Studio B - 1954
Photo © by William Claxton courtesy Young Chet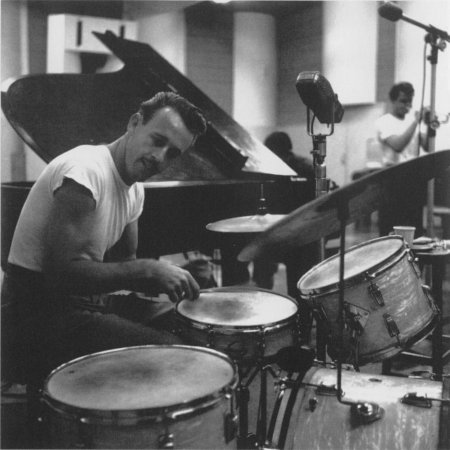 Larry Bunker, Russ Freeman and Chet Baker in Radio Recorders Studio B - 1954
Photo © by William Claxton courtesy Young Chet

Russ Freeman, Chet Baker and Carson Smith in Radio Recorders Studio B - 1954
Photo © by William Claxton courtesy Young Chet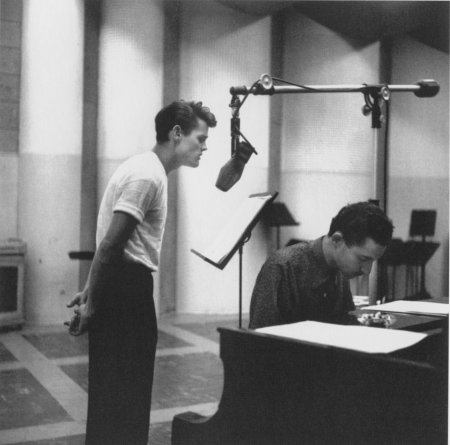 Chet Baker and Russ Freeman in Radio Recorders Studio B - 1954
Photo © by William Claxton courtesy Young Chet
Jazz photographer William Claxton lives in the Los Angeles area where he began photographing jazz musicians while still a student at UCLA. In the 1950s, while in college, he helped record producer Richard Bock start the Pacific Jazz record company and shot all the covers. Soon all the major record companies were using him. Claxton remained active in jazz photography, and had authored several books. His photography has been widely exhibited.2 He passed away in 2008.
Today, Studio B and the remainder of the facilities located 7000 Santa Monica Blvd. have once again been vacated and I'm told have been leased for office space.
page appended July 17, 2011

Special thanks to David English for the discovery and direction to William Claxton's book.
1 text and photographs © courtesy Young Chet by William Claxton
2 text courtesy Afterimage Gallery
---
My 10 minutes with Marilyn
When the film "My Week With Marilyn" was making the rounds Warren Dace posted a story about one of his experiences he had as an engineer. Warren helped a great deal with this page and when they announced that Michele Williams was up for an Academy Award in 2012 for her portrayal as Marilyn Monroe in the film I thought it fitting to relate that story here.

My 10 minutes with Marilyn." It was back in the 50's when I was working in a recording studio in Hollywood, I was assigned to take some recording equipment out to 20th Century-Fox studios where our ad agency client was going to do an interview with Billy Wilder, the director. I went there and met the agency guy, and we walked out into a sound stage. He said, "Just set up the equipment right here, and when Billy Wilder gets through with the scene he's shooting, I'll bring him over and do the interview - meanwhile I've got to talk with some people", and he took off.


Marilyn Monroe in The Seven Year Itch - 1955
Photo courtesy web

I started to set up when a gal came over and asked what I was doing. There is a scene in "The Seven Year Itch", where the guy is imagining Marilyn coming down a flights of stairs into his apartment. He imagines her with hair piled up on top of her head, extremely heavy makeup, and a slinky dress, and Marilyn was made up for that scene. She didn't look at all like she normally did, and I simply did not recognize her. I told her I was here to tape an interview with Billy Wilder and she asked if I worked for Fox. I said "No, I work for an independent studio," and she wanted to know what artists we recorded. We talked for a few minutes more, and then an announcement came over the PA system - "Miss Monroe, would you please come to the set, we're ready to shoot the scene." "Well," she said, "got to go now, nice talking to you - bye." As she walked off, I realized who it was I'd been talking with!