Memorial Stadium
Spokane, WA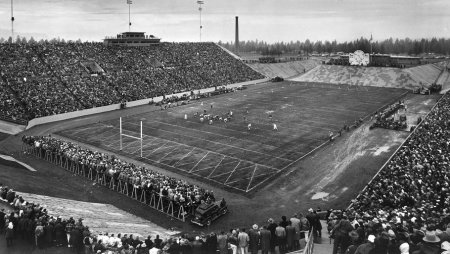 Memorial Stadium in Spokane, WA - 1951
Photo Archive The Spokesman-Review
Memorial Stadium in Spokane, Washington opened in 1950 and its primary use is for football. The 25,000 seat capacity stadium with a natural grass field and cinder running track, is located in the northwest part of the city, just east of the Spokane River.1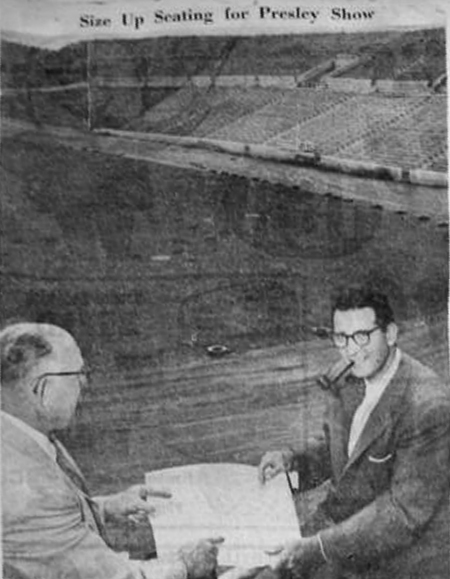 Checking a diagram of Spokane Memorial Stadium seating with manager Benjamin C. Moore (left) is Jack J. Engleman, president of the Northwest Releasing corporation of Seattle. The stadium with be used August 30 for an appearance of Elvis Presley, exponent of rock 'n' roll music. The singer is making a tour of Northwest cities.
from Dena Hartig's scrapbook courtesy spokantiques

On August 30, 1957, Elvis, Scotty, Bill and DJ began their second tour of 1957 with a performance at Memorial Stadium. The local press covered the event for several days preceding it.
Spokane Daily Chronicle, Wednesday Aug. 28, 1957 5

Presley Bodyguards Hired Here


Anita Wood, His "No. 1" girl, tells Elvis Presley
good-by in Memphis last night.

Three Spokane police officers have been hired by "security" men in the Elvis Presley party as bodyguards for the popular hip-swinging singer and movie star.
Presley is bringing a 15-piece band and a number of singers and others for his two and a half hour show at Spokane Memorial stadium Friday at 8 p.m.
The three policemen are John E. Latta, John C. Bevins and Jack W. Lindell.
Jack J. Engerman, Seattle president of Northwest Releasing corporation which arranged with Benjamin C. Moore, Coliseum and stadium manager for the Spokane booking said a fourth bodyguard may be used.
"Or possibly none will be used," he said. "That is all arranged by Kenneth Moore, head of the Presley security force who is arriving here tomorrow. It depends on how the situation here develops."
Definitely engaged, however, are 50 Spokane policemen who will be off duty at the department and will be stationed at various parts of the stadium during the show. All will be in uniform, Engerman said.
They've been hired by the stadium and releasing company.
"We've been advised by the Presley people that the audience is told from the stage to remain seated," he said. The moment anyone gets up and starts moving around, police have been instructed to move in.
We're also told that the minute there is any indication of a demonstration, Presley will leave the stadium.
Spokane is the first stop on Presley's Northwest personal appearance tour and his manager Col. Tom Parker, from Texas, is expected here tomorrow. When and how Presley will arrive is being kept a deep dark secret.
Other Northwest bookings for the Presley show are Portland, Tacoma, Seattle and Vancouver, B.C.

courtesy Francesc Lopez
The articles mention Kenneth Moore as "head of the Presley security." During that time, both Ken and Bitsy Mott, the Colonel's wife's brother, along with Elvis' entourage were responsible with doing most of the security for Elvis. Ken originally ran Ken Moore Enterprises which promoted wrestling for years in the Dallas / Ft. Worth area, particularly with a lease at the North Side Coliseum. The North Side Coliseum and the concessions at the Heart O' Texas Coliseum in Waco were run by R.G. McElyea, who booked and promoted several of Elvis' shows in 1956. Ken was married to McElyea's daughter, Elizabeth.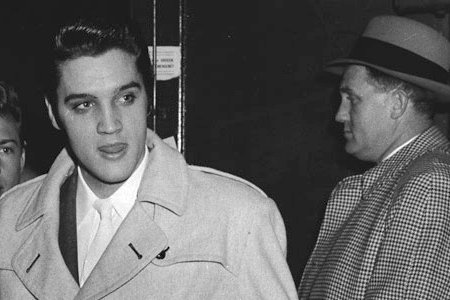 Elvis and Ken Moore in Cleveland - Nov. 23, 1956
Photo © Lew Allen
In October of 1956 McElyea had attempted to sue the Colonel and Elvis for breach of contract and they were served papers prior to Elvis' performance at the Cotton Bowl show. An unspecified agreement was reached and Billboard later reported that the suit was dropped. Whether as a result of this, or simply coincidence, by the following month Ken was working security with Elvis. He would be with him through 1958 when Elvis left for the Army and on his return in 1960. He died later that year.

Mystery Surrounds Elvis Presley Arrival

Wanna know a big secret?
Rock 'n', roll star Elvis Presley is due in Spokane at 11:20 tonight aboard the Empire Builder — but don't go down to the Great Northern depot to greet him.
Presley, a young man whose fame and fortune has been built by the crowds that form at the box office, record shops and stage doors, apparently doesn't like large groups of people.
Where and at what time the star of tomorrow's 8 p.m. show at Memorial stadium will arrive here was being kept a deep dark secret yesterday by all persons concerned. Presley left his home at Memphis Tenn. Tuesday night for the Pacific Northwest by train; reliable sources told the Spokesman Review he was to arrive at the GN depot at 11:20 on the westbound Empire Builder.

Ticket Sales Brisk
"What happens when information like that leaks out," observed Jack J. Engerman of Seattle, president of the Northwest Releasing corporation that has booked Presley's road show into the stadium, "is that a lot of people usually turn out to meet Presley. But for security reasons namely Presley's security, his train usually is stopped outside of town and he finishes his trip in a car."
While Engerman spoke, advance sales of tickets to the outdoor show were moving at what he described was a "brisk" pace at Spokane outlets.
Northwest Releasing which has worked with Benjamin C. Moore. Spokane Coliseum and Memorial stadium manager in bringing the show here, hopes for a gate of from 15,000 to 18,000 people.
Engerman said ticket buyers are not all teen-agers. He reported "quite a few people in the 18 to 38-year age bracket" have bought tickets.

Police Plan Cordon
Fifty Spokane policemen who will be off duty tomorrow night have been hired by Engerman's firm and the stadium and will be on hand — in uniform — Engerman said at any signs of unusual activity by the crowd the policemen will move in and Presley will leave the stadium.
Presley's personal manager Col. Tom Parker, is due in Spokane today. So is the head of the singer's security force, Kenneth Moore. Also en route is a retinue that includes 22 other musicians and performers who will share the stage with Presley.
Yesterday Engerman was at the stadium in connection with the installation of lighting and sound systems.
A press conference has been arranged for before the show.

The Spokane Review - August 29, 1957 courtesy Ger Rijff's Long Lonely Highway
Well-Guarded Elvis Arrives 'Safe'

Elvis Presley and six of his "buddies" breezed into Spokane last night, "ready teddy" for a big show at Memorial stadium tonight.
They whisked through the Great Northern depot in a tight football-like formation much more suited to a crowd of hundreds than the 15 or 20 fans who turned out to get a close look at him.
At least two of the fans, Marge Street, 13, and her brother, Rick, 15, W2325 Dean, said they were disappointed.
"He doesn't look anything like he does on television," Marge said. "Only his hair. Guess they make him up to look different."
They couldn't break through the rock 'n' roll idol's convoy to get an autograph or to touch him but they seemed satisfied with just a look up close.
Presley said the train ride from Memphis Tenn. was "very enjoyable" and that he ate in the diner "just like regular folks."
"We had some nice crowds along the way," he volunteered, wearing the characteristic smirk that never left his face from the time he stepped off the Empire Builder until he slipped into the limousine that took him to the Ridpath hotel.
Asked on the run if he was ready for the big show at the stadium, he replied, "Yeah, ready. Ready teddy."
That was about all the conversation a reporter could get out of him.
Presley was too busy slipping quickly but gently past a few female fans who approached him like a lost brother.


Louis Harris with Elvis signing for fans during arrival in Spokane - Aug. 29, 1957
Photo courtesy FECC/Simon1

Just the same though three of them nailed him for autographs before he got into the car. When cornered, Presley signed gracefully but quickly.
His tour manager was on hand when Presley got off the train at the east end of the station. Two or three of his "buddies" got off first though to check the crowd and possibly plan strategy for the exodus from the station.
The singer with six "buddies" (the name he gave to friends and guards with him) crowded behind and beside him shoulder to shoulder, walked west for a block through the station and got into the car at Washington street.
They said Presley travels by train because he has a fear of planes, brought on by a near crash when he was in a chartered plane and by the collision of two air liners over the Grand canyon last year.
The show at the stadium starts at 8 tonight.

The Spokane Review August 30, 1957 courtesy Ger Rijff's Long Lonely Highway

Young fans of Elvis Presley stormed the Ridpath hotel lobby yesterday afternoon to get an autograph "or just a glimpse" of their rock and roll idol. They were turned away by determined hotel employees and by Presley's entourage. Presley never moved from the seclusion of his hotel room until time for his evening show at Memorial Stadium.
Spokesman Review Photo courtesy FECC/Desert Storm
Presley Whips 12,000 Into Near-Hysteria


$3.50 tickets stub for Elvis at Memorial Stadium in Spokane
Photo courtesy eBay

Any description of what happened last night at Memorial Stadium could be but a pale picture of an event that had to be seen to be believed.
Elvis Presley, his long hair flopping and his sequined gold jacket glittering in the pink footlights, sang 13 songs in the midst of a huge, solid bubble of sound.
It was an unreal atmosphere. On one side of the infield were about as many police officers as appear in New York's St. Patrick's day parade. Behind them in the stands was a near-hysterical Sounding crowd of more than 12,000. Most girls, a big percentage 14 and younger.


George Klein, Elvis, Tommy Young and Gene Smith at the press conference - Aug. 30, 1957
Photo courtesy Alan Hanson

Ushers Helpless
On your other side, spotlighted and vibrating, was a young man who embodies more sheer animal magnetism than many of the "captive" audience — police, reporters, photographers, ushers, first-aid men — were able to believe had existed.
The crowd jammed the west stands, sitting in the aisles with a complete disregard for order — many of the standees ruefully displayed stubs for $3.50 seats to the helpless ushers. The seats had long since been filled and the crowd was so jammed in it was impossible to sort out individual rights.
During the first hour of the show, while Presley confronted a room filled with hostile reporters and radio men and with doe-eyed young women representing high school papers and the like, the crowd was average in its approbation.


Hand snatch for binoculars amid sea of rapt female faces as Elvis Presley goes through his paces at Memorial stadium in a gold jacket with glittering sequins. Girls in the picture at right center were typical of the shrieking youngsters who filled the stands 12,000 strong. At right is how Presley appeared with his "high school buddies" (whom he brought along "to keep from getting homesick") at a press conference before the show.


from Dena Hartig's scrapbook courtesy spokantiques

Attitude Changes
But their attitude changed dramatically after Presley came on, trailing a group of dazed reporters and radio men who were immeasurably impressed with the way he handled himself under their sharp tire.
Presley, who talked with assurance despite giving the impression he was — in the vernacular of his follower — a Rube from Rubeville ("if you wanta see somebody make a idiot outta theirself, you should see me tryin' to stand still..."), took the crowd in the palm of his hand.
From the time he rode through a double line of police in a Cadillac until he left after a startling rendition of
"Houn' Dog," flash bulbs bloomed like sunflowers in Kansas. White-sweatered arms swept in imitative circles and once, when he gave his famous thumb-twirling gesture, the stadium was a waving field of twirling thumbs.

Seemed To Have Fun
And all through it, twisting, bouncing, vibrating and at times sliding back and forth behind a guitar, was Presley. Often his face wore the sneer that his critics find so abhorrent. But mostly he looked like a 10·year-old who was having the time of his life — but a 10-year-old with the showmanship of a P.T. Barnum.
Presley's last song, "Houn' Dog," added enough sounds to the bubble to force grinning police-officers to throw their hands over their ears.
The sideburned singer climbed off the stage, dragging the microphone he had cuddled for more than 40 minutes, and crawled toward the crowd on his knees. It was impossible to hear him.


Elvis, Bill and the Jordanaires at Memorial Stadium in Spokane - Aug. 30, 1957
Photo courtesy Joe Tunzi's Elvis in Gold

Nothing Out Of Line
City juvenile probation officer Robert Brumblay, who was sitting in the infield, had worried a little before Presley came on the stage. He wasn't sure what avenue the exuberance would take.
When it was all over, nothing out of line had happened. There has been an indication that a rush for the stage might be coming as Presley left, but master of ceremonies Harwood Hardin adroitly parried that.
About all the city could complain of was a few youngsters who were stealing soil from the stadium infield.
Presley's feet had touched it.- G.H.

The Spokane Review - August 31, 1957 courtesy Ger Rijff's Long Lonely Highway

In 1962 the stadium was renamed for Joe Albi, a renowned local sports booster who had led the efforts to construct it. AstroTurf was first installed in 1970, and after several replacements was changed to infilled FieldTurf in 2006. The stadium has a current seating capacity of 28,646, and the playing field runs in the traditional north-south configuration at an elevation of 1890 feet (576 m) above sea level.1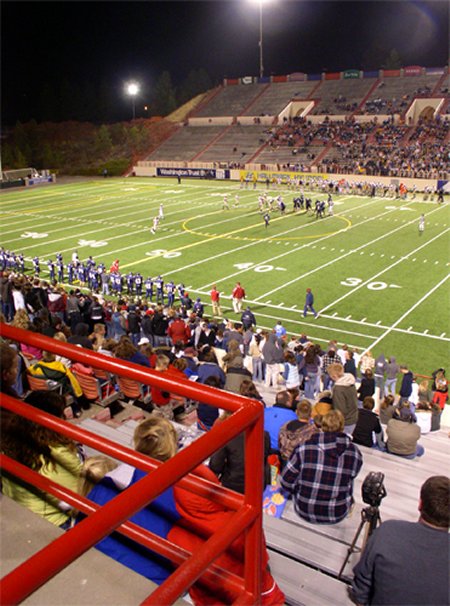 Joe Albi Stadium in Spokane, WA - Oct. 27, 2006
Picture by Jdubman courtesy wikipedia
Over the years it has hosted various events and teams, most notably the Washington State Cougars of the Pac-10, who played several games per season at the stadium for more than three decades.2 The stadium is best known as the home of many Greater Spokane League football and soccer battles over the past 60 years. On the professional level, the Seattle Seahawks of the NFL played their second preseason game in franchise history there on August 7, 1976, losing 27-16 to the Chicago Bears.1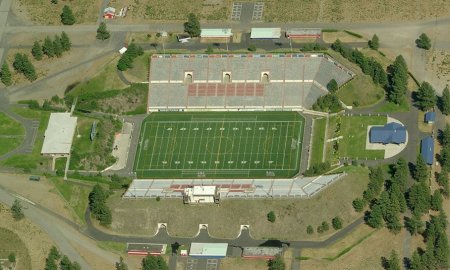 Joe Albi Stadium at 4918 W Everett Ave. Spokane, WA - 2010
Photo courtesy Microsoft
Nostalgia Magazine carried this memory from Paul and Charlotte Cooper about the night Elvis performed: "It was so jam-packed that we couldn't get to our seats … All of a sudden all the lights went out, and the stadium was completely dark. When the lights came on there he was: The King. Elvis! Then the screams really got loud…It was quite a sight-and a good concert when you could hear him."2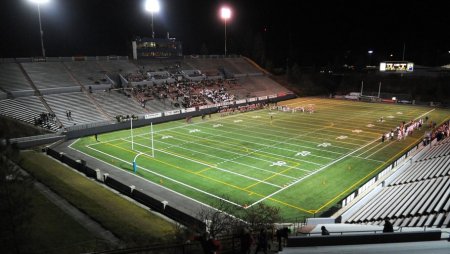 Joe Albi Stadium in Spokane, WA - 2011
Photo by Jesse Tinsley courtesy The Spokesman-Review
Page added February 14, 2012

Special thanks to Francesc Lopez for the use of an article and the ads, and to Ger Rijff for the other articles.
1 according to wikepedia: Joe Albi Stadium
2 according to Joe Albi Stadium - A Then & Now gallery at Spokesman.com