Sick's Seattle Stadium 1957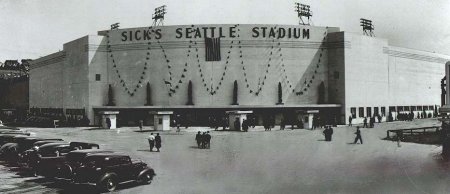 Sick's Seattle Stadium in the 1930s
Photo courtesy Seattle Post-Intelligencer Collection and MOHAI
Emil Sick, owner of the Rainier Brewery bought the Seattle Indians baseball team in 1937 at the urging of his friend, Jacob Ruppert, a fellow brewer and owner of the New York Yankees, and renamed it the Seattle Rainiers. The team was part of the Pacific Coast League. Sick also started work on a new baseball stadium to replace Dugdale Park on Rainier Avenue at South McClellan Street which burned to the ground on the Fourth of July 1932.*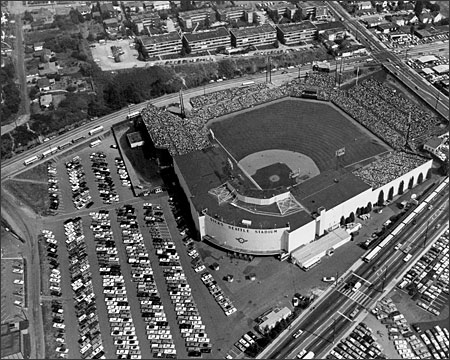 Sick's Seattle Stadium in 1969
Photo courtesy Seattle Post-Intelligencer Collection and MOHAI
Built for the then-outrageous sum of $125,000, the ballpark opened on June 15, 1938 and was named after Emil Sick. For years, fans crowded the stadium or watched games for free from the slopes overlooking the outfield. In addition to hosting the Rainiers, Angels and Pilots, Sick's Stadium was the site of concerts and even high school sports.*

Interior of Sick's Seattle Stadium in the 1940s
On September 1st, 1957 during Labor Day weekend after performing in Vancouver, BC the previous evening and a matinee show in Tacoma that day, Elvis, Scotty, Bill, DJ and the Jordanaires performed to a crowd of over 16,000 fans at Sick's Stadium, 90% of them teenage girls. Tickets sold for $1.50, $2.50, and $3.50 and the show was supposed to begin at 8:30 p.m. but it was well past 10 p.m. before a cordon of policemen appeared around the stage and Elvis walked out from the dugout as the crowd began to scream in earnest.1

Seattle Press conference
Photo courtesy Seattle Post-Intelligencer Collection

Elvis with Seattle Police Officer Phyllis Covington and heading towards the stage
Photos Courtesy Cameron Covington and MOHAI
Elvis wore a dark shirt and slacks and a gold lame jacket that shimmered in the lights. When he leaned toward the microphone, the tsunami of noise from the audience reached a shrieking crescendo. An ambulance crew strapped a girl to a stretcher who had fainted when Elvis first appeared and carried her down the stairs and out of the stadium. She hadn't been able to hear even one song.1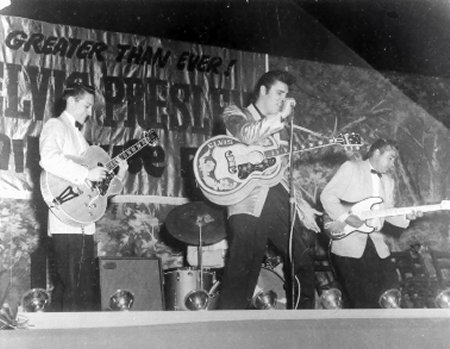 Photo Courtesy Steve Bonner
Myrna Crafoot, a fan in attendance that evening jotted down in her diary the set list: Heartbreak Hotel, All Shook Up, I Got A Woman, That's When Your Heartaches Begin, I Was The One, Teddy Bear, Don't Be Cruel, Love Me, Fools Hall Of Fame, Blue Suede Shoes, Blueberry Hill (with Elvis on piano), Mean Woman Blues and Hound Dog. According to Wikipedia, another Seattle native and fan in attendance that evening, a 14 year old named James (Jimi) Marshall Hendrix took notes of the set list as well.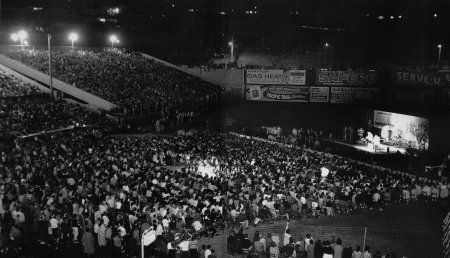 Sick's Seattle Stadium field and stage
Photo courtesy Robert Gordon's "The King on The Road"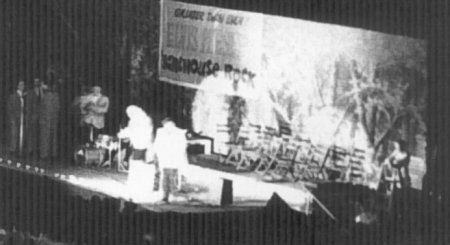 The stage in Seattle
Photo Courtesy Brian Peterson
Toward the end, Elvis stood quietly before the microphone and announced that the next number would be the National Anthem. He burst into "Hound Dog" instead. John Voorhees, in the Seattle Post-Intelligencer, said the scream from the audience sounded like "12,000 girls all having their heads shaved at once." He sang two choruses and then he was gone, vanishing through a gate in the right field fence, no doubt avoiding the rush and mass hysteria as had been witnessed the prior evening in Vancouver. A few girls slipped down to the stage and scooped up dirt from around second base before the police shooed them away.1
The following day he appeared in Portland for the last show of this five city, four day tour.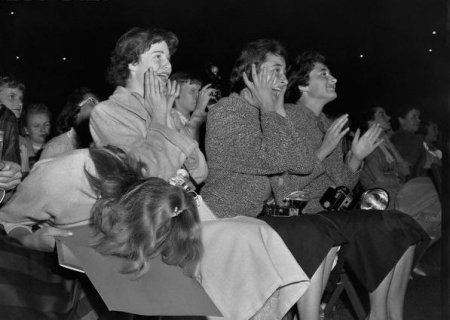 Photo courtesy Seattle Post-Intelligencer Collection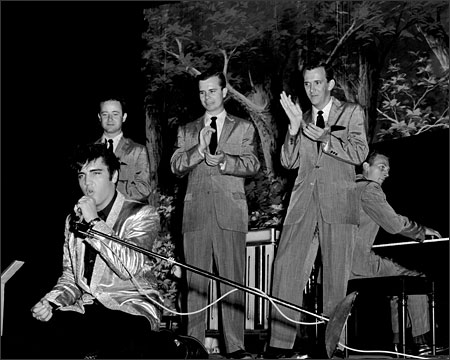 Elvis, Gordon Stoker, Neal Matthews, Hugh Jarrett and Hoyt Hawkins on piano
Photo courtesy Seattle Post-Intelligencer Collection and MOHAI
Several months later the impressionable and now 15-year-old Hendrix made a color drawing showing Elvis wielding a guitar. Both that and his notes from the concert had been on display at the Rock and Roll Hall of Fame in Cleveland, OH for a time but have been returned to Experience Hendrix. In 1968 Jimi attended a late-night screening of "King Creole" during his time in Paris and credited this particular viewing with giving him the additional strength and inspiration needed to further his career. Strangely enough Jimi's last hometown appearance was at Sick's Stadium on July 26, 1970.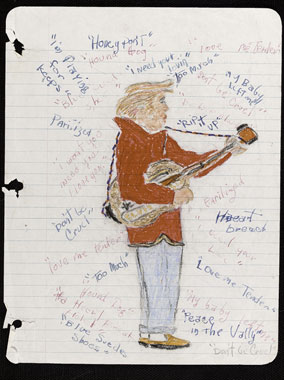 Jimi Hendrix' drawing of Elvis
Photo © courtesy Experience Hendrix
On April 11, 1969, Major League Baseball came to Seattle with the American League expansion Seattle Pilots debuting at Sick's Stadium. Due to the inadequacies of the stadium only 678,000 fans came to see the Pilots--a major reason why the team was forced into bankruptcy after only one season and the last Pilots game there was October 2, 1969. The team moved to Milwaukee for the 1970 season and became the Milwaukee Brewers. Despite protests, Sick's Seattle Stadium was torn down in February 1979 and the site is now home to a Lowe's Home Improvement Warehouse.
page added September 15, 2007
*Mike Fuller's Seattle Pilots Website
1excerpted from reminiscence by Cassandra Tate, April 17, 2001
Special thanks and credit goes to the FECC Forum for their inspiration and contributions to this page.
---

Jimi Hendrix at Sick's Seattle Stadium - July 26, 1970
courtesy SH Forum/Soundadvice
When Jimi performed in the Stadium in 1970, Paul Allen of Microsoft fame was in the audience. He would later be a founder of the EMP museum in Seattle and purchase Jimi's Woodstock Stratocaster.
clip added June 30, 2011