Lincoln Bowl
Tacoma, WA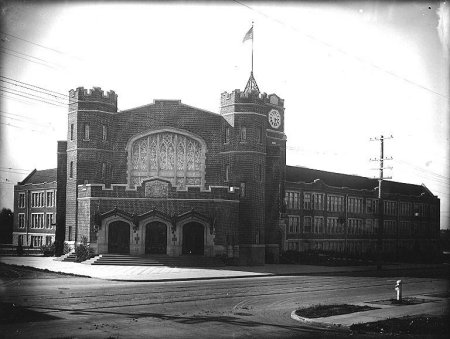 Lincoln Park High School, at 37th and G Streets Tacoma, Washington, ca. 1914
Photo by Albert Henry Barnes courtesy UW Library digital collections
On December 6, 1911 the City of Tacoma turned over 15 acres of land in Lincoln Park to the School District to build Lincoln High School. The high school was completed in 1914 at the cost of $436,607.68.1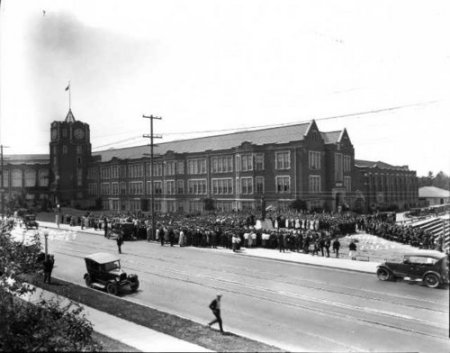 Lincoln High School and field along G Street in Tacoma, Washington, ca. 1914
Photo courtesy Lincoln High School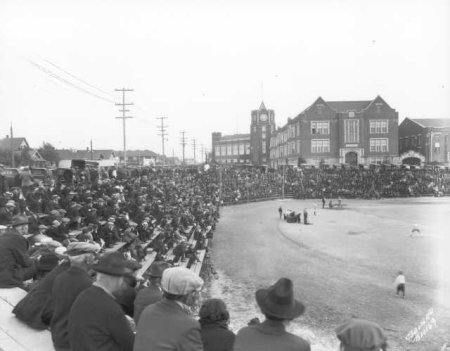 Lincoln High School and original field in Tacoma, WA - 1924
Photo courtesy Historic Photos of Tacoma
The Lincoln High School Field was originally located behind the High School along G Street until the new 9,000 seat Bowl was contructed in 1947 in the lower field adjacent to it.2 Ten years later, on September 1, 1957, Elvis, Scotty, Bill and DJ performed there during a short tour of the Pacific-Northwest that began on August 30th in Spokane, WA and included stops in Vancouver, Seattle later that evening and concluding in Portland the following day. The show in Tacoma was a matinee.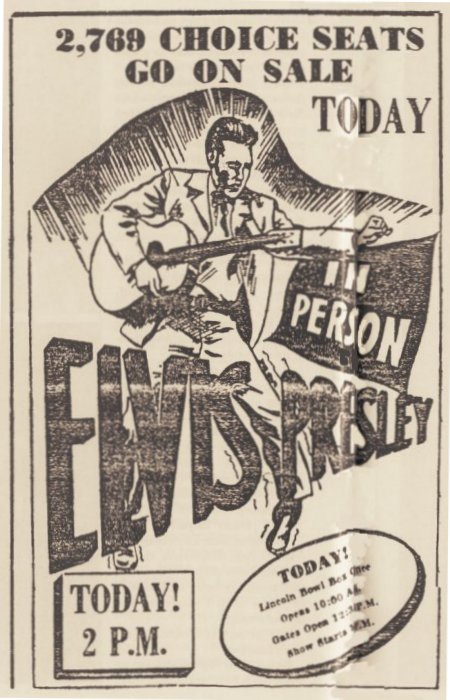 Ad for show at Lincoln Bowl, Tacoma, WA - Sep. 1, 1957
courtesy Ger Rijff's Long Lonely Highway
Presley Rocks 'n Rolls Tacoma Teenagers Into Frenzy at Bowl
by Don Duncan

A smile played on the full lips of the husky, loose-jointed young man in the gold jacket. His black shirt was unbuttoned to his breastbone.
He wiggled his hips in tight fitting black pants and several thousand girls gasped and screamed in unison. He spread his arms and they shrieked again.
"I'll take care of you in a minute," Elvis Presley said husky-voiced to the loudest of his fans. And 6,000 people in Lincoln Bowl yesterday erupted in shouts, screams and hand-clapping.


Scotty, DJ, Elvis and Bill onstage at the Lincoln Bowl in Tacoma - Sep. 1, 1957
Photo courtesy web

Crazy Man
Suddenly a piano player grabbed a mittful of notes, two guitarists and a drummer caught up the slugging beat and Elvis snatched the microphone, pressed it to his lips, and began to pour out his throbbing, synchopated baritone:
"… Don't be cruel to a heart that's true … don't be cruel …"
As he sang he began a slow, rhythmic movement of his pelvic region, his legs vibrated, his upper torso caught up the movement and alternately swayed and shimmied. Each new movement was greeted by fresh screams.


Elvis on his knees in Tacoma - Sep. 1, 1957
Photo courtesy Roger Ersson added Mar. 21, 2013

He fell to his knees and socked out the rock 'n roll beat with his body.


Elvis on his knees in Tacoma (closer) - Sep. 1, 1957
Photo courtesy Roger Ersson added Mar. 21, 2013

He waved at the crowd. And he sang, always in that pulsating, almost native, beat – "I l-u-u-u-v yew-ew-ew-ew."
Sometimes he chuckled in the middle of a song. He clowned impishly. And once he corned up that old jazz perennial "I Found My Thrill on Blueberry Hill" by substituting blackberry for blueberry.
Screams Drown Voice
Often the great roar of the crowd snuffed out the words. But no stranger in the crowd could doubt 'twas Elvis at the mike.
He sang at least a dozen songs, this creator of mass hysteria, this modern-day answer to Austin, Vallee and Sinatra. But where they depended almost exclusively on voice, his was a combination of earthly body movements and a rhythm that smacks of the revival tent.
It was burlesque with a twist as if Gypsy Rose Lee had donned men's clothing.
Elvis came in a black limousine, surrounded by a cordon of beefy policemen. He stepped from the car and leaped lightly to the stage, amid frenzied cheers.
Jugglers, quartets, marimba players and lesser vocalists had warmed up the audience to feverish pitch. Elvis was here to make them cast, inhibitions aside, to blend his personality into theirs so each would think he was singing just for them. He succeeded.


white shirted DeMolay and Masonic boys usher the event - Sep. 1, 1957
Photo courtesy web

The Frenzy Mounts
The tempo mounted agonizingly toward a final thundering crescendo. Elvis, his dark, handsome face glowing with inner pleasure, played it for all it was worth. Each word mumbled into the microphone, and indeed most of the words he sang were similarly slurred, was greeted with deafening screams.
Each squirm was as carefully calculated as a Shakespeare soliloquy to heighten the dramatic effect.
This rock 'n roll , personified by its sideburned king, is the antithesis of the cool, restrained bop from whence it sprung. Emotions, tenseness are relieved by handclapping, clasping the hands to the head and moaning, and those shrills piercing Indian warwhoops.


DJ, Elvis and Bill onstage at the Lincoln Bowl in Tacoma - Sep. 1, 1957
Photo courtesy web

Cool, Man, Cool
A chunky, effeminate-looking man with long hair, later identified as a member of Presley's entourage, seemed almost in a trance as he snapped his fingers, wiggled his body and shouted over and over:
"Yeah man, Yeah man, yeah, yeah, yeah …"
Elvis climaxed the show with what he called "The Elvis Presley National Anthem," a frentic, whirling-dervish rendition of Houn' Dog.
"You ain't nothing but a houn' dog, c-ry-y-y-in' all the time … they said you was high class, but that was just a lie … you never caught a rabbit and hew hain't no frien' of mine…"
Once through in normal voice, the second time in a hoarse, strained voice that rasped the frayed emotions of the teenage girls and had them on the verge of collapse.
He strutted like a duck, his hands dangling loosely in front of him. He went to his knees in an attitude of prayer, taking the slender microphone with him. And he finished with a burst of shimmying that left him limp, his thick black hair hanging over his eyes and perspiration pouring down his pancake makeup.


Elvis and Hugh Jarret onstage at the Lincoln Bowl in Tacoma - Sep. 1, 1957
Photos courtesy web

Calculated Escape
Elvis did a Douglas Fairbanks-type leap from the stage, raced to the waiting limousine and was whisked away in a cloud of dust as shouts died on the lips of his fans.
Girls, dragging unwilling boys by the hand, rushed to the spot where Elvis vaulted into the car. They scooped up the dirt, kissed it and poured it into pockets and purses.
Then they tore off to the stands, these wives and mothers of tomorrow, to where the hucksters were doing a brisk business in Elvis Presley buttons, hats and pictures.


Elvis and Bill at the Lincoln Bowl - Sep. 1, 1957
THE NEWS TRIBUNE FILE

The show was over.
Earlier a different Presley–shy, polite and almost boyish in appearance–greeted newsmen and officers of Seattle and Tacoma, fan clubs in the low, concrete building used by Lincoln High athletes before sports events.
He wore a straw hat, and expensive-looking blue and white sweater and loafer shoes.
No, he said, the girl he left crying at a Memphis, Tenn., airport isn't going to become Mrs. Presley, "although you all can say she's more than just a friend.: "I'll know when the right girl comes along," he added.


Judi Zenk, left, joins in the screams of adulation for the King in concert in Tacoma
THE NEWS TRIBUNE FILE

Who's Vulgar?
The idol of America's teenagers, a 6-foot, 1-inch, 180-pounder, lowered his lashes over the deep blue eyes, and said, no sir, I certainly don't mean to be vulgar when I wiggle my hips during a song.
"It's just my way of expressing my inner emotions."
Elvis is ready to go into the service when Uncle Sam beckons and won't ask to be put special services, he said. He hinted that he'd gladly be a foot soldier for his native land if the War Department decides that's where he belongs.
The man who has four Cadillacs (two white, one pink and one blue), a Messerschmidt, a Lincoln, a Mark II and two motorcycles, said he's saving his money.


Elvis takes a bow in Tacoma - Sep. 1, 1957
Photo courtesy Roger Ersson added Mar. 21, 2013

Lots of Teddy Bears
And he branded as "just a rumor" reports he's crazy about teddy bears.
"Sure I have about 70 all over the house," he said. "But they were all sent to me by fans after a reporter saw me carrying home a teddy bear I'd won at the fair. Besides, little kids who visit my home go nuts when they see all the bears."


Elvis takes a bow in Tacoma (closer) - Sep. 1, 1957
Photo courtesy Roger Ersson added Mar. 21, 2013

Elvis has earned 17 gold records (1,000,000 record sales) from RCA since he came out of obscurity with a $2.98 guitar and an entirely new approach to singing.
"Don't Be Cruel" is his personal favorite because "it was my first big hit."
The singer said he doesn't think of the new vocalists coming up as threats "because there's plenty of room for all of us." He tabbed Tommy Sands and Ricky Nelson as his favorites newcomers.
But, he added, there'll always be plenty of people who prefer Perry Como and Bing Crosby.
"After all, they've been around for years and me, I've just been on top for a year and a half," he said.


Janet Meyer scoops up dirt from the field where Elvis stepped - Sep. 1, 1957
WAYNE ZIMMERMAN/THE NEWS TRIBUNE FILE

Jekyll and Hyde
Elvis smiled in approved All American boy manner and confided he's a different man when he's out there with the crowd.
"I lose myself in my singing," he said. "Maybe it's my early training singing gospel hymns.
"I'm limp as a rag, worn out, when a show's over."
"Why I had a couple of nervous breakdowns a while back when I was making too many of these one-night stands."
Elvis taped an interview to be sent to little Caroline Jardeen, a bed-ridden Tacoma girl. He wished his fan a speedy recovery so she could see him on his next visit.
Lucky fan club members who entered the dressing room were bathed in the full Presley personality. He signed autographs for everybody, even the policemen who crowded around him.
And when he put his arms around one of the girls, she moaned:
"I-I-I think I'm going to faint."
She didn't.


Diane Steinke, 15, now Diane Perreault, gets an autograph on her forehead.
WAYNE ZIMMERMAN/THE NEWS TRIBUNE FILE

The Boss Speaks
Col. Tom Parker, who promotes Presley's shows, is also famed as the man who got America to drinking Hadacol.
"Some folks still drink it," he said.
"Yeah, but not if there's water available," said Tom Durnin, Presley's personal manager.
"Elvis is a good kid, no trouble at all," said Parker. "I don't know which was easier to sell – him or Hadacol."

Tacoma News Tribune on Sept. 2, 1957 - republished: August 15th, 2007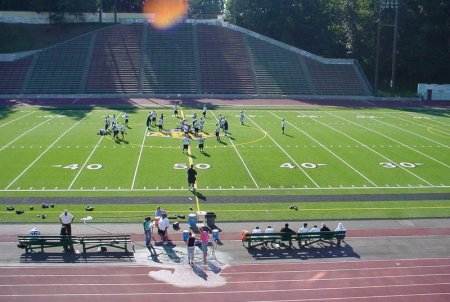 Lincoln Bowl in Tacoma, WA
Photos courtesy web
The Lincoln Bowl has since been the site of numerous high school and college football contests and track meets.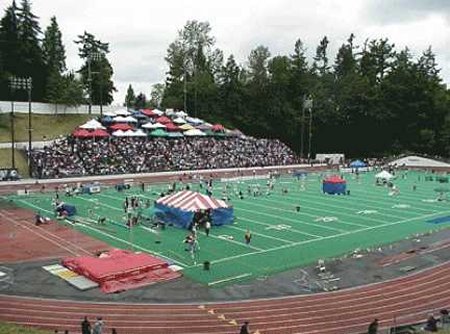 Tacoma Bowl for Field and Track
Photo courtesy Tacoma Sports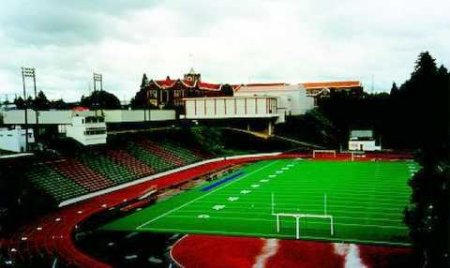 Tacoma Bowl for Football and Soccer
Photo courtesy Tacoma Sports
It has been home to State track championships since the WIAA inception in 1981. An AstroTurf surface was installed in 1995 and it is surrounded by a regulation 400-meter track. Throwing events are held on the Bowl's upper fields, while the steeplechase, pole vault, high jump, and long jump / triple jump pits are located inside the track.2


Aerial views of Lincoln Bowl and High School in Tacoma, WA - 2011
Photo courtesy MicroSoft
Page added February 14, 2012

Special Thanks to the Tacoma News, Inc. and their reprints.
1 according to Metro Parks Tacoma: Lincoln Park
2 according to Tacoma Sports
---
The King and us
Fans share their memories from the day Elvis played Tacoma in 1957

The King was here. Elvis Presley's diehard fans will dust off old "Hound Dog" records and sip Blue Hawaiis on Thursday to commemorate the 30th anniversary of his death. But another anniversary looms larger for local fans. They remember the day Elvis, the most iconic figure in rock 'n' roll history, came to Tacoma and made them true believers.
On the afternoon of Sept. 1, 1957, Presley donned a gold lamé jacket and delivered "Don't Be Cruel," "Heartbreak Hotel" and other early hits from a makeshift stage at the Lincoln Bowl. The Tacoma Dome was more than a quarter century from construction, and most cite his performance as the first major rock event to hit this area. An estimated 6,000 fans screamed at each wiggle of the King's hyperactive hips.
And imagine one of today's chart toppers trying this: Presley also headlined a second show that night at Seattle's Sicks Stadium, attended by 16,200 more ecstatic fans.
Using the memories of local fans, The News Tribune reconstructed the King's historic Tacoma visit.

Fans remember Elvis from '57 Tacoma show
Fans remember the historic day of Sept. 1, 1957, when Elvis Presley played Tacoma. Some 6,000 people caught the King at the Lincoln Bowl, prior to an evening engagement at the old Sicks Stadium in Seattle. Here's some of what they remember:

CAN'T HELP FALLING IN LOVE
Kent Morrill of Tacoma garage rock legends the Wailers: "It was the beginning of the phenomenon of big concerts and all that kind of stuff.
There was nothing before that. There were no bands to speak of. I think the Blue Notes were probably playing at that time. Gorgeous George wrestled once in a while. That was about it."

Carol Norman, 61, of Tacoma: "Elvis had been trying to come to Seattle and perform (in 1956), but the council had rejected him because they said the youth were gonna tear up the seats or whatever. So I wrote a letter to (Seattle Councilman David Levine) and he wrote me back. It was a very nice letter saying how when I grow up I could understand why they could not let an entertainer like Elvis perform in their facilities."

Phylliss Rose, 67, of Tacoma: "All the excitement reminded me of the first time I saw him on television on the Jimmy and Tommy Dorsey show. I asked all my friends if they had seen Elvis Presley, the singer, who was so handsome. They did not even know who I was talking about and said, 'What a weird name!'"

Arlene Heldreth, 68, of Puyallup: "(Ed) Sullivan had him on, and they only filmed him from the waist up. We all giggled about that. I can remember lying on the floor in the living room watching that and my dad just howling. And my mother was just having a fit because I was watching him do these things. My mother was having a cow because I was going to go to this thing. And (to) my boyfriend at the time I said, 'You know, you gotta get those tickets or we won't be boyfriend-girlfriend any more.' He got the tickets wherever he got them."

Sandy Rice, 67, of Puyallup: "My girlfriends and I were so excited when we heard Elvis was coming to Tacoma. I was working at Puget Sound National Bank as a messenger earning $75 a month before taxes. So $5 to see Elvis represented quite a lot, but we would've paid almost anything to be able to see 'the King' in person."

Kristi Pedersen Winters, 67, of Puyallup: "My friends and I attended the concert on Sept. 1, 1957, but only after we promised her boyfriend (the one that got the tickets) that we wouldn't scream during the concert. Believe me, this was one of the hardest promises I had to keep."

Jim Groves of Gig Harbor: "We were true rock 'n' rollers back then; malt shops, pegged pants, wedged shoes, DA's and coolness. Elvis was a cool guy and put on a great show."

ALL SHOOK UP
Janet Meyer, 66, of Leavenworth: "We lived in Morton. So we left home at like 5:30 in the morning because we wanted to be first in line. The concert was at 2, we got there at 7, and we were not first in line. We were second."

Morrill: "I was in high school. We wouldn't go to see Elvis because all the girls were crazy over him and we were jealous. We went and we climbed up and used binoculars, and we watched the show from high above in the woods back there."

David Hebert, 79, of Tacoma (then a partner in J&M Concessions): "He was selling banners and pendants and pillows. If I remember right, to purchase every item he had was around $30, which was a lot of money in those days, 50 years ago. These kids came there from the berry fields of Puyallup, and they spent their raspberry and strawberry money."

Walt Kaplin, 70, of Gig Harbor: "I purchased a photo booklet of Elvis from a vendor. And as we were going into the stands I saw my uncle, Jim Steele, a police officer with the Tacoma Police Department. "I asked him to have Elvis sign one of the photos in the booklet. My uncle went into the small building and within a minute came back out and waved me over to the door. I was admitted in to personally meet Elvis in private. I was alone with 'the King' for about five minutes, just the two of us. It was a wonderful experience. Elvis signed one of the photos in the booklet, which I still have to this very day."

Hebert: "There was probably eight or 10 other people in that locker room there, talking to him and things like that. He was sitting there on the bench, and he wasn't dressed out of the ordinary. He just had regular clothes on. People were talking to him about his life. So the question was brought up about, 'You think this is gonna keep up? Are you gonna get more famous?'
"This is really something, I tell you. We got kind of a laugh out of it.
He took out his wallet and took out his membership in the Teamsters Union.
And he said, 'You never know when the bubble's gonna burst, and I'll be back driving a cement truck.'
"(It) was just man-to-man talk down there. It wasn't much of a ceremony.
But it did stick in my mind that I did meet the guy, talked to him and shook his hand and stuff."

Bill Nelson, 65, of University Place: "All the DeMolay kids, the Masonic kids, from all around the area here were asked to be ushers. Our jobs as ushers actually consisted of standing between the hordes of screaming young girls and the stage. [Laughs] We were the first line of defense, I think.
"We had to wear a white shirt and a tie, and we got there ahead of time.
And it was with great anticipation that we were just kind of hanging out.
And then here comes the entourage down into Lincoln Bowl."

Beverly Ahnert of University Place: "My daughter was 10 years old and not quite as enthusiastic as my friend Barbara and I were. I also took the 12-year-old neighbor girl so it could look like we were going to take the kids.
"Soon a black limo of some kind roared out on the football field, and out jumped Elvis, in black pants and a gold lamé jacket. (He) jumped up on the makeshift stage, ran his fingers through his hair and sang 'Heartbreak Hotel.' I jumped up and down, yelled and yelled some more, enjoying each note Elvis sang. Well, my daughter and her friend were almost embarrassed to tears to see me making such a spectacle of myself and sat down on the floor of the stadium seats so that no one would know they were with us.
But we did not care one bit."

BURNING LOVE
Winters: "He had a natural and perfect timing and was a real tease. The audience was in the palm of his hand. He would stand perfectly still one minute, and they would go silent, and he would get a gleam in his eye and then snap his fingers, and the entire bowl went crazy with screams. Then he would laugh and continue to sing."

Nona Stephenson, 83, of Eatonville: "We hadn't been seated too long when I borrowed (my friend's) binoculars and put (them) on Elvis's face. … And you could see he was just having a ball. I'd never forget that vision."

Winters: "At one point, he stepped off the stage onto the ground, and a girl scooped up the dirt where he had stepped and put it into her purse!"

Meyer (photographed scooping Elvis dirt by The News Tribune): "They had a barricade set up in the front, and they had some young men in black pants and white shirts. And for some reason my girlfriend and I went right through the barricades. And what I was doing when they took that picture was I was picking up some dirt from where he walked for a girl who was on the other side of the barricades. She had a baby food jar."

Heldreth: "Most of us had these fruit jars or napkins or whatever they could gather to scoop up this dirt that he walked on. And at that time, girls wore skirts that were full circle – and they were cut out of felt.
The poodle skirts, and you wore all those petticoats underneath them. So here you're down on your hands and knees scooping up dirt in a skirt you can't wash, you have to dry clean. So we had to go home and have our mothers look at us like we'd been scrambling in the mud or something."

ELVIS HAS LEFT THE BUILDING
Ahnert: "I did not realize that it was a historical and hysterical moment, and have always been glad that I got to be there and see young Elvis at the beginning of his huge career. How could we know that he would be the King for so many years? I did see Elvis two more times, once in Las Vegas and once in Hawaii. But it was never, ever as exciting as that first time."

Rice: "Elvis was a great entertainer, and I was always glad we had gone to see him. I still listen to his CDs almost every day and enjoy them every bit as much as I did 50 years ago."

Norman: "When you go to Graceland there's always reporters there. And they just randomly pick people. (Once) I told them about my jar of dirt and how one day when I was moving it fell off the shelf in the cupboard and my husband sucked it up with a vacuum and I was devastated. Goodness sake, it probably lasted 20 years. To everyone else it was just dirt in a mayonnaise jar. But to me it was a treasured footprint."

ERNEST A. JASMIN; The News Tribune Published: August 15th, 2007 © Copyright 2007 Tacoma News, Inc.