Bill Black
The Combo, Hi Records and Lyn-Lou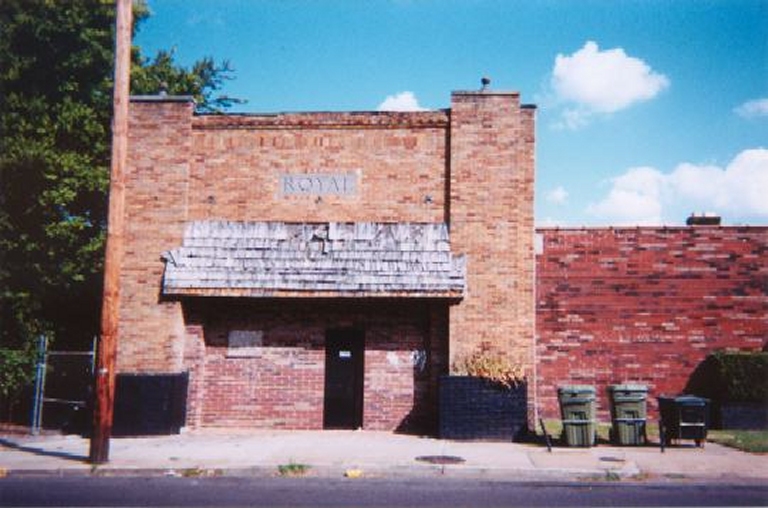 Royal Studio at 1320 S. Lauderdale Street in Memphis - ca. 2000
Photo by Sloppy Joe courtesy Juke 'n Jam
The Hi Record label in Memphis got its start in 1957 when Ray Harris, Bill Cantrell and Quinton Claunch pitched a recording of Carl McVoy to Joe Cuoghi. McVoy was an older cousin of Jerry Lee Lewis and as a piano player had unlocked the secrets of the boogie-woogie style Jerry heard in his youth. Cuogi was the owner of Poplar Tunes on Poplar Ave. in Memphis where Elvis used to frequent and bought many of his early records. Cantrell and Claunch had formerly worked for Sun and Meteor records and Ray Harris had previously recorded, unsuccessfully, for Sun. Harris had been a coworker and friend of Bill Black's while working for Firestone and was inspired after attending one of the early Sun sessions with Elvis. With a $3.50 demo by McVoy of You are My Sunshine, Cuoghi was impressed enough to seek financing and partner with them to start the label.1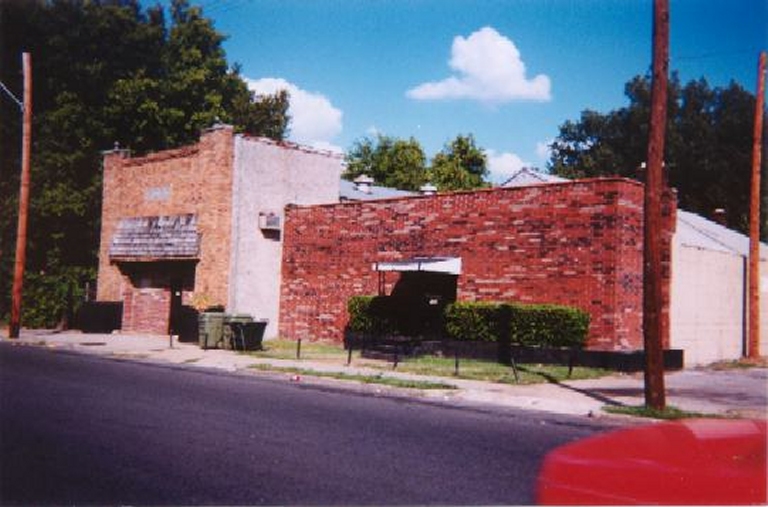 Royal Studio at 1320 S. Lauderdale Street in Memphis - ca. 2000
Photo by Sloppy Joe courtesy Juke 'n Jam
Cuoghi got his lawyer, Nick Pesce, along with Sam Esgro, Bill Brown and Bill Crudgington to put up $500 each and they had the record recut in Nashville. Though all originally had equal shares in the label, Cuogi bought out Esgro, Brown and Crudgington and became the label's president while Harris, Cantrell and Claunch contributed with technical and creative aspects. Forced by defaulting distributors by 1958, both the recording and McVoy's contract were sold to Sam Phillips and with the proceeds Hi acquired the former Royal Theater at 1320 S. Lauderdale Street to convert for their studio.1

Inside Royal Studio at 1320 S. Lauderdale Street in Memphis - ca. 2000
Photo by Sloppy Joe courtesy Juke 'n Jam
The 375 seat theater originally opened in 1915 as the Shamrock Theater and operated as such till around 1922. By 1927 it had been reopened as the Royal Theater and closed again around 1955.2 After opening it as a studio and installing recording equipment the first song recorded there is said to be Tragedy, by Thomas Wayne and produced by Scotty Moore for the Fernwood label. Bill Black and Scotty were the only musicians on the record.3 As the home of Hi Records, most of the early recordings by obscure performers failed to sell and success didn't come until the summer of 1959 as the label was about fold.1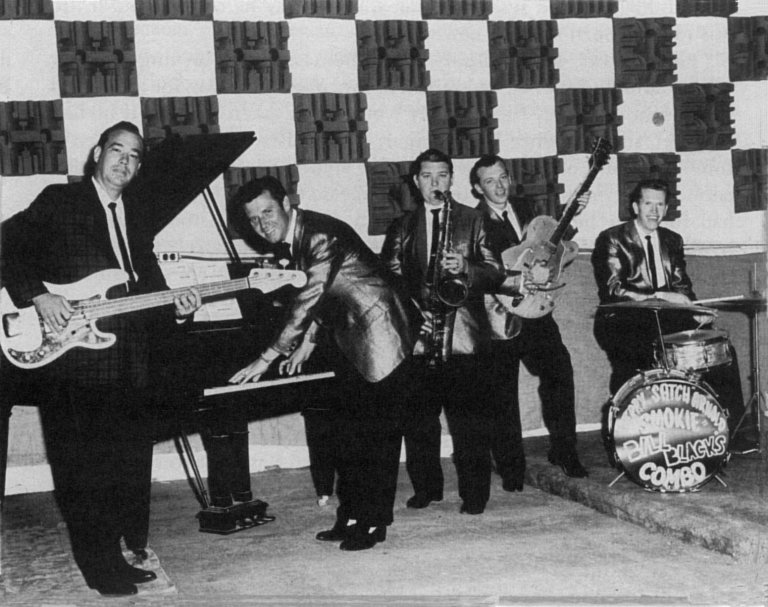 Bill Black, Carl McVoy, Ace Cannon, Chips Moman and Jerry Arnold at Hi Records' (Royal) Studio - ca.1960
Photo courtesy Colin Escott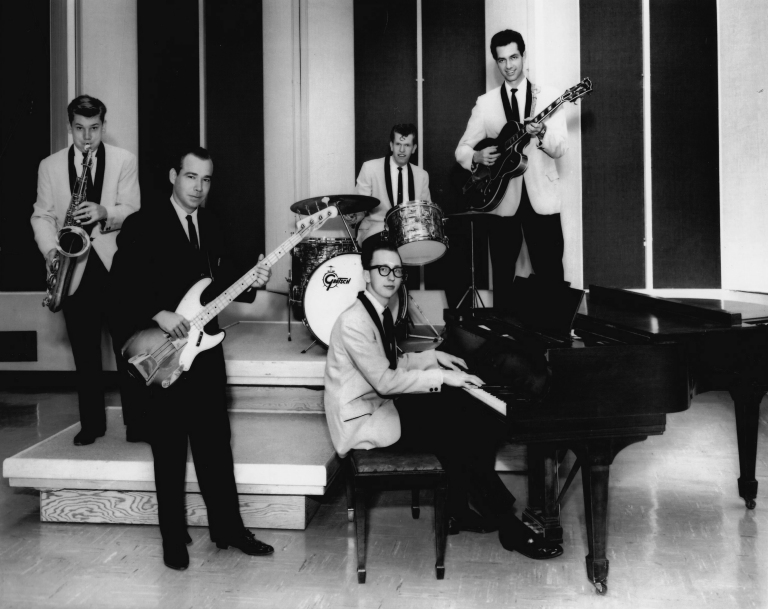 ?, Bill Black, Bobby Emmons, Jerry Arnold and Hank Hankins - ca. 1960
Photos courtesy Christopher David Giles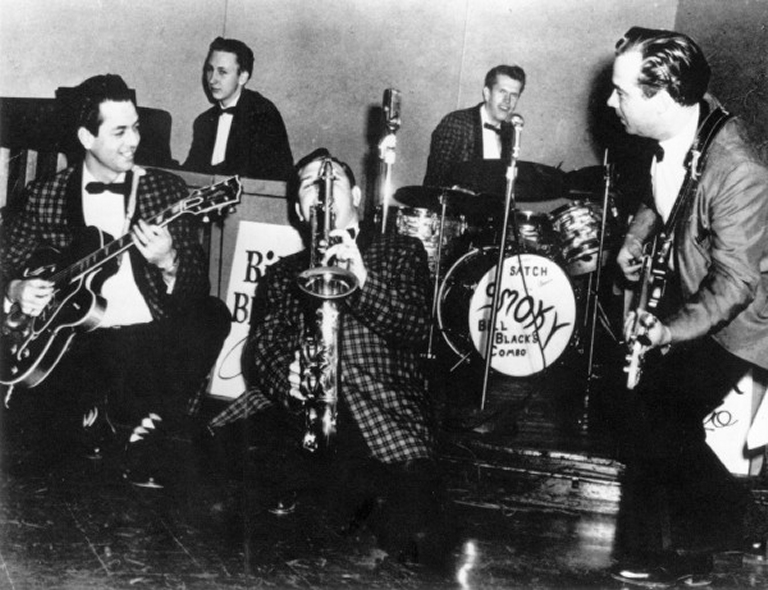 Hank Hankins, , Bobby Emmons, Ace Cannon, Jerry Arnold and Bill Black - ca. 1960
Photos courtesy Discogs
After Elvis left for the Army in 1958, Bill Black had been had been doing repairs for Ace Appliance in Memphis and later touring in a band put together by Scotty to back Thomas Wayne that included DJ on drums and also Reggie Young on guitar. Both Reggie and Bill had been hanging around Hi (Royal), probably at least since the recording of Tragedy and for all intents became members of its' house band. According to Scotty, the band members worked up a riff they called "Smokie." Reggie said, I tuned my guitar down a couple of step, where it was real low, and I played rhythm with a pencil as a pick—that's how that shuffle kind of came about. Nationally, the label was distributed by London Records and an executive who heard them suggested they form a band. Reggie said, We tried to figure who to name it after. It was either Bill or me, but given Bill's history with Elvis they felt his name would be more recognizable.3

Joe Cuogi and Bill Black with his 1956 Fender P-Bass
Photo courtesy Colin Escott

Bill Black and Joe Cuogi with a Hi single of Smokie Part 2 by Bill Black's Combo
So in September of 1959 Hi released its first hit, an instrumental by Bill Black's Combo, which initially consisted of Bill on bass, Reggie on guitar, Marty Willis on sax, Joe Lewis Hall on piano and Jerry Arnold on drums. Instrumentals would set the standard for the Memphis label for the next several years and Billboard voted the combo the #1 instrumental band for 1960, 61 and 62. The combo's lineup though would change soon. Reggie got drafted and left for the Army for two years and Hall and Willis were replaced by, at times, Carl McVoy or Bobby Emmons on piano and Ace Cannon on Sax. Chips Moman, Hank Hankins and Tommy Cogbill each at times became the guitarist for the combo. Quinton Claunch left on bad terms and his share in Hi was bought out by McVoy. He would later co found Goldwax records.1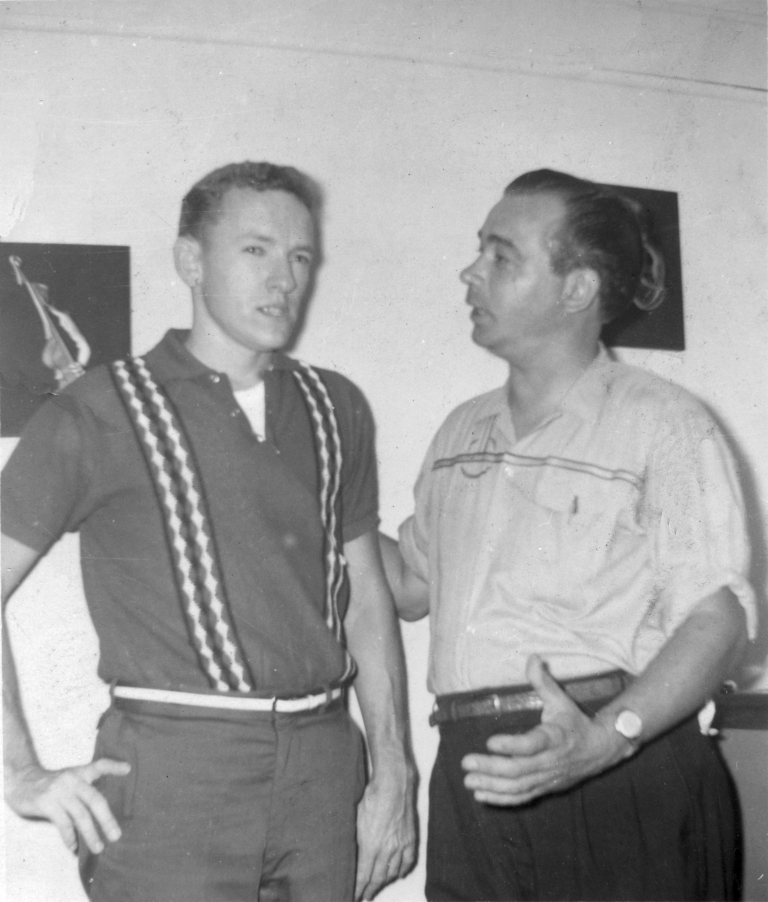 Sid Holmes and Bill Black at Hi (Royal) Studio - 1960
Photo © Sid Holmes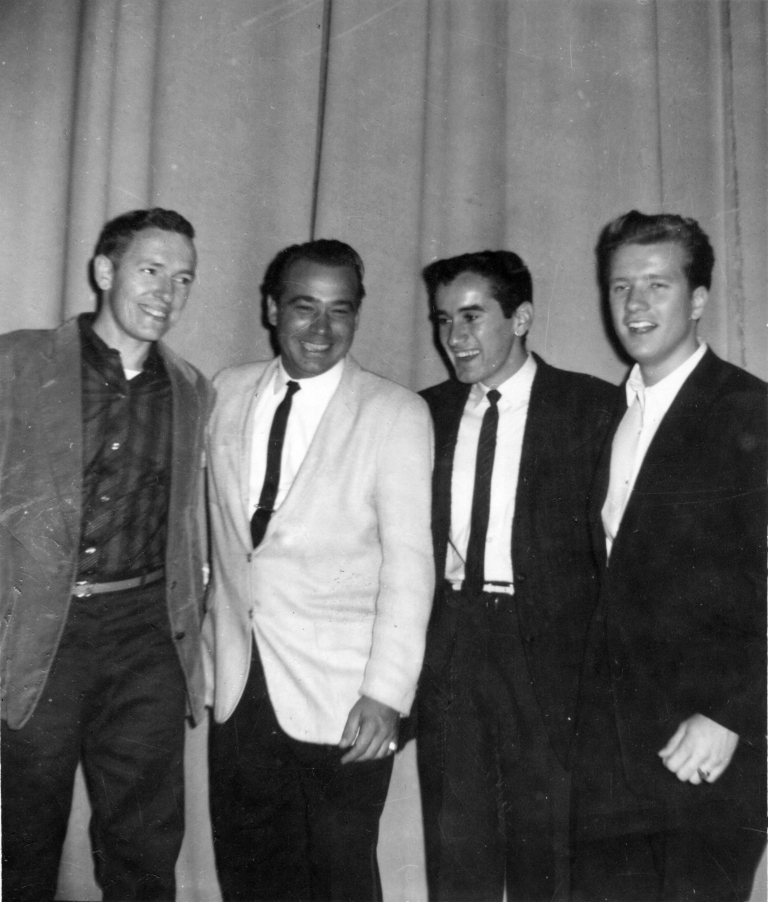 Sid Holmes, Bill Black, Tommy Ruble and Buzz Cason backstage at Ellis Auditorium - 1960
Photo © Sid Holmes
Sid Holmes, whose band the Cavaliers had backed Thomas Wayne and Scotty in the summer of 1959 and had soon after relocated to Memphis, remembers playing regularly at one local club and that Ace Cannon used to sit in sometimes. A fan of Bill and Scotty since 1954 he said, I probably said something complimentary to Cannon concerning Bill. I had no idea Cannon was going to be there playing sax? When I met Bill Black he came across to me as one the nicest friendliest people I'd ever had the pleasure of meeting. He was at Hi's studio during the Combo's recording of Don't Be Cruel at Bill's invite. Ed Logan who joined the Cavaliers in Memphis later went on to join the combo.

Bill Black's Combo in Teenage Millionaire with Joe Lewis Hall and Marty Willis
The combo appeared in the 1961 release of the film Teenage Millionaire, along with Jackie Wilson, Chubby Checker, Dion DiMucci and Jimmy Clanton.4 Ace Cannon cut a solo album with his own combo in 1961 and soon had a hit of his own with Tuff.1 On February 12th of 1961 the combo made an appearance on the Ed Sullivan Show. That night the show also featured appearances by Paul Anka, Lucille Ball, Mel Brooks, Carl Reiner, Jimmy Durante, Henry Fonda, Peggy Lee and comedians Dan Rowan and Dick Martin among others.5 Robert Johnson in the Press Scimitar reported that "things are breaking wide open for Bill Black, the Memphis musician who started out with Elvis, went with him all the way to the big time, then got lost for a time in the backwash."3 Though in 1962 Bill quit touring and Bob Tucker took his place on bass. Around then Reggie was discharged and picked up again.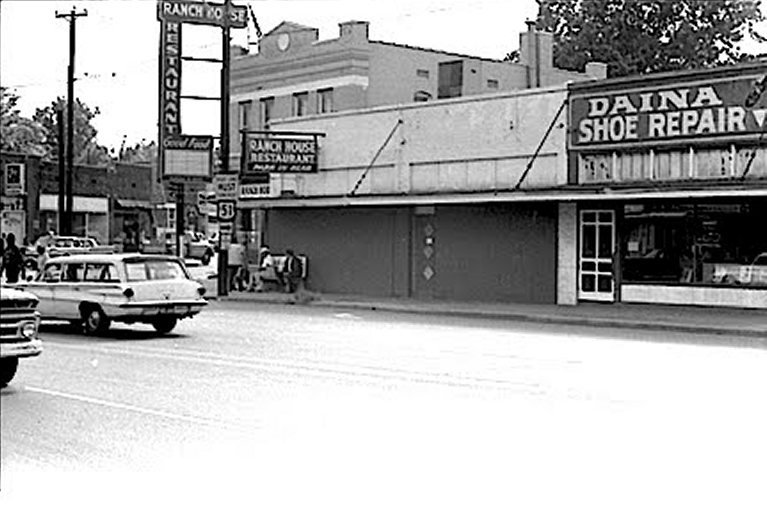 American Sound Studio at 827 Thomas St. in 1968 with the building where Lyn-Lou was located across Chelsea on left
Photo © Terry Manning, courtesy Soulful Music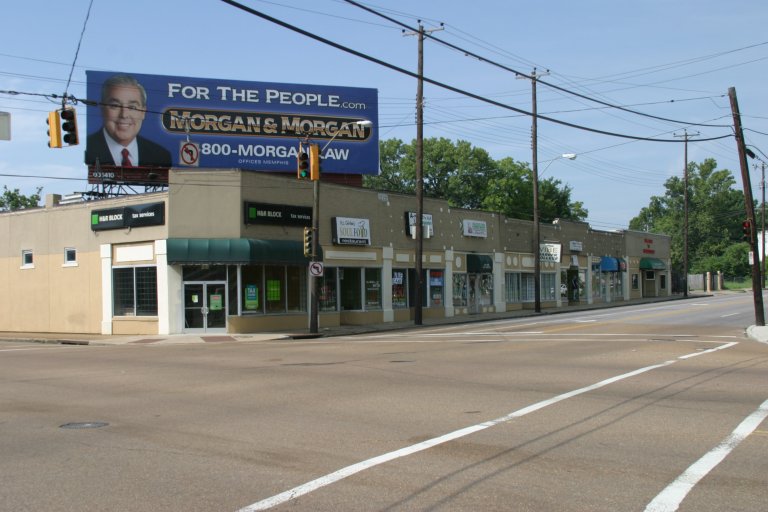 The building where Lyn-Lou was located on Chelsea Avenue at the intersection of Thomas Street in Memphis - Aug. 2, 2013
Photo © James V. Roy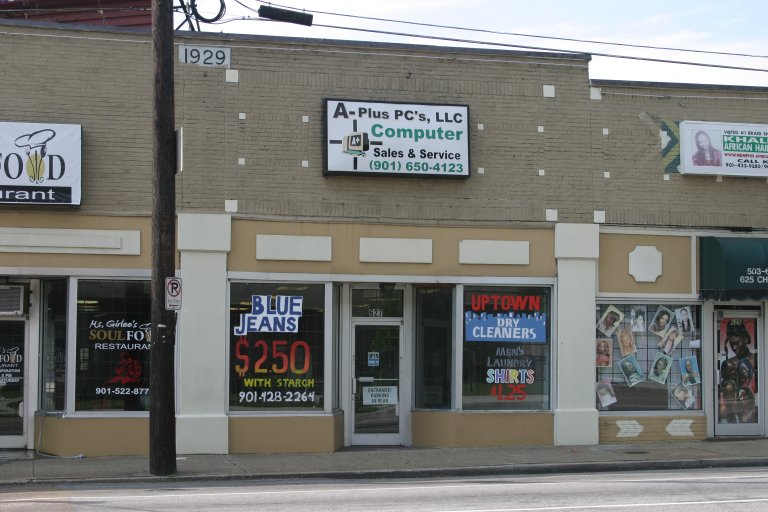 The store at 627 Chelsea (third door from the corner) where Lyn-Lou was located in Memphis - Aug. 2, 2013
Photo © James V. Roy
Bill had become a co-owner in the ABLE Appliance Company at 908 Chelsea Avenue, an acronym actually for the initials Armstrong, Black, Langston and another that can't be recalled.6 After he stopped touring he opened his own studio further up Chelsea just around the corner of Thomas St. where Chips Moman would later open American Sound Studios, and started his own label. Marty Lacker remembers it being the third door up from the corner, which would be at about 627 Chelsea. Bill's daughter Nancy remembers it adjacent to the drugstore on the corner which someone broke into by breaking into the studio and breaking a hole in the wall. Bill named the studio Lyn-Lou Studio after his daughter Nancy Lynne and son Louis, and the label Louis. Larry Rogers was his engineer.

Dennis Turner's version of Lover Please, released on the Louis Label and distributed by London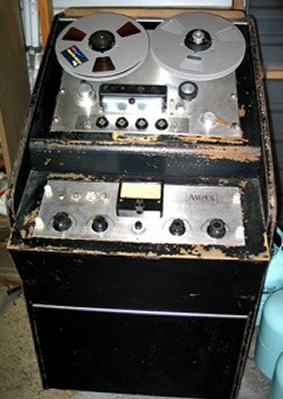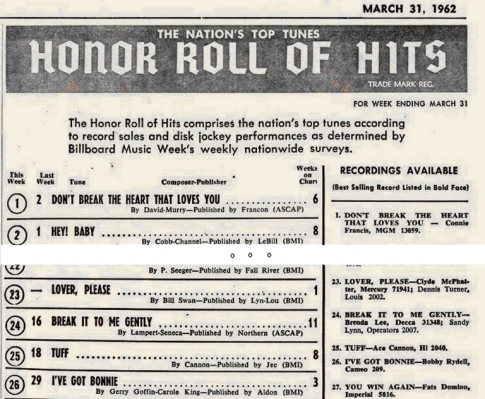 The 1958 Ampex 351 mono tape recorder and Billboard Magazine - Mar. 31, 1962
Photos: Mitch McCracken, and Billboard
Bill purchased an Ampex 351 tape recorder from Sam Phillips, one that was said to have been used at Sun.7 One song they recorded and released on the Louis label was Lover Please written by Billy Swan and performed by Dennis Turner. It was picked up by Clyde McPhatter who turned it into a top ten hit. On March 31st it reached #23 on the Billboard chart in the first week of its release. By then Swan had moved to Memphis to write for the combo.8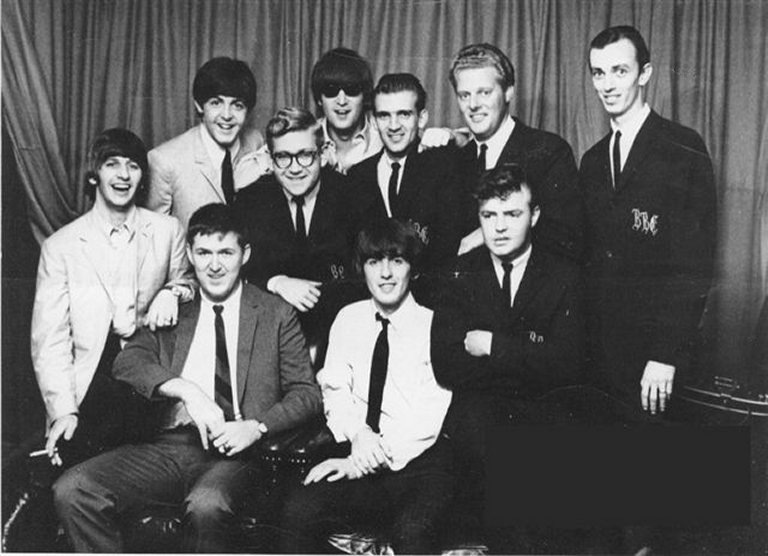 The Beatles and Bill Black's Combo on the 1964 tour. L-R: Ringo Star , Bob Tucker, Paul McCartney, Sammy Creason, John Lennon, George Harrison, Bill English, Reggie Young, Ed Logan and Bubba Vernon
Photo courtesy Kittra Moore
In 1964 when the Beatles first toured the US and Canada, the combo toured with them and also backed the other opening acts. Several of the venues on the tour were the same ones Bill, Scotty and DJ had played in 1957 with Elvis, like Chicago, Detroit, Toronto and Vancouver. The US leg was followed by a European tour. Reggie said he only joined the tour because he wanted to visit England. Don and Dave Miller, local boys with a band called the Castells, did lawn work for Bill. They related how they once went into his garage the night after the combo played at the Palladium in London and saw a poster hanging advertising the Bill Black Combo, in large bold letters, with the Beatles. They themselves would later record at Lyn-Lou with Bill, using Bill's Fender bass.9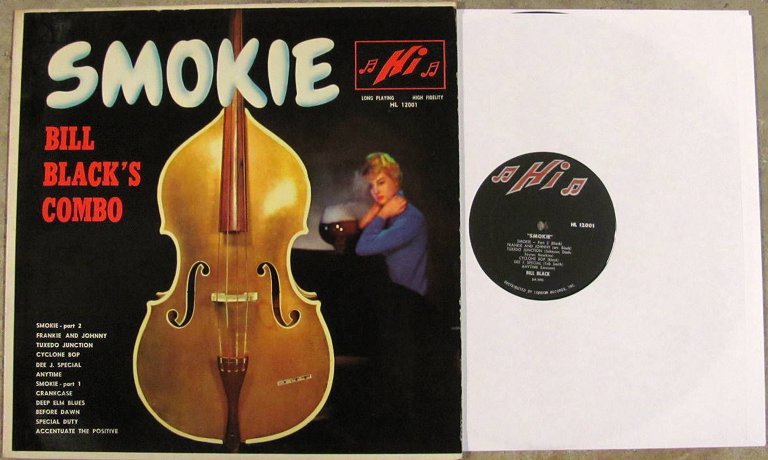 An LP by Bill Black's Combo featuring Bill's Kay Maestro bass (reversed) that he used with Elvis on the cover
courtesy ebay
Another story involving the British invasion and Bill comes from his daughter Nancy. She recalls that when the Yardbirds toured the US they came to Memphis and played the Mid-South Coliseum. Bill got her and her friend tickets and drove them to the show. She said, He dropped me and my friend off at the front door of the Mid-South Coliseum where the concert was to be held, then parked in the parking lot to wait for however long the concert was...I believe he had a Louis L'Amour western to read while he waited...he was surprised when we suddenly showed up back at the car wanting to go home. I was the first person to the their limo when they opened it to get out...that's when I saw what they looked like and their music just lost its magic. Much to Bill's dismay after his efforts, she was expecting them be "cute" like the Beatles. She was only 14 at the time.6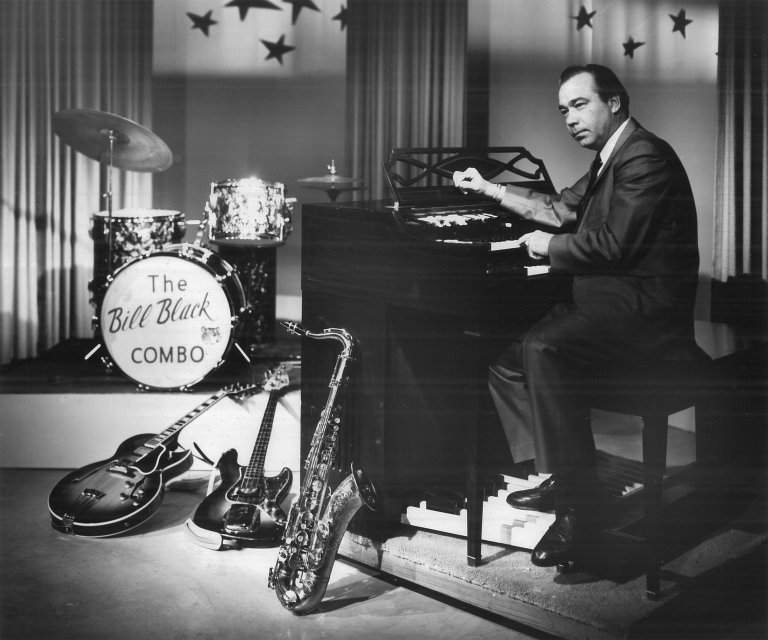 Bill Black, posing on the set with gear from the combo
Photo courtesy Heritage Auctions
The Yardbirds first toured the US in August of 1965 and by then Bill did not have long to live. He had been suffering from headaches for years and after complaining about a pain across his temple and upper cheeks in April of 1965 his wife took him to the doctor. They found a tumor on the left side of his brain. Though he had two surgeries the prognosis did not look good and by the fall his condition worsened. On October 21, 1965, at the age of 39, Bill died.3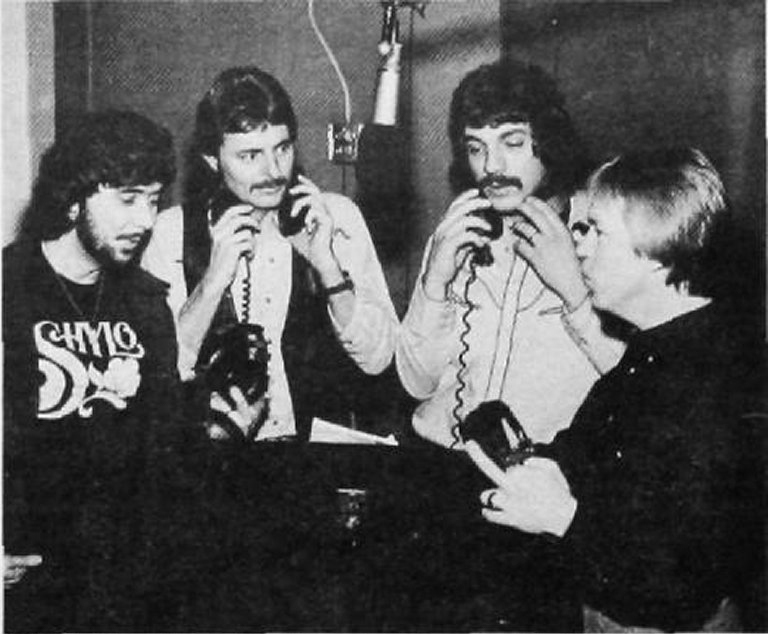 Shylo recording at Lyn-Lou with Larry Rogers on right - May 1982
Photo courtesy Billboard

1518 Chelsea Avenue in Memphis
Photo courtesy Google Streetview
After Bill's death, Bob Tucker and Larry Rogers bought Lyn-Lou Studios and the rights to use the name Bill Black's Combo. Reggie left to become the guitarist for the staff band at American Sound Studios that also included combo alumni Bobby Emmons and Tommy Cogbill. Led by Bob Tucker, the combo performed into the '80s. Larry kept the name Lyn-Lou and by 1969 at least had relocated the studio to 1518 Chelsea Avenue. It was there until around 1984 when Larry opened Studio 19 in Nashville, the former Music City Recorders that Scotty owned. Bob Tucker now owns Bob Tucker Motors on Interstate 55. Both Larry and Bob would be instrumental in the sale of Bill's Kay upright bass to Linda McCartney for her husband Paul. It had initially been bought by Mike Leech, another member of the house band at American Sound.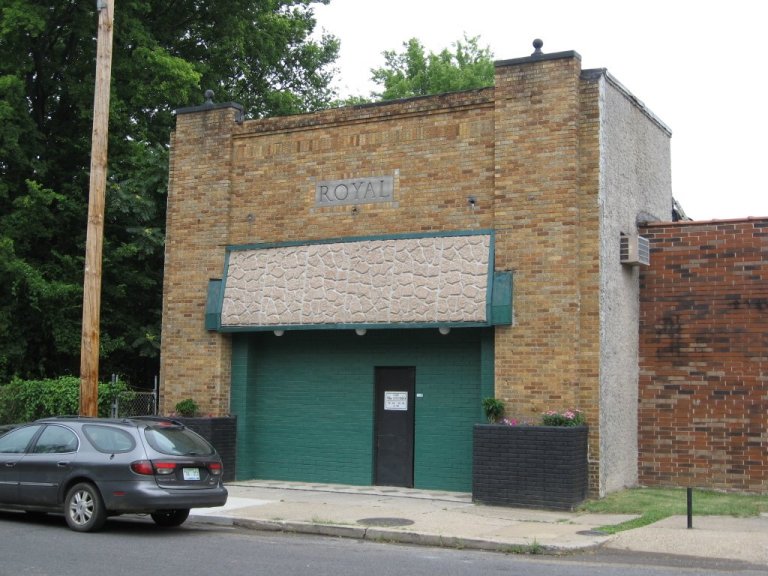 Royal Studios at 1320 S. Lauderdale Street (Willie Mitchell Blvd)
Photo © Don Walker
Trumpeter and bandleader Willie Mitchell had joined the ranks at Hi Records in the early '60s and ushered in its Soul era. Joe Cuogi died in July of 1970 and Mitchell became executive vice-president buying out Ray Harris and Carl McVoy. Carl McVoy went back to working construction. Harris later started Trace Studio in Tupelo in a joint venture with Sam Phillips whose son Jerry was married to Harris' daughter, but according to Colin Escott the deal went sour.1 Under Mitchell the Hi label had its most successful years in no small part due its most successful artist, Al Green. Cantrell stuck with Hi through by the time Hi was sold in 1976, he and Cuoghi's lawyer Nick Pesce were the only partners remaining from 1957. The arrangement with London Records for national distribution continued until 1977. Atlantic Records offer to buy Hi for $9 Million but the offer was refused. It ultimately sold for much less in 1976 to Al Bennett, one of the founders of Liberty Records, who operated from the West Coast. After a couple of years of trying to record Memphis Soul in Los Angeles, Willie Mitchell left the label.10 Royal Studio is still a functioning facility and the section of S. Lauderdale street it is on has since been renamed to Willie Mitchell Boulevard.

Royal Studios at 1320 Willie Mitchell Blvd. (S. Lauderdale Street) in Memphis
Photo courtesy Microsoft Earthdata
After one of Bill's operations Scotty and Bill came back to Memphis and had dinner with him. By then Scotty had relocated to Nashville and D.J. was back in Shreveport. Bill kept up a front for them though and they left thinking he looked well and seemed like his old self. After Elvis heard about Bill he visited with them. He told Bill's wife Evelyn privately that if anything happened he would not attend the funeral to keep it from turning into a circus but would come back when it was over with. After Bill died they all went out to Graceland to commiserate, and just like he told her, Elvis visited with Evelyn later. Though Bill cited the combo for not returning with Elvis when he came back from the Army, Evelyn thought it wouldn't have mattered because of they way he and Scotty were treated. She said, He thought a lot of Elvis and he missed playing with him. He wasn't mad, it was more like he was disappointed. He would have liked to have stayed with Elvis until he died.3 Colin Escott wrote, For Elvis, the loss of Black and Moore deprived him of two links to the past—in fact, the outside world—and contributed, albeit marginally, to his growing isolation. "Elvis Presley—Scotty and Bill" had a charming, folksy ring to it. When those two names disappeared from the record labels, the change ran much deeper than a renegotiated contract.1
added March 21, 2014
Special Thanks to Nancy Shockley, Marty Lacker, Bob Tucker and Sid Holmes for their assistance with this page.
1 according to Good Rockin' Tonight by Colin Escott and Martin Hawkins
2 according to Cinema Treasures
3 according to Scotty Moore and Jim Dickinson in That's Alright Elvis
4 according to the Internet movie database entry for Ed Sullivan Show Season 14, Episode 18
5 according to the Internet movie database entry for Teenage Millionaire
6 according Nancy Shockley (Black)
7 according to 'Holy Grail' of Recording Uncovered by Mitch McCracken - The Daily News, July 26, 2010
8 according to Billy Swan: Artist Biography by Steve Huey at Allmusic.com
9 according to The Castells, by Don Miller courtesy Southern Garage Bands
10 according to the entry for Joe Cuogi preserved at Blackcat Rockabilly Europe
---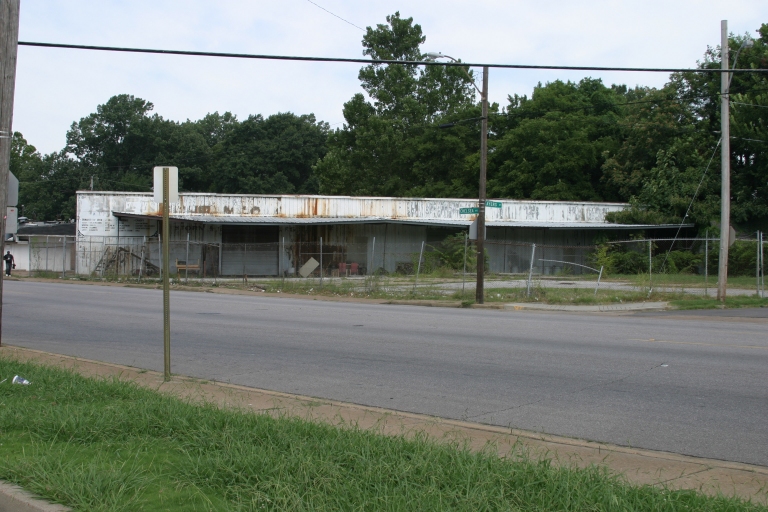 The building at 908 Chelsea Avenue and the former site of ABLE Appliance company - Aug. 2, 2013
Photo © James V. Roy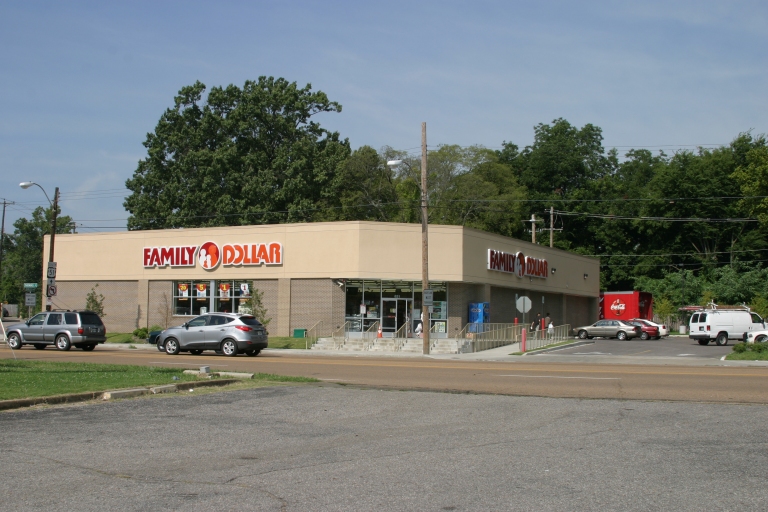 The building at 827 Thomas Street, the former site of American Sound Studio - Aug. 2, 2013
Photo © James V. Roy