The Starlite Wranglers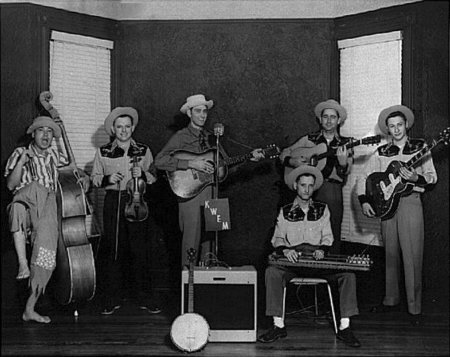 Bill Black, Tommy Seals, Doug Poindexter, Millard Yow, Clyde Rush and Scotty Moore
The Starlite Wranglers
Believe it or not, "My Kind of Carryin' On" by Doug Poindexter and the Starlite Wranglers, Sun #202, 1954, was a predecessor to the Rockabilly sound in several ways, as it lent its suggestive lyrical content to the form, as well as discovering two band members who would soon forge the Rockabilly sound.
The Starlite Wranglers is where the famed team of Scotty Moore, and Bill Black came to Sun. Scotty & Bill would go on to lead Elvis Presley to fame and stardom. In the photo above, that's Bill at the far left, and Scotty at the far right.
There is nothing "city" about Doug Poindexter. In fact, one could not parody a primitive hillbilly artist better than by playing a Doug Poindexter song. Billboard magazine said "Good Country ditty gets an O.K. chanting from the nasal voiced Poindexter. Big city Country buyers might not go big for this, but it should do well in the back country.
By May, 1955, Sam Phillips had sold only 330 of this release. That fact ended Doug Poindexter's recording at Sun, but within weeks, Scotty & Bill would team with a young 19 year old to create Rock n' Roll. Who could have guessed in 1954, or even today, that this band, so "far back woods country hill billy" - could morph parts of itself into creating a totally new sound that would rock the world within weeks?
* courtesy The Memphis Guide
Added October, 2002