The Starlite Wranglers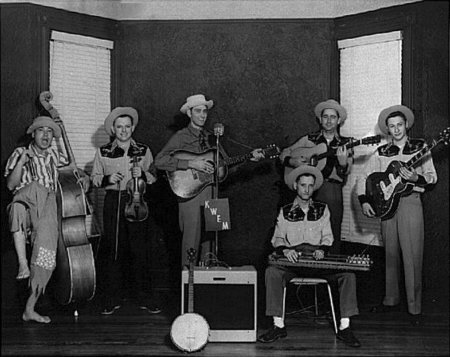 Bill Black, Tommy Seals, Doug Poindexter, Millard Yow, Clyde Rush and Scotty Moore - The Starlite Wranglers
Photo originally Scotty Moore's collection, courtesy That's Alright, Elvis
When Scotty moved to Memphis after his hitch in the Navy was up it didn't take long for him to start another band. This one, a Country and Western band, before the term was used, featured Bill Black on Bass, Tommy Seals on fiddle, Doug Poindexter on vocals and guitar, Millard Yow on steel guitar, Clyde Rush on guitar and Scotty on lead. They called themselves the Starlite Wranglers.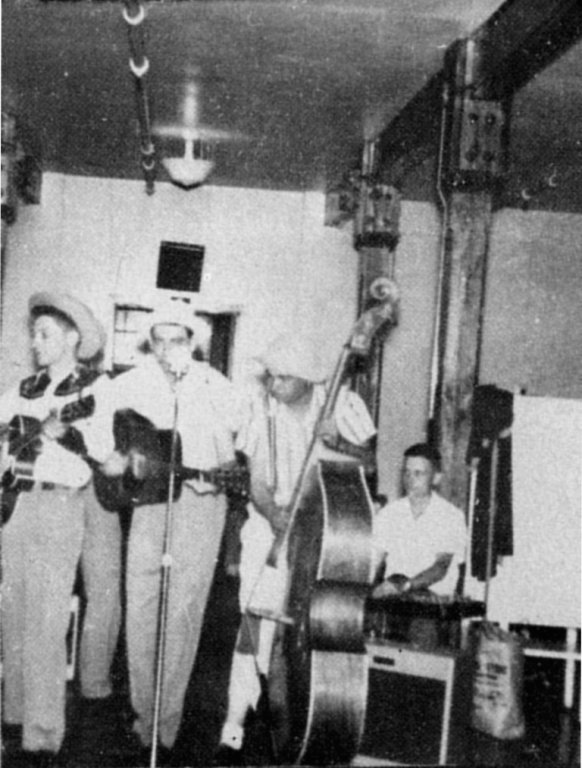 Scotty, Doug, Bill, Millard and the Starlite Wranglers at the Kennedy Veterans Hospital in Memphis - ca.1954
Photo originally Scotty Moore's collection
They played regularly at the Bon Air club and occasionally at the Kennedy Veteran's Hospital. He did not write any songs for Elvis or for Sam. When Scotty took the Starlight Wranglers to Sun, they played what they did on stage. Sam told them to bring back something original and he would listen. Scotty and his brother, along with Doug Poindexter, wrote "My Kind of Carrying On" and Sam recorded that. He did not do any of the covers that they had done earlier, although Scotty said they were better songs, got a better response from the band's live audience.

Scotty, Doug, Tommy, Millard and the Starlite Wranglers at the Kennedy Veterans Hospital in Memphis - ca.1954
Photo originally Scotty Moore's collection
Believe it or not, "My Kind of Carryin' On" by Doug Poindexter and the Starlite Wranglers, Sun #202, 1954, was a predecessor to the Rockabilly sound in several ways, as it lent its suggestive lyrical content to the form, as well as discovering two band members who would soon forge the Rockabilly sound.

The Starlite Wranglers is where the famed team of Scotty Moore, and Bill Black came to Sun. Scotty & Bill would go on to lead Elvis Presley to fame and stardom. In the photo above, that's Bill at the far left, and Scotty at the far right.

There is nothing "city" about Doug Poindexter. In fact, one could not parody a primitive hillbilly artist better than by playing a Doug Poindexter song. Billboard magazine said "Good Country ditty gets an O.K. chanting from the nasal voiced Poindexter. Big city Country buyers might not go big for this, but it should do well in the back country.

By May, 1955, Sam Phillips had sold only 330 of this release. That fact ended Doug Poindexter's recording at Sun, but within weeks, Scotty & Bill would team with a young 19 year old to create Rock n' Roll. Who could have guessed in 1954, or even today, that this band, so "far back woods country hill billy" - could morph parts of itself into creating a totally new sound that would rock the world within weeks?

courtesy The Memphis Guide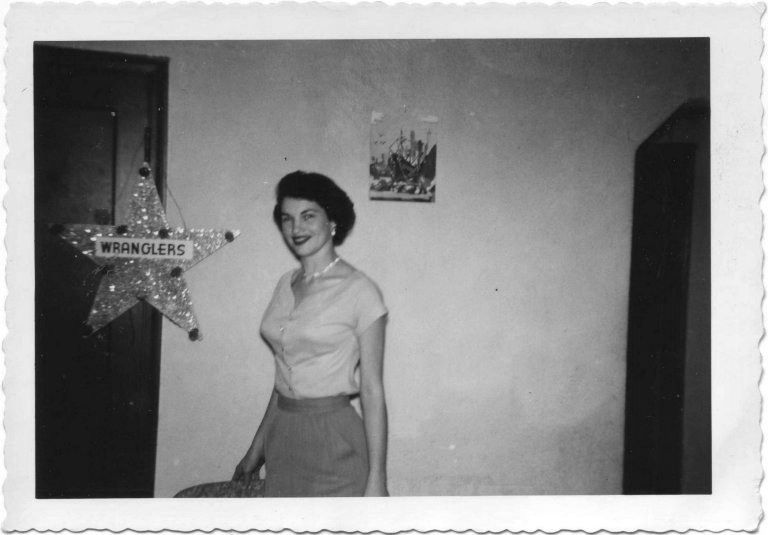 Scotty's wife Bobbie with a show sign that was made for promotion.
Photo © Kevan Budd, added July 26, 2017
When Sam teamed Scotty and Bill with Elvis their days with the Wranglers were short lived. Initially they brought Elvis on some of their gigs at the Bon Air club to play their songs though when Elvis performed the others would have to leave the stage. This likely didn't sit too well with the band so it was agreed that they should part ways.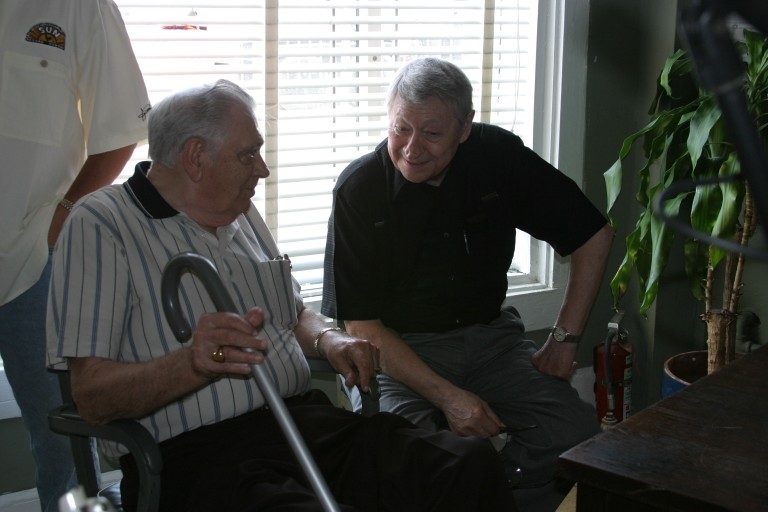 Scotty with one of the last of the Wranglers, Doug Poindexter at 706 Union Ave - July 5, 2004
Photo © James V. Roy
At least one more time, Scotty reconnected with Doug at Sun, on July 5, 2004. It would be the last time before Doug's death the following October, see ReUnion with a Wrangler.
Added October, 2002
appended July 2017

---
Las Vegas by Cowboy Joe
Western Wear

Promotional photo for the Blue Moon Boys with Scotty and Bill in their Western wear - 1954
Photo courtesy Steve Bonner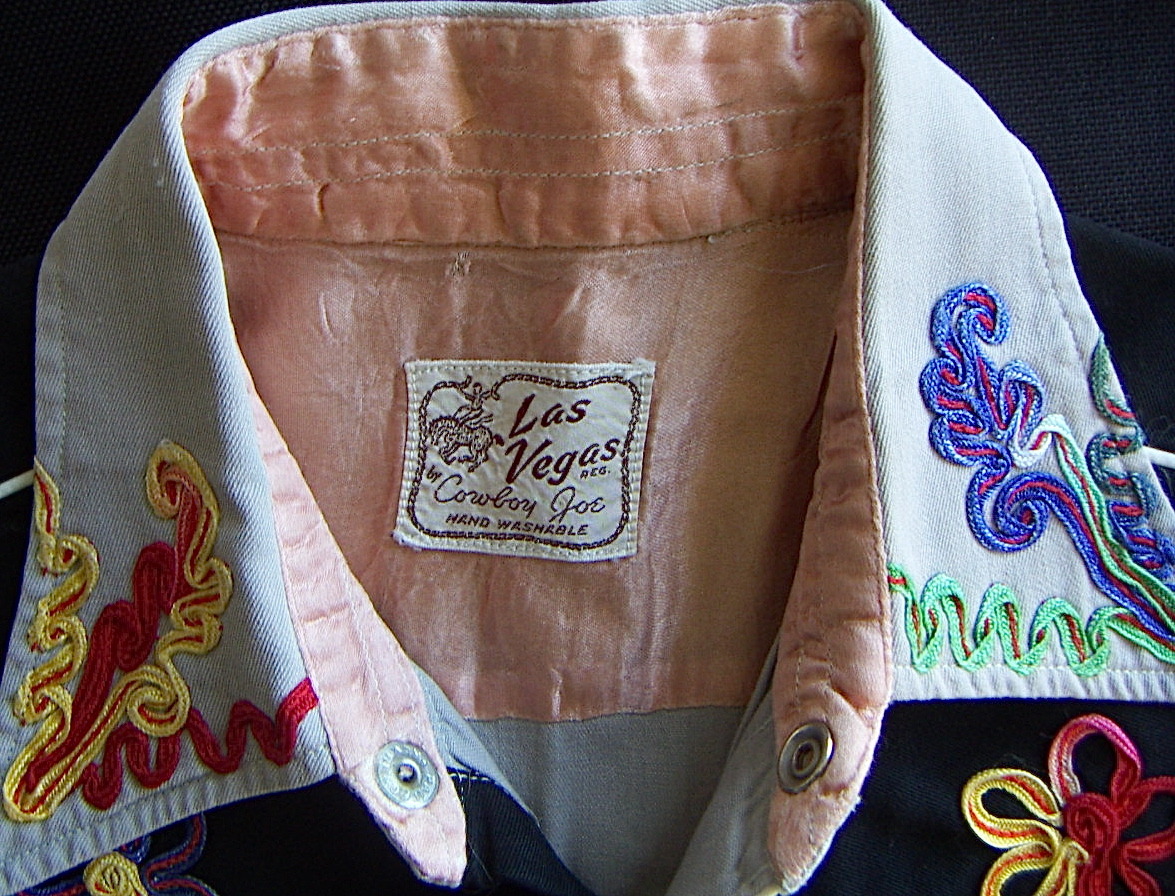 A Las Vegas by Cowboy Joe shirt with embroidery like Scotty's (colors?)
Photo courtesy oddmods archive / tumblr
It's come up before, the suspicion that Scotty (and Bill), had two sets of Western Wear they initially wore with the Starlite Wranglers and then in the early days with Elvis. Scotty though, when asked, maintained, or recollected, that they only ever had one, and that they were gray with black yokes and cuffs. Nancy Shockley, Bill's daughter, though young at the time somewhat agreed with Scotty's recollection at least according to what she remembers hearing about from her mother.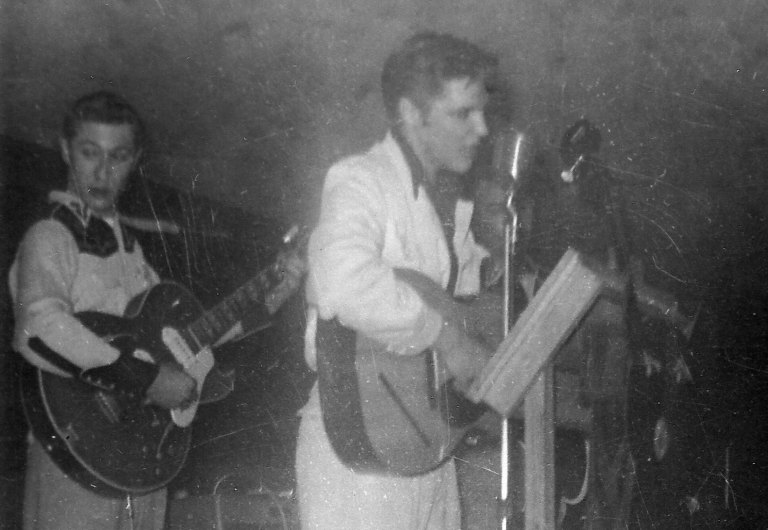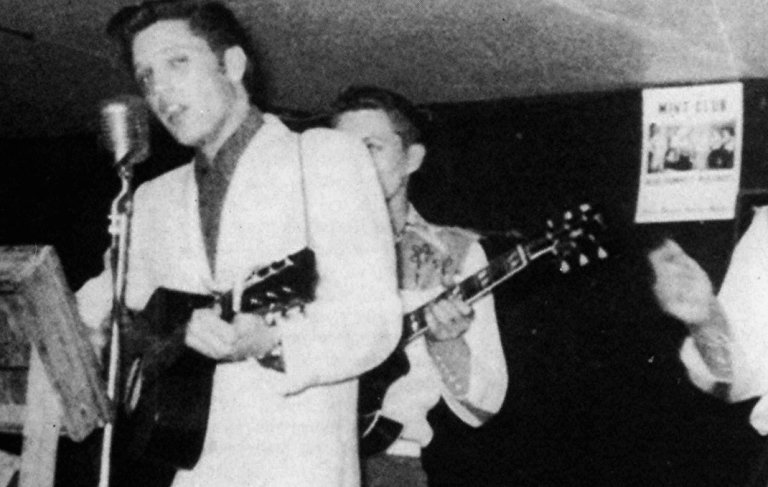 Scotty, Bill and Elvis at the Mint Club in Gladewater, TX wearing what appears to be two sets of Western Wear - 1954
Photos courtesy Steve Bonner and Ger Rijff's Long Lonely Highway
The questions came up again as a result of the recent pages and updates to the site regarding the Starlite Wranglers. This time using a high-res copy of the first picture of them on the Hayride and comparing it to the promotional photo of the trio it clearly shows a slightly but distinctly different embroidery pattern on Scotty's shirt, in addition to a different color/shade. Bobbie (Moore) Weil, Scotty's second wife, on the other hand remembers him only having one pair of matching pants but thinks he had two shirts. Though not 100% certain she thinks there might have been a blue one (or possibly green) and the other probably tan.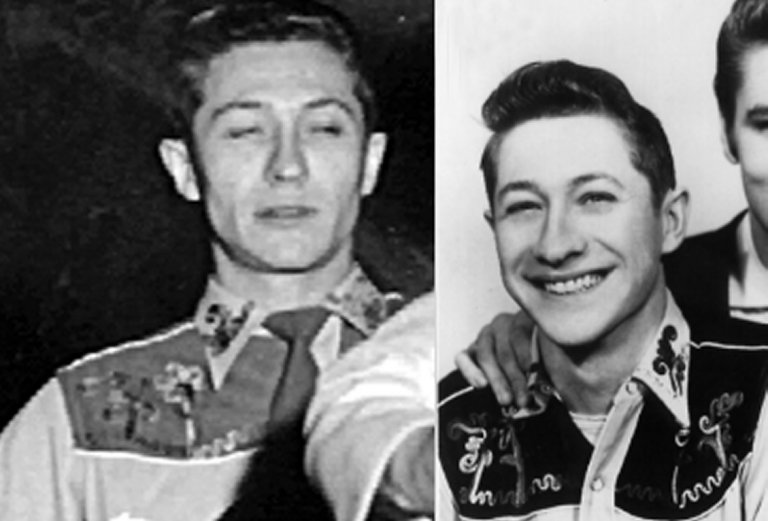 Scotty's western wear comparison showing two distinctively colored embroidery patterns on the yoke
Photos courtesy Joey Kent and Steve Bonner
David Keeler, a press photographer who is also a fan and an avid collector of guitars and vintage clothing identified their western wear as the Cowboy Joe brand, made of gabardine cotton, specifically the Las Vegas style replete with elaborate multi-colored embroidery on the yokes and collars. He has several types, including a gray and black one like he believes Scotty had. He said he recently missed an auction for a green one.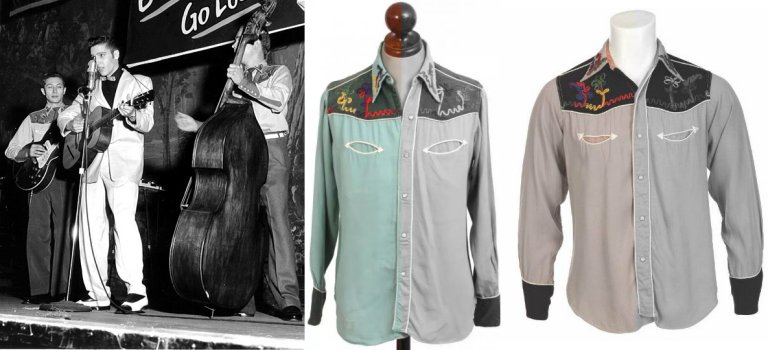 Scotty, Elvis and Bill on their first Hayride appearance and examples of partially gray scaled green and tan colored shirts for comparison
Photos courtesy Joey Kent, Vintage Haberdashers and Julien's
Strangely enough, last year (2016), a tan shirt was up for auction at Julien's that was claimed to have been owned by Elvis. According to the provenance Elvis was said to have got it when he started performing with Scotty and Bill and only wore it once when sitting in between sets with the Starlite Wranglers at the Bon Air Club in Memphis. He gave it soon after, to one Mary Joyce, a friend of his then girlfriend Dixie Locke, and the shirt was with the family until sold by her nephew in 2009. It had previously failed to sell at another auction in 2012.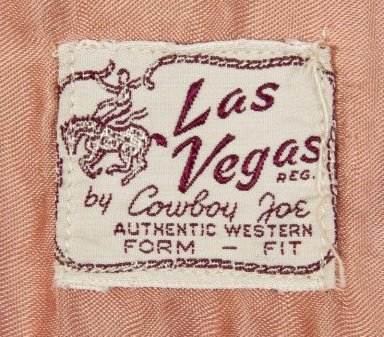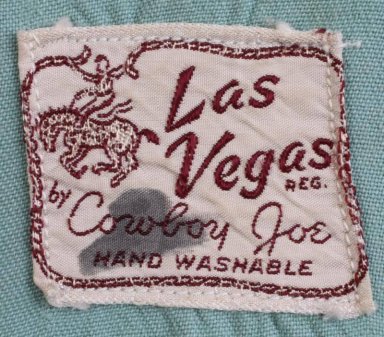 examples of both tan (though not as tan as it was in 2012) and green Las Vegas by Cowboy Joe Western Wear shirts
courtesy Julien's and Vintage Haberdashers
Oddly though, we've seen no pictures of Doug Poindexter, the singer with the Wranglers, wearing one and have to wonder why Elvis might have been given one since there was no mention of him ever being considered an "actual member" of that band. Bobbie, though, was at the Bon Air club the night Elvis performed with Scotty and Bill between sets with the Wranglers. She seems to recall that Elvis only did that with the band at the Bon Air one time. She said on that night he did not wear a western shirt. She can't say whether or not Elvis might have sat in on another gig at a different location but commented that western shirts were not his style.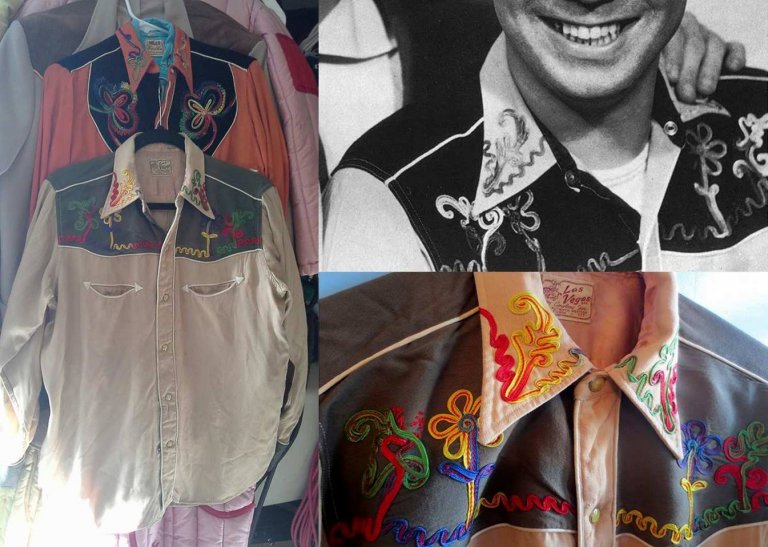 Several brands of western wear shirts including Cowboy Joe Las Vegas in David Keeler's collection with one showing similar pattern to Bill's
Photos courtesy David Keeler and Steve Bonner
The Las Vegas style was available in varied colors, gray, green and tan circa 1953 at the very least that we know of. Cowboy Joe was one of many companies designing and producing a western wear style that was introduced in the '40s, possibly as early '30s, likely growing in popularity in no small part due its use by Western Swing and hillbilly bands, rodeo and movie cowboys (and cowgirls) long before the term country music was in use. Since the '50s and more recently it found a new popularity with the rockabilly crowd.


examples of several Cowboy Joe shirt labels through the years
courtesy web
The Las Vegas style, as worn by Scotty, Bill and the Starlite Wranglers was just one of several styles the company offered and the brand itself lasted till at least the '60s, later made by Atlantic Westerner till the '80s. Susan Norton, owner of Showin' Style, said she's carried a few original Cowboy Joe shirts, but they are not as easy to find now. Most of what she currently has is the Atlantic Westerner version which as she says isn't nearly classy as the original.
section added August 15, 2017
---
Two more examples courtesy of Stephen Cohen and Showin' Style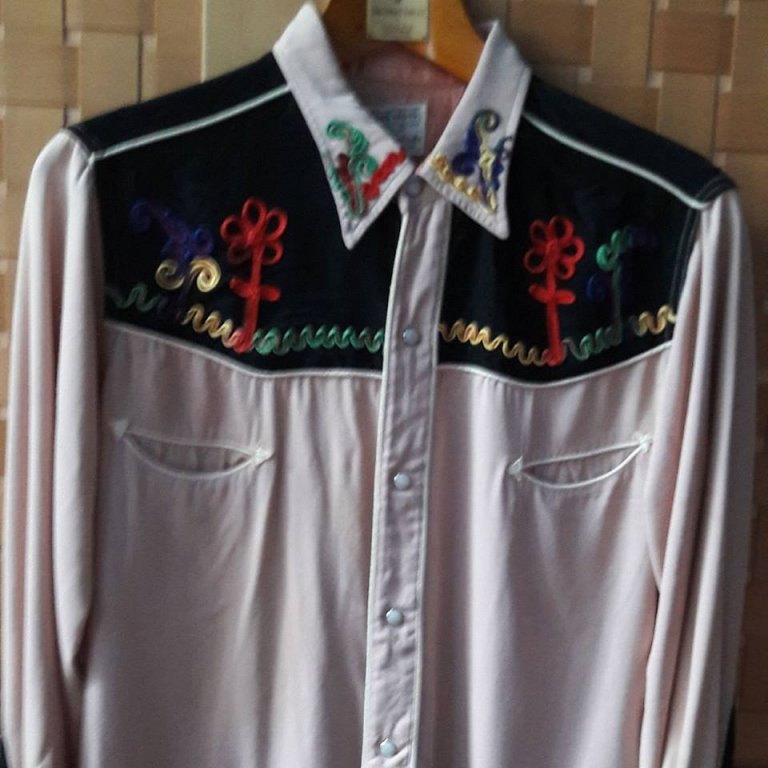 Photo © Stephen Cohen courtesy Showin' Style

Photo © Stephen Cohen courtesy Showin' Style