Carolina Theatre
Charlotte, NC
The Carolina Theatre at 226 N. Tryon Street in Charlotte, NC opened on March 7th in 1927. A Kiss in a Taxi was the first movie shown. At the time it was part of Sam Katz' Paramount's Publix Theatre chain.1 The theatre chain, begun in 1925, stretched from North Carolina to Texas and from Michigan to Iowa and also dominated movie exhibition north of the United States border. An estimated two million patrons streamed into Publix theatres each day.2

The Carolina Theatre at 226 N. Tryon Street in Charlotte, NC - 1931
Photo courtesy Cinema Treasures
The exterior facade was designed by Charlotte's first preeminent architect, C.C. Hook, who also designed the Duke Mansion and Charlotte's historic Greek revival City Hall. The interior, decorated to evoke the illusion of an open air Spanish patio overlooking the azure skies of the Mediterranean, was created by the atmospheric theatre designer R.E. Hall of New York. The young construction company, J.A. Jones, built the theater for the Publix franchise owner, the Cutter family.1

Interior balcony and murals of the Carolina Theatre in Charlotte, NC
Photo courtesy Cinema Treasures
At 1,100 seats, the Carolina was a small movie palace adorned with many of the same type of amenities of some of its larger theatre cousins. Air conditioning was one of the extras that the theatre had to offer its patrons. Beautiful "egg & dart" molding, made of plaster adorned the entire ceiling while an eight rank Wurlitzer organ played music to go along with the latest silent film.1

Interior balcony, murals and main seating of the Carolina Theatre in Charlotte, NC
Photo courtesy Cinema Treasures
Although Katz and his assistants gave preference to Paramount films when booking movies, they made deals directly with all the major Hollywood studios. With the coming of sound, filmed stage shows—short recordings of the top vaudeville acts of the day—were substituted for the far more expensive live stage shows in all but the largest theatres. The coming of sound enabled Katz to order films of hundreds of vaudeville players and musicians and substitute short films of Al Jolson, Weber and Fields, Eddie Cantor, and Else Janis for live stage shows. Paramount Publix saved thousands of dollars with no decrease in demand at the box office. Not surprisingly Sam Katz lobbied hard for Paramount to switch to talkies. By 1929 Publix theatres, save a handful in New York, Chicago, and other very large cities, offered only films. an even more standardized, easily monitored, and controlled product. Profits soared.2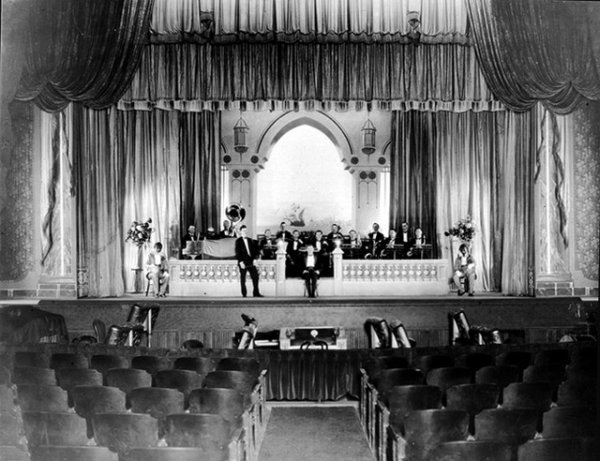 The stage of the Carolina Theatre in Charlotte, NC
Photo courtesy Urban Planet: The Carolina Theaters
Since Katz had borrowed extensively to open more and more theatres, Paramount Publix was thirty million dollars in debt when the depression hit. By 1932 debt rose into the hundreds of millions and Katz was eased out. The first great era in the history of the American movies had come to an end.2 In 1938, the Carolina had a major overhaul; the air conditioner was replaced, larger seats installed, new projectors and sound equipment were put in and the murals were replaced. The new murals were put on acoustic tiles to help the patrons hear the new "talkies" with more clarity. The original acoustics were so lively that the dialog could not be easily understood.1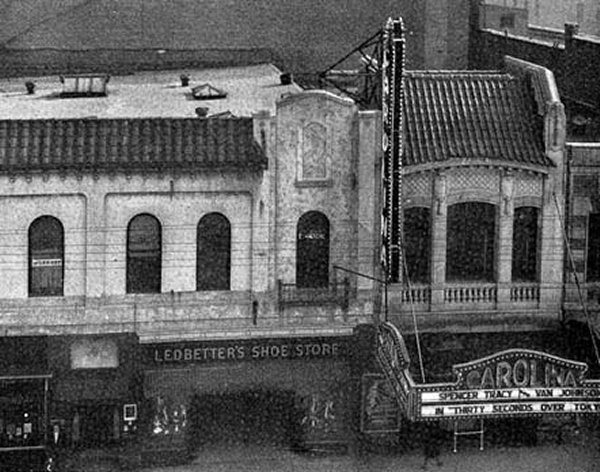 The Carolina Theatre at 226 N. Tryon Street in Charlotte, NC - ca.1944
Photo courtesy Urban Planet: The Carolina Theaters
Throughout the years, the Carolina Theatre was the focal point for live entertainment in the Charlotte region. Road shows, musicals and other forms of entertainment brought such stars as Bob Hope, Guy Lombardo, Tommy Dorsey, Tom Mix, Jimmy Stewart, Ethyl Barrymore, Andy Griffith, Katharine Hepburn, Tallulah Bankhead and Frank Sinatra.1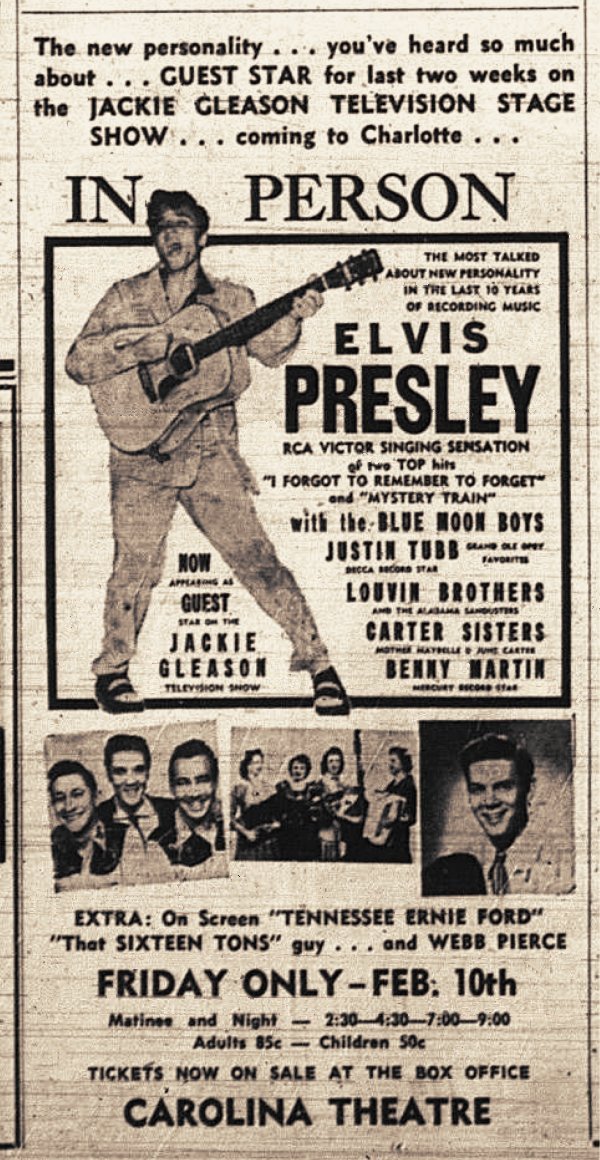 February 8th ad for the shows on the 10th in the Charlotte Observer
courtesy Charlotte Mecklenburg Library
On Friday, February 10, 1956, Elvis, Scotty, Bill and DJ made their first appearance in Charlotte with four shows at the Carolina Theatre. They were on tour that month as headliners with acts from the Grand Ole Opry. The shows followed their appearances in Spartanburg the day before and preceded their third national television appearance on Stage Show the following night.
The shows were reviewed in both the Charlotte News on the 11th and the Charlotte Observer on the 12th:
Our Gals Go Ga-Ga Over Elvis

By Emery Wister
Charlotte News Staff Writer

When one of the country's biggest record companies toted up the sales score last week it found that the voice of a relatively unknown young man was one of the hottest things on wax.
In one day alone there were orders for 29,000 of his records. The weekly total for all his discs passed the 100,000 mark.
This young man, name of Elvis Presley, was also the hottest thing in Charlotte yesterday.
Some 6,000 persons, mostly teen-agers, poured into the Carolina Theater to see the four shows he presented on the theater stage.


Elvis, with D-18, backstage in Charlotte, NC - Feb. 10, 1956
Photo courtesy Brain Petersen

A thousand or so were turned away. The ticket line for the 9 p.m. show extended from the box office up Tyron to the 5th St. intersection and down 5th St. to College.
There was also another line leading from the box office to 6th and down 6th halfway to College. These were people who wanted to buy tickets but were held up until the management was sure there was enough room for them. Some of them got in.
Presley is a rock and roll singer with a style all his own. The squeals of delight from the young female members of his audience were reminiscent of the welcome bobby soxers gave Frank Sinatra during the war.


Elvis, backstage at the Carolina Theatre in Charlotte, NC - Feb. 10, 1956
Photo source Cristi Dragomir

Some people call him a hillbilly rock and roll artist. Presley is the first to disagree.
"No, don't call me that," he said backstage between shows. "Hillbilly isn't doing so good now. I don't know what style I have. I never could answer that question."
But whatever style he had, it was pleasing to Charlotte audiences. Girls jumped up in their seats, waved their arms to attract attention. One cut a flip on the floor in front of the stage.
One or two decided they wanted to go backstage and 50 or 60 followed suit, all ganging up on the entrance at the right front exit. The extra policemen on duty asked them to return to their seats.


DJ, Elvis and Bill onstage at the Carolina Theatre in Charlotte, NC - Feb. 10, 1956
Photo source TCB-World

Many more ganged up on him as he walked out on the street.
Said one frustrated girl who was denied permission to go backstage:
- "I'll just die if I don't shake his hand."
To all his admirers Presley was courteous, sometimes shaking his head in bewilderment.
"It's amazing. I just can't believe this myself."
Presley left here early this morning for New York where he will appear on the Jackie Gleason TV show tonight. Yesterday it was announced he has signed for two more appearances on this show later this spring.


Elvis onstage at the Carolina Theatre in Charlotte, NC - Feb. 10, 1956
Photo courtesy Brain Petersen

Twenty years old. Presley stands six feet, weighs 180 pounds. He has blue eyes, and brown hair which he wears rather long. He also wears a sleepy-eyed look when he walks on stage, because, as he told one interviewer, "People expect me to look that way, so I do."
It all started for Presley in 1953, when he happened to pass a recording studio in his home city of Memphis.
He went in and recorded a song which he gave his mother.
Somehow, someone heard the song. A year and a half later The Sun Record Co. called him in and offered him a contract.
One of the songs, "Blue Moon Of Kentucky" sounded pretty good to Col. Tom Parker. Col. Parker, a showman who helped build Eddie Arnold into one of the nation's favorites, took Presley under his wing.
Parker changed his style, helping Presley make the switch from a ballad to a rock and roll singer. Now the boy whacks his guitar with such gusto he sometimes breaks a dozen strings a night.
He sings something in the style of Johnny Ray, with a little of Frankie Laine thrown in.

Charlotte News - February 11, 1956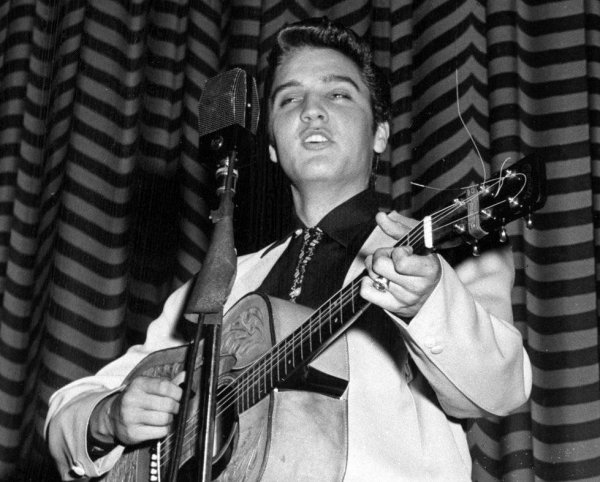 ELVIS PRESLEY . . . Shakes, rattles: audience rolls
Photo source Everything Presley (EP)
Presley Plucks Rhythmic Response From His Fans

by Barbara Brawley
Observer Staff Writer

Elvis Presley shook rattled and almost rolled on stage while a large audience shrilled its approval Friday.
Tabbed "number one new singer in the nation" by Billboard and other trade magazines, the 21-year-old six footer is adding the rhythm of the blues to western music.


DJ and Elvis onstage at the Carolina Theatre in Charlotte, NC - Feb. 10, 1956
Photo courtesy George Klein's Elvis Presley Family Album

Teen-agers with school books in their laps chewed gum rhythmically as Presley combined the solemnity of Bo Diddley with the physical zest of LaVerne Baker in "Blue Suede Shoes" and "Maybelline."

The fame of the versatile singer and guitarist whose best selling recording, "I Forgot to Remember" is as western as Eddie Arnold, has mushroomed since his appearance on Tommy and Jimmy Dorsey's television show last week.
Currently appearing on the Jackie Gleason show, the former Memphis High School football player, got his start when he made a record company listen to his home recording. He was called a year and a half later, while he was studying to be an electrician, to make his first record, "That's All right, Mama."


Bill and Elvis onstage at the Carolina Theatre in Charlotte, NC - Feb. 10, 1956
Photo source Elvis Lives card set courtesy FECC/theFool

His music seems to be all right with the teen-agers too, who perched on their seats and clapped in time to "Rock Around the Clock" as the Brando-like singer took a rubber-leg stance and sent 'em with his new musical style.

Noted to his fans for his pink Cadillac and his "mop" of dark hair with sideburns, Presley is moving on to new fields. Within the next few months he'll study acting in New York with the hopes of entering the movies "in any kind of role they give me." He'll do that in addition to making new platters with his recording companies.
Presley made four appearances at Carolina Theater Friday while on a southern tour with Mother Maybelle and the Carter Sisters of "Grand Ole Opry."

Charlotte Observer - February 12, 1956

Elvis onstage at the Carolina Theatre in Charlotte, NC - Feb. 10, 1956
Photo source The AEK Lounge/mrt
Just over four months later they would return to Charlotte for an appearance at the Coliseum on June 26th.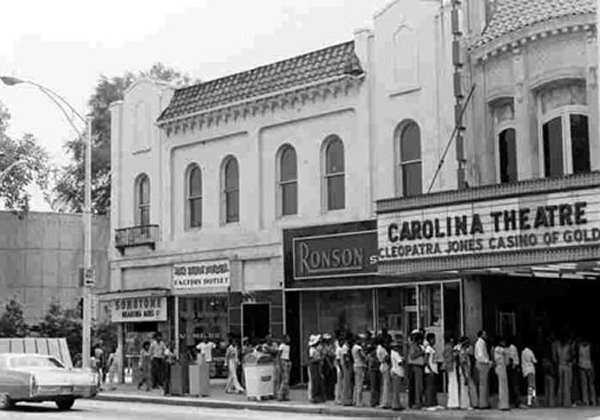 The Carolina Theater at 226 N. Tryon Street in Charlotte, NC - 1975
Photo courtesy Charlotte-Mecklenburg Historic Landmarks Commission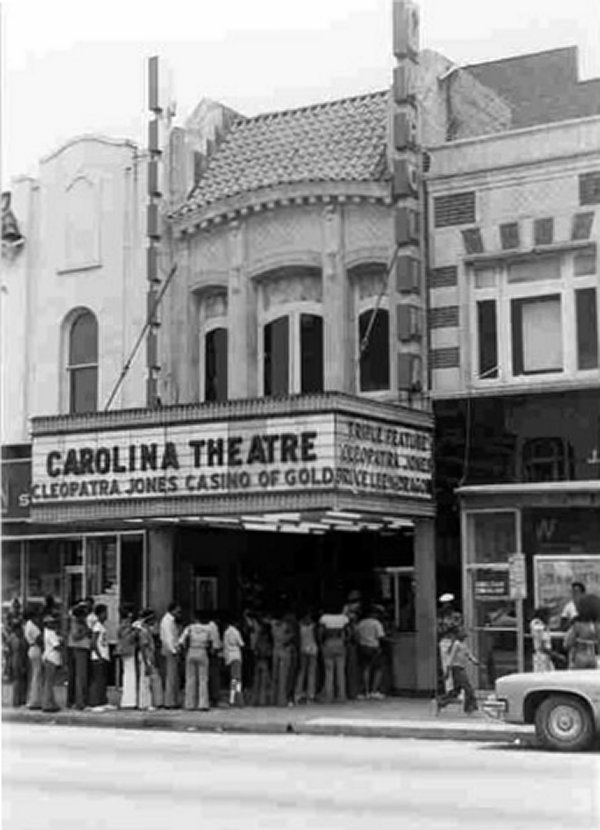 The Carolina Theater at 226 N. Tryon Street in Charlotte, NC - 1975
Photo courtesy Charlotte-Mecklenburg Historic Landmarks Commission
The theater operated through the sixties with several renovations but like many of the city theaters of the era suffered with the introduction of the multiplexes. The theater closed on November 27, 1978 and the final film shown was Bruce Lee's "Fists of Fury." The theater managed to survive a stage fire started by vagrants in 1980 and in 1982 was placed on the Local Historic Register.1

remnants of balcony, murals, main seating and stage of the Carolina Theatre in Charlotte, NC
Photo courtesy Urban Planet: The Carolina Theaters
The city bought the property in 1986 and several efforts and plans to restore, renovate and reuse the facility have since failed. By 1988, the first effort had gutted the building, removing almost all the decorative and ornate objects from the theatre and torn down the lobby to accommodate steel beams required to rebuild the stage area is to accommodate a seating area for a restaurant.1

remnants of Interior balcony and murals of the Carolina Theatre in Charlotte, NC - Dec. 25, 2009
Photo © Dan Machold
However, pieces of the cinema's exterior and facade were salvaged and stored under its stage. Despite decades of neglect, the Carolina Theatre's interior still retains decorative features on its walls and archways. The stage and seating areas are sturdy and even small features remain.3

the Carolina Theatre in Charlotte, NC in a stage of restoration - Dec. 25, 2009
Photo © Dan Machold
In 1997 the Carolina Theatre Preservation Society was officially formed by Charlie Clayton though he and other boosters had been meeting monthly since 1995. A $50,000 grant from the State of North Carolina, due largely in part from the efforts of Senator Fountain Odom helped get their non-profit status. Their mission was to promote and assure the preservation of the theatre; to restore, renovate and rebuild it; and to establish the operation and administration of the Carolina Theatre as a venue for community, film and performing arts functions.1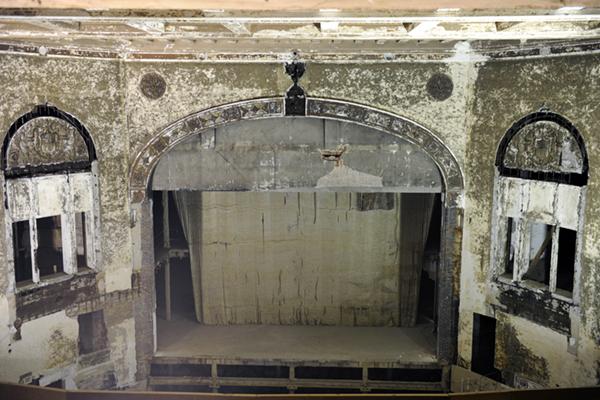 The remaining stage and opera boxes in the Carolina Theatre in Charlotte, NC - 2012
Photo by Nancy Pierce courtesy Charlotte Business Journal
The tax value of the property is estimated at $3.6 million but being in public ownership, it hasn't generated any property taxes for decades. Recent offers though the and bids had been under consideration and the city of Charlotte turned the vacant lot where the former lobby was into public greenspace filled with outdoor sculptures in advance of the Democratic National Convention held in Charlotte in 2012.3

The Carolina Theater at 226 N. Tryon Street in Charlotte, NC - 2011
Photo © Microsoft
Good news however came in December of 2012 when a bid to restore the Carolina Theatre was narrowly approved by the city council, allowing the The Foundation of the Carolinas to buy the property from the city for $1. The foundation, with its headquarters adjacent to the site, plans to renovate the theater into a nonprofit hub and also plans to build an office building on the site.4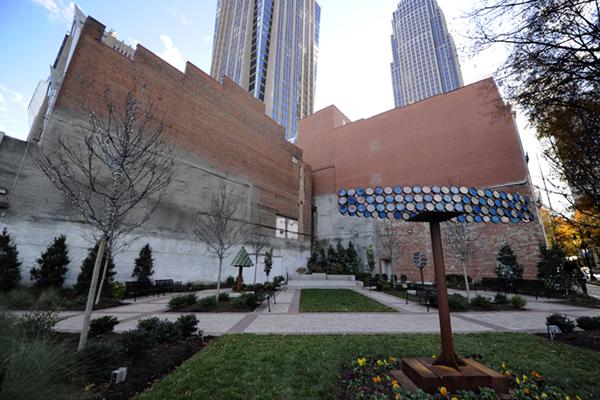 The remaining auditorium building and greenspace on N. Tryon Street in Charlotte, NC - 2012
Photo by Nancy Pierce courtesy Charlotte Business Journal
The proposed theater and a new office building would be part of a South Tryon Street "Civic Campus" that includes Discovery Place, the Main Library and Spirit Square. It plans to partner with a developer to build the office tower, which would be on the city's tax rolls. The theater would be used for civic gatherings with entertainment on the weekends. The foundation could begin construction in three to five years.4
Page added February 10, 2013
1 according to or excerpt from Carolina Theatre Preservation Society
2 according to or excerpt from Shared Pleasures: A History of Movie Presentation in the United States By Douglas Gomery
3 according to A look inside uptown's Carolina Theatre site, Charlotte Business Journal - Nov 23, 2012
4 according to or excerpt from Charlotte selects Foundation for the Carolinas to restore theater By Steve Harrison The Charlotte Observer December 17, 2012