Charlotte Coliseum
Charlotte, NC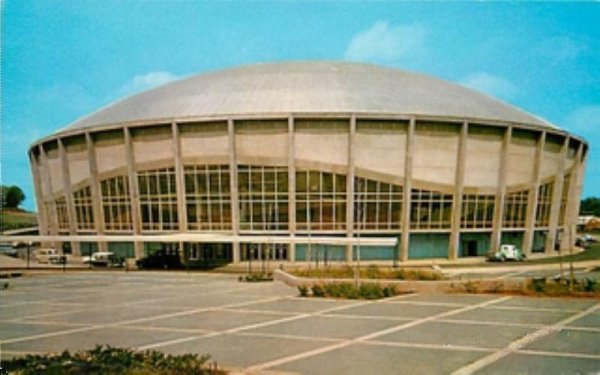 The Charlotte Coliseum in Charlotte, NC
courtesy ebay
Charlotte Coliseum, located minutes from Charlotte Center City (downtown), at 2700 East Independence Boulevard, has been described as "the Stadium with a roof on it."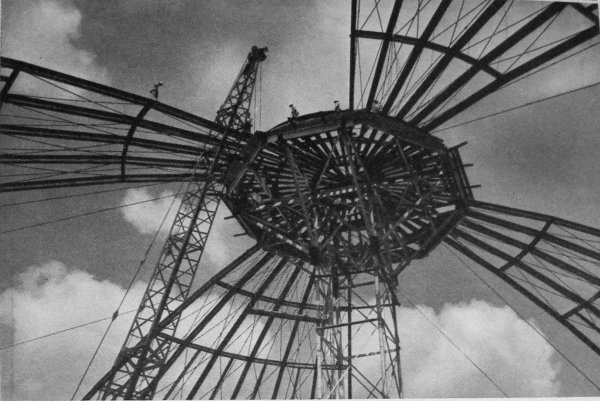 Dome construction of The Charlotte Coliseum
Bethlehem Steel photo courtesy ebay
1,000 tons of Bethlehem Steel structural shapes were used in constructing the building. The 160-ft-long ribs, pre-assembled on the ground into seven 22-ft 6-in. sections, were erected with crawler cranes and supported during construction by a center tower which was removed after the entire roof frame was in place. A steel tension ring, 552 ft in diameter, resting on columns, absorbs the tensile stresses of the dome.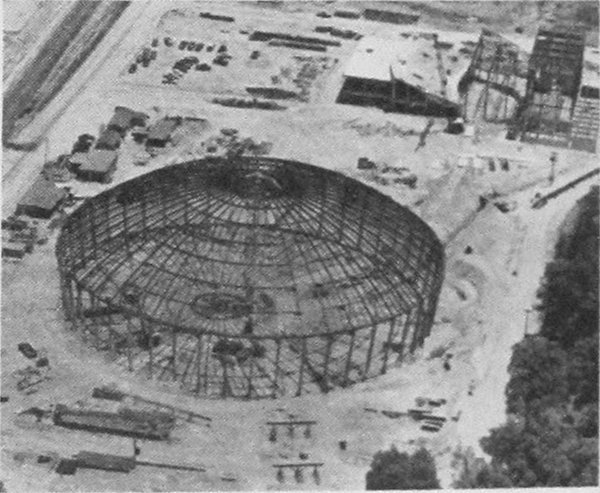 Construction of the Charlotte Coliseum and adjacent Ovens Auditorium
Bethlehem Steel photo courtesy ebay
The Coliseum and adjacent Ovens auditorium were designed by the Charlotte architectural firm of A. G. Odell. Jr., and Associates in association with structural engineering by Severud, Elstad and Krueger of New York City. They general contractor was Thompson and Street Co. along with steel fabrication and erection by Southern Engineering Co., also of Charlotte. It was designed with a capacity of 10,000 permanent and 5,000 temporary seats, together with large open space for exhibitions and conventions. The aisles and passageways were designed so that the building could be emptied in four minutes.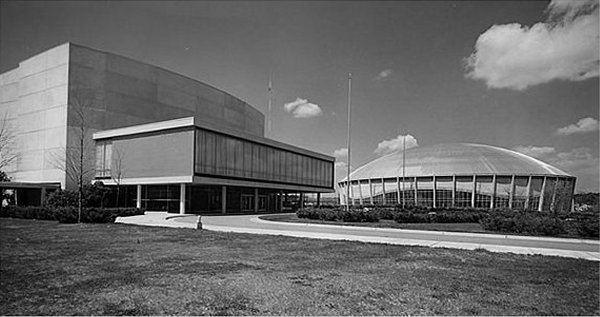 The Ovens Auditorium and adjacent Charlotte Coliseum
Photo courtesy Bojangles Coliseum
Ovens auditorium, seating 2,500 people and with a 100 by 50-ft stage, has a framework built of 500 tons of Bethlehem structural shapes.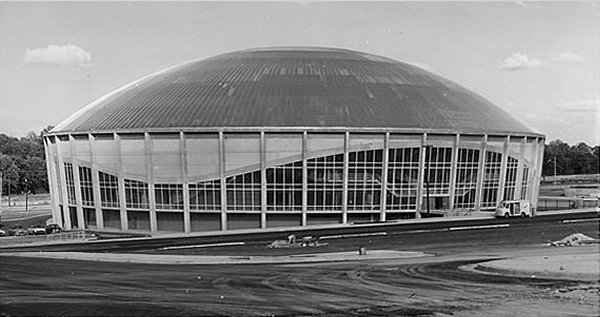 The Charlotte Coliseum
Photo courtesy Bojangles Coliseum
The Coliseum roof was said to be the biggest clear span dome in the world, having a diameter of 332 feet and a height at center of dome of 112 feet. It opened in 1955 along with the adjacent Ovens Auditorium. It was Charlotte's first coliseum and served as the region's major sports and entertainment facility for over 30 years.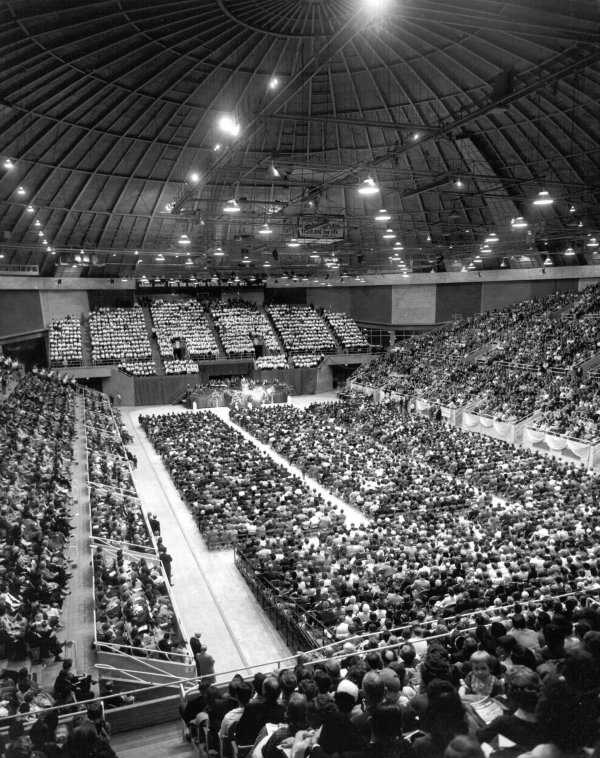 Billy Graham at the Charlotte Coliseum - 1958
Photo courtesy Billy Graham Center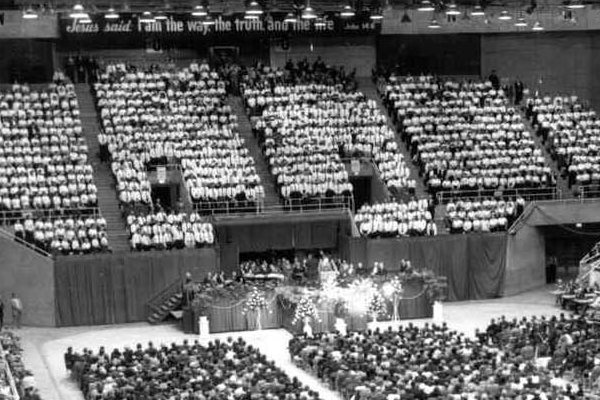 Billy Graham (close dropped stage area) at the Charlotte Coliseum - 1958
Photo courtesy Billy Graham Center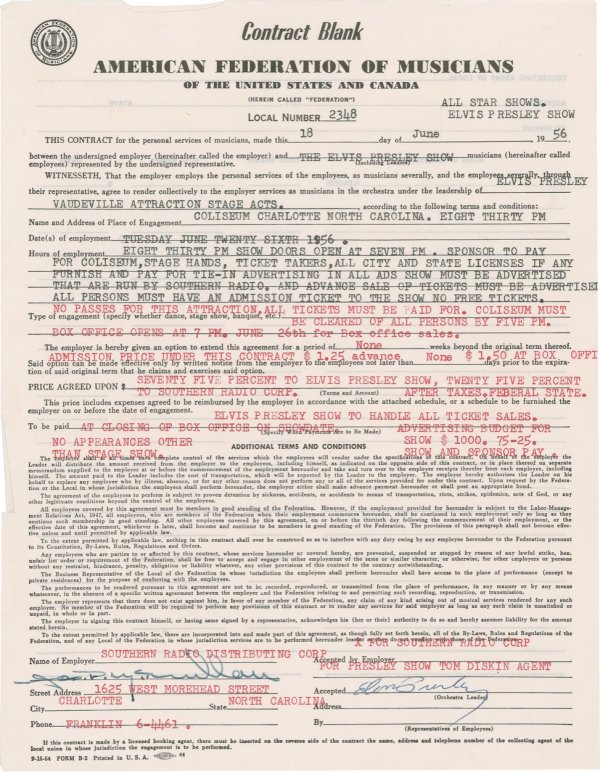 Musician's Union contract for the Coliseum show - June 18, 1956
courtesy FECC/pacer1005

The events held there included concerts, family shows, world-class figure skating, rodeo and bull riding competitions and others. Charlotte is also the home town of the Reverand Billy Graham who himself led evangelistic campaigns at the Coliseum. On June 26, 1956 Elvis, Scotty, Bill and DJ made their second appearance in Charlotte. Their first was the previous February at the Carolina Theatre while headlining a tour with Opry acts where they played four shows to crowds totaling about 6,000. This time they made one appearance to a crowd in excess of that at the Coliseum. This appearance at the Coliseum coincided with a regional conference of RCA dealers and was promoted as such with Nipper, the RCA logo and mascot represented prominently.
Elvis Presley Here Tonight

Tonight's the night that Elvis Presley, currently the most cussed and discussed figure in the world of American entertainment, comes to Charlotte's Coliseum.
Presley, sometimes called "Pelvis Presley," is a rock 'n roller whose gyrating hips have outraged music critics far and wide.
But criticism of Presley seems to come largely from his elders rather than from the teen-agers who go for his emphatic delivery of the heavy-beat songs of the hour.
Presley will sing against a background of RCA products at the Coliseum.
James P. McMillan, president of Southern Radio Corp., has announced that his 1,200 North Carolina dealers will open a two-day meeting today at the Coliseum.

The Charlotte Observer - June 26, 1956
When they last appeared in Charlotte they had only recently performed twice on National television, Heartbreak Hotel had just been released and they were just starting to make an impact on the nationwide. Since then they had completed their Stage Show commitments, had appeared on the Milton Berle show twice and Elvis had begun getting lambasted for his act in the press. Since their stint in Las Vegas at the end of April they had added a rendition of Leiber and Stoller's Hound Dog, inspired by Freddie Bell and the Bell Boys, to their repertoire and it was while performing that on the last Berle appearance that caused the most fuss.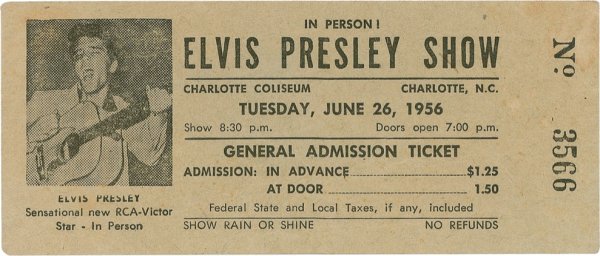 Ticket for the Elvis Presley Show at the Coliseum
courtesy FECC/pacer1005
Pool Player At 5 P.M., Rock 'N' Roll Idol At 9

IT'S A MONEY MAKER
Elvis Defends Low-Down Style
Wednesday, June 27, 1956
By KAYS GARY
Observer Staff Writer

Elvis Presley is a worried man.
Some, that is, for a man with four Cadillacs and a $40,000 weekly pay check.
Critics are saying bad things about him.
It has been especially rough during the past three weeks.
And that is why he bucked his managers orders to stay away from newsmen in Charlotte Tuesday until show time.
That is why he refused to stay in the seclusion of his hotel room.
At 4:10 p.m. he couldn't stand it any longer and, with "Cousin Junior," left the room.

He walked quickly to a restaurant a few doors away for a barbecue, flirtation with a few women and a 30-minute round of pool next door.

"Sure, I'll talk. Sit down. Most of you guys, though, been writin' bad things about me, man!"
His knees bounced while he sat. His hands drummed a tattoo on the table top. Eyes, under long lashes, darted from booth to booth, firing rapid winks at the girls who stared at him.
"Hi ya baby" he breathed.
An she flopped back in the booth looking like she had been pole-axed.

"This (John) Crosby guy whoever he is. He says I'm obscene on the Berle show. Nasty. What does he know?

"Do you see the show? This Debra Paget is on the same show. She wore a tight thing with feathers on the behind where they wiggle most. And I never saw anything like it. Sex? Man, she bumped and pooshed out over the place. I'm like little Boy Blue.
"And who do they say is obscene? Me!
"It's because I make more money than Debra. Them critics don't like to see nobody win doing any kind of music they don't know nothin' about!"
And he started to eat.
The waitress brought his coffee.
Elvis reached down and fingered the lace on her slip.
"Aren't you the one!"
"I'm the one, baby!"


Elvis Brushes Up On His Cues At Pool Parlor
Observer Photo by Blackwelder

Presley says he does what he does because that is what is making money.

And it is music that was around before he was born.
"The colored folks been singing it and playing it just like I'm doin' now, man, for more years than I know.
"They played it like that in the shanties and in their juke joints and nobody paid it no mind 'til I goose it up.
"I got it from them. Down in Tupelo, Mississippi, I used to hear old Arthur Crudup bang his box the way I do now and I said if I ever got to the place I could feel all old Arthur felt I'd be a music man like nobody ever saw."
Yep, some of the music is low-down.

"But not like Crosby means. There is low-down people and high-up people but all of them get the kind of feeling this rock 'n roll music tells about.'

Elvis says he doesn't know how long rock and roll will last.
"When it's gone, I'll switch to something else.
"I like to sing ballads the way Eddie Fisher does and the way Perry Como does. But the way I'm singing now is what makes the money. Would you change if you was me?"
Investments?
"I haven't got to the place for investments. I put it in the bank, man, because I don't know how long it will last."
How about the Cadillacs?

"Yep, that's right. I got me four Cadillacs. I keep two at home and two with me. One pink. One pink and white."


Fans Said He Was 'Real Cool' . . . 'A Living Doll'
Observer Photo by Sturkey

He never reads his fan mail. "I got nine secretaries in Madison, Tenn. to do that. If I meet somebody on the road I want to keep on knowing I give 'em my home address."
Little Rosie Talsis walked up to the booth and held out a trembling hand.
Elvis gave her the autograph.
"Look I'm shaking all over," she tittered.

And the grownup girls in the next booth and Elvis swapped long, searching looks.

Elvis fingered the collar of his shirt, opened half-way down his chest.
"Some people like me. There's more people than critics."
The people who like him, he said, include Eddie Fisher, Como, Liberace, Kate Smith, Bob Hope and Guy Lombardo. And there are more. Lots more.

"When I sang hymns back home with Mom and Pop I stood still and I looked like you feel when you sing a hymn. When I sing this rock and roll, my eyes won't stay open and my legs won't stand still.

"I don't care what they say, it ain't nasty."

The Charlotte Observer - June 27, 1956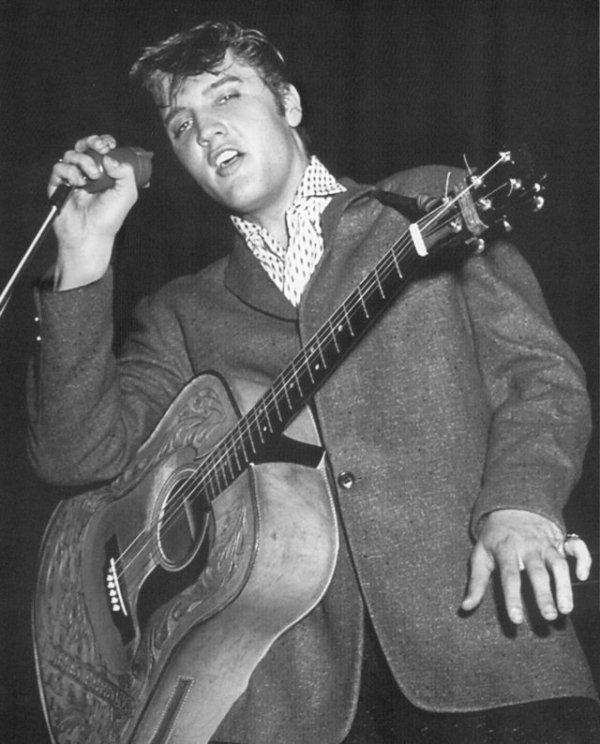 Elvis onstage at the Charlotte Coliseum - June 26, 1956
Photo courtesy Brain Petersen
The Critics Stayed At Home, And Elvis Was The Greatest
By DON OBERDORFER
Observer Staff Writer

Seven thousand sweltering, wailing fans mobbed a 21-year-old former Memphis truck driver at the Coliseum Tuesday night.
Elvis Presley, a flip but unpretentious lad who is the idol of millions of rock 'n' rollers. caused a near riot under the Big Dome. He escaped from the stage just as hundreds of teen-agers were closing in to the unavailing objections of squads on police.

Presley's 20-minute show, preceded by more than an hour of preliminary attractions, was interrupted nearly 60 times by shrieks from his fans.

After a long buildup, Presley burst onto the stage staggering and flailing like a moth caught in a beam of light.
His songs were an unbelievable burlesque, combining the elements of a strip teaser's bumps with the slapstick gawkiness of a Harpo Marx.
Mrs. A. W. Clour of Statesville started what turned into an avalanche when she rushed to the stage and held out her hand for Elvis to touch midway in the show.
Several numbers later crowds of fans drifted toward the stage and before the 20 police could stop them, were mobbing the platform.


DJ, Elvis and Bill onstage at the Charlotte Coliseum - June 26, 1956
Photo courtesy Brain Petersen

Elvis danced his bumpy boxer's trot into the corner and dove for the dressing room at the end of the number. The surge of the crowd against a cordon of police was too late to reach him.

What is the appeal of this blue-eyed Tennessean who five hours before was playing pool and signing autographs in a downtown parlor?
One big element, it is clear, is his lack of all pretensions. A recurrent theme among the adult minority interviewed at Tuesday night's show was expressed by Mrs. G. E. Anderson of Charlotte. "I didn't like Sinatra in his day but I like Elvis. He's country and I am too," she said.
Nearly all the adults who expressed delight with Presley had 10 years before scorned the smooth Frankie boy.
Neither Presley's mannerisms nor his singing nor his jokes are polished. Rather, they are actually awkward--and the crowd is with him the more for it.


Elvis onstage at the Charlotte Coliseum - June 26, 1956
Photo © Pete McKnight

Fans referred to him as sexy (He's a doll and I love to play with dolls," quoth Bea Frick of Rockwell) but his sex is a gangling, loose-jointed jesting at sex.

A second large factor in the Presley rage is no doubt faddism. The same words "living doll" and "cool cat" issued from numerous lips in description.
The faddism is all the more pronounced because of Elvis' almost universal criticism from the adult press.
Mitch Miller, the record artist and executive, believes Elvis and rock 'n roll to be a "safe form of rebellion against mother, father and teacher. It's a way (teen-agers) can take out their feelings of independence without hurting those they love . . . "

This element was clear as hundreds of cleancut young citizens, many of whom could neither see him clearly from their seats nor hear him above the screams, turned into a merry, shouting mass of humanity outside his dressing room after the show.

"We want Elvis!" chanted the crowd.
But Elvis Pressley [sic], the ex-truck driver with a $40,000 weekly pay check, dashed out an unlikely entrance into a waiting car and safety, before his fans caught up with him Tuesday night.

The Charlotte Observer - June 27, 1956

Artist Billy Caldwell's Impressions Of Some of Elvis Presley's Fans
WITH SCREAMS, A RETURN

"I'm coming back to Charlotte, I'll be back here again," Elvis Presley shouted over the Coliseum public address system.
But the screams of thousands of local Rock 'n Roll fans drowned him out so that not many heard him make the announcement.
The screams, which continued almost unabated throughout the 20-minute appearance here last night, drowned out most of Presley's songs as well as the announcement.
But the fans were happy.
Elvis gyrated around the small stage a the end of the arena to the delight of the cash customers.
Despite the "souped up" atmosphere of the throng filling two thirds of the Coliseum, the entire proceedings went fairly smoothly. As the rack 'n roll king went into his final number for the evening several hundred fans crowded up in front of the stage and stretched out their hands to be honored by a touch.


Before Being Mobbed By Crowd At the End of His Coliseum Show
Observer Photo by Sturkey

SLIPS AWAY
Elvis declined the invitation however, and slipped into his dressing room after a deep closing bow.
Afterwards the faithful set up the chant "We want Elvis" outside their hero's dressing room, but he didn't oblige.
What may have been a disappointment for some was the fact that Elvis didn't eat on his guitar, which dangled from his shoulder most of the evening. On one occasion he gave it a few idle-thumps, but that was the extent of it.
That didn't seem to be of great concern to many, however. Nor did it seem to anyone that the continuous shrieks drowned out all but minor snatches of Elvis' songs.
The faithful came to see Elvis in action. And they saw him.

The Charlotte Observer - June 25, 1956
This weeks' tour had started on the 22nd with four shows in Atlanta at the Paramount, and included dates in Augusta and Savannah, Georgia and Charleston, South Carolina before completing in Richmond, Virginia for their final appearance on the 30th at the Mosque Theatre. On July 1st, they made their appearance on the Steve Allen Show where Steve's attempt in censorship and humor involved presenting Elvis in a Tuxedo as he sang Hound Dog to a Bassett Hound.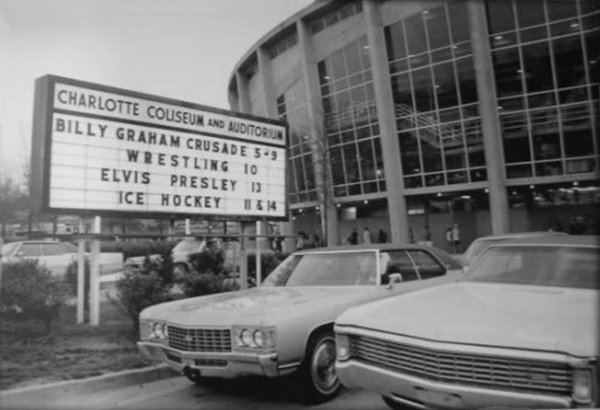 Marquee for Aril, 1972 at the Coliseum
Photo source FECC/3577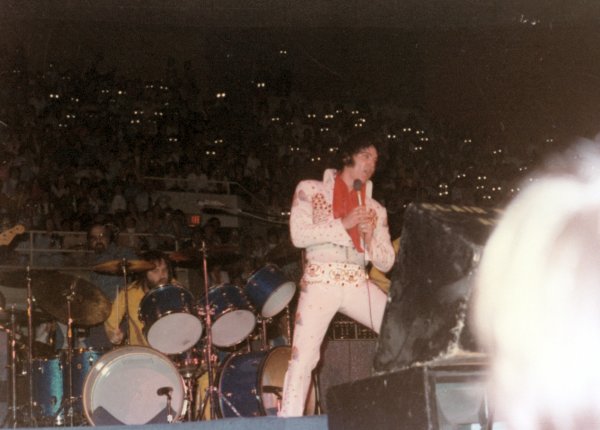 Elvis at the Charlotte Coliseum - Mar. 9. 1974
Photo from the collection S.E. courtesy Francesc Lopez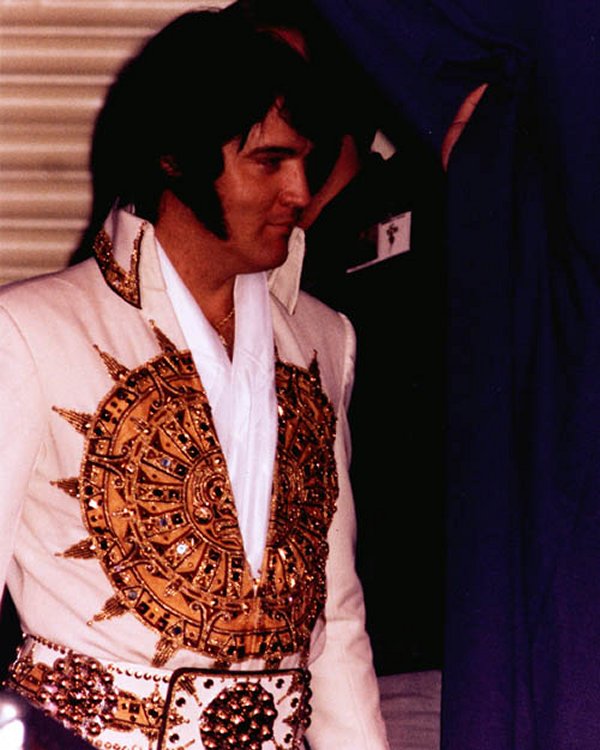 Elvis at the Charlotte Coliseum - Feb. 20, 1977
Photo source Charles G. Bunch
True to his word, Elvis returned to Charlotte, and the Coliseum, though not until the '70s with the TCB band when he performed shows on April 13, 1972, March 9, 1974, March 20, 1976 and February 20th and 21st in 1977. Since Elvis, other artists that performed there include Stevie Wonder, Bruce Springsteen, The Rolling Stones, Bob Dylan and Queen among others.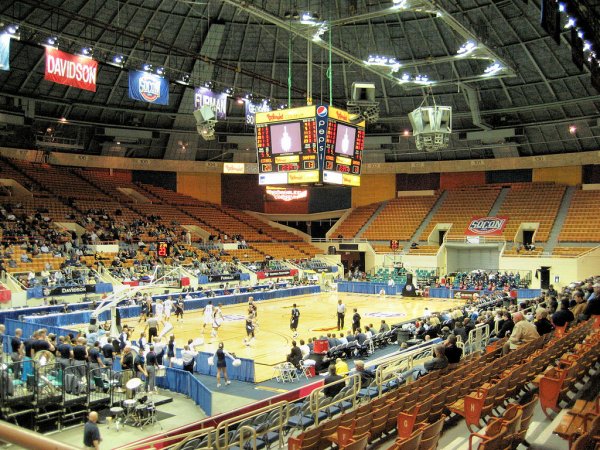 The Charlotte Coliseum - Mar. 5, 2010
Photo © JBtuohy
The Coliseum closed in 1988, but after extensive refurbishing and retrofitting, the venue reopened to the public in 1993. The renovation restored the coliseum's classic ambiance. Since then it has featured many contemporary acts that include Metallica, Keith Urban, Alicia Keys, Beyoncé Knowles and Kelly Clarkson among others.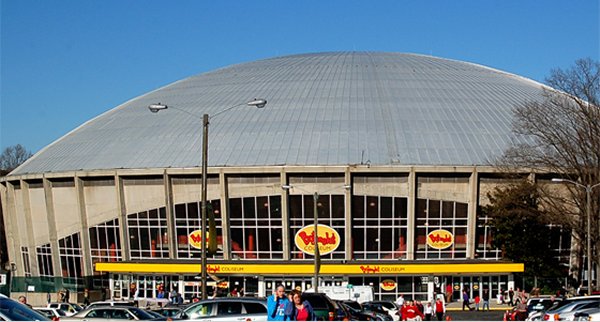 The Bojangles' Coliseum in Charlotte, NC
Photo courtesy Bojangles' Coliseum
Through the years the name has changed and the facility has been known as the Charlotte Coliseum, Independence Arena and Cricket Arena. In November 2008, the Charlotte City Council and Charlotte Regional Visitors Authority unanimously approved the naming rights agreement with Charlotte-based chicken 'n biscuits restaurant Bojangles'. With both being Charlotte originals, Bojangles' and the CRVA were both honored to put the Bojangles' name on the historic venue.
Page added February 14, 2013

The Coliseum history presented here is compiled from various sources, including the April 1955 issue of Architectural Record, the Bojangles Coliseum : History, the Ovens Auditorium : History, as well as vintage postcards.
---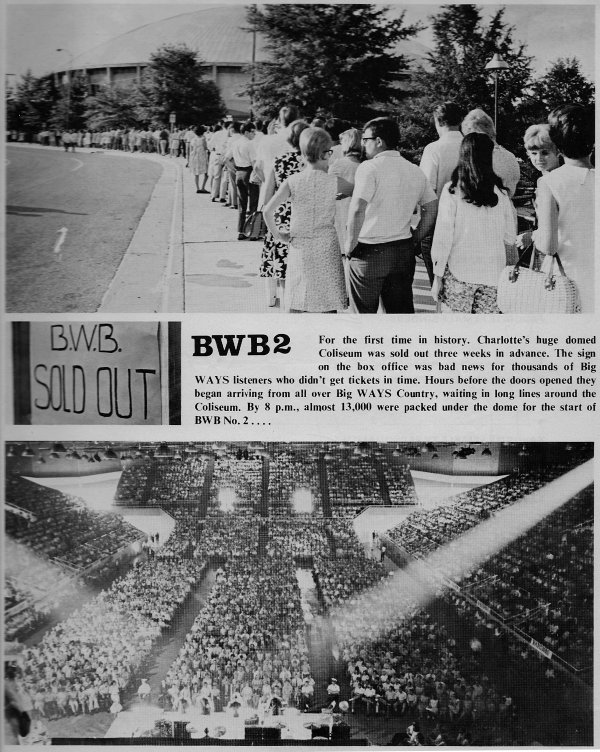 Big Ways Radio sponsored show at the Coliseum
courtesy Ron Brandon added Feb. 16, 2013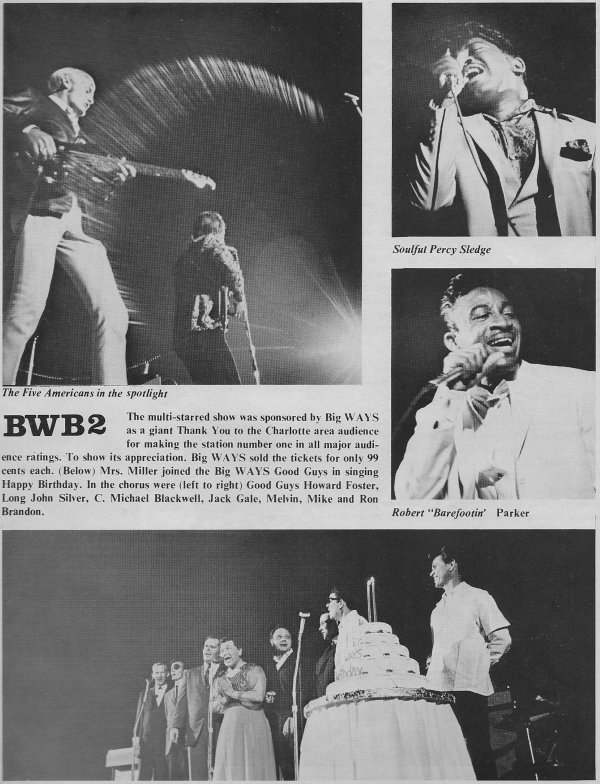 Big Ways Radio sponsored show at the Coliseum
courtesy Ron Brandon added Feb. 16, 2013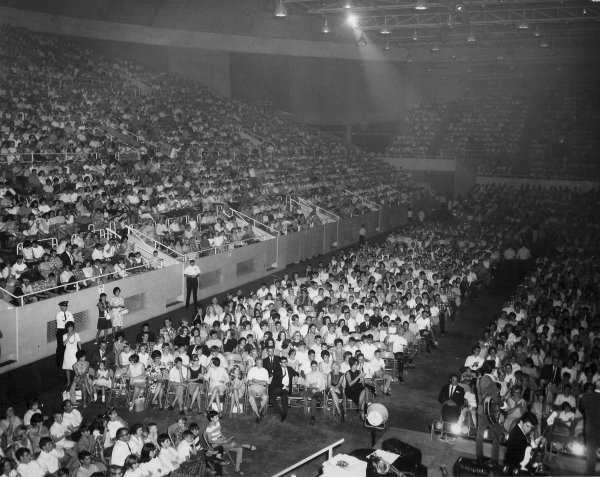 The Four Seasons onstage at the Coliseum
courtesy Ron Brandon added Feb. 16, 2013
---
Photos By Pete McKnight
at Charlotte Coliseum
I received correspondence from Pete McKnight who is the owner and photographer of a photo that has made the rounds and also used on a page on Scotty's site. He was kind enough to set us straight on the history of the photo and give us permission to use it. As you'll see he has had some interesting experiences and associations and was also kind enough to share a couple of those with us:
Your website Scotty Moore - Charlotte Coliseum - Charlotte, NC features my1956 Elvis photo for which I have the original color negative. The original has been closely held, never published and only three people, Beach Boys' Bruce Johnston, Paul McCartney and me have prints. How it got into the public domain is a mystery.


Elvis onstage at the Charlotte Coliseum - June 26, 1956
Photo © Pete McKnight

I'm amazed it got out there like you mention. Of course I don't cruise the Elvis sites. The reason I ran across yours is that I was doing some research on that original Charlotte Coliseum - - now Bojangles Coliseum - - because the gal I was with at the '56 concert (I used her Brownie Hawkeye camera) was curious about the date of a Bill Haley appearance mentioned in an article my niece Meg wrote for a 2005 Charlotte Magazine article: Before Elvis Was King. We've determined it was February 1956.

Of course I've always been a huge Scotty Moore admirer and wish I'd had a chance to meet him. He was such a major influence for Keith Richards, the Beatles, etc. I'm fine with you leaving it up with proper credit. The color version is pretty awesome, especially considering most photos of that era were black & white. None of the photojournalists were shooting color.

Of course I was only 13. We had floor seating, not far back from Elvis, who was also on the floor. No stage. I walked up….snapped the shutter…and returned to my seat. One shot. And I guess I just lucked out.


The Beach Boys at Charlotte Coliseum - July 14, 1965
Photo © Pete McKnight

Later, when I was 22, I worked my third summer as a staff photographer for the Charlotte Observer and got to cover a bunch of interesting events including this July 1965 Beach Boys concert where I first met Bruce Johnston. He'd just been with the group for a couple of months after replacing Glen Campbell who'd replaced Brian Wilson who quit touring because of "issues".


Bruce Johnston
Photo © Pete McKnight
Bruce and Mike Love still tour as the Beach Boys. He's always loved that Elvis shot so last year he asked for a 24 x 24 to hang in his CA home and an extra print for him to send to his pal Paul McCartney.

Another interesting experience was being assigned to spend the day with the Dave Clark Five July 23, 1965. First poolside at a former Holiday Inn downtown Charlotte and then at the concert that evening at the coliseum.


Dave Clark at the Coliseum and with the Dave Clark 5 poolside - July 23, 1965
Photo © Pete McKnight


Mike Smith, Lead singer with the Dave Clark 5 at the Coliseum and poolside - July 23, 1965
Photo © Pete McKnight


Fans at the Coliseum for the Dave Clark 5 - July 23, 1965
Photo © Pete McKnight

Peter McKnight
April 19, 2014
On behalf of Scotty, myself and the fans, thank you Peter for the correction and continued use of your photo and for sharing these others with us.
added April 19, 2014