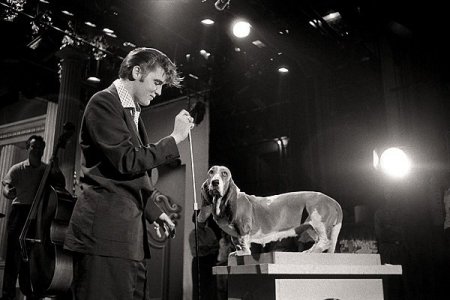 Bill, Elvis and hound rehearsing at the Hudson - July 1, 1956
Photo © Alfred Wertheimer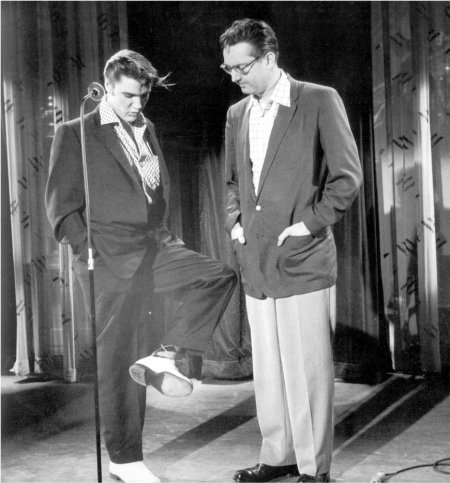 Elvis and Steve Allen rehearsing at the Hudson - July 1, 1956
Photo © Alfred Wertheimer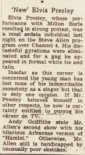 A brief review in the next day's Times had not yet realized the impact of Elvis' appearance on the show.
'New' Elvis Presley
Elvis Presley, whose performance with Milton Berle resulted in strong protest, was a most sedate individual last night on the Steve Allen program over Channel 4. His distasteful gyrations were eliminated and for a gag he appeared in formal white tie and tails.
Insofar as this corner is concerned the young man has lost none of his indescribable monotony as a singer `but that is duly one opinion, If Mr. Presley behaves himself in other respects, he now is certainly entitled to pursue his career on TV.
Andy Griffiths stole Mr. Allen's second show with his hilarious Arkansas version of "Hamlet." Otherwise, Mr. Allen still is handicapped by unusually poor sketches.8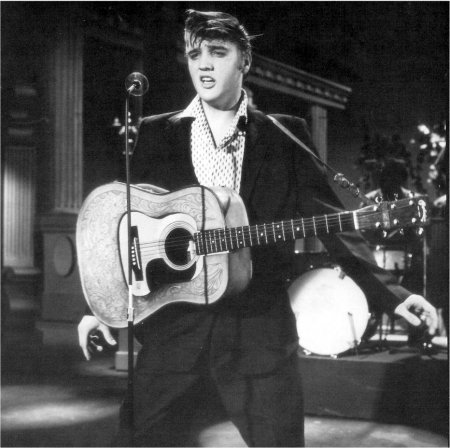 Elvis and DJ rehearsing at the Hudson - July 1, 1956
Photo © Alfred Wertheimer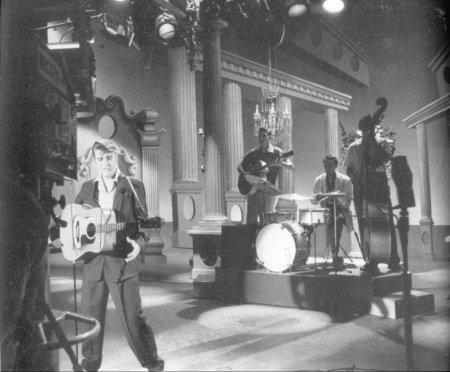 Elvis, Scotty, DJ and Bill rehearsing at the Hudson - July 1, 1956
Photo © Alfred Wertheimer
Newsweek magazine criticized Allen and came to Elvis' defense, . . . Live and let live—that is how most of us boys in the upper crust of sociology look at it. Nonetheless, we all watched with interest last week when one of our number, Steve Allen (who has his own show, as we say in the scientific game}, made a public attempt to neutralize, calm, or de-twitch Elvis Presley, the lively singer ....
. . . Allen`s ethics were questionable from the start. He fouled Presley, a fair-minded judge would say, by dressing him like a corpse, in white tie and tails. This is a costume often seen on star performers at funerals, but only when the deceased has specifically requested it in his will. Elvis had made no such request—or, for that matter, no will. He was framed ....9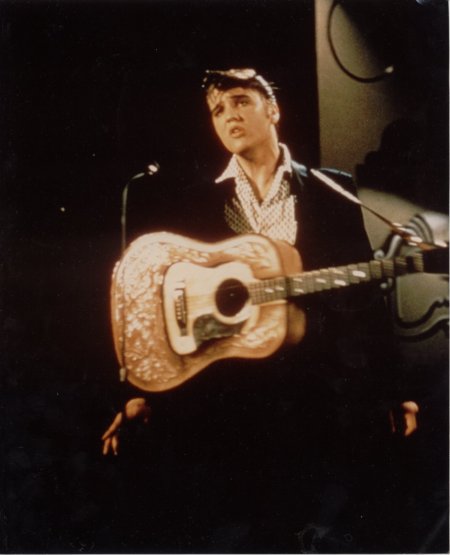 Elvis rehearsing at the Hudson - July 1, 1956
Photo © Alfred Wertheimer courtesy Ger Rijff
On July 3rd, the Times reported the actual ratings. N.B.C.-TV's Steve Allen toppled C.B.S.-TV's Ed Sullivan in the hotly contested 8 to 9 P. M. time period last Sunday. Mr. Allen, who featured Elvis Presley, singer, scored a Trendex rating of 20.2 as against Mr. Sullivan's 14.8. The former attracted 55.3 per cent of the viewing audience and the latter drew 39.7 per cent. It was N.B.C.'s best showing since May 30, 1954. During the 1955-1956 season, N.B.C. surpassed Mr. Sullivan only three times.10
The show managed to beat out Sullivan's in spite of the number of high profile guests that appeared that night which included John Huston, Jose Ferrer, Orson Welles, Lauren Bacall, Edward G. Robinson, Vincent Price, Burl Ives and even Gregory Peck reenacting scenes from his upcoming film "Moby Dick."

Elvis opens the show with " I Want You, I need You, I Love You." - July 1, 1956
Photo © Alfred Wertheimer
Time magazine told of Ed Sullivan's initial reaction when they wrote, When NBC's Steve Allen decisively beat CBS's Ed Sullivan a fortnight ago in the battle for TV`s Sunday-at-8 audience .... the burning question among television's hucksters Was:/ Who had done it. Allen or his guest Star Elvis ("The Pelvis") Presley? Sullivan, in the unaccustomed position of runner-up, affected disdain for the Pelvis, snorted that he would not have the gyrating groaner at any price on his family-type program. "He is not my cup of tea." Sullivan said loftily ....11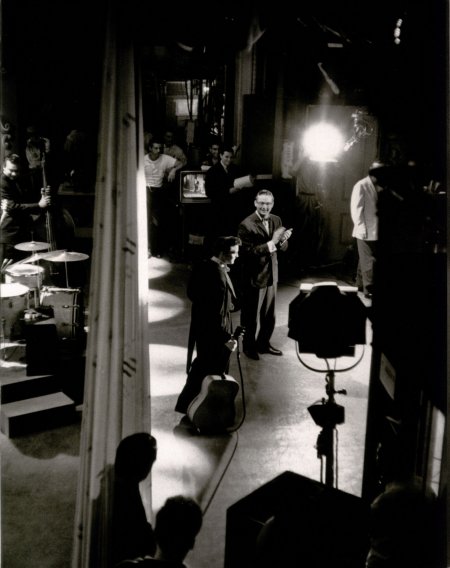 Elvis and Steve Allen onstage at the Hudson for the Steve Allen Show - July 1, 1956
Photo © Alfred Wertheimer
But even before the Time magazine article made it to press Sullivan was forced to reconsider, though he would eventually employ another form censorship filming him from the waist up.

PRESLEY SIGNED BY ED SULLIVAN


Singer to Appear on 3 C.B.S. Shows, Beginning Sept. 9, Reportedly for $50,000
Ed Sullivan joined the crowd beating a path to Elvis Presley's agent yesterday. He completed arrangements to have the vocalist appear on three of his Sunday evening shows.
The host of the Columbia Broadcasting System show boosted Mr. Presley's stock in more ways than one. The three engagements will reportedly pay a total of $50,000. Two weeks ago, when the singer appeared on Steve Allen's competing program he was credited with having helped the National Broadcasting Company's ratings make one of its rare spurts past Mr. Sullivan's showing. He was said to have received $5,000 or $5,500 at that time.
Mr. Presley became the center of controversy after his appearance last month on Milton Berle's show, also on N. B. C.-TV last month. The use of bodily contortions in projecting his tunes was considered to be in bad taste by some critics and a number of viewers.
However, his appearance on the Allen show was relatively placid, to the satisfaction of his critics and the discontent of his admirers.
In announcing the transaction, Mr. Sullivan said that he had received thousands of letters from teen-agers asking him to have the singer on his show. He said that he had never seen Mr. Presley until recently when he saw a kinescope of the vocalist's appearance on Tommy and Jimmy Dorsey's "Stage Show" telecast and found nothing objectionable.
Mr. Presley will make his first stand on the Sullivan show on Sept. 9 and the two others at about eight-week intervals.12


Elvis Scotty, Bill and DJ on the Steve Allen Show - July 1, 1956

Later in the summer, Allen himself came to Elvis' defense in an interview with TV Guide: "Opinions may vary as to the scope of his talent and the duration of his popularity, but I happen to think that he is a very solid performer, and will be around a lot longer than his detractors think."6


Elvis, Steve Allen, Andy Griffith and Imogene Coca - July 1, 1956

Allen won some of the ratings battles with Sullivan, but he ultimately lost the war. He remained host of the Tonight Show until leaving in 1957. Later in the year the Tonight show returned with Jack Paar at the helm. In 1959 NBC moved The Steve Allen Show to Monday nights. The following year, it went to ABC for a fourteen week run. In 1961 Allen renamed the program The Steve Allen Playhouse and took it into syndication where it ran for three years. Allen amassed a huge windfall for his work because he had opted to be paid in Polaroid stock.1

The Allen programs helped nurture the careers of singers Steve Lawrence and Eydie Gorme and Sammy Davis, Jr. Allen also provided a nationwide audience for his famous "man on the street"— comics such as Ernie Kovacs, Pat Harrington, Jr., Don Knotts, Louis Nye, Bill Dana, Dayton Allen, and Tom Poston. Barbara Streisand appeared on television for the first time on the Jack Paar Show, which was broadcast from the Hudson Theatre.1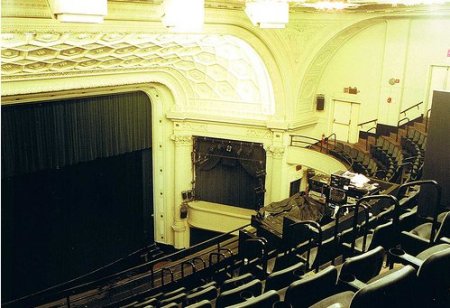 View from Balcony at the Hudson
Photo courtesy stagedoor
In 1959, after it decided to move its operations to Los Angeles, NBC spent over $100,000 restoring the Hudson Theatre to its original appearance, and it was given back over to legitimate theater, though the network continued to own the theater until 1962.2
Burlesque took over the Hudson Theatre in 1965 just 10 years after a New York court lifted the ban on the bawdy entertainment. The new owners assured the public that their show was one that "no one will be ashamed to bring his wife, his girl, or his mother to see."1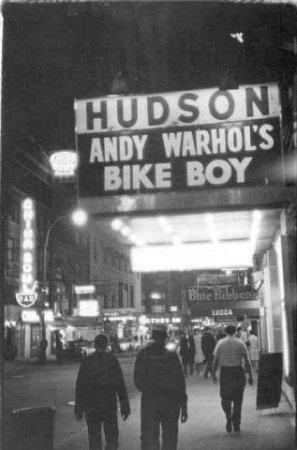 Andy Warhol's "Bike Boy" at the Hudson - 1968
Photo courtesy Web
The Hudson again briefly returned to legitimate theatre before it became a movie house in 1968. Films of all types were presented here. Admission was only $1.00.1 1968 was when it was acquired by the Avon chain of pornographic theaters, which continued to run it until 1976, as the Avon-at-the-Hudson. After adult fare, the theater became just another second-run house, but only briefly, since by the end of the decade, it was closed.2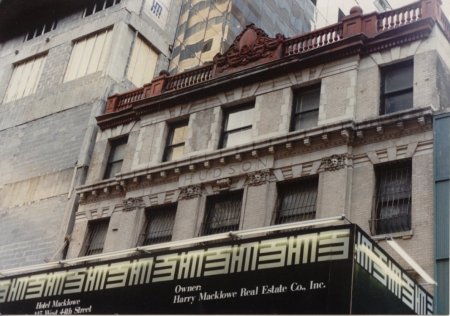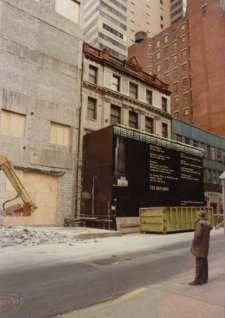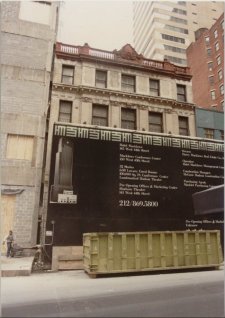 Construction at the Millennium Broadway Hotel and Hudson Theater - 1989
Photo courtesy Ger Rijff
In 1975 another developer tried to buy the theatre for yet another parking garage but the plan fell through. The theatre was vacant for 5 years and then purchased by rock promoter Ron Delsner to become the Savoy Rock Club. Reopened in 1980 after a remodeling as the Savoy, a nightclub and venue for rock concerts, it never became popular and closed after a few years. During the mid-1980's, the stage was used by developers to hold a full-sized model of a luxury condominium for a short time. Delsner and his partner could not make a go of their club so Delsner sold out to his partner who in turn sold the theatre to developer Harry Macklowe.1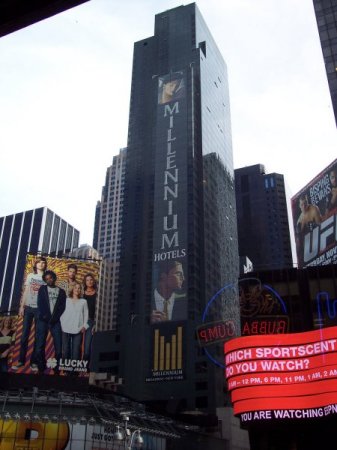 Millennium Hotel Broadway in New York
Photo courtesy Sally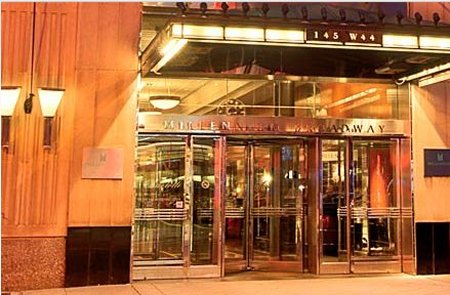 Millennium Hotel Broadway in New York main entrance on W. 44th
Photo © Millennium Hotels & Resorts
Macklowe purchased the theatre for its valuable air rights that would give him the ability to build the 52 story Macklowe Hotel and Conference Center.1 Fortunately for the Hudson Theatre, in 1987, the Landmarks Commission declared both its interior and exterior a landmark, thus when the hotel was built next door to the theater in 1989, it could not be razed.2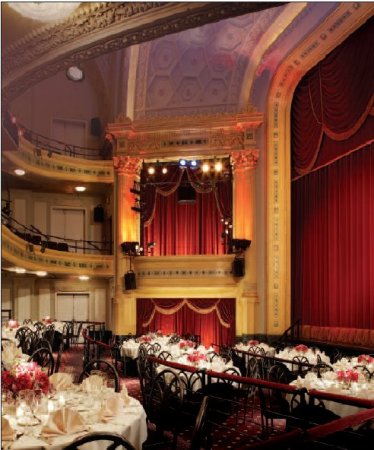 From the Stage of The Hudson Theater
Photo © Millennium Hotels & Resorts
Macklowe had it refurbished to its 1903 appearance and it became an elegant special events space for the hotel and has hosted many galas, productions, product launches and weddings for hotel patrons. The Hudson Theatre is now operated as the Millennium Broadway Hotel, Millennium Conference Center, Restaurant Charlotte, and Hudson Theater.1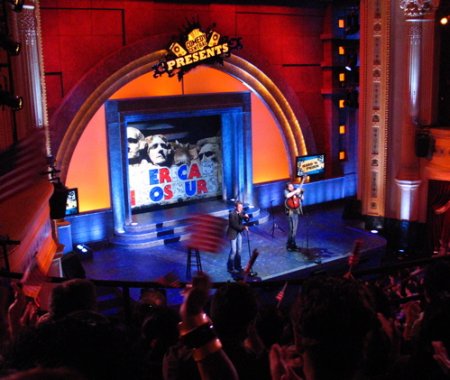 Comedy Central Presents: Hard 'N Phirm at the Hudson - 2007
Photo courtesy the Apiary
In recent years, the theatre has hosted a wide range of events and meetings including product launches by Microsoft; American Idol auditions; NBC's Last Comic Standing; and Bill Maher's "Victory Begins at Home" show, which was broadcasted on HBO.1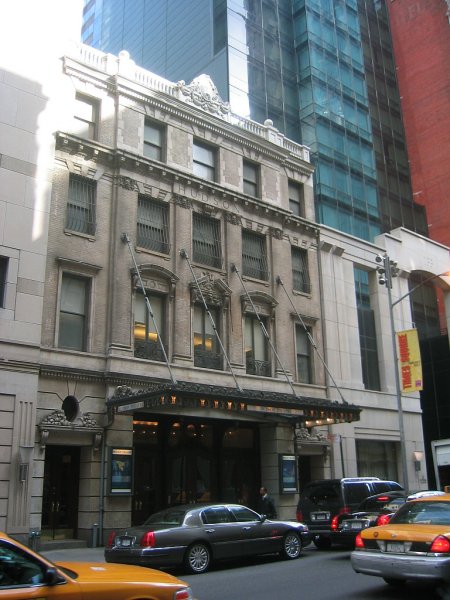 Hudson Theatre at the Millennium Hotel Broadway
Photo by Andreas Praefcke
page added November 13, 2008
All New York Times articles and ads are courtesy Andover Public Library.
1 excerpt from Hudson Theater Document for the Book Industry Standard Group
2 excerpt from "Hudson Theater" on Cinema Treasures contributed by Bryan Krefft
3 excerpt from Billboard Magazine Saturday April 27, 1912
4 courtesy Kevin Segura (FECC's General Sarnoff)
5 excerpt from "Hudson Theater - A Glamorous History" courtesy Millennium Hotels & Resorts
6 excerpt from "That's Alright Elvis" by Scotty Moore and James Dickinson
7 article "TV" by Richard F. Shepard, New York Times - June 21, 1956
8 article "TV" by Jack Gould, New York Times - July 2, 1956
9 excerpt from "Lardner's Week Devitalizing Elvis" by John Lardner, Newsweek - July 16, 1956 courtesy The Elvis Album
10 article "TV" by Richard F. Shepard, New York Times - July 3, 1956
11 excerpt from "Sunday at 8" Time Magazine - July 23, 1956 courtesy The Elvis Album
12 article "Presley signed By Sullivan" by Richard F. Shepard, New York Times - July 14, 1956
---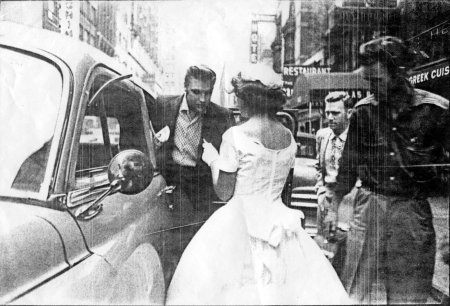 Elvis arrives at the Hudson - July 1, 1956
Photo © Alfred Wertheimer courtesy Ger Rijff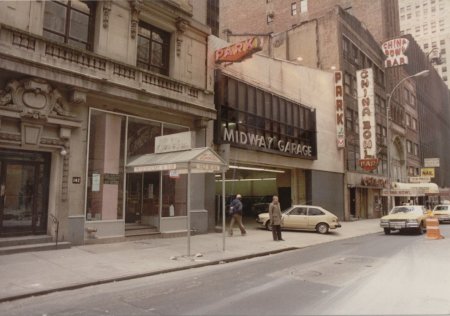 Across the street from The Hudson on W. 44th - 1989
Photo courtesy Ger Rijff
On July 1, 1956 a fan and her father got to the Hudson at 6 a.m. in hopes of getting to see Elvis.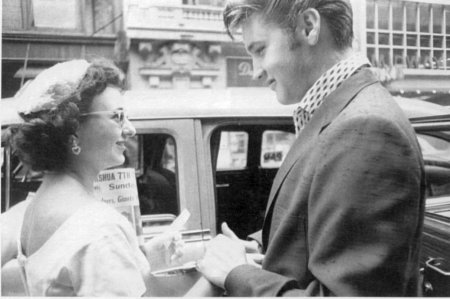 A Fan and Elvis in front of the Hudson - July 1, 1956
Photo © Alfred Wertheimer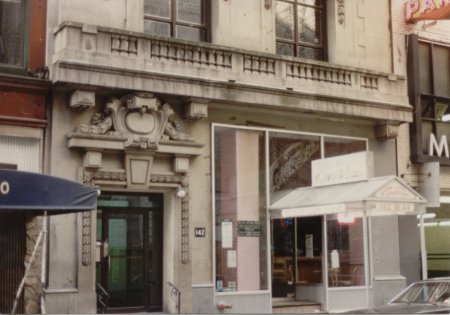 Across the street from The Hudson on W. 44th - 1989
Photo courtesy Ger Rijff
After a four hour wait Elvis arrived and she got an autograph.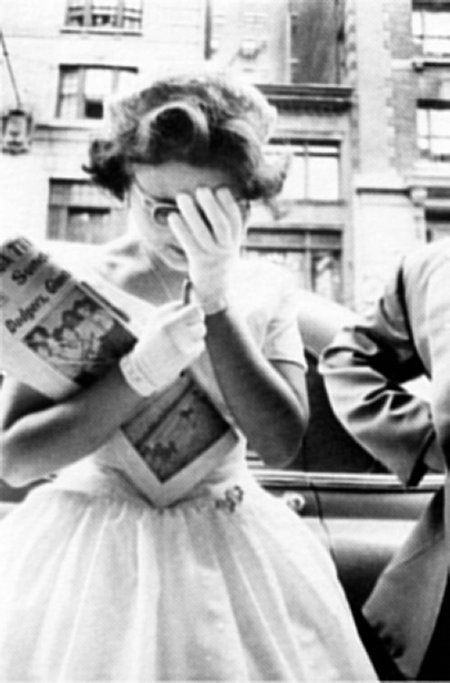 The fan is overwhelmed and begins to cry - July 1, 1956
Photo © Alfred Wertheimer
While in New York to record and to perform on the Steve Allen Show, Elvis stayed at the Warwick Hotel.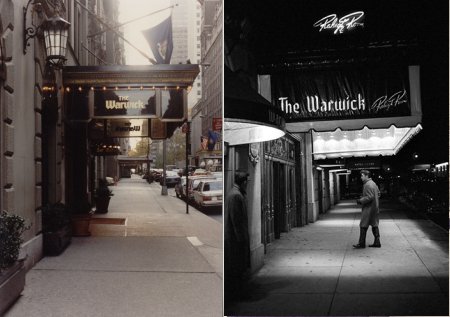 The Warwick Hotel 1989 and Elvis entering 1956
Photos courtesy Ger Rijff and © Alfred Wertheimer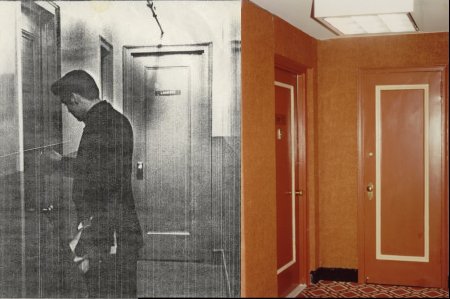 Elvis at the Warwick in 1956, and the rooms in 1989
Photos © Alfred Wertheimer and courtesy Ger Rijff
From his hotel room after the show he was interviewed on the Hy Garder Calling show. Though the Hotel is still there, several rooms since 1956 were combined from two into one, including the one Elvis stayed in.

Hy Gardner Interviews Elvis - July 1, 1956
courtesy ElvisWorld-Japan