KSIJ and the Mint Club
Gladewater, TX
Founded in 1873 by the Texas and Pacific Railway Company, Gladewater is at the intersection of U.S. highways 80 and 271, thirteen miles west of Longview on the boundary between Gregg and Upshur counties. The town's name probably originated from its proximity to Glade Creek, a stream that rose in a rather barren region called the Glades. The population grew slowly during the nineteenth century; the town had only 163 people in 1880 and 259 in 1900. In the area around Gladewater lumbering was a major activity, although farming was also important; cotton was the major crop. In 1908 the town had ten stores, one bank, two blacksmith shops, two hotels, a gin, a sawmill, and a planing mill. It continued to grow slowly until 1931. On April 7, 1931, the first Gladewater oil well blew in. It was located one mile outside town in the Sabine River bottom. Oil production led to a population increase during the 1930s from about 500 persons to around 8,000.1

Cozy Theater on Commerce Ave in Gladewater, Texas - ca. 1930s
Photo courtesy Lanny Medlin
Prohibition in the U.S. ended in December of 1933 though in August of that year Texas voters adopted the amendment to the Volstead Act allowing the sale of beer up to 4% alcohol by volume. By September at least 49 individuals and companies had filed applications with the Gladewater county clerk for retail licenses and permits to handle beer.2 Gregg County however, would become the only "wet" county in the area.
In 1940, after the oil boom, Gladewater had a population of 4,454. Civic improvements in the 1940s included an extensive paving project and a commercial airfield. Between 1940 and 1960 the population grew to 5,742. Lake Gladewater, constructed in 1954, provides recreation for city residents.1

KSIJ, located in the top floor of the Lee Building at 800 Broadway Ave. - ca.1950s
Photo courtesy Lanny Medlin
Not long after Elvis signed with the Hayride in Shreveport in November of 1954, and he, Scotty and Bill became regulars they had given up their days jobs to commit full time to music. They had met Tillman Franks at the Hayride and through him had met Houston deejay Biff Collie in mid November at the Eagle's Nest in Memphis. Collie had successfully got them three consecutive nights work in Houston starting on the 25th, Thanksgiving, possibly their first appearances of many in the state of Texas. Franks had also promised to get them work in the Shreveport area and based on that, and Frank's enthusiasm they booked themselves into the Al-Ida Motel across the river in Bossier city for what they expected to be an extended stay.
But, as Peter Guralnick wrote, Tillman, who had suddenly become persona non grata at the Hayride, couldn't deliver. Just how panicked they must have felt can be deduced from Scotty's vivid memories of being "marooned" in Shreveport, stranded without even the money to pay their hotel bill or buy enough gas to get back to Memphis. In an attempt to get them some work, Pappy Covington, the KWKH deejay and Hayride booking agent responsible for their first appearance there, called Tom Perryman, the deejay in Gladewater at radio station KSIJ and, according to Tom, wondered "if I had a place where I could put an act right quick."3

Tom Perryman in the Studio at KSIJ in Gladewater - ca. 1950s
Photo courtesy Lanny Medlin
Perryman had started his career at KEBE in Jacksonville, Texas but had made his mark in Gladewater at KSIJ, where he had been working since 1949. In addition to dejaying, he had served as engineer, newsman, sports announcer, sales manager, program director, and general manager at various times and also started a local talent show, which he broadcast first from the studio, then, as it grew, from the local community center and the three-hundred-seat movie theater in town. Eventually he put the show on the road, where it played schoolhouses and high school gymnasiums in towns throughout the outlying area.3

Jim and Mary Reeves with Tom Perryman in front of station KSIJ - ca.1950
Photo by Cecil Greer courtesy Gregg County, TXGenWeb
Perryman also booked Hayride shows and occasionally put recording artists with his traveling talent show as a kind of extra draw, which was how he met Jim Reeves, then a DJ in Henderson, Texas, whom he later came to manage and partner in various enterprises. He began to book some of these single artists into clubs and honky-tonks like the Reo Palm Isle in Longview and in general was one of the busiest promoters in Northeast Texas, a territory that appeared to be as music-mad as Memphis or any other region in the country. He had been playing "Blue Moon of Kentucky" since it first came out, "because of the unique arrangement. That sound was just something you never heard." So he was not completely at a loss when Pappy Covington, with whom he had already booked quite a number of shows, called.3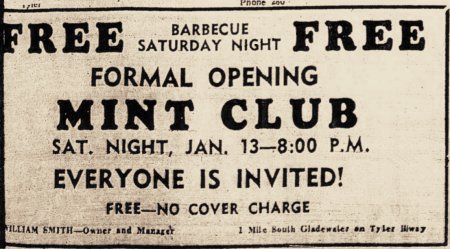 Ad in Gladewater Daily Mirror - Jan. 13, 1951
courtesy Lanny Medlin and the Gladewater Public Library
When Covington called Perryman he "said, 'There are some boys down here that are broke, they don't have the money to get back to Memphis' Well, I had a friend that had a honky-tonk right out on the Tyler Highway. So I said, 'Yeah, I guess so,' and I called this buddy of mine, and he said, 'Yeah, I'm not doing anything, come on out, Who are they?' I said it was this new act out of Memphis called Elvis Presley."3 Tom's buddy was William Smith who owned and operated the Mint Club. It opened in 1951 and was located on the south western edge of Gladewater, about a mile south on Highway 271 (Tyler Highway) across the Sabine River past the airport.
It was situated at the end of a mile long strip before the Smith County line called "Suds City" by the officials but known to locals as "Death Valley," because of the many small windowless honky-tonks and liquor stores packed tightly close together. Smith County was still a dry county so pretty much all liquor stores and honky-tonks were built there. Along with the Mint Club, the strip included the Round-Up, the Blue Jean, the Green Frog, the Wagon Wheel, the Idle Hour and the Eagle among others, in addition to several liquor stores. There was also the Mohon Meat Market located near the Mint that supplied many of the clubs with meat for their barbecues. Jim Mohon, who lived on the property all his life, said the family had been selling there long before the market officially opened in 1960.4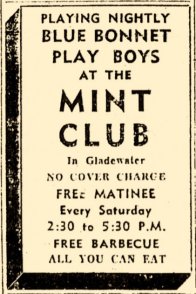 ad for Mint Club - Oct 19, 1954
courtesy Lanny Medlin and the Gladewater Public Library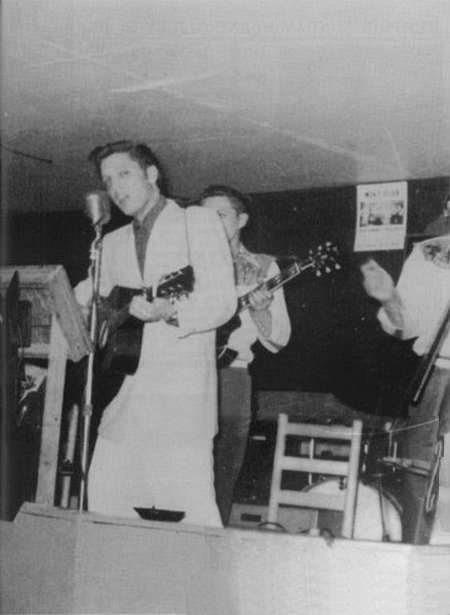 Elvis, Scotty and Bill at the Mint Club in Gladewater, TX - ca. Dec. 1954
Photo courtesy Ger Rijff's Long Lonely Highway
Lee Cotten wrote that Hal Long, a local member of the Jaycees at the time, described the Mint as "a joint, a hole in the wall," with a small area which might hold fifty people toward the front of the building for dancing and a bar off to the left. The one feature of the Mint that distinguished it from the others was the canvas canopy leading out from the front door and covering the driveway.5 The wooden stage in the club had a hand built music stand/podium and featured a wooden cutout of a cat, oddly and prominently, on its front. The cat had a yellow light in it's mouth and was the tip container for the band.6
After the call to Perryman, Tom played Elvis' record a lot for the next several days to promote the show. Cotten also wrote that, according to Hal Long, he and Tom Perryman were on hand when Elvis arrived in the morning from Shreveport by bus. Scotty and Bill came to Gladewater later.5 Perryman, however, is almost positive they all came together by car.4 The first matter of business was to find a dry cleaners where Elvis could have his stage clothes cleaned and pressed. Afterwards, Elvis promoted his performance by singing on Perryman's radio show, "Hillbilly Hit Parade." 5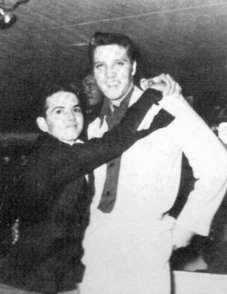 Ann Paulson and Tibby Edwards with Elvis at the Mint Club - ca. Dec. 1954
Photos courtesy Sheila Roth and Tibby Edwards Myspace
According to both Long and Perryman, the crowd was not overwhelming.5 That it was not open to minors, their biggest audience, probably didn't help. Guralnick quoting Perryman wrote, "the way it would work, I would book the show, the club owner would take the bar, and I would take the money off the door. My wife, Billie, would usually work the door. Then we would pay the expenses of the gig, if you had to pay a sponsor or what little advertising there might be. Most of the advertising was done on my [radio] show, and we'd do a live show from the studio, too, promoting that night's performance. Then I would take fifteen percent of the gross, and what was left would go to the act. I never will forget: that first night we took in a total of ninety dollars. That was all we had, of course I didn't take any of it. I knew those boys needed the money, so I gave them all of it.3 However, Tom said Billie, who in September had given birth to their son Thomas King Perryman, did not work the door as she usually did.4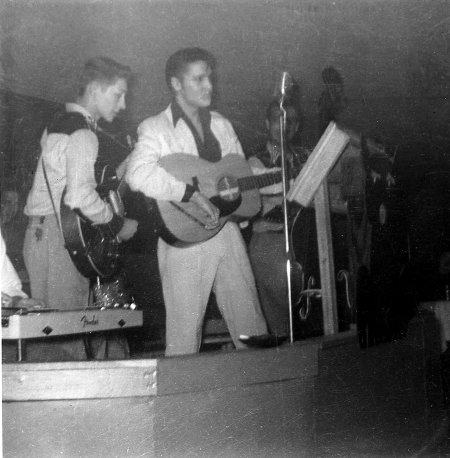 Scotty, Elvis and Bill at the Mint Club in Gladewater, TX - ca. Dec. 1954
Photo courtesy Steve Bonner
The actual date though has never been confirmed and it has been speculated and reported as early as November 12th and/or 22nd but more recently Peter Guralnick and Ernst Jorgensen have suggested December, possibly sometime from the 14th to 17th.7 Tom said he didn't remember exactly, "I didn't keep books," and those first few gigs were just calling and unofficially finding them a place to play. He did though remember getting them a gig at the High School in Hawkins, Texas, in December.4 Given the meeting with Franks and Collie in Memphis in mid November and subsequently the boys' commitments in Houston later that month, December sounds the most likely.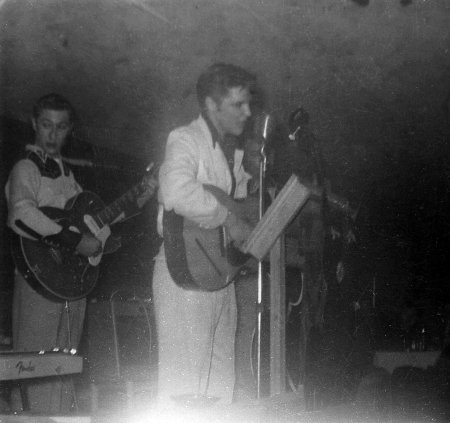 Scotty, Elvis and Bill at the Mint Club in Gladewater, TX - ca. Dec. 1954
Photo courtesy Steve Bonner
Further still, copies of photos from the Mint Club marked "December 1954" had also been found in Elvis' mother's possessions. The clothing in the pictures seem to suggest they may have performed at the Mint Club twice during those several days and fellow Hayride artist Tibby Edwards showed up for at least one appearance. Elvis is also pictured with several fans and autographing promo photos.
There has also been speculation that the boys may have performed at the Round-Up nearby also. Cotten wrote that Ralph Woods of Gladewater, steel guitarist in a local hillbilly band in the 1950s, recalls Elvis dropping in almost nightly for a few days to sit in with the band. Woods said at this time he was playing at a club owned by Gene Wortham. This club was later called the Roundup.5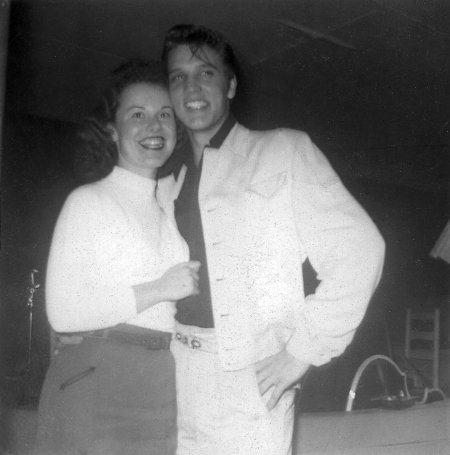 Elvis and a fan at the Mint Club in Gladewater, TX - ca. Dec. 1954
Photo courtesy Steve Bonner
Therein may lie the possible source of confusion. Gene Wortham was a band leader, not a club owner. At times his bands included Bobby Garrett, Burton Harris, Curtis Kirk, Doc Shelton, and Jody Sanders who said they played both the Mint and the Round-Up. Jody, doesn't remember a steel player named Ralph Woods at that time or recall Elvis just dropping by, but that Elvis was booked in to the Mint. Further, he said, Gene did not own the Round Up. It was built by Billy Slaughter around 1951 or 1952, and had several owners and people who leased the club.6
The Round-Up was reputedly named by Bob Stegall who's wife's parents, M.L. and Faye Kirkland owned and operated it in 1953.4 Bob had played steel guitar with Johnny Horton and the Road Runners since 1951, appearing with him on the Hayride every Saturday night. It was sold in June of 1954 to J.B. Sandidge, who had made a promissory note to Curtis W. Dukes for the purchase. Though Stegall was only involved with the club for a little over a year, and likely prior to the time in question, he had no recollection of Elvis singing there or ever hearing about it.4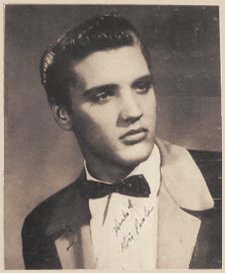 early publicity photo
courtesy memphis flyer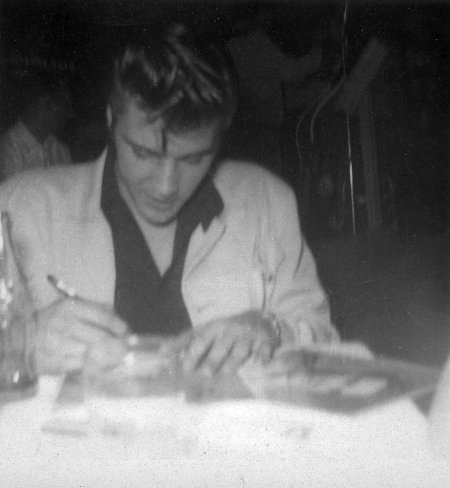 Elvis signing some of his earliest publicity photos at the Mint Club - ca. Dec. 1954
Photo courtesy Steve Bonner
Tom Perryman is not aware of them playing the Round-Up either, but he said, "I wasn't with them every minute, not much telling where they went."4 In any case, thanks to Perryman they at least earned enough during their shows at the Mint to pay their Shreveport bills and get back to Memphis, just one kindness they would not soon forget.
Knowing they were short on money, Perryman had also invited them to his house to eat. "I didn't know what to think," said Mrs. Perryman. "We had this little house and all of a sudden it was filled with people. Elvis was a little greasy looking, but I learned to like him. And he was always polite. He always called me Mrs. Perryman, and he always called Tom . . . Tom."8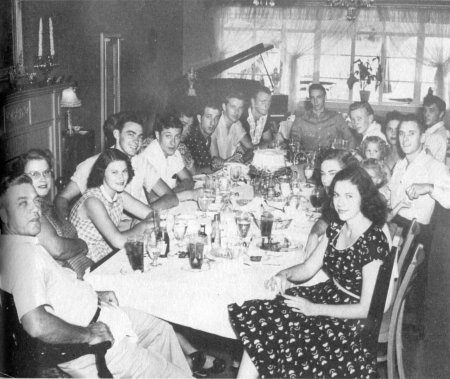 Party hosted by Perryman for The Browns' parents 25th Anniversary at the Mimosa Tea Room and City Lake in Gladewater, TX - Aug. 14, 1955 (Clockwise from left) Floyd Brown, Birdie Brown, Norma Brown, Jim Ed Brown, Scotty Moore, Bill Black, D.J. Fontana, Floyd Cramer, Red West, Tom Tall, Jimmy Day, Elvis Presley, Billie Perryman, Tom Perryman, Perryman's children, Maxine Brown and Bonnie Brown.
From the Perryman Collection courtesy "Looking Back To See"
The Perrymans became good friends with the boys and Billie continued cooking for them. She said, Elvis loved banana pudding, but he would eat almost anything.8 Tom had recently started managing the Browns, Jim Ed and Maxine, and would later get them signed with RCA and the Ozark Jubilee.9 On several occasions he booked them on tours together and they would also share bills as touring Hayride acts. Over the course of the next year they would perform several times in Gladewater, at the High School and Baseball Park, and tour several of the neighboring cities and towns in East Texas such as Hawkins, Gilmer, Longview, Tyler and Kilgore.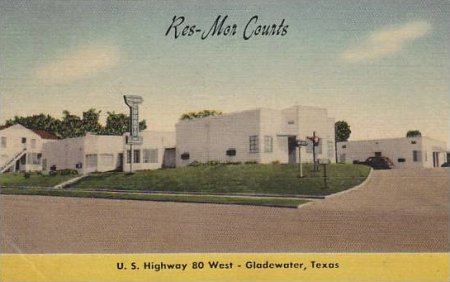 Postcard for the Res-Mor Courts Motel in Gladewater, TX - ca 1940s
courtesy Harold Wells
When they did they would stay at Tom and Billie's home where Elvis would rock their daughters in their recliner, or at times they stayed at Brooking's Res-Mor Motel on Upshur Avenue. Barbara Dale Henderson, nee Brooking, remembers Elvis as being a shy kid who loved his mother and called her nightly. She said, he was amazed when I showed him a magazine with a write-up about him. I think he read it over and over for an hour or so. Her parents owned the Motel that was originally called the Res-Mor Courts. KSIJ's studio would be home base for them as they toured East Texas. Elvis would stretch out on the floor of the studio and read comic books.4

receipt for stay at Brooking's Res-Mor Motel in Gladewater - Sep. 25, 1955
courtesy Gladewater Historical Museum
Harold Brewer said, "Elvis made an impression on the fine folks of Gladewater. He loved hanging out at Watts Grocery, whose motto was: "We may doze, but we never close." "He'd come in there every time he was in Gladewater and order three slices of baloney and a box of crackers and he'd go over and stand in the corner and eat and never say a word to anybody. He never drank. He never gave nobody no trouble," said Brewer. "He liked to eat down at the Shamrock."8 Their last appearance in Gladewater was in November of 1955 at the High School Gymnasium, which was also one of their last appearances in East Texas.
Brewer remembers Elvis more for a kind-hearted gesture than what he did on stage in Gladewater. "We had this poor boy in town, James Aubrey. He was about six feet tall. They were so poor his mama cut his hair," said Brewer. "He didn't have the money to get in to see Elvis play. After the show, Elvis was going out the side door. He saw James Aubrey and he could see how poor he was. He put James Aubrey in his Cadillac and drove him down to the Shamrock Café and bought him a cheeseburger and a Coke, then brought him back up to the gymnasium. That always impressed me about Elvis."8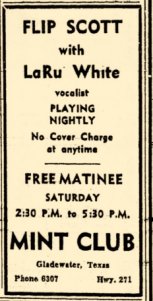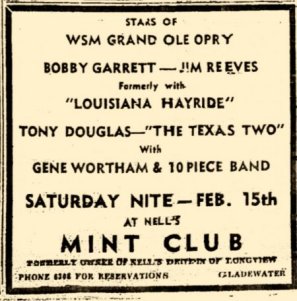 Mint Club ads for April 24, 1955 and February 15, 1958
courtesy Lanny Medlin and the Gladewater Public Library
By 1957, Tom Perryman had taken a job as the host of the WSM all-night radio show in Nashville and would later partner with Jim Reeves in ownership of several radio stations. By 1958 the Mint Club was sold and called "Nell's Mint Club" apparently after "Nell" who, as advertised, was formerly the owner of "Nell's Drive-In in Longview, TX.
Burton Harris remembered working for Gene Wortham and the Circle 'O' Ranchboys full time at the Mint club. Part of the time Gene would use Jim Reeves as his featured singer and sometimes it would be Jimmy Dennis or Curtis Kirk. Doc Shelton and Leon Hays played bass, Bobby Garrett played steel and Harris played lead guitar. Whoever was there as featured vocalist always played rhythm guitar and sometimes Little Red Hays would play fiddle in the band.10 According to Lee Cotten, the original Mint Club burned to the ground sometime later, only to be replaced by a similar structure.5

Reserved table placard from the Round-UP
courtesy Harold Wells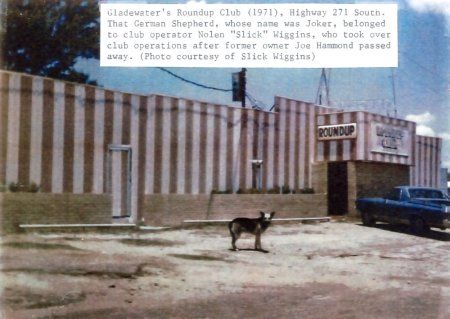 The Round-Up club in Gladewater, TX - ca.1971
Photo courtesy Keeping Up With The Beat by Johnny Mills
Sandidge must not have fulfilled his obligation for payment to Curtis Dukes for the Round-Up since in July of 1956 Dukes sold the club to Joe W. and Bettye Hammond.4 Hammond operated it until his death, after which it was operated by Nolan "Slick" Wiggins, at least until the 1970s.
During the 1970s Gladewater moved from an oil-oriented to a more diversified economy, primarily because of depletion of oil resources in the area. The movement of salt water into the western edge of the large East Texas oilfield affected Gladewater first. By 1980 the town had a total of 6,548 residents, 4,311 in Gregg County and 2,237 in Upshur County. The economy in the 1980s depended on the oil industry and related activities and on the manufacture of such products as furniture, clothing, paper products, and boats. The lumber industry is also important, as is agriculture. In 1990 the community was known for its numerous antique stores. The population was 6,027.1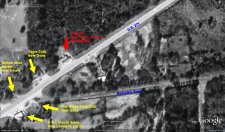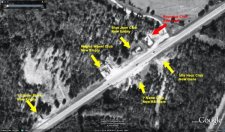 (click to expand) aerial views of Hwy 271 in Gladewater showing clubs - Mar. 8, 1995
courtesy Lanny Medlin and Google Maps

The former Blue Jean club, now empty - 2008
Photo © Lanny Medlin

The former Wagon Wheel club, now empty - 2008
Photo © Lanny Medlin
By 1995 there were only a few of the original buildings left that were once honky-tonks in the strip on Tyler Highway referred to as Death Valley, and even less today. Those that remain are essentially abandoned, empty and dilapidated offering little hint of the music that was once performed and heard there.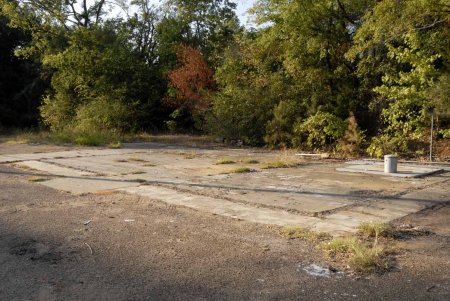 site of the former Shamrock Café on West Highway 80 in Gladewater - Aug 16, 2011
Photo © Lanny Medlin
The Shamrock Café that for years was located on West Highway 80 situated just a few blocks from the Res-Mor Motel in Gladewater is now gone, just an empty lot with its concrete foundation remaining.




Res-Mor Apartments (formerly Motel) at 600 Upshur Ave., Gladewater, TX - 2008
Photo © Lanny Medlin, aerials courtesy Microsoft EarthData
The Res-Mor Motel on Upshur Avenue (Highway 80) is now the Res-Mor apartment complex as is the Lee Building on Broadway. The top floor in the Lee building that once was the home of KSIJ is now an active recording studio called Studio 27.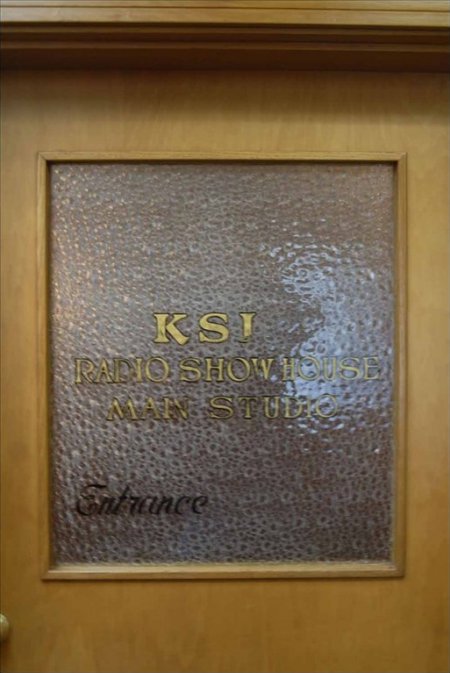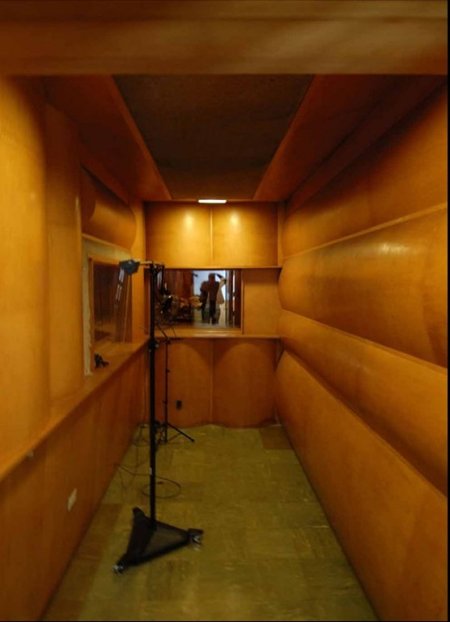 The former KSIJ studio in the Lee Apartment Bldg, now Studio 27 - 2008
Photo © Lanny Medlin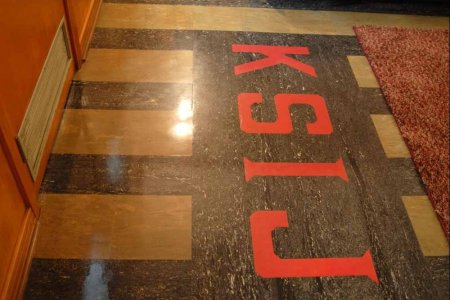 The floor entering the former KSIJ Studio in the Lee Apartment Bldg - 2008
Photo © Lanny Medlin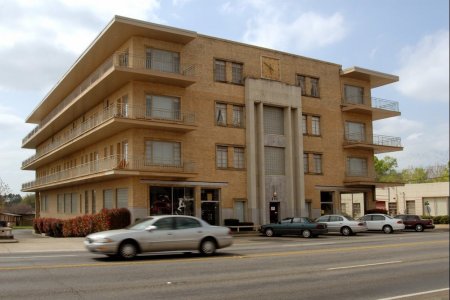 Lee Apartment Building at 800 Broadway Ave. in Gladewater, TX - 2008
Photo © Lanny Medlin
Tom Perryman and Mary Reeves sold their radio stations by the early 80s, and Perryman went into retirement. He was convinced to return to East Texas and KKUS in Tyler to boost the ratings of the fledgling classic country station (The Ranch). Today he is still there and is now a member of the Country Music D.J. Hall of Fame.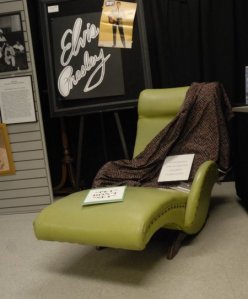 The Perryman's recliner and recipe at the Gladewater Historical Museum - Aug. 20, 2011
Photo © Lanny Medlin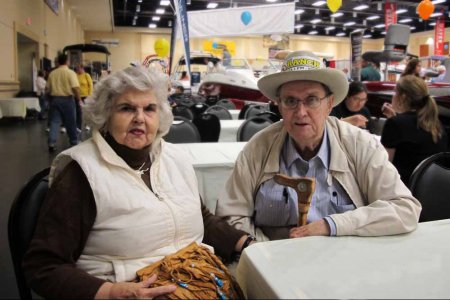 Billie and Tom Perryman - 2011
Photo © Lanny Medlin
The Perryman's recliner that Elvis used to rock the Perryman children is now on display at the Gladewater History Museum, as is a copy of Billie's recipe for her Banana Pudding that Elvis loved, called "Naner Pud'n" by her.4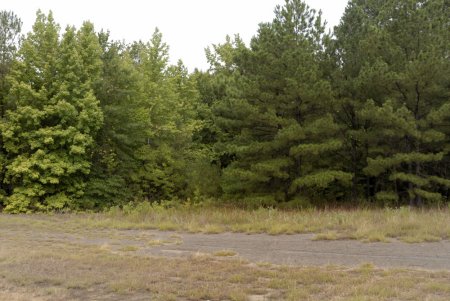 The site of the former Round-Up Club - Aug. 16, 2011
Photo © Lanny Medlin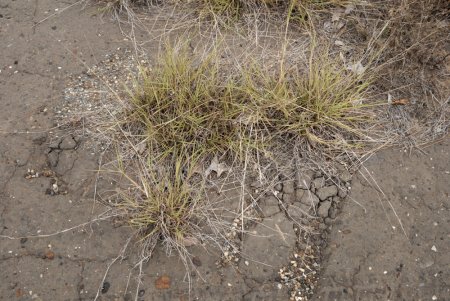 The pavement in the parking lot of the former Round-Up Club - Aug. 16, 2011
Photo © Lanny Medlin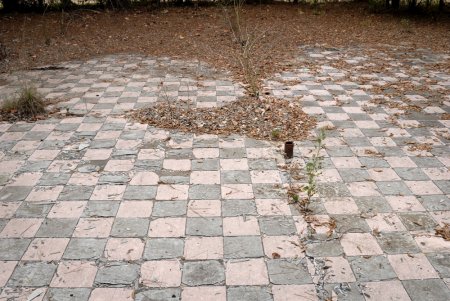 Remnants of the Round-Up's tiled floor amidst the brush and trees - Aug 16, 2011
Photo © Lanny Medlin
The Round-Up was ultimately sold and demolished about ten years ago. The asphalt parking lot is still visible and the building site is now covered by trees but the checker-board flooring can still be seen amidst them. It had been reputed that the stage had been saved and on display at an antique store in Gladewater.8 However, according to the Chamber of Commerce, the stage at the Round-Up was burned by the person that bought the property not knowing of its history or potential significance. They learned of it after the fact.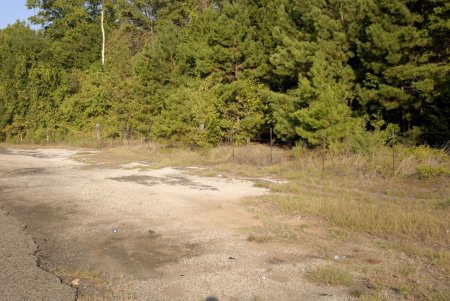 The original location of the Mint Club on S. Tyler Hwy. in Gladewater - Aug 16, 2011
Photo © Lanny Medlin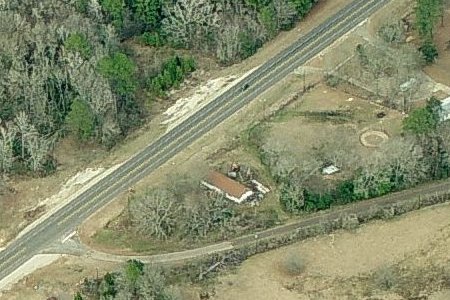 The original and new location of the Mint Club on S. Tyler Hwy. in Gladewater - 2010
Photo courtesy Microsoft Earthdata
According to Jimmy Mohon and Gladewater historian Harold Wells, the Mint Club building was bought by a preacher sometime after 1995 with the intentions of converting the building into a church. He moved it almost directly across the highway from its original location (which essentially maps close to 2585 S. Tyler Rd.) but turned the building perpendicular to the highway. Church services in the old building didn't last long and the building was never fully restored. The interior was stripped of the countertops and bar and these were discarded outside the building where they now lay rotting.4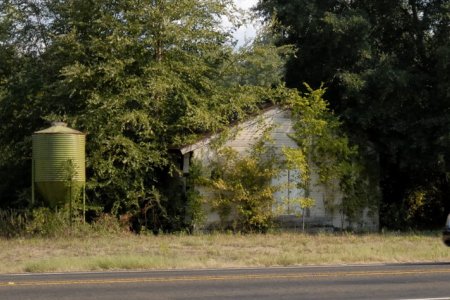 The remains of the relocated Mint Club on S. Tyler Hwy. in Gladewater - Aug 16, 2011
Photos © Lanny Medlin
Driving past the building today it is easily dismissed without a thought. The former club is almost hidden behind underbrush with only the end visible which belies its true size. Nature is reclaiming the wooden structure, wrapping it in vines, and tree limbs hold the walls upright. Poison Oak, briars, and thorns keep intruders at bay as the building sits in anonymity. A truly unfitting end.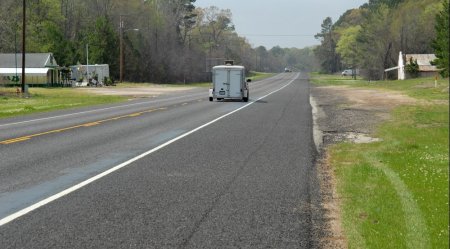 Heading south down the Tyler Highway (271) through Death Valley in Gladewater
Photo © Lanny Medlin

Commerce Ave in Gladewater, Texas - Oct. 8, 2011
Photo © James V. Roy
Page added August 26, 2011

This page is the result of the cooperation with Lanny Medlin and his extensive research. Lanny is a native of East Texas and regularly publishes the results of his research on its history in Lanny Medlin's Albums. Special thanks to The Gladewater Chamber of Commerce, Bob Stegall, Jody Sanders, and on behalf of Lanny, The Gladewater History Museum, Harold Wells, Jimmy Mohon, Barbara Dale Henderson and Tom and Billie Perryman.
1 according to THE HISTORY OF GLADEWATER Gladewater Chamber of Commerce
2 according to Many Persons applying For Beer Permits, Longview Daily News - September 1933
3 according to or excerpt from Last Train To Memphis by Peter Guralnick
4 according to as told when interviewed by Lanny Medlin
5 excerpt from or according to "Did Elvis Sing in Your Hometown?" by Lee Cotten
6 according to steel guitarist and Magnolia ,TX Councilman Burhl D. "Jody" Sanders
7 according to "Elvis Day by Day" by Peter Guralnick and Ernst Jorgensen
8 excerpt from or according to "Early Elvis: the Sun Years" by Bill E. Burk
9 according to "Looking Back To See" by Maxine Brown
10 excerpt from Burton Harris Autobiography courtesy Titus county, Texas History