Memphis BBQ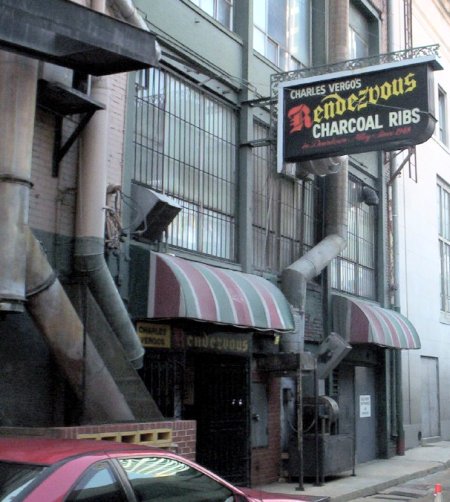 The Rendezvous
Besides being known for great music and one of its most famous residents, Memphis is also renowned for its Barbeque (BBQ) and southern home cooking. The opinions vary as to who has the best and is at times almost as subjective in taste as music itself. Our recent trip to attend the The Ponderosa Stomp gave us the opportunity to visit a few places that rate high on the list.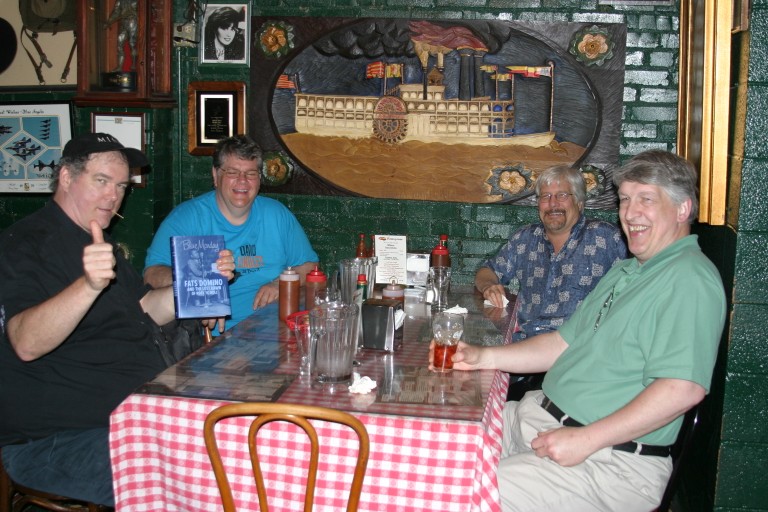 Rick Coleman, Peter Riley, Mark Hoffman and Dave Little
On Tuesday we went to The Rendezvous on S. Second Street, said by some to be the best ribs in the world, at least according to a few other friends that were down there, Peter Riley and Dave Little, blues music enthusiasts who've been contributors to Scotty's site in the past. Also there were Rick Coleman, the writer of the "Blue Monday: Fats Domino And the Lost Dawn of Rock 'n' Roll" and Mark Hoffman, the cowriter of "Moanin' at MidnighT: The Life and Times of Howlin' Wolf".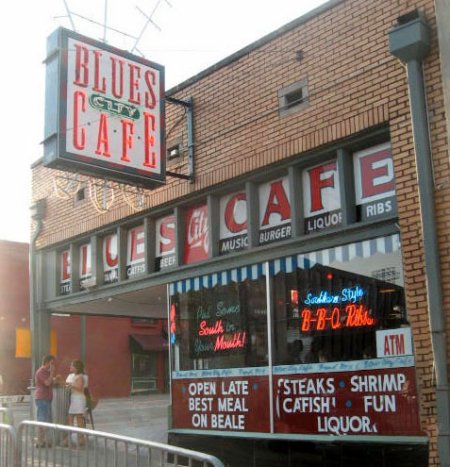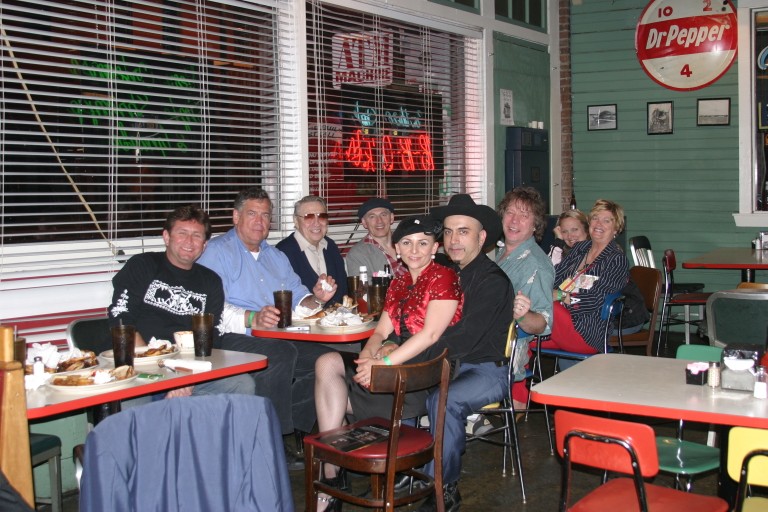 Peter Miller, Jacques Vroom, Scotty, Jimmy Russell,
Mia and Paul Ansell, Fred Satterfield and wife and Gail
On Tuesday night after the stomp we went with Scotty and friends to Blues City Cafe on Beale. It's practically a tradition with him/them now. Whenever they're in town there is at least one visit there. The place is owned and operated by their good friend Kevin Kane and Scotty says their ribs are the best. As if my friend Pete and I weren't still full from eating at the Rendezvous earlier in the day, at Scotty's insistence we split a rack of ribs. I'm sold. I have to concur with Scotty thus far. I like Blues City's the best, though Pete is still sold on The Rendezvous. Scotty was kind enough, and unnecessarily so, to pick up the tab that night. Thanks Scotty.

Peter Miller and Bill E. Burk (click for closeup)
On Wednesday afternoon we met up with Bill E. Burk. Bill, among many talents and professions has been a long time Memphis native, a syndicated columnist for 26 and a half years for the old Memphis Press-Scimitar and the author of several Elvis biographies. He also publishes a quarterly called Elvis World Magazine and also has a restaurant review for dining in the Memphis area. At his suggestion we went to Payne's on Lamar Ave for what he described as the best BBQ sandwiches around. They were great, as was a lot of the stories he told us, one of Ted Williams when the Boston Red Sox played an exhibition game against the Memphis Chicks on their route back to Boston from Spring Training in 1947. Being Sox fans and from the Boston area Peter and I really liked that one (we'll tell it another time). Thanks Bill, can't wait to do it again.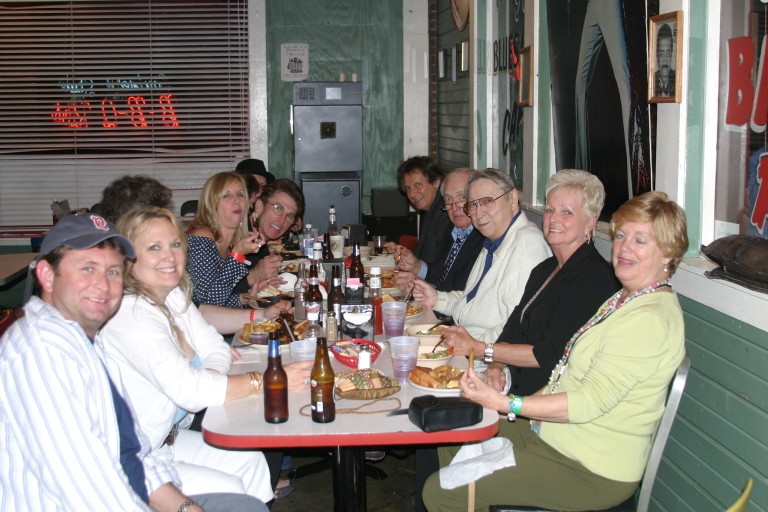 Peter Miller, Mrs Satterfield, Ella and Steve Shepherd, Billy Swan, Bucky Barrett,
Boots Randolph, Scotty, Molly Blanks and Gail
On Wednesday night after the Stomp we were back at Blues City Cafe. This time though we had stayed at the Stomp after Billy Swan's set to catch some of the Tennessee Three and got there a little late but opted for desert and some liquid nourishment.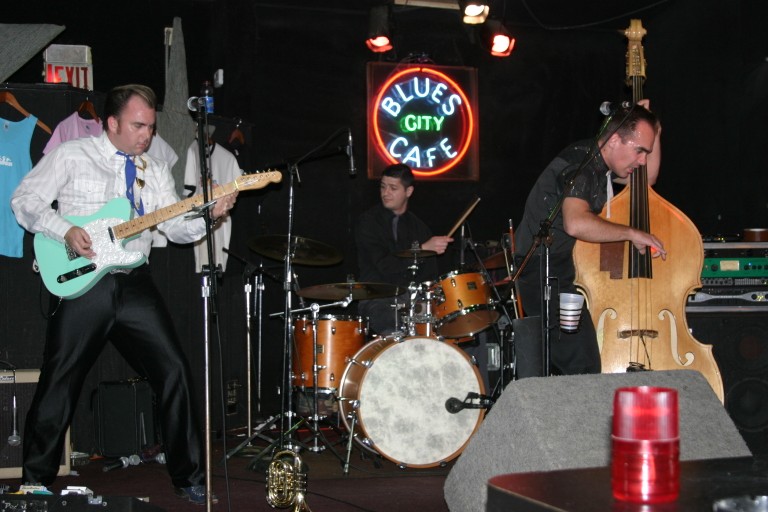 Brad Birkedahl, Ron Perrone and Joe Fick - The Dempseys
Thursday night after attending Paul and Mia Ansell's wedding at the Peabody Hotel, we were walking past the lounge section of Blues City Cafe on Beale and happened to notice The Dempseys inside performing. We spent the rest of the night there watching them. It was great seeing their show and talking to them again. I hadn't seen them since the Legends show in August of 2004, when Joe loaned his bass to Lee Rocker, and outside of the recent movie "Walk the Line", where they portrayed Scotty, Bill and DJ, I hadn't seen them perform since the Sun Studio Commemorative concert in July of 2004. If you get the chance to see them, do it. They are simply amazing and a lot of fun.
All fat (no longer drunk) and happy it was time to drive back to Nashville the next day, Friday, to fly home on Saturday.
James V. Roy
May 2006