Big Boy's "That's All Right"
by Dave Little
Maine Blues Society
Most people know that Scotty Moore and Bill Black accompanied Elvis on his very first record, "That's All Right," their version of an old blues song by Arthur "Big Boy" Crudup. The story of how they stumbled upon a sound that brought Sam Philips running into the studio yelling, "That's what I've been looking for!" is well known. What's not so well known is the story of how Arthur Crudup came to write the song that changed musical history.

Arthur "Big Boy" Crudup
Arthur Crudup was born in Aug. 1905 in Forest, Miss., a small town about half-way between Jackson and the Alabama border. Crudup knew poverty his whole life; but he was resilient and flexible. He learned early on in life to use whatever talents he possessed to make a living. As a teenager, Arthur grew to 6'3" and picked up the nickname, "Big Boy." He left southern Mississippi and spent time living in Clarksdale, then further north in Indianapolis, finally landing in Chicago in the early 1940s.
Big Boy Crudup was never a full-time musician. He'd pick up whatever jobs were available: trash collector, short-order cook, gas station attendant or porter. He'd come from a musical family, had sung in a Gospel quartet when he was only 10 years old, and wherever he went he would earn extra money by singing or playing his guitar. Big Boy had no connections in Chicago and that first spring found him sleeping beneath a railroad bridge and playing his music for tips on street corners.
"His music" might be a bit of a misnomer, since Crudup typically just sang his versions of whatever blues records were popular. He'd play songs by the likes of Peetie Wheatstraw, Tampa Red, Leroy Carr, Kokomo Arnold and Big Bill Broonzy. Like any good street performer, he'd take requests and fake his way through the unfamiliar titles until he could learn them.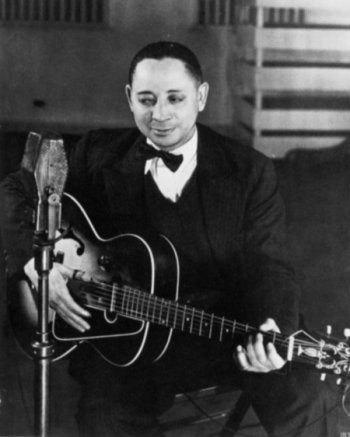 Tampa Red
One day, a white man asked Arthur if he'd like to hear himself on a record and get paid for it, too. The man, Lester Melrose, A&R rep for the RCA Bluebird label, took Arthur to record and to meet Tampa Red. Melrose told Big Boy to bring at least four "original" songs to the recording session. After Melrose left, Crudup asked Tampa for some advice on how to write songs. Tampa told him, "It's easy. Just take the 3rd or 4th verse of some old record and make that your title verse. Then add other verses from other songs or anything that you can make up that fits the tune."
So it was that Arthur Crudup lifted the fourth verse from a Texas bluesman's 1926 recording, "Black Snake Moan," and in Sept. 1946 recorded:
"That's all right, mama
That's all right for you
That's all right, mama
Any way you do…"
Elvis didn't know it, but in 1954 he was singing lines first recorded by Country Blues' first major star, Blind Lemon Jefferson.

Blind Lemon Jefferson
Dave Little
January 16, 2005