The Ponderosa Stomp #5, Night 3

The Ponderosa Stomp attracts music fans and performers alike from all over. Occurring this year conveniently in Memphis right after the Beale St music festival, part of "Memphis in May" celebrations and ending the night before the 2006 Blues Music Awards just up the street at the Convention Center, there were many great performers in attendance and in the audience.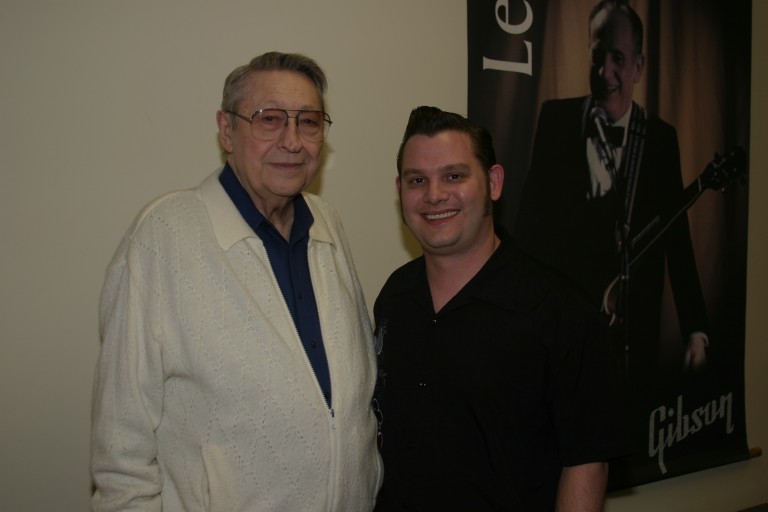 Scotty posing with a fan (Jayson Limmer)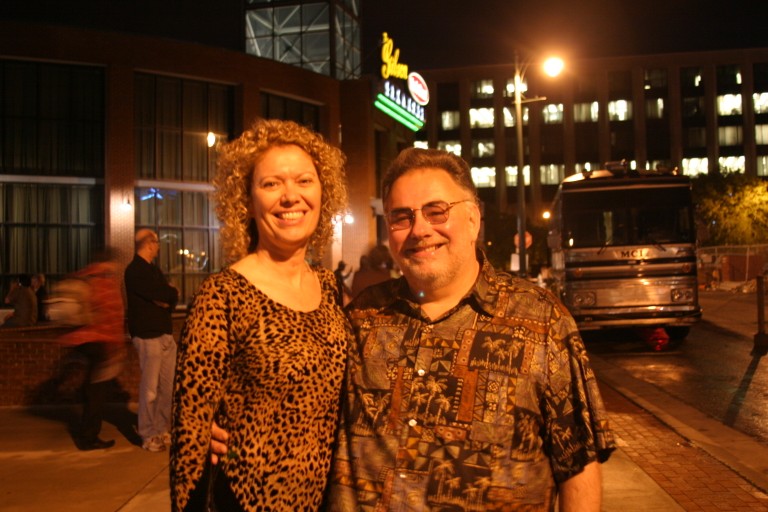 Laurene and Duke Robillard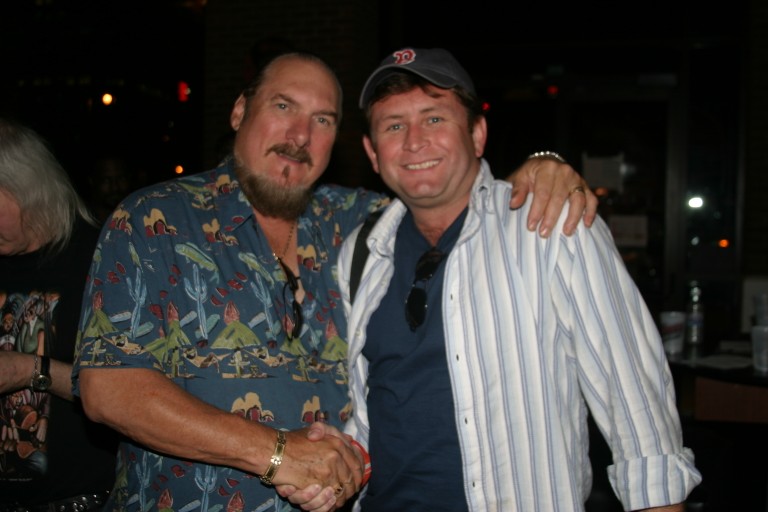 Steve Cropper and Peter Miller

Molly Blanks and Ella Shepherd
One of the acts featured on the third night of the stomp was a band comprised of friends of Scotty assembled for a blues project he has been engineering in recent months. It normally consists of Billy Swan on vocals, Boots Randolph on sax, Bob Moore on bass, Buddy Spicher on fiddle, Bucky Barrett on guitar, Steve Shepherd on keyboards and Fred Satterfield on drums. They were initially scheduled to debut last April at the recording and live filming of a DVD at Morgan Freeman's club Ground Zero in Clarksdale, MS but due to Scotty's surgery decided to postpone that so that he could intend. They then decided to perform here at the stomp but as luck would have it Bob Moore underwent shoulder surgery the day before and was unable to perform. Deke Dickerson stepped up to the plate and performed in his place (Thanks Deke!).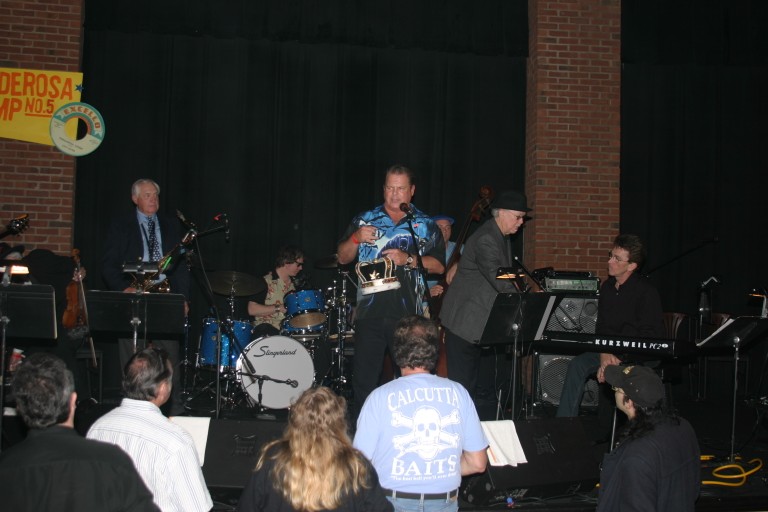 Memphis Wrestler Jerry Lawler introduces the band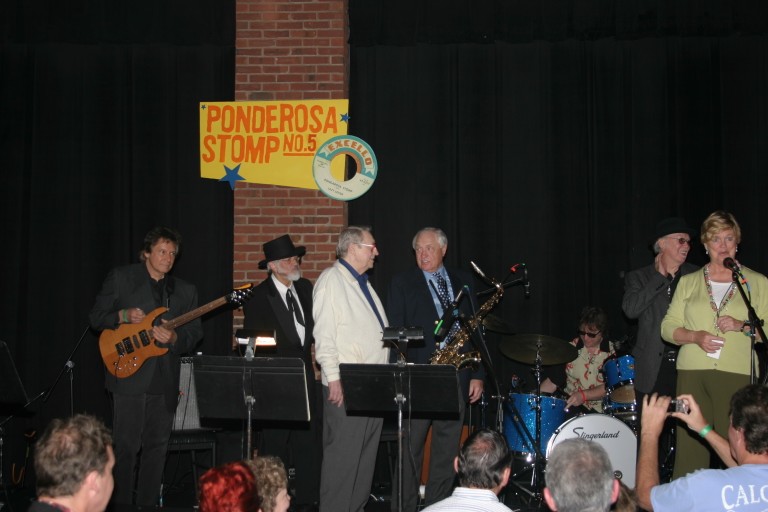 Scotty, Fred, Billy and Gail

Boots Randolph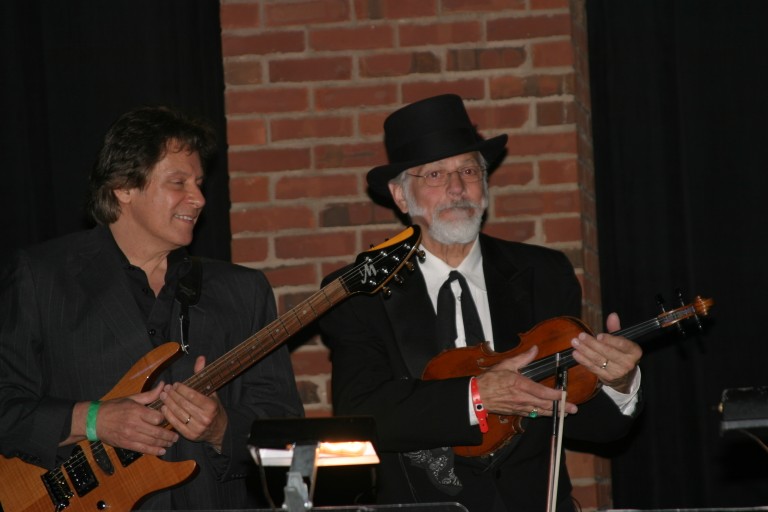 Bucky Barrett and Buddy Spicher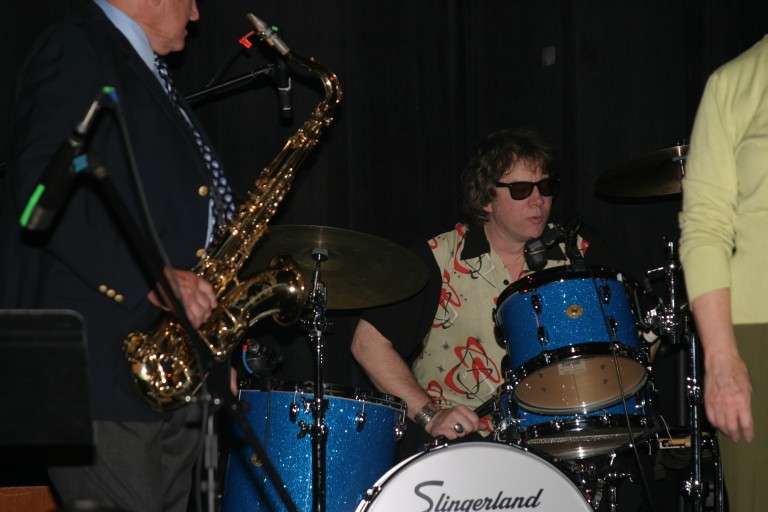 Fred Satterfield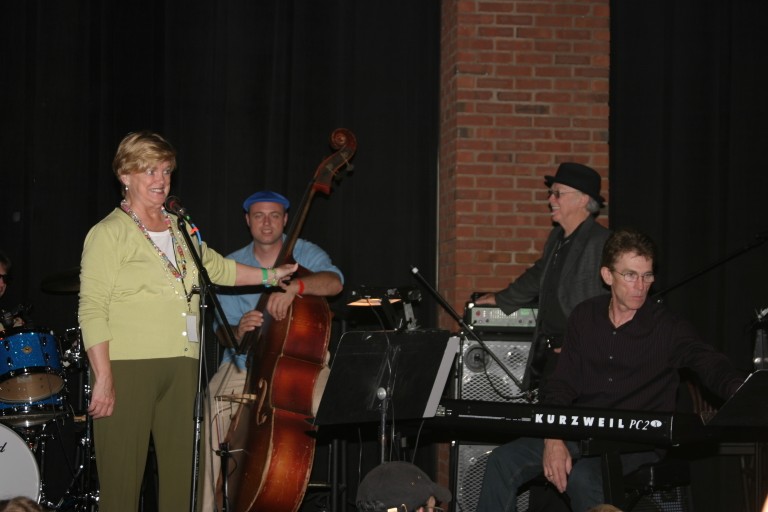 Gail, Deke, Billy and Steve
As Gail has described it, for the project the band "selected old classic blues songs and done them in the way they want.....they have all written their own arrangements on the fly just as Elvis, Scotty, and Bill did on their early recordings". They performed songs like "She Called Me Baby All Night Long", "My Babe", "What Am I Living For", "Got My Mojo Working" and many others. Though they themselves felt their performance there that night was a little loose, no one else did. The crowd loved it and we are anxiously awaiting the release of a CD.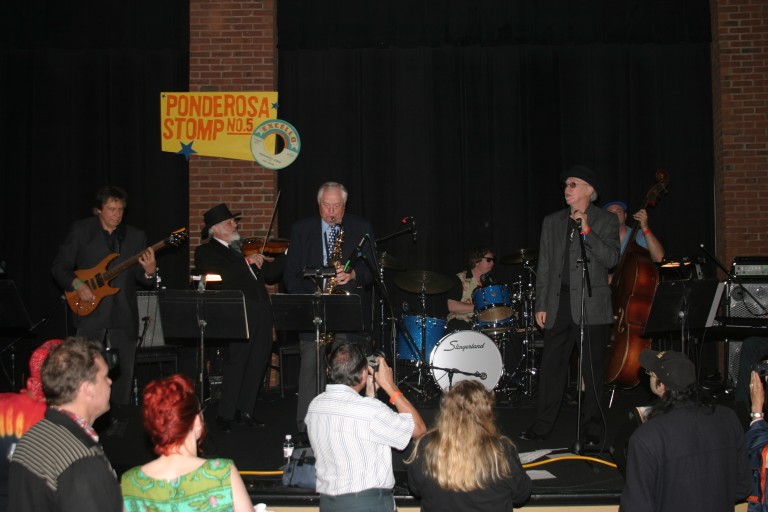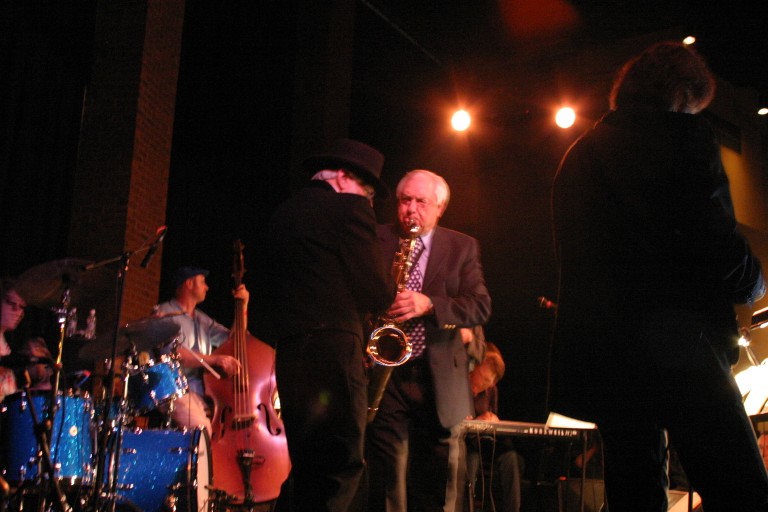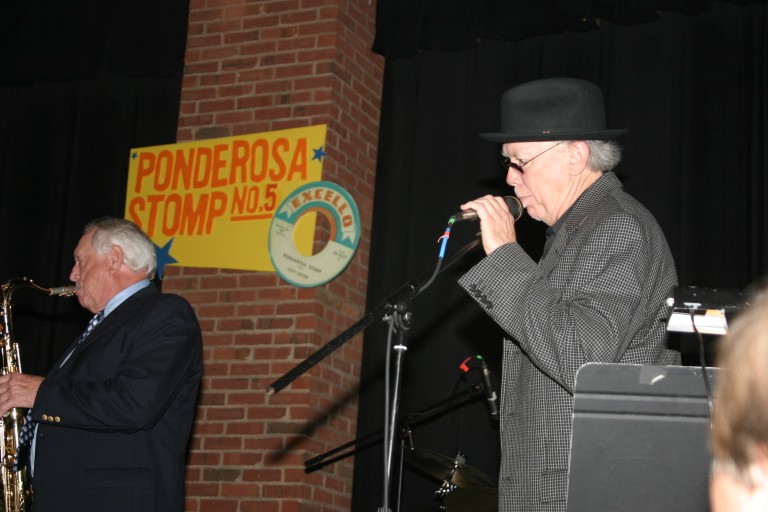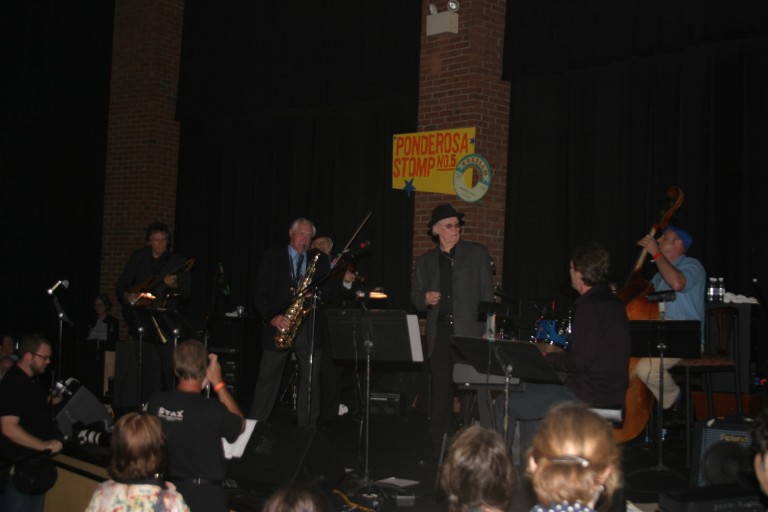 After the set was over it was off to Blues City Cafe for ribs, a tradition, and the end of the Stomp for us.
James V. Roy
May 2006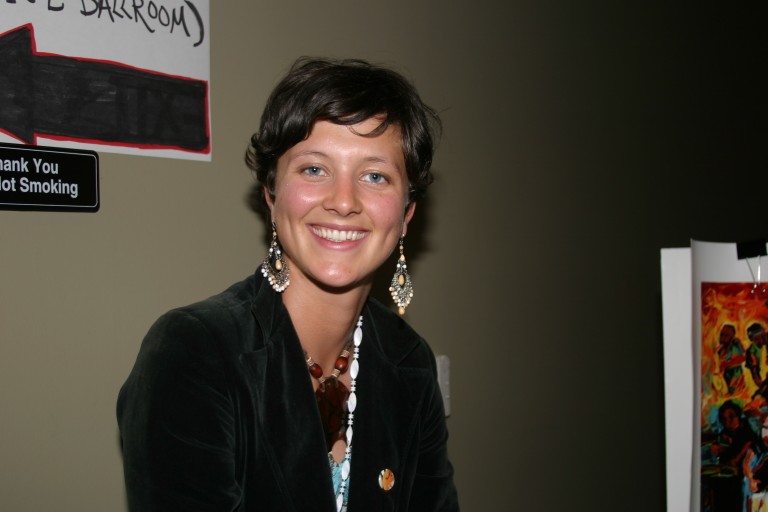 Abbie from Oregon
---
Just a few pix from a couple of the other acts on the Lounge Stage that night







The Tennessee Three featuring W.S. Holland and Bob Wootten
---
PONDEROSA STOMP SCHEDULE NIGHT THREE - WEDNESDAY, MAY 10, 2006
Stage One
5:00pm - 5:30pm Barrence Whitfield backed by Deke Dickerson and the Eccofonics

5:45pm - 6:30pm Dennis Binder and the Early Times

6:45pm - 7:30pm Jody Williams backed by Deke Dickerson and the Eccofonics

7:30pm - 8:15pm Billy Boy Arnold with special guests
Jody Williams and Henry Gray backed by Deke Dickerson and the Eccofonics

8:30pm - 9:00pm Rebirth Brass Band

9:15pm - 10:00pm Barbara Lynn backed by Lil Buck and the Topcats w/ Herbert Hardesty

10:00pm - 10:45pm Clarence "Frogman" Henry w/ Herbert Hardesty

10:45pm - 11:00pm Rockie Charles backed by Lil Buck and the Topcats

11:00pm - 11:30pm Johnny Jones backed by Lil Buck and the Topcats
11:45pm - 1:45am Wiley and the Checkmates with Special Guests Bobby Patterson and Fillmore Slim
Lounge Stage
5:00pm - 5:30pm Mem Shannon and the Membership

5:45pm - 6:15pm Rockabilly Country Band

6:30pm - 7;15pm Sleepy LaBeef

7:30pm - 8:15pm Lil Freddie King

8:30pm - 9;15pm James Blood Ulmer

9:30pm - 10:30pm Scotty Moore, Boots Randolph, Billy Swan, Bob Moore, Buddy Spicher

10:45pm - 11:30pm The Tennessee Three featuring
W.S. Holland and Bob Wootten with Special Guest Rayburn Anthony

11:45pm - 12:15am Zakary Thaks presented by Sundazed Records

12:30am - 1:00am Big George Brock

1:15am - 2:15am Lady Bo
Lobby Stage
8:00pm - 8:45pm Rockie Charles

9:00pm - 9:30pm Henry Gray

9:30pm - 10:00pm Dennis Binder

10:15pm - 11:00pm Rebirth Brass Band

11:15pm - 11:45am Lil Freddie King - solo set presented by Music Makers Relief Fund

12:00am - 12:30am Sleepy LaBeef