Conroy Bowl
Schofield Barracks - Honolulu, HI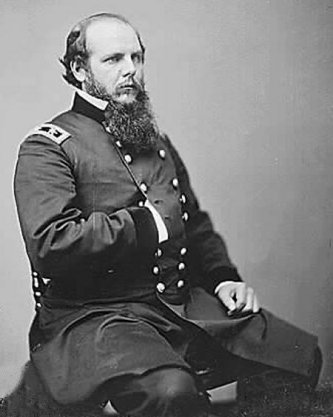 Major General John M. Schofield
Photo courtesy National Archives
In 1872 Major General John M. Schofield visited the Hawaiian Islands to ascertain the defense capabilities of the various ports. In his confidential report to the Secretary of War, Schofield advocated securing the exclusive use of Pearl Harbor through a reciprocity treaty with the then Kingdom of Hawaii. In 1893 after the overthrow of the monarchy, it was Schofield who encouraged annexation of Hawaii. He said, "if we do not hold these islands ourselves we cannot expect the neutrals in war to prevent other belligerents from occupying them; nor can the inhabitants themselves prevent such occupation." 1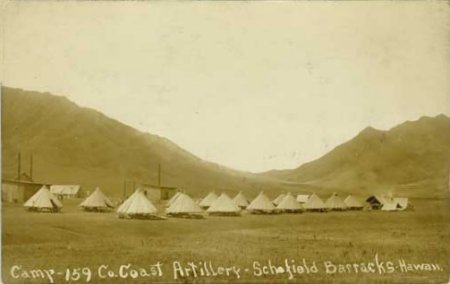 Photo courtesy eBay
The 14,400 acre site, located between the two major mountain ranges on Oahu, which was to become Schofield Barracks was ceded to the U.S. Government on July 26, 1899, less than a year after Hawaii was annexed to the United States. In December of 1908, construction began of a temporary cantonment on the Waianae-Uka military reservation, initially constructing tents for the officers and men, followed by temporary wooden barracks. The cantonment was informally known as Castner Village among military personnel. In April, 1909, the War Department chose instead to name the post after the late General John M. Schofield, former Commanding General of the U.S. Army.1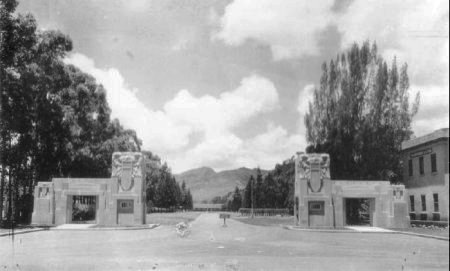 Macomb Gate - until 1980 the Main entrance to Schofield barracks - 1935
U.S. Army Official Photo courtesy Tropic Lightning Museum
In 1910 the United States Army District of Hawaii was formed at Schofield Barracks. Originally under the jurisdiction of the Department of California, it became a department in the newly organized Western Division and in 1913 the Hawaiian Department was formed as an independent command under the War Department. Schofield Barracks' population numbered about six thousand men by 1914, with the 1st Field Artillery, 1st Infantry Regiment, 25th Infantry Regiment, and 4th Cavalry all garrisoned at Schofield. In April 1917 the United States of America entered the war in Europe and soon,all of Schofield Barracks was called to war.1

Soldiers gather at the "Boxing Bowl" for a show on Mother's Day 1931
U.S. Army official Photo by Tropic Lightning Museum courtesy Hawaii Army Weekly
The Boxing Bowl, originally a roofless amphitheater with seating for 10,000 on concrete benches, was dug out in 1923 as an entertainment venue for off-duty soldiers (movies, concerts, roller skating, boxing and basketball) and a briefing locale for about-to-be-deployed battalions, brigades and whole divisions. It drew regular weekend crowds to its popular intra-Army boxing matches.2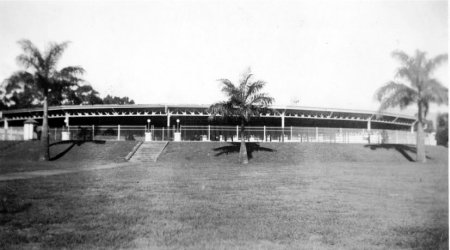 The Boxing Bowl with full roof added
U.S. Army Official Photo courtesy Tropic Lightning Museum
Only the area above the ring was originally covered but a roof was added in 1932 to protect spectators from rain showers that frequented the area. The boxing bowl was built entirely from recreational funds and is slightly raised on a low hillock. In the 1920's and 30's there were several of these types of sports arenas, (see Bloch Arena) as well as polo and baseball fields.3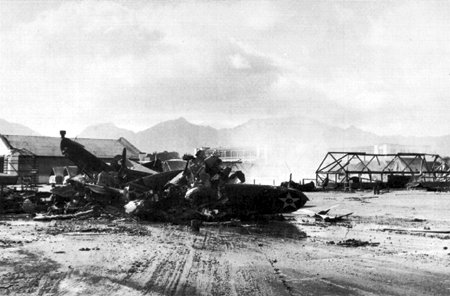 Wheeler Field after the bombing, Schofield Barracks is in the background
Photo courtesy "Guarding the United States and its Outposts"
On October 1, 1941, the formation of two new divisions replaced the Hawaiian Division. The 19th and 21st Infantry Regiments formed the 24th Infantry Division, while the 35th and 27th Infantry regiments formed the 25th Infantry Division (nicknamed Tropic Lightning). Only ten weeks after the restructuring, the Japanese flew over Schofield on a Sunday morning and dropped their bombs on Wheeler Army Airfield. Within a year, the newly formed Divisions were sent to fight the war in the Pacific, staying in Japan later during occupation and then on to Korea.1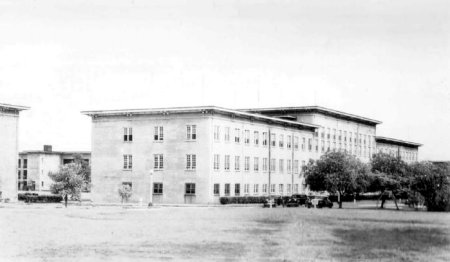 Soldier Barracks (Quads) at Schofield
U.S. Army Official Photo courtesy Tropic Lightning Museum
Author James Jones was stationed for two years at Schofield with the 27th Infantry. His observations of Army life and the December 7, 1941 attack were later the basis for the book "From Here to Eternity." The 1953 movie version starring Montgomery Clift, Deborah Kerr, and Burt Lancaster was filmed at "C" Quad on Schofield Barracks.1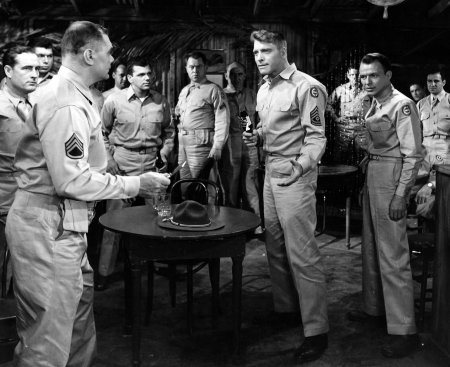 Ernest Borgnine, Mickey Shaughnessy, Burt Lancaster and Frank Sinatra
in a scene from "From Here To Eternity" - 1953
Photo courtesy Dr. Macro's
The story centers around Clift's character, Private Robert E. Lee Prewitt, a career soldier and former boxer who is being pressured by the company Captain to box for their division. Though much of the filming was done in and around the Barracks they only referred to the character's past history fighting at the bowl. The film won 8 Academy Awards that year, including one Best Supporting Actor for Frank Sinatra in his portrayal of Maggio. Mickey Shaughnessy also starred in From Here To Eternity and would later star opposite Elvis in Jailhouse Rock.

Merle Travis performs "Re-enlistment Blues" - 1953
Merle Travis also had a bit part as a soldier in scenes where he performed Re-enlistment Blues on his Martin D-28 with the Paul Bigsby modified neck and Headstock. In the final scenes, the S.S. Lurline is shown as the ship that carries Deborah Kerr's and Donne Reed's characters back to the mainland. Coincidently, Jones' last book, Whistle, was inspired by his stay and and treatment at Kennedy General Hospital in Memphis, another venue where Elvis, Scotty and Bill played.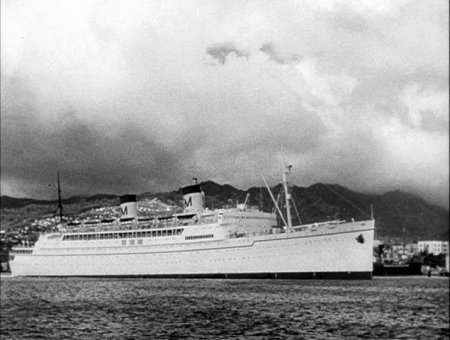 SS Lurline depicted in "From Here To Eternity" - 1953
capture © Sony Pictures Home Video

Tony Romano, Frances Langford and Bob Hope in Hawaii - c1940s
Photo © Evil-J
Bob Hope first brought his USO shows to the bowl at Schofield in 1950 (and again in 1957, and 1971). In 1954 the bowl was named in honor of Colonel James G. Conroy, former commander of the 165th Regiment of the 27th Infantry Division, who was killed directing tanks against Japanese bunkers during the invasion of Makin Atoll in 1943.3 The 25th Infantry Division finally returned to Schofield in September, 1954.1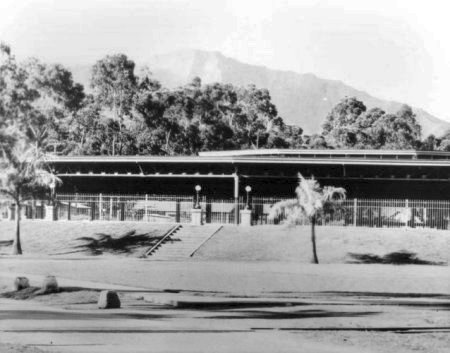 The Boxing Bowl at Schofield Barracks
U.S. Army Official Photo courtesy Tropic Lightning Museum
Having arrived in Honolulu days before and performing twice the day prior at Honolulu Stadium, Elvis, Scotty, Bill and DJ performed their last concert of the 1950's together at the Conroy Bowl at Schofield on November 11, 1957, Armistice Day. Like the shows the previous day, Sterling Mossman was again an opening act. There were also performances by the "Lucky Charms," a vocal group from the Barracks and the acts were supported by Schofield's "Lightningaires Band," taking their name naturally from the nickname of the 25th Infantry Division. Aside from a few mentions about his tentative appearance there that night in the day's papers that reviewed the Stadium shows, there were no ads run or coverage of the show by reporters in the papers of the Schofield event. There had been advance notices posted at the varied military facilities though and there was a brief review and a picture in the weekly Barracks newspaper, the Hawaii-Lightning News on November 14th.

THAR HE GOES-Elvis really walloped the Post Bowl audience recently with his "unique" song styling. The loose jointed idol gave his all as he rendered his top tunes to squeals from the many teenage girls present. Some 10,000 civilians, military personnel and dependents attended his performance.
US Army © Photo by 125th Signal Battalion, courtesy FECC/claude 91

Elvis Rocks The Bowl
Rock 'n Roll Artist Has Fans Squealing

You gotta give it to him-he's a great showman! Elvis Presley, the one man hurricane who took the rhythm and blues and turned it into a multi—million rock 'n roll rampage literally wiggled his way into the Post Bowl Monday night and shook up the some 10,000 squealing, screaming fans. The hottest thing to hit this post since the Honest John, Elvis led his audience, majority teen-age girls, into a state of mass hysteria.4


Elvis at the Conroy Bowl - Nov. 11, 1957
US Army © Photo by 125th Signal Battalion, courtesy FECC/claude 91

The loose-jointed idol, dressed in a pearl gray suit and black shirt with his guitar in hand, shimmied and clowned his way through his top hit tunes.4


Elvis at the Conroy Bowl - Nov. 11, 1957
US Army © Photo by 125th Signal Battalion, courtesy FECC/claude 91

His rendition of "Jailhouse Rock" brought the house down. He threw his hips, wobbled his knees, flopped his shoulders then shook and rolled. The more he rolled-the more the audience screamed. Other songs Elvis sang were "Hound Dog," "Don't Be Cruel," "Teddy Bear," "Heartbreak Hotel" and "Love Me." 4


Sterling Mossman at the Queen's Surf Barefoot Bar
Photo courtesy eBay

Also appearing on the two-hour show were the Lucky Charms, one of Schofield's top vocal groups, the popular Lightningaires Band and the Sterling Mossman show from Waikiki's Queen Surf. Monday night's show was a kick-off for Special Services campaign to bring top-notch entertainers to Schofield. Expected to appear at the Bowl in the near future are Nat Cole, Fats Domino and Sammy Davis Jr.4

Velma Fisher and Elvis on the beach at Waikiki - Nov. 1957
Photo from Velma Fisher courtesy Jerry Hopkins' "Elvis in Hawaii"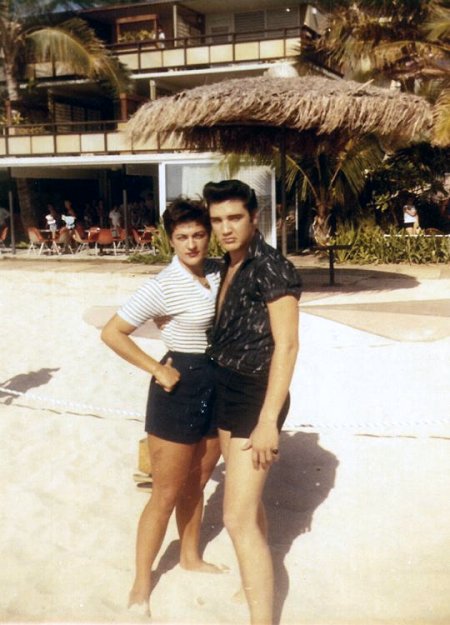 Joan Fay and Elvis on the beach at Waikiki - Nov. 1957
Photo courtesy Johnny Haemmerle
Elvis would spend the next day in Honolulu before returning to the mainland on the 13th on the S.S. Lurline along with his entourage and the Colonel and his, while the band flew. The following month Elvis would receive his draft notice and enter the Army the following year after completing his next picture, King Creole. The performance at the Bowl was the last time that Bill would perform in concert with the band though they would all appear together in the King Creole.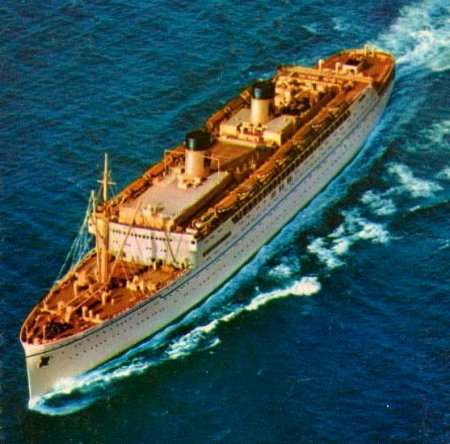 The SS Lurline - Matson line's sister ship to the Matsonia
Photo courtesy Peter Knego's MidshipCentury
The 1932-built SS Lurline was the third of a fantastic trio of ships built for Matson Lines Pacific services. Her name was synonymous with Hawaiian luxury throughout the 1930s continuing after her return from war service in the late 1940s. In the late 1950s double state rooms with twin beds on the Lurline (and Matsonia) for passage to Hawaii ranged from $410 to 500 and from $350 to $440 to California, depending on whether they were inside or outside and deck level. Round trip ranged from $760 to $940.5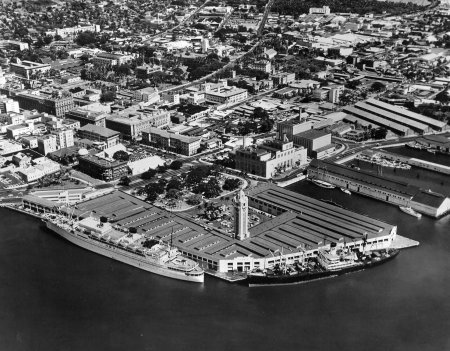 Aloha Tower, Piers 9 and 10, Honolulu Harbor - c1970s
Photo courtesy Hawaii.gov

Lamar Fike, Mrs. Moore, Tom Diskin, Elvis, Ken Moore, ? and Arthur Hooten
on the deck of the S.S. Lurline - Nov. 13, 1957
Honolulu Advertiser Photo courtesy Jerry Hopkins' "Elvis in Hawaii"
Presley- Leaves Today on Lurline,
School Helps Keep Teen-Agers Away
Unlike his security-studded entrance tour days ago, Elvis Presley was to make his 4 p.m. exit on the Lurline today with only a minimum battery of security men.
The force will include his three personal guards, compared to the web of 30 men who surrounded him upon his arrival Saturday.
Assistant Police Chief Dewey Mookini said only a normal crew of police officers will detail the liner's departure. "We haven't had-any requests for extras." he said.
Presley, whose bowl-full-of-jelly hip rhythm will be limited to the Lurline's rock 'n roll motions for the next four-and-a-half days, is bound for a long stay in his hometown, Memphis, Tennessee.
FAITH
Presley's managers explained that the paring down of security is partly due to their faith in Hawaiian hospitality and largely due to their faith in the school system, which will keep teen-agers in classes until 3 p.m.
However, at least one teen-ager is making sure she'll be there. Barbara Wong, reported by Castle High School as a "good student" and who has thrown 60-foot leis around Presley personally three times, is not in school today so she could make another garland.
Hawaiian Village Hotel guards reported about 200 teen-agers again up to midnight last night attempted to slip through the security net to get to the 14th floor Presley hide-out. None was successful.
Obliging Presley, however, couldn't resist the walls of 10 teen-agers, nine girls and a boy, at 11:30 last night and walked down to the beach in shorts to chat and sign autographs.
Guards report "all went smoothly."

Honolulu Star-Bulletin Nov. 13, 1957 courtesy Hawaii State Library

S.S. Lurline - sailing from Honolulu -c1960s
Courtesy Whiteships.com
In 1963, the Lurline was sold to Chandris Lines and renamed the Ellinis for their UK to Australian service and later cruising. The Ellinus was laid up at Eleusina, Greece in 1981 and eventually scrapped in Taiwan in 1986.5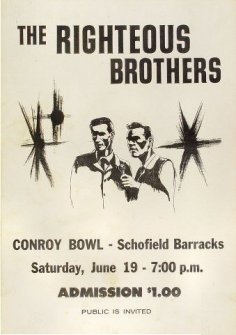 Posters advertising shows at the Conroy Bowl - 1962 and 1972
Posters courtesy Wolfgang's Vault
Like the article in the Hawaii-Lightning News mentioned, many other acts would later be brought to the Conroy Bowl by special services. During the 1960's as troops from the 25th deployed to Vietnam, Special Services kept the Bowl very active with basketball, boxing, music, dancing, singing, jokes and an annual Christmas show that included Louis Jordan and the Tympani Five entertaining soldiers and dependents of all ages.6 They would include Sammy Davis Jr. and Dick Clark with his 1964 Caravan of Stars, featuring the Dixie Cups, the Coasters and Gene Pitney,2 the Righteous Brothers in 1962, the Grass Roots in 1972, and Joe Cocker in 1974 among many others.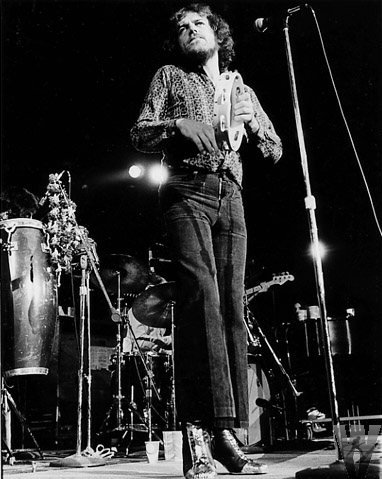 Joe Cocker at the Conroy Bowl - Oct 19, 1974
Photo by Richard Upper courtesy Wolfgang's Vault
Sterling Mossman performed at Honolulu's Barefoot Bar from 1952 until it closed in 1969 and later at New York's Hawaiian Room and the Waldorf Astoria, as well as at Miami's Fountainbleu. He would again open for Elvis when they returned in 1961 for the USS Arizona Memorial Benefit concert at Bloch Arena. Mossman was also president of the HGEA and would later make guest appearances on ABC's Hawaiian Eye, a detective show set in Hawaii whose main characters portrayed by Robert Conrad, Connie Stevens and eventually Troy Donohue worked out of a lush office in the Hawaiian Village Hotel (though actually a sound stage at Warner Bros.) where the detectives also doubled as Hotel security. He passed away in 1986.
In 1979 and 1980 the Bowl was also sometimes used for home games Hawaii's second and last pro basketball franchise, the Hawaii Volcanos.7 Though Honolulu temperatures average in the 70s and 80s year round, walls now enclose the bowl where once it was strictly an open air facility, but there are windows all along the top. Boxing, among other sports, still remains very popular in the military and since 1976 the Army has almost exclusively been the reigning Armed Forces boxing team champion, only giving that title up twice -- once in 1978 to the Marines and again to the Marines in 1991.8

The Conroy Bowing Bowl - April 2008
U.S. Army Official Photo courtesy Tropic Lightning Museum
Nowadays, the bowl has turned into a nearly full-time SRP (Soldier Readiness Program) processing center. Before soldiers ship out and right after they return, they face tedious red tape, most of which is handled at the bowl. "Every Army soldier in the Pacific comes through here," says Sgt. Rich Lott, attached to Tripler Army Medical Center. "Soldiers going to Iraq, Afghanistan and other places, they come down here, and in two or three hours they do their little round-robin, and by the time they go back up the ramp and out the door, they're ready to get on a transport and go." Conroy Bowl processed about 17,000 soldiers in 2007, Lott estimates.2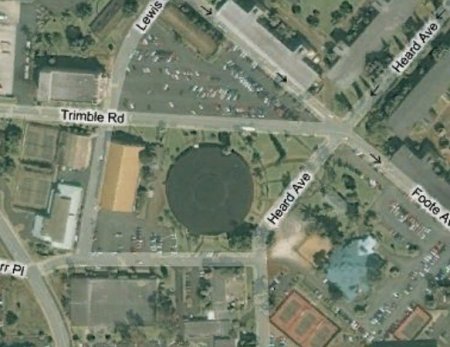 Satellite view of the Conroy Bowl at Schofield Barracks - 2008
Photo © Microsoft EarthData
It may not look like much—a low-slung, barn-like, octagonal shed set on a coconut- and plumeria-dotted lawn in the heart of Schofield Barracks, but Conroy Bowl is burned indelibly into the memories of thousands of GIs.2 Today it is still used as a sports facility as well as a staging area for troop deployments. Although the big wave has passed, the staff at Conroy Bowl will be on hand and ready.9
Mahalo nui loa!
page added August 31, 2009
Special thanks to Kathleen Ramsden and the Tropic Lightning Museum, Aiko Brum and Kyle Ford of Hawaii Army Weekly for their assistance with information, photos and Hawaii-Lightning News articles from 1957. Star-Bulletin article is Copyright © the Star-Bulletin courtesy Linda Sueyoshi of the Hawaii & Pacific Section and the Hawaii State Library.
1 excerpt from "Schofield Barracks-A Historic Treasure" January 2005 courtesy Tropic Lightning Museum
2 excerpt from "Inside Fortress Oahu" by Curt Sanburn, Hana Hou: The Magazine of Hawaiian Airlines Vol. 11, No. 6 Dec. 2008/Jan. 2009
3 excerpt from "The Inn at Schofield Barracks"
4 from "Elvis Rocks The Bowl" Hawaii-Lightning News, Nov. 14, 1957
5 from Peter Knego's MidShipCentury, "Floating Fittings from Famous Ocean Liners and Cruise Ships
6 according to "Conroy Bowl Deserving of R&R" by Ed Gallagher, Hawaii-Lightning News - Jan 7, 1966
7 according to Hawaii Sports: History, Facts, and Statistics by Dan Cisco
8 excerpt from "All-Army Boxing Championships Conclude at Huachuca" by Tanja Linton, U.S Army News - Jan 30, 2008
9 from "'Rear D' extends round of Thanks" by Spc. David House Hawaii Army Weekly - Aug. 4, 2006
---
Unpublished Photos from the Conroy Bowl
These photos from an eBay auction, according to the seller, were recently found in a Bible purchased at an antique shop in North Georgia. These amateur snapshots capture Elvis and the band in the Conroy Bowl for their last appearance in the '50s and the last ever of the original line-up.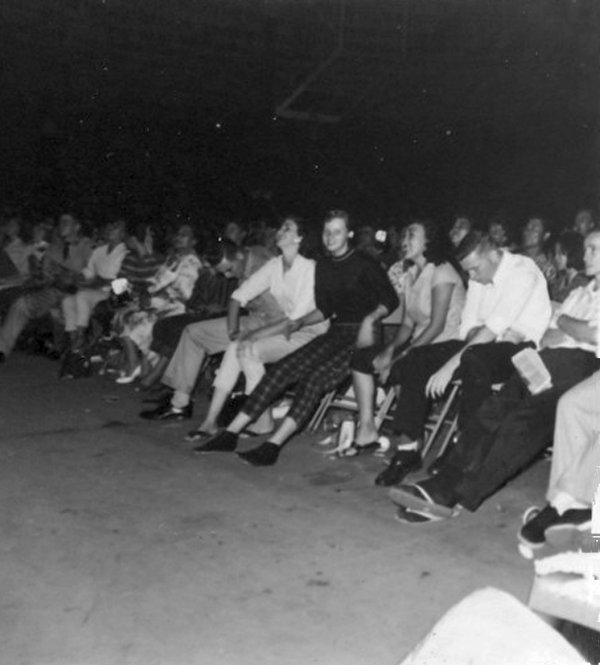 Fans for Elvis at the Conroy Bowl - Nov. 11, 1957
Photo courtesy eBay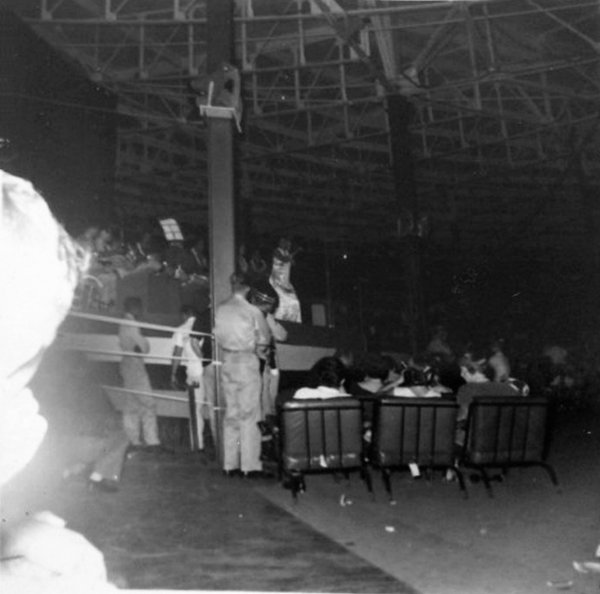 The opening act for Elvis at the Conroy Bowl - Nov. 11, 1957
Photo courtesy eBay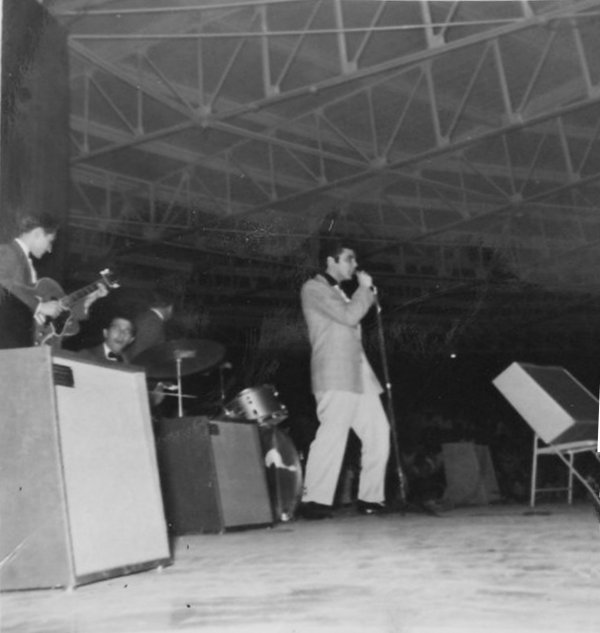 Scotty, DJ, Bill and Elvis at the Conroy Bowl - Nov. 11, 1957
Photo courtesy eBay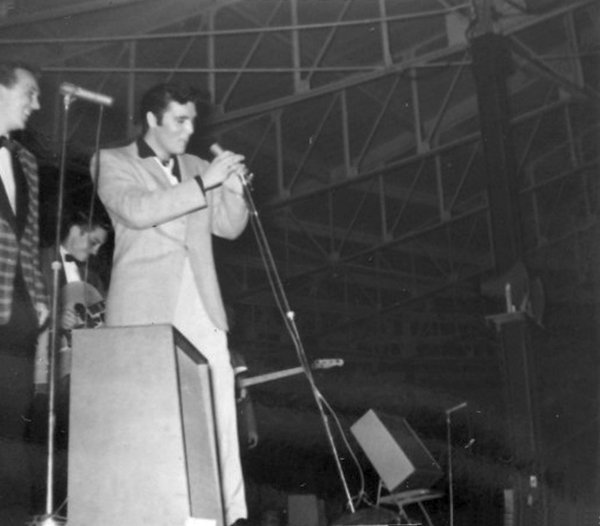 Hugh Jarrett, Scotty, Elvis and Bill at the Conroy Bowl - Nov. 11, 1957
Photo courtesy eBay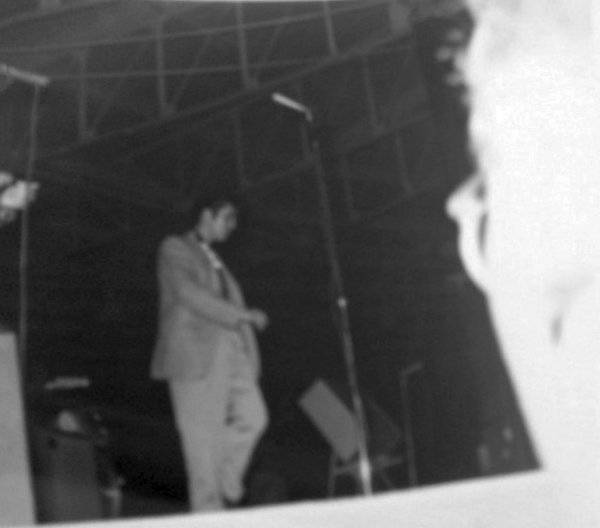 Elvis at the Conroy Bowl - Nov. 11, 1957
Photo courtesy eBay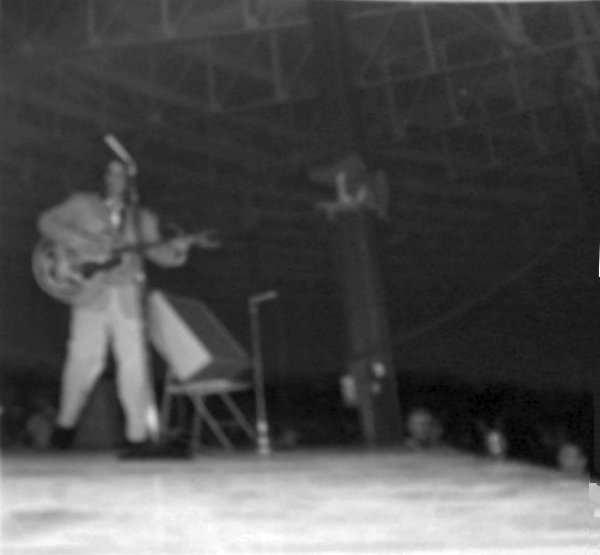 Elvis at the Conroy Bowl - Nov. 11, 1957
Photo courtesy eBay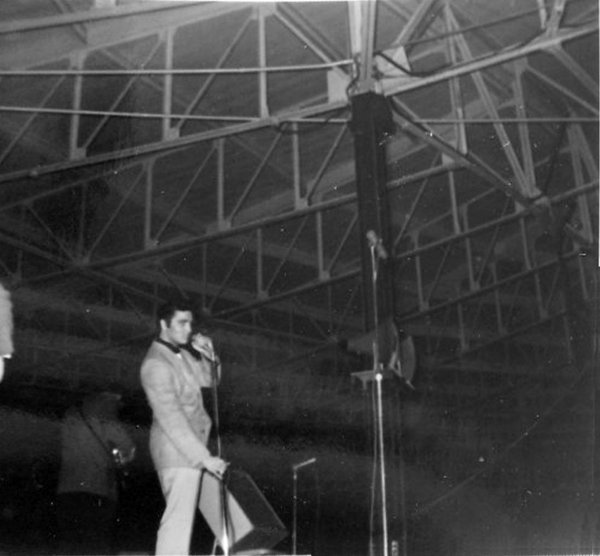 Bill and Elvis at the Conroy Bowl - Nov. 11, 1957
Photo courtesy eBay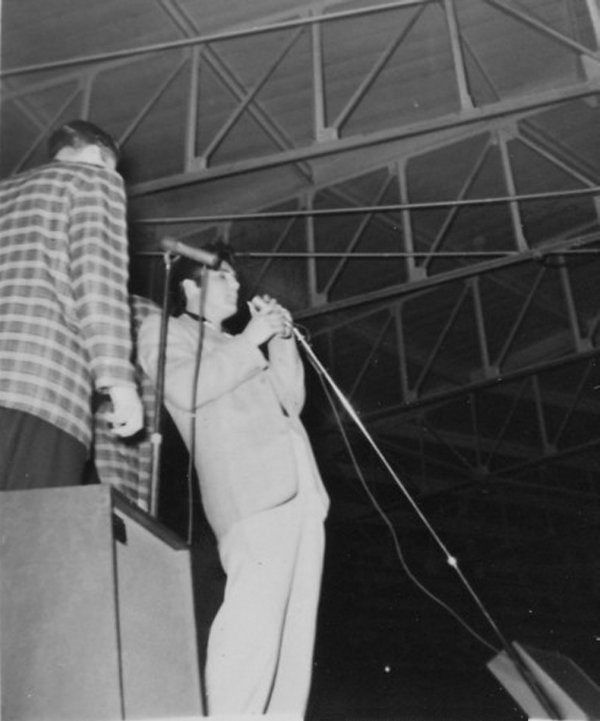 The Jordanaires and Elvis at the Conroy Bowl - Nov. 11, 1957
Photo courtesy eBay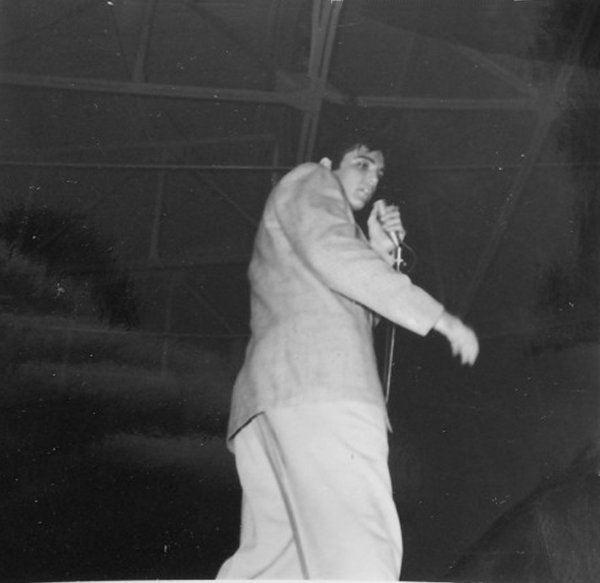 Elvis at the Conroy Bowl - Nov. 11, 1957
Photo courtesy eBay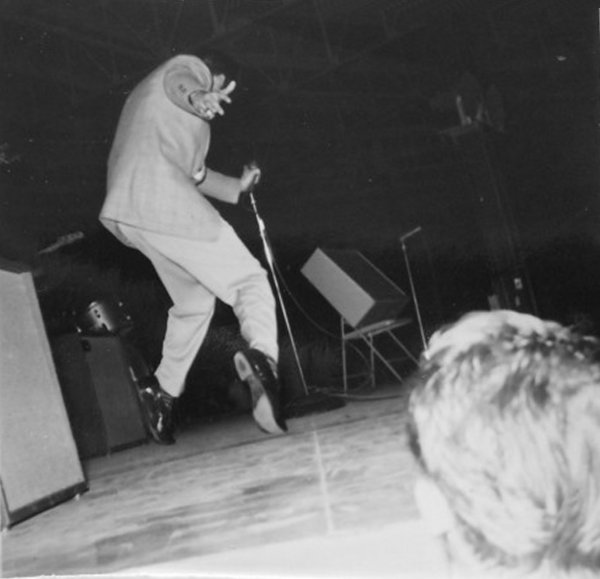 Elvis at the Conroy Bowl - Nov. 11, 1957
Photo courtesy eBay
section added November 16, 2012

Special thanks to FECC members Scott Hayward and onelove for bringing the photos and auction to our attention.
---
Matson Line History
(1882-present)
Captain William Matson began a shipping service between California and Hawaii in 1882 with a schooner EMMA CLAUDINA. Matson Navigation Company was incorporated in 1901. The company's first passenger ship sailing was made by the steamer LURLINE in 1908. Larger passenger and freight vessels were built for the service over the next seven years with distinctive red-brown hulls and engines aft.
In World War I WILHELMINA, MAUI and MATSONIA were taken over by the Navy and not returned until 1920.

In 1926 Matson took over three ships that had been sailing for Oceanic Steamship Co, SIERRA, SONOMA and VENTURA in the Australian trade and reorganized as Matson-Oceanic Line. In 1927 a new liner MALOLO, the most lavish yet seen on the west coast joined the fleet and shortly there after three larger ships were ordered. Matson took over it's rival the Los Angeles Steamship Company, which had carried more passengers Hawaii in 1927 than Matson. Briefly called Matson-Lassco Line the San Francisco company set about building three larger faster more luxurious ships, MARIPOSA, MONTEREY and LURLINE all delivered in the early 1930s. Two ships sailed in Australian trade and two in Hawaiian replacing the older vessels.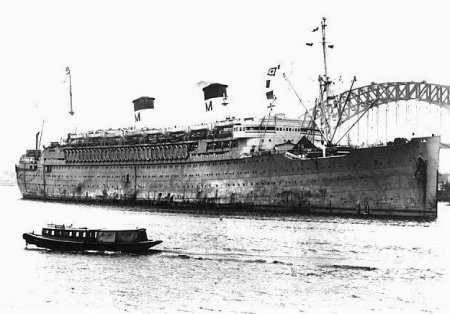 USS Matsonia in Sydney Australia during WWII
Photo courtesy ssMaritme
All four liners were used as war transports and served all over the world. Amazingly all four survived.




The SS Matsonia's last visit to Honolulu in Government service - c1940s
Photos © Evil-J
After the war only MATSONIA re-entered the service to Hawaii but was sold in 1948 and replaced by the refitted LURLINE.




The SS Lurline in Honolulu Harbor - c.1940s
Photos © Evil-J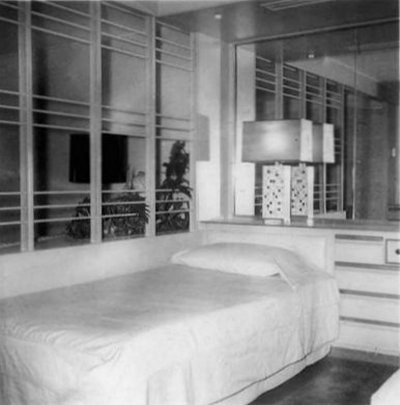 A stateroom on the SS Lurline - c.1940s
Photo © Evil-J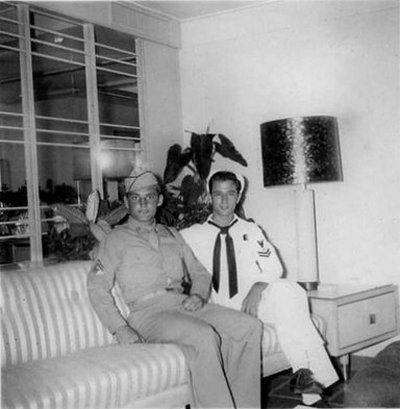 A stateroom on the SS Lurline - c.1940s
Photo © Evil-J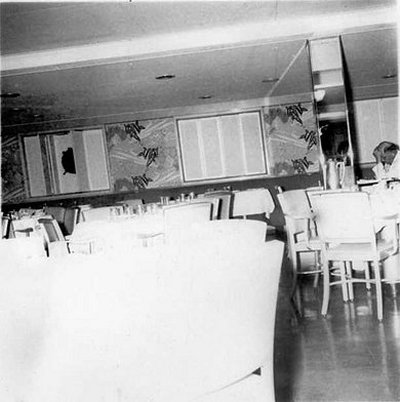 Dining Area on the SS Lurline
Photo © Evil-J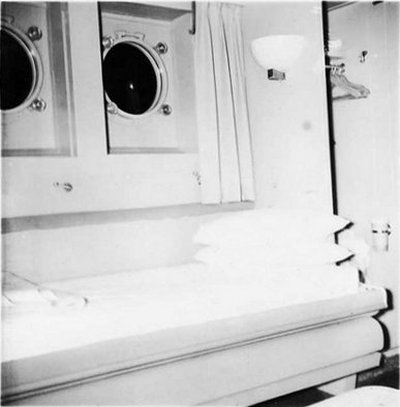 A stateroom on the SS Lurline - c.1940s
Photo © Evil-J
The two remaining vessels were sold but MONTEREY was repurchased in the mid 1950s and renamed MATSONIA to revive the weekly service to Hawaii.

The Matsonia passes through the Pedro Miguel Locks on the Panama Canal during her maiden positioning voyage from New York to San Francisco in June 1957. After reaching the Pacific, she stopped at Acapulco before arriving in Los Angeles to begin her regular service to Hawaii.
Photo courtesy The White Ships by Duncan O'Brien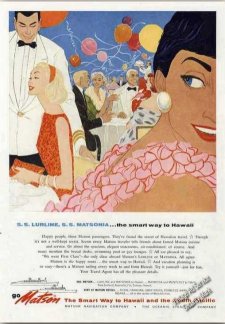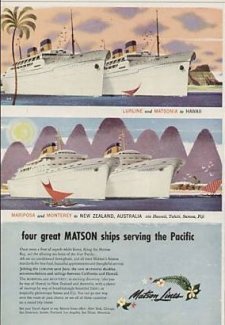 1950s ads for Matson Lines
courtesy eBay
Two new fast cargo liners rebuilt in 1956 as passenger ships took over the South Pacific service they were named MARIPOSA and MONTEREY. In 1963 the LURLINE was sold after engine problems and MATSONIA took her name and continued in the Hawaiian trade.

Lurline (ex-Matsonia, Monterey) leaving San Francisco in March 1970
Photo courtesy Maritime Matters
By 1976 Matson had ended its passenger service and sold all remaining passenger ships. Continuing to the present as a freight only Line with a large fleet of container ships.
Matson Line Ships:
LURLINE (1908), WILHELMINA, MANOA, MATSONIA (1913), MAUI, SIERRA, SONOMA, VENTURA, MALOLO, MARIPOSA (1931), MONTEREY (1932), LURLINE (1932), MATSONIA (1932)
The complete text of the Matson Line History presented here was copied in its entirety from Maritime Matters Ocean liner history and cruise ship news. Visit their site for more detailed history on the Lurline and Matsonia.
Also, for a comprehensive history of the six classic white liners operated by Matson Navigation Company between California, Hawaii, the South Pacific, New Zealand and Australia from 1927 until 1978 check out the The White Ships, by Duncan O'Brien.
added August 31, 2009