Fontainebleau Hotel
Miami, FL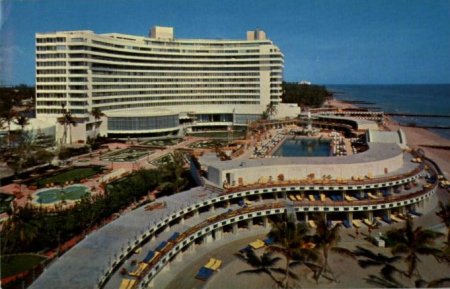 The Fontainebleau Hotel in Miami Beach c1950/60s
Postcard courtesy eBay
The Fontainebleau Hotel at 4441 Collins Avenue, Miami Beach, Florida was designed by Morris Lapidus for Ben Novak, the owner, and opened in 1954. Once the Fontainebleau opened the in-crowd nightspots gradually moved up to the ocean-front hotels along Collins Avenue from about 30th Street up thru 65th Street, and from 1954 thru 1960 there was a major shift northward for the Miami Beach nightlife scene.1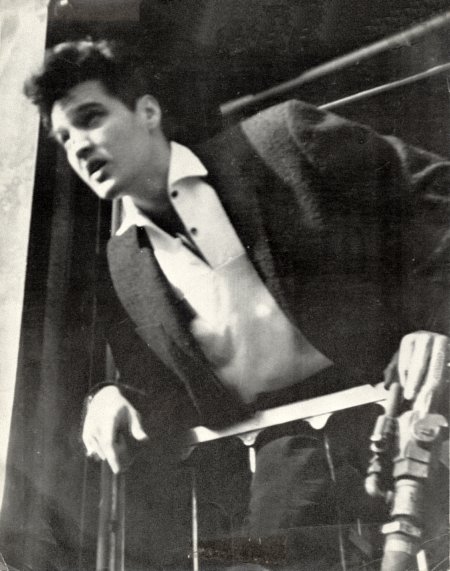 Elvis at the rear of a train enroute to Miami - March 1960
Photo courtesy Ger Rijff
Enjoying a reputation as the area's top resort hotel, it was a favorite stopover for notables such as Frank Sinatra, Bob Hope, Sammy Davis, Jr., Lucille Ball, Jackie Gleason, Judy Garland, Milton Berle, Jerry Lewis, Marlene Dietrich, Debbie Reynolds among many others and every president since Dwight D. Eisenhower. The resort's famed crescent shape is set amid 20 lush tropical acres and accented by a magnificent grotto-style pool with cascading waterfalls. Its classic guest rooms afford spectacular water views and some are equipped with private terraces.1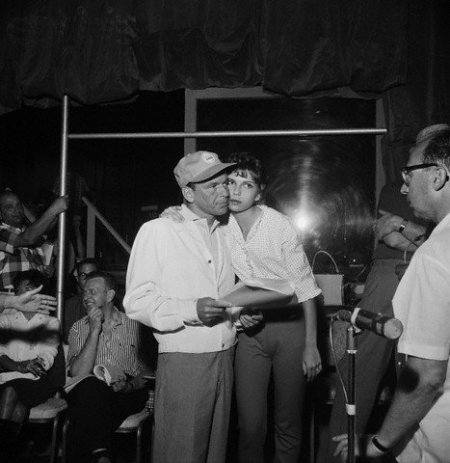 Frank and Nancy Sinatra rehearsing for, "Welcome Home, Elvis"
Photo © Bettmann/CORBIS
The Hotel has been the setting of films like "The Bellboy," starring Jerry Lewis, "Goldfinger," starring Sean Connery as James Bond and "Scarface" that featured Al Pacino as gangster Tony Montoya. Whitney Houston sang Dolly Parton's "I Will Always Love You" from the Grand Ballroom in the 1992 movie "The Bodyguard." The Grand Ballroom was the biggest in Miami with a stage and capacity of 2200 people. In 1960 the series of four bi-monthly Frank Sinatra specials sponsored by Timex were taped from the stage of the Grand Ballroom and aired on ABC television. The series though, is most remembered for one episode which was Frank's "Welcome Home, Elvis" party taped only weeks after Elvis' return from the Army in March of 1960.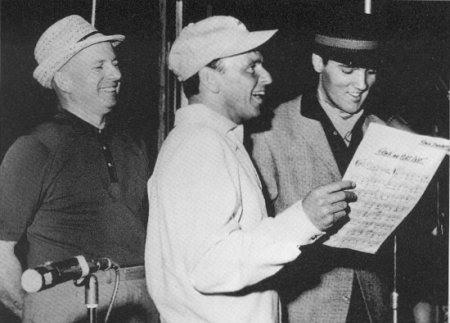 Frank and Elvis rehearsing at the Fontainebleau
Photo courtesy Elvis Day by Day
Frank was no fan of rock 'n' roll music and had had a few choice words to say about it in the past. In an oft-quoted remark to a Paris magazine in 1957, Frank Sinatra declared, "Rock 'n' roll smells phony and false. It is sung, played and written for the most part by cretinous goons and by means of its almost imbecilic reiteration, and sly, lewd, in plain fact, dirty lyrics...it manages to be the martial music of every sideburned delinquent on the face of the earth." But whatever the reason - ratings ploy or simply to placate his teenage daughter - Sinatra was feeling gracious enough to invite Presley to join him on his show.2 In fact he had sent his daughter Nancy to greet Elvis upon his arrival from Germany at McGuire Air Force base in New Jersey with a box of custom tailored shirts.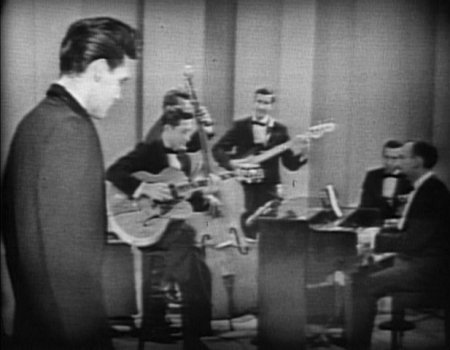 Elvis, Scotty and D.J. with local musicians at the Hotel Fontainebleau - Mar 26, 1960
Just weeks after Elvis' discharge, Scotty and DJ reunited with Elvis again and proceeded to Nashville for their first session at Studio B. Bill Black chose not to return. After recording two ballads, "Stuck on you" and "Fame and Fortune," Elvis and the band boarded a train in Nashville and headed south to Miami on March 21st. Scotty remembers seeing people lining the tracks along the way. The trip was supposed to be secret, but Colonel Parker, in an effort to get publicity, called every small town along the way. At some stops Parker got Elvis to stand on the back platform, like he had seen some presidents do, and wave to the cheering crowds.3

Elvis and Scotty onstage at the Fontainebleau - Mar 26, 1960
Photo courtesy Chris Girgenti

Frank Sinatra and Elvis onstage at the Fontainebleau - Mar 26, 1960
Photo © Bettmann/CORBIS
When they reached Miami on the 22nd, they checked in to the Hotel Fontainebleau. For the rest of the week they rehearsed for the show. Asked if he has changed his mind and set aside his very pronounced views about rock 'n' roll (a music "for cretinous goons"), Sinatra side stepped the question, responding, "The kid's been away two years, and I get the feeling he really believes in what he's doing." The television show was taped at 6:15 p.m. in the Grand Ballroom on March 26, 1960 but it wasn't broadcast until May 12th, almost six weeks later. Elvis performed the two new songs recorded in Nashville and duets with Frank in a mutual reversal of roles, on both the host's "Witchcraft" and his own "Love Me Tender."4

Frank Sinatra's Welcome Home Party for Elvis Presley
The Frank Sinatra Timex Show - March 26, 1960
courtesy Classic Television Internet Archive
Broadcast 12th May 1960
Directed by Richard Dunlap

Running Order (From IMDB):
It's Very Nice (performed by Frank Sinatra)
Frank's Time Machine (Frank Sinatra and Joey Bishop)
Witchcraft (performed by Frank Sinatra)
Timex promotional segment
Come On Bess (performed by Sammy Davis Jr.)
Oriental Wedding Celebration
Leona Irwin and the Tommy Hansen Dancers
Sammy Recalls the Oscars (Sammy Davis Jr.)
Shall We Dance (Sammy Davis Jr. and Peter Lawford)
Timex promotional segment
Fame and Fortune (performed by Elvis Presley)
Stuck on You (performed by Elvis Presley)
Love Me Tender/Witchcraft medley (performed by Frank Sinatra and Elvis Presley)
Timex promotional segment
Love Makes You Feel So Young (performed by Frank and Nancy Sinatra)
Let's Dance (Nancy Sinatra)
Goodbye (Frank Sinatra)
Concerned about mounting expenses, Colonel Parker hired a bus to carry the group back to Memphis. It was the only appearance/performance the band would make that year but Scotty and DJ would soon after make their final appearance in an Elvis film in GI Blues, which coincidentally featured Sinatra's current girlfriend, Juliet Prowse. Over the years other more modern hotels and properties were built, and restored boutique hotels entered the market as the Fontainebleau gradually lost its luster and many changes to the property occurred.

Furniture in the Grand ballroom awaiting liquidation - Mar 2006
Photo courtesy Universal Hotel Liquidators
In March and April of 2006, items of all sorts from the Fontainebleau were sold so the hotel could be renovated. Kitchen and banquet equipment, 7,000 dishes, carpeting, early menus and silverware embossed with the hotel's name, even furnishings for a suite known as the "Goldfinger Suite" were sold in the liquidation. Sale items were priced to sell fast, with some costing as little as 25 cents.5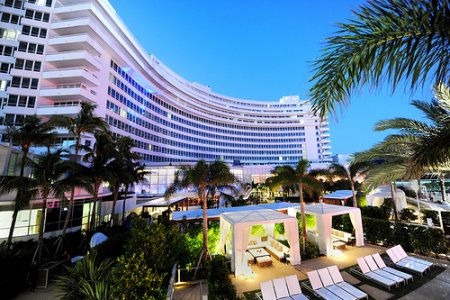 New cabanas at Fontainebleau Miami Beach ready for the party - Nov 15,2008
Photo © Fontainebleau Miami Beach
In November of 2008, the Hotel held a grand reopening attended by star studded guest list after a $1 billion renovation and expansion which included an 18-story, 286 all-suite tower constructed on the south end of the property. The 1,504-room complex includes a world-class 40,000-square-foot spa, 11 restaurants and lounges, 58 meeting rooms totaling 107,000 square feet, 42,000 square feet of pre-function areas and 51,000 square feet of space for hosting a variety of outdoor functions.

The Sparkle Ballroom at the Fontainebleau Hotel - Nov 15,2008
Photo © Fontainebleau Miami Beach
The Grand ballroom was also renovated and is now called the Sparkle ballroom.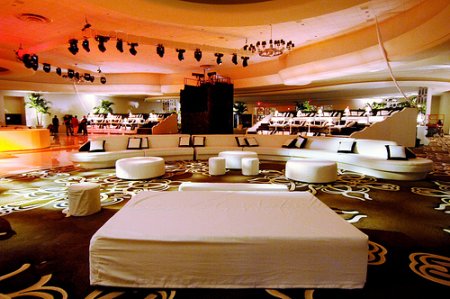 The Sparkle Ballroom at the Fontainebleau Hotel - Nov 15,2008
Photo © Fontainebleau Miami Beach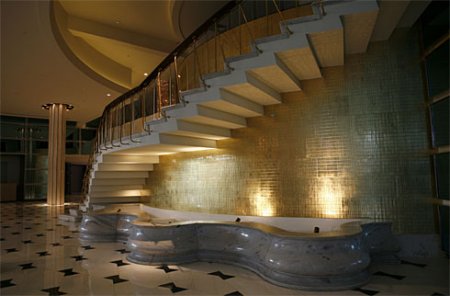 The Fontainebleau's famed "Staircase to Nowhere"
AP Photo by Lynne Sladky
The grand lobby's original white-and-black bow-tie floor pattern was recreated out of new materials, and its furrowed columns were preserved and refurbished. So too was the Fontainebleau's famed "Staircase to Nowhere," which historically led to a small coat room just above the lobby. Belles and beaus would take an elevator up, check their coats and descend the stairs for a grand entrance. The coat check is gone — not a terribly sensible feature in the tropics, anyway — but the runway remains.6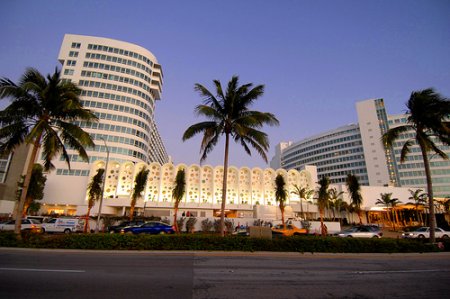 Infamous Cheese wall at the new Fontainebleau Miami Beach - Nov 15, 2008
Photo © Fontainebleau Miami Beach
After the opening party, the Fontainebleau hosted the Victoria's Secret lingerie show — the footprint of careful calibration to recreate its sexy, stylish past and to become once again relevant, a new place to be for a new generation of pretty and cool.6
page added March 14, 2009
The Frank Sinatra Timex show and track list presented here is courtesy the Classic Television Internet Archive.
This movie is part of the collection: Classic TV
Creative Commons license: Public Domain
1 history from varied internet travel pages
2 excerpted from Jim Davidson's Classic TV Info
3 excerpted from "That's Allright Elvis" by Scotty Moore and James Dickerson
4 excerpted from Elvis Day By Day by Peter Guralnick and Ernst Jorgensen
5 excerpted from Fontainebleau Memorabilia Sold To Make Room For Renovation, March 30, 2006 from NBC6.net
6 excerpted from "Miami's Fontainebleau hotel celebrates $1 billion makeover" By Travis Reed, Associated Press Writer
---
Through the efforts of members of the FECC and the Sinatra Family Forum we were able to connect with Stan Musick who was the Fender bass player that performed with Elvis, Scotty, and D.J. for the Sinatra show at the Fontainebleau along with Anselmo Sacasas on piano and an, as yet, unnamed upright bass player. In May of 2009 he had this to say about it, "Joe Comfort was the bass player with Nelson Riddle, I loaned him my upright bass for the session, but the photos shown were from the band that Scotty Moore hired for the session. I'm sorry to say that I don't remember the name of the upright bass player next to me in the photo. As I recall [and it's a long time ago], nobody on the band seemed to be familiar with the other musicians.
Elvis stayed at a penthouse in the Fontainebleau Hotel and since I was a new addition he asked me to come up and say hello and to discuss his music. I spent an hour or so with him and he turned out to be a gentleman and a really likable young man. Since he just got out of the service, he had a tendency to call every male, "sir" and I reminded him that he was no longer in the service and he laughed really hard. I had a wonderful time with him. When I told him that I played bass on a USO Tour in Germany and that we appeared at his Army Base where he was stationed, he actually remembered the show.
As a local musician, I played bass on many different occasions in the Fontainebleau Hotel. I remember playing in the La Ronde room with a large orchestra for Eddie Fischer when he was on top of his career. Also, I remember playing [at the Fontainebleau] with an orchestra from New York [can't remember the name] as a tribute to Eleanor Roosevelt [she was still alive at that time]. This is where I met Joe Comfort, the bass player with Nelson Riddle's orchestra. I believe it was the night before the Timex show and he came up to me and remarked how he liked the way my upright bass sounded. He then proceeded to tell me that he wasn't allowed to bring his upright bass [from California] and he had rented a plywood upright bass from Ace Music here in Miami. He wasn't happy with the plywood bass so I said he could use my upright bass for the Timex Show. That's how we became friends.
In 1972 I was musical director at the Playboy Plaza Hotel in Miami Beach and I remember having 32 musicians for Tony Bennett and my orchestra also played for Liza Minelli, Sammy Davis, Diahann Carroll, Mitzi Gaynor and others. I'm now 80 years old and am lucky enough to still be healthy.
added May 11, 2009
just to add, Scotty has said he did not hire anyone or know anyone there. He just spoke to them briefly during rehearsal and the show. It's likely that additional band members were the responsibility of and arranged through the Colonel, Tom Diskin or their contacts. He added that Elvis did not call him "sir" because of being in the service. He called everyone m'am and sir because his mother taught him that when he was very young and he continued to do so all the years Scotty knew him.
---
The Return of the Fontainebleau

Miami Beach's Landmark Hotel Reopens After $1 Billion Renovation, Expansion

By Debra Wood

The landmark Miami Beach hotel, the Fontainebleau, once synonymous with panache and frequented by Frank Sinatra, Elvis and Marilyn Monroe, has reopened after an extensive renovation and again welcomed celebrities.

Paris Hilton, Gwyneth Paltrow and Kate Hudson attended a recent reopening party at the resort.
"It's a different glamour today, but it still has the intensity and freshness of the 1950s with a 2008 look," says Donald F. Wolfe, a partner with Nichols Brosch Wurst Wolfe & Associates of Miami, the designer of the $1 billion renovation and expansion project for Fontainebleau Resorts of Miami Beach and Nakheel Hotels & Resorts of the United Arab Emirates. The owners did not respond to requests for information about the project.

"The goal was to update and preserve an iconic piece of architecture on Miami Beach," says Rick Lee, senior vice president of HKS, the architect of record. "The owners wanted an up-to-date piece of architecture that would revitalize the property and at the same time respect its historical significance. That was a challenge."

City of Miami Beach officials have praised the result.

"We're glad to see it reopen," says William Cary, who is the assistant planning director for the city and was significantly involved with the project's design and final construction. "It has quite a sensational impact when you walk into the space."

Senior city planner Debbie Tackett, calls it spectacular.

"The new and old work well together," she says.

Recreating a piece of history

The Morris Lapidus-designed, crescent-shaped, Miami Modern-style hotel opened in 1954. It ushered in an era of pizzazz as celebrities and those who wanted to rub shoulders or say they stayed at the same hotel flocked to the oceanfront resort.

"[Lapidus's] purpose in life was to create a sense of delight for the users of his architecture," Cary says.

The Fontainebleau gradually lost its luster as other, more modern lodging properties and restored boutique hotels entered the market. Over the years, many changes to the property occurred. The Versailles hotel tower and ballroom, designed by A. Herbert Mathes, was started about three years after the curved Chateau building opened, and the Versailles connected to the Lapidus structure, altering its original appearance.

"When the Fontainebleau opened, the critics were not kind, and [Lapidus] was disturbed by the critiques," Cary says. That led Lapidus to destroy almost all of the original drawings, plans and renderings.

The city had access to a poor photocopy of some plans. The team and city relied on old black-and-white photographs, speaking with people and examining the original fabric to determine how the property looked soon after it opened. For instance, pulling up carpeting allowed the team to trace out original walls and reception desks.

"When you put all of these things together, you get back closer to what was originally there, but I would refrain from calling it a detailed restoration," Cary says. "In order to restore, you would have had to remove those later connections to the lobby.

"Basically, it was a matter of restoring elements that were in areas where they could be re-created and reinterpreting them in a more modern sense. Morris Lapidus always said, 'I create my architecture for the people of my time.' We felt it was truest to his vision to redefine his architecture."

Cary says Lapidus felt preservation should be left to the people using the buildings.

The city's historic preservation staff deemed several components of the original hotel as significant, including the stairway to nowhere and columns in the lobby. Some of the original tiles on those columns could not be repaired, so the team re-created the effect with new materials.

Most of Lapidus' bowtie floor had been destroyed after hotelier Stephen Muss bought the property out of bankruptcy during the 1970s and put in escalators to a commercial floor below. The current renovators used a computer-generated plan to replicate the floor and install new tiles.

"Where we could, we tried to maintain the original, and where could not, we replicated it as best we could," HKS' Lee says.

State building codes required some modifications. Cary says that codes prevent any stairway to have openings between rails of more than 4-in. The marble-treaded "stairway to nowhere" had an open metal railing system with a hardwood rail.

"It was impossible to retain that the way it was,"' Cary says. "We had to allow a system to be designed which installed vertical glass plates along the steps."

Interior designer Jeffrey Beers International of New York returned the reception desk area to its original location. However, this time instead of wood, the panels behind it feature blue-grey mirror glass with a polished nickel frame offset from the wall.

In the sunken garden lobby, about three steps down from the main lobby and overlooking the ocean, the historic preservation board approved the introduction of an illuminated blue glass floor with fiber-optic lighting beneath it and an elegant polished-nickel and glass chandelier.

"It creates a dramatic effect," Cary says. "Lapidus was about effect."

In certain areas, the team expanded the property and replicated certain architectural elements, such as a waved-formed canopy above the doors from the lobby to the pool area, which had been altered more than two decades ago.

The team created a three-dimensional survey of the main and secondary ballrooms, the lobby and the nightclub areas using laser scanners to identify existing components. HKS imported that into its CAD system.

"Without that information, we would be guessing where specific walls were, unless we went out there and pulled a tape measure," Lee says. "Even if we were to do that, we would not come up with an accurate CAD depiction of the space."

The current design team, including structural engineer Walter P. Moore and Associates of Austin, Texas, contacted the original structural engineer, Jacques L. Clarke of the former Oboler & Clarke of North Miami Beach, to learn how he designed lateral bracing for the concrete-frame and block Chateau building.

"By today's standards, some of the things he did were innovative," Lee says.


The guest rooms

Crews gutted the upper floors and re-created 846 guest rooms and suites in the original two buildings—the Chateau and Versailles.

"I don't know that many people want to relive the 1950s style," Lee says. "They were updated to current thinking."

Fontainebleau Resorts added 658 junior suites in two new all-suite towers, also designed by Nichols Brosch Wurst Wolfe & Associates. City officials reviewed all of the designs.

"The opening event and seeing the spaces being used again in a way they were originally intended to be used would have been a great thrill for Lapidus," Cary says. "There is no other venue like it, not only in Miami Beach but, possibly, in South Florida. It redefines glamour."

Useful sources:
Fontainebleau Resort
http://www.fontainebleau.com

Team Box
Owner: Fontainebleau Resorts, Miami Beach, and Nakheel Hotels & Resorts, United Arab Emirates
Design Architect: Nichols Brosch Wurst Wolfe & Associates, Miami
Architect: HKS, Dallas
Interior Design: Jeffrey Beers International, New York
Structural Engineer: Walter P. Moore and Associates, Austin, Texas
Forensic Engineer: Wiss, Janney, Eltsner Associates, Northbrook, Ill.
Contractor: Turnberry Construction, Aventura, Fla.
reprinted Article © courtesy Southeast Construction cover story February 2009