The Ottawa Auditorium
Ottawa, Ontario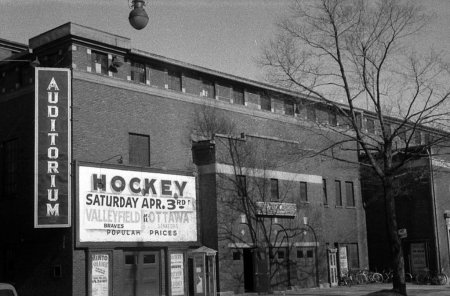 Ottawa Auditorium - 1954
Photo courtesy Ivor Thomas
The Ottawa Auditorium, in Downtown Ottawa was a 10,000 person capacity located at the corner of O'Connor and Argyle Streets. It was built in 1923 by the Ottawa Auditorium Limited, a consortium controlled by T. Franklin Ahearn and the Ottawa Senators' owners Edgar Dey and Tommy Gorman to replace The Arena, built in 1907. At the time of construction, the consortium took over the ownership of the hockey club as well. The first NHL game held there was played on December 26, 1923 between the Ottawa Senators and the Montreal Canadiens, before 8300 fans, in which Howie Morenz scored his first NHL goal.1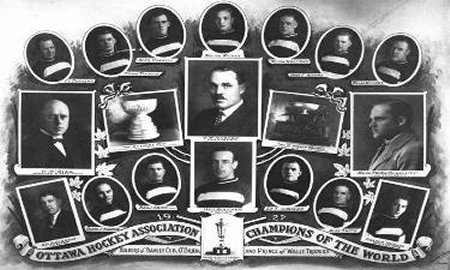 The 1927 Ottawa Senators
Photo courtesy Joe Pelletier
The building was state-of-the-art for its time. The shape of the ice was not quite orthogonal, it is described as being somewhat 'egg-shaped' with semi-circular end boards, rather than the straight end boards with rounded corners of today's ice rinks. This design matched the shape of the rink at The Arena. The Auditorium held the final game of the 1924 Stanley Cup Finals between Montreal and Calgary because of its then state-of-the-art artificial ice, and the Montreal Forum had not yet been built.1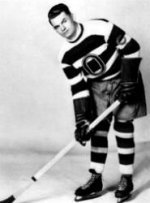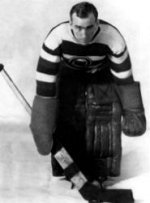 Cy Denny, Frank Finnigan and Alec Connell of the 1927 Senators
Photos courtesy Joe Pelletier
In 1924, Dey sold his share of the consortium and exited the rink business ending the Dey family's ownership of ice rinks in Ottawa dating back to the 1870s. In 1925, Gorman sold his share to Ahearn and exited hockey in Ottawa, moving to New York to manage the New York Americans. The Senators won the 1927 Stanley Cup in the Auditorium, the decisive game on April 13, 1927 against the Boston Bruins in a game which would be the last Stanley Cup finals game in Ottawa in that century.1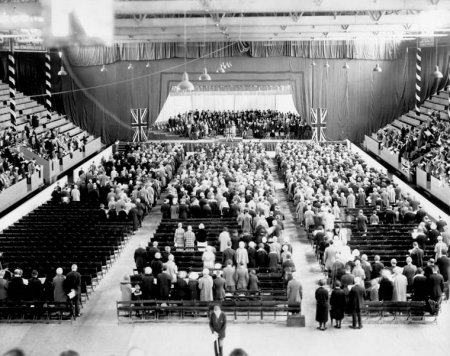 Thanksgiving Service at the Ottawa Auditorium - July 3, 1927
Library and Archives Canada/PA-027567
Built primarily for ice hockey, the Auditorium was also used for sports events, assemblies and musical concerts. For performances and assemblies, the arena had a concert stage that would be assembled at one end of the rink, facing the length of the rink. On Sunday, July 3, 1927 owing to the threatening nature of the weather, the Thanksgiving Service, which was to have been held on Parliament Hill, was held in the Auditorium.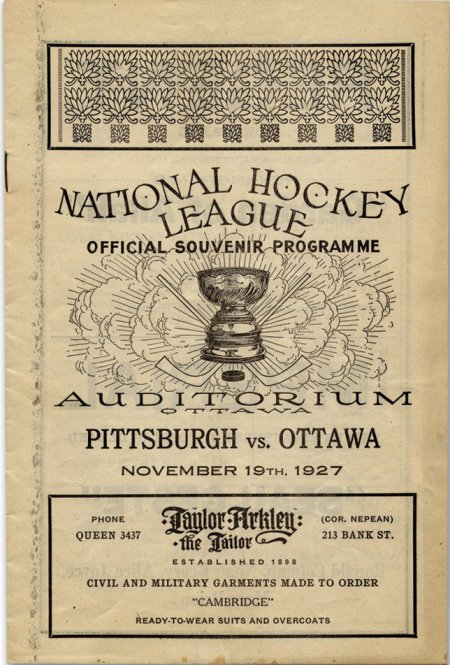 NHL Program for Pittsburgh Pirates vs. the Ottawa Senators Nov. 1927
courtesy Ron Spence
The Auditorium was the home arena of the original NHL Senators from 1923 to 1934. By 1930, the Auditorium was losing money as the Ottawa Senators losses increased. The consortium's debts to the Ahearn family would lead to the Senators NHL team suspending operations, then starting up again when capital was raised in 1932. After 1934, the Senators NHL franchise was moved to St. Louis, Missouri, becoming the St. Louis Eagles and the Senators were continued as a senior amateur hockey team playing out of the Auditorium. The franchise was still a drain on the Auditorium and was folded by the NHL in 1935. In 1936, the Auditorium went into receivership and was controlled by the Royal Securities Corporation until 1945, when Gorman returned and purchased the building and the Senators.1

Percy Faith and his Orchestra
Ottawa radio station CFRA's first broadcast was from the auditorium on May 3, 1947 with a concert by Percy Faith and his 40 piece Orchestra, and a 60 voice choir to an audience of more than 10,000 people. Ottawa Mayor J. E. Stanley Lewis proclaimed the station "officially on the air". From 1945 until 1954 the Senators team played in the Quebec Senior Hockey League, becoming a professional team again in 1952. After the Senators folded in 1954, attributed to the rise of televised ice hockey matches, the professional Hull-Ottawa Canadiens played in the Auditorium.1
On April 3, 1957, Elvis, Scotty, Bill and DJ performed at the Ottawa Auditorium on their second of only three appearances outside of the US. It was the second last stop of their first tour of 1957, a 10 day, 8 city tour that had begun on March 28 at the International Amphitheater in Chicago, and included shows in St. Louis, Fort Wayne, Detroit and Buffalo. They had performed the evening before in Toronto.
Elvis' popularity in Canada was as great as it was in the States and elsewhere and so was the feared impact on the youth by many. They initially had also been scheduled to perform in Montreal, but the shows there were cancelled because they felt Elvis was too "controversial." In the weeks prior to the appearance in Ottawa, local authorities took precautions to ensure a smooth visit while still others took steps have people avoid it entirely.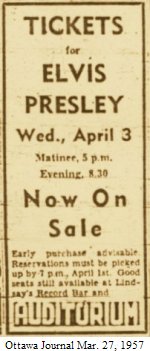 Ottawa Record man Alex Sherman and Elvis in Toronto
Ottawa Journal Photo courtesy Ottawa Public Library

To 'Scout' Elvis In Toronto Show
Any lessons to be learned from Elvis Presley's appearance in Toronto next week will be applied when he does his two shows at the Auditorium here Wednesday.
Alex Sherman, one of the promoters of Presley's Ottawa visit, will will travel to Toronto Tuesday to scout the show there and then will return Wednesday with The Pelvis.
Meanwhile, Presley's advance agent, Oscar Davis, visited Ottawa this week and put his approval on the local arrangements.
One of the items on Wednesday's agenda will provide for the long awaited opportunity for officers of the local Presley fan club to meet their hero in person.
While no trouble is anticipated at the shows, city police mean to make sure by putting extra men on duty.

The Ottawa Citizen March 29, 1957 p3 courtesy Ottawa Public Library

SS Board Blacklists Elvis Presley
Elvis Presley's actions are too "vulgar" Ottawa Separate School Board decided last night and unanimously passed a motion designed to discourage students from attending the rock 'n' roll star's appearance at the Auditorium.
Trustee Leo Henrt, initiating the move said, "We don't want the good reputation of our pupils spoiled by attendance at this thing. Out teachers should discourage our children from attending the show.
When asked the reason, Mr. Henrt replied, "We all know the reason why. his actions are to vulgar. They don't even let him near Montreal. He is banned there."
"Is that a motion?" trustee Matt McGrath asked. "It certainly is," Mr. Henrt replied.
The "Elvis Presley Pencil", sent by a manufacturer to the Separate School Board purchasing department for possible sale , was brought into the room. The appearance of the pencil together with a cardboard advertising card attached with Elvis' picture caused an uproar.
"How did that get in here", one trustee asked. "That pencil will most certainly be banned from our schools."
The board approved a circulatory letter to be sent to all principals asking them to advise teachers to discourage pupils from attending the show.

The Ottawa Journal March 28, 1957 p5 courtesy Ottawa Public Library


Record advertisement in Ottawa Citizen - Mar 28, 1957
courtesy Ottawa Public Library

Elvis Presley Is Coming To Town
By Gord Atkinson
MC CFRA's Showbill
When Elvis Presley appears at the Auditorium next Wednesday night I will have the pleasure of introducing the most talked-about show business personality of our day to his countless Ottawa district fans. Alex Sherman, Ottawa's Mt. Records and Oscar Davis, assistant to Col. Tom Parker, Presley's manager, were visitors to one of my recent programs and asked me, on behalf of Elvis, to make this introduction. Tickets for the afternoon and evening performances are available at the Auditorium box-office, and at Lindsay's Record Rendezvous.
So far, the top gross figure for a one day appearance was set by Liberace when he appeared at New York's Yankee Stadium. His fifty thousand dollar figure will be shattered right here in Canada. Elvis Presley who will do two shows in Toronto, the day before his Ottawa stint, will gross over sixty thousand dollars for his two appearances at Maple Leaf Gardens.

The Ottawa Citizen March 30, 1957 p32 used with permission of the estate of Gord Atkinson
While the Colonel had felt on this tour that the crowds were getting larger and just too hard to control, his fear especially from the hordes of young women, the "establishment's" fear's were for the women. On April 3rd, the day of the show the The Ottawa Evening Journal reported:
Ask Girls Stay Away From Elvis
Students of Notre Dame Convent have been asked to promise they will take no part in either the reception for Elvis Presley today or his show at the Auditorium tonight.
The request, circulated throughout high school classes at the Convent, followed a speech over the public address system at another Ottawa school yesterday.
But, while the other simply warned students not to misbehave at the rock 'n` roll rally and to do nothing to bring dishonor on their school's name, the Notre Dame circular requested students not to attend.
It was written on blackboards at the convent during routine class hours, students said, and they were asked to copy it, then sign it at the bottom.
It read:

"I promise that I shall not take part in the reception accorded Elvis Presley and I shall not be present at the program presented by him at the Auditorium on Wednesday, April 3, 1957. Signed .... "

The Ottawa Journal, April 3, 1957 courtesy Ger Rijff's "Long Lonely Highway"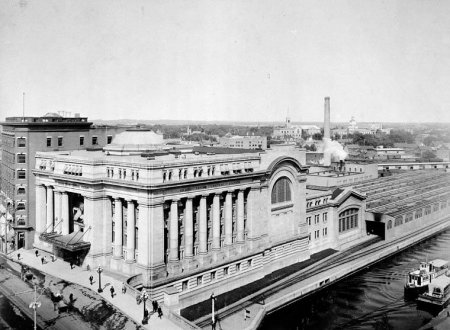 Grand Trunk (Union) Station, Rideau Street, Ottawa
Photo courtesy Webshots
On the morning of April 3rd, Elvis and his entourage arrived in Ottawa by train from Toronto, while the band drove.
THE PELVIS ARRIVES
Elvis Presley made an attempt to creep quietly into Ottawa by Train this morning, but the word got out and he didn't quite make it. Guards tried to hustle him out of the station by a side door, but photographers outflanked him and got this shot. Presley is making two appearances at the Auditorium today - one this afternoon and one this evening.

Flying Wedge Gets Elvis Safely Past Giddy Girls
By Bob Blackburn
Elvis Presley arrived in Ottawa at eight o'clock this morning, and alert fans were able to catch a brief but rewarding glimpse of his left sideburn as he swept through Union Station and into a waiting taxi.
Alert fans, however were in short supply. There were more people in Presley's personal entourage than in the small group of faithful congregated to welcome him.
Wearing a smart brown topcoat, dirty white shoes, and the faint happy smile of a man who is mentally riffling through a stack of thousand dollar bills, the "singer" was one of the first to step from the Toronto train.
As he strode briskly down the platform, he was preceded by a flying wedge of three formidable looking cops and surrounded tightly by a mob of raincoated retainers, including one to carry his guitar and one to carry his brown and yellow teddy bear.
At this time there were perhaps a half-dozen youngsters who obviously were waiting for him, but passers-by began to gather around when they noticed something was up, and a small but feverish group of middle-aged women suddenly appeared from nowhere, and began jumping up and down and shoving each other.
Gate Slammed
With military precision, the guard then slammed the gate in the worshipful faces and the Presley squad headed for the side door into the baggage office, whereupon the burgeoning crowd launched a flanking movement designed to head 'em off at the pass.
The two groups collided in the doorway with considerable impact but no serious casualties. Elvis, making good practical use of his celebrated pelvis flexibility wriggled right through and marched on, remaining aloof to photographers' pleas that he at least slow down.
Further Confusion
There was further confusion outside, where a small fleet of taxis waited with engines revved up, when about 16 members of his party tried to climb into the back seat of the first car with Elvis.
Still he spoke not a word, but the cries of photographers must have stirred a twitch of compassion in his breast. At last he donned his sideburned grin and posed for a fleeting moment before the taxi gently fendered a never-say-die female autograph hound out of the way and roared off into the morning traffic.
Just where he was roaring off to was a well-guarded secret. But his pink Cadillac and his yellow Cadillac which had been driven down for him were sitting in a dark corner of the garage at the Beacon Arms. Hotel personnel denied having ever heard of anyone named Presley.

The Ottawa Citizen April 3, 1957 courtesy Ottawa Public Library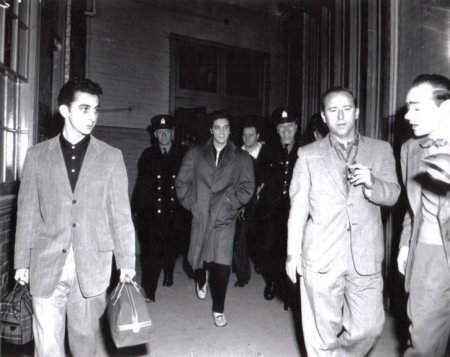 Elvis and entourage (George Klein, Arthur Hooten behind Elvis, Bitsy Mott with cigar)
arrive at Ottawa's Union Station - Apr 3, 1957
Photo by Newton © Ottawa Archives
Red-eyed and rumpled with sleep, Elvis Presley skipped lightly from the Toronto train at 8 a.m. today and was whisked off by taxi to a secret Ottawa hideaway. He was accompanied by a mommy teddy bear, a cuddly blue baby teddy bear and a human entourage of about 15.
For a handful of curious bystanders, he said 'Hi, Yah' and 'OK' before breaking into a curious girlish skipping gait on the last few steps to his taxicab. He looked like any Canadian boy who needs a haircut, dressed carelessly in a dark suit, velvet shirt, crumpled rosy beige raincoat and smudgy white buckskin shoes.2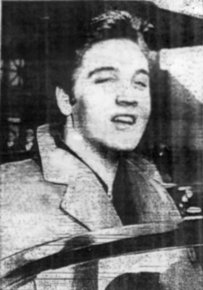 Elvis arrives Union Station in Ottawa - Apr. 3, 1957
Ottawa Journal Photos by Dominion Wide courtesy Ottawa Public Library
Traces of makeup and what looked like mascara failed to hide tired lines around the wobble-singer's Grecian nose.
"He looks so tired. poor boy`. murmured a matronly looking lady as Elvis stifled a yawn and obliged the tiny crowd with an abbreviated wiggle of the right leg and a big smile.
He said 'Hi` to a pretty young lunch bar attendant who had reached forward to touch him. She fell back in confusion and was supported by willing hands.
Men in the crowd, mostly commuters waiting for their own trains, seemed barely affected by the sudden rush to the station exit. They went along with the others, looked and turned away again.2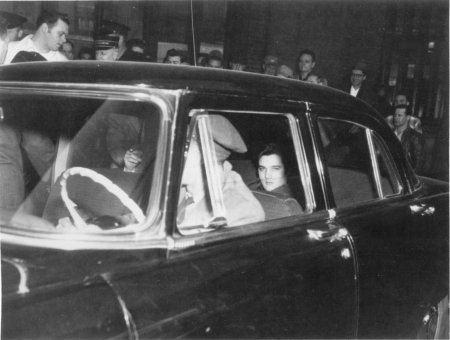 Elvis outside Ottawa's Union Station - Apr. 3, 1957
Photo courtesy Bill E. Burk's "Elvis in Canada"
Presley attendants formed a small tight ring around the idol, probably from habit, and hustled him toward the taxi. The performance was noted with raised eyebrows by a few unmoved gentlemen who looked like senior civil servants. Nobody was irritated or moved to emotional display. It could have been any minor diplomat or foreign dignitary arriving. Union station, arrival point for legions of world-famous personalities, was no different to any other day. Elvis passed through and the business of train arrivals and departures continued without disruption.2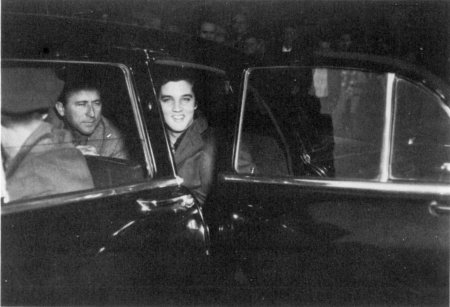 Bitsy Mott and Elvis outside Ottawa's Union Station - Apr. 3, 1957
Photo courtesy Ger J. Rijff''s "Long Lonely Highway"
A small group of idle railway policemen, called out in ease of trouble, looked slightly embarrassed as they dispersed to resume normal duties. Meanwhile, only the press photographers were struggling with a minor Presley official to get the taxi door open for a picture. Elvis settled the issue personally by ordering the door opened for one quick photograph. After a night on the train, Presley was headed for several hours of sleep before appearing for the first of two performances in the Auditorium at 4.30 p.m.2
RCA also pressed records in Canada. They pressed records in Montreal, Toronto and another main record-pressing plant in Northern Manitoba. Ken Middleton was a vice-president of RCA in Canada during that time and remembers flying in to Ottawa for Elvis' visit. A few RCA executives including Ken and the President were on hand to present Elvis with some Gold Records in a conference room at the Beacon Arms Hotel where Elvis stayed. Ken recalled that Elvis was very, very nice, surprisingly so ... dressed very flashy ..... extremely well mannered, even calling him sir, although there are only a few years difference in their ages. Elvis asked about everyone's families and such and about how his records were doing in Canada.3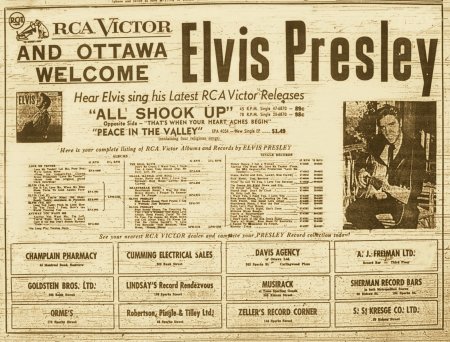 Ad in Ottawa Citizen - Apr. 2, 1957
courtesy Ottawa Public Library
On his first day assigned to the record division of RCA (in Montreal where the main headquarters for Canada was), he was standing in the office when the president burst into the room, filled with about 100 desks, slamming the doors open waving an Elvis single in the air (... around the early summer of '56) and yelled for all to hear, even the prim and proper secretary pool, that the single just went gold in Canada ... the fastest single to ever do so, and that "This guy could SHIT on a record and it would sell." 3
Though the city of Montreal may have cancelled any appearances of Elvis there, many kids there made it to the Ottawa shows. A local ticket agency created a package deal with the Canadian Pacific Railway and the Ottawa Transit Commission to provide round trip train service between Montreal and Toronto, busses to and from the Auditorium and tickets to the show.
NOISY BUT NICE
400 Montrealers On 'Presley Special'
By Robert Stewart of The Journal
"Daddy-o, it was the coolest. The craziest, maddest ride I ever had."
And the sideburned boy pulled away for the train, his hands in the pockets of his "pegger", pants.
He was a passenger on the Canadian Pacific Railway's "Presley Special", which carried Montreal's "rocking pilgrims" to Ottawa and Elvis last night.
And he and some 400 others were having the ball of their young lives.
Didn't Like Show.
From the time their train pulled into Union Station at 8:05 p.m., until it roared out at 11:10, the youthful Montrealers were surprised not only at Ottawa, but at themselves.
They found it wasn't the gold-jacketed wiggler on stage at the Auditorium, but themselves who made the excursion enjoyable.
"I didn't really think much of the show", one told The Journal. "I couldn't hear Elvis sing. Of course, I like the way he performed, and smiled and all that, but it was mostly being out on a trip with the other kids that I got my kicks from."
There was a sprinkling of impromptu singing and dancing in the station after the show, and drivers of the eight special OTC buses that carried the "pilgrims" from the station to the Auditorium and back were somewhat miffed at the noise, but other than that they may as well have been a visiting college debating team.
Noisy But Nice.
Anyone who came to the station for a riot went away disappointed. Coaches on the train were noisy, but nothing was broken. Conductor Don Gaw of Ottawa said he expected a pretty rough time on the special run.
"I guess I was really wrong", he said. "They were one hundred percent."
Attendants at the Auditorium were impressed with the Montrealers' behavior too.
"They couldn't have been better", said a member of the arena staff. "They got pretty pushy at times, but there was nothing at all which could have been called signs of juvenile delinquency. And believe me, that's what we expected."
The boys, girls, and a few adults on the passenger list provided the answer to the guard's thwarted expectations.
"We didn't come to cause trouble, man - we just came to hear the man sing, and maybe scream and have a ball. That's what we did. We had a great time."

The Ottawa Journal, April 4, 1957 courtesy Ottawa Public Library

Riding The Elvis Special Was Weird And Wonderful!
By Meg Hardy
Citizen Staff Writer
Riding the Elvis Presley "Rock-an'-Roll Cannon Ball" from Montreal to Ottawa Wednesday evening was an experience this write will not soon forget.
In some respects it was a weird and wonderful adventure. And yet looking back, it wasn't nearly as terrifying an ordeal as i had feared it might be.
To begin with the five hundred odd passengers who ham packed the eight coaches of the CPR special weren't all bug-eyed Bobby-soxers throbbing with passion at the though that they'd soon be seeing their idol in the flesh.
There was a grey-haired grandmother aboard.
There was 14-year-old Billy Luomala, a victim of polio, and a student at the Montreal Crippled Children's School, whose parents let him come along because when he had polio he got to love music and "I like Elvis' style. He's the greatest."
There was his lifelong "buddy" 13-year-old Fred Turak from Catholic High, whose mother had said "No!" but whose father had said "Yes!"
Seeking Why
And there was Father Lord, from the Archbishop's Palace in Montreal, specially trained in work amongst juveniles, who had come along "to see if I can discover why young people are so strangely fascinated by this Mr. Presley."
But the bulk of the passengers were teen-agers - out and out Elvis Presley fans.
But even these surprised me. I found no obnoxious adolescents with little pointed heads, no drooly dolls or yammering yokels engaged in gooey goings on.
They were just kids - well dressed an polite, for the most part - out for a good time.
In the words of Conductor don Gaw of 829 Meath street, who was in charge of the train, "these are just a bunch of healthy school kids and I don't expect any trouble."
And when the train pulled into Union Station Conductor Gaw reported again, "Not a single untoward incident, " he declared. "Maybe some of these kids are goofy to go for Elvis, but they've got manners."
Even Father Lord, who occupied one of the noisiest coaches, admitted he hadn't seen or heard anything that was much different from what one might expect of any normal gathering of teen-aged boys and girls.
Not that they didn't make that old train rock a bit (especially when it was going around curves" for they did. Travelside, Ltd. of Montreal, who had engineered the "package deal" trip (transportation both ways and a $3.50 seat at the Auditorium) also provided a five-piece band.
To the music of "Love Me Tender," Blue Suede Shoes," "All Shook Up," and "Heartbreak Hotel," they jitter bugged and snake-danced in the aisles.
They were traveling on the "Dream Street Express" and the titillating thought that they'd soon be witnessing Elvis inaction sent them into shivers of shear delight.
Aboard the train were four young ladies - the lucky holders of free tickets in a "Why I want to go to Ottawa to see Elvis" contest. Fifteen-year-old Judy Moscovitz, of West Hill High, one of the winners, put her answer into verse the last few lines of which ran:

"But to see him for real,
See him sing, see his zeal,
I get all shook up
And just swoon!"

Matilda Herman, 15, another winner, described Elvis as her "longing desire." Winner Micheline St. Roch, 17, who can't speak English too fluently explained through an interpreter that she didn't mind that Elvis couldn't speak French. "He says so much when he just looks at you," she sighed. Then in broken English: "When I hear him sing I'm all shake up - crazy as a broomstick!"

The Ottawa Citizen, April 4, 1957 courtesy Ottawa Public Library
Bill E. Burk, in "Elvis in Canada" wrote that in addition to Montreal, chartered buses also came in from as far as upstate New York, the state of Maine as well as surrounding towns all around Ottawa. Some kids though relied on more spontaneous (if not unwise) resources to attend, as the Journal reported:
ENDED UP AT ELVIS
Montreal Teenagers Started for School. But...
Two frightened young schoolgirls from Montreal have discovered the heart of Ottawa in a most unusual way.
They were Elvis Presley fans who played hookey from school and went hitchhiking to Ottawa to see their idol in action.
When they arrived here yesterday, they had four cents between them.
And they went away with train tickets, the satisfaction of having seen Elvis and a grubstake of $10- all compliments of the people of Ottawa.
Started Walking
Joyce Sirkett, 17, and Diane Heaybird, 15, detoured on their way to Westhill High School yesterday morning, and started walking to Ottawa.
They knew it was wrong to miss school and they had their doubts about getting to the Auditorium on time for the Presley evening show, but, they said, they just had to come.
They were just starting out when they were picked up by an Ottawa businessman who saw the 'two little girls' walking and wondered if they were in trouble. He drove them straight to Union Station here.
The first lap was completed, but there were many difficulties for the girls to overcome. They had no money, no way of getting back home, no tickets to the show they wanted to attend, and absolutely no knowledge of the city they were in.
Peanuts for Lunch
First they had to eat. It was around noon when they arrived, and they found at the station that the Montreal-Ottawa CPR 'Presley Special', on which they had friends, wouldn't be in until after 8 p.m.
They asked a cigar store operator on Sparks street what they could get for four cents. He thought they
were kidding. They told him their story and he came through with two 25-cent bags of peanuts.
After lunch, they set out to see Elvis—in person. They heard he was staying at the Beacon Arms apartment hotel, so they asked directions from a policeman, and went over.
'We almost got to see him too,' said Diane. 'We were right at the door when a man caught us. He threw us out.'
Some Quit Jobs
When the train finally arrived, they couldn't find their friends, who had the tickets for the show.
They got in to see Elvis on a reporters press card. They loved it. And during the performance, a man they met loaned them $10 to buy train tickets and get another meal.
They were not, they told The Journal, the only hookey-players in the crowd. At least 10 among the Montreal group had actually quit their jobs to make the performance.
'But we really love Ottawa,' said Joyce as she boarded the train back home last night. 'I've never seen such kind people. This is the best city I've ever been in.'

The Ottawa Journal, April 4, 1957 courtesy Ottawa Public Library
Prior to both performances there was the usual press conference and meet and greets backstage consisting of the press, local celebrities, fan club presidents and contest winners. While Ottawa deejay Gord Atkinson had been asked to introduce Elvis at one of the shows (probably the night), Bill E. Burk wrote that Keith Sterling, program and production manager of Ottawa's CKOY had been invited invited to be master of ceremonies of the other.4
"I just showed up at the Auditorium on the appointed day and time and went backstage. This (the Auditorium) was basically a hockey rink. They had a room set up with one of those collapsible tables and a whole bunch of benches for the photographers and such to sit down.," Sterling recalled. "After about ten, fifteen minutes, somebody came to the door and said, 'Gentlemen, Mister Presley will be here in about five minutes,' And about five minutes later, he showed up.4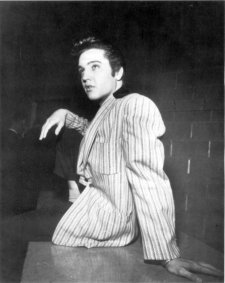 Elvis at press conference backstage at the Auditorium in Ottawa - Apr. 3, 1957
Photos courtesy Bill E. Burk's "Elvis in Canada" (2nd by Bill Newton © Ottawa Archives )
"He came in and climbed up on that table and just sat right on top of it, pulling his left knee up and holding it with his hand, and he looked at the crowd (the press corps). The photographers shot pictures and when they were through, he put his left knee down and pulled the right knee up and held it. Then he leaned over and put his elbow on his knee, his hand alongside his face. 4

Elvis at press conference backstage at the Auditorium in Ottawa - Apr. 3, 1957
Photo courtesy Bill E. Burk's "Elvis in Canada"
He went from one pose to another, all the time answering questions.4

Elvis at press conference backstage at the Auditorium in Ottawa - Apr. 3, 1957
Photo courtesy FECC/Peter Franks
"The Colonel really had him groomed how to pose so he wouldn't be interrupted by photographers asking him, 'Would you do this? Would you do that?` They didn't have to say a thing. He gave 'em every pose they wanted and they never had to ask for it.4
James Purdie, a writer in attendance for the Ottawa Journal wrote, Elvis Presley, 22, feels that his big money-making days are coming to a close. During a press conference Wednesday he admitted that wobbly knees may not draw the screams of teenagers for many more months. "But ah won't cry ovah spilt milk", he said. "If ah could become as good an actor as Frank Sinatra, ah'd go into films seriously." 5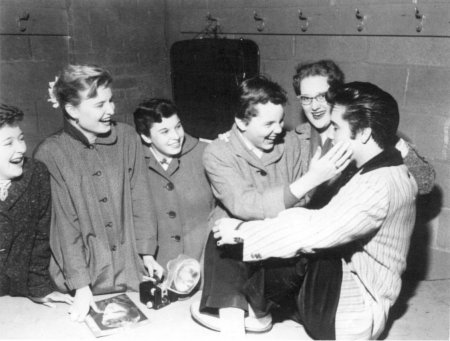 Elvis posing backstage at the Auditorium in Ottawa - Apr. 3, 1957
Photo courtesy Bill E. Burk's "Elvis in Canada"
Asked if he thought his popularity would last more than a few years, he replied, "It's a very uncertain business. The end may come in a lot less time than a few years." He considers the rock and roll craze the chance of a lifetime to pile up a bank balance for early middle age and a late marriage. "Ah know ah gotta accept it when they stop asking for autographs, but ah'll keep singing as long as they like it." 5

Elvis posing backstage at the Auditorium in Ottawa - Apr. 3, 1957
Photo courtesy Bill E. Burk's "Elvis in Canada"
Elvis found teenagers here no different from anywhere else. "Ah got no beefs about the kids-they made me."
He said news that some schools had banned their students from the Ottawa performance was no surprise. It happened regularly across the country. "But ah'd sure like to invite some of the principals to one of the shows", he added. "They'd find there's nothing wrong with the rock. Jumpin', shakin' and dancin' ain't indecent. It don't incite kids to rob banks or buy a gun." 5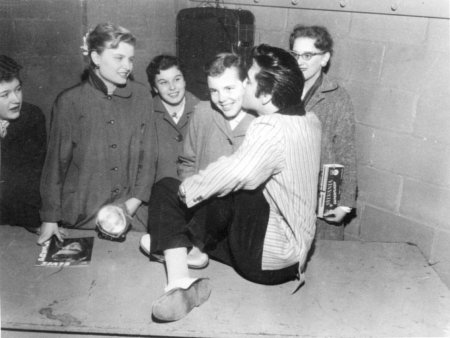 Elvis posing backstage at the Auditorium in Ottawa - Apr. 3, 1957
Photo courtesy Bill E. Burk's "Elvis in Canada"
He thought the ban on Presley shows in the Montreal area was a "political deal". "Or maybe they just don't like me", he said grinning. Elvis sat cross-legged on a table throughout the press interviews. He showed considerable sentiment when asked about his home. "One of the greatest things about making money is that it gives you some of the finer things in life", he said. "Mah family has a nice home now and ah aim to keep it." Elvis will definitely join the Army when he's drafted, he said.5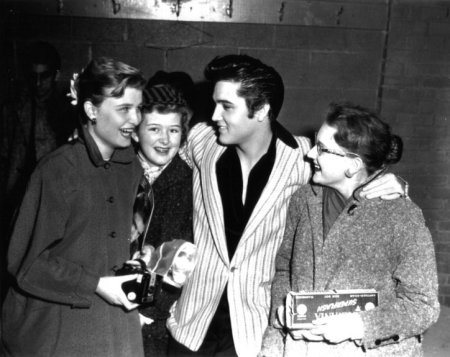 Elvis posing backstage at the Auditorium in Ottawa - Apr. 3, 1957
Photo courtesy Paul Sweeney
But the authorities have advised him that the draft is "slowing up" and he may not be called for a year or longer. Until that time, the U.S. government will continue to take 85 cents in income tax out of every dollar he makes. That means his Ottawa performances would net Elvis little more than $3,000.5

Elvis posing backstage at the Auditorium in Ottawa - Apr. 3, 1957
Photo courtesy Bill E. Burk's "Elvis in Canada"
Ottawa is the capital of Canada in in it resides its parliamentary institutions, the Senate and the House of Commons. The day after the show The Journal reported that the were only 37 in attendance in Commons during the show. Elvis Presley played here last night and CCF Whip Stanley Knowles said he wondered why the Commons was practically vacant. John B. Hamilton, Conservative, York West, complained during debate on tax resolutions that Finance Minister Harris' tax concessions only went as far as removing the 10 percent sales tax on such things as bubble gum.6
"It's a zoot-suit or Elvis Presley budget", he said. At the mention of Presley, Mr. Knowles asked: "By the way, where is everyone tonight?" Presley was playing at the time before a packed audience at the Auditorium. There were only 37 members present in the 259 member house, including two Cabinet ministers.6

Elvis interviewed backstage by Ottawa's CKOY news director, Mac Lipson - Apr. 3, 1957
Photo courtesy Jim Curtin's "Candids of the King"
Like Miami in 1956, and many other cities, Union rules in Ottawa required that local musicians be hired for local performances. They weren't necessarily required to be used but had to be hired. In Ottawa, the 16 piece big band, Arni May Orchestra was hired to support the opening acts for the shows. Arni, a jazz musician at 20, had been playing drums for 6 years and leading his own orchestra. While the band members got paid $20 each for the two Elvis concerts, as the bandleader May received $30.7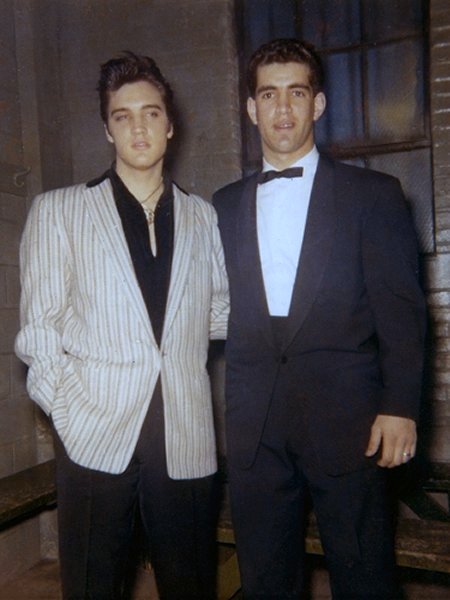 Elvis and Arni May - April 3, 1957
Photo by DJ Fontana courtesy Arni May and Red Robinson
"I wasn't a big Elvis fan," said May. "I really only knew him from TV, from the Tommy Dorsey Show and the Ed Sullivan Show." He remembers spending the day of the concerts with Elvis in his dressing room and described the young singer as down to earth and religious. "Elvis was an exceptional family person and he took a lot of time talking to me and asking me questions about jazz music and who my musical influences were," said May. "He told me he loved gospel music and the blues. He knew I liked jazz and Latin jazz, so he asked about me, and you don't expect those things, you know what I mean?" 7

Elvis backstage at the Auditorium in Ottawa - Apr. 3, 1957
Photo by Mortie May courtesy Arni May and Red Robinson
Of the conference backstage before the first show, Keith Sterling further said Elvis "was in there, I guess, fifteen minutes or so, answering questions, then someone at the door just plain interrupted and said, 'Mr. Presley has to leave. He's on stage in fifteen minutes.' So he departed." 4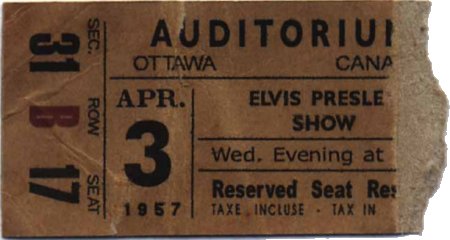 Ticket stub for Evening show - Apr. 3, 1957
courtesy web

ontage in Ottawa (with audio added from Hawaii 61) - Apr. 3, 1957
courtesy Frederico Wladimir
"I stayed backstage. They told me how to introduce him. 'Make it a simple introduction. We don't need anything fancy or longwinded or anything else.' It wouldn't have done any good anyway. . . . cause I walked out on that stage and introduced myself and said, 'It's a great pleasure to be here and introduce the star of our show. Ladies and gentlemen . . . ' That's as far as I got. You couldn't hear a word after that. I finished the introduction, but no one ever heard it. I went out front and watched." 4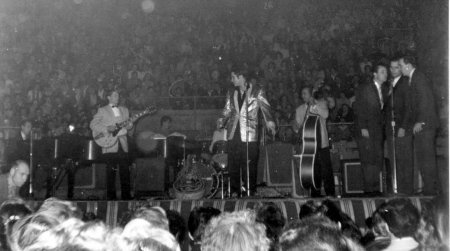 Scotty, D.J., Elvis, Bill and the Jords onstage at the Auditorium in Ottawa - Apr. 3, 1957
Photo courtesy web
Of all the reviews in the Ottawa papers of the show, Rickard Jackson's, of the Journal was probably the least flattering.
Elvis Presley may be real zorch to the teenagers but I've seen more honest to goodness action at Civil Service picnics. And as for screaming. . .well . . .8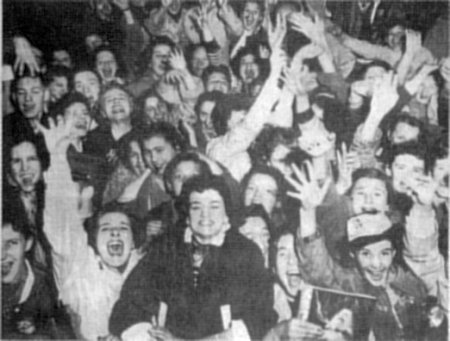 Elvis fans at the Auditorium in Ottawa - Apr. 3, 1957
Photo by Dominion Wide courtesy Robert Gordon's "The King on The Road"
Elvis should hear the girls from the department shriek when Johnnie , the cute little red-headed office boy from Central Registry and that handsome Mr. Jones, the young executive assistant to the Deputy Minister come humping along, neck and neck in the potatoe sack race at the annual August outing at Lac Philippe. The two are comparable, potatoe sack racing and Elvis Presley's swivel hipped singing, for both are athletic endeavors of a sort.8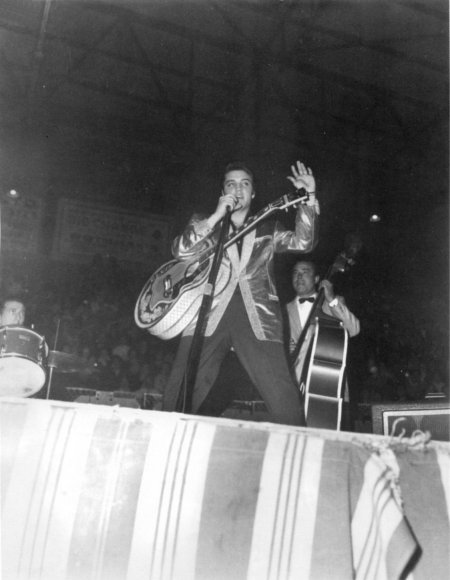 D.J., Elvis and Bill onstage at the Auditorium in Ottawa - Apr. 3, 1957
Photo by Newton © Ottawa Archives courtesy Bill E. Burk's "Elvis in Canada"
Actually, all Elvis does is an old-fashioned bump and grind from burlesque to a hopped-up hill-billy beat. He's a male cooch dancer with a guitar instead of a G-string, carrying on where Little Egypt left off. The former Mississippi truck driver who, in two years has parlayed sideburns, a ducktail hair-do and a muscular vibrato into several million dollars, and a string of eight pink and purple Cadillacs, oscillated yesterday through two Auditorium performances. It was real dorcas.8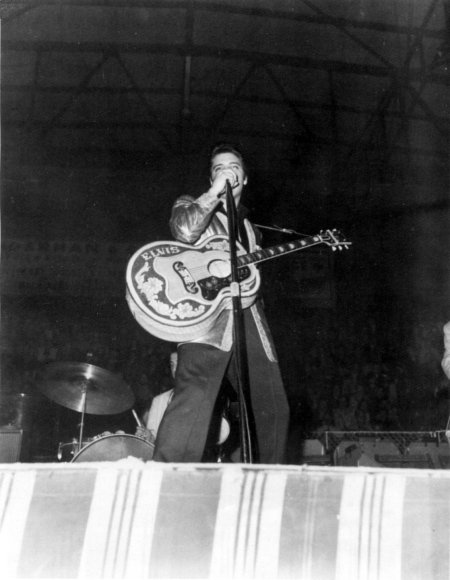 D.J. and Elvis onstage at the Auditorium in Ottawa - Apr. 3, 1957
Photo by Newton © Ottawa Archives courtesy Bill E. Burk's "Elvis in Canada"
Better than 16,000 agitated Rock 'n' Rollers paid more than $45,000 to ogle him in his $4000 gold lame jacket.
Of the $45,000 take, Elvis' cut was $20,000. That was for nine songs belted out in 48 minutes. Tickets were $3.50 and $3.00. Anything less seemed to be for standing room.8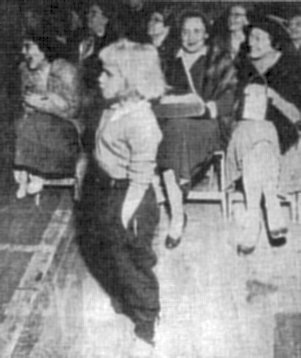 Elvis fans at the Auditorium in Ottawa - Apr. 3, 1957
Photo by Dominion Wide courtesy Robert Gordon's "The King on The Road"
City Police Chief Duncan MacDonell told the Journal there were some 30 policemen on duty at the Auditorium. They were paid by the Police department. Most of the mob were teenagers. Girls in their thick white bobby socks and flat heeled white bucks, full skirts and loose white sweaters. And boys in their jeans, jackets and jack-boots. Great conformists, the teenagers all dress so alike they might as well be wearing uniforms. But there were a surprising number of middle-aged women scattered through them.8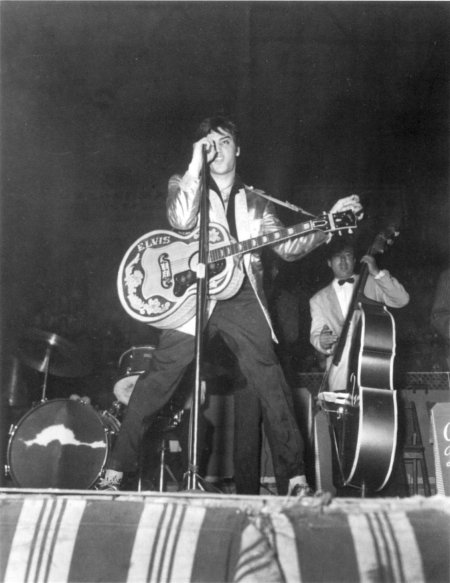 Elvis and Bill onstage at the Auditorium in Ottawa - Apr. 3, 1957
Photo by Newton © Ottawa Archives courtesy Bill E. Burk's "Elvis in Canada"
Elvis played on the crowd and his guitar with equal facility. He shimmied through "Don't Be Cruel", "You Is Nothing But a Hound dog", Heartbreak Hotel" and other Presley specialties including "Love Me Tender", his travesty of that old Civil war love song, "Aura Lee".8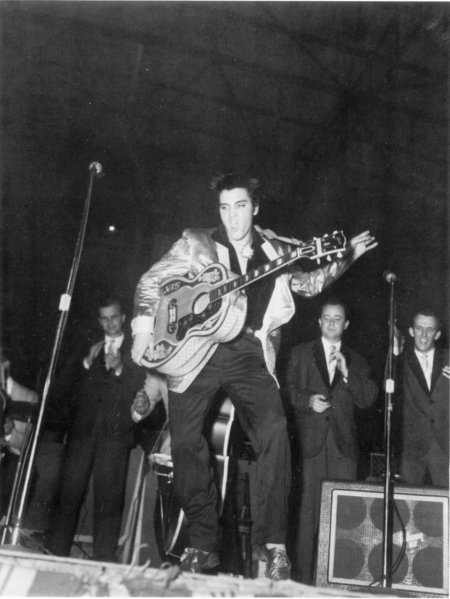 Elvis and the Jordanaires onstage at the Auditorium in Ottawa - Apr. 3, 1957
Photo by Newton © Ottawa Archives courtesy Bill E. Burk's "Elvis in Canada"
And the girls screamed just about as they do when the three-legged race is in the stretch drive at the civil service picnic. There is, however, just a slightly different shading to the tone of the shrieks. For while Elvis is only a few years out of stove pipe pants, he has become the knowing master of leer and lurch. He makes it personal.
He puts it on the individual basis. With what might look like, but definitely isn't, a shyly downcast glance of embarrassed modesty, he leans lovingly into his hoochy cooch. He even bats his big brown long-lashed eyes before he goes all aquiver and the girls start screaming so loud they can't hear him sing.8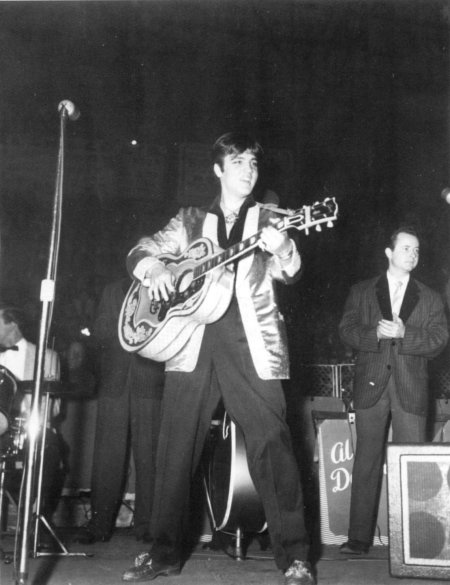 Elvis and the Jordanaires onstage at the Auditorium in Ottawa - Apr. 3, 1957
Photo by Newton © Ottawa Archives courtesy Bill E. Burk's "Elvis in Canada"
Not hearing him perhaps really doesn't matter so much. For he's that kind of artist to be seen rather than heard.
As a singer he's an interesting contortionist. The rumors that his gyrations might generate a teenager terror of rioting hysteria turned out to be so much smoke from the hokum-pipe of the Presley publicists. A corp of some 100 special police and Auditorium guards waited, wondering, through the opening minutes of the Presley musical nip-ups for something to happen. Nothing much did, beyond the screaming.8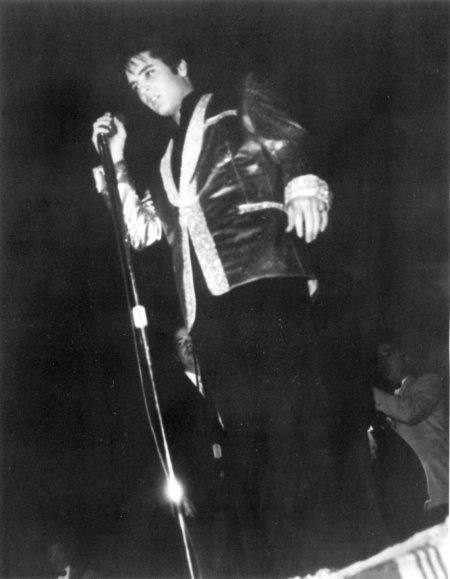 Elvis and Bill onstage at the Auditorium in Ottawa - Apr. 3, 1957
Photo by Newton © Ottawa Archives courtesy Bill E. Burk's "Elvis in Canada"
The warning that anyone caught out of their seats jazzing around in the aisles or trying to swarm hungrily over Elvis would be tossed out forth with, contributed to the comparative calm. A lone sentry stood patrol at Elvis' dressing room door. He identified himself as the personal security guard for the Crown Prince of Rock and Roll.
He was Bitsy Mott, a Philadelphia Philly of 10 years ago, he claimed. (and research turned up that he had played 90 games and had a .222 batting average.) When the night ended, the precious Presley pelt was unpawed and his long, wavy brown mop unmussed. With a final muscular spasm he was gone. leer, lurch and lame jacket.8
Helen Parmelee of the Journal attempted to give a woman's perspective on the show: Some wept; some moaned, some clutched their heads in ecstasy; everybody screamed; stamped: clapped hands; flailed arms; one person got down on all fours and pounded the floor. Elvis 'sent' them.9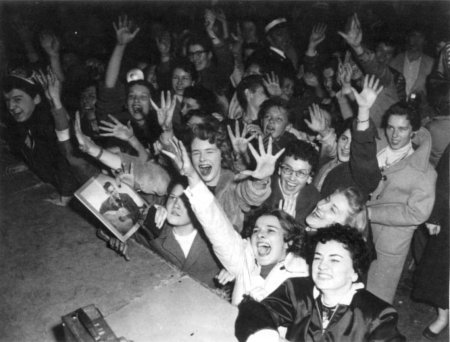 Elvis fans at the Auditorium in Ottawa - Apr. 3, 1957
Photo by Dominion Wide courtesy Bill E. Burk's "Elvis in Canada"
Elvis 'sent` me too—home with a bursting headache! This is supposed to be a 'woman's eye view' of Elvis Aron Presley. His fans will consider it a 'worm`s eye view'. I'm still bewildered. Last night's contortionist exhibition at the Auditorium was the closest to the jungle I'll ever get. But it isn't the Memphis wiggler who's the 'missing link`. It's his audiences—in Ottawa and elsewhere. I don't know if his gyrations excite them, or if he merely gives the teenagers a chance to let off steam. But, let off steam they did, and I have my headache to vouch for it. Perhaps he hypnotized them.9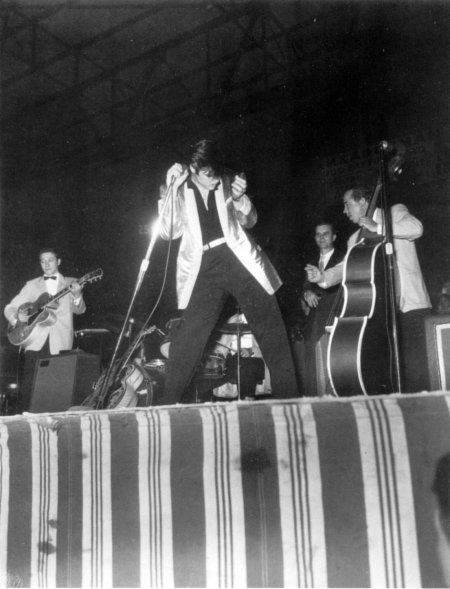 Scotty, Elvis and Bill onstage at the Auditorium in Ottawa - Apr. 3, 1957
Photo by Newton © Ottawa Archives courtesy Bill E. Burk's "Elvis in Canada"
For more than an hour and a half the seething mob sounded like 50 jet planes taking off at once. The crowd was a mixture of teenagers, a fair sprinkling of adults and policemen, and the odd diplomat and socialite. One foreign embassy official (who begged to remain anonymous) claimed he was merely studying 'Canadian culture'. The lad with the permanent sneer certainly gave them their money's worth. In spangled gold lame he slithered and reeled until the sweat poured from his brow and his lank hair covered his eyes.9
By the time 'Houn' Dog' arrived for the third time around he had his audience in his hand, but not in his lap—the entourage of policemen saw to that. Then in a last pop of flashlight bulbs he was gone. The lights switched on and that was all there was to it. They hadn't heard his voice, but they were happy. As they had shrieked their adulation, they drowned out his every word, But his hips had kept the beat for them.9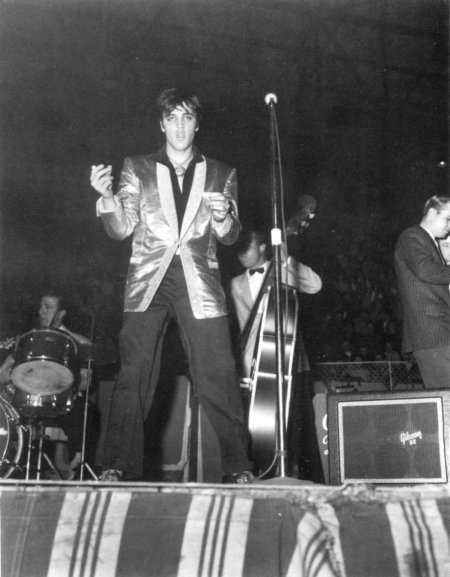 D.J., Elvis, Bill and the Jordanaires onstage at the Auditorium in Ottawa - Apr. 3, 1957
Photo by Newton © Ottawa Archives courtesy Bill E. Burk's "Elvis in Canada"
Perhaps the words of one 15-year-old Hull High School student sum up the intensity of the girls' emotions. 'I love him', she sobbed, long after he had departed. In the words of a cynical cop; 'Every time he took a dive, they hollered. They're crazy.' As for me, I'm still bewildered. I'd just like to own as much as that boy pays in taxes. Anybody know how to get rid of a headache? 9
Harold Lewis, a high school reporter writing for the Journal attempted to give a report from a teen's perspective. "Oh, Elvis. I love you", screamed a pert brunette as the teenage idol appeared on the stage. She was only one of a multitude of loud, but orderly teenagers who filled the auditorium last night to welcome the wiggly one to Ottawa. And welcome him they did! Did I say teenagers? For the most part it was we teenagers who orally applauded Elvis, but it was no uncommon sight to see "adults" wearing gigantic "I love Elvis" buttons, and making themselves heard above the youngsters.10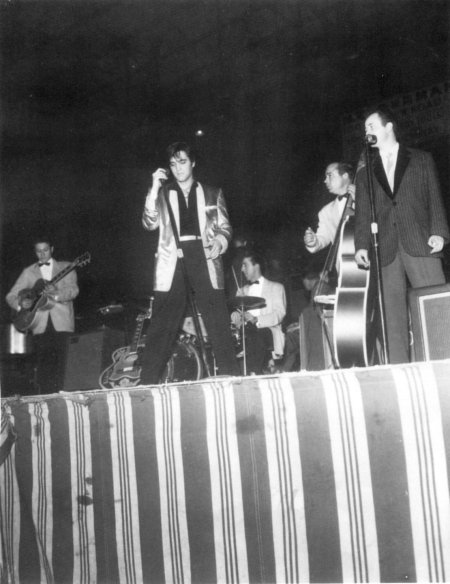 Scotty, D.J., Elvis, Bill and the Jordanaires at the Auditorium in Ottawa - Apr. 3, 1957
Photo by Newton © Ottawa Archives courtesy Bill E. Burk's "Elvis in Canada"
The first part of the show was highly entertaining - which is the polite way of saying that we tolerated it. The kids wanted "Elvis", and before they had a chance to holler for him, they were warned what would happen if they stood in the aisles, jumped up and down, ran up to the stage, etc. . . . The warning was a stern one and the number of police present indicated that it was meant.10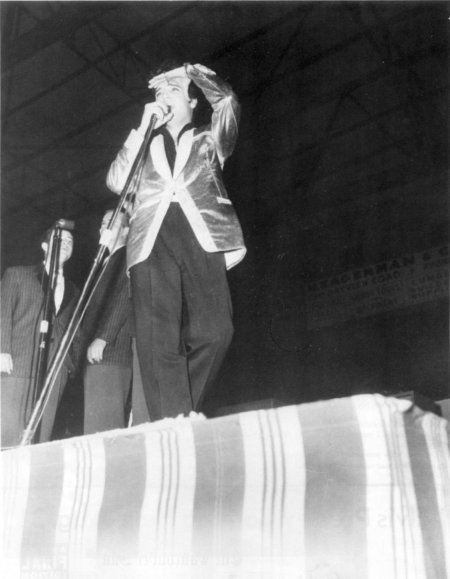 The Jordanaires and Elvis onstage at the Auditorium in Ottawa - Apr. 3, 1957
Photo courtesy Bill E. Burk's "Elvis in Canada"
I have never seen such discipline at an Ottawa affair and yet there seemed to be little need for it. The girls couldn't have been screaming for his voice - they seldom heard it. Poor audio facilities at the auditorium didn't help any. I found this particularly disturbing in that I have become rather fond of the fellow's singing. when Elvis merely sings and does no gyrate, he indeed has a fine voice. This is easily illustrated by listening to one of his records - particularly "Love Me Tender". It was his "contortionism" which appealed to those in the auditorium.
With each shimmy the idol's knees further beckoned the floor. The closer they came, the louder became the screams and when he finally rested on the stage floor - thunder! One Ottawa girl will never wash her right arm again! "I met him. I met him", she jubilantly announced as she passed my seat. She stopped long enough to tell me that she had been a winner in an Ottawa radio station contest which rewarded her with an introduction to Elvis. Her wildest dream had been to meet the fabulous Elvis. She met him - and cried! 10

Elvis onstage at the Auditorium in Ottawa - Apr. 3, 1957
Photo by Newton © Ottawa Archives courtesy Bill E. Burk's "Elvis in Canada"
Reports by the different reviews as to the number of songs Elvis performed, the number of police and even the numbers in attendance vary. Staff writers for the Ottawa Citizen, Greg Connolley and Gerry Mulligan described the pandemonium as follows:
Stained by the sweat of many an honest hockey gladiator, the Auditorium last evening was transformed into a gold-spangled, juvenile paradise as 9,000 ecstatic teen-agers squealed paeans of praise for their hairy hero, Elvis Presley. The shades of such hockey notables as King Clancy, Frank Nighbor and Alex Connell were seen floating out of the "Aud" at 9:30 p.m. when Mr. Presley undulated on stage for his preliminary warm-up wriggles. Clad in a $4,000 gold jacket, Mr. Presley was the most dashing thing to come to Ottawa since Gorgeous George was wowing them on the wrestling circuit. The reception given Elvis was like nothing Ottawa has ever seen before.11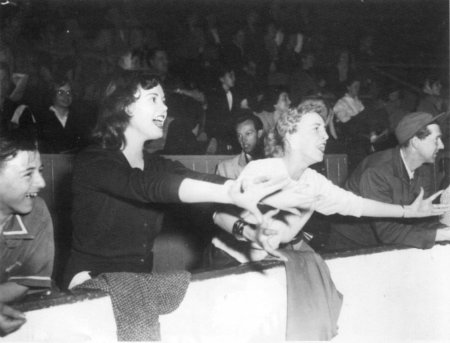 Elvis fans at the Auditorium in Ottawa - Apr. 3, 1957
Photo courtesy Bill E. Burk's "Elvis in Canada"
It was sheer pandemonium. The screams and squeals were so devastating that it was virtually impossible to hear anything that Presley was allegedly singing. This didn't seem to bother the teen-agers who erupted on cue on the frequent occasions when their idol went into his "bump-and-grind" routine. Despite all their enthusiasm, the boys and girls and the sprinkling of adults were very well behaved. There were no arrests and no one was thrown out of the party.11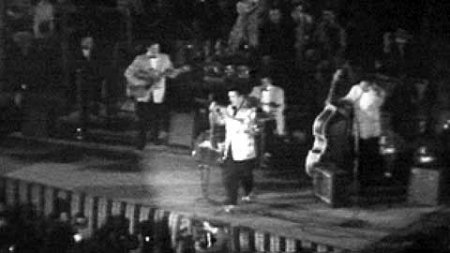 Scotty, Elvis, D.J. and Bill onstage at the Auditorium in Ottawa - Apr. 3, 1957
Photo courtesy CBC Digital Archives
One girls fainted, hundreds cried but generally speaking it was a peaceful Presley program. The only potential danger peaks came when Elvis turned on the steam and gyrated like a Minsky burlesque graduate. Several times the audience started to close in on the platform but prompt action by police kept the situation under control. There were some youths in black leather jackets, reportedly from Montreal, who tried to crash the gate but police dealt with them promptly and efficiently.11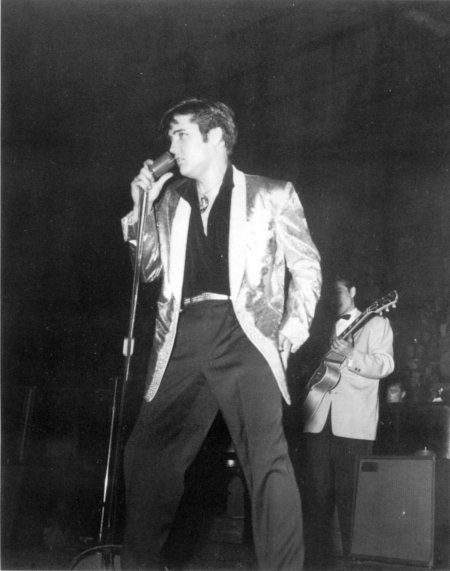 Elvis and Scotty onstage at the Auditorium in Ottawa - Apr. 3, 1957
Photo by Newton © Ottawa Archives courtesy Bill E. Burk's "Elvis in Canada"
A group of slickly-dressed adults who kept crowding the platform were flatly told by a constable : "Do that once more and I'll throw you out of the place." All told there were 50 policemen and five firemen headed by Chief Constable Duncan MacDonell keeping an eye on things.
Some of the longest side-burns seen since Gone With The Wind was filmed were on display in front of the Auditorium as the first contingent of youngsters queued up and hour before the show was scheduled to start. Along with the sideburns were heads of heavy, matted, oily hair arranged in a variety of fantastic coiffures.11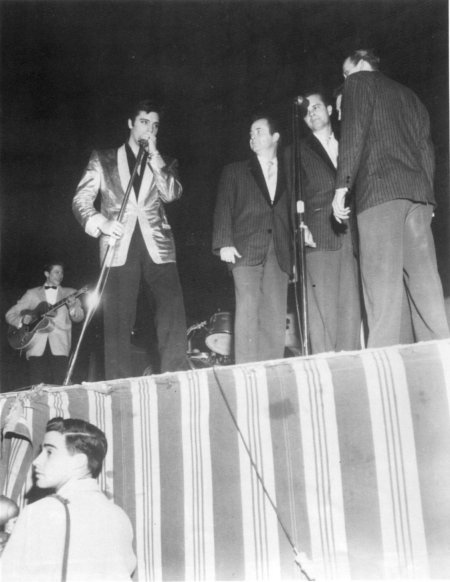 Scotty, Elvis and the Jordanaires onstage at the Auditorium in Ottawa - Apr. 3, 1957
Photo by Newton © Ottawa Archives courtesy Bill E. Burk's "Elvis in Canada"
The boys and girls stormed into the "Aud," many of them clustering around the stage entrance in the hope of getting a word with Elvis. By 8:30 p.m., the place was jammed but late arrivals kept coming in as late as 9:30 when Elvis made his appearance. The arrival of "the presence" on stage was the signal for the most horrendous din that has ever been heard in Ottawa, not excluding the occasional singing bouts in the House of Commons. Girls burst into tears. Girls covered their faces, overcome with emotion. Girls and boys shrieked, exulting in this tremendous experience.11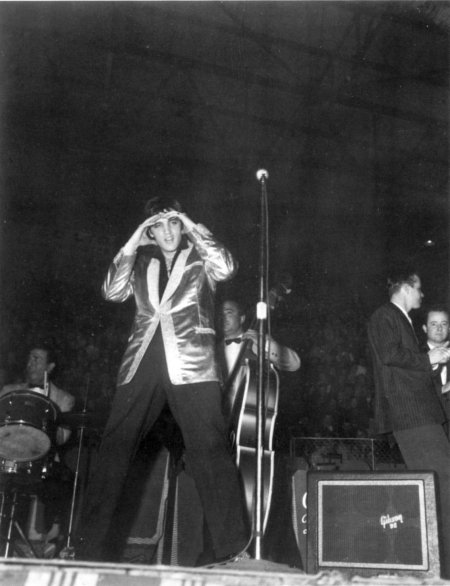 D.J., Elvis, Bill and the Jordanaires onstage at the Auditorium in Ottawa - Apr. 3, 1957
Photo by Newton © Ottawa Archives courtesy Bill E. Burk's "Elvis in Canada"
One girl screamed: "He looked right at me." Then she started crying. Another got Elvis to autograph her arm. She burst into tears. The promoters, not missing a bet, sold "I Like Elvis" buttons at 75 cents a throw and programs at $1.00. At the outset of the presentation, the master of ceremonies explained the particular regulations that apply to a Presley show. There were to be six build-up acts before Elvis came on. This statement was greeted by despairing groans. Then, the man said, no one could leave his or her seat. And, no smoking.
Just about everybody brought along a flash camera and throughout the Presley act there was a continuing series of blinding "shots". Perhaps the height of emotionalism came when Presley lurched into "Hound Dog". Three policemen and Presley's private strong arm man sped down the center aisle to thrust enthusiasts back into their seats. Presley seemed to sense when things might get out-of-hand and would halt his wiggling, temporarily.11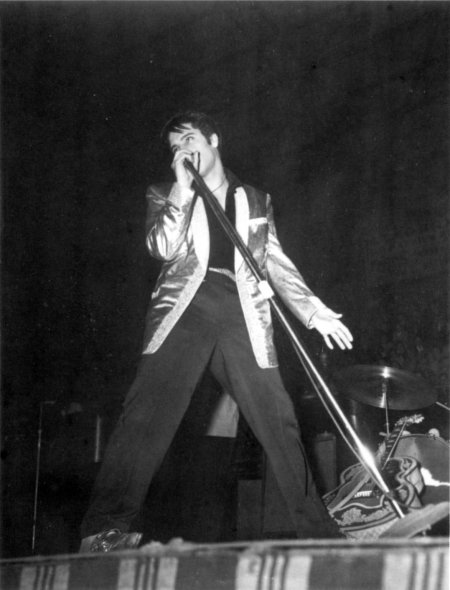 Elvis onstage at the Auditorium in Ottawa - Apr. 3, 1957
Photo by Newton © Ottawa Archives courtesy Bill E. Burk's "Elvis in Canada"
Patricia Thomas, 43 Delaware, just cried and cried. Elvis had penned his famed signature on her arm. This was just too much. It was unbelievable. Normal, quiet youngsters turned into screaming bobby-soxers. Tears streamed down their faces. A girl near the press section alternated between biting her fingernails and clapping her hands, screaming through the complete show.
After 16 numbers Elvis decided to call it a day. He had appeared before 12,000 people, 3,000 in the afternoon and 9,000 last night. His exertions must have left him fatigued, but no more than some of his ecstatic fans. Probably more busy than Presley himself was his manager, Col. tom parker, who scurried back and forth in front of the stage as his hero performed. Parker made sure nobody - but nobody - got near his prize.11

Elvis fans and the just plain curious at the Auditorium in Ottawa - Apr. 3, 1957
Photo courtesy Bill E. Burk's "Elvis in Canada"
Well dressed matrons and dignified gents mingled with the kids to see this atomic age sensation. Some stared in awe, others in amusement. When Presley left the stage the atmosphere lightened considerably. There was a rush for the exits and in the process one lady banged her leg, passed out and required medical attention. She recovered minutes later, then continued rushing to catch her Montreal train.
The crowd thinned out fast, but some eager admirers spilled through the halls looking for their boy. Another group outside the Auditorium flocked around the back entrance. All were doomed to disappointment, though. Elvis left the same way he had arrived earlier in the afternoon. A fast car was waiting outside and he was zipped back to his hotel minutes after the show ended.11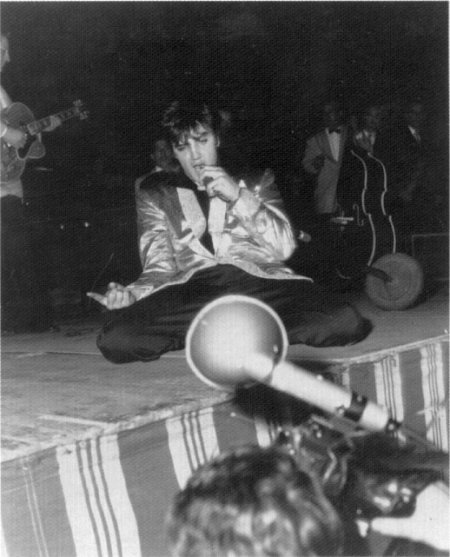 Scotty, D.J., Elvis and Bill onstage at the Auditorium in Ottawa - Apr. 3, 1957
Photo courtesy Elvis Album
A gang of black-jacketed boys tried to break through the barricades to Presley's dressing room, but special policemen stymied their efforts. one policeman injured his arm when the group got out of hand, but the uprising was swiftly squelched.
In attendance at the afternoon show were 25 uniformed city policemen under Deputy Chief Leonard Green, and members of the detective and morality divisions. Fifty uniformed men handled the evening show as well as 30 off duty plain clothesmen, a strong force of detectives and morality men and special policemen. They were ready for anything, but the patrons behaved themselves. It was quite a night. One female fan summed it up nicely. "It's hard to believe he was really here!" 11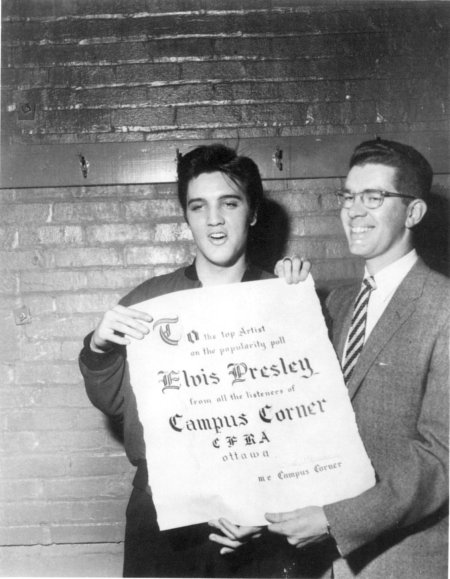 Elvis and Gord Atkinson between shows backstage at the Auditorium
Photo courtesy Bill E. Burk's "Elvis in Canada"
Gord Atkinson remembered Elvis unable to leave his dingy converted hockey dressing room because of the mobs outside the building, sitting quietly, eating a plain cheese sandwich, in between shows when he interviewed him before he introduced him onstage for the evening performance. Gord hosted a weekly program for teenagers CFRA called the Campus Corner where they had conducted a big rating contest to determine the most popular recording artist of the year and Elvis won by an overwhelming majority of votes. After the interview he presented him with a scroll on behalf of all the listeners of the old Saturday afternoon teen program.4

Gord Atkinson's interview with Elvis:4

Gord: Is this the first time you've been to Canada?
Elvis: Yes. it is my very first trip to Canada.
Gord: Pretty soon for any impressions. Do you have any, though?
Elvis: No. Yes. Well, I do. I was in Toronto last night and I was very much surprised at how wonderful the people are, how friendly, you know, in this part of the country.
Gord: They have certainly been waiting for you for a long, long time.
Elvis: I have been wanting to come up here. In fact, when I started looking at the tour, I said, by all means, I want to go to Canada. In fact, about a year ago, I tried to get them to book a tour up here, but I wasn't well enough known. A year and a half ago, everybody didn't know me well enough.
Gord: Sounds almost unbelievable.
Elvis: So they figured I wouldn't make enough money.
Gord: No doubt about that now, Well, Elvis, you've certainly even topped the popularity Frank Sinatra had in his heyday. This may seem like a foolish question for a Presley fan to ask; it seems an obvious answer; but have you, yourself, given any thought to what it is about you that has made you the phenomenal show business personality that you are?
Elvis: I sure have, In fact, only I don't like to figure it out because I am afraid if I find out what it is. I might lose it, so I just keep guessing myself
Gord: You just recently built a home?
Elvis: Well, I didn't build it. I just bought it. It's an estate. It's about ten miles from where I live now (on Audubon Drive). We had to have a larger place because I have accumulated so much junk in the last two years I don't know where to put it.
Gord: Will you be living with your parents?
Elvis: Yes.
Gord: You are an only child, aren't you'?
Elvis: Yes, sir.
Gord: Do you have a girlfriend, may I ask?
Elvis: I don't have a special ... I mean, when I`m home I date a few different girls in Memphis, but I don't have any particular one.
Gord: Have you given thought to the fact some day you might meet a certain someone and decide that you'd like to get married?
Elvis: I probably will.
Gord: Do you think this would hurt your popularity?
Elvis: It probably will. I have no plans for marriage. I haven't met anybody yet.
Gord: What about your singing style. Would you say that you are an outgrowth of country music? Or the pop field? Or a combination of both?
Elvis: I guess I kind of like em both; more rock 'n roll than anything else. Rock 'n roll is actually, you see, what put me over.
Gord: There are many people waiting to talk to you. I want to thank you so much. I have something here to present to you. It's a scroll from our program, called Campus Corner: It is a show that is presented each Saturday. It is a teenage show, if you can imagine. We had a popularity poll where the boys and girls on the station are voting and for the past year and a half you have been the Elvis: Oh, that's great. Thank you very much.
Gord: Elvis, I wonder if you'd say something to all those fans right now.
Elvis: I would like to tell them how I deeply appreciate (this), and like I said before, I guess I've gotten more mail from Toronto, Ottawa and Montreal than any other place. I've got more fan mail from right around this area than I have in anywhere in the United States.
Gord: That's wonderful. You will be . . .
Elvis (interrupting): I am not telling that to you because I am here, but it is very true and that is one of the reasons why l always wanted to come up here; because I've gotten more letters from Canada than I can count.
Gord: That should make your fans here very happy. It has been a sincere pleasure to be talking to you, Elvis Presley.
Elvis: Thank you very much.
Bob Blackburn of the Ottawa Citizen wrote Elvis up as "Every Bit a Pro: They say Elvis Presley was singing at the Auditorium last night. You couldn't prove it by anyone who was there though. He appeared all right, wearing a $4,000 gold jacket and a black shirt with a plunging neckline and doing some sort of tribal dance resembling as African fertility rite.12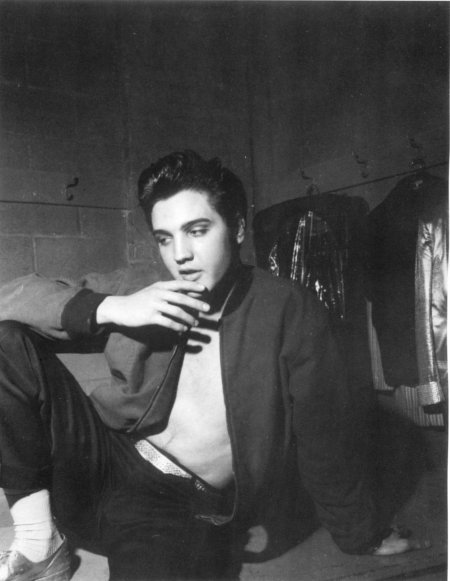 Elvis at press conference between shows at the Auditorium in Ottawa - Apr. 3, 1957
Photo by Newton © Ottawa Archives courtesy Bill E. Burk's "Elvis in Canada"
But whether the audience came to hear him or he came to hear the audience was a matter for debate. At both afternoon and evening shows an ear splitting screech went up at his first appearance and didn't end until well after his departure. It was impossible to tell what he sang, let alone how he sang it. His physical performance, however, vulgar or not, was solidly professional.12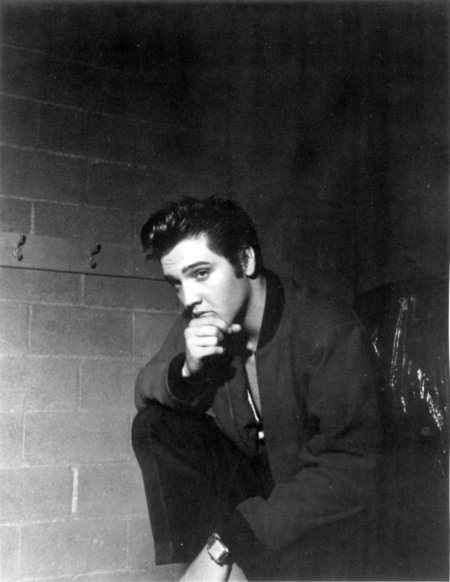 Elvis at press conference between shows at the Auditorium in Ottawa - Apr. 3, 1957
Photo by Newton © Ottawa Archives courtesy Bill E. Burk's "Elvis in Canada"
Presley's stage performance contained nothing new to anyone who has seen him on the TV or movie screen, but his backstage performance at two press conferences was something else. with his hair out of his eyes and the sulk wiped off his face, he undergoes a complete change of character.12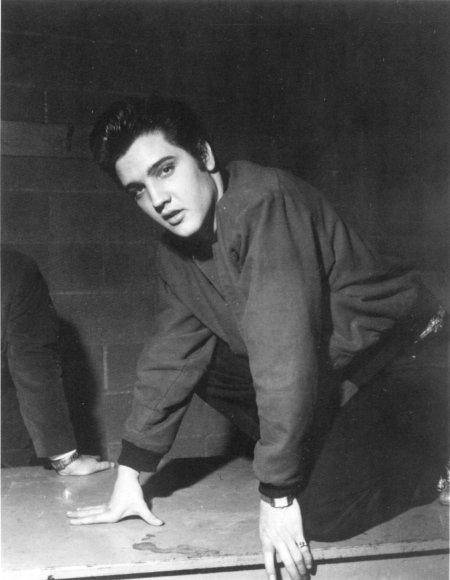 Elvis at press conference between shows at the Auditorium in Ottawa - Apr. 3, 1957
Photo by Newton © Ottawa Archives courtesy Bill E. Burk's "Elvis in Canada"
In all honesty, no one could find anything to criticize about him him backstage., except possibly to the effect that anyone who can make a million dollars in a year should be able to afford underwear or else keep his windbreaker zipped up.12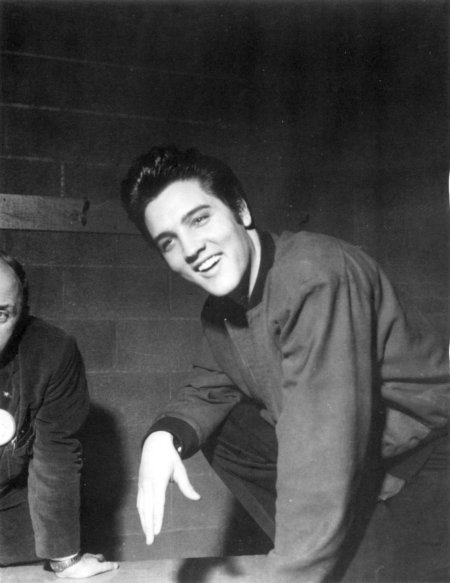 Elvis at press conference between shows at the Auditorium in Ottawa - Apr. 3, 1957
Photo by Newton © Ottawa Archives courtesy Bill E. Burk's "Elvis in Canada"
Presley handles a press conference like a veteran statesman (except perhaps that few statesmen grant interviews while perched cross-legged on a table. He answers readily and intelligently, doesn't try to weasel out of questions, doesn't get huffy, and remains honest even if its to his disadvantage. And he tops it off with a sharp sense of humor and quick wit.12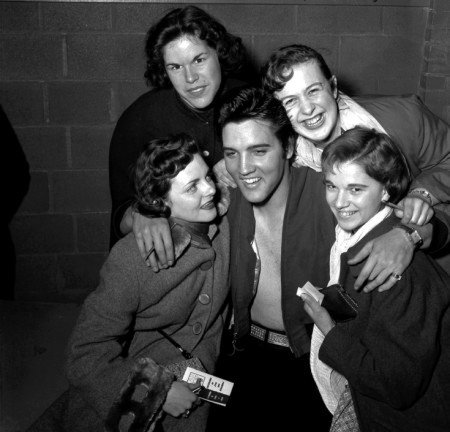 Elvis with fans between shows at the Auditorium in Ottawa - Apr. 3, 1957
Photo by Newton © Ottawa Archives courtesy FECC/Little Sister
Some of his answers:
On the Notre Dame Convent ban on him: I'd like to invite whoever did this to come and see the show. If he still thinks it's harmful to kids after that, okay."
On his movie, Love Me Tender: "Certainly it wasn't a great movie - just average. It would have done as well without me. I didn't do a topnotch job. I was just glad of the chance to be in it."
On a recent smear in a scandal magazine: "I'm a boy. I do what other boys do." On the magazine's description of his wooing technique: "Sounds like fun."
On his professional future: "I'm just taking things as they come. I'll keep on until people get tired of me. It could happen, likely as not."
On the rigors of being a teenage idol: "Not having any privacy gets on your nerves, all right. But its part of the business. That's what made me. I haven't got a beef."
His opinion of Ottawa: "I haven't had a chance to see it. I slept all day. The people are really friendly, but its a little cool outside." It wasn't inside.12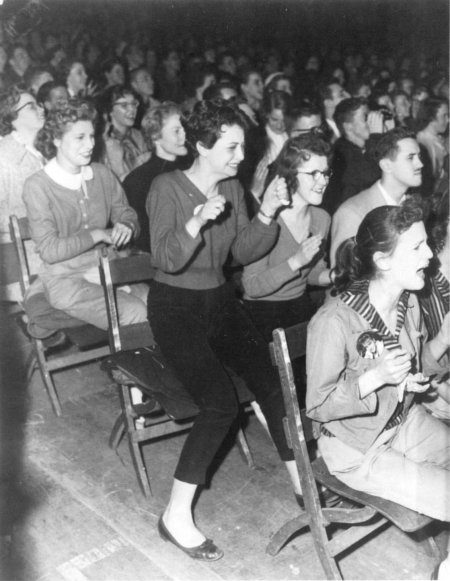 Elvis fans at the Auditorium in Ottawa - Apr. 3, 1957
Photo courtesy Bill E. Burk's "Elvis in Canada"
Gord Atkinson said, " I will never appear on a stage to a more appreciative audience than that big group in 1957. Words were quite unnecessary. I stepped on the stage and opened my mouth to introduce him and no one heard a word I said. They realized my appearance meant that Elvis was about to appear and the cheer that went up would have shattered unbreakable glass."4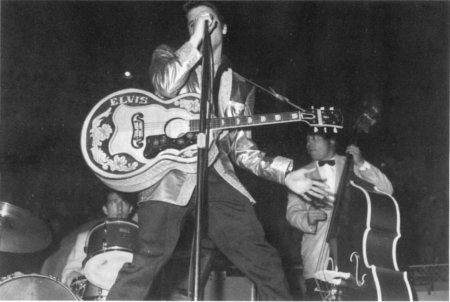 D.J., Elvis and Bill onstage at the Auditorium in Ottawa - Apr. 3, 1957
Photo by Newton © Ottawa Archives courtesy Bill E. Burk's "Elvis in Canada"
After the Ottawa show they had a day's break and finished the tour with four shows in two days on the 5th and 6th in Philadelphia, where it was reported that dust which would be swept from the floor of the arena after the concerts had already been purchased and would be packaged and sold to Presley fan clubs.13 They would not tour again until the end of August, which would have them return to the third and final appearance in Canada and outside the U.S.
As for the people at the Notre Dame Convent, they made good on their threats:
400 AT SCHOOL WERE ASKED TO AVOID PRESLEY
Special to The Star
Ottawa, April 8—Eight girls have been expelled from Ottawa's Notre Dame convent because they attended
a rock 'n roll show last week featuring Elvis Presley.
'It was not a show for young ladies to attend,' one official said today. 'The girls deliberately defied the regulations of the school so we asked their parents to withdraw them.'
Convent authorities said the action will not be reconsidered.

Toronto Daily Star, April 8, 1957 courtesy Ger Rijff's "Long Lonely Highway"


The Rolling Stones Database 1965
The Auditorium in Ottawa would later host other rock 'n roll shows with artists that included Buddy Holly, Brenda Lee, Ray Charles, Fats Domino and The Everly Brothers. In the 60's would also see such acts as the the Beach Boys (Feb 20, 1965) and the Rolling Stones (April 24, 1965). Tommy Gorman remained an owner of the Auditorium until he died in 1962.

The Ottawa Auditorium
Photo courtesy web
In its day the Auditorium also saw the likes of the Boston Symphony Orchestra, the Chicago Symphony Orchestra, the
Philadelphia Symphony Orchestra, Frank Sinatra, John Philip Sousa, the Red Army Chorus and the Moscow Circus. Its final event was a concert by Guy Lombardo and his Royal Canadians on October 1, 1967. It was demolished when the Ottawa Civic Centre opened and the YMCA-YWCA building now resides at it original location.1
page added July 30, 2009
For over 50 years The Ottawa Citizen had contracted with Newton Photography, a studio founded in 1940 by Bill Newton and his wife Jean. News photos supplied by them and their staff of 20 photographers, including those of Elvis' appearance in Ottawa were credited simply "Photo by Newton," while for years the photos supplied to the Ottawa Journal were supplied by another Ottawa studio, Dominion Wide Photos. In 1974 Newton's son Greg took over the business and partnered with Andy Andrews to become Andrews-Newton Photographers Ltd., until Andrew's retirement in 1994. Newton Photographic would eventually donate as many as a half-million images to the City Archives. All of the photos used here have been previously published in various sources and every attempt has been made to properly credit them where known.
Special thanks to Shayna Keces and the Ottawa Public Library for their help with all Ottawa Journal and Ottawa Citizen articles and ads, and also to Peter Atkinson and the estate of Gord Atkinson for permission to reprint his article and interview. Several Ottawa Citizen articles are copyright The Ottawa Citizen, Ottawa Journal articles are copyright Thomson Reuters Corp and Gord Atkinson's are copyright the estate of Gord Atkinson.
1 non Elvis related history of the Ottawa Auditorium from wikipedia
2 from "PRESLEY IN OTTAWA - SKIPS THROUGH UNION STATION" by James Purdie - The Ottawa Evening Journal, April 3, 1957
3 according to Bruce Middleton, Ken's son
4 excerpt from "Elvis in Canada" by Bill E. Burk, reprinted with permission from the estate of Gord Atkinson
5 from "Elvis Says His Big Days Nearing an End" by James Purdie, The Ottawa Journal - April 4, 1957
6 from "Only 37 in Commons - Rest at Elvis Presley?" The Ottawa Journal - April 4, 1957
7 excerpt from "Arni's ready to Beat Drums again for King" by Kate Webb, The Province, August 31, 2007
8 from "16,000 See Elvis In Ottawa Shows" by Richard Jackson, The Ottawa Journal - Apr. 4, 1957
9 from "Woman's Eye View Elvis Fans Give Helen A Headache" By Helen Parmelee, The Ottawa Journal - Apr. 4, 1957 courtesy Ger Rijff's Long Lonely Highway
10 from Ottawa Teenager Overwhelmed by Police Control by Harold Lewis (High School Reporter), The Ottawa Journal - Apr. 4, 1957
11 from "It Was Sheer Pandemonium" by Greg Connolley and Gerry Mulligan, The Ottawa Citizen - Apr. 4, 1957
12 from "Honest He Is Elvis Every Bit A Pro By Bob Blackburn, The Ottawa Citizen - Apr. 4, 1957
13 from "ELVIS DUST" TO BE SOLD AFTER SHOW" PHILADELPHIA (Special) to The Ottawa Citizen - Apr. 3, 1957
---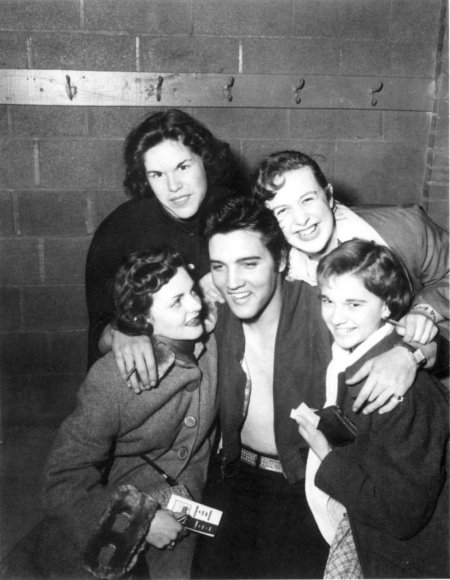 Judy Moscovitz (top left) with Elvis and contest winners in Ottawa - Apr. 3, 1957
Photo by Newton © Ottawa Archives courtesy Bill E. Burk's "Elvis in Canada
Judy Moscovitz was one of the four radio station contest winners pictured with Elvis backstage at the Auditorium in Ottawa. She was there as part of the contingent from Montreal, having won a contest on CFCF radio about "Why I want to go to Ottawa to see Elvis Presley". She won two tickets and brought a friend but only the winners were allowed to go backstage. She didn't know the other contest winners from the other radio stations having only met them that night on the train, and never saw them afterwards.
She wrote the following recollection in 1977 after hearing Elvis had died and it was published in Weekend Magazine, a national Canadian publication, on the first anniversary of his death:
KISS ME, BABY
by
Judy Moscovitz

The bad news was that Elvis Presley, scheduled to play in Montreal, was being kept out of Quebec by nervous church authorities. The good news was that the concert was being rescheduled in Ottawa, and a few lucky Montreal teenagers could get to see Elvis by winning a radio contest. Four local stations were offering four pairs of tickets, all expenses paid, to attend Elvis's performance. All you had to do was tell them "Why I'd like to go to Ottawa to see Elvis Presley". That was easy: I'd die if I didn't go.

The year was 1957. I was 15 years old and in love for the very first time. Elvis had touched some part of me that I hadn't even known existed, (subsequently identified as sex). I bought every record he made, watched every TV show he was on, and read every article that mentioned his name. I even bought a pair of running shoes with his face patterned all over them, but the gym teacher wouldn't let me wear them. Part of every school day was spent discussing him and defending him against rumours that he took drugs or, even worse, had a girlfriend.

I remember CJAD had a contest pitting the popularity of my Elvis against that of Goody-Two-Shoes Pat Boone. I mailed in 6559 votes for Elvis – names I got from old high school annuals or out of the phone book.

So figure me for one of the most highly motivated entrants in the contest to see him in Ottawa. Yet somehow I found it difficult to put this passion into words. For four solid days (skipping school seemed justified under the circumstances) I worked and reworked my ideas. The version I finally settled on was an emotional two-stanza poem, confessing how seeing Elvis would, among other things, "Make me feel/Full of zeal". The judges had to come to a quick decision: one winner from each of the four stations. And the CFCF winner was me!

I find it hard to remember the few days before my trip. I remember the bus ride down to an east-end travel agency to pick up the train tickets. I remember discussing interview arrangements with CFCF personnel. Most of all, I remember fantasizing that I would meet Elvis, he'd realize that I was The One, and he'd ask me to marry him. I went so far as to ask my mother's permission to marry him, and, happily, she gave it, albeit with a not very well hidden smile.

Then came the big night. I had invited my best friend, Carol, to accompany me, and, dressed to kill in grown-up sheath dresses and make-up, we boarded the Elvis Presley Special. A few minutes later, I was guided to a special compartment reserved for the contest winners. The four of us, all girls in our mid-teens, were interviewed by reporters, but to my disappointment, these interviews never appeared in print. There was only a brief mention of our names, which resulted, in my case, in a spate of crackpot calls.


Judy Moscovitz (mid left) and fans in Ottawa - Apr. 3, 1957
Photo by Dominion Wide courtesy Robert Gordon's "The King on The Road"

Once in Ottawa, we were taken by special limousine to the auditorium and given centre seats somewhere around the 12th row. On the way to our seats – could it be true? – we were intercepted by Elvis' promotion people and invited backstage to meet Elvis in person. I have never, before or since, been so excited – so full of dreams and so certain that these dreams would come true. How long could it be until Elvis and I announced our engagement?

Backstage, we were lost in the crowd herded into a small, steamy room. The noise was so high-pitched and constant that you had to shout to be heard. Elvis was sitting calmly on a rectangular table placed against one wall. He was not yet dressed for his performance, and was wearing a pair of ordinary-looking pants and a windbreaker open almost to the waist. He had nothing on under the windbreaker. He wore no make-up and no jewelry, except for a pinky ring.

Although the room was stiflingly hot and cramped, the packed crowd stayed at one end of the room, while an empty space of a few feet surrounded Elvis, as if the enormity of his presence required a greater body space than that for ordinary mortals.


Elvis signing autographs for contest winners in Ottawa - Apr. 3, 1957
Photo © Judy Moscovitz

Elvis was extremely polite, addressing strangers with a respectful "Sir", and he was invariably responsive and patient with photographers' demands. Having brought my camera, I was one of those photographers, jumping around in front of him and snapping pictures as quickly as I could turn the numbers on the film. I still have those photos – and an autograph that is now in a bank vault – but unfortunately, I did not think of asking anyone to take a picture of me with him.

Somewhere in the world, though, there is such a photo. One photographer wanted a picture of Elvis with the four Montreal winners, so we hiked ourselves up on the table beside him and Elvis circled two of us in each arm. I was sitting just beside him on his right-hand side. The photographer called out, "Kiss one of the girls, Elvis", and Elvis turned to me (he chose me!) and said softly, "Kiss me, baby".

This was my moment, right? Wrong. This was the 1950's, and I was 15 years old and "properly brought up". Kiss him? Why, I didn't even know this man! "No!", I said sharply, so he turned to kiss the girl on his other side. A few seconds later we were pulled off the table and ushered out of the room to our seats.

That was 40 years ago, and I still haven't forgiven myself for my stupidity. For a while I tried to console myself with the thought that Elvis would remember me long after he had forgotten other, all-too-willing girls. He would find himself longing for "the one that got away", and would somehow find my name and number and call me. But the years went by, and it slowly became apparent that he wasn't calling. Now, of course, he never will.

Judy Moscovitz - August 1977
Judy saw the evening show that night though she since given the autographs away, one to the friend she brought with her and another to someone she felt it was more meaningful to her at the time than to me. She resides now in Victoria, BC and we want to thank her for sharing her story and pictures with us.
added October 2, 2012