2nd Interview by Kevin Woods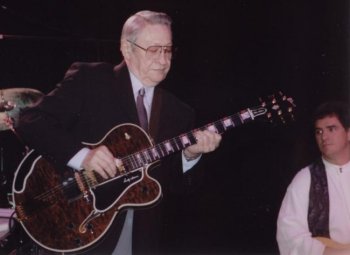 Scotty and Kevin Woods performing in Tunica, MS August 10, 2002
Photo© courtesy D. Ferich

Scotty Moore
One of the King's Men

By Kevin Woods
It was our annual Christmas party, closing out 1996. I work for Nashville recording artist Ronnie McDowell. Because we often work with Scotty Moore, D.J. Fontana and The Jordanaires, they always show up. This year something happened that I'll never forget. A friend of Scotty's said, "Kevin, can you come outside with me a minute?" She took me outside, to Scotty's Ford Explorer. She opened the back and there was a guitar case with a huge bow tied around it. I thought, "What's going on?" Then she said, "Merry Christmas from Scotty...he wants you to have this." I opened it up and it was a 1981 Blonde ES-335 reissue.



Kevin Woods with Scotty's ES335 performing in Tunica, MS August 10, 2002
Photo© courtesy D. Ferich

What do you say? What could I say? I was speechless! Needless to say, I will treasure this gift all the days of my life. As I've had the pleasure of working with Scotty over the past few years, we have developed a special friendship. In the eyes of many people, Scotty is an innovator and a legend. I consider it a privilege to know him, and to conduct this follow-up interview. (VG, Dec '93)

Vintage Guitar: So what's been going on since our last interview, in 1993?

Scotty Moore: Wow, Kevin, has it been that long? Time sure does fly! Well, let's see, I think we were getting ready to do the Elvis Tribute show at the Pyramid in Memphis about that time, and I was glad to get you and Steve Shephard on there with D.J. and I, and Lee Rocker. And that was our band [that] backed Michael Bolton, Carl Perkins, Chris Issac, Bryan Adams and Kris Kristofferson. And, by gosh, I think we did a helluva job. It was a worldwide pay-per-view show.

How about the Washington Monument event with Carl?

That was 1995, I believe. I forget what the official name of it was, but they did an all-day of roots music – every kind of music you can imagine from around the country – New Orleans Jazz to Indian flute players, R&B, you name it. I met and became good friends with (blues guitar player) Joe Louis Walker. He was on the show. Of course, we did some of Carl's tunes plus some Elvis songs that Carl sang. And it was reported somewhere between 400 and 600,000 people. There were a couple of other stages where people could move from one place to the other.

Let's talk about the Olympics last summer in Atlanta?

Oh yeah! We played like a pre-show downtown at Centennial Park. We played that with you guys, The Rhythm Kings, and your boss, Ronnie McDowell (a respected Nashville artist known for doing many of the Elvis vocals in most of the movies about Elvis). We were fortunate to be there a day or two before "the big bang" and then we got the heck out of town.

What is All the King's Men about?

I had already been working on my book which I said I probably would never do but my daughter kind of talked me into doing it. So it looks like both projects are going to come out together sometime in the summer of '97. The CD should be out about mid-June and the book, entitled That's Alright Elvis, will be out around the 15th of July and the film documentary around the first of August.
It's not your typical Elvis tribute. We tried to get people who claim they were influenced by the music more than our lead singer. We really had a ball with it. We told everyone to bring a song; we wanted all original material and as many different styles as we could get. I'm real proud of the fact that I believe that whatever kind of music a person likes, I believe he'll find at least one cut on there to really enjoy.

What artists participated?

Well, we got Ron Wood of the Stones, and Jeff Beck, they came up with a thing they wrote themselves. In fact, we went to Ron's house in Ireland – he has a studio there – and recorded the song called "Unsung Heroes." We had a ball; you couldn't beat the hospitality. We were there for four days. It didn't take that long to cut one song. It was a lot of party time; I'll put it that way.
Then we had the reunited Bill Black combo, that was a ball. We had Reggie Young (guitar), Ace Cannon (sax), Bobby Emmons (organ), and Jerry Arnold (drums), which were all the originals. Also, Mike Leach on bass and Bobby Woods on keyboards. Reggie and Bobby wrote the tune that we did called "Going Back to Memphis."
The tracks still have the original Bill Black feel, but it's updated just enough to get it into the '90s. When we got together in the studio, the Bill Black stories were knee deep. From two sides, the years D.J. and I worked with him, with Elvis, and of course then the guys from The Combo. It sounded like the old radio program "Can You Top This?" But I believe he was there in spirit for everybody.
We also did one with The Mavericks, and with Joe Louis Walker. He did a cut called "Strange Love;" it came off really good, too. Tracy Nelson did "Is All of This For Me?" And she's a story by herself; a great, great blues singer, but this tune is a little different touch for her. We did one with Steve Earle and brought in Lee Rocker, who played the slap bass. I believe you, Mr. Woods, played guitar on that one too.

Also, we have the Bodeans, who are out there pushing the envelope right now. Cheap Trick ended up with a little different type thing than they normally do, but I think people will like it. And Joe Ely did a neat song.

How about your trip to New York to meet up with The Band, and Keith Richards?

Yeah, D.J. and I went up to Woodstock at Levon Helm's studio. It was way out in the woods in a beautiful, huge log studio. Keith Richards came in and did the vocals with Levon. Again, a big party, but we did get a good cut out of it.

You even got to do a song with my boss.

Sure did. We did a song with Ronnie McDowell and his band, The Rhythm Kings, that Ronnie wrote. Along with D.J. and myself, we had Farrell Morris come in and play vibes, and our musicians union president, Harold Bradley. He brought out his old Stromberg guitar to play the archtop rhythm (note: this is the same guitar Harold used with Elvis, Roy Orbison, Patsy Cline and numerous others). He also played tic tac bass. Our old buddies, The Jordanaires and Millie Kirkham, did the background vocals. I think it's a hit record. It's Ronnie, but it's something Elvis would have grabbed if they would have had that song back in his day.

Are there any future plans of a tour to support these projects?

There's nothing definite yet. Of course, any time you have a book, there's going to be book signings and stuff. We'll do bookstores that handle both audio and video. And some of the stores want to have the CDs available at the same time. So that part looks real good.
Obviously, with so many different artists involved with the CD, we could never get all of them together at one time for a show, I don't think. We're going to try to do some shows where we'll have a few of the acts on the CD. There's talk about an overseas tour. There a good chance the documentary will be aired on VH-1 this summer. All I can tell you is the boys at the front office is working hard. And I'm anxious to get back on the road with you guys.

What's this about a Scotty Moore guitar?

All of the Sun Sessions, with the exception of the last one, I had the ES-295, which was the gold beefed-up version of the ES-175. So Gibson is reissuing that. Supposedly, the Scotty Moore Signature Model. I saw a blown up picture of one the other day, and best I remember, it looks identical to the one I had, including the old tailpiece.

Any modifications?

The only is where they are putting my signature is on an arm rest or sort of like a finish protector.

Do you know how many will be made?

Not really. I think they planned the initial issue to be around 200, which in the guitar world is a bunch.

Have you bought any new gadgets lately?

No, not really. I'm still using the Gibson Chet Atkins Country Gentleman he gave me back in the late '80s. I got another Super 400 and L-5 since I started back playing, but the thinner Country Gentleman kind of rides better on the big belly (laughs).

You've still got your original Echo-Sonic amp, don't you?

Yeah, sure do, it still works.

Didn't you also go to New Jersey to a notable guitar collectors gathering?

Yeah, and what a gathering! This was at Tom's River, New Jersey, at the home of Scott Chinery, who supposedly, and I have no reason to doubt it, has the largest guitar collection in the world. I've never seen so many guitars in my life. Gibson, D'Angelico, Stromberg, mostly all vintage stuff. He commissioned different guitar makers to do a blue collection, and all of them were done in blue finish. They were some really nice guitars. By the way, you're the one that got me turned onto the vintage route anyway. If you remember, I went down to the Arlington guitar show in 1993 as a result of you contacting The Four Amigos. And again, I've never seen so many guitars in all my life.

A lot of other famous guitarists were on hand too, I heard.

A lot of them. I got to meet one of my idols, Tal Farlow. That was a real treat for me. He's got fingers about four feet long!

Okay Scotty. Again, it's been a treat, and I wish you the best of luck on all present and future projects.

Well, I appreciate that Kevin, and it's been a real good pleasure for me for the last few years working on stage with you and Ronnie. Incidentally, we are also coming out with a new CD this summer. We recorded this project about three years ago with D.J., The Jordanaires and myself. We recorded around 20 old Elvis tunes and tried to pick the ones that were never played. We tried to do them with a little different twist rather than copying the original versions. I think Elvis fans will really enjoy this! It was fun!

---

This interview originally appeared in VG's Aug '97 issue.
For more articles like this each month, subscribe to Vintage Guitar magazine.