Goin Back To Memphis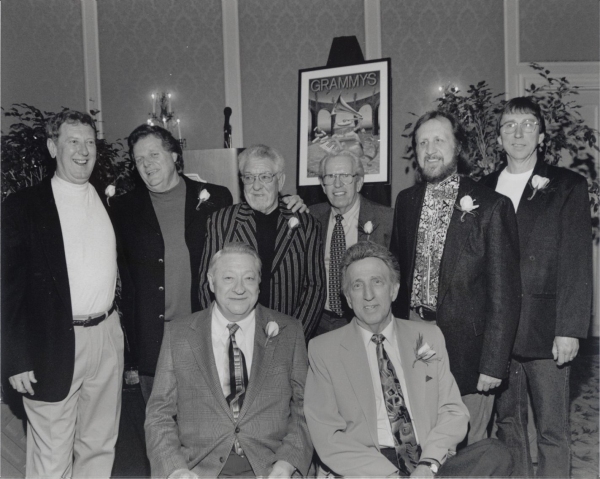 Mike Leech, Reggie Young, Ace Cannon, Jerry "Satch" Arnold, Bobby Woods and Bobby Emmons
with Scotty and D.J Fontana at the Vanderbilt Plaza Hotel, NY February 18, 1998
Photo© courtesy Rusty Russell
In 1958 when Elvis entered the Army the band was left to fare for themselves. Scotty bought into and became VP of Fernwood records and Bill Black along with Reggie Young and other founding members formed what would be called Bill Black's Combo. They signed with Hi Records in 1959 and were voted Billboards number 1 instrumental band for 1960, 61 and 62. "Smokie Part 2," the BBC's first hit, reached number 1 on the R&B charts and broke into the Pop Top 20. In 1964 The Beatles requested them as the opening act on their first American tour.
The original lineup was Bill on bass, Reggie on guitar, Marty Willis on sax, Joe Lewis Hall on piano and Jerry Arnold on drums. Early on the band went through several changes, Hall and Willis left the band and Reggie had to leave for a tour of duty in the service. While Reggie was away a succession of guitarists that included Hank Hankins, Chips Moman and Tommy Cogbill filled in. Ace Cannon took over on Sax and Carl McVoy replaced Hall in the studio while Bobby Emmons replaced him on tour. By 1962 Bill felt he no longer needed to be with the combo on the road so Bob Tucker replaced him on bass. Sadly, Bill passed away on October 21, 1965. The Bill Black Combo, led by Bob Tucker would still be going strong well into the '80s.
In 1997 Scotty asked Reggie to reform the band to perform a cut with them for the All The King's Men album that he and D.J. were recording. Scotty said, "We had Reggie Young (guitar), Ace Cannon (sax), Bobby Emmons (organ), and Jerry Arnold (drums), which were all the originals. Also, Mike Leech on bass and Bobby Woods on keyboards. Reggie and Bobby Emmons wrote the tune that we did called 'Goin Back to Memphis.' The track still has the original Bill Black feel, but it's updated just enough to get it into the '90s. When we got together in the studio, the Bill Black stories were knee deep. From two sides, the years D.J. and I worked with him, with Elvis, and of course then the guys from The Combo. It sounded like the old radio program "Can You Top This?" But I believe he was there in spirit for everybody."
Its also interesting because though most were members of Bill Black's Combo, Reggie, Bobby Emmons, Bobby Woods and Mike Leech were also members of the staff band at Chip Moman's American Studios in Memphis which recorded 120 hits between 1967 and 71. They played on many of Elvis' recordings and hits when he started recording there in 1969, making the song truly the sense of goin back to Memphis. In 1998 the song was nominated for a Grammy Award by the National Association of Recording Artists for Best Country Instrumental Performance and they would all attend the ceremony in New York City.
Because of the Grammy nomination, while in New York in February of 98 Scotty and D.J. also made an appearance on the "Late Night with Conan O'Brien" show, but that's another story.
James V. Roy
August 30, 2003