A Room Full of Blues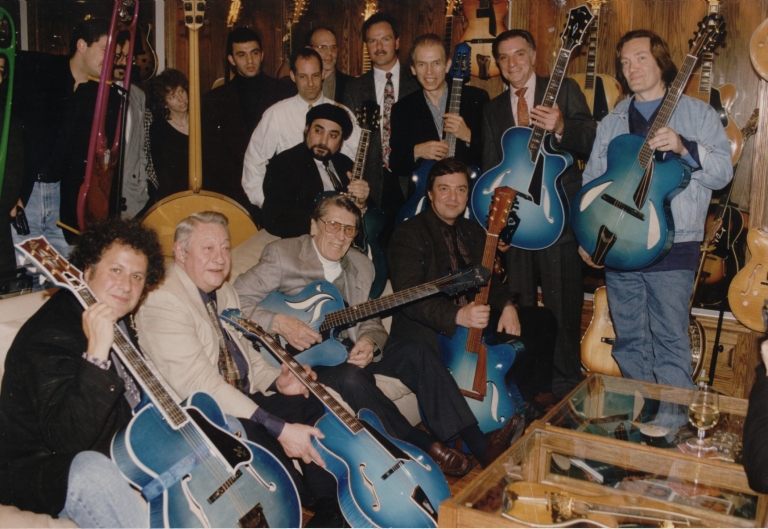 At the home of Scott Chinery, Tomís River, NJ 1996
L-R Front seated Arlen Roth, Scotty, Tal Farlow (holding "La Cremona Azzurra"), Jack Wilkins
L-R Rear Jimmy Vivino, Steve Howe, Lou Pallo, G.E. Smith

"What a gathering! This was at Tomís River, New Jersey, at the home of Scott Chinery, who supposedly, and I have no reason to doubt it, has the largest guitar collection in the world. Iíve never seen so many guitars in my life. Gibson, DíAngelico, Stromberg, mostly all vintage stuff. He commissioned different guitar makers to do a blue collection, and all of them were done in blue finish. They were some really nice guitars. A lot of famous guitarists were on hand too. I got to meet one of my idols, Tal Farlow. That was a real treat for me. Heís got fingers about four feet long!"
Scotty Moore
December 1996

Scotty and Tal Farlow
Photo© by Cindy Benedetto courtesy Ken Vose
Try to imagine jazz immortal Tal Farlow, rock and roll virtuoso Steve Howe, Elvis sideman Scotty Moore, blues legend Johnny Winter and a host of other famous guitarists, crowded together in one room going gaga over 22 incredibly beautiful, blue archtop guitars. Not just any old shade of blue, these brilliant blue babies are so vibrant that they seem to make music without a string being touched. Add to the scene the luthiers who handcrafted these instruments, and you have a once-in-a-lifetime event that is the talk of the guitar collecting world.
The Blue Guitars project is the story of one man's passion for this most American of all musical instruments. With more than three million new guitars sold throughout the world in 1995 and about 14 million Americans who consider themselves guitar players, it is hardly surprising that the instrument has become a hot commodity.
For Scott Chinery, the man responsible for the creation of the Blue Guitars, the project was both the crown jewel of an already extraordinary collection and an homage to a man many consider America's greatest luthier ever, the late Jimmy D'Aquisto.
D'Aquisto, successor to John D'Angelico as America's premier archtop guitar maker, created a blue Centura Deluxe (one of the four models designed as part of his "modern" series of archtops) not long before his death in 1995. Its striking color was a specific request from Chinery, a blue lacquer obtainable from a single manufacturer in Amsterdam, New York
"I had often thought that it would be neat to get all the great portrait painters together to interpret the same subject and then see the differences among them. So that's what I set out to do with the Blue Guitars. To get all the greatest builders together and have them interpret the same guitar, an 18-inch archtop, in the same color blue that Jimmy had used. All of these great luthiers saw this as a friendly competition, and as a result they went beyond anything they'd ever done. We ended up with a collection of the greatest archtop guitars ever made."
If you're wondering why an archtop is more difficult to fake, consider the amount of highly skilled, painstaking, hand-carved work that Bob Benedetto and the 21 other luthiers put into each of the Blue Guitars. Benedetto, who has made more than 400 archtops, describes the construction of his Blue Guitar, "La Cremona Azzurra" (The Blue Cremona):
"Routinely, with the exception of the finishing procedure, I can make an archtop inside of two weeks. The Blue Guitar took much longer because I had to think about it a lot. For the top and back plates I used the best European cello wood, the same type of wood that Stradivari and the other old masters used. The neck is two-piece, well-seasoned American maple. The fingerboard, bridge, truss rod cover and finger rest are all sculpted from select solid ebony, and the headstock is veneered with exotic burl. The wood is selected both cosmetically and because of its age. It's very old and fine tone wood. The suppliers that I buy from in Europe are generations-old family businesses. I'm buying from a descendant of someone who might have supplied wood for a Stradivarius.
"The sound holes are unique--not like the traditional f hole or oval hole--it's almost a floral design. Because the openings are unusual and placed in an unusual location, I had to consider that when I was carving and tuning the woods and placing the bracing inside that acts as tone bars, distributing the vibrations from the strings to the top and back, etc. All of this to maximize the end result: the voice of the instrument. It was fun, different, a real challenge, and I was happy to be a part of it."
Repeat Benedetto's story 21 times and you begin to get some idea of the magnitude of The Blue Guitars project. For Chinery, his love of the instrument has meant recognition of the sort he never imagined as a young boy who loved guitars: an honorary doctorate in commercial science from Five Towns College, a music school in Dix Hills, New York, and exhibits featuring his collection in Washington, D.C.
An exhibit of guitars--primarily electric--at the Smithsonian Institution's National Museum of American History will run through April. The Chinery exhibit, which runs concurrently, features 36 instruments. Various guitars from the Chinery Collection will be on exhibit through November 1998. In addition, the Blue Guitars are slated to be showcased at the Smithsonian in the spring of 1998.
As Smithsonian spokesman Randall Kremer says, "The guitar as an instrument deserves special appreciation and attention on a national, if not an international basis, and that's what the Smithsonian can provide. The guitar has existed as a cultural icon for a number of years, in addition to being one of the most versatile of all musical instruments. Very few instruments can cross the boundaries of classical, jazz and rock with the aplomb of the guitar. We felt that it was an appropriate subject to present to the more than 29 million people who visit the Smithsonian each year."
Ken Vose©
Published March/April 1997
excerpt reprinted with permission
Ken Vose is an East Coast-based novelist, screenwriter and television writer. His book, Blue Guitar, will be published by Chronicle Books in the spring of 1998.
---
Scott Chinery passed away on October 24, 2000. He was only 40 years old.
Tal Farlow passed away in July of 1998 at the age of 77