1967 Wildwood VI
(used in Clambake)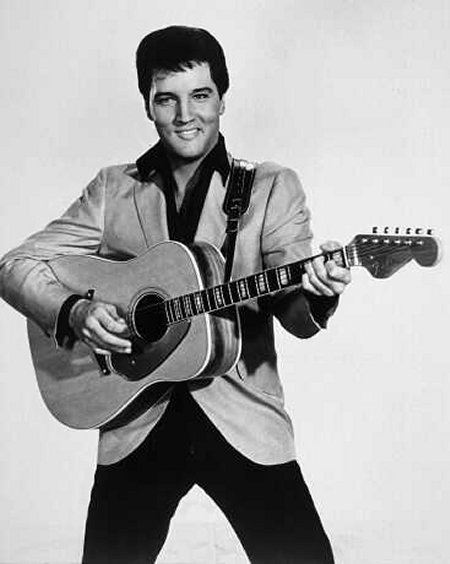 Elvis in a publicity shot with a Fender "Kingman" with Wildwood - Mar. 1967
Photo © EPE, Inc. courtesy MPTV.net
Fender Musical Instruments began making their first acoustic guitars in 1963. Designed by Roger Rossmeisl, the head of R&D at Fender starting in 1962, they incorporated some of the features established years earlier with electric guitars like a bolt on maple neck with a Stratocaster® style headstock and a bolted (and glued) bridge with six adjustable steel saddles for proper intonation. Their top of the line model at the time, the King, had a 25.5" scale length, featured a maple neck with rosewood fretboard, mahogany back and sides with a solid spruce top. It was renamed the Fender Kingman in 1965/66.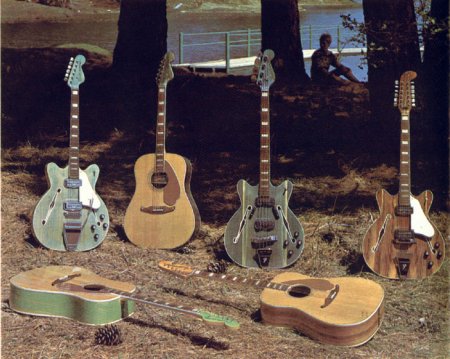 1967 Coronado II (with bass and 12 string also) and Fender Wildwood acoustics
courtesy Vintage Guitars and Basses
Also in 1966, Fender began producing a line of guitars using dyed beechwood. Some accounts say the dye was actually injected into growing trees to produce the exotic colored grain. Named "Wildwood," it was used as a veneer on some of the semi-hollow body Fender Coronado line (denoted with the suffix 'II') and on Fender Kingmans. Though some "Kingmans" were produced with an all maple headstock, wildwood bodies and had "Kingman" decals, the Wildwood acoustic line for 1967 had a wildwood veneer on the face of the headstock that matched the body and they had bound rosewood fretboards with block inlays. They were named and decaled as Fender Wildwood I-VI's.

Advertisement for the Fender display at the 1967 NAMM show
courtesy Vintage Guitars and Basses

portion of 1967 Fender Advertisement
courtesy eBay
The Roman Numeral suffix on each for the 1967 Model year corresponded to one of the six colors produced (likely 'I' - Green, 'II' - Gold and Brown, 'III' - Gold and Purple, 'IV' - Dark Blue, 'V' - Purple Blue and 'VI' - Blue Green).

Elvis with a 1967 Wildwood VI in a scene from Clambake
Photo courtesy web
After completing the movie "Double Trouble," Elvis began filming "Clambake" in March of 1967. In two scenes he is pictured with a Fender Wildwood VI.

Elvis in a scene from Clambake with a 1967 Fender Wildwood VI - March 1967
Photos © MGM/UA
Around the same time, several studio photos were taken of Elvis with a similar guitar and used in promotional materials for the release of Double Trouble that April. The logo visible in the headstock appears to be a "Kingman" though the specifications would be the same.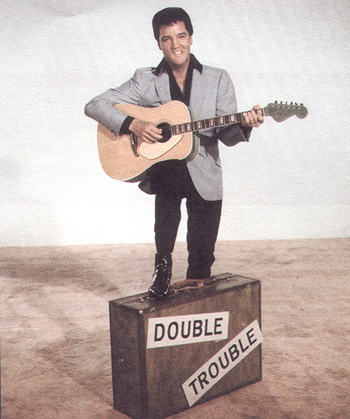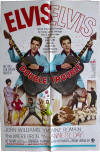 Double Trouble promotional photo and movie 1-sheet
Photos © EPE, Inc. and MGM/UA
Though used for promotion, a Fender Wildwood, nor a Kingman, does not appear and was not used in the actual filming of Double Trouble.

Elvis posing with a classical guitar also used in Clambake
Photo © EPE, Inc.
In addition to the Wildwood, Elvis' character in Clambake was often pictured with a classical guitar. This particular guitar looks identical to, and may in fact be, the same guitar held by Memphis Mafia member, Alan Fortas, on stage during the sit-down session for the 1968 Singer NBC-TV Special and later smashed during the special's "Guitar Man/Big Boss Man" medley segment.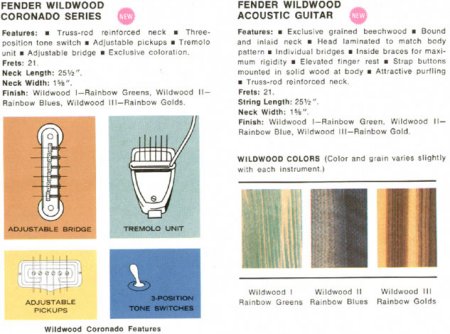 page 17 of the 1968 Fender Guitar and Bass catalogue
courtesy Vintage Guitars and Basses
By 1968, Fender's literature only listed three colors produced for the wildwoods with re-sequenced numerals. Fender's initial venture into the acoustic market was not met with great success and the lines were discontinued in 1971. It's not clear what further "numeral" scheme Fender later adhered to with these models prior to being discontinued.

CD cover for FTD - Elvis So High
In January of 2004 the Follow That Dream (FTD) label released "Elvis So High" featuring outtakes from Elvis' Nashville sessions from 1966 thru1968. For the cover they used an alternate photo taken in 1967 with the Fender Wildwood VI.
In 2005 Fender reintroduced the Fender Kingman along with the Malibu acoustic models as part of their California series, though they are now more conventional style acoustic guitars with glued on necks and bridges with traditional type saddles.
---

EARLY U.S.-MADE FENDER ACOUSTIC GUITARS

These early U.S.-made acoustics had laminated construction, bolt-on necks, through-body tension rods and Stratocaster® "styled" headstocks.

MODEL YEARS MSRP MATERIALS
Concert 1963 - 1970 $255 to $310 Spruce top; mahogany, rosewood, vermilion, or zebrawood back and sides
Folk 1963 - 1964 $? Spruce top, mahogany back and sides
Kingman 1965 - 1971 $280 to $394 Spruce top, rosewood or vermilion back and sides
Malibu 1965 - 1971 $170 to $240 Spruce top, mahogany back and sides
Newporter 1965 - 1971 $130 to $194 Spruce top, mahogany back and sides
Palomino 1968 - 1971 $210 to $299 Spruce top, mahogany back and sides
Redondo 1969 - 1971 $160 to $220 Spruce top, mahogany back and sides
Shenandoa XII 1965 - 1971 $300 to $440 Spruce top, mahogany back and sides
Villager XII 1965 - 1969 $200 to $289 Spruce top, mahogany back and sides
Wildwood 1966 - 1971 $365 to $385 Spruce top, dyed figured beechwood back and sides

Copyright © Fender Musical Instruments Corporation
This page created January 30, 2010 and added to the section The Movie Guitars of Elvis Presley on August 15, 2010
---
Van Stoneman's 1967 Wildwood II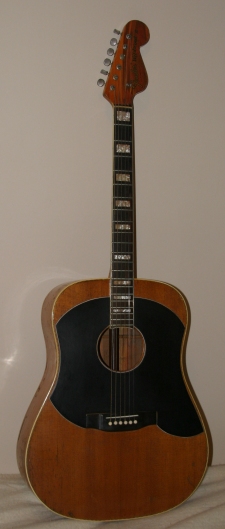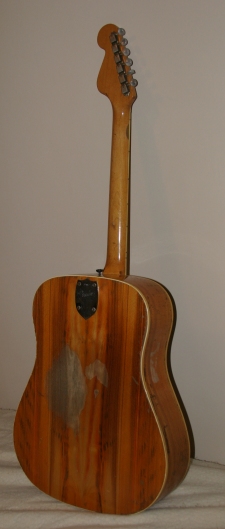 Fender Wildwood II as purchased on eBay - Nov. 2009
I didn't take much interest in, or know much about Fender acoustics, Wildwood or otherwise, until Fender reintroduced their California series a few years ago and one of my friends at their Custom Shop in Corona, CA asked me about the one Elvis was pictured with. He had thoughts of building a replica and knowing I had researched the majority of Elvis's performance guitars asked me to look into it. I had only seen the shots used for Double Trouble and at the time can't even be sure if I had ever even seen Clambake (see above).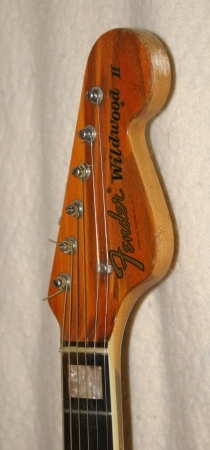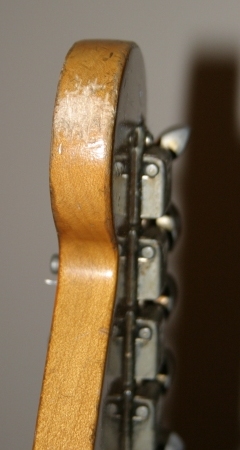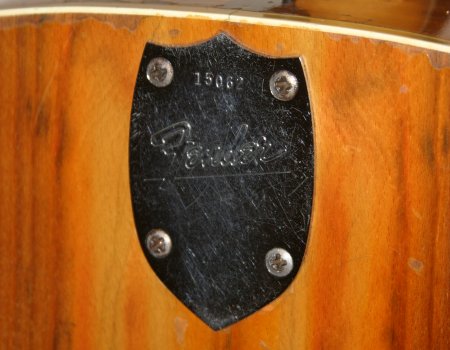 Serial Number 15062 - Nov. 2009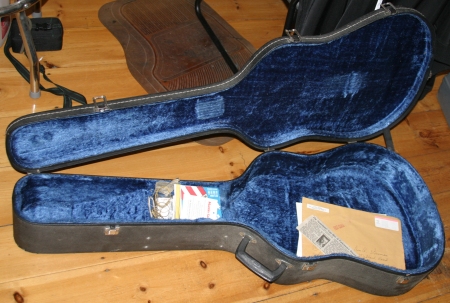 case with photos and clippings - Nov. 2009
As far as I know he never built the replica but last year I saw an old Wildwood II listed on eBay several times that looked rather well worn, played and heavily modified. I thought if I could get it cheap enough it would make a neat restoration project and maybe worth using for a page about the one used by Elvis. So knowing very little about this guitar or its actual condition, I finally bid on one of the auctions after it had been re-listed at a lower price that I considered worth the risk of whatever damage to the top that I suspected the oversized non-original pickguard may be hiding.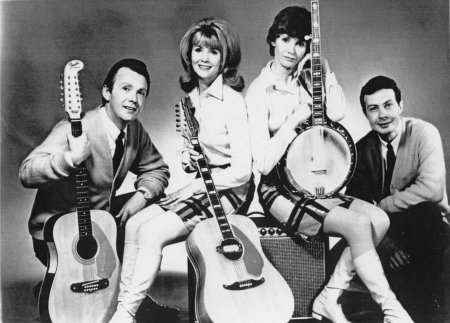 Van, Donna, Roni and Jimmy Stoneman (Donna holding the Wildwood II) - c.1967
Photo courtesy Kerry Lewonick
When the guitar arrived, the case contained several copies of photos and an obituary. After a little research I realized that the guitar was actually one given to Van Stoneman of the Stoneman Family by Fender as an endorsee in 1967 and used by him for almost three decades. The guitar had passed to his brother, Gene Stoneman, after Van's death and then to Gene's daughter a few years ago after Gene's death. It was Gene's daughter and son in law, Robin and Kerry Lewonick, that had ultimately sold it to me on eBay.

An early photo of the Stoneman Family, except for Patsy Stoneman: c.1940s
Top L-R: Roni and Van,
standing, middle row L-R: Scott, Hattie (mother), Ernest V. (Pop), Grace, Dean, Gene, Eddie
Seated L-R: John, Bill, Donna, Jim and Jack.
Photo courtesy Kerry Lewonick
The Stonemans were "born" musicians; how could they be otherwise with recording artist Ernest Van "Pop" Stoneman for a father and fiddler Hattie Frost Stoneman for a mother? For years, "Pop" Stoneman supplemented his income as a carpenter with musical performances. Between 1924 and 1929, he recorded over 200 songs for various labels including his 1924 hit, "The Sinking of the Titanic." In 1927, while under contract with the Victor Talking Machine Company, Pop convinced Victor talent scout Ralph Peer to come to Bristol, Tennessee, to audition local talent. This session introduced the world to Jimmie Rodgers and the Carter Family. In 1930, Pop and Hattie's children began performing and the family moved to Washington, D.C., to find work.1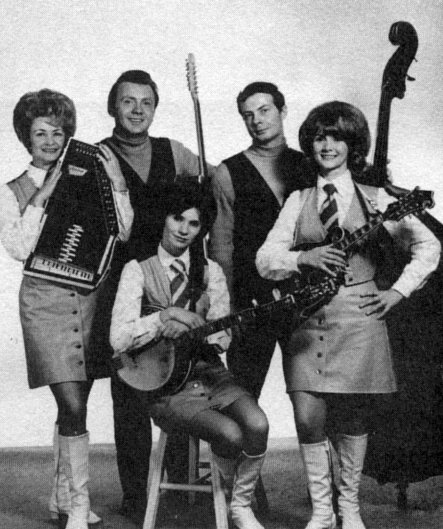 The Stonemans: Patsy, Van, Roni, Jimmy and Donna - lineup from mid 68-71
Photo courtesy "The Stonemans" by Ivan m. Tribe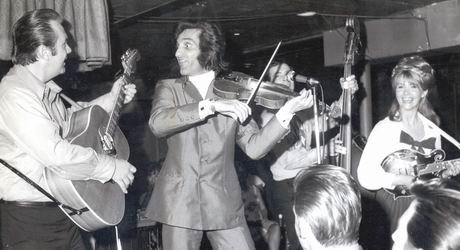 Van, Doug Kershaw, Jimmy and Donna
Photo courtesy Van Stoneman Jr.
Being the youngest child in the huge family placed Van Haden Stoneman in a somewhat unusual position. By the accounts of most of the other children, Hattie had her favorites, and Van held this position from the time of his birth. They point out that he got more food, received fewer household responsibilities, and played the all-around role of the "spoiled brat." Nonetheless, Van developed into a versatile and talented musician. He became adept on bass fiddle, Dobro, rhythm guitar, and both clawhammer and Scruggs·style banjo. In later years he would carry the major share of lead vocals, and his voice also blended well with the others. He became the band's front man.2

The Stonemans perform "Doin My Time" on the Johnny Cash show - Nov 1970
courtesy HotshotKings

Van, Donna and Jimmy onstage at the Grand Ol Opry - c.1970s
Photo courtesy Roni Stoneman
The Stonemans, regular figures on local television, got a program on WTTG-TV Channel 5 in Washington, D.C. Using the 1954 Bill Monroe number "I'm on My Way Back to the Old Home" as a theme song, the Blue Grass Champs presented a weekly half-hour of spirited bluegrass and country music. By this time young Van Stoneman had become lead vocalist and guitar player in the band, a position he would occupy from that time onward.2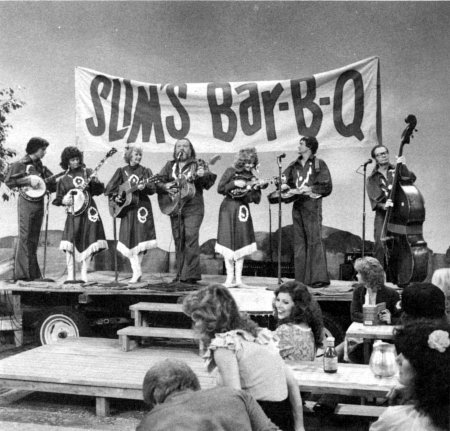 Chuck Holcomb, Roni, Patsy, Van, Donna, John Bellar and Jimmy on HeeHaw - Oct. 1981
Photo courtesy "The Stonemans" by Ivan M. Tribe
They made their first appearance on the Grand Ol Opry in 1962 and in 1965 went to Nashville where they got a contract with MGM Records and started a syndicated TV show. They received CMA's "Vocal Group of the Year" in 1967.1 At the time, Eddie "Mudge" Miller was head of Fender Marketing in Nashville and Wade Ray was the artist rep in the area. The Stoneman's recent recognition and popularity is what likely inspired one of them or Fender to give Van one of their new Wildwood guitars to promote. Prior to that Van was regularly playing a Gibson J50 fitted with a DeArmond pickup.

Patsy, Van, Donna and Jimmy - 1989
Photo courtesy "The Stonemans" by Ivan M. Tribe
The DeArmond soon found its way on to the new Wildwood. Van's son, Van, said his "Dad was really picky about that pickup. He had around 3 or 4 of them and he had his favorites but one in particular had a lot more lower end to it,hence the angle he mounted it." Initially he had it mounted under the pickguard, which tended to elevate the guard and interfere with his playing. He then cut the pickguard to accommodate it but eventually just removed the guard and played without it, which as is evident resulted in the excessive wear.

Van's obituary found in case
courtesy Kerry Lewonick
Van passed away in Murfreesboro, Tennessee, on July 3, 1995 at the age of 54, from Parkinsons Disease. After Van passed away, the guitar wound up in the hands of his older brother Gene, in Laurel, MD. In 2005 Gene passed away and his guitars went to his daughter, who ultimately sold them, or at least the Wildwood on eBay.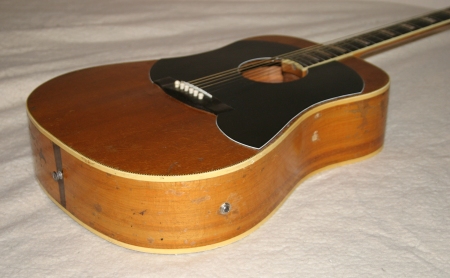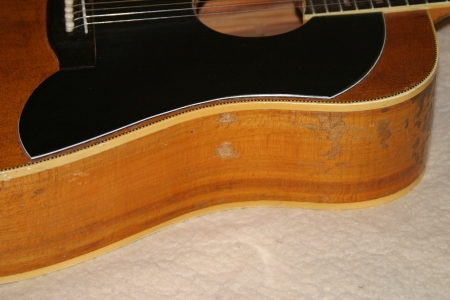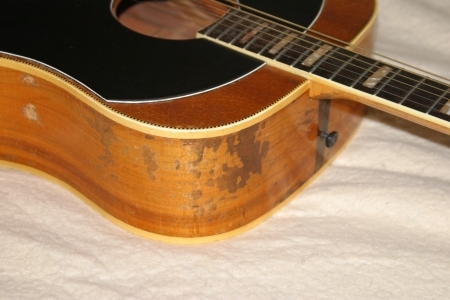 Wear and chips in the Wildwood sides - Nov. 2009
Van had at some point replaced the original Fender bridge with a Martin style bridge and saddle, probably in an attempt to enhance the sound. The top had several cracks in addition to the excessive wear and hole so a large black 3-ply pickguard was made and applied to cover the wear.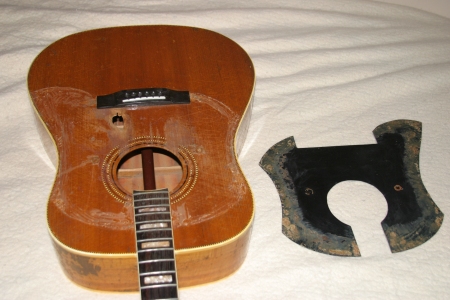 The oversized guard removed - Nov. 2009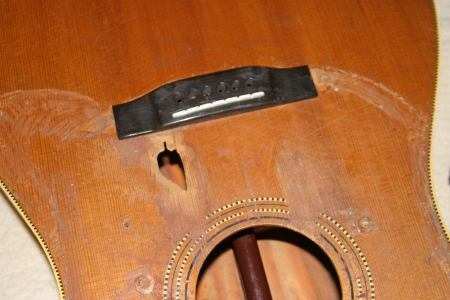 The wear hole from Van's strumming exposed - Nov. 2009

The Martin style bridge with the original Fender screws - Nov. 2009
The pickguard was easily removed, as was the Martin style bridge. The original two machine screws and bolts that held the original bridge were apparently salvaged and reused in the newer bridge for reinforcement.

The neck removed showing the metal shims in the pocket - Nov. 2009
There were also steel shims added in the neck pocket no doubt as an attempt to elevate the neck and unsuccessfully lower the action. When I reinstall it I will use a maple shim at the base of the heel only to slightly change the pitch. It will also help with tone having more wood surface area touching between the neck and body.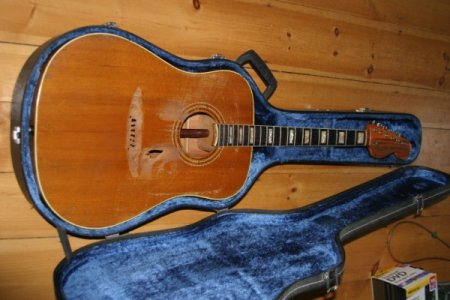 old glue residue removed with Naptha - Nov. 2009
Using some Naptha and some elbow grease, the top was cleaned up of the old glue residue with not too much effort. Then repaired a few cracks in the spruce top that were in the rear center and the outer edge of the bridge behind the sound hole. I then stored the neck in place in the case while waiting for other parts.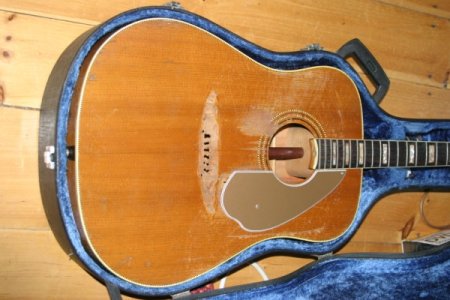 the body with proper refabricated pickguard - Nov. 2009
I was able to locate a proper replica pickguard on eBay that fit perfectly and actually covered most of the hole worn in the top by Van while at the same time preserving it's unique originality and aesthetics.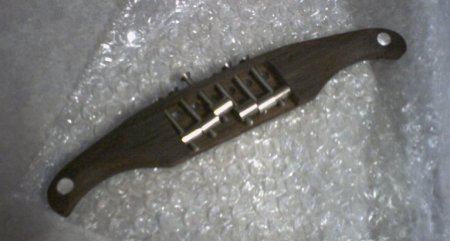 Fender N.O.S. replacement bridge - Dec. 2009
At first I thought I would have great difficulty locating the proper Fender bridge for it and contacted Top Shelf Music in Buffalo where I knew they had an older Kingman in stock. I was hoping to get specifications for the saddles but to my good luck they actually had a Fender N.O.S. (new old stock) replacement bridge with the saddles that had been sitting on the shelf for over 40 years. This particular bridge though was a later four-hole mount but they were able to transparently plug the inner two mounting holes to convert it to the proper two-hole mount I needed.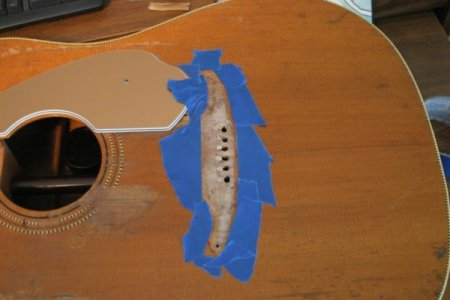 Bridge fitted and surrounding area masked - Jan. 2010
I temporarily fitted the bridge to the body to mask off the surrounding exposed area so that I could adequately prepare the top for glue by sanding and scraping.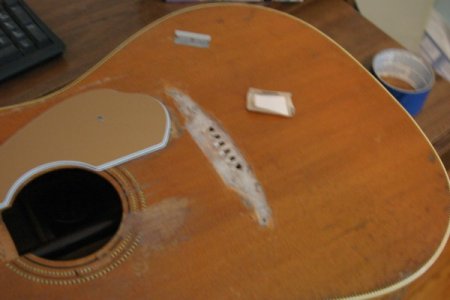 top prepped for glue, bridge glued and clamped - Jan. 2010
I also filled the extra screw and string holes from the Martin replacement bridge with a little sawdust and would glue and then glued and clamped the new Fender bridge in place, leaving it set for 48 hours. After that I bolted tight the nuts from the inside and glued in the dot inlays to cover the screw heads.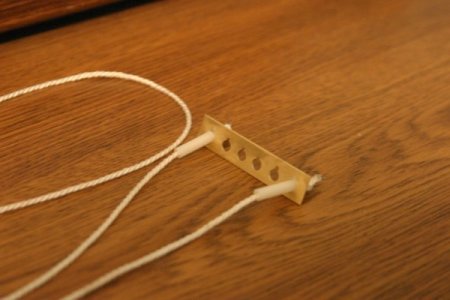 Homemade bridge plate mate threaded for installation - Jan. 2010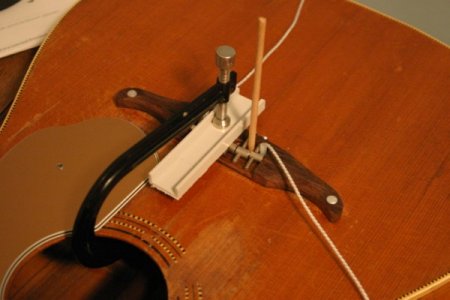 bridge plate mate clamped till adhesive sets - Jan. 2010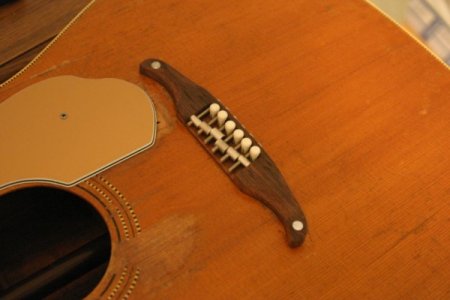 The new bridge installed and pins fitted - Jan. 2010
The maple bridge plate that sits under the top where the bridge is and that the ball end of the strings anchors to ideally should be replaced because of all the wear and re-drilling through the top but the tension rod in these guitars make access extremely difficult. Stewart MacDonalds offers an easy solution to this problem with what is called a bridge Plate Mate, essentially a .032" piece of brass with string holes that adheres to the bridge plate and is held on by string tension. Unfortunately they don't offer them with the proper Fender spacing for these guitars so I had to make my own. I came up with a way to pull it up to the bottom of the plate and align it underneath properly using a couple of pieces of twine and spacers threaded through the string holes since my hands wouldn't reach. I first applied 3M Super 77 spray adhesive and then clamped it in place for a half hour.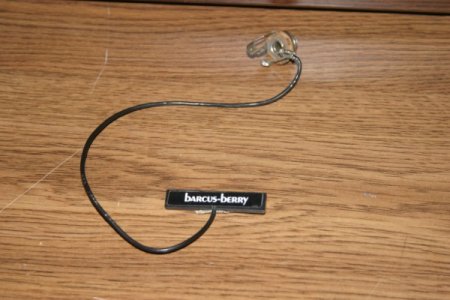 The Barcus Berry transducer pickup removed - Nov. 2009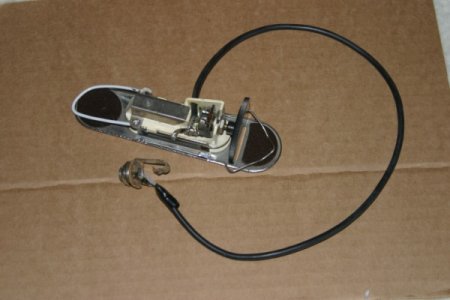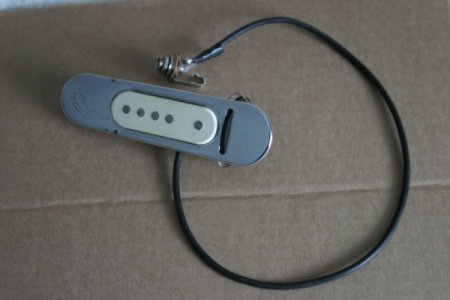 A vintage DeArmond found on eBay - Dec. 2009
Van's son said that he had eventually installed a Barcus Berry pickup in the guitar but that later Gene replaced it with another type of the Barcus Berry transducer pickup. I removed that one opting for an original DeArmond like Van had which I located, untested, on eBay for a reasonable price. The original wiring for it was dried up and cracked and had to be replaced. The clamps needed to hold it in place were missing but I was able to make an adequate replacement with a piece of coat hanger.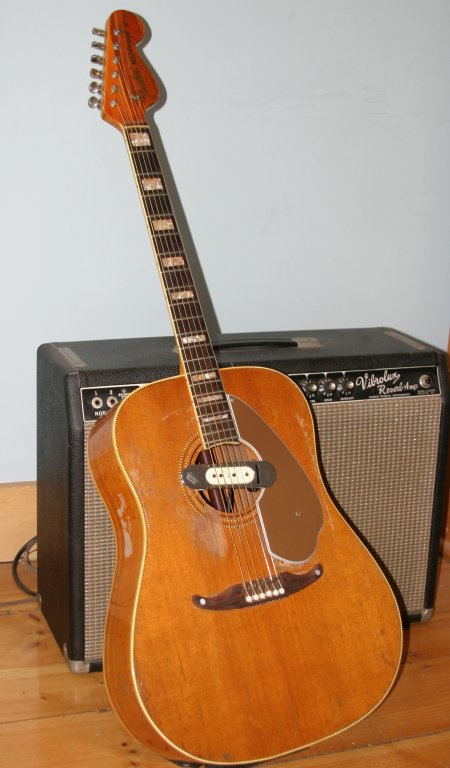 Van Stoneman's restored 1967 Fender Wildwood II - Jan. 2010
I installed the DeArmond pickup and jack and then put it all back together with a small piece of maple shin in the neck pocket to give it a playable action. There was an older set of D'Addario strings in the case pocket that were either Van's or Gene's that I used to set up the guitar with and will leave it as is for now. It sounds pretty good, both acoustically and amplified but there are some worn frets causing some notes to mute (probably why Van used a capo later). If I, or anyone, were going to be playing this regularly I would consider refretting it but for the time being I think it is best left with the wear that Van put on it in his almost 25+ years of playing it.
James V. Roy
January 30, 2010
Ernest "Pop" Stoneman passed away in 1968. Forty years later, in 2008, he was finally inducted into the Country Music Hall of Fame.