Anita Wood's 1959 Gibson LG-2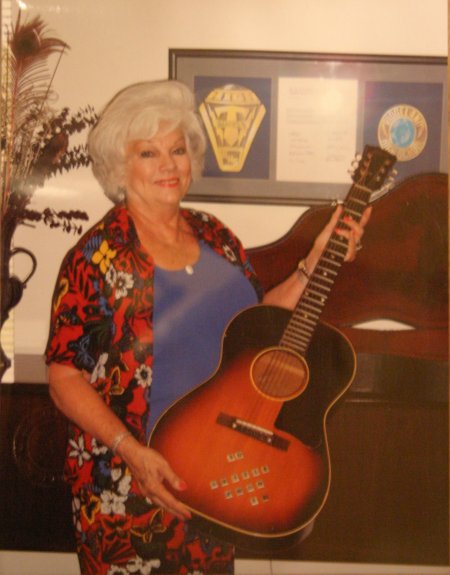 Anita Wood with the 1959 Gibson LG-2 given to her by Elvis - 2010
Photo © Larry Moss
In the late fifties during Elvis' climb to fame he had many "girl friends" but only a few that he saw regularly and somewhat consistently. One in particular was Tennessee native Anita Wood. They had met in 1957. While in the Army serving overseas and stationed in Germany, he gave her this 1959 Gibson LG-2 guitar as a Christmas present months prior to his discharge. She would write:
His nickname for me was "Little" and "Little Bitty." He was in the Army but he had his accountant bring it to my home in Jackson, Tennessee, where I spent the holidays. When he returned from Germany, he played it for me and sang, many times. On this Gibson guitar, he had "To Little, From EP" on the front. It was a very special gift which we enjoyed upon his return. He told me to listen for a song "Soldier Boy," which he later recorded, and think of him. He played this song for me on this guitar, along with many more.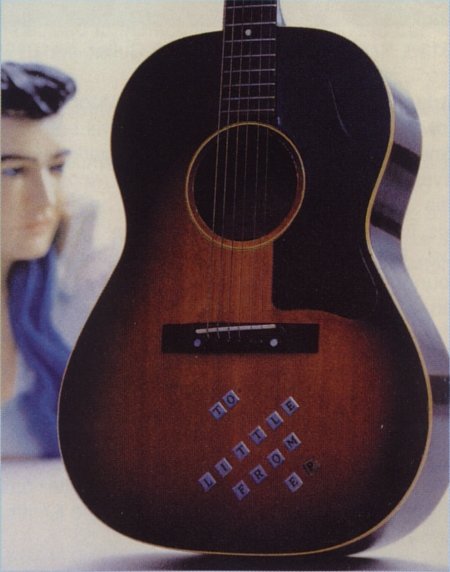 The 1959 Gibson LG-2 given to Anita Wood by Elvis for Christmas
Photo courtesy Heritage Auctions
The LG series guitar is the type used later by Elvis in several of his movies, beginning with It Happened at the World's Fair. This particular guitar has a F O N stamp of S1435 23. From 1952-1961, the Factory Order Numbers (F O N) scheme used by Gibson followed the pattern of a letter, the batch number and an instrument ranking number (when the guitar was built in the run of 40). The F O N is the only identification number on Gibson's lower grade models (like the ES-125, ES-140, J-160E, etc.) which do not feature a paper label. The 'S' in Anita's indicates it was made in 1959.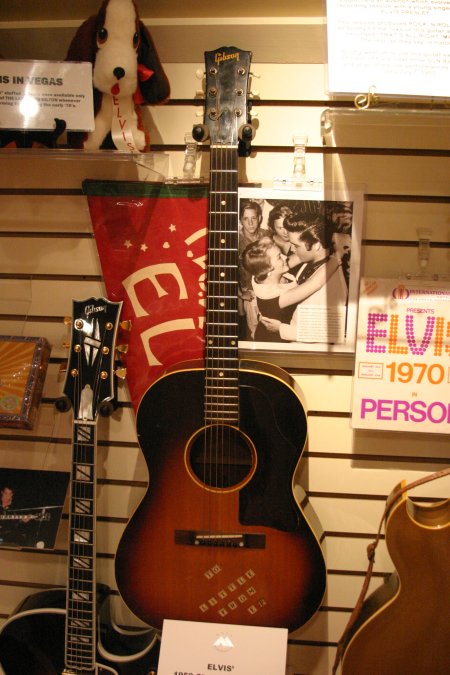 Anita's 1959 Gibson LG-2 on display with a picture of her and Elvis from 1957
Photo © James V. Roy
When Anita eventually married she started giving away many of the things previously given to her by Elvis, like jewelry to her bridesmaids. She gave the guitar to a neighbor's boy. Years later it was put up for auction and ultimately purchased by Larry Moss, originally a Memphis native and avid collector of many Elvis related items. Today it is among his collection and periodically on loan for temporary display along with other items, including Bill Black's Fender P Bass and Scotty's 1952 ES-295.
Page added October 13, 2011