National Guard Armory
Amory, MS
According to wikipedia, Amory was the first planned city in Mississippi. The Kansas City, Memphis & Birmingham Railroad needed a mid-point between Memphis, Tennessee and Birmingham, Alabama for their locomotives, and they laid out the new town of Amory in 1887. People from nearby Cotton Gin Port on the Tombigbee River abandoned their town and moved to Amory.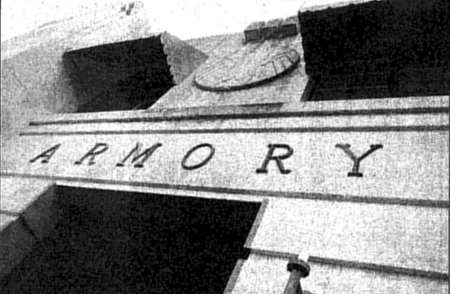 The Old Armory at 101 9th St S, Amory, MS - 2002
Amory Advertiser Photo by Robby Byrd courtesy Jamie Morgan
The National Guard Armory on 9th Street South in Amory was planned around 1937 as part of the Works Project Administration (WPA). It was one of four similar armories designed by Jackson, MS architect, N.W. Overstreet and built around the same time in Aberdeen, Starkville and Meadville. Amory's was built to replace the first armory, located on North Main St. In the pre-skyscraper age, the local armories were usually one of the largest buildings in town. The Guard needed secure storage space for weapons and equipment, and big enough to train 600 to 1,000 members.1 The armory was completed by 1941.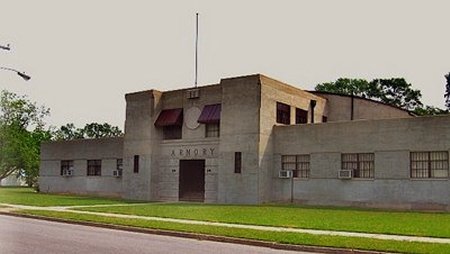 The Old Armory at 101 9th St S, Amory, MS
Photo courtesy Terry Thornton
Sometime in the fall of 1955, Carl and Johnny shared a bill at the Armory in Amory. It was reputedly on this show that Johnny suggested that Carl write a song based on a phrase he had heard. Cash told Perkins of a black airman whom he had met when serving in the military in Germany. He had referred to his military regulation air shoes as "blue suede shoes." Cash suggested that Carl write a song about the shoes. Carl replied, "I don't know anything about shoes. How can I write a song about shoes?" 2

Marshall Grant, Luther Perkins and Johnny Cash
Photo courtesy web
While playing in Jackson, Tennessee several nights later, he saw a dancer in the crowd trying to keep his girlfriend away from his new blue suede shoes, which connected with the idea that Cash had given him and leads his writing lyrics and subsequently he and his brothers worked up an arrangement.3
In 1955 Elvis, Scotty, and Bill shared several dates with Carl Perkins and also Johnny Cash. There were only a few occasions where they all performed on the same bill. According to Peter Guralnick in Elvis Day by Day, all three acts shared the bill on either December 12th or 13th at the National Guard Armory in Amory, just days before Carl would audition the song for Sam Phillips and cut it at Sun.4 According to Bill E. Burk, the show was booked by Bobby Ritter, a dee jay for WTUP in Tupelo, who also reputedly booked Elvis for others shows in Mississippi, including Bruce and Tupelo. "He (Elvis) was always late on stage, it seemed," said Ritter. "On those nights when he would arrive late, Bob Neal and I would go on stage. Bob would be the comedian and I the straight man and we tried to keep the folks entertained until Elvis got there, but they didn't want to hear us." 5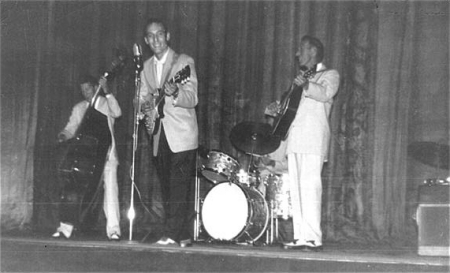 Clayton, Carl and Jay Perkins - c1958
Photo by Jay Harrington's mom courtesy Rockabilly Hall of Fame

Bill wrote:
Carl Perkins remembers the Amory concert well.
Perkins and Elvis had driven to Amory together from a concert the night before in Helena, Arkansas. En route, they were discussing music and both mentioned how much they liked singing the song, Only You, made popular by the Platters.
During his time on the Amory stage, someone in the audience shouted, "Only You, Carl."
"You got it, hoss," Carl snapped back, and sang his version of the song.
Perkins had the house jumping and they weren't ready for him to leave the stage when the time came.
Backstage, Perkins found Elvis sitting, head in hands, shutting out the world.
"You feelin' okay?" he asked Elvis.
"Aw, ain't no need in me goin' on," Elvis replied. "They're ready for you. What'd you do Only You for?"
Challenged, Perkins snapped, "'Cause I wanted to. 'Cause I can sing it. There's two reasons. You want another one?"
"Well, I was gonna do it," Elvis told his fellow Sun partner.
"Well, go on out there and do it," Perkins commanded.
"Hell, the Platters are singin' it somewhere tonight."
"I ain't that big a damn fool," a sulking Elvis said. "I ain't goin' out there and sing something you done sung. You done tore 'em all to pieces. I might as well go on to the car. "
Ritter and a partner had seen this interplay. Ritter made a five dollar bet, that despite the audience's reaction to Perkins, Elvis would come out the crowd winner at the end.
"Walking toward the stage, Elvis asked me what we had been talking about," said Ritter. "I told him about the bet."
When Elvis walked on, the crowd was still shouting "We want Carl! We want Carl."
Elvis, said Ritter, seemed to become overly motivated.
"He went wild. He sang, he was all over that stage. He was down on his knees. He was attacking that guitar.
"And it wasn't long before he had 'em eatin' outta his hands!"
When he re-entered the backstage area, Elvis winked at Ritter and said, "Go get your five dollars!" 5
By this time, Elvis had signed with RCA and the concert in Amory would be the last time the three acts would appear together. It's likely though, that Carl may have misremembered several of the details. Elvis hadn't performed in Helena since March of that year but they would share a date in Helena days later, on the 15th.
Other accounts suggest the show in Amory was promoted by Charlie Boren, at that time the owner and manager of WAMY in Amory, who reputedly paid $600 for the appearance of all three.9 Boren, until that year, had been an announcer at WELO in Tupelo since the station started in 1941 and had known Elvis when he was still a child living in Tupelo and singing on the Saturday afternoon WELO jamboree program, at times accompanied by Carvel Lee (Mississippi Slim) Ausborn.4 WELO and WTUP at one time were sister stations.
James D. Buffington, a former radio station owner who was a classmate of Johnny Cash's at the Keegan School of Broadcasting in Memphis in early 1955, recalled driving to Amory to see the show in December of that year. According to Buffington he heard of it from Bobby Ritter who was helping Charlie Boren promote the concert. He recalled driving with Mac Allen Thomas one Friday evening and arriving early to visit with Cash who then introduced him to Elvis. Elvis reputedly admired his sport coat, charcoal with a hot pink grid, and offered to buy it. He said he also met Vivian, Johnny's wife, that night and was given a copy of his new Sun record, "Folsom Prison Blues."10 Johnny recorded Folsom Prison Blues on July 30, 1955 and it was officially released by Sun on December 15, 1955. Buffington also said Carl Perkins wowed the crowd with 'Blue Suede Shoes' that night.10

Elvis performing Blue Suede Shoes on February 11, 1956
Carl recorded "Blue Suede Shoes" at Sun on December 19, 1955 and it was released on January 1, 1956. It would become Sun Records first national hit. Elvis would record a cover version and first perform the song on national TV on February 11, 1956 during his third Dorsey Brothers' Stageshow appearance. By April 1956 Carl's version finally topped most charts. Although it spent almost five months on Billboard's country and pop charts, it was excluded from the number one position by "Heartbreak Hotel." By early May both Perkins and Sun Records had logged their first million-seller.3
Steve Sholes of RCA chose the song for Elvis and the boys' first session in New York. Elvis had been reluctant to steal the hit from Carl and according to Scotty, begged off after a few takes saying he didn't think they could improve on the original. Sholes agreed not to release their version as a single while Carl's version was still hot and the song was released with the first LP in March.6
In regard to Elvis covering the song, Sam has said, "Carl was in a car wreck on the way to do a TV show (the Perry Como Show) and couldn't tour. Elvis did a cover and had a hit with it bringing in money Carl would have never seen from royalties." The royalties from the Elvis version gave Carl the money he needed during his recovery. He pointed out that in hindsight people think that the Elvis version overshadowed Perkins version. The fact is, Perkins version gave Sun Records their first national hit, selling over a million copies and giving them the cash flow they needed at the time. Perkins took "Blue Suede Shoes" to the top of the country charts and #2 on the pop charts. Elvis' version (on RCA) stalled at #20 on the pop charts. But the royalties from the Elvis version gave Carl the money he needed during his recovery.7

Both Elvis and Johnny would eventually go on to individual stardom but Carl, though an inspiration and legend to many and well respected by his peers, never reached the heights he hoped or expected. He continued to play and record the rest of his life. Scotty and he would record together years later on several occasions and at times get together to reminisce.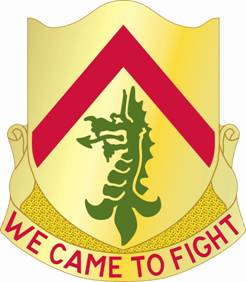 198th Armor Regiment - Unit Insignia
courtesy The Institute of Heraldry
In April of 1975, plans were made for a new armory on Highway 25 North with anticipated completion of construction 13-14 months after. For many years the Mississippi National Guard's 198th Tank Battalion used the concrete 9th Street facility for its training and headquarters prior to relocating to their new facility. The old armory then reverted to the city of Amory.8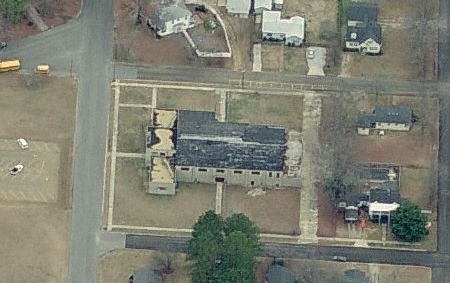 Aerial view of the Old Armory in Amory, MS - 2009
Photo © Microsoft EarthData
The building has had various uses since the Guard left it, from voter polling places to justice court offices and courtroom to use of the gymnasium for building parade floats and holding church yard sales and prom nights. The roof has some new leaks, the gym's hardwood floor is buckled in place and some upper windows are broken out, but because the building is now designated a historic landmark, Amory's third, no construction, renovation or preservation efforts can be undertaken without a permit from the Mississippi Department of Archives and History.1
page added September 16, 2009
Special thanks to Ruby Holman of the Amory Municipal Library for her assistance with this page.
1 excerpt from Amory Advertiser article by Chris Wilson, December 4, 2002 courtesy Ruby Holman of the Amory Municipal Library and Jamie E. Morgan of the City of Amory, MS
2 according to Rockabilly Legends by Jerry Naylor and Steve Halliday courtesy Wikipedia
3 according to "Blue Sued Shoes: A Chronology of a Hit" a presentation of the Rockabilly Hall of Fame
4 excerpt from "Early Elvis: The Sun Years" by Bill E. Burk
5 excerpt from "Elvis Day by Day" by Peter Guralnick and Ernst Jorgensen
6 according to "That's Allright Elvis" by Scotty Moore and James Dickerson
7 excerpt from "Sam Phillips selling Elvis' contract to RCA was no mistake" by Mitch McCracken, Little Rock Entertainment Examiner - Aug. 31, 2009
8 according to Ruby Holman of the Amory Municipal Library quoting from Amory Advertiser articles
9 according to When Elvis Died by Neal Gregory, added Aug. 13, 2013
10 according to Jim, Keegan Technical Institute, Johnny Cash courtesy JimBuffingtonDotCom, LLC, added Aug. 13, 2013
---
Terry Thornton, a high school junior from Monroe County, remembered seeing the show in Amory and years later wrote the following:
Elvis Presley in the Hill Country: Concert at Amory
by Terry Thornton

I saw Elvis perform at a concert in Monroe County, Mississippi --- and got in for free!

My earliest recollection of Elvis Presley (who grew up in East Tupelo near the Hill Country of northeast Mississippi) was from the 1950s. Several of my friends from Parham and Hatley had seen him and had heard him sing and thought him the best thing since sliced bread. I didn't know what or who they were talking about.

But all that changed in 1955 for me.

During my junior year 1955-56 at Hatley School [east of Amory], Monroe County, our class play, a comedy, was to run for two performances. We, the cast and crew, worked hard getting that play up and running and had a great fun at rehearsal. The two nights for the performance were selected weeks or maybe months in advance. Even back then placing school-sanctioned events on the school
calendar had to be coordinated with the administrative offices well in advance.

Our two big days were approved and we then advertised our play dates. If I remember correctly, those dates were in the fall of 1955.

A few days before our play was to begin its two-day run, posters begin to appear around Amory and maybe even one or two of the printed announcements showed up in Hatley. Elvis Presley and a group of other hillbilly music singers were going to do a show at the National Guard Armory Building (now called the Old Armory) in Amory. Elvis if I remember correctly was not the head-line act. Johnny Cash who was on the program if I remember correctly was not the head-line act either. Carl Perkins was the main attraction.

Several of my friends, especially the girls I knew, were in a "twit" that Elvis was coming to Amory. Word spread rapidly that the former Tupelo boy was coming again to Amory to sing. Heck, I didn't know that he had been there before.

The first night of our school play was well attended. The auditorium was packed. We said our lines well and the crowd laughed when they were supposed to. We looked forward to our final performance the next evening.

Next evening came but the auditorium was nearly empty. A few loyal mothers and fathers and grandparents of the crew and cast showed up along with a few favorite aunts and uncles. But the house was "thin" to say the least. We were disappointed because we had hoped for a second big crowd to help raise money for our junior-senior trip later that school year.

Word circulated rapidly backstage that everybody at Hatley had gone to see Carl Perkins in Amory. His song Blue Suede Shoes was a huge hit.

We finished our final performance to our limited audience. Backstage a group of us guys decided as soon as we could get out of the costumes and makeup we had on for the play and into our regular clothes (penny loafers with a real penny inserted on the flap, blue jeans with rolled up cuffs, and button-up shirts and dark-blue corduroy jackets emblazed with Hatley FFA Club on the back) that we would go to Amory four miles away and check out what was going on at the National Guard Armory.

Finding a place to park at the armory was difficult. Cars were parked everywhere. There was even a big new Cadillac convertible with a trailer hitched behind it pulled up on the lawn of the armory. We later were told that this was Johnny Cash's car and that the trailer was used to haul the performers' instruments. But I don't really know which of the performers owned the car.

We walked into the lobby about 10:00 P.M. The ticket office was closed but there was an usher at the door. He waved us over and said for us to go on in. Because it was so late, they had already stopped selling tickets!

So the one time I got to see Elvis Presley, Johnny Cash, and Carl Perkins, I saw them for free! And at the time, free was as high a price as I thought anyone would pay to see Elvis, from Tupelo but moved to Memphis, perform.

Our gang entered the armory hall and found seats high up on the south bleacher-style seats. The seating on the floor was still pretty much full of the paying crowd. The area in front of the stage was packed with all of the girls from Monroe County --- and they were squealing and gawking at a person on the stage plucking on a guitar and singing.

It was Elvis.

I had to be told.

Elvis would hit a cord or two on his guitar, wiggle a joint or two, and snarl. The girls would scream. Then Elvis would do it all over again only wiggling the other side of his body. More screaming. He would sing but I don't have a clue what he was singing because the screaming was louder. Then he stopped singing and the wiggling gradually stopped --- and he then hit a cord so loud that he popped a guitar string.

That broken string was a clue for the girls to scream even louder. The music got faster and so did the wiggling. Elvis finished that set and went back stage. A whole gaggle of girls rushed to the door leading to that backstage area and went rushing backstage to be with Elvis.

I don't have any notion of what kind of musician Elvis was based upon that first and only time of seeing him perform live. He could not be heard for the screamers!

I can't remember which performer came next but when he finished to great applause, Elvis reappeared with a new set of guitar strings. He started another song and again the screaming drowned him out. Then he broke one of his new guitar strings! Louder screaming! And then a few cords later he broke a second of his new guitar strings! The screaming was keening at this point. And later he broke a third string much to the delight of the screamers who were jumping up and down right in front of the stage.

We left before the performance was over. On our ride back to Hatley it was the consensus of the group of five guys in the car that the kid from Tupelo wasn't much. He couldn't play a guitar without breaking the strings. We knew. We had our own hillbilly band and in all the performances and in all the rehearsals, nobody had ever broken a string.

Our lead guitar player commented that he bet he could "break a string" while playing his guitar too. He said could take a file and before he went on stage, file down a string. Then while playing, to make sure he plucked it really hard. That would break it. And then he wondered aloud why should he do something like that?

Little did we know. By the following year, Elvis was recording and making movies and appearing on national television. His appearance on the Ed Sullivan Show in the fall of 1956 was probably watched by everybody with a television set in the hill country of east Monroe Country even if it was on a church night.

I don't think us guys ever got what it was about Elvis. I will always remember seeing him for free in Monroe County and thinking that he would never do well in the music business.

Little did I know about Elvis.

Little do I know about what causes girls to scream.
excerpt from "Elvis Presley in the Hill Country: Concert at Amory" posted by Terry Thornton - May 5, 2007