1976 Harley-Davidson FLH 1200 Electra-Glide (w/ custom paint)
Elvis Presley's Motorcycles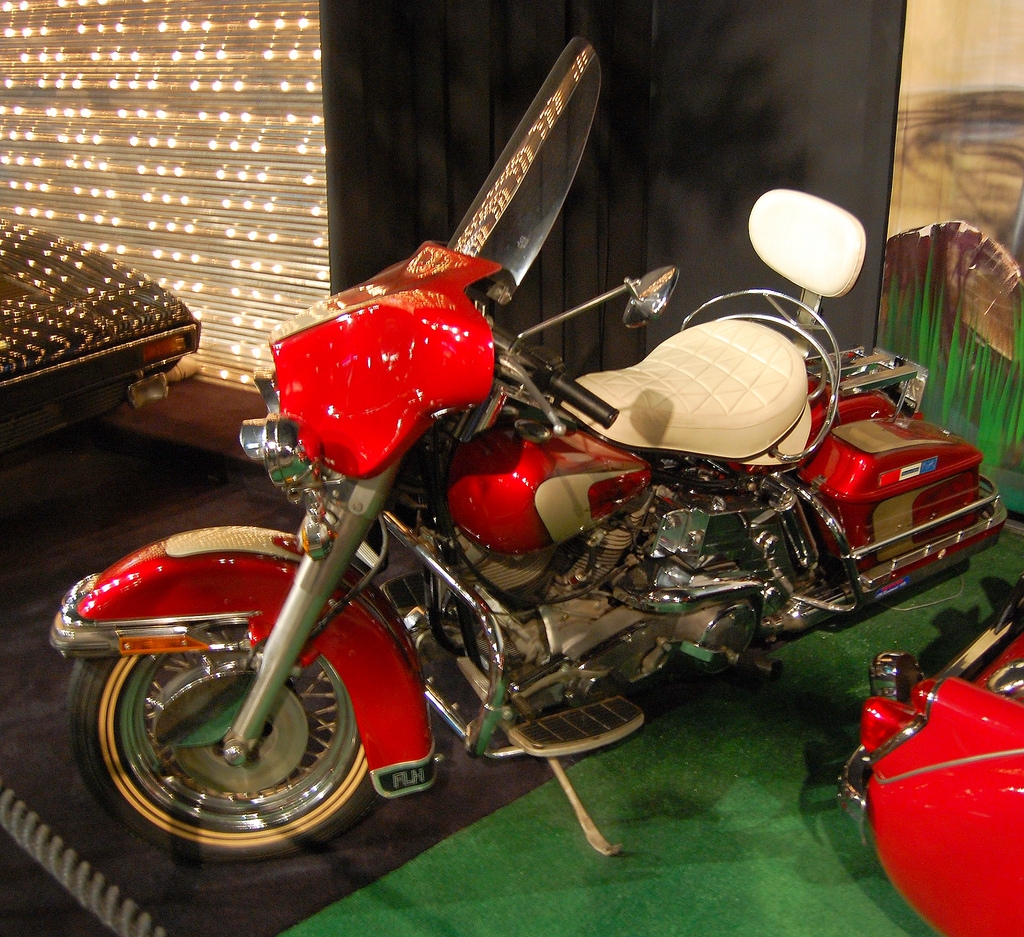 The 1976 Harley-Davidson FLH 1200 Electra-Glide with custom pain on display at Graceland
Photo courtesy web
Peter Guralnick wrote that at the end of October, 1976, Elvis received a shipment of motorcycles that interrupted a lackluster recording session at Graceland. He insisted that everyone watch them unload outside and try them out on short runs.1 However, no specifics were given about the brand or models. By October one might expect that the newer 1977 models would be available but none are in the collection at Graceland and no known pictures have surfaced of him with any of that model year.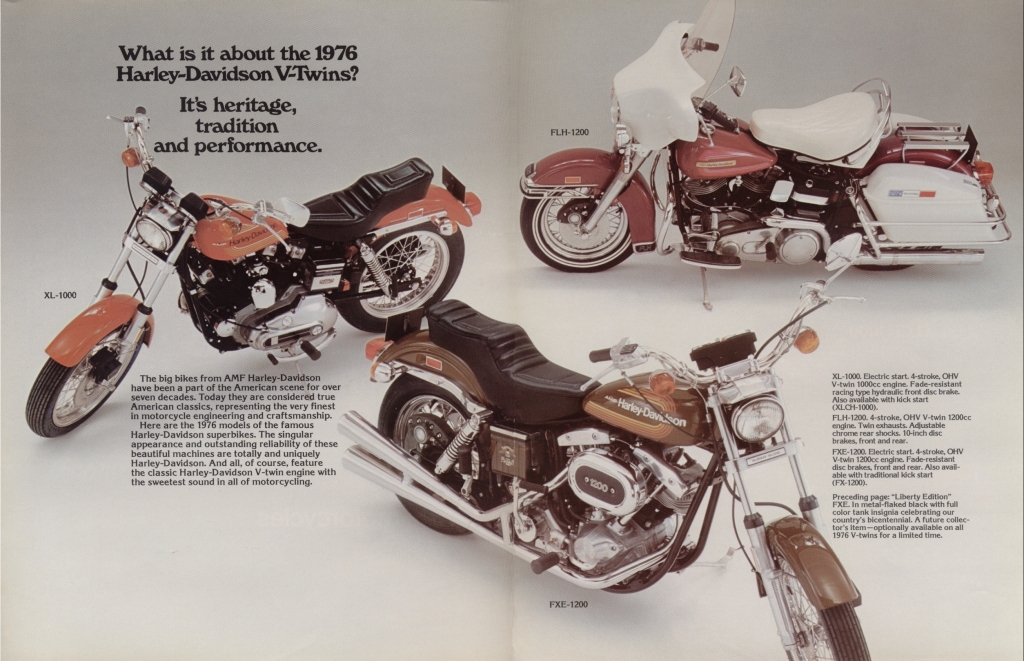 The 1976 Harley-Davidson V-Twin model brochure
courtesy ebay
One motorcycle in the collection, however, is a 1976 Harley-Davidson FLH 1200 Electra-Glide with custom paint that, aside from the 'batwing" fairing, is dressed to his usual taste, complete with windshield, buddy seat, engine guards and saddle bags. The Elliott brothers at Super Cycle in Memphis were contacted to service and recondition various items in the collection in the early eighties, though Ron doesn't recall this motorcycle being there at the time. It does, however, show up in pictures on the property before the addition of the Auto Museum in 1989. Interestingly enough it has a not too dissimilar paint scheme from the one in Murdo, SD from California.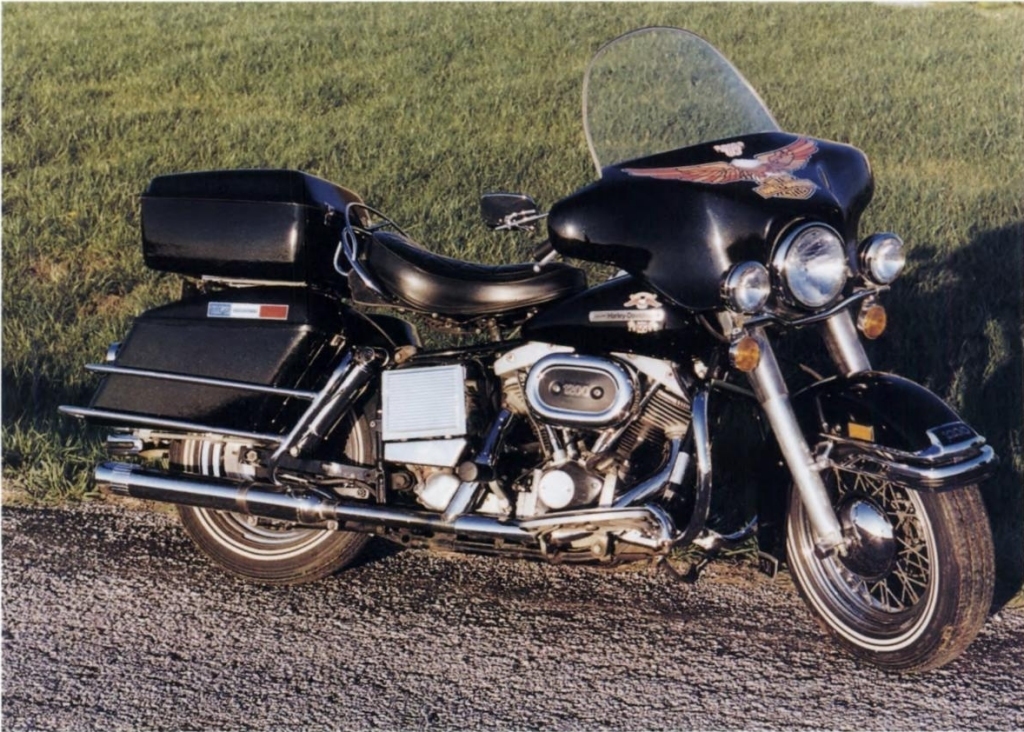 The 1976 Harley-Davidson FLH 1200 Liberty Edition to commemorate the Nation's Bicentennial - complete with black metallic paint, liberty themed decals on the tank, fairing and tour pack
Photo by Robert McCollum courtesy Classic Harley Big Twins : Knucklehead, Panhead, Shovelhead
It has been referred to as a Bicentennial edition but only features the typical Red, White and Blue reflectors with "1976" on them that came on the bags of most FLHs so equipped that year. Other models featured decals with eagles, which from that year on has often been combined with their traditional shield and logo. A sticker added at some point below the FLH at Graceland also reads "Ride With Pride - 1776 Bicentennial 1976." Harley-Davidson actually released a version called the "Liberty Edition" that year to especially commemorate the Bicentennial. Elvis bought one of those in March of that year but it was equipped with the Liberator fairing. The company was still owned by AMF during this time but by the mid seventies most of the quality control issues associated with them had been contained. The 1970s motorcycle boom appeared to have a positive effect on quality, as H-D found itself overwhelmed trying to meet demand.2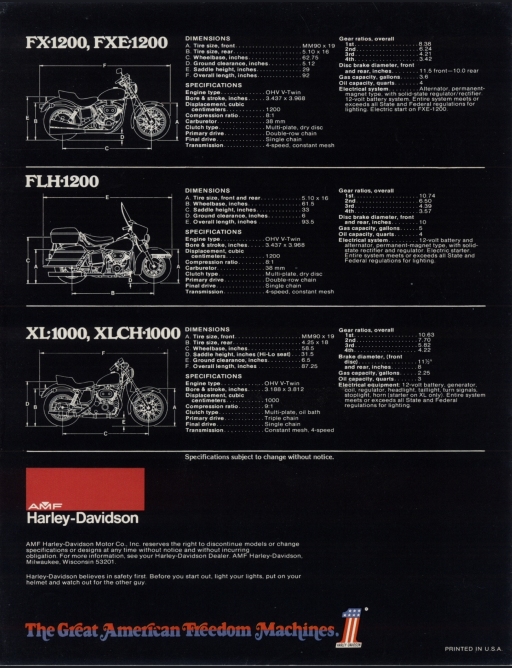 1976 Harley Davidson advertising and specification brochure
courtesy ebay
This FLH has been on display over the years in the Auto Museum at Graceland but is currently on display in London at the O2 exhibit with several of the other vehicles from the collection, including the Pick Cadillac and the Harley-Davidson golf carts. Several other pieces from the collection are also in Las Vegas at the Elvis exhibit in the Westgate Hotel, no doubt facilitating the renovations and construction planned for the grounds in Memphis.

The 1976 Harley-Davidson FLH 1200 at Graceland, and the Ride With Pride / 1776 Bicentennial 1976 sticker
Photos courtesy web and Scott Philo
As has been demonstrated, Elvis had an obvious preference for Harley-Davidson, FLH and Electra-Glides in particular. Its quite likely that had he survived he probably would have continued to ride and today his choice of ride would probably have been for one of the contemporary Harley-Davidson Road-Glides, Street-Glides or Ultras. Maybe even a Road King Classic, the descendant of his original FLH (or quite likely, many of each).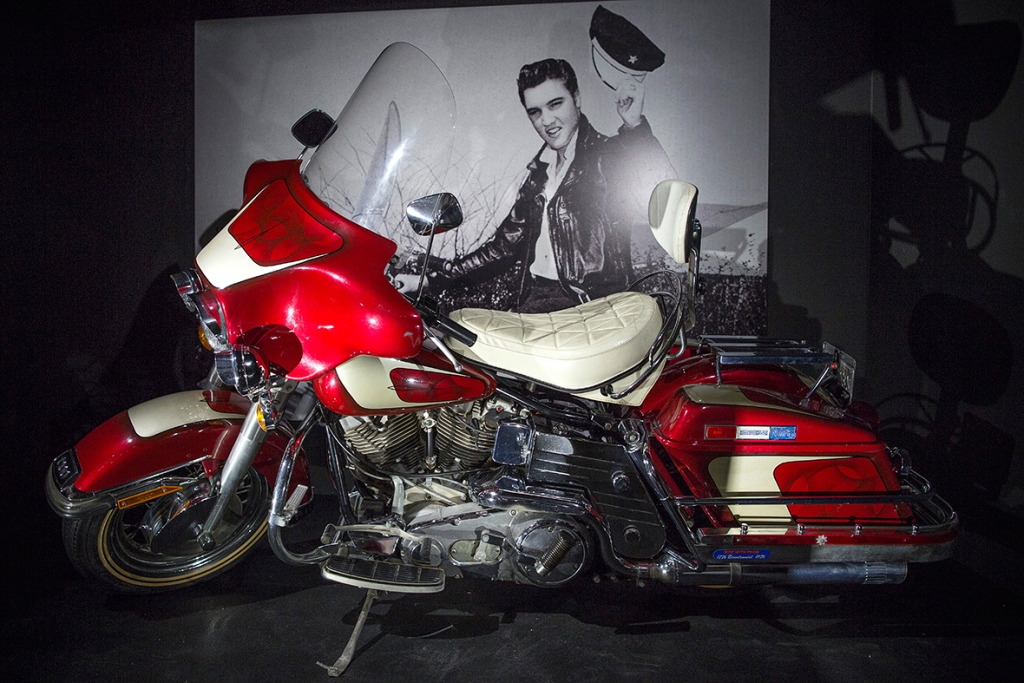 The 1976 Harley-Davidson FLH 1200 at the O2 exhibition
Photo by Dan Kitwood courtesy Ib Times
page added October 5, 2015
1 according to Careless Love: The Unmaking of Elvis Presley by Peter Guralnick
2 according to or excerpt from 1977 Harley-Davidson Confederate Edition - The Forgotten Soldier By Chris MacMahan Jan/Feb 2009 courtesy Motorcycle Classics