1957 Harley-Davidson FLH Hyrda-Glide
Elvis Presley's Motorcycles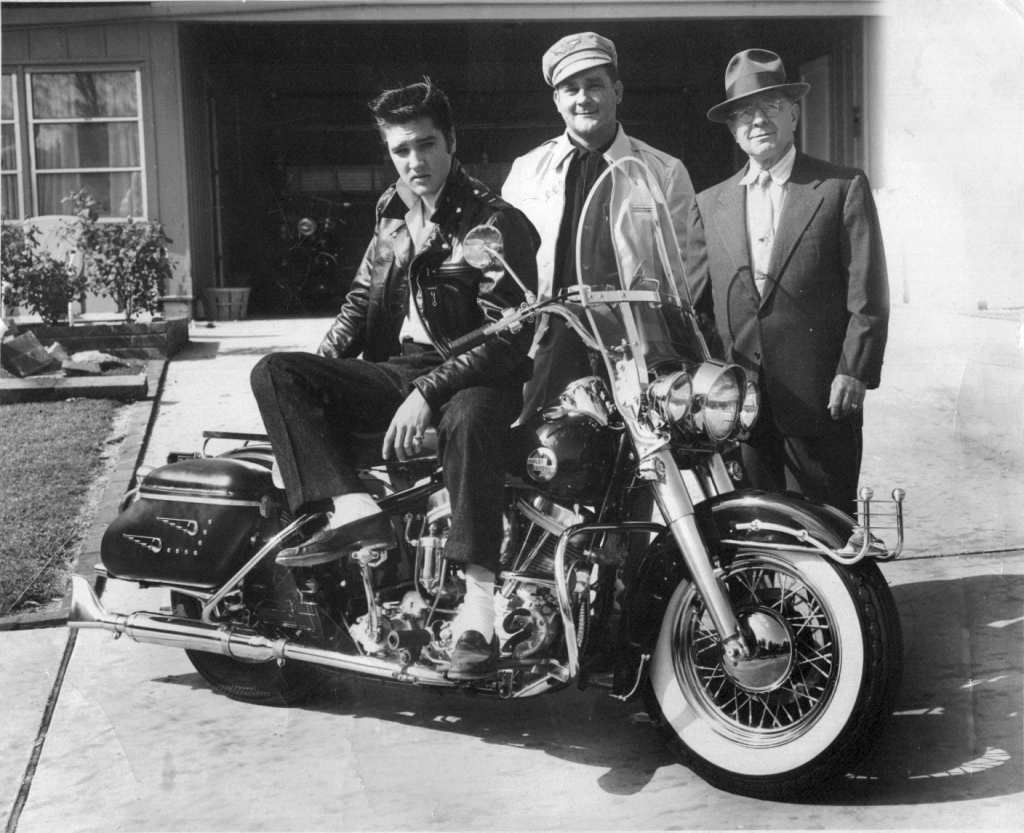 Elvis takes delivery of his 1957 Harley-Davidson FLH with Sales and Service Manager "Big" Al McAlexander and B. W. Barfield (Mr. B.) of the Memphis Harley-Davidson Co. - Nov. 1, 1956
Photo by Ted Bruehl © courtesy Al's Cycles - originally published in the December 1956 issue of Enthusiast Magazine
On November 1, 1956, Elvis bought a new Harley-Davidson. It was a 1957 FLH Hydra-Glide, the first of many of the FLH models he would own, a preference for which he would express through the rest of his life. This model featured the Panhead overhead valve V-twin introduced in 1948. The FLH designation had been introduced in 1955 for the top of the line models. With a 74 cubic inch displacement the Panhead 45-degree V-twin was rated at 60 bhp. While the 'F' indicated an OHV 74ci V-twin, the 'L' indicated a wide front tire and Hydra-Glide forks. The 'H' indicated Higher power and/or compression which Harley claimed gave a 10-percent power increase over the lower compression FLs.1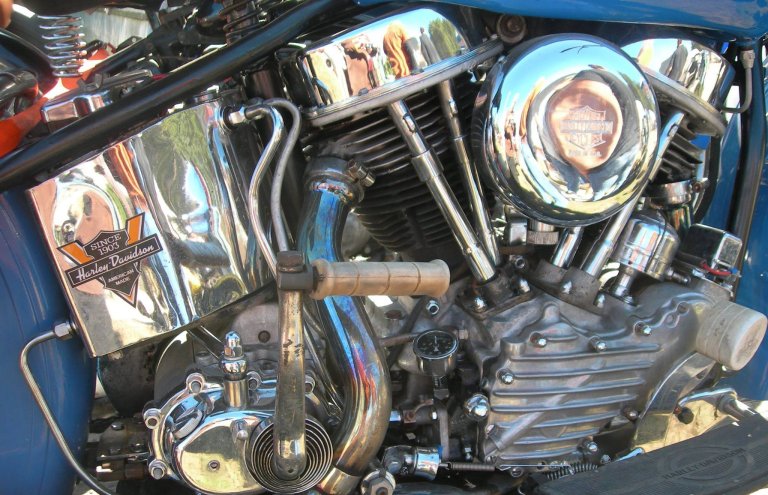 1948 Harley-Davidson 74ci Panhead
Photo © James V. Roy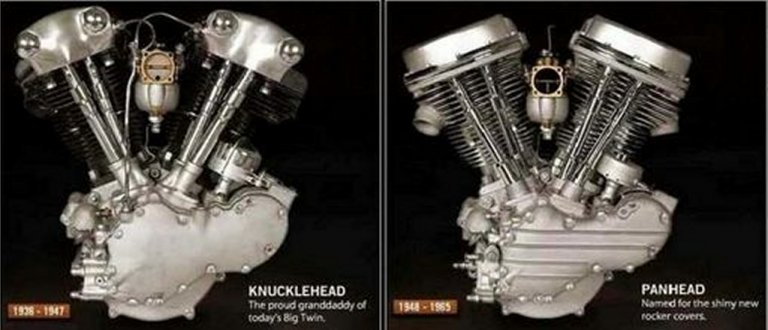 Knucklehead (1936-1947) vs. Panhead (1948-1965)
Photo courtesy Working Class Zeroes
The Panhead motor had aluminum heads that ran cooler than the former cast-iron ones of the Knucklehead and helped produce more power. It also introduced hydraulic valve lifters, which minimized the tedious task of adjusting valves and also allowed the motor to run more quietly. Like the Knucklehead before it, riders coined the nickname "Panhead" in reference to the motor's valve covers, which now looked like upside-down roasting pans. Initially offered in 61- and 74-cubic-inch sizes, the 61 was dropped after 1952.2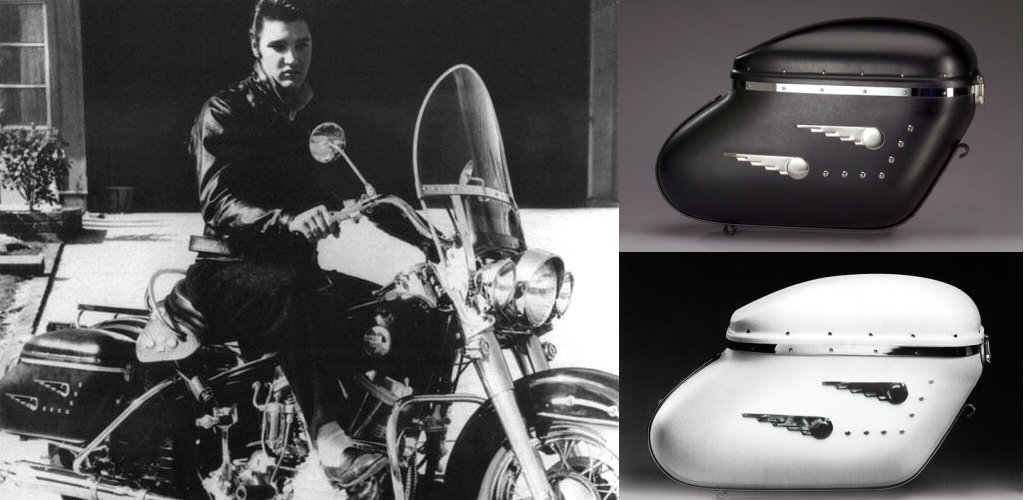 Elvis on his 1957 FLH in the rear of Audubon Dr. - Nov. 1, 1956, reproduction Bubble Bags in black and white featuring the double speed comets with studs used through 1957 models
Photo by Ted Bruehl, courtesy Torben Lunde and bag Photos courtesy BB Reproductions
In March of 1957 Harley-Davidson was granted a patent (US2783927 A) for their hard saddlebags, the type commonly referred to as bubble bags. They had applied for the patent in 1953 and the bags first appeared on the 1954 cycles. The patent described them to be of a three piece design, preferably from molded plastic to dampen vibrations and resist denting and scratching. One of the objectives cited was to provide a standard saddle bag applicable to varying types of motorcycles by means of the mounting frames. Through 1957 they bore two speeding comet emblems riveted on the sides.

Harley-Davidson patent drawing for their bubble bags and 1954 advertising for the Hydra-Glide introducing them
courtesy google patents and ebay
1957 was the last year for the "Hydra-Glides" which Harley-Davidson had initially introduced in 1949 simply as a "hydraulic front end," essentially fluid filled telescoping front forks that served to dampen the suspension. With a rigid tubular frame, known as a "hardtail", aside from springs in the seat, it was all that did cushion the ride. They were renamed as Hydra-Glides by marketing for 1950, which was the company's first departure to designate a model as anything other than letter codes.

The headlight nacelle on a 1955 Harley-Davidson FL "Hydra-Glide"
Photo © James V. Roy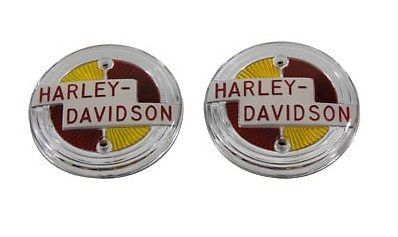 For 1957, the Tank emblem was a simple round with red and yellow quarter reflectors and "Harley-Davidson" spelled on top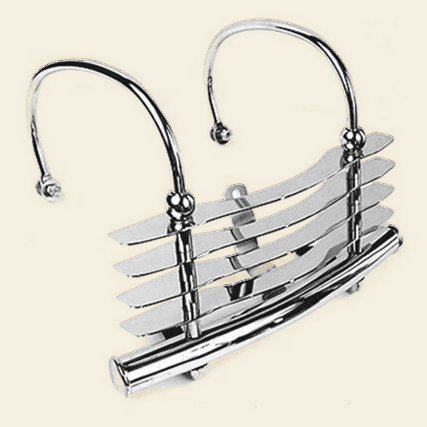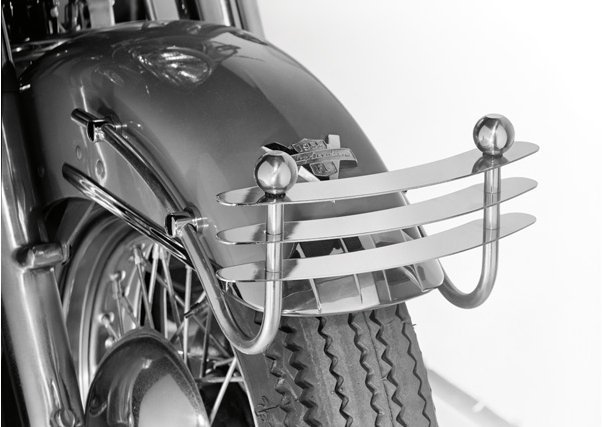 Cheese grater bumper on a 1955 FLH (King of the Highway) and a Rear bumper available online
Photos courtesy web and © Harley-Davidson
Elvis' 1957 Harley was full dressed with the aptly named "King of the Highway" option, which included the bubble bags, removable windshield, luggage rack, and chrome engine guard (crash bars), front and rear chrome plated "cheese grater" decorative bumpers. 1957 was also the last year to feature the cheese graters. His also featured a hand clutch and foot shifting transmission, which had been offered as an option on the Hydra-Glides first in 1952 in addition to the common foot clutch and hand shift next to the tank.

Elvis on his 1957 FLH with Dewey Phillips and Nick Adams and also with Natalie Wood - ca. Nov. 1956
Photos courtesy web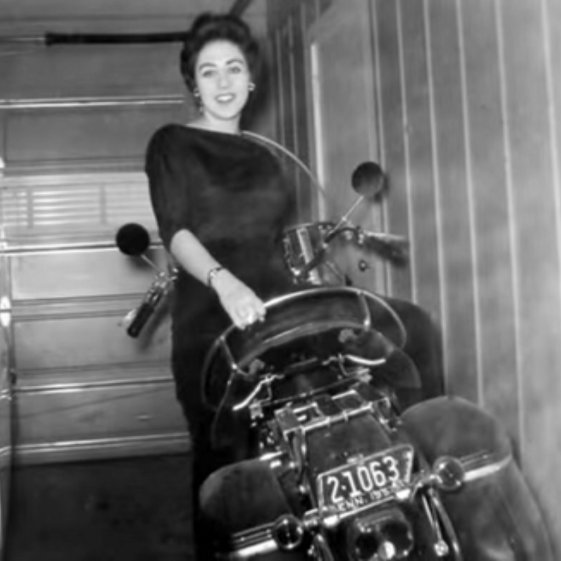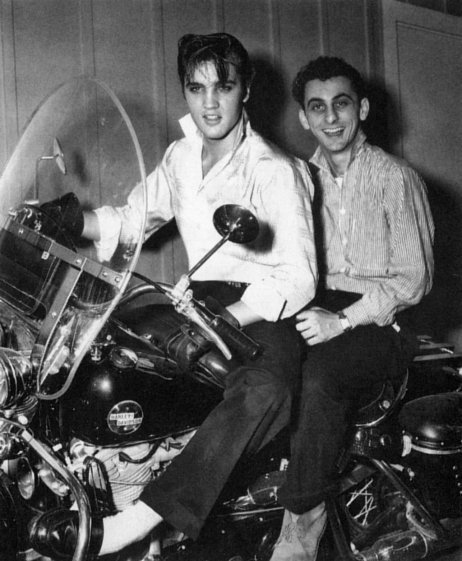 Kay Wheeler with Elvis' 1957 FLH in Nov. 19, 1956 and Elvis with George Klein on it at Audubon Drive
Photos courtesy George Klein's Elvis Presley Family Album and Kay Wheeler

Elvis on Audubon Drive in Memphis with his 1957 FLH - ca. 1957
Photo © EPE Inc., courtesy Life: Remembering Elvis: 30 Years Later

Elvis on his 57 FLH and with actress Yvonne Lime at Graceland in April 1957
Photos courtesy web and © EPE, Inc.
Elvis' 1957 FLH eventually made the move with him to Graceland but by 1958 at least he had apparently upgraded to a new 1958 Duo-Glide that greatly resembled his '57. It would be the bike he would have at least through the early 1960s. Confusingly enough, Elvis was pictured with fans while out riding his '57 wearing a yachting cap that would almost suggest dates from the early '60s, but the bike itself suggests not, unless of course he kept both.

Elvis in Memphis with fans on his 1957 Harley-Davidson FLH Hydra-Glide - ca. 1957
Photos courtesy web
Around 1983 the Elliott Brothers, Ron and Lew, at Super Cycle in Memphis assembled a bike to replicate Elvis' 1957 FLH Hydra-Glide. According to Ron, they had a client that wanted one like Elvis' so they assembled one using a 1957 panhead, somewhat earlier frame and various era correct components they had. Ron had to replicate the cheese grater bumper in the front from copper since at the time new ones weren't available. He even replicated it with the whitewall on the front and blackwall on the rear, which is how Harley-Davidson originally delivered them since the rear whitewall was impossible to keep clean. They sold it for $7500 and the client then sold it to EPE.*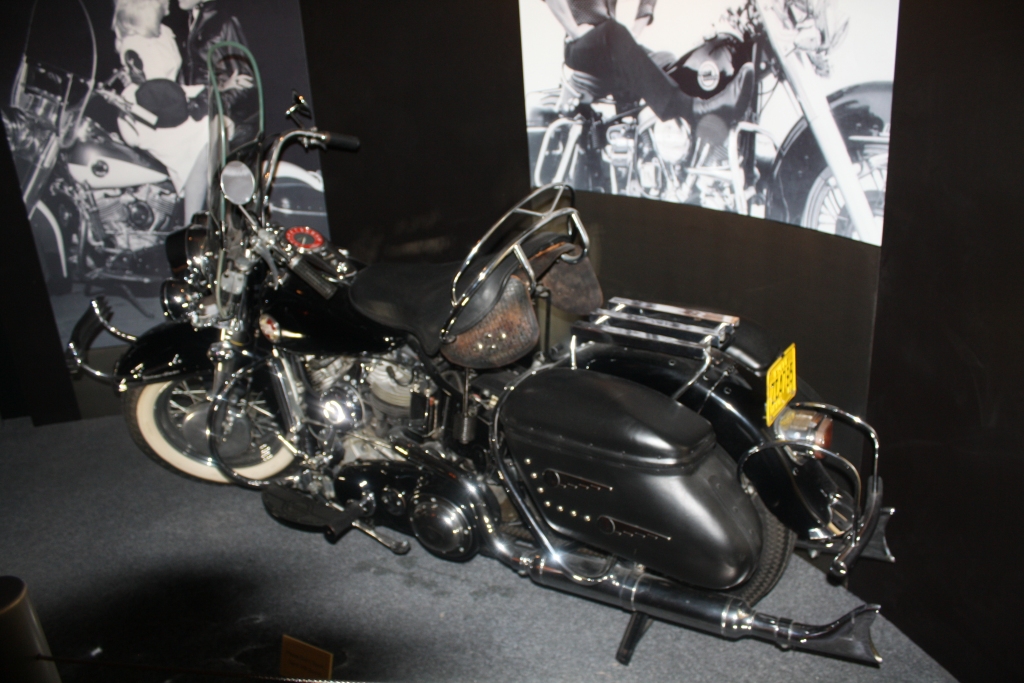 a replica of Elvis' 1957 Harley-Davidson FLH Hydra-Glide assembled by Super Cycle of Memphis* on display at the Newseum in Washington, DC - June 23, 2010
Photo © Ron and Brenda Baily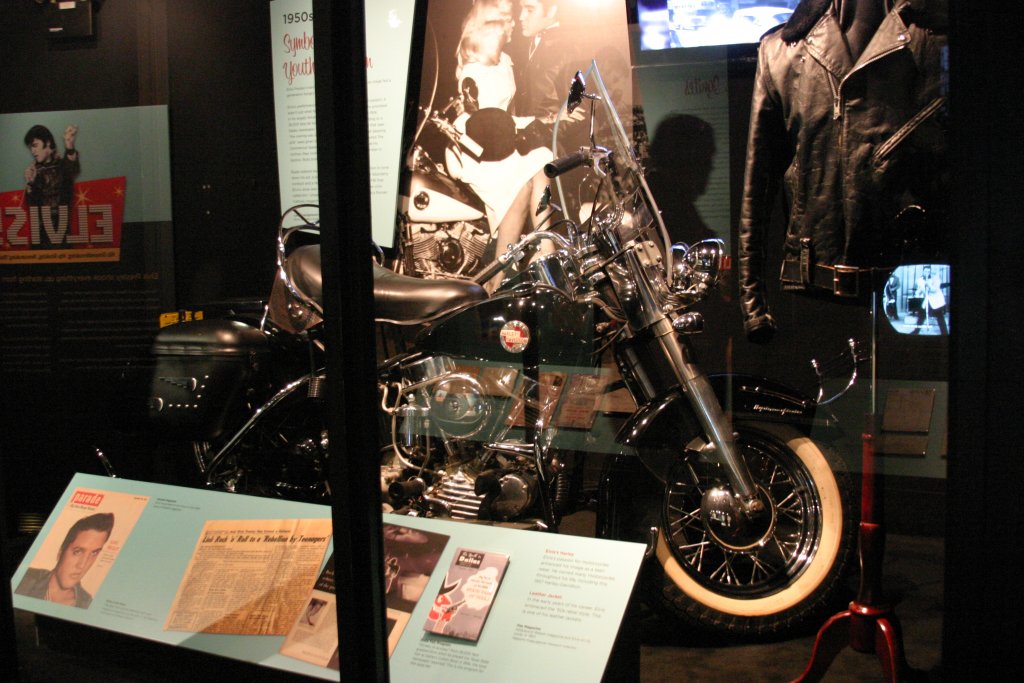 The replica of Elvis' 1957 Harley-Davidson FLH Hydra-Glide assembled by Super Cycle of Memphis* on display at Graceland - Dec. 9, 2011
Photo © James V. Roy
The bike is almost exactly like Elvis' except for the shape of the cheese grater bumper on the front and the "Hydra-Glide" script on the front fender (which Elvis' didn't have). It has been on display at Graceland for years, formerly at their Heartbreak Hotel. In 2010 it was part of the Elvis exhibit at the Newseum in Washington but is currently at the new Elvis exhibit at the Westgate Hotel in Las Vegas, NV (formerly the International then Hilton Hotel). Oddly, in 2007 when Harley-Davidson made the 30 (+2) anniversary tribute motorcycles, they modeled them after this one, duplicating the addition of "Hydra-Glide" logos on the fenders but using whitewalls on both the front and rear.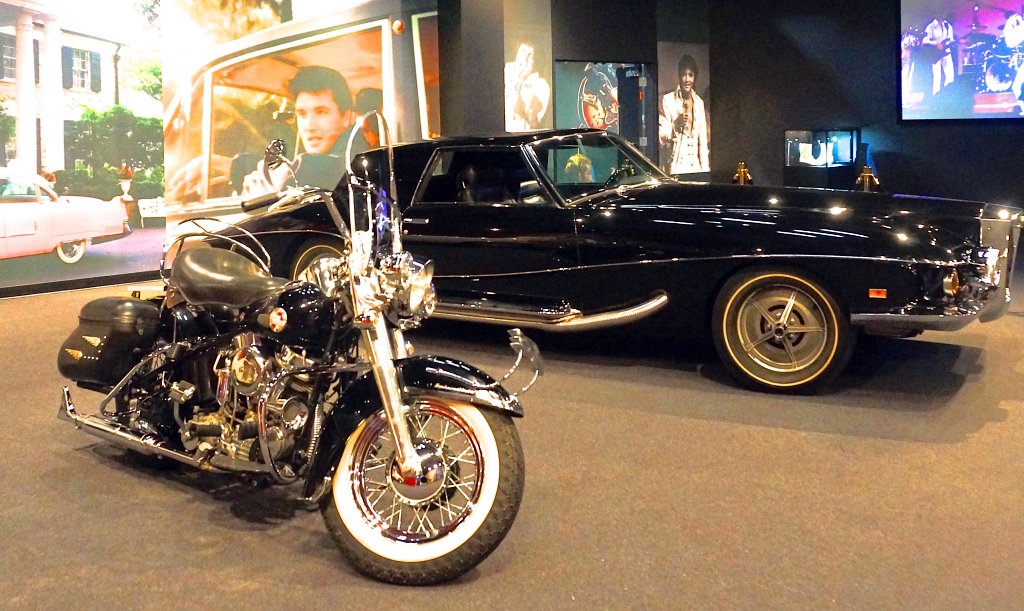 a replica of Elvis' 1957 Harley-Davidson FLH Hydra-Glide assembled by Super Cycle of Memphis* on display in Las Vegas - April 2015
Photo by Diane Taylor, courtesy Living Las Vegas
page added October 5, 2015
* According to EPE Inc., the 1957 Harley-Davidson they have "is Elvis' rebuilt. We acquired it from the man who did our original restorations when we built the Car Museum. He is since deceased. The bike was burned and using the same engine block it was rebuilt. That is why there are a few differences. We are not sure who purchased the Supercycle Bike but it was not EPE." - October 7, 2015
It should also be noted that many of the vehicles in the Auto Museum were restored by Brian Hughes of the Classic Car Co. of Memphis, 3 who also had an associate, Fred Fredericks. Ron Elliott said that Fredericks ordered the bike from Super Cycle, paid cash for its completion, quite possibly financed by Brian who had earlier offered a check for its completion and delivery. - October 9, 2015
1 according to Factory Fat
2 excerpt from Harley-Davidson Engines, by the Auto Editors of Consumer Guide at How Stuff Works
3 according to AP story, "More Elvis: Car museum opens doors at Graceland" The Southeast Missourian - June 28, 1989