The Sportatorium
Even a five year-old child could've sat in the front row of The Sportatorium and felt it. When the bell rang at 8:00 pm on Friday nights, that huge, silver, metallic building on the corner of Industrial Blvd. and Cadiz Street came alive!1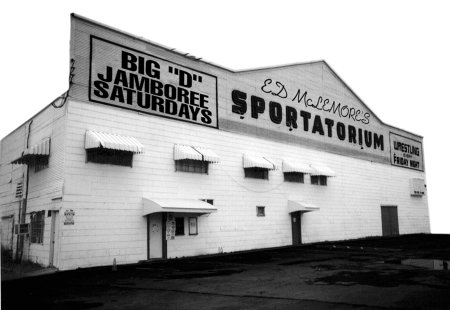 The Dallas Sportatorium purportedly in the 1950s
Photo courtesy Steve Bonner
The original Dallas Sportatorium was constructed as an 8-sided steel structure, with a flat roof, built by Bill Cox of the Cox Fence Company. The first pro wrestling promoter in Dallas was a man named Burt Willoughby. Its inaugural wrestling event took place on December 9, 1935. The Sportatorium became one of the hottest tickets in the Southwest. Willoughby employed Ed McLemore to handle the concessions at the boxing and wrestling events.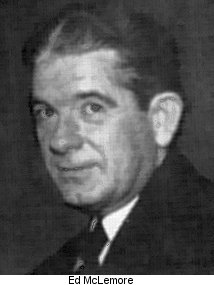 Ed McLemore started out handling the popcorn, then the cold drinks, and then the hot dogs; before Willoughby knew it, he had the entire concession business to himself. McLemore advanced in Willoughby's company until he owned the entire business in 1940.1
When The National Wrestling Alliance (NWA) was still in it's infancy, McLemore began promoting under the NWA banner at The Sportatorium. This relationship lasted until January of 1953. The reason for the breakup is unknown, but the NWA and The Sportatorium went their separate ways.1

On May 1, 1953, someone poured kerosene on the flat tarpaper roof and the Sportatorium burned partially down. The matches were moved to a livestock show arena in Fair Park for six months while The Sportatorium was being rebuilt. The doors were re-opened on September 22, 1953 and the new building was called "The Million Dollar Sportatorium". The outside of the new structure was a rectangle, however, the inside still retained the original octagon seating shape.1 The Arena held around 6300 people.
The Sportatorium was also famous for another regular event, The Big D Jamboree. The Jamboree appeared there from 1948 until 1966 and was a live country music show held every Saturday night with stars of The Grand Ole Opry and Louisiana Hayride. For .65 cents, you could see musicians of this sort play live at between 8 PM and midnight. Promoted by Radio KRLD of Dallas, a CBS affiliate, portions of the weekly show were also broadcast over the radio from the Sportatorium. The first year of broadcast, it was billed as the Lone Star Barn Dance and they had about 20 performers. By early 1953, they had nearly 50 performers.

The Big D Jamboree Gang with "The Travelin Texan" (Billy Walker) on right
Photo courtesy Steve Bonner

Helen Hall and band, one of the great gals of the Big "D" Jamboree
Photo courtesy Steve Bonner
Since 1938, KRLD has broadcast at an effective radiated power of 50,000 watts, the highest allowed by the FCC and could be heard at night in 38 states. The call sign originated from the station's original owners, Dallas Radio Laboratories, transposed as Radio Laboratories of Dallas. KRLD was also used as the call sign of the CBS television affiliate KDFW-TV (channel 4) in Dallas from 1949 to 1970. KRLD also aired wrestling matches from the Sportatorium, with longtime sportscaster Bill Mercer calling the action.2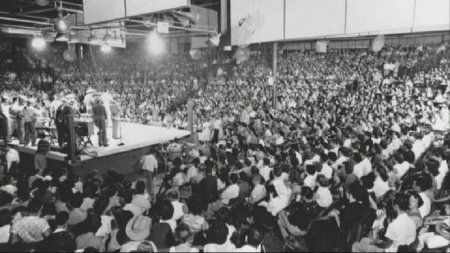 For the shows they just removed the ropes and used the ring as a stage
Photo courtesy Wikipedia

NAACP convention at the Sportatorium - July 1954
Photo courtesy Steve Bonner
Bill Hines was the maintenance man at The Sportatorium from 1950 until 1988. "Back then you got a whole bus load of talent from Nashville for $500." Bill said, "The great Hank Williams Sr. was here just three days before he died. Mr. Ed Watt came to work at The Sportatorium in 1953, booking the jamboree talent, and eventually became matchmaker for the wrestling events." In the days when the crowds were segregated, "One section would be for blacks, and one section would be for whites. It rotated around the building."1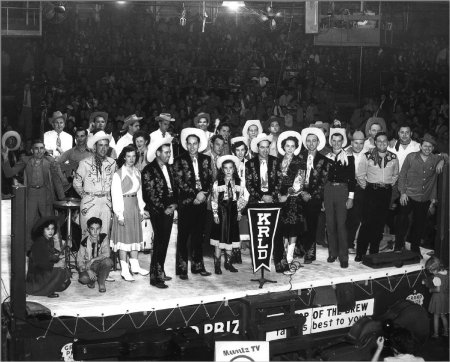 The Big D Gang - Leon Rhodes and Johnny Hicks on right
Photo courtesy Steve Bonner
Bill said he saw them all, "Hank Thompson, Sonny James, Johnny Cash, Lefty Frizzel, Charlie Walker, and of course my favorite 'The Possum' George Jones. Around 1954, the year after the building was rebuilt, Jamboree crowds started to decline." Bill said, "Something called Rock and Roll started coming around."1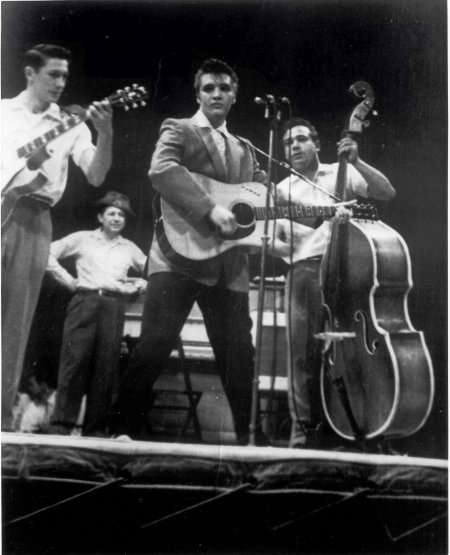 Scotty, MC Johnny Hicks, Elvis (with Sonny James' D-28) and Bill - Apr. 16, 1955
Photo courtesy Steve Bonner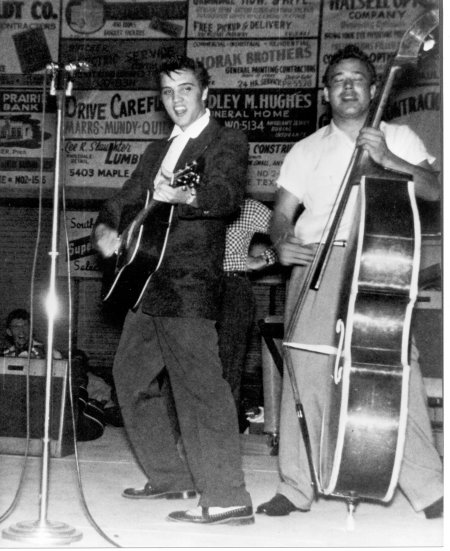 Sonny James, Elvis (with Sonny's D-28), MC Johnny Hicks and Bill - Apr. 16, 1955
Photo courtesy Steve Bonner

Elvis and fan backstage at the Sporatorium - Apr. 16, 1955(?)
Photo courtesy Dave Dennard and Dragon St. Records

On April 16, 1955 Elvis, Scotty and Bill performed on the Jamboree at the Sportatorium for the first time. According the Peter Guralnick and Ernst Jorgensen in "Elvis Day by Day", "Elvis tops a bill that includes rising country star Sonny James, veteran Hayride performer Hank Locklin, Charline Arthur, and many others. Tickets are $.60 for adults, $.30 for children. It serves as an important vehicle to expose Elvis to listeners across Texas, and Bob Neal arranges for four appearances on the show, despite the fact that Elvis will have to pay a substantial penalty for missed Hayride shows. At this time Neal also commits Elvis to do two Beaumont, Texas, shows in June with the same promoter", McLemore Attractions. This was likely due to the response Ed may have seen Elvis get at the show that night.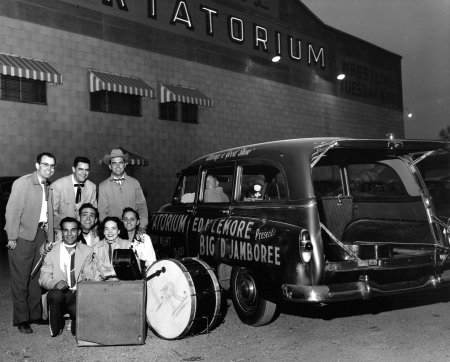 Charline Arthur and band outside the Sportatorium
Photo courtesy Steve Bonner



Charline Arthur and band at the Sportatorium
Photo courtesy Rockabilly HOF
Charline Arthur was already a regular on the Jamboree when Elvis made his first appearance there and they would share many dates while touring with Hank Snow also. "For most of her life, Charline was viewed as a renegade. A Texas-born musician, she was a hard-living, feisty and opinionated woman - musically and physically aggressive onstage and off. She wore men's slacks and cowboy shirts. She leapt from stage amplifiers. She sang while lying down. In 1950 she landed a daily radio job at KERB in Kermit, Texas as both a DJ and singer. Colonel Parker had heard her and brought her to the attention of RCA Records in 1952. Because of her singles "Welcome to the Club," "Honey Bun" and "Burn That Candle," she is often cited as a pioneering rockabilly female. RCA dropped her in 1956, and, because of her reputation for being controversial and difficult, no other major record label took her in. In 1969 she revived her career, but arthritis in her hands forced her to retire. She died in her sleep at age 58 in 1987, never fully realizing her place in music history.3


ad for May 29, 1955
courtesy Steve Bonner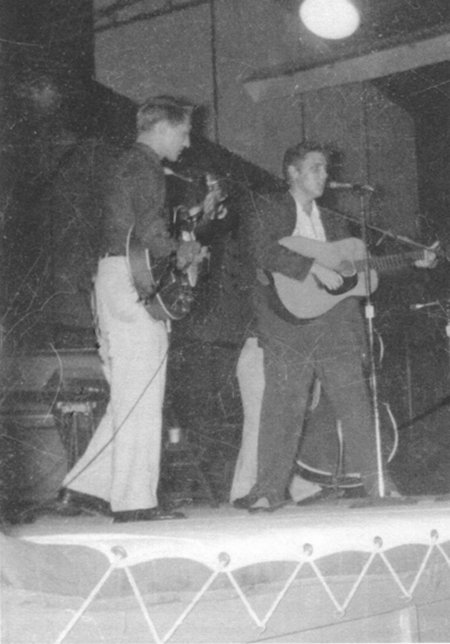 Scotty Elvis and Bill at the Sportatorium - May 1955
Photo courtesy Steve Bonner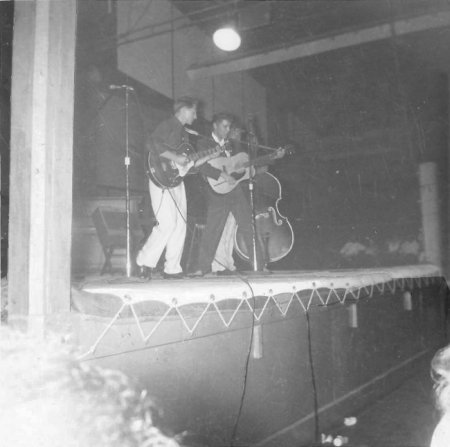 Scotty Elvis and Bill at the Sportatorium - May 1955
Photo courtesy eBay and FECC/Mississippi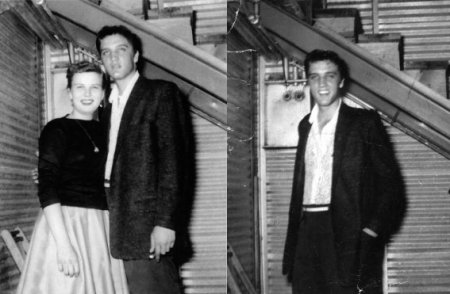 Elvis backstage at the Sportatorium - May 1955
Photos courtesy FECC/E-Cat and Steve Bonner
In May of 1955 Elvis, Scotty and Bill made their second and third appearances at the Sportatorium. Though only initially booked for four appearances on the Jamboree they performed Saturday May 28th and then again on Sunday the 29th at 8:00 after appearing at the North Side Coliseum in Fort Worth for a 4:00 matinee that afternoon.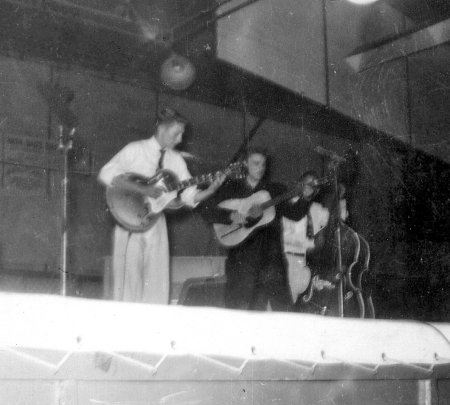 Scotty Elvis and Bill at the Sportatorium - June 18, 1955
Photo courtesy Steve Bonner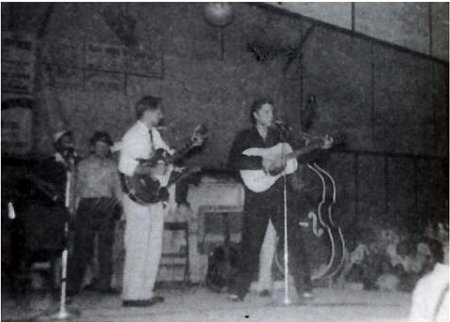 Scotty, Elvis and Bill at the Sportatorium - June 18, 1955
Photo courtesy FECC/E-Cat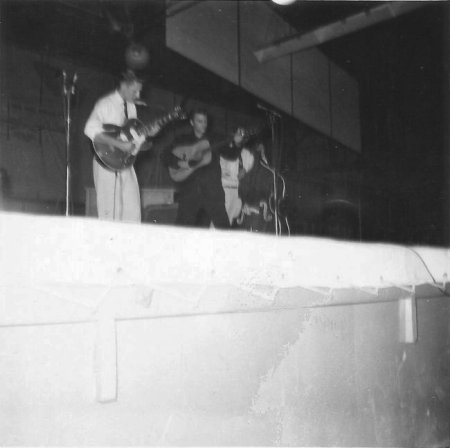 Scotty, Elvis and Bill at the Sportatorium - June 18, 1955
Photo courtesy eBay and FECC/Mississippi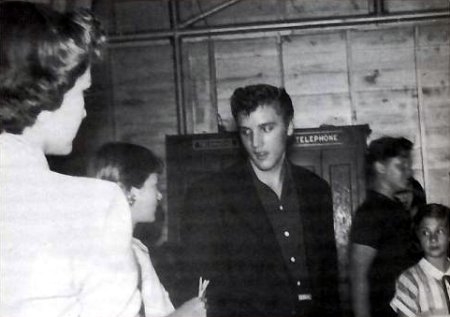 Elvis with fans at the Sportatorium - June 18, 1955
Photo courtesy FECC/E-Cat
They returned again on June 18, 1955 two days before their appearances in Beaumont, that Ed McLemore had signed them to after their first appearance on the Jamboree in April. The July 16 issue of Billboard Magazine reported that they would be guesting again at the Jamboree on July 23 also. On September 3, 1955 they made their final appearance on the Jamboree and shared the bill with The Belew Twins, Helen Hall, Jimmie Collie, Lafawn Paul among others. Ads in the paper suggested using the Dallas Transit system to get there since parking could be a problem. They also performed at the The Round-Up Club later that evening.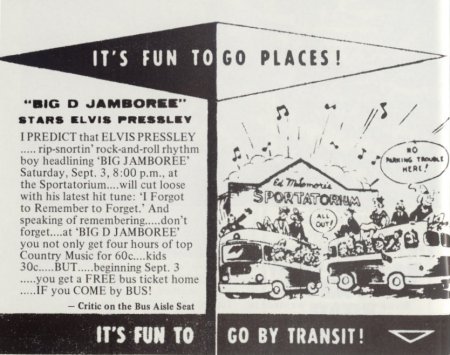 Ad scan courtesy Ger Rijff's "Long Lonely Highway"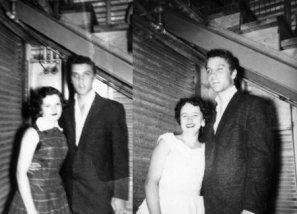 Program and Elvis with fans backstage at the Sportatorium - Sept. 3, 1955
Photos courtesy Steve Bonner


Autographed Program - added Sept. 2012
courtesy HA and Steve Bonner
Bill Hines said, "Promoters from New York staged one of the first R & R shows in the south right here at The Sportatorium. They were all here. One night a guitar picker broke his instrument, and he brought it to my workshop under the bleachers. I was able to get it fixed for him just in time for the show. He shook my hand and said his name was Chuck Berry. Ray Charles, Fats Domino, Jerry Lee Lewis, all stood under The Sportatorium spotlights."1

Clayton Perkins, Fluke Holland, Carl and Jay Perkins at the Big D - June 1956.
Photo courtesy David Dennard, Ed Watt and BlueSuedeNews

Johnny Cash reading and Embroidered verse from "I walk the Line" - Apr. 6, 1957
Photo courtesy eBay and FECC/Mississipp
i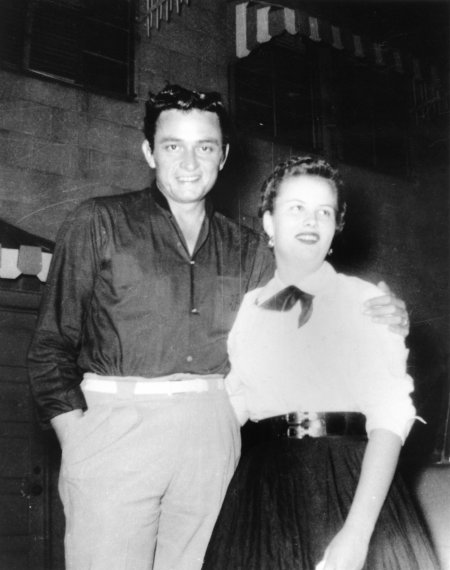 Johnny Cash and fan outside the Sportatorium - Apr. 6, 1957
Photo courtesy Steve Bonner
The Sportatorium eventually rejoined The NWA. It was about that time that a young local football player named Jack Adkisson appeared on the scene. Jack's first paid job at The Sportatorium was working as a bookkeeper for Promoter McLemore. Adkisson was talked into trying pro wrestling and wrestled under the name Fritz Von Erich. Bill Hines said that as far as he knew, he, Bill, built the first cage ever to be used in a wrestling match, in 1962. "It was made out of two by fours with chicken wire around the sides, and barbed wire on top. It was for a match between NWA World Champion, "Nature Boy" Buddy Rogers and Duke Keomuka. Fritz Von Erich and Duke sold the Sportatorium out for a solid year, during that same time."1

Midget Women Wrestling at the Sportatorium - c 1950s
"The bloodiest match I can recall had to be between Fritz and Johnny Valentine." Bill said, "Fritz took one of those wooden chairs and put 30 stitches in Johnny's head! And then there was the night that Wahoo McDaniel was bouncing off the old hemp ropes, and the top one broke! The Chief landed in Section F, Row 3!" However, Bill added that his favorite story was the night he was closing down the building after a particularly wild night of matches. "As I walked around the top of the box seats, I noticed a man slumped over in his chair" Bill continued, "When I raised him up, there was a knife sticking out of his back right between the shoulder blades!"1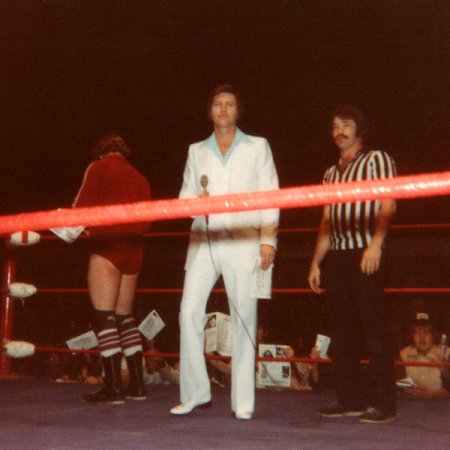 WCCW ring announcer Gene Summers and referee David Manning -1981
Picture courtesy Wikipedia
In late 1966, McLemore formed a partnership with wrestler Jack Adkisson about the time the Jamboree ended and in January 1968, McLemore suffered a heart attack and was no longer able to attend to the company's day-to-day business; he died on January 9, 1969, leaving Adkisson in charge. Adkisson's promotion, which became known in the early 1980s as World Class Championship Wrestling and featured his sons as its top stars, was the most famous and successful wrestling federation to run regularly at the Dallas Sportatorium.2

Promo for Dallas Sportatorium Wrestling Card - Aug. 4, 1989

WCCW Steve Austin v. Chris Adams USWA at Dallas Sportatorium - 1989
After WCCW folded in 1990 due to dwindling attendance, fundamental changes in the wrestling industry and tragedies involving a number of its top stars (including all but one of the Von Erichs, Gino Hernandez, and Bruiser Brody), the Sportatorium served as home base for the Global Wrestling Federation from 1991 to 1994 (billing itself for a time as the GlobalDome). Following the GWF's demise, a succession of smaller promotions attempted to hold shows in the building, each of them running out of money and closing their doors after only a short time.2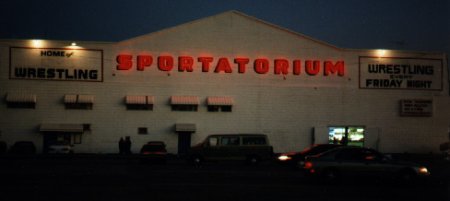 Photo by David House courtesy World Class Tribute
The Sportatorium fell into disuse in the late 1990s when local independent wrestling promotions, by now drawing crowds only in the low hundreds, elected to run their shows in dance halls and other smaller venues instead. In addition, the aging arena was seriously dilapidated by this time, was out of compliance with local building codes, and was often used as a shelter by homeless people who entered the building illegally.2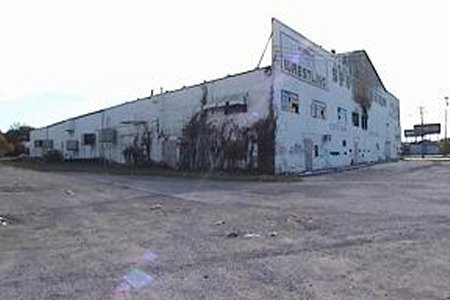 The Sportatorium prior to demolition c. 2003
Photo courtesy Wrestling Observer
In late December 2001 some of these individuals, apparently seeking respite from sub-freezing temperatures, started a fire inside the building; the flames quickly spread and caused major damage to the arena's upstairs offices. The fire proved to be the coup de grâce for the Sportatorium, its long-rumored demolition finally taking place in the spring of 2003. Before its implosion, Kevin Von Erich took off a bench-seat and a few items from the Sportatorium as souvenirs, which he still owns today. Kevin took one final tour of the historic arena, which was featured in its famed DVD documentary Heroes of World Class, released in 2006.2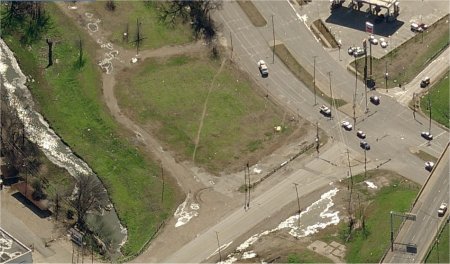 Aerial view of the site of the Sportatorium - 2007
Aerial Photo courtesy Microsoft Corporation © EathData
Although it had a reputation for being notoriously uncomfortable and unsanitary (having woefully inadequate heating and cooling facilities, and severe rodent infestation problems), the Dallas Sportatorium is nonetheless still remembered fondly for its intimate atmosphere, and is considered one of pro wrestling's most legendary venues.2
page added January 27, 2008
Special thanks to Steve Bonner again for his contributions and the use of his photos.
1 excerpted Percy Pringle's
2 excerpt from Wikipedia
3 courtesy PBS: Welcome to the Club:
---
Finally, Bear Family Records confirms release date for eight-CD Big 'D' Jamboree boxed set
By Robert Wilonsky

September 12, 2013 | Permalink

For a long, long while David Dennard's been promising a years-in-the-making boxed set that surpasses his already essential Big "D" Jamboree compilations containing performances cut back when the Sportatorium still stood (and stood for something!). At long last, the legendary Bear Family Records label out of Germany makes it official: The eight-disc Big "D" Jamboree will be released October 25 at the low, low price of 157.36€ (or $209.12 in U.S. dollars and cents).

Per the track listing posted to Facebook, most of the collection is filled with full shows and fragments dating from October 21, 1950, through August 30, 1958, that originally aired on KRLD and CBS nationwide. You'll find listed among the performers your requisite immortals (Johnny Cash, Carl Perkins, Gene Vincent, Wanda Jackson, Charline Arthur and Dallas' own Blond Bomber, Ronnie Dawson), the notable locals (Sid King, Johnny Carroll, Gene Rambo) and other footnotes who deserve their own chapters (including the late, great Helen Hall).

Most of the sixth disc, and all of the seventh and eighth CDs, contain demos and rare cuts — bonus tracks, dig? That's more than 300 cuts total, including old beer ads and other announcements that give the boxed set that whole You Are There vibe. Dennard discovered them at the Country Music Hall of Fame and the Library of Congress, which blessedly preserved the original recordings used to entertain U.S. service personnel.

And, natch, the box will also contain a 168-page book chock full o' rare pics and essays from such local historians as Jay Brakefield and Alan Govenar (whose sought-after Deep Ellum history has finally been updated and issued in paperback), Kevin Coffey and Stanley Oberst.

The Local Rock and Roll Event of this or any other year.

Below, a short but essential doc on the Sportatorium and the Jamboree.



Part 1


Part 2


Part 3


This entry was copied in entirety as posted in Local Music by Robert Wilonsky. Bookmark the permalink.
©2013, The Dallas Morning News Inc.
section added September 13, 2013
---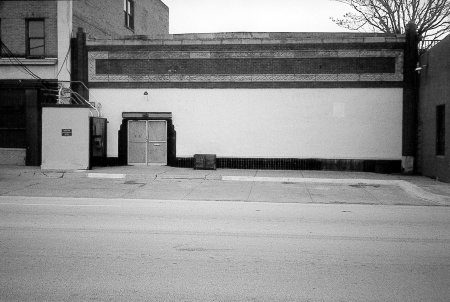 The Round up Club at 2005 S. Ervay
Photo courtesy S. Bonner

Zeke" Clemons and his Texas Swingbillies at the Round-Up Club - ca.1950
Dub Dickerson, Clemons, Joe Rea, Tiger Echols, Red Mullins, and Ken Lasater
Photo from Kevin Coffey Collection courtesy wired for sound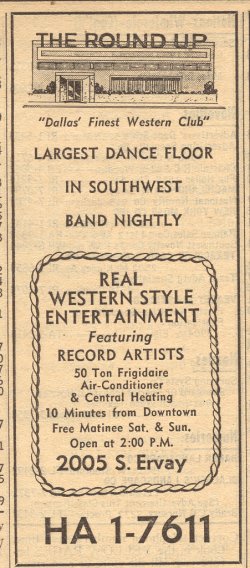 The Round Up Club in Dallas was a bar/speakeasy type of establishment during the 1930s that the infamous Dallas residents, Bonnie and Clyde are purported to have hung around in. On September 3, 1955 after a performance at the Big D, Elvis, Scotty and Bill did an evening show there.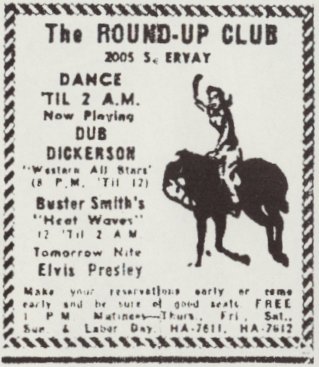 Sept. 2, 1955 Ad for show
scan courtesy Ger Rijff's "Long Lonely Highway"