Son of 'The Gunn'
The Bob Bain Signature Telecaster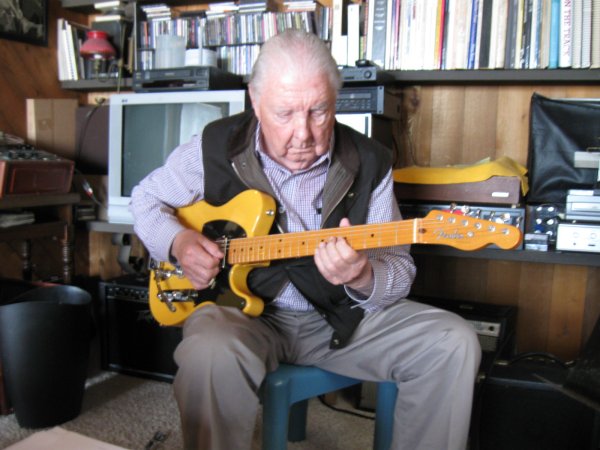 Bob Bain with John's tribute Telecaster by Tracy Longo - Aug. 2012
Photo © Tracy Longo
Just over two years ago I added a story to the site about Bob Bain and his 1953 Fender Telecaster, referred to as the "Peter Gunn" guitar because of its use on the show's signature theme (see link). The guitar is equipped with a Gibson Humbucker pickup and also a Bigsby B16 vibrato tailpiece installed by Tiny Timbrell, the Hollywood sessionist that worked on several of Elvis' films commencing with Loving You. It resembled a guitar Elvis had been pictured using in Girl Happy.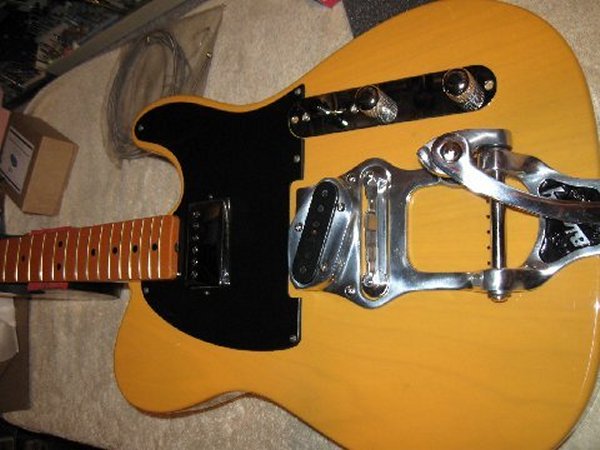 John's tribute Telecaster in Tracy Longo's workshop - Aug. 2012
Photo © Tracy Longo
Though not the same guitar, research into it and Bob himself proved beneficial to me in several ways. In addition to Bob providing valuable background info on several other pages of this site, I also began correspondence with his tech, Tracy Longo, who owns and operates Guitar Tech Corner in Ventura, and their friend John B. Field.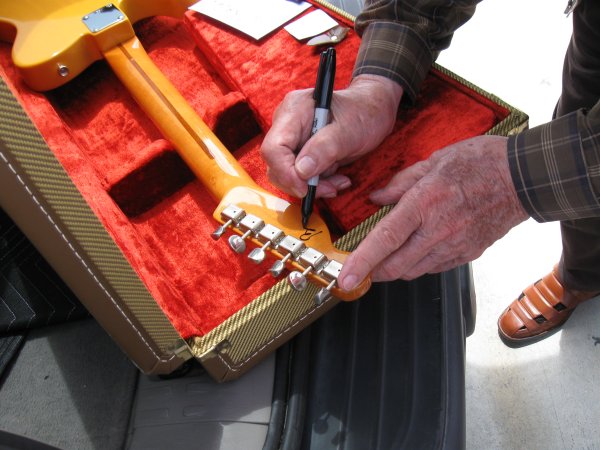 Bob Bain autographing the headstock on the tribute Tele - Aug. 2012
Photo © Tracy Longo
Tracy has been repairing and restoring guitars for over 26 years and services the instruments of many of the area's noted musicians, including Chris Hillman, John Jorgenson and Albert Lee to name a few. In fact they all meet regularly in a lunch group with bob. Recently Tracy was the tech for Albert Lee's 70th birthday celebration show, the US version.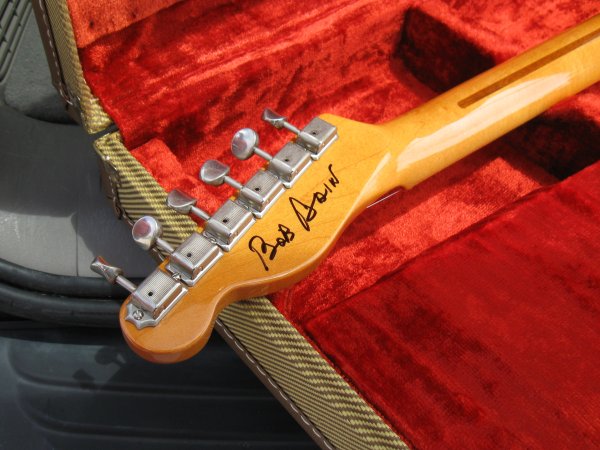 John B. Field, Bob Bain with the tribute and Tracy Longo - Aug. 2012
Photo © Tracy Longo
John B. Field was the TV Technical Director for the Elvis Tribute in Memphis in 1994 though he first met Scotty in Austin at a movie premier of The Best Little Whorehouse In Texas sometime before that. John said, on both occasions, we shared some wonderful conversations together. Still a Technical Director he just completed working the Grammy Awards and the Oscars. He also does the Country Music Awards every year.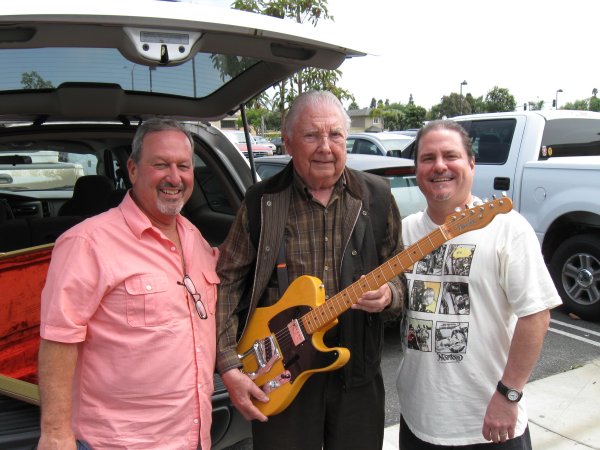 John B. Field, Bob Bain with the tribute and Tracy Longo - Aug. 2012
Photo © Tracy Longo
A fan and friend of both Bob Bain and Tracy Longo, John decided to have Tracy customize his 1952 Fender Telecaster Re-Issue to match Bob's "Gunn" guitar and together they thought to propose the concept of a 'Bob Bain Signature Telecaster', calling it Son Of 'The Gunn'™. After researching the legal aspects of securing rights to the name they were fortunate enough to meet with Fender's CEO Larry Thomas during the January 2013 Winter NAMM show in Anaheim who, as it turns out, also happens to be a fan of Bob's. Larry thought the idea was a good one and gave it a go ahead.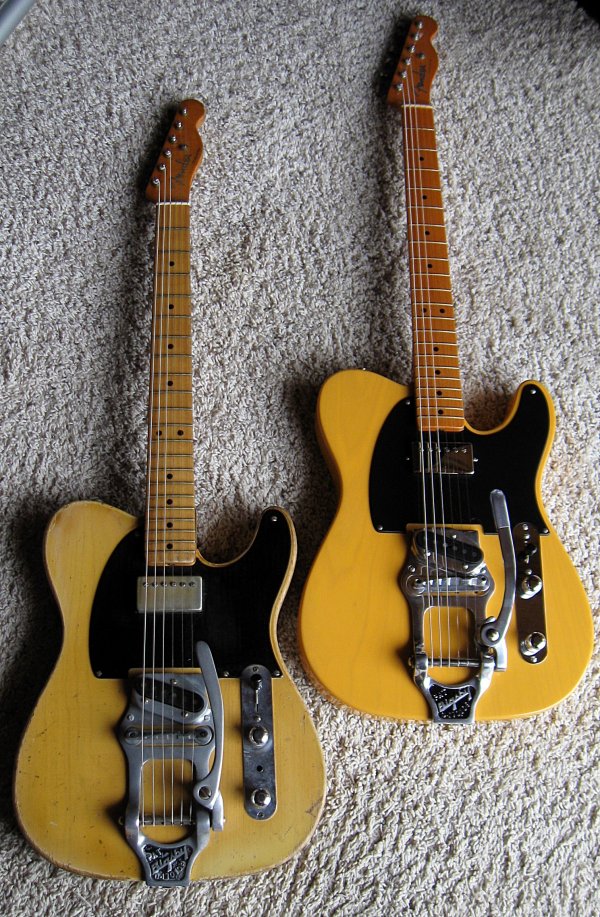 Bob Bain's 1953 Tele and the tribute by Tracy Longo - Aug. 2012
Photo © Tracy Longo
Over the next several months Bob's guitar was brought to the Fender Custom Shop in Corona to be photographed, inspected and measured. As of January of 2014 we were told that Master Builder Paul Waller in the Custom Shop was assigned to head the project and that they are preparing to build a prototype which will then have to be approved by Bob.

Paul Waller at work in Fender's Custom Shop - Jan. 2014
Photo © James V. Roy
In January of this year, Tracy took Bob's guitar to Seymour Duncan's Custom Shop in Santa Barbara for actual pickup measurements for sets to be used in the eventual run.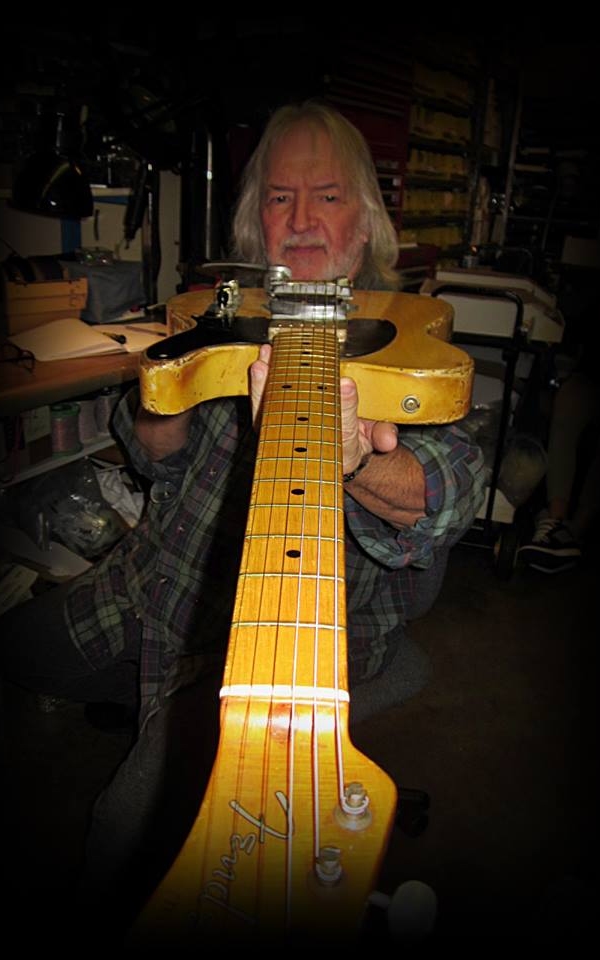 Seymour Duncan with Bob's original Telecaster - Jan. 2014
Photo © Tracy Longo
There is currently talk of nominating Bob to the Musicians Hall of Fame in Nashville. He is now 90 and we are hoping this signature series comes to fruition and we get to see the guitars in production soon. In anticipation, John has set up a website, still under development, at Sonofthegunn.com.

John's Son of "The Gunn"
Photo © John B. Field
page added March 24, 2014

FENDER®, STRATOCASTER®, STRAT®, TELECASTER®, TELE®, P BASS®, PRECISION BASS®, and the distinctive headstock designs of these guitars are registered trademarks of Fender Musical Instruments Corporation.