Pontchartrain Beach
New Orleans, LA
Milneburg (often mispronounced Milenburg) was one of the popular early resort areas on Lake Pontchartain in New Orleans, at the terminus of the Pontchartrain Railroad line, which began operation in 1831. New Orleanians rode the famous "Smokey Mary" out to the many camps that dotted the shoreline and to the hotels, restaurants, roadhouses, shooting galleries, bathing facilities and fishing piers. It was at Milneburg's bandstands, dance halls and honky-talks that much of New Orleans' early jazz was first heard.1

Milneburg lighthouse - c 1905
Photo courtesy New Orleans History - Lake Pontchartrain
The Port Pontchartrain Light (also called the Milneburg Lighthouse) was built in 1832, then replaced with the existing structure in 1855. The lighthouse once sat well out over water in Lake Ponchartrain. Like Spanish Fort, Milneburg fell victim to changing tastes and to the massive construction projects undertaken by the Orleans Levee Board and the Works Progress Administration in the late 1920s and 1930s.1 An ambitious Depression era project, by the WPA, reclaimed almost a mile of land along the southern shore of Lake Ponchartrain. Sand was pumped from the lake bottom to form a new shoreline behind a concrete seawall which had been constructed by the WPA.2 The lighthouse shined until 1929, shortly after Pontchartrain Beach moved from Spanish Fort to Milneburg.1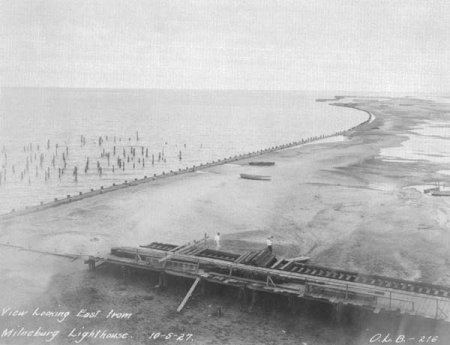 View east from lighthouse at Pontchartrain beach - Oct 5, 1927
Photo courtesy New Orleans Public Library
In 1928, Harry Batt had subleased land from the owners of the original Pontchartrain Beach Amusement park near the Old Spanish Fort at Bayou St. John and became its sole proprietor during the depression in 1934. The park moved to its new location at the end of Elysian Fields in 1939. The old site became residential Lake Vista.3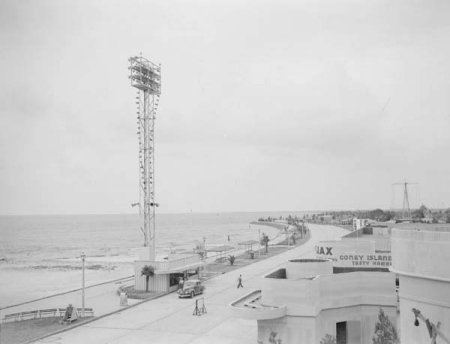 View east from lighthouse at Pontchartrain beach - May 28, 1941
Photo courtesy New Orleans Public Library
Ponchartrain Beach was a popular attraction in New Orleans. The beach amusement park at the end of Elysian Fields Avenue was actually the third amusement park, in the city's history, to be located along the New Orleans Lakefront. The "after" view above, taken several years later on May 28, 1941, shows the exact same area with Pontchartrain Beach and its WPA-built bathing beach, bath house under construction, and one of two light towers built by the WPA for night swimming.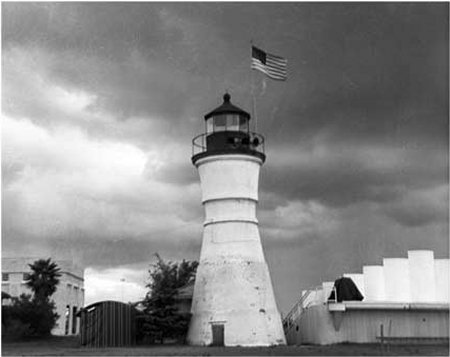 Milneburg lighthouse at Pontchartrain beach - 1940s
Photo courtesy New Orleans Public Library

Ponchartrain Beach became New Orleans' (and Louisiana's) largest and most popular amusement park. There was a beach stage that featured a variety of acts like the Human Cannonball and was the venue for many great musicians. The upper deck of the building with the stage was just high enough that the audience couldn't reach the performers and so that the stage could be seen from any position along the amusement park fairway. The lower section was showers and dressing rooms. The fairway ran left, right and behind the stage for several hundred yards.4 The lighthouse structure, a popular landmark, became the centerpiece of the fairway.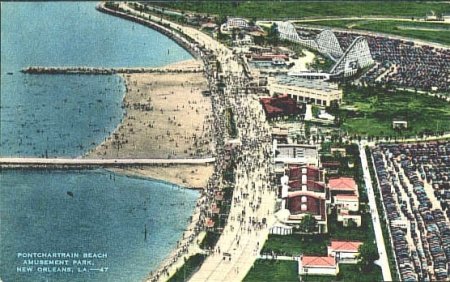 Pontchartrain Beach postcard c1940s
courtesy Moody's postcard blog
According to Joel Scarborough, a 9th grader in New Orleans at the time who worked as WBOK's Red Smith's unofficial assistant, "contrary to the WNOE long time claim to have introduced Elvis to New Orleans, Elvis was already a force in N.O. before he ever left Sun records. In 1954 and 1955 only WBOK played Elvis as best as I can recall. Red Smith had "The Elvis Presley Show" for 15 minutes every Saturday morning where he pushed Elvis strongly. Then from 11 AM to 12 Noon he had a battle of the bands where he pitted Elvis with everyone from Marty Robbins to Bud Deckleman to Ray Price and so on. People would call in to vote, and I don't remember Elvis ever losing."4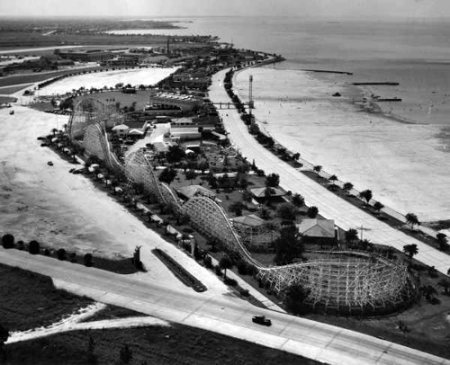 Aerial view Pontchartrain beach amusement park - 1940s
Photo courtesy New Orleans Public Library
"I would not have had the opportunity to meet the band had I not been Red Smith's (unofficial) "assistant". To Elvis, Scotty and Bill, I was the kid from New Orleans with the "Floppy Sole" shoes at WBOK Radio. The guys in the band chipped in and gave me $11 to buy a new pair. I do know Elvis was very loyal to Red Smith and anytime he was in town he gave Red interviews and quite often arranged for Red to bring him on stage."4

Aerial view showing swimming pools and beach stage - 1950s
Photo courtesy New Orleans History - Lake Pontchartrain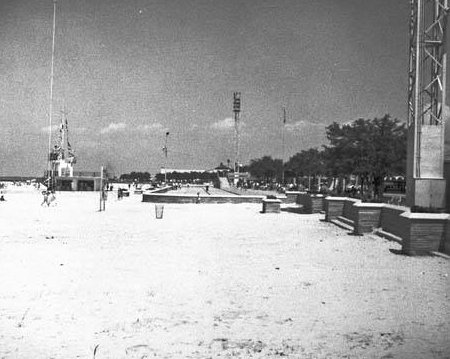 The beach stage - 1954
Photo courtesy Rhonda Sanders Korkut and Ponchartrain Beach Group, added July 25, 2013
On September 1, 1955, the band was back in New Orleans, this time performing at the Pontchartrain Beach stage for the second annual "Red Smith WBOK Day." In addition to Elvis and several others the show also featured Jim Reeves, Ann Raye, and the "1955 Miss Hillbilly Dumplin'" contest, which, according to the ad, featured "lovely luscious teen-agers competing in a beauty revue to win an all-expense paid week's vacation at the Gold Springs dude ranch in Ocean Springs, Miss."

L- R: Scotty Moore, Jack Cardwell, Roy Parker, Jimmy Swan, Ernie Chaffin, Mrs. Jimmie Rogers, Al Terry, Jim Reeves, Jeff Bidderson, Lawton Williams, Luke McDaniel, Joe Clay, Elvis Presley with Ann Raye and "Red" Smith in front
Photo courtesy Gene Leingang Jr.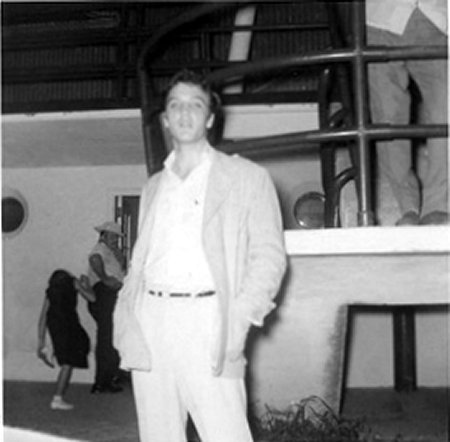 Elvis at the Pontchartrain Beach stage - Sept, 1, 1955
Photo courtesy Audrey Enzor and Lake Pontchartrain Basin Foundation
Months later, after Elvis signed with RCA and recorded Heartbreak Hotel, he literally killed country music overnight. According to Joel, "Red Smith left WBOK after announcing that the owners were going to change to a Rhythm and Blues format because there was no money in Country Radio. Red moved to a big clear channel station in Ohio in the 60s (I think it was WCKW), and you could hear him all over the country at night where he delivered his unique format to most truckers and night owls. He was very popular for several years. I have since tried tracking him down but to no avail. Rumor had it that some secret donor had a brand new Cadillac delivered to the studio as a gift to Red Smith. I was in Japan at the time so I can't really substantiate that. Meanwhile, WTIX soon became the Rock Radio giant in New Orleans and WNOE managed only a second place standing in the market for years."4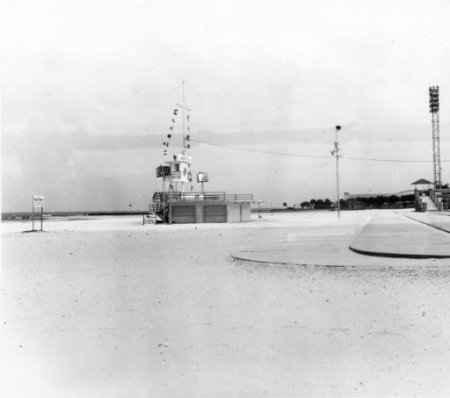 The beach stage - ca. 1960s
Photo courtesy Rhonda Sanders Korkut and Ponchartrain Beach Group, added July 25, 2013
Joel himself entered the Air force and became a deejay. He was eventually stationed at Keesler AFB where he would later introduce bands from the Airmen's club, another venue that Elvis, Scotty and Bill had performed earlier on the Gulf coast.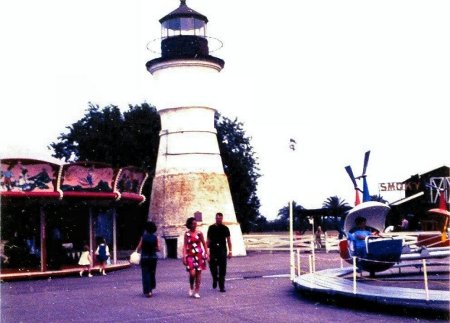 Milneburg Lighthouse, the centerpiece of Kiddieland on the midway - c1980
Photo © John DeMajo
Due to segregation, the park at Pontchartrain Beach was white only until the sixties. Lincoln Beach Amusement Park was opened in 1954 and was a popular attraction for African Americans in New Orleans. On the stage at Lincoln Beach many extraordinary musicians performed, including Fats Domino, Sam Cooke, Little Richard, Ink Spots, Earl King, Papa Celestin, Ray Charles, Nat King Cole, Ernie K-Doe, Irma Thomas, The Neville Brothers, Deacon John, Guitar Slim.1 It closed in 1964 after desegregation and according to Denise Trowbridge, for Pontchartrain's amusement park, the 1964 to '69 seasons were the leanest in its history. The swimming pool closed and attendance drastically decreased. Even Lincoln Beach began to decline. "White customers were reluctant to come back to us," says Batt Jr. "They wanted to sit a while and see what was going to happen."3

Pontchartrain beach stage - ca.1980
Photo © John DeMajo
Though they tried various makeovers and the installation of new rides, the owners just couldn't compete with television, Disney World and conglomerate theme parks like Six-Flags. They closed the doors once and for all in 1983.3 The stage was operational until the beach closed, but its use had been reduced to a weekly radio station promotion and 4th of July special by the 1980's. The structure was always in use though because it contained all of the audio equipment for music on the midway and some of the 2-way radio repeaters that were used by security and maintenance.5

Milneburg lighthouse, U of New Orleans building in back - 2007
Photo courtesy pccfan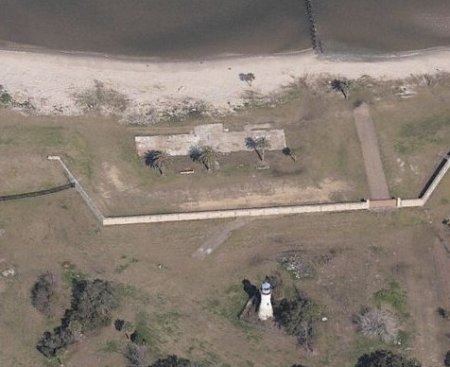 Milneburg light and foundation in area of beach stage - 2008
Photo courtesy Microsoft EarthData
The area is now occupied by the University of New Orleans Technology Park.
page added December 1, 2008
Elvis at Pontchartrian Beach WBOK day ad courtesy Brian Petersen. Artist identification in WBOK day picture courtesy Ashleigh Austin and Brian Petersen's ad.
1 excerpt from New Orleans History - Lake Pontchartrain
2 excerpt from Pontchartrain Beach remembered by John DeMajo
3 according to "Back to the Beach" by Denise Trowbridge, Liquid Weekly, September 2001
4 according to Joel Scarborough, recordjock and Director of SystemVisions-Web Solutions
5 according to John DeMajo