Pete's 50th Birthday Bash (August 13, 2005)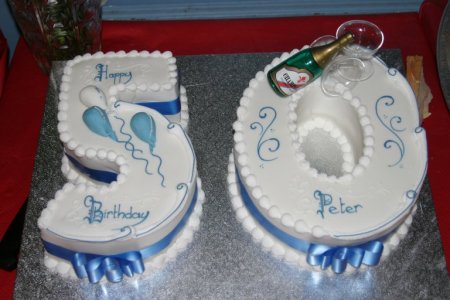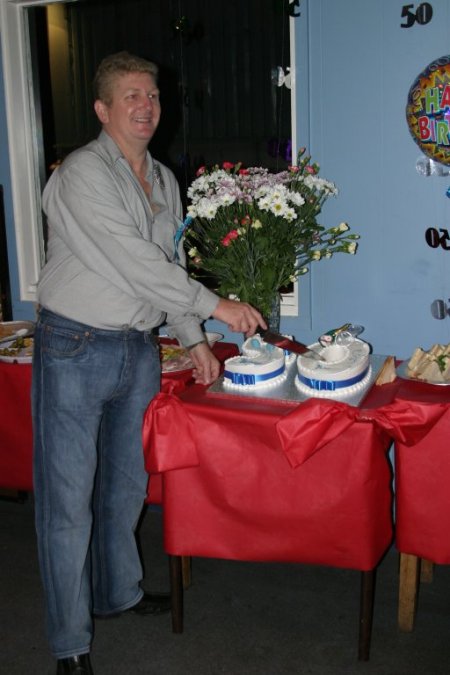 The birthday boy "Pete Pritchard" threatens the cake with a knife
It's been my privilege to tour and record with Scotty since 1992. In that time Scotty and Gail have become my two most dear friends.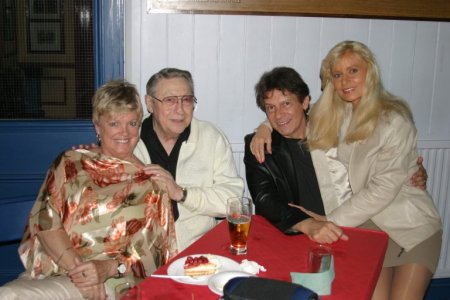 Gail Pollock, Scotty Moore, Bucky and Gigi Barrett
Knowing that I was planning to celebrate my 50th birthday in August Scotty suggested that we might be able to put together a small European tour so that they could be in London at that time to help me celebrate. Well, thanks to Vidae Thomt in Norway, Miro Simic in Sweden and Liam Grundy in London it all came together and in no time we had a great little tour organized. Now, all I had to do was find a room, send out invitations and we would be all set for a fine old English Knees up. I finally found a small pavilion at the Edmonton cricket club near to my home in London which was ideal for an intimate gathering of friends. I was a bit concerned that as nearly all my friends are musicians, not many would be free to attend on a Saturday night, but I needn't have worried.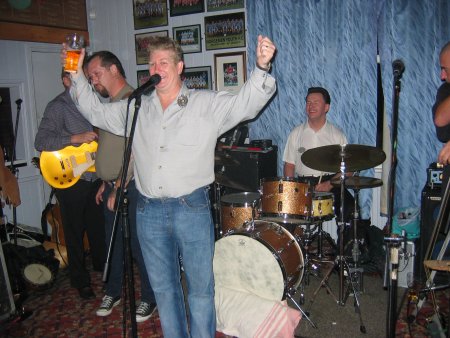 Nigel Owen, Cliff Edmonds, Pete, Lee Hugman
Pete very happily announces that the Tottenham Hotspurs football team has won today,
much to the dismay of Arsenal football team supporter Cliff Edmonds.

Dave Briggs, Steve Mathews (Razors), Cliff Edmonds (Avengers), Terry Earl (Avengers),
Mark Fisher (Cavaliers), Alby Green (Avengers).

Pip, Scott Pritchard, Pete, Lorraine Miller, just out of view Chris Townsend.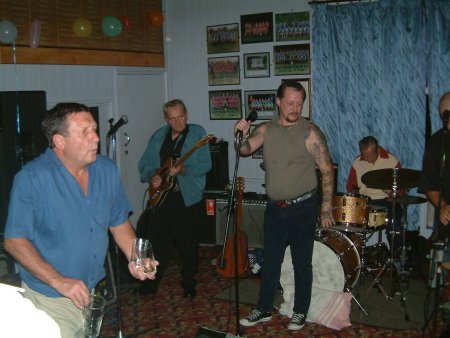 Nigel Owen (Flying Saucers), Cliff Edmonds vocals, Terry Earl drums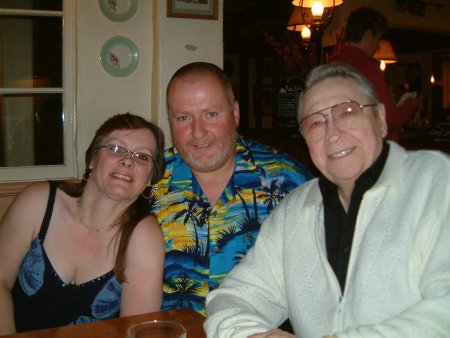 Reg and Lorraine Miller with Scotty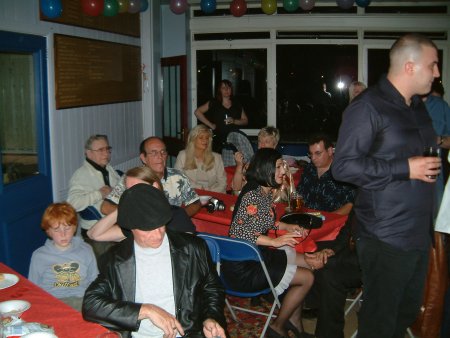 Front table: Dave Briggs son Leo, Steve Mathews (razors)
Rear table: Scotty, Donnie McGuire, Gigi, Gail, Mia and James Roy and Reza (standing)
The day came and one by one all my friends old and new came through the door. It was wonderful to catch up with so many friends that I've known for so long, dating back to my first band when I was fifteen! , and I was thrilled that so many people had traveled from all over the country to be with me on this special night. Also from the USA in attendance was Scotty's web master James Roy who does such a terrific job maintaining this site, together with former Russellville police chief, Donnie McGuire, (who presented me with an authentic police badge) and ace Roy Orbison guitarist Bucky Barrett and his dear wife Gigi.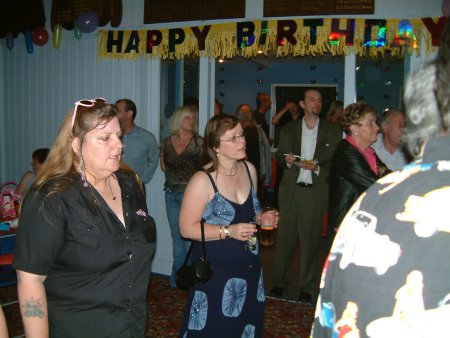 Pip and Lorraine dancing. Background Dave Wilkinson (Big Town Playboys)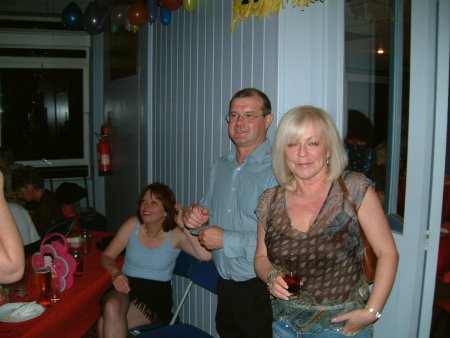 Viv, Vic and Sue Brown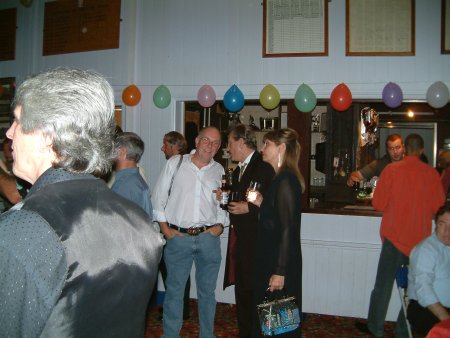 Geoff Keys, (white shirt) talking to Ritchie Gee and girlfriend.

Dave Wilkinson, Jonathan Earl, Scott Pritchard, Jolene Pritchard and Reza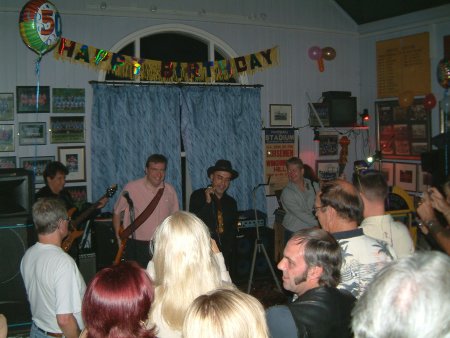 Bucky, Liam, Paul and Pete

Johnny Key, Mark and Laura Fisher, Houndog Jim, Rose Lewis and Jean Edmonds

Stella and Scotty
Special thanks here must go to my wife Stella, my son Scott, daughter Jolene, niece Louisa and our dear friend Diane Earl for all their hard work in decorating the Pavilion, setting out the catering and making sure everything was just right. I would also like to thank the guys who made up the house band: Terry Earl drums, Dave Briggs guitar, Mark Fisher bass, Alby Green sax, and Cliff Edmonds vocals.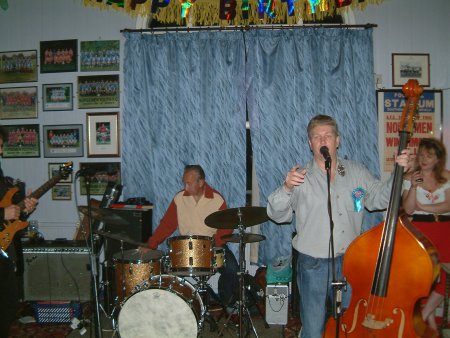 Terry Earl, Pete, Trish Hugman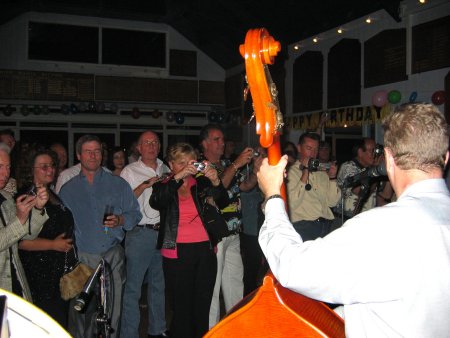 Everyone wants Bucky's picture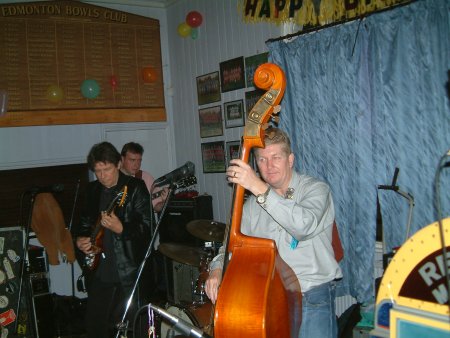 Bucky, Liam and Pete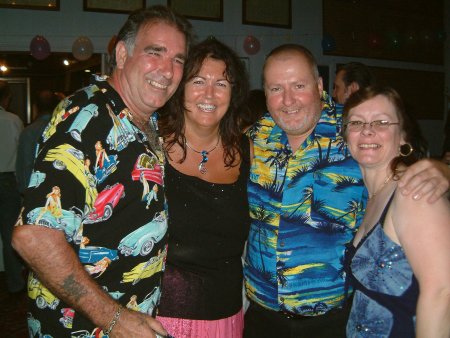 Eddie and Jan Hill, Reg and Lorraine Miller.

Nigel Owen, Johnny Key, Terry Earl, Mark Fisher

Lorraine Miller, Jan Hill and Diane Earl
Special thanks also go to Lee and Trish Hugman for their wonderful disco. They really did a great job and helped create a truly buzzing Atmosphere.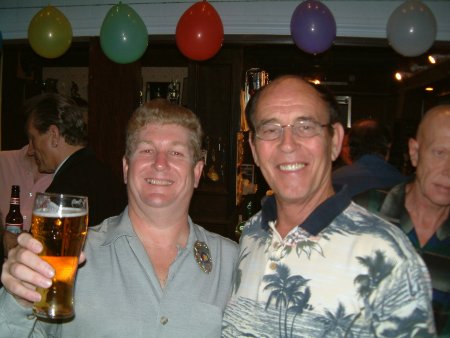 Pete and Donnie McGuire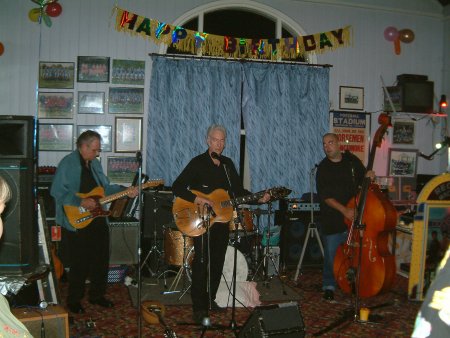 Nigel Owen, Johnny Key and Mark fisher

Dave Briggs, Steve Mathews, Lee Hugman and Mark Fisher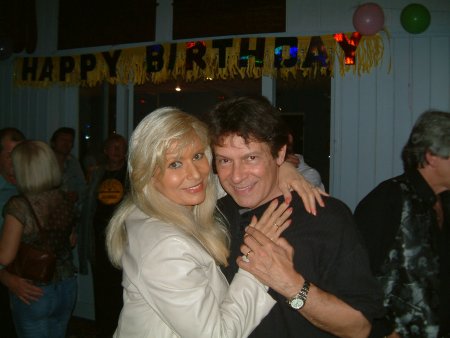 Gigi and Bucky Barrett

Dave Briggs, Jacen Bruce, Terry Earl, Pete, Alby Green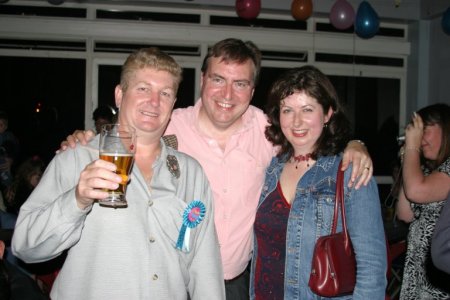 Pete, Liam and Fiona

Pete presented with cake by Alec

Pete modeling his new shirt courtesy of Jim Roy. GO SOX!!

Stella warms up to Pete's gift
My friend Johnny Key gave me a bass instrument with a difference, a DIDGERIDOO!! For some reason Stella seemed more interested in it than me.

Stella with her brother Andy light the candles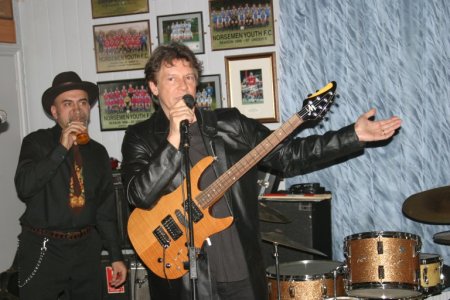 Paul Ansell and Bucky Barrett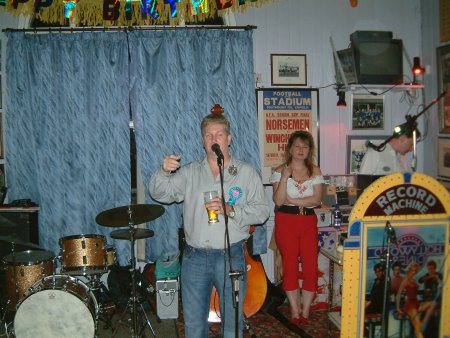 Pete thanks everyone for coming. Background Trish and Lee Hugman.

Blowing out the candles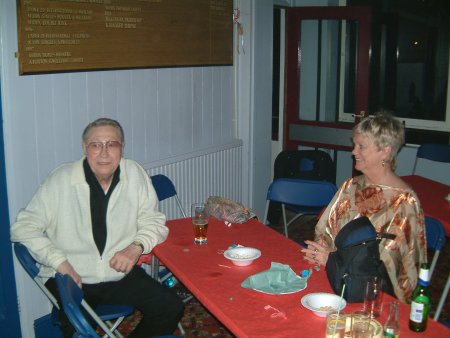 Scotty and Gail
Finally, My heartfelt thanks to Scotty Moore and Gail Pollock for being my guests of honour. Everyone was thrilled you were there. I love you both.
Pete Pritchard
December 18, 2005
PS. The celebrations did start a bit early. While in Norway we were sharing a drink and chat with Solomon Burke. Dave Briggs told Solomon that it was to be my birthday in a few days and he promptly sang happy birthday to me. Well, I am a big fan of Solomon. He is a lovely fellow and silly as it may seem, it made my day, especially as Jimmy Russell captured it all on film.
---
On behalf of myself and the rest of the American contingent invited I'd like to re-wish you a Happy 50th and again wish you many more. Thanks you for your invitation and hospitality of your family and friends.
James V. Roy
PS. a word to the wise for the rest of you: Never under any circumstances drink with the English, especially in Nashville!