Scotty Moore – The Last Man Standing
By Phil Arnold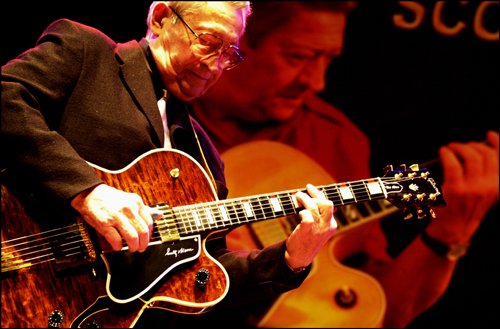 Scotty Moore - Queen Elizabeth Hall, London - March 10, 2004
Photo© courtesy Karen McBride
Graceland is a National Historic Landmark. Sun Records is a National Historic Place. I think we need one other special category – National Historic Person, and I have a fine nominee. Scotty Moore.
What qualifies Scotty Moore as a National Historic Person? Well, let's see. On July 5, 1954 , when Elvis recorded his first song, there were four men in the studio. The guitar player was Scotty Moore, and he had a lot to do with creating that unique sound. Scotty Moore's guitar work made an immeasurable contribution to the initial success of Elvis' music.
The other three men there that historic night are all dead. Bill Black died in 1965, Elvis passed away in 1977, and Sam Phillips left us in 2003. That's too bad, because the session when "That's All Right" was recorded was a very special moment in history. Three men gone, only one left. Scotty Moore, the last man standing.
It is now 53 years since that magic moment, and it's nice to know that Scotty is still alive and well. Don't count on seeing him at many more Elvis Weeks. It might happen, it might not. But we know one thing for sure. We can see him this year. Scotty is headlining two tribute concerts at Elvis Week 2007.
Those fans that admire and cherish Scotty Moore were thrilled to hear they could catch him on Wednesday, August 15, at the Peabody Hotel. To you folks that are going to Elvis Week but haven't yet decided what to see, I'm telling you, buy tickets to one of Scotty's two shows. They are going to be great.
Scotty Moore – The Last Man Standing is a unique concert concept. Both the and shows are double concerts. Scotty has invited two groups of his favorite musician buddies to perform, and they jumped at the chance to be on stage with him during Elvis Week.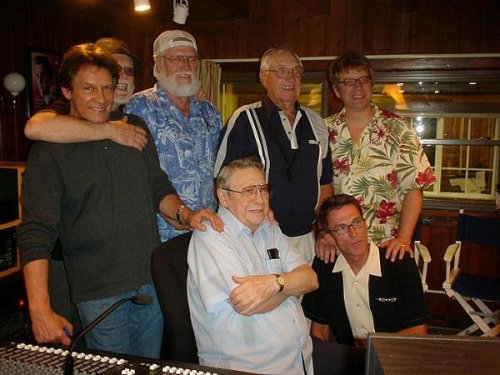 Bucky Barrett, Billy Swan, Bob Moore, Scotty Moore, Boots Randolph,
Steve Shepherd and Fred Satterfield
Photo© courtesy Kittra Moore
Scotty has a recording studio in his home, and he has had a blast with a group of Nashville musicians. After practicing and recording two-dozen R&B and blues songs, some from the Elvis library, they decided to call themselves "The Mighty Handful." I've heard most of the songs, and these guys do a spectacular job. I hope there is a little section of the Peabody Grand Ballroom left open for dancing, because this is very danceable music.
Here's a rundown of the men in "The Mighty Handful." The biggest name is sax player supreme, Boots Randolph, like Scotty, another legend. He will steal the show, just like he always does. Billy Swan will do the vocals. Billy has tremendous stature among the Nashville music community as a successful songwriter, tour manager, producer, and singer (biggest hit – "I Can Help" -- # 1, 1974). This grand performer will get a opportunity to show his stuff at The Last Man Standing, and he will not disappoint. Steve Shepherd is
a long-time friend, accomplished musician and has perfroemd and recorded with Scotty many times. Steve's keyboard work will add so much to the sound of the concert. The other musicians in the band will be Bucky Barrett (Roy Orbison's guitarist), Bob Moore (who followed Bill Black with Elvis) on bass, Fred Satterfield on drums, and Buddy Spicher on fiddle.
Just seeing these guys would be enough for me, but there is more -- another group of Scotty's buddies, this one from England : The Grundy-Pritchard Band. Scotty is much revered in England and Europe , so he has been traveling over there to perform since 1992. On every tour, he has played with Liam Grundy and Pete Pritchard and various other musicians in their group at the time. Scotty has recorded with them on the CD Western Union . In recent years, Paul Ansell, who has had a two-decade career with his own band "Number 9," handled the lead vocals. Scotty also recorded with Ansell on the CD Live At Sun.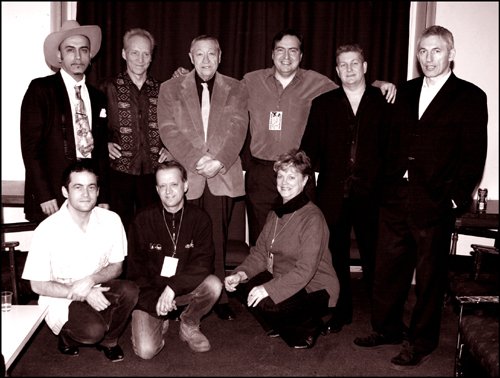 Paul Ansell, David Briggs, Scotty, Liam Grundy, Peter Pritchard and Jimmy Russell
Milton Duffy, Alan Hibbs and Gail Pollock - Manchester, UK Feb 28, 2004
Photo© courtesy Karen McBride
On the DVD, A Tribute To The King, Scotty and The Grundy Pritchard Band did a superb job on six Elvis rockabilly and blues songs. They covered "Shake, Rattle, and Roll," "A Mess of the Blues," " One Night," "I Forgot To Remember To Forget," "Reconsider Baby," and "Ready Teddy." The music was tight, Ansell's vocals were dead-on, and the end result was very impressive.
So, if you want some good entertainment at Elvis Week, take in the double concert Scotty Moore – The Last Man Standing. Join his many fans in honoring and appreciating him while you still can. Scotty may not have official recognition as a National Historic Person, but he truly is a national treasure.
Scotty's long-time friend Darwin Lamm, Editor of Elvis…The Magazine, is presenting these concerts. To purchase tickets, call 818-991-3892 or e-mail: elvisint@aol.com. See you in Memphis .
Phil Arnold,
Host of Elvisblog
© 2007 All Rights Reserved Philip R Arnold www.elvisblog.net
Please note "The Mighty Handful" will still be performing this August though sadly without Boots Randolph. Their new CD will be available sometime in late August of 2007. There will be a special sale of the first 1000 at the shows in Memphis in August that will be pre autographed by all except for Boots Randolph while supplies last.
---

Ticket Information:
If you want to order tickets via email, please provide your credit card number, with expiration date, and three-digit code from the back of the card. Or, you may phone us with that information at 818-991-3892, or fax us at 818-991-3894. Our office hours are Monday through Friday Pacific Standard Time.
Ticket Prices:
"Good Rockin' Tonite" – August 14, 2007 Show times: or
Platinum Level tickets are $95.00
Reserved Level tickets are $65.00
General Admission tickets are $45.00
$3.00 service charge per ticket.
"Last Man Standing" (Scotty Moore) –
August 15, 2007
Show times:
or
Platinum Level tickets are $95.00
Reserved Level tickets are $65.00
General Admission tickets are $45.00
$3.00 service charge per ticket.
"Spirit of the King" – August 16, 2007 Show times: or
Platinum Level tickets are $65.00
Reserved Level tickets are $45.00
General Admission tickets are $25.00
$3.00 service charge per ticket.
For each ticket purchased you will receive $35.00 in Anniversary bills!
A $5.00 bill you can use when purchasing the 30th Anniversary Collectors Edition, and a $30.00 bill you can use towards the most beautiful photo book ever published, Elvis Incredible, made up of photos never before seen. You will see many of these incredible photos on-screen at the concerts.
These Anniversary bills will be mailed with your tickets so make sure you bring them with you to Memphis . You may also purchase the above items with your $35.00 Anniversary bills when you call to order your tickets, and the items will be shipped ASAP. That's $35.00 in savings when you purchase any ticket for any concert!
PO Box 7749 , Thousand Oaks CA 91359 ● 818-991-3892 ● Fax 818-991-3894
Email: ElvisInt@aol.com