The Early Houston venues
In Houston, Big Band and Western Swing music peaked in popularity in the late '30s and '40s. Prosperity in the Gulf's shipbuilding, Texas pine and petroleum and an influx of soldiers from nearby Army camps helped Houston area night clubs during the war years. Many ran shows and hosted bands every night of the week.1

By 1948 there were at least eight radio stations in Houston when Dave Morris and four partners obtained a broadcast license and put radio station KNUZ on the air.2 Disc jockeys at KNUZ and others like KLEE and KTRH, competing for listeners often promoted, booked and broadcast live shows from the various venues and record stores. The terms "Hoedown", "Jamboree" and "Barn Dance" were interchanged so frequently it is difficult at times to distinguish between the show, the broadcast and the actual venue.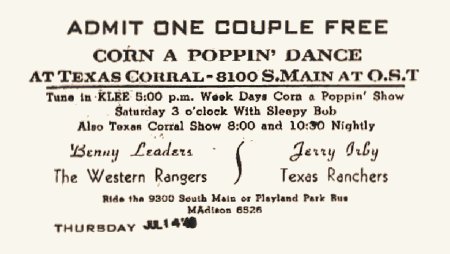 pass to dance at Jerry Irby's Texas Corral - Jul. 14, 1949
Ticket courtesy Lone Star Swing
Many of the famous and also the local talent would be regularly featured at several of the clubs. In 1948 singer-songwriter-bandleader Jerry (Gerald F.) Irby opened a new "nitery" in Houston at S. Main and Old Spanish Trail (OST) called Jerry Irby's Texas Corral. It was said to have a capacity of 1,000. The address has been reputed to have been 8100 S. Main,3 and also 1600 Old Spanish Trail,4 but all phone books of that era only ever listed it at 1000 Old Spanish Trial. No listing in any of the Library's Kriss Kross directories showed entries for the other addresses.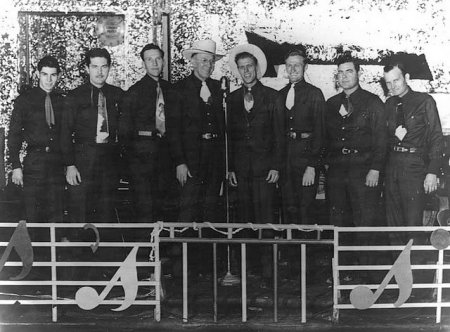 Ben Christian's Texas Cowboys at Jerry Irby's Texas Corral (Paladium) - c.1950
Photo courtesy Pine Grove Press
The club operated seven nights a week with three different bands, including Irby's. Irby performed three nights a week with his band, which at the time consisted of Clyde Brewer, Tony Sepolio and Roy Thompkins on fiddles; Jack Kennedy on drums; Collie Sturock on bass; Pete Burke on piano and Deacon Evans on steel guitar. The other four nights were split between Floyd Tillman's band and Leon Payne's. Tillman's band included Woodrow Carter and Darald Raley on fiddles; Leo Raley on mandolin; Ralph Smith on piano; D.J. Stanley on steel guitar; Lou Frisby on bass and Little Marge on vocals. Payne's band included Frank Foley on steel guitar, Ray Kennedy on bass; Les Woytek on guitar and Ernest Hunter on fiddle. They would regularly feature many guest artists.1

Ad for Hank Locklin at Houston clubs in Billboard - July 14, 1951
courtesy Billboard
Over the next few years the lines ups changed and by 1950 Irby's crew would be running a Monday night dance at the Corral with his Texas Ranchers and also with Ben Christian's Texas Cowboys. The show aired over both KLEE and KTRH. KLEE's Sleepy Bob Everson emceed a Wednesday night Barn Dance there that featured Harry Choates, Pete Hunter, Tommy Sands, Hank Locklin, Jerry Jericho (on piano), Hub Sutter and Jimmy Heap.1
Benjamin Theodore Christian had formed the Texas Cowboys in 1940. The band featured Richard "Jerry" Jericho, a later performer on Shreveport's "Louisiana Hayride," as principal vocalist. Christian broadcast on KNUZ and KLEE through the late forties performing at leading Houston venues, such as Cook's Hoedown, Eagles' Hall, Magnolia Gardens and Polish Hall. Hank Thompson, Hank Locklin, Floyd Tillman, Hank Snow, and Elton Britt all made guest appearances with the band and the Texas Cowboys shared the bandstand in "battle dances" with Bob Wills. Christian and the band provided instrumentation for Hank Williams on one of his last area tours.5

The Johnny Martinez band (venue unknown) - ca. 1940s
Photo © U.S. Latino & Latino WWII oral history project - UT at Austin
In 1950 Irby was said to have sold the Texas Corral to his fiddle player Tony Sepolio.6 By 1953 though it was said to have been owned either with or by Sepolio's brother in law Johnny Martinez. Martinez, originally from Rosebud, Texas, was a trumpet player and band leader who met and married Gloria Sepolio while in Waco. They relocated to Houston where he played in many of the area clubs until enlisting in the Navy during WWII. In 1953 they renamed the Corral the Paladium and continued to book many local big bands, Latin/Tropical and Western Swing bands which included trumpeter Harry James, drummer Buddy Rich, Perez Prado from Cuba as well as those from Mexico like Luis Alcaraz and singer Maria Victoria.7 Tony Sepolio would also continue to book acts there.

Johnny Ragsdale and his Sundowners at Cook's Hoedown - 1954
Photo courtesy Pine Grove Press
Not long after Irby had opened his Texas Corral in 1948, Billboard reported that another new "nitery" had opened in Houston. Cook's Hoedown, a 2000 seat venue, located at 603 Capitol St. Like the Corral, they too featured the bands of Leon Payne and Floyd Tillman.1 Biff Collie was said to have part ownership of the club and regularly promoted shows there.8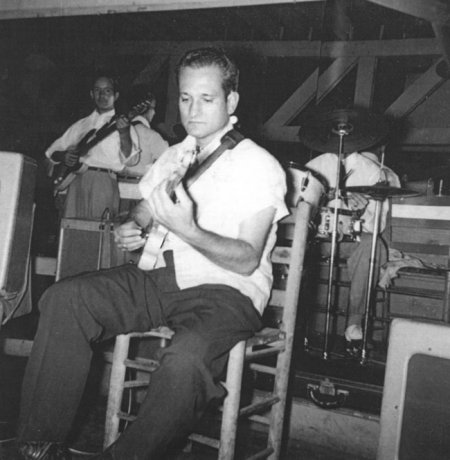 Clyde Brewer (on Bass) and Cameron Hill at Cook's Hoedown Club - ca.1954
Photo courtesy Wired For Sound
Hiram Abiff (Biff) Collie began his radio career at KMAC radio in San Antonio as a teenager. He had come to Houston and KNUZ initially to serve as a sports reporter but is reputed by some to have been the first country disc jockey in that city. By 1949 Billboard reported that Biff and Walter Coburn (possibly Colvin), another Houston disc jockey were co-operating to stage personal appearances by top recording artists in their vicinity, becoming one of the first to ever book Hank Williams and Tennessee Ernie Ford. As a musician, he also recorded for Columbia Records and Starday Records.1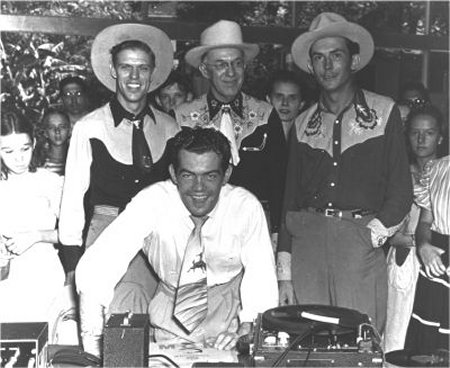 Smiling Jerry Jericho, Ben Christian, Hank Williams and Biff Collie at Daily's record store Houston - c.1948
Picture © Donald M. Daily
By 1954 Cook's was featuring Jimmy Heap and his Melody Makers on Thursday nights and Johnny Ragsdale and his Sundowners on Tuesday Nights in addition to the cast of locals like Tommy Sands.1 The club was used for many of Collie's dances and "Jamborees," as was Eagles' Hall. The following year Collie started a summer music series at Magnolia Gardens.
Not to be confused with Magnolia Park, the section of Houston that lies along the south side of the Buffalo Bayou, Magnolia Gardens is located along the south bank of the San Jacinto River at 12044 Beach (Riverside) St. It lies roughly 25 miles northeast of downtown Houston on U.S. 90 and three miles downstream from the dam built between 1951 and 1953 to form Lake Houston.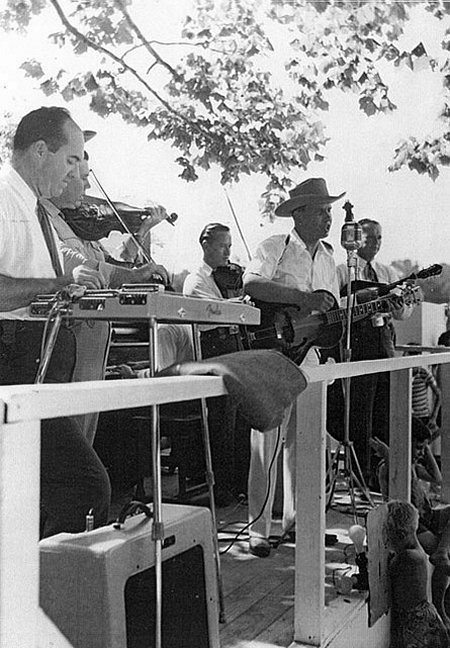 Leon Payne at Magnolia Gardens - ca. early '50s
Photo courtesy Pine Grove Press
Collie started the first Texas summer folk music series at Magnolia Gardens on May 7, 1950. It was run by him, his wife Marge and Walter. They featured a cast of hillbilly talent and held talent shows on the weekend.1 Interestingly enough, his wife at the time Marge (Margaret Hartis Tillman), was the former wife of Floyd Tillman.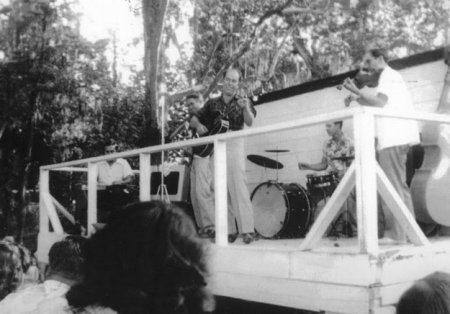 Floyd Tillman at Magnolia Gardens - ca. early '50s
Photo courtesy Pine Grove Press
Floyd Tillman is probably best known for writing "It Makes No Difference Now," a country classic that he sold to Jimmie Davis for $300 in 1938, only to watch it become a hit for Davis, Cliff Bruner, Bing Crosby, Gene Autry, and others. That song was one of the first to tap the bitter acceptance of romantic dissatisfaction that was to set the tone for so many later country songs. He was a major performer in his own right and one of the creators of honky tonk country music, repeatedly cited as an influence by Willie Nelson and other Texas performers.9

The Raley Brothers, Darald and Leo - ca. early '50s
Photo courtesy Pine Grove Press
Though the park was open year round the music there was seasonal and did not start until April. In addition to the weekly Sunday afternoon shows, bands like Blackie Crawford and the Western Cherokees would often perform there six nights a week. Other deejays like Potato Pete Hunter and Gabe Tucker from KLEE also promoted shows in the summer series there and by 1952 acts like Webb Pierce and Wayne Rainey were playing to crowds of 5000 while the same summer Skeets McDonald and Jimmie Davis played to 3000. Like the clubs, the shows at the Gardens would often feature most of the area performers and bands like Tillman, Payne, the Raley Brothers and Tommy Sands.1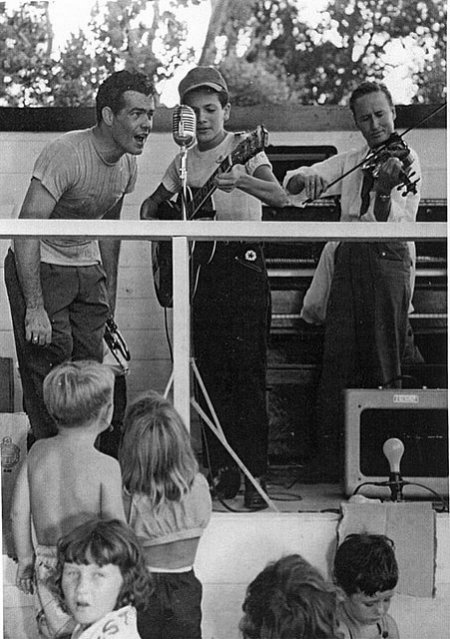 Biff Collie, Tommy Sands and Darald Raley at Magnolia Gardens - ca. early '50s
Photo courtesy Pine Grove Press
Tommy Sands was originally from Chicago. His mother had given him a guitar for Christmas when he was seven and teaching himself to play was performing twice a week at age eight at radio KWKH in Shreveport, Louisiana. By 1950 he and his mother moved to Houston and in 1951 cut his first record for Freedom Records. By 1952, Colonel Tom Parker had heard about him and was instrumental in getting Sands signed with RCA when he was only 15. After the Colonel's split from Eddy Arnold in 1953, Sands along with the Davis sisters and Minnie Pearl were some of the acts he tried promoting when he started Jamboree attractions.1

Cowboy Jack Derrick at Magnolia Gardens - ca. mid '50s
Photo courtesy Pine Grove Press
Originally the stage at Magnolia Gardens was basically just a fenced in porch on the side of a shed, though by the mid 50s it had been rebuilt. Still simple in construction, it at least now featured a roof. By the end of 1954 Sands' records though weren't doing very well and in spite of the Colonel's promotion he was still a regular on the local music scene playing Collie's Saturday night Grand Prize Jamboree at Eagles' Hall.
Eagles' Hall was not actually a club per se, but the function hall in the Fraternal Order of Eagles building at 2204 Louisiana St. in Houston. KNUZ would rent the hall on Saturday Nights to host their "Grand Prize Jamboree." The name came from their sponsor, Grand Prize Beer, produced by the Howard Hughes owned Gulf Brewing Company, and was a popular weekly show that featured guests like Lefty Frizzell, T. Texas Tyler and Leon Payne. Regulars included Jerry Jericho, Tommy Sands, George Jones and comedian Jack Derrick. Biff Collie served as the emcee, Ken Grant was the announcer and it was produced by Buddy Covington.1 The venue for the show would alternate between Eagles' Hall, which was air conditioned and more suitable for the summer, and the City Auditorium downtown.

The building at 2204 Louisiana St. in Houston where Eagles' Hall was - 2010
Photo courtesy Microsoft EarthData
On October 16, 1954, Elvis, Scotty and Bill made their first appearance on the Louisiana Hayride in Shreveport. By November they had become regular performers on the Hayride and through their association there with Tillman Franks and T. Tommy Cutrer, Biff Collie had first heard of them. On November 17th, Elvis, Scotty and Bill were making their second to last appearance at the Eagles Nest in Memphis, sharing a bill with one of Franks' act, Jimmy and Johnny. On their way to the annual deejay convention in Nashville, Franks and Collie stopped by the Eagles Nest to see the show.
According to Peter Guralnick, Biff was not that impressed. The boy was "different" enough but not really "sensational"; if anything, Jimmy and Johnny took the show. At the same time he was intrigued by a combination of elements that he saw coming together in one package for the first time- the boy seemed like "a Mississippi gospel singer singing black music, that's about as real as I could figure." On the basis of that observation, not to mention Tillman's unflagging enthusiasm and the recommendation of Bob Neal, whom he saw out at the club that night and with whom he spent time at the convention, he was happy to book him on the Hoedown for $150, and he started playing Elvis Presley records as soon as he got back to Houston.8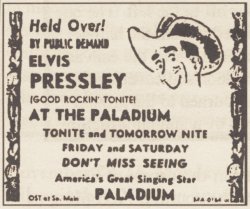 Ad for Elvis at the Paladium - Nov 26, 1954
courtesy Lee Cotten
Collie had Tony Sepolio book Elvis at the Paladium on November 25th, Thanksgiving for their first appearance in Houston. The ad for the Paladium show misspelled Elvis' name as "Pressley." The reaction to their appearance was good, and he was held over "by popular demand" for two additional nights the 26th and 27th. To Biff the nature of their act was about the same as what he had observed in Memphis. The repertoire was extremely limited, and the boy was obviously just learning the ropes, though by now Biff Collie was beginning to see the light, even if he wasn't sure exactly why. "I said, 'Don't you do any slow songs?' He said. 'I don't . , . I don't . . . I like to do these things because they make me feel good, you know.' I said, 'Yeah, they like this stuff that you are doing pretty good, it seems like, but this rhythm and blues stuff is not going to stay forever. You really need to sing some slow songs.' His reaction was, 'I don't like . . . I don't . . . I just like to sing . . . You know, they make me feel good.' 8

Interview with Biff Collie
"That night after we were through we went across the street to Stuart's Drive inn restaurant, and we sat down at a booth and ordered something, and I saw Sonny Stuart come through. His dad was the boss, and he was learning the business at the time. And I winked at him and said. `Just for fun, get the girl upstairs on the PA to page Elvis Presley.' He said, 'How do you spell that?' And they did it three or four times over a period of fifteen minutes, and, obviously, nothing happened. Nothing at all. And I remember telling Elvis that night, 'One of these days you'll have to have somebody to keep you from getting run over.' And that was — again, it was not because of what he had done there. I just felt like something was going to happen? 8
The day after their first appearance in Houston, Elvis sent money and the following Telegram home:

Western Union Telegram to Vernon Presley from Houston - Nov. 26, 1954
HI BABIES HERE'S THE MONEY TO PAY THE BILLS. DON'T TELL NO ONE HOW MUCH I SENT I WILL SEND MORE NEXT WEEK. THERE IS A CARD IN THE MAIL LOVE ELVIS
courtesy Elvis Day By Day


Ads for December 28, 1954 Hoedown and January 1, 1955 Eagles' Hall appearances
courtesy Lee Cotten and Rockin' Across Texas
By the end of the year, Elvis, Scotty and Bill were back in Houston for two more appearances. The first was a Christmas show on December 28th billed as the Yuletide Jamboree and Dance at Cook's Hoedown Club that was presented by the Galena Park Fire Department, and the other was the Hoedown Jamboree at Eagles' Hall on the 1st. Both ads got his name right and also on the bill for the Yuletide Show was Floyd Tillman, Link Davis, Laura Lee, Hub Sutter and many others. Tommy Sands most likely performed as well. Later that week they made their first appearance at Eagle's Hall for Collie's Hoedown Jamboree on January 1st, New Years Day. This show also featured Tommy Sands and George Jones.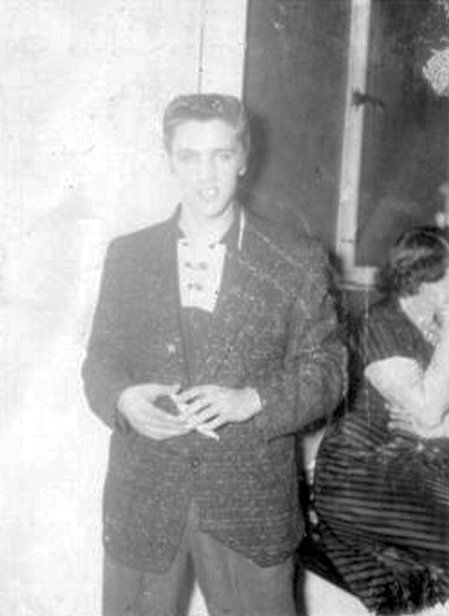 Elvis (said to be) at Cook's Hoedown - Dec 28, 1954 (or Jan 1, 1955)
Photo courtesy Adam TaylorAdam Taylor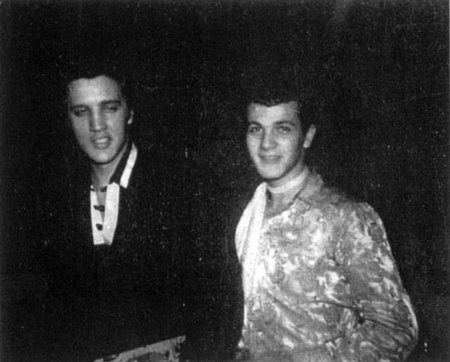 Elvis and Tommy Sands (said to be) at Cook's Hoedown - Dec 28, 1954 (or Jan 1, 1955)
Photo courtesy Rockin' Across Texas/The Magic Collection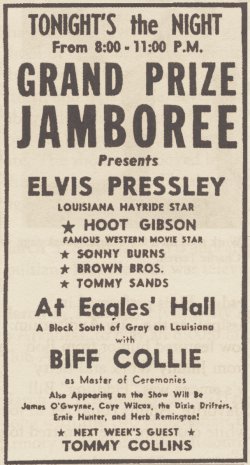 March 19, 1955
Photo courtesy Lee Cotton

Hoot Gibson in Houston March 19, 1955
Photo © Roberto Zanetti
On March 19, 1955 the boys were back in Houston for another appearance at Eagles' Hall, this time on the Grand Prize Jamboree with the ad again misspelling Elvis' name. The bill also included Western movie star Hoot Gibson along with Sonny Burns, The Brown Brothers and Tommy Sands. Biff Collie was the emcee, the announcer was Bob Winsett and the show was broadcast live over KLEE. Years later, live recordings of the boys performing Good Rockin' Tonight, Baby Let's Play House, Blue Moon of Kentucky, I Got a Woman and That's All Right would surface on a tape found by Bennie Hess* and have since appeared on various bootlegs over the years.10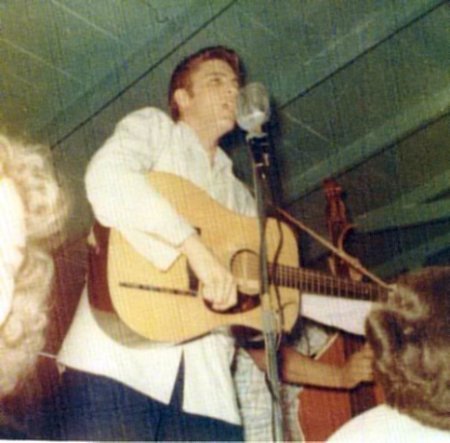 Elvis at Magnolia Gardens - 1955
Photo courtesy web
They were back in Houston on April 2nd to play a remote Hayride Show at the City Auditorium and it was around this time that Elvis, Scotty and Bill started appearing at Magnolia Gardens on Sunday afternoons. It was thought they may have performed there as early as November of 1954,3 but that is unlikely since the season started in April and only operated in the warmer months. Many of the dates there are speculative and from references in Billboard because there were rarely any ads for their appearances there.1 According to Gabe Tucker though, the Gardens were one of Elvis' favorite places to perform.11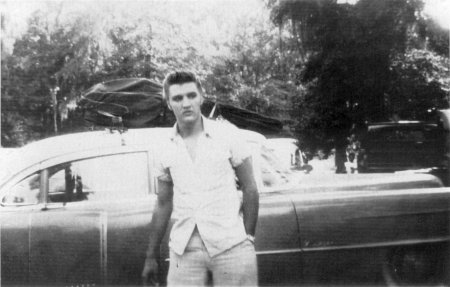 Elvis at Magnolia Gardens - 1955
Photo courtesy Jim Curtin's Candids of the King
The routine was said that they would often perform at the Hayride on Saturday night, head to Houston to perform at Magnolia Gardens on Sunday afternoon and then follow up with a show at Cook's Hoedown on Sunday night. Dates at Magnolia Gardens mentioned in Billboard include April 24th; May 22nd with Onie Wheeler; and June 19th. Tillie Wiedemann, for years the receptionist at Bellaire City Hall, recalled seeing Elvis perform many times at Magnolia Gardens. She'd see him drive up in a Cadillac and casually say hello, but she respected the musician's need for breaks between his sets of music, when she would dance like crazy. "There were friends I could not tell about going to see Elvis Presley, because I was afraid they'd slip up and tell their parents," Wiedemann said. "And nice girls - in those days - did not go see entertainers who would `shake' from the waist down." 12

Elvis, with his 8mm movie camera at Magnolia Gardens - 1955
Photo courtesy web
Sleepy LaBeef first went to Texas when he was 18 in late 1953. He recalled, "first time, we hitchhiked to Beaumont, looked things over, went back home. Coupla months later I moved to Beaumont, worked Carpenters Hall and was broadcast over KTRM. Then all of a sudden Elvis come out with "Blue Moon of Kentucky" and "That's All Right, Mama", and I moved to Houston, where the real boogie scene was happenin'. Link Davis, Joey Long. Sonny Fischer was there. George Jones. We all got together, worked Magnolia Gardens on Sunday afternoons. The Houston Jamboree. Worked all the honky-tonks. Made that my base for 10 years. Houston's like my second home." 13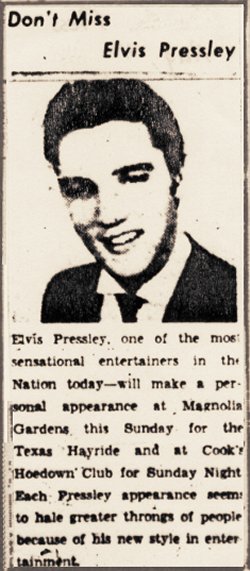 Don't Miss Elvis Pressley
Elvis Pressley, one of the most sensational entertainers in the Nation today - will make a personal appearance at Magnolia Gardens this Sunday for the Texas Hayride and at Cook's Hoedown Club for Sunday Night. Each Pressley appearance seems to hale greater throngs of people because of his new style in entertainment.
Houston Post Aug. 4, 1955 courtesy Brian Petersen

Scotty, Elvis and Bill at Magnolia Gardens - Aug. 7, 1955
capture courtesy FECC/minni1

amateur home movie film shot at Magnolia Gardens - August 7, 1955
Film by Lois Robertson courtesy Keith Flynn
Elvis, Scotty and Bill made what is believed to be their last appearance at Magnolia Gardens on August 7, 1955. There was actually an ad for this appearance in the Houston papers. Jim and Lois Robertson, Houston residents at the time, were in the audience that day and were trying out a new 8 mm home movie camera with color film. They didn't really know of Elvis at the time and Lois only seemed to recall about 20 to 25 people in attendance. She filmed parts of the performance and after the color film was developed the Robertsons watched it once or twice, then put it away.14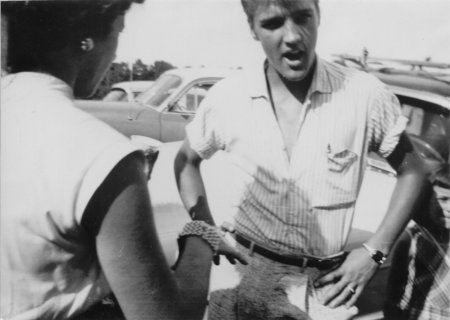 Elvis at Magnolia Gardens in Houston - Aug. 7, 1955
Photo courtesy Ger J. Rijff and Gabe Tucker
The boys would return to Houston for a show at the City Auditorium in October of 1955 and then again in April of 1956, this time with DJ on drums. They would make their final appearance in Houston together in October of 1956 at the Sam Houston Coliseum.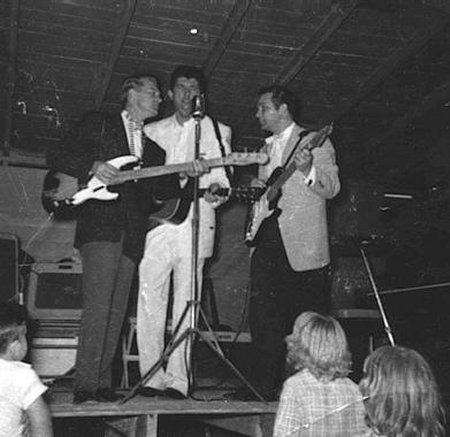 Narlon Powell, Sonny James and Leon Rhodes at Magnolia Gardens - ca. 1956
Photo courtesy Kittra Moore
By 1957 Magnolia Gardens was booked by Harris and J. D. Burris and was still a popular venue for top country and western acts and a regular stop for Hayride Artists like Jimmy Newman, George Jones, Sonny Burns and a contingent of local talent.1 George Jones would audition for Horace Logan in August of 1955 and open for Elvis at an appearance nearby in Conroe, TX. He was offered a spot on the Hayride there and then.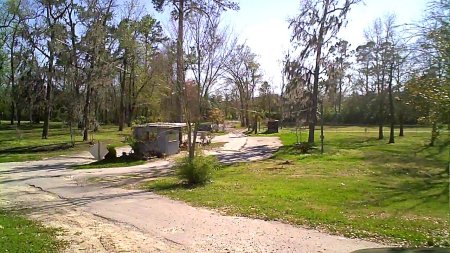 Magnolia Gardens at 12044 Beach St (Riverside), Houston - 2010
Photo © Rick Crofts
By the late fifties most of the early venues in Houston that Elvis, Scotty and Bill had performed in were gone or closing along with most of the the old Texas honky-tonks and dance halls. It was due to a combination of factors that included television, the growth of the country recording industry in Nashville and, not the least of which, the popularity of rock 'n' roll, ironically, an era that Elvis and the boys helped launch and usher in.15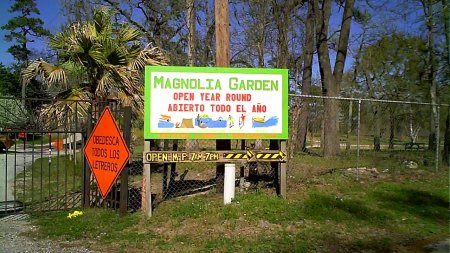 Entrance to Magnolia Gardens at 12044 Beach St (Riverside), Houston - 2010
Photo © Rick Crofts
In 1957, station KLEE became KILT and for the next few decades would wage a fierce ratings battle for Houston's rock music listeners with Morris' KNUZ that lasted until KILT changed its format back to country music in the early 1980s.2
In 1957, Tommy Sands was offered and played the part of a singer who was very similar to Elvis in an episode of Kraft Television Theatre which would ultimately yield him a record that went to No. 3 on the billboard chart. This success lead to a brief movie career and he was married to Nancy Sinatra from 1960 to 1965.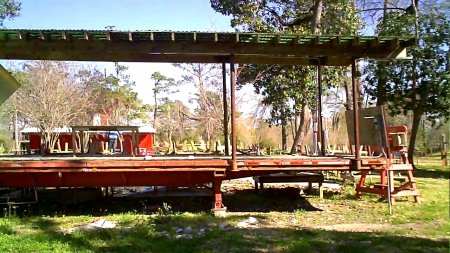 A covered flatbed stage in Magnolia Gardens, Houston - 2010
Photo © Rick Crofts
Biff Collie later did mornings on KATL, KLEE and KPRC. In 1957, he became manager and emcee for the Philip Morris Country Music Show, which were broadcast nationally on Mutual and CBS Radio.16 Divorced from Marge, he married Shirley Caddell around 1958, who would later divorce him and marry Willy Nelson. In 1966 Biff remarried for the last time, this time to Barbara Jean Sullivan, who was formerly married to Bob Morris of The Champs.

A small covered stage in Magnolia Gardens, Houston - 2010
Photo © Rick Crofts
Biff spent most of the 1960s in Los Angeles at KFOX Radio where he was consistently listed in the top ten radio personalities in Billboard and Music Reporter magazines. He was also named "Best Radio Personality" by the Academy of Country Music, an organization which he served on the Board of Directors and produced the annual awards show in 1967. He moved to Nashville in 1969 and produced the first syndicated radio show, "Inside Nashville" that ran on stations across the country for many years. 16

view of the Buffalo Bayou River from Magnolia Gardens - 2010
Photo © Rick Crofts
His daughter, Sharon Smith, nee Collie, was born in 1969 and hadn't heard much of the early days. Interestingly enough, he really didn't talk about it that much, she said. I knew he had some involvement with Elvis but did not really realize how important it was to Elvis' career.

Magnolia Gardens along the south bank of the San Jacinto River - 2010
Photo courtesy Microsoft EarthData
In 1987, ten years after Elvis' death, Monty Robertson asked his parents about the film they shot at Magnolia Gardens and it was finally located in a cedar chest.17 Magnolia Gardens is now a private park that charges an entry fee and caters to a predominately Hispanic crowd. The Fraternal Order of Eagles moved to Market St. and the building later housed a Generation-X club called Red Square before becoming vacant.18 The building there now holds several businesses. The buildings that were Cook's Hoedown, The Paladium and City Auditorium are now gone and the areas redeveloped.

The building at 2204 Louisiana St. in Houston - 2010
Photo courtesy Google
As for Floyd and Marge Tillman, they remarried around 1998. As Sharon Collie Smith put it, that's pretty cool!
page added August 8, 2011

Special thanks to Andrew from Pine Grove Press and to Rick Crofts for their pictures, and to the Houston Public Library, Sharon Collie Smith and members of the Houston Architecture Information Forum (HAIF) for their contributions to this page.
1 according to Billboard Magazine - various issues 1948 - 1957
2 according to Radio icon Morris propels KNUZ by Steven Long, Houston Chronicle - May 8, 1994
3 according to Lone Star Swing by Duncan McLean
4 according to Did Elvis Sing in Your Home Town by Lee Cotten
5 according to Garna L. Christian, "CHRISTIAN, BENJAMIN THEODORE [BEN]," Handbook of Texas Online
6 according to Katy man still in love with swing music by Sandar Meinke, Houston Chronicle - April 29, 2004
7 according to interview of John Anastacio Martinez by Ernest Eguia - March 19, 2003
8 according to or excerpt from Last Train To Memphis by Peter Guralnick
9 according to Floyd Tillman biography by James Manheim
10 according to ELVIS/A RECORD CONTROVERSY by Marty Racine, Houston Chronicle - August 16, 1986
11 according to Up and Down with Elvis Presley, by Marge Crumbaker with Gabe Tucker
12 according to Receptionist at Bellaire City Hall also favors Presley memorabilia by Anne Marie Kilday, Houston Chronicle - December 23, 2004
13 according to Where's LaBeef? Rockabilly veteran plays Club Hey Hey by Marty Racine, Houston Chronicle - January 15, 1988
14 according to Ex-Houstonians find film of Elvis by Maxine Mesinger, The Houston Chronicle - September 27, 1994
15 according to Old-fashioned swing draws fans of today by Rick Mitchell, Houston Chronicle - December 27, 1991
16 according to Biff Collie (1926 - 1992) by Sharon Smith
17 according to Early Elvis performance on video - Houston Chronicle, October 9, 1998
18 according to Elvis' Texas tour/Rockin' around state with the King by Clifford Pugh, Houston Chronicle August 16, 1996
---
* I received this email and felt it should be added to this page:
Just thought you would like to know that the man you mentioned as getting the tape on Elvis was not Benny Hess, but "BENNIE HESS." He was a renowned performer himself, and a former Mercury Records recording artist who, in the 50's formed a legendary rockabilly label here in Houston called SPADE Records.
Bennie also produced the first single on then a very young Kenneth (Kenny) Rogers here in Houston in the late 50's called "That Crazy Feeling".
Bennie was a member of the Hayride, and performed along side of Hank Williams, Ernest Tubb, & Bob Wills. He also performed at Cook's Hoedown, The Eagle Hall, and Magnolia Gardens, as well as The City Auditorium. He was good friends with people like "Pappy" Leon Selph, Cliff Bruner, Ted Daffen, Jerry Jericho, Leon Payne, & Utah Carl.
He opened the legendary "Dancetown USA" for his friend Floran Twardowski, and also produced records on Ray Doggett, Royce Porter, & Floyd Tillman.
His son is TROY HESS, and lives and performs here in the Houston area still. TROY is known internationally, and has a resume that would rival that of the best in Country Music today!!
Oh, and by the way, Biff Collie, a good friend of BENNIE's, gave BENNIE the Elvis tape, that's how he "came across it"! Just thought you'd like to know!

By the way, just so you know, TROY is writing a book which will encompass both his life & his parents, especially in regards to the music industry.
DOROTHY, TROY's mom worked for The Wilburn Bros, Loretta Lynn, Hank Jr., Mel Tillis, Don Williams cand Tommy Overstreet.
The Hesses moved back to Houston from Nashville in the late 70's; when she went into partnership with Russ Reeder, Gene Watson's manager to book Gene, John Conlee, Mundo Earwood, Kenny Dale , Kelly Schoppa, & Steve Douglas.
She is also a song writer, and has had her songs recorded by major record label artists. The info in this book is incredible, and I can assure you what I told you about BENNIE was just the tip of the iceberg!

At any rate, the family wanted me to tell you that you have a great blog on Houston!!...People here take for granted the rich heritage that Houston has in music, and most just have no idea.

Regards,

Wayne Fallbee
Showay Productions- Spring,Tx.
February 14, 2012