1950s Gibson J-45 Flat-Top Acoustic
(used in Loving You, King Creole, G.I. Blues, Blue Hawaii)

Scotty and Elvis with J-45 in Paramount's Loving You - 1957
Screen capture © Lions Gate Home Entertainment Inc.
Beginning with the 1957 release of Loving You, Elvis' characters, and others, were often pictured using a Gibson J-45 in several of the earlier movies he made for Paramount. This particular guitar features solid spruce top, mahogany back sides and neck, 20 fret dot inlaid rosewood fretboard, strait line Kluson tuners with plastic buttons, single strip binding, an upper belly bridge that was introduced on the J-45s in 1950 and the longer pointed pickguard that replaced the tear drop shaped one in 1955. He uses this early in the movie prior to switching to a Gibson J-200, either his own or a Paramount Property dept. one identical to it that was also used in later films.

Elvis with J-45 in Paramount's King Creole - 1958
Photo courtesy Dr. Macro
In the 1958 release of King Creole, his last picture made before entering the Army, Elvis is again seen using the same sequence of guitars as Loving You. He starts with the Gibson J-45 and them later uses the Gibson J-200.

Scotty with J-45 and Robert Ivers in a scene from G.I. Blues - 1960
capture © Paramount Pictures

Elvis with J-45 in a scene from G.I. Blues - 1960
capture © Paramount Pictures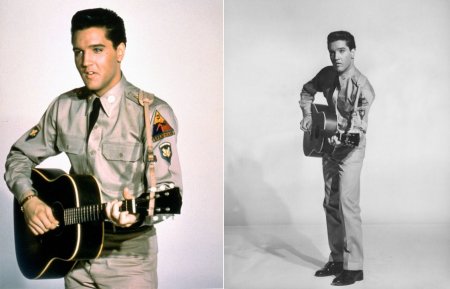 Elvis with J-45 in a publicity shots for G.I. Blues - 1960
AP Photo courtesy Post-Standard and Dr. Macro's
In Paramount's 1960 release of G.I. Blues, his first movie after the Army, Elvis primarily plays a prop J-200, the J-45 and a Harmony Monterey archtop that will be used again in the 1966 release of Paradise, Hawaiian Style. In G.I. Blues, the J-45 is initially played by James Douglas, one of his soldier/bandmate co-stars, who then hands it off to Scotty along with the J-200 as they exit the scene. The J-45 is also used in some publicity shots for the film.

Jose De Vega, Elvis with J-45 and Frank Atienza in Paramount's Blue Hawaii - 1961
capture © Paramount Pictures

J-45 with aluminum pickguard as Elvis sings Rock-a-Hula Baby in Paramount's Blue Hawaii - 1961
capture © Paramount Pictures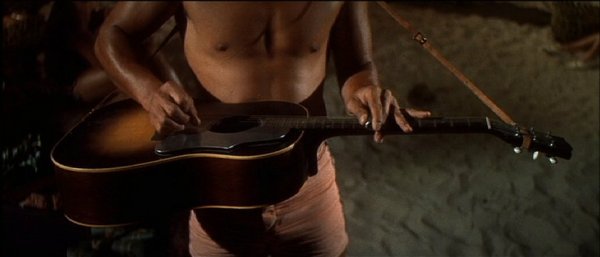 The J-45 played like in the style of a Hawaiian steel guitar in Paramount's Blue Hawaii - 1961
capture © Paramount Pictures
In Paramount's 1961 release of Blue Hawaii, Elvis is again cast as recently discharged soldier just returned home from his real unit, the 3rd Armored Division. In addition to a Ukulele, Elvis is again pictured using the J-45. Though only used by Elvis in song early in the movie and other times by Lani Kai, Blue Hawaii probably featured this guitar more than any other film. In the scene where Elvis sings Rock-a-Hula Baby the guitar is featured with the pickguard covered in aluminum, possibly to make it appear as a different guitar or for its use as a Hawaiian steel guitar.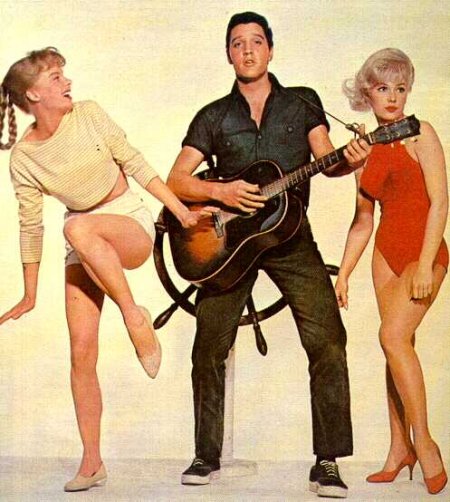 Elvis with J-45 in a promotional shot for Girls! Girls! Girls! - 1962
Photo courtesy Elvis-Presley-Gesellschaft e.V.
Though Elvis played a Martin 0-17 and Harmony H165 in Paramount's 1962 release of Girls! Girls! Girls! the following year, the J-45 was used in some promotional shots for it.
According to Gibson, the J-45 has been Gibson's top-selling acoustic guitar for years. Nicknamed "The Workhorse" it was first introduced in 1942. Initially, the J-45 guitar differed only slightly from the discontinued J-35. Internal construction changes from the J-35 included top bracing strengthened slightly with 1" set "X" brace behind the sound hole, tall and thin back braces, and most importantly, scalloped tall and thin top braces. Sunburst was the only finish available for the J-45 (a sunburst finish can hide wood flaws, an important feature during World War II when wood supplies were short). After the war the J-45 stayed sunburst, with a blond version being introduced in 1947 and called the J-50.*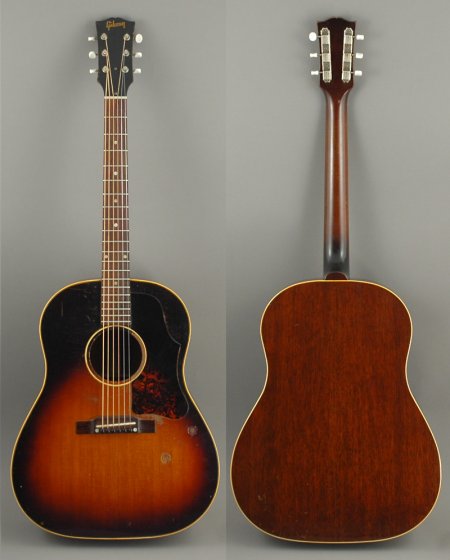 1956 Gibson J-45
Photo © Chicago Music Exchange courtesy Gbase
The J-45 is still offered today and according to Gibson is now the icon of its round-shoulder, dreadnought line, world renowned for its full, balanced expression, warm bass, and excellent projection. They considered it one of the most technically advanced guitars of its time. Click here for a more detailed history of vintage J-45s.
This page added August 15, 2010 is part of the section The Movie Guitars of Elvis Presley.
*courtesy the Antique Vintage Guitar Info site.