Elvis' 75 Martin D28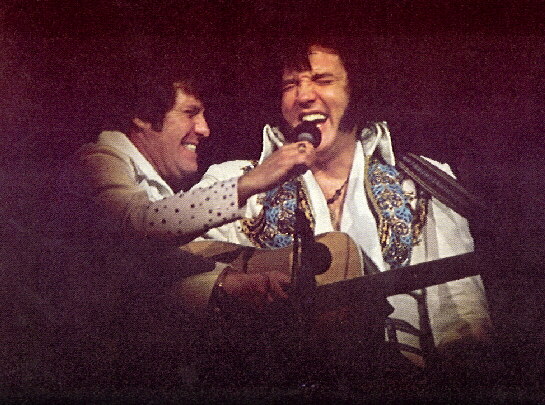 Elvis in Las Vegas - Dec. 12, 1976
Photo from The Collection of S.E. courtesy Elvis in Concert
Elvis performed in Las Vegas at the Hilton for the very last time on December 12, 1976. On October 9, 2009 a 1975 Martin D28 said to be used by him during this engagement sold at auction for $90,000 (plus an additional 16,200.00 in buyer's premium + taxes, fees, etc... bringing the final payment to $106,200.00).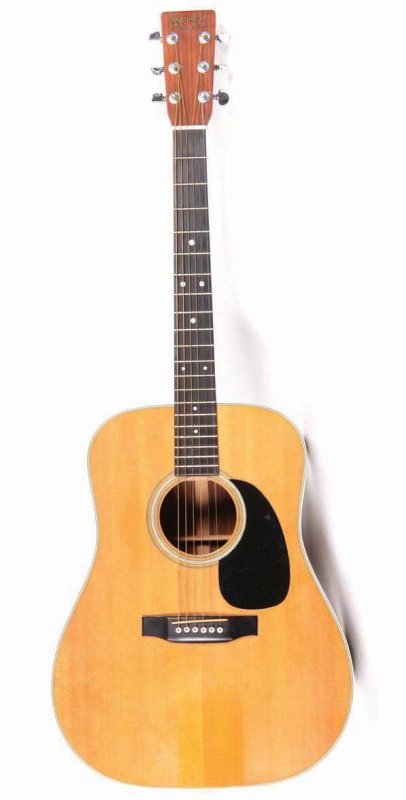 1975 Martin D28 Serial #361827
Photo courtesy iCollector.com

According to the Auction's web site, This Martin D-28 model guitar (serial number 361827), was used by Elvis in his last Las Vegas stage performances at the Las Vegas Hilton on December 12, 1976. In January, 1977 Elvis presented this Model D-28 guitar to his bodyguard, Sam Thompson. The guitar features a blonde wood finish and exhibits some plastic residue on the back of the guitar body resulting from, what Elvis relayed to Thompson, a portion of the belt on his stage jumpsuit melting from the hot stage lights. Following Elvis' death, Thompson sold the guitar in 1978 to The National Enquirer to fund his college education. The National Enquirer presented "The Elvis Guitar" to Cheryl Schmerr who won a national contest of over 60,000 entries in a well-publicized event hosted by the tabloid. The guitar, with original case, is accompanied by a notarized letter signed by Sam Thompson, along with a notarized copy of a letter from Elvis' father, Vernon E. Presley, dated January 4, 1978, attesting that his son gave Thompson the Martin D-28 the previous year while at Graceland. Also comes with a color photograph of Elvis performing on stage with this guitar. Without question, one of the most significant guitars to ever reach the market and accompanied with exceptional provenance.
The Advertisement for the National Enquirer guitar contest actually showed a picture of Elvis in concert with his 1976 D35, not the one that they subsequently gave away.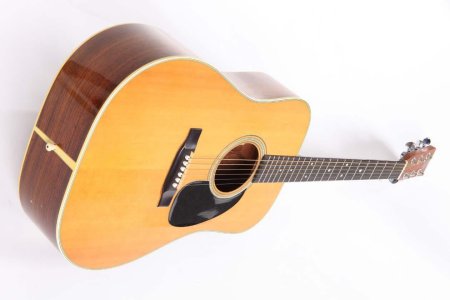 1975 Martin D28 Serial #361827
Photos courtesy iCollector.com
In comparing several photos from the performances in Las Vegas during that period on the Elvis in Concert website, it is evident that during several of the dates Elvis performed with his D35 and not this D28 but may have used it at least for the last show on the 12th (though we've never seen any photo of him with one in that time period that suggests he did).
Special thanks to Jay Gordon for the National Enquirer advertisement.