Elvis' 76 Martin D35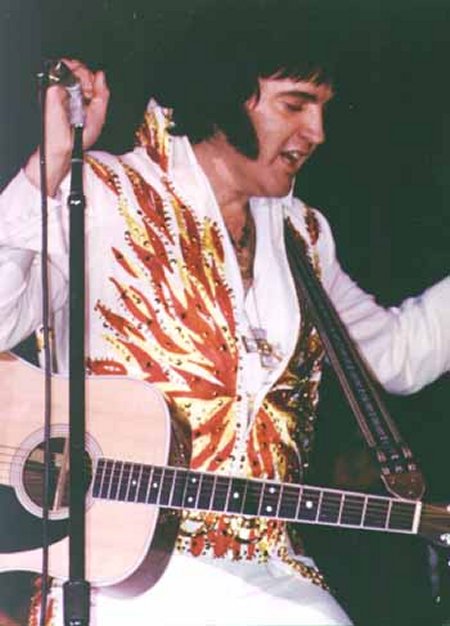 Elvis in concert Dayton, OH October 26, 1976
Photo© courtesy Antonio Baeza.
Beginning on October 14, 1976 Elvis once again performed on stage with Martin guitars, the same brand as when he began his professional career with his first purchase in 1954 and the last brand he would ever perform with. This model that he used until February 14, 1977 was a 1976 D35 (serial # 377704) and is most recognizable by its 3 piece back and double non parallel seam bracing visible through the sound hole.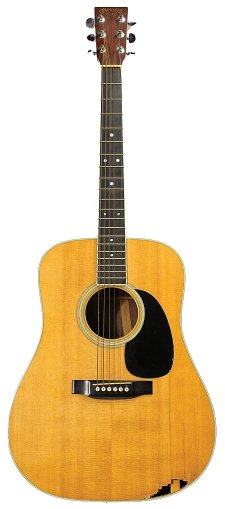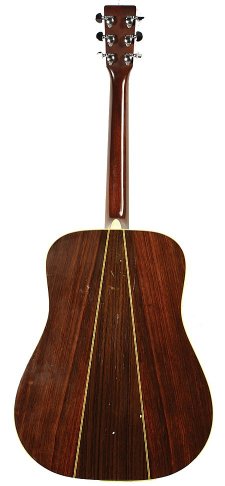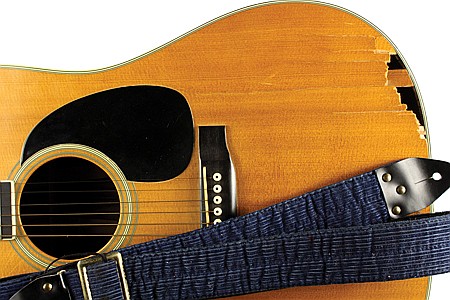 Elvis' 1976 Martin D35 #377704
Photo © courtesy Alexander Autographs
Martin introduced the D35 with its 3 piece back in 1965 as a result of a shortage of Brazilian Rosewood. This allowed them to use up unmatched and small pieces that would have been considered scrap material in previous years. They ceased using Brazilian rosewood in standard production for complete sets of back and sides in 1969.
The new D-35s are made of Indian rosewood. Interestingly, the factory added some extra purfling and binding to this model, and gave it a higher list price than its two piece back counterpart, the D-28. Within a few years, the D-35 began to outsell the D-28. Guitar builders and players agree that the three piece back has no real effect on tone, and by now, the guitar buying public has accepted the three piece back as a standard piece of styling.*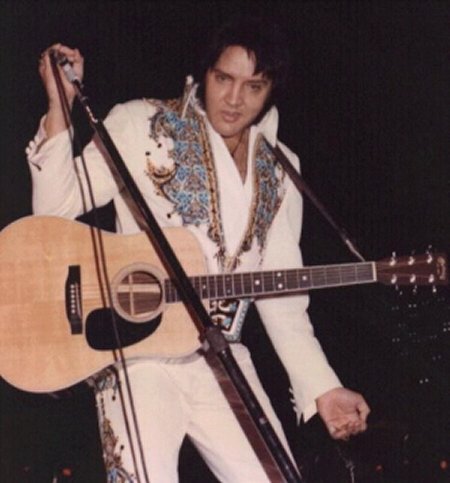 Elvis in concert Atlanta, GA December 30, 1976
Photo courtesy Paul's Elvis Page
The Martin D-35 features a solid Mahogany neck, 20 fret Ebony fingerboard with a 25.4" scale length, solid Spruce top, Rosewood sides and 3 piece back, Ebony bridge, White binding, White/Black/White back inlay and black pickguard.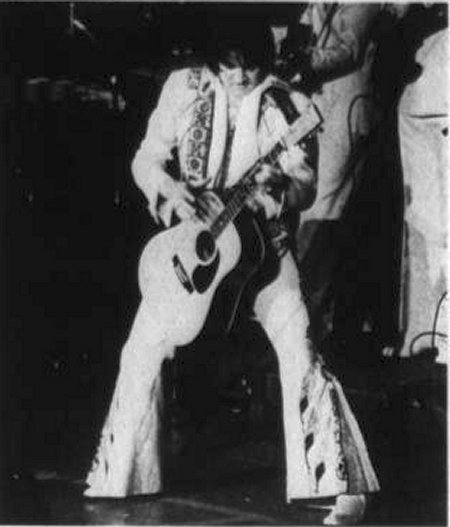 Elvis' guitar strap breaking in St. Petersburg - Feb 14, 1977
Photo by Fraser Hale courtesy FECC/Scott Hayward
On February 14, 1977 while performing at the Bayfront Center in St. Petersburg, FL, Elvis' guitar strap broke and in frustration tossed it, more in the direction of Charlie Hodge than to him. Charlie couldn't catch it and the impact cracked and damaged the spruce top at the bottom end of the guitar. It was reported that Elvis yelled out to the audience, "Which of you people waited the longest to see me here tonight?" He eventually gave the guitar to a young woman who had waited all night in a lawn chair to be one of the first admitted to the show" and was in attendance with her mother. The guitar was sold at auction on October 13, 2002 by Guernsey's of New York for somewhere in the area of $20,000.00.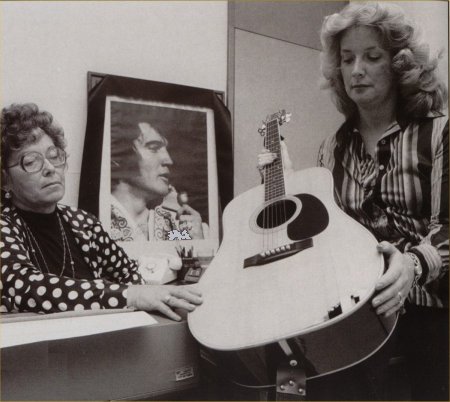 Kathy Waldrop, the recipient of the D35 with the guitar years later
In 2007 the guitar was loaned by its current owner, Robert Johnson of Memphis, to the Smithsonian's Rock 'N Soul Museum in Memphis, where it had been on display.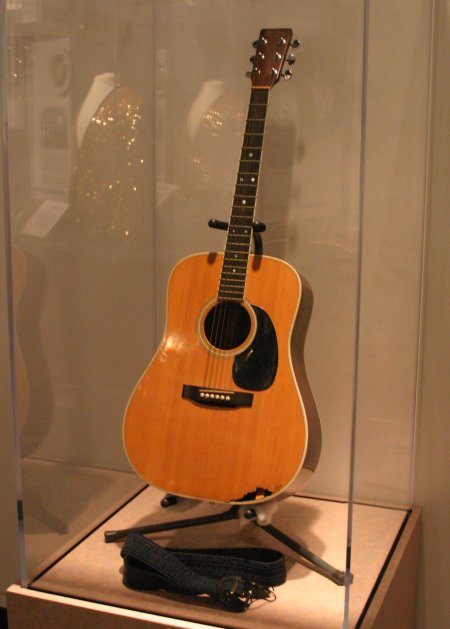 Elvis' D35 on display at the Rock 'N Soul Museum in Memphis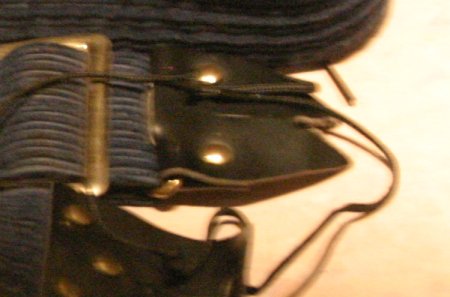 The broken strap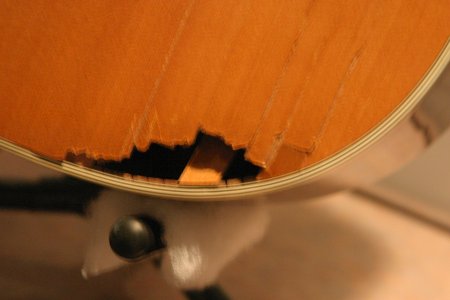 The damaged spruce top
*Courtesy Frets.com
specifications courtesy C.F. Martin Co.