Elvis' 1970s Gibson Dove Custom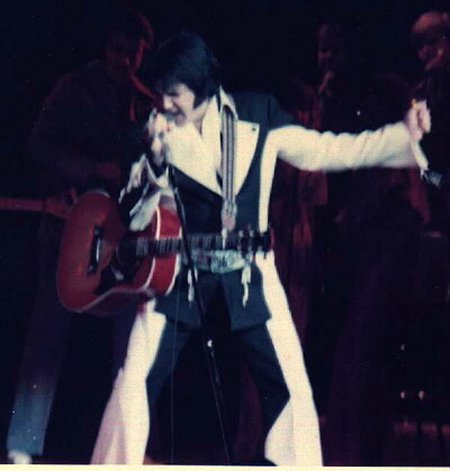 Elvis in Las Vegas with Gibson Dove Custom - August 19, 1975
Photo© courtesy Antonio Baeza
On the last night of his July 75 tour in Asheville, NC Elvis gave away his custom Ebony Gibson Dove guitar that he had used from 1971 to 1973 and had only recently brought out of retirement. Beginning in Las Vegas on August 18, 1975 his new performance guitar was an early to mid '70s Cherry sunburst Gibson Dove Custom. He performed with this one exclusively on subsequent tours through April 27, 1976.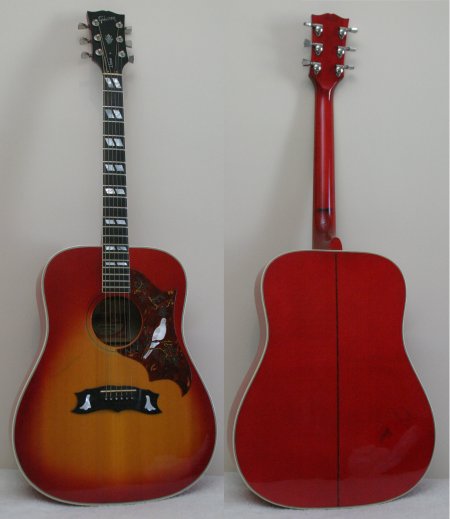 1974 Gibson Dove Custom #B002045 - identical to Elvis'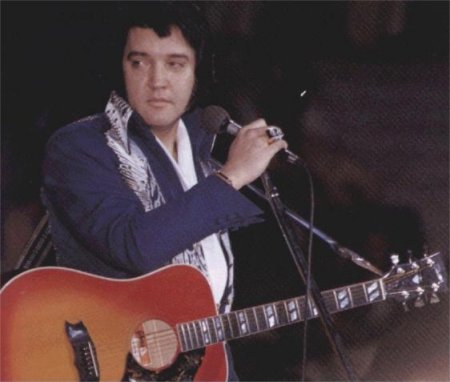 Elvis in concert with Gibson Dove Custom in Johnson City, TN - March 17, 1976
Photo© courtesy Bert Willemsen
The Dove model was introduced in 1962 becoming Gibson's second from the top flat top model. Walter Carter of Gibson said that Gibson used "Deluxe," "Custom" and "Artist" to denote low, mid and high-end models in the 1970s. To his knowledge there is no difference between a Dove Custom and a Dove during that period and has never seen any reference in catalogs or literature to a separate Dove Custom model. It is apparent anyway that the Dove Custom of the 1970s and '80s at least featured a sleeker shape of the sculptured dove inlaid bridge than the earlier years, though the original shape would be reintroduced by the '90s. The '70s also saw the transition from Rosewood fingerboards and bridges to Ebony.

1970s Gibson Dove Custom label
The guitar is of a square shouldered dreadnought design and features book matched maple back and sides, solid select fine grain Spruce top and a 3 piece maple neck with 20 fret Ebony fingerboard with split pearl double parallelogram inlay. The body size is 20 1/4" in length, 16 1/4" wide and 4 7/8" deep. It has a 25 1/2" scale length, sculptured Ebony bridge with Dove pearl inlays, an ornate Dove inlaid pickguard and distinctive truss rod cover. The guitar also featured chrome Grover made for Gibson keystone tuning keys. The cherry sunburst was an available finish on this model from 1962 - 1986.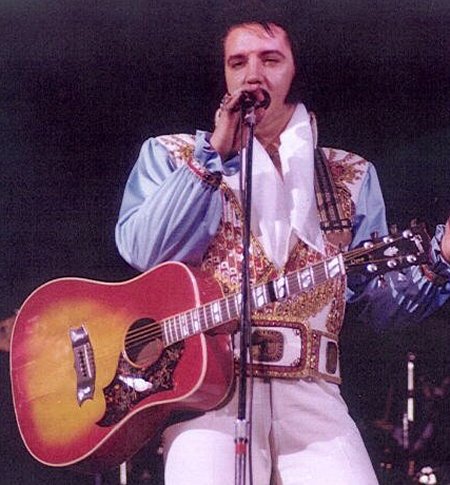 Elvis with in concert Gibson Dove Custom Seattle, WA - April 26, 1976
Photo© courtesy Eter Silvester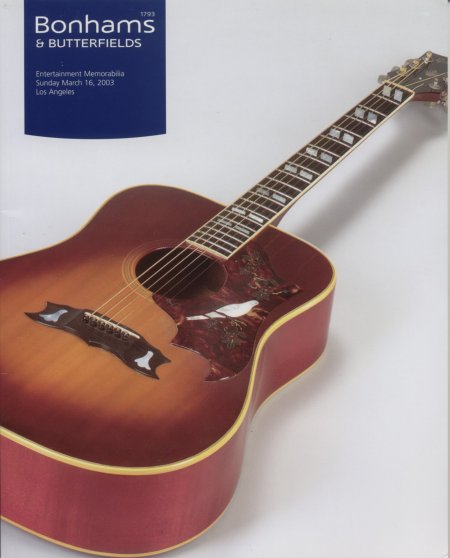 Bonhams & Butterfields Entertainment Memorabilia Catalog #1793 March 16, 2003
Photo© Bonham & Butterfields
On March 16, 2003 a guitar was auctioned in Los Angeles by Bonhams & Butterfields that was reputed to be Elvis'. It was featured on the cover of their catalog and bore the serial number A004051 which dates it between a '73 and '75. The provenance and documentation that accompanied it stated that it was "Given by Presley's aunt Delta Mae Biggs to Don Wilson, 1977." However, the guitar is suspect. The photo of it on page 34 of the catalog shows the guitar with Grover Rotomatic tuners and a two screw truss rod cover which would be incorrect for Elvis' guitar. It's quite possible that the tuners were replaced at some point after Elvis used it but kind of senseless from a functional point to replace the Grover made Gibsons with Grovers. It makes no sense at all to replace the truss cover. The guitar sold for $29,375.00 at auction.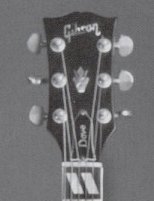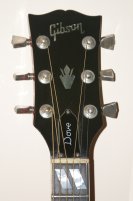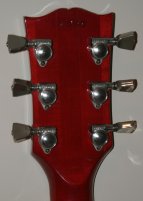 incorrect tuners and truss cover from catalog on left, correct ones center and right
---
Click here to read about repairs to the Dove pictured here identical to Elvis'