1968 Hagstrom Viking II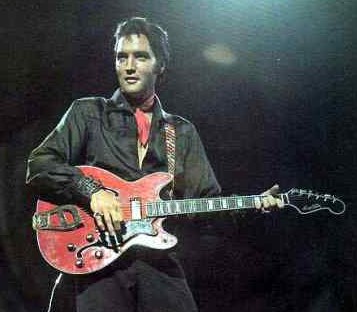 Elvis with Hagstrom Viking II - June, 1968
During the filming for the 1968 TV Special, "Elvis", a 1968 Red Hagstrom Viking II was borrowed for use by Elvis in several segments of the show including a stand up performance in front of a live crowd. The guitar through the years has been mistaken as his and often referred to as the "Elvis guitar". The guitar in fact belonged to Al Casey, who was one of the session players on that show.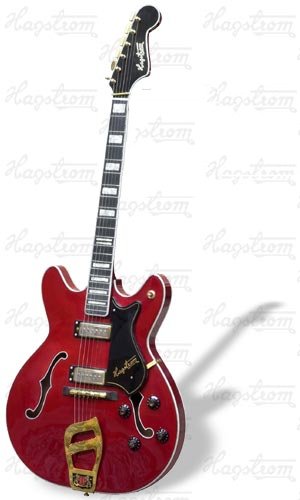 Red Hagstrom Viking II identical to the one used by Elvis in 68
Photo © courtesy Hagstrom Guitars
Al said "the producer came to the studio players asking if anyone had something flashy that Elvis could use, that he thought it would make a better shot if he was playing something. I had the Hagstrom in my instrument trunk and offered it."1 Elvis is pictured performing with it in the opening and closing segments of the show and performed live with it for the stand up solo performances recorded on June 29.

Elvis - June 1968
Photo © courtesy EPE, Inc.

Hagstrom, a company from Älvdalen, Sweden that primarily exported accordions since 1925 began building and exporting guitars in the 1950s, mainly to the USA. Manufactured only in 1967 and 68, only 1350 of this model, the Viking II, were said to have been produced. The Viking II features gold plated hardware, select flamed Maple and Spruce woods and were available in Mahogany Sunburst and Cherry Red. It had a lightweight 16 inch thinline double cutaway arched body, heavy celluloid binding, 2 pick ups with separate volume and tone controls, 3-way toggle switch for treble, bass or both pick ups and a "Micro-matic" adjustable bridge.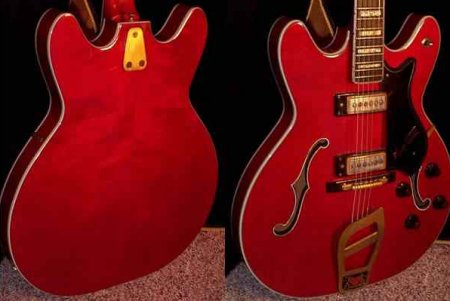 Red Hagstrom Viking II identical to the one used by Elvis in 68
Photo courtesy HagstromCanada
Reminiscent of a Fender Coronado in design, this model also featured Fender's trademarked headstock shape. The company closed its factory in 1983 though the company exists to this day. The name was licensed by American Music & Sound in 2004 and they plan to start producing guitars again by November.*

Al Casey in pictures (one with the Viking II) from his latest CD "Cookin'"
Born in California and having grown up in Phoenix, Al Casey, as Vintage Guitar Magazine recently wrote, is one of the great unsung guitar heroes. Playing since the mid 1950s he wrote Duane Eddy's hit "Ramrod". He was a member of "The Wrecking Crew", Hollywood's elite session players along with other guitarists like Billy Strange, Glen Campbell, Mike Deasy, James Burton, Howard Roberts, Tommy Tedesco, and Barney Kessel to name a few. He played on countless sessions with the likes of Dean Martin, Frank and Nancy Sinatra. He played on "MacArthur Park," Sinatra's recording of "That's Life," and even on the Beach Boys' "Pet Sounds". In addition to the 68 Special with Elvis Al also played on the soundtrack sessions at Western Recorders in 1968 that originally yielded Elvis' recently remastered hit "A Little Less Conversation". Years after the 68 TV Special Al sold the guitar for an undisclosed amount and it is now said to be owned by a casino corporation out of Illinois.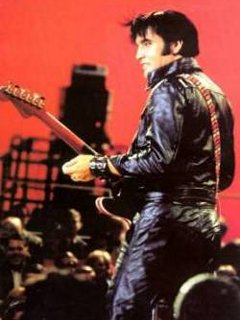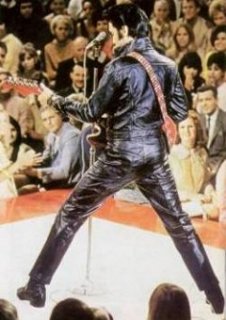 Elvis onstage with Hagstrom - June 1968
Photos © courtesy EPE, Inc.
page added 2004
---
During the two stand up live performances taped at NBC's Burbank studio on June 29, 1968 the amplifier used with Al Casey's Hagstrom was his Benson 200.** Al said "once Elvis had a guitar to play, he needed an amp to play it through, and the Benson is what I had with me."1 Like Al, several LA session players were known to use these in the '60s. "Famed jazz guitarist Howard Roberts and Ron Benson designed and produced the first boutique amps in history with their Benson line of the '60s. These became a studio standard of the era, presaging the Boogies, Soldanos, Bogners, and Evans of the future."2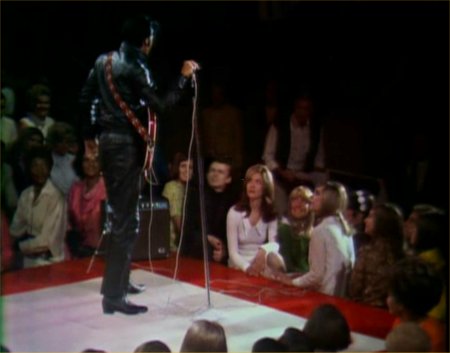 Elvis onstage with Hagstrom and Benson amp - June 1968
"The origins of the Benson amplifier arose with Ron's interest in attaining the same sound that Howard Roberts obtained from a Gibson GA50 amplifier. There were several models of the Benson amplifier: the 300, 400 and the head/cabinet combinations the 330 and 360. The 300 was 50 watts and had a 15" speaker and the 400 was 100 watts with four 12" speakers. Howard played a 300 but it had a separate head and speaker. The 200 has a 12" Vox speaker with two 4" Jensen concert series speakers switchable on or off depending on the sound desired. It is about 40 watts with two EL34 tubes, reverb and tremolo in a case only 14" inches tall, 19" across, and about 7" deep."3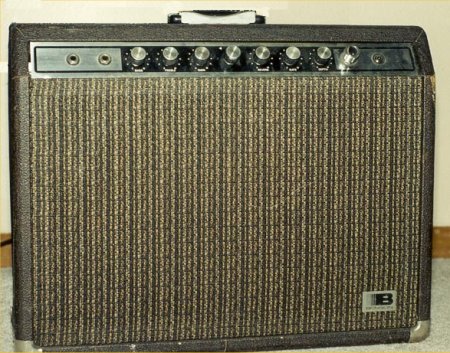 Al Casey's Benson 200 amplifier used by Elvis onstage for the 68 NBC Special
Photo courtesy Doug Miers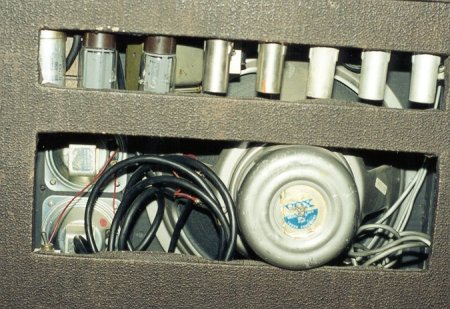 rear of Al Casey's Benson 200 amplifier used by Elvis onstage for the 68 NBC Special
Photo courtesy Doug Miers
Al sold this amp to Doug Miers along with a black one that he purchased from Ron Benson sometime after production ended in the early '70s.
section added 2005
* Hagstrom Guitars, with corrections by Karl E. Hagström
1 according to Doug Miers
2 Wolf Marshall
3 Michael Evans
**special thanks to Douglas Dion for his help in identifying this amp and to Doug Miers and Al Casey for setting the record straight.
See also The Woodstock Strap
---
Made in Sweden
a 1968 Hagstrom Viking II restoration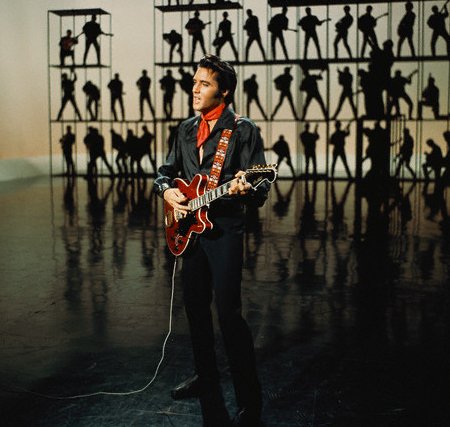 Elvis with Hagstrom Viking II in the 1968 NBC-TV Special
Photo © EPE, Inc.
Several years ago while in Nashville visiting Scotty I stopped by Gruhn Guitars downtown and saw an old Hagstrom Viking II on the rack. I had been looking for one of these since before I added the original page years ago about the one Elvis used in 1968. Larry Moss had owned that at one time.

The stripped amber sunburst '68 Hagstrom as bought from Gruhn - Sep. 2008
Photo © James V. Roy
This one was going to be a project. The guitar had been almost completely stripped of parts but the wood (neck and body) were there as was the original tuners, string guide and wiring harness with switch. Unfortunately someone had previously installed Humbuckers on it and cut up the pickup holes to fit them. They weren't asking a whole lot of money for the guitar as it was so I decided to buy it and take my chances locating appropriate parts for it.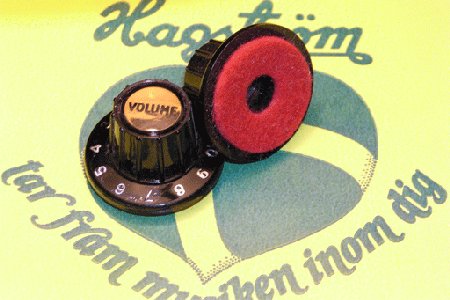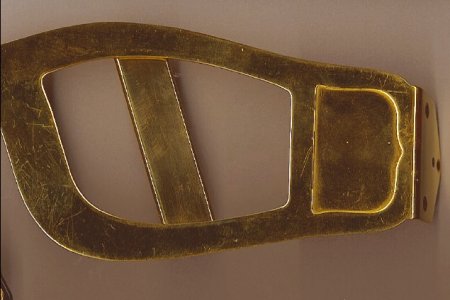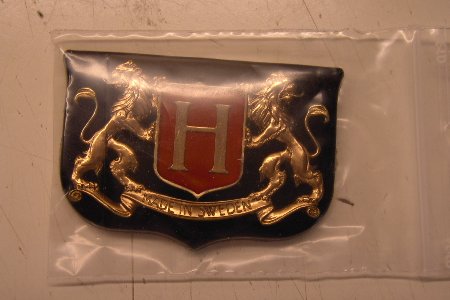 Hagstrom Viking II pick guard, knobs and tailpiece and emblem - 2008
Photos courtesy Hagstrom parts site
As it turned out I had little difficulty in finding parts. The pickups I was able to find on eBay. Many of the other parts like the pickguard, tailpiece, emblem, volume and tone knobs and the bridge I got from the Hagstrom spare parts site in Sweden.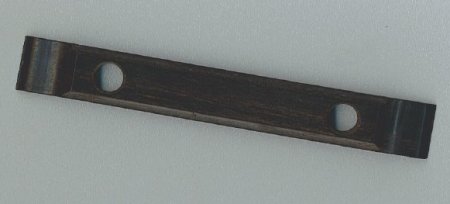 Hagstrom Viking bridge (chrome) and mounts - 2008
Photos courtesy Hagstrom parts site
The bridge however had chrome plating instead of gold but it would suffice.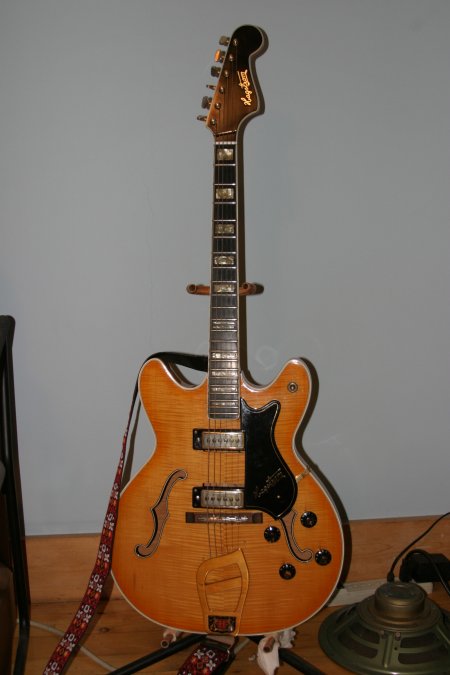 The amber sunburst '68 Hagstrom Viking II initial assembly - Nov. 2008
Photo © James V. Roy
After a preliminary assembly to see how it sounded I really enjoyed the way it played and just set it aside for the next several years while my spare time was focused on developing content for other areas of Scotty's site.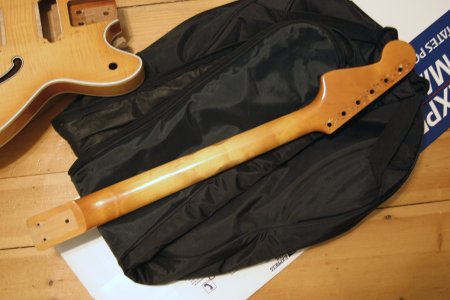 The rear of the Hagstrom Viking II neck, hardware removed - Aug. 2012
Photo © James V. Roy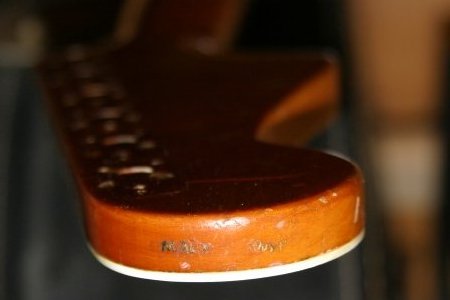 Remnants of the "Made in Sweden" decal on the headstock - Aug. 2012
Photo © James V. Roy

repairs to the pickup cutouts before shipping to Lays Guitar shop - Aug. 2012
Photo © James V. Roy
Earlier this year I decided to disassemble it again and repair the pickup routs that had been cut up to accommodate the humbuckers. I decided to have it refinished, ala Elvis red, since the modifications had already ruined the vintage value of the guitar. Hagstrom at that time used polyester lacquer finishes and I felt that the new finish should be the same. I checked with Tracy Longo at Guitar Tech Corner, who you may remember from the pages about Bob Bain, and he suggested Lays Guitar Shop in Akron, Ohio to do the work so after contacting them I shipped it out.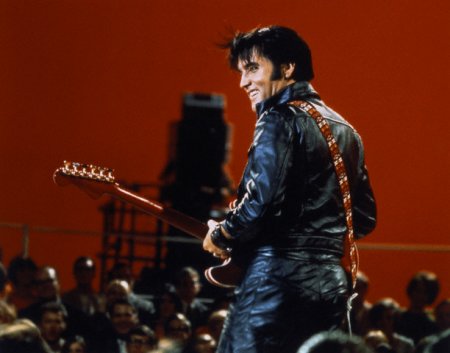 Elvis with the 1968 Hagstrom Viking II at the taping of the NBC Special - June 2008
Photo © EPE, Inc.

Insert of Elvis with the 1968 Hagstrom Viking II
Photo © EPE, Inc.
The process took about 2 months and I have to say that I was more than satisfied with the result. I had sent along a few photos of Elvis with the one from the NBC Special and they matched it much closer than my expectation. They were even able to blend in the finish so that the repairs to the pickup routs are virtually invisible.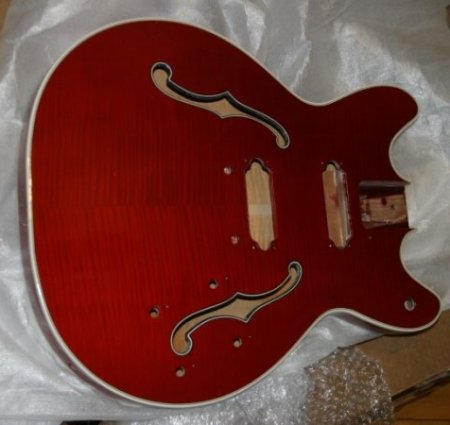 refinished in translucent red by Lays Guitar shop - Nov. 2012
Photo © James V. Roy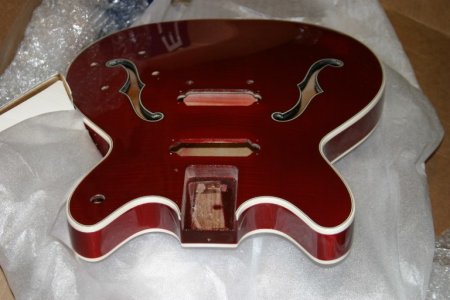 refinished in translucent red by Lays Guitar shop - Nov. 2012
Photo © James V. Roy

refinished in translucent red by Lays Guitar shop - Nov. 2012
Photo © James V. Roy

refinished in translucent red by Lays Guitar shop - Nov. 2012
Photo © James V. Roy
Using some Gibson metal cleaner which has a very light abrasive I polished the original hardware to restore some of its luster. The tarnish wouldn't look as good with the new finish.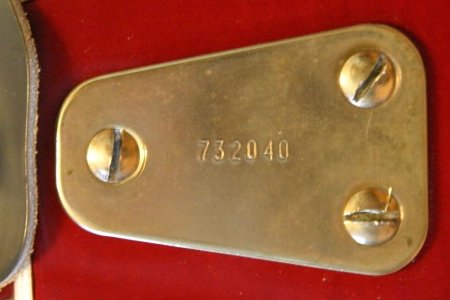 1968 Hagstrom serial number 732040 - Nov. 2012
Photo © James V. Roy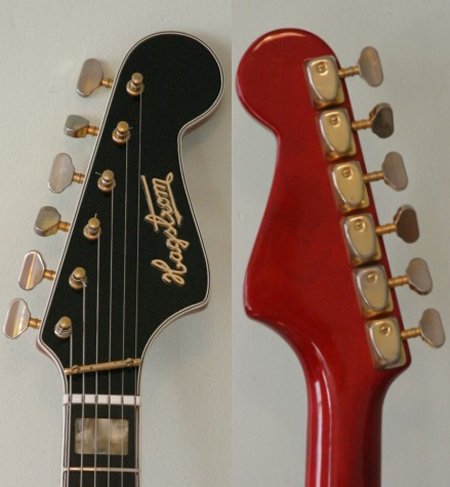 The headstock and tuners, front and rear - Nov. 2012
Photo © James V. Roy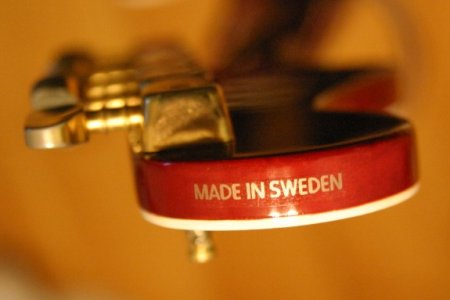 The "Made in Sweden" replacement decal from Hagstrom spare parts - Nov. 2012
Photo © James V. Roy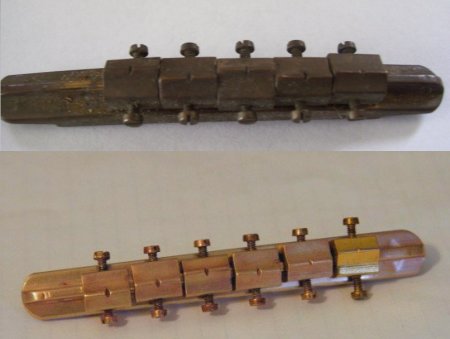 a Gold bridge with missing saddle from ebay and cleaned up
Photo © James V. Roy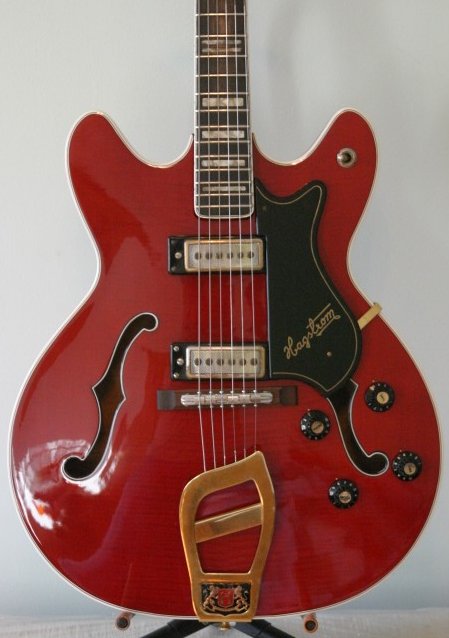 Close-up of the refinished and reassembled 1968 Hagstrom Viking II - Nov. 2012
Photo © James V. Roy
After final assembly the guitar again plays and sounds excellent. The Woodstock strap adds a nice touch. Now all I need is a case.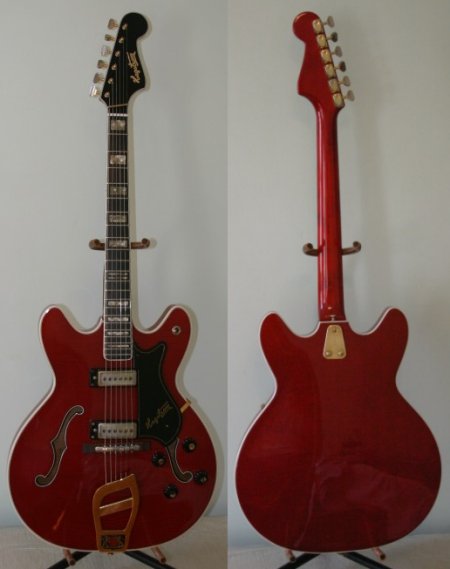 The refinished and reassembled 1968 Hagstrom Viking II, front and rear - Nov. 2012
Photo © James V. Roy

The Hagstrom Viking II and Woodstock strap - Nov. 2012
Photo © James V. Roy
section added November 12, 2012

---
Hagstrom Fundraiser and the Dalarnes Museum
Today I received email from a fan that I thought would be pretty cool to share:
Hello Mr Roy.

I am a fairly new follower of your FB page, but a long-time Elvis fan, and I really enjoy your postings. When I have the time I also like to go to the webpage to read the more comprehensive articles. Thank you for doing this!

I found this article about your Hagstrom Viking restoration a while ago, very interesting! Perhaps you already have this information but I wanted to share some details about your guitar.

During the past year Dalarnas museum have worked on a project called Hagstrom Fundraiser with me as the project manager. The goal was to collect enough funds to acquire a large collection of Hagstrom guitars, basses and amplifiers. We succeeded to reach the goal, and together with the Hagstrom items that the museum already owned before the Hagstrom Fundraiser project started, we now own what to be the world's largest Hagstrom guitar collection. Dalarnas museum is the county museum for the region of Dalarna where Alvdalen - home of Hagstrom, is situated, I might add J Some of our Hagstrom guitars are now on display at the American Swedish Institute in Minneapolis by the way.

But what I wanted to let you know was this: your Viking with serial number 732 040, was number 40 out of a batch of 947, made in December 1967 and the "Elvis" Viking was actually from the same batch, serial number 732 240 and made in January 1968.* I thought it was so cool that the guitars were from the same batch! Almost all the guitars in that particular batch were red, black or sunburst.

Kind regards

Ann Olander

Ann Olander

Utställningsantikvarie/Formgivare/Konservator
Exhibition curator/Designer

Dalarnas museum
Postadress (Mailing address)
Box 22, SE-791 21 Falun

Besöksadress (Visiting address)

Stigaregatan 2-4, Falun
Växel 023-76 55 00
Be sure also to visit them on Facebook at www.facebook.com/hagstromfundraiser or website at www.hagstromfundraiser.com.
* Please note that we don't know the number of the Hagstrom owned by Al Casey and used by Elvis in the 68 NBC Special so cannot attest to the accuracy of the information presented here from Ann or the Dalarnas Museum. However, when I asked Ann how she knew that to be the number she related, "Mr Karl Erik Hagstrom Jr once told me. But I haven't asked him how he knows. When he says something about his company I simply take it for the truth!"
section added July 8, 2015