1940s Kay (Tupelo Hardware store) Guitar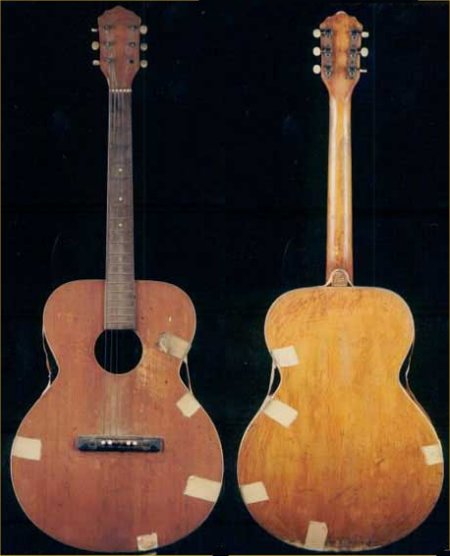 1940s Kay (auction) guitar
Photo © courtesy Tupleo Hardware Store
Several stories exist about Elvis' first guitar in that he originally wanted either a bicycle or a rifle but instead wound up with a guitar. In either case its generally accepted that he got his first guitar from the Tupelo Hardware store for his 11th birthday in 1946 for either $7 or $12.50. It would be the guitar that he would eventually learn a few chords on and receive a few lessons from friends and people like Johnny Burnette in the laundry room at Lauderdale courts. It was also the guitar that he would bring to school each day and most likely record with first at Sun Records.
On October 13, 2002 a guitar was initially offered for auction by Guernsy's of New York that was reputed to be the Tupelo guitar. The story, as reported in the Gulf Herald in July of 2000, was that Elvis had given it to Red West in the mid '50s when he decided to attend Jones County Junior College in Mississippi. Red later gave it to a Ronnie Williams who was there on a football scholarship who took it with him when he transferred to Florida State. Ronnie kept it through the years and upon his death it went to his brother Bill Williams of Pensacola, FL where it has remained since.
Unfortunately, the only provenance they could provide was a letter written by the clerk at the store, Forest Bobo, that sold Elvis the guitar about his recollections of the transaction. There may have even been a letter from Red stating that he had been given one and had given it to Ronnie, but to my knowledge nothing conclusive that this auction guitar was in fact the guitar from the Tupleo Hardware store.
Peter Guralnick wrote in his biography on Elvis, Last Train to Memphis, that sometime after beginning his performing career Elvis traded in his first guitar for a Martin at OK Houcks in Memphis and the salesperson at the time gave him $8.00 in credit for it and promptly put it in the trash, much to Elvis' dismay who felt that it would still be a playable instrument for somebody.* That version of the story was in a write up in the April 1955 issue of Country & Western Jamboree but first appeared in an article by Robert Johnson in the Memphis Press-Scimitar on February 5, 1955. Sid Lapworth, though, who sold Elvis his first 3 Martin guitars has no recollection of this and said he never took that guitar in trade. He said Elvis came in with nothing looking for a used guitar.
Scotty Moore only recollects Elvis with a Martin from those years but Sid didn't start working at OK Houcks until August of 1954, a good month after the first recordings and performances. Even a used Martin at the time was fairly expensive and I have to speculate that Elvis did not and could not justify the purchase of one prior to those recordings which leaves us to assume that he quite possibly/probably used his Tupelo guitar. If this auction guitar was in fact his guitar then it is most likely the one used on the early Sun recordings and in his first few live performances.
Since it can't be certain if this was the guitar I wondered if it could be said that it definitely wasn't. I asked George Gruhn of Gruhn guitars, a renowned vintage guitar authority in Nashville, if in his opinion this guitar is recognizable as a model that might have sold new in a hardware store for $7 - $12 in 1946. George said "the guitar is a Kay that is old enough and that this guitar probably cost about $15 new. If purchased used it would have been much less."

The guitar failed to receive a bid in 2002 and again went up for auction sometime in 2003. I'm told though that with no adequate documentation to tie it to Elvis a sale did not go through. Understandably lacking any known pictures of Elvis with it or any guitar from that time frame it really can't be substantiated one way or the other.
page added 2003

* according to Last Train to Memphis by Peter Guralnick