Halloween in Branson, MO

The Will Rogers Theater in Branson, MO
On October 31st and November 1st Scotty, D.J. Fontana and The Jordanaires again played with Ronnie McDowell and his band on a tribute to Elvis show. They play this show several times a year with the most recent being last August in Tunica, MS. This time they were in Branson, MO at the Will Rogers Theater and the pictures here are from the October 31st show.

Scotty Moore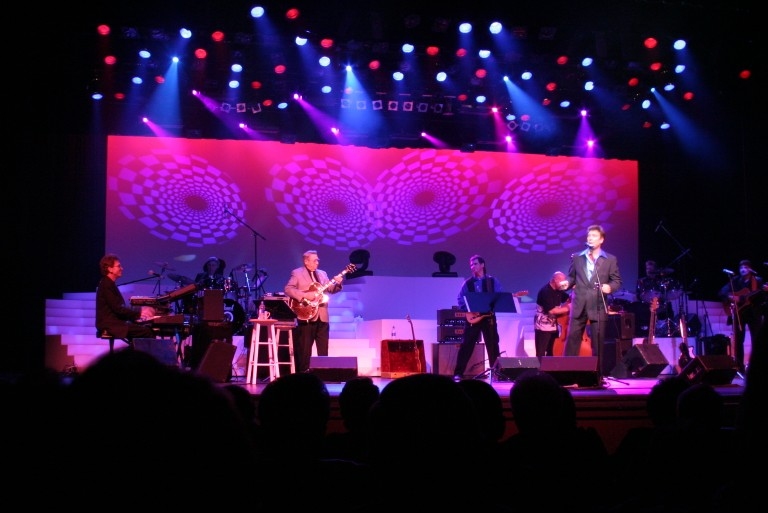 The band onstage in Branson, Mo - Oct 31, 2003
Its always fun watching Ronnie perform the Elvis tribute. He often peppers it with dates and stories about the songs like when and where they were originally recorded and other trivia associated with them. He doesn't always get the dates correct and often times jumps around a bit. This causes Scotty to laugh when Ronnie looks to him for confirmation and he responds with a "it depends on whether you're going to stick to the set list".

Kevin Woods, Ronnie McDowell and RD (Ronnie Jr.) on drums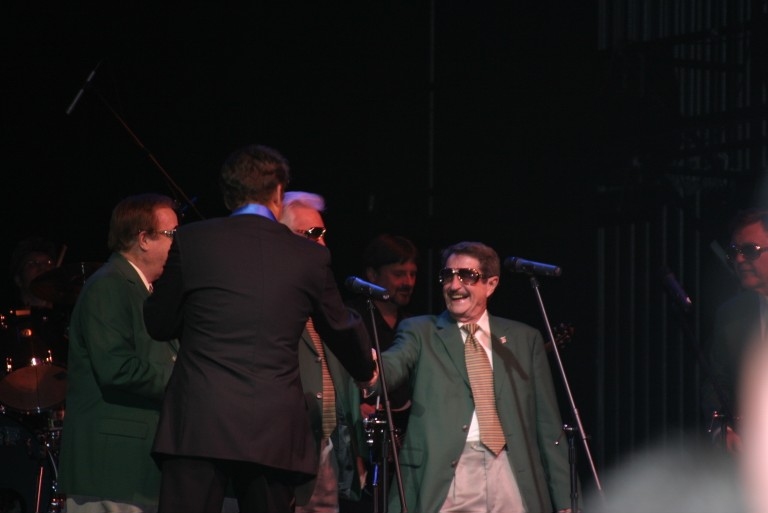 The Jordanaires in their "Elvis" glasses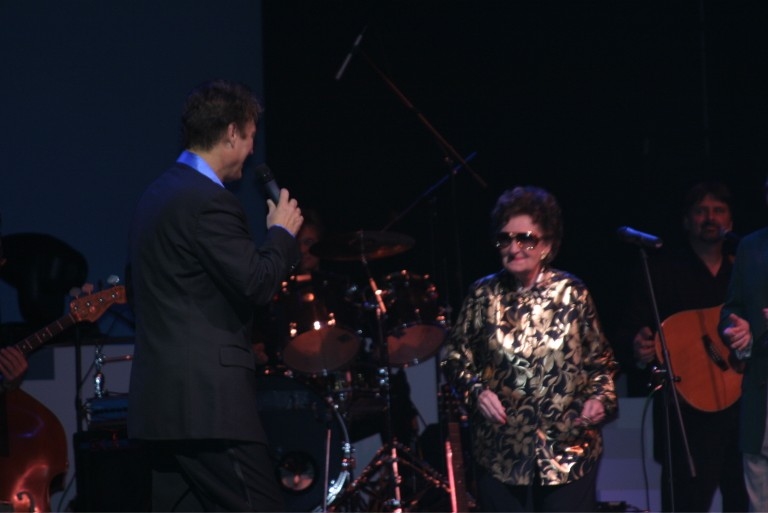 Ronnie and Millie Kirkham with her "Elvis" glasses

Steve Shepherd and Ronnie McDowell
Since it was Halloween the Jordanaires came out wearing '70s style Elvis glasses as did Millie Kirkham. Last summer when Bob Moore played bass with the band they started adding a part to the show where where they would do a bit of Patsy Cline's "Crazy", probably because Bob had played on the original. They do it though under the assumption of the way Elvis might have sang it. Steve Shepherd starts it like the original on piano, nailing it, but Ronnie soon stops him requesting a lower key implying that to reach that one would require both "hands in his pockets". Ray Walker of the Jordanaires jokingly recommended to Steve that he continue in that key just to make Ronnie do that.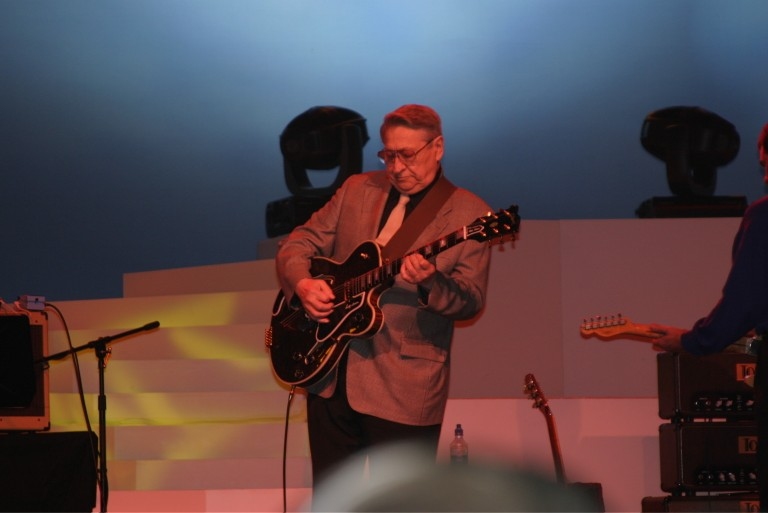 Scotty Moore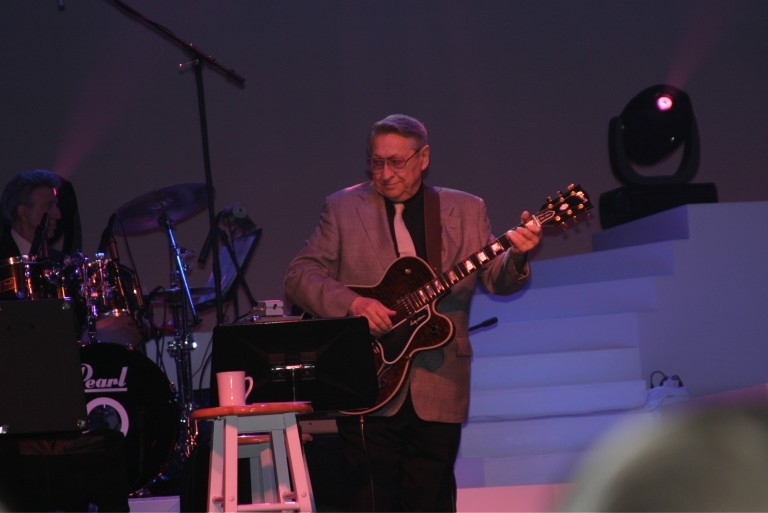 Scotty Moore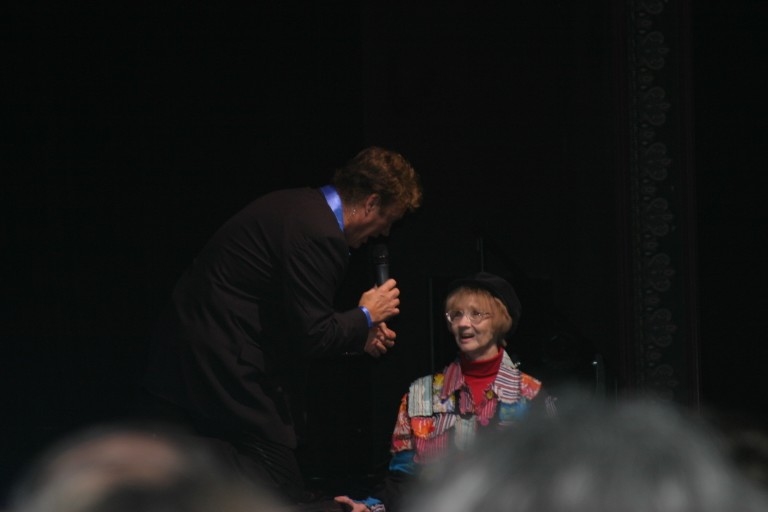 Ronnie introduces Dotty
There are almost always friends and acquaintances in the audience at the shows. At this show there was a woman named Dotty that Ronnie introduced as a friend of Elvis' and who had lived for a time at Graceland. He asked her how that came to be and she said that she became good friends with Elvis' grandmother Minnie Mae and through that connection had become associated with Elvis.

Ronnie and Millie Kirkham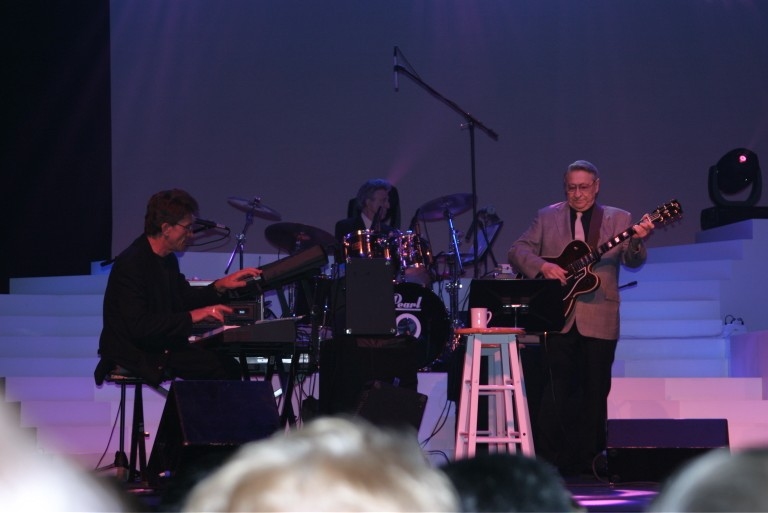 Steve Shepherd, D.J. and Scotty

Ronnie sits on the stage for a song

Ronnie dedicates a song to a couple on their 50th Anniversary
There was a couple in the audience that were celebrating their 50th Anniversary. They had come here specifically for the show since 10 years earlier on their 40th Anniversary they had attended one of Ronnie's shows and he sang to them. He dedicated a song to them again.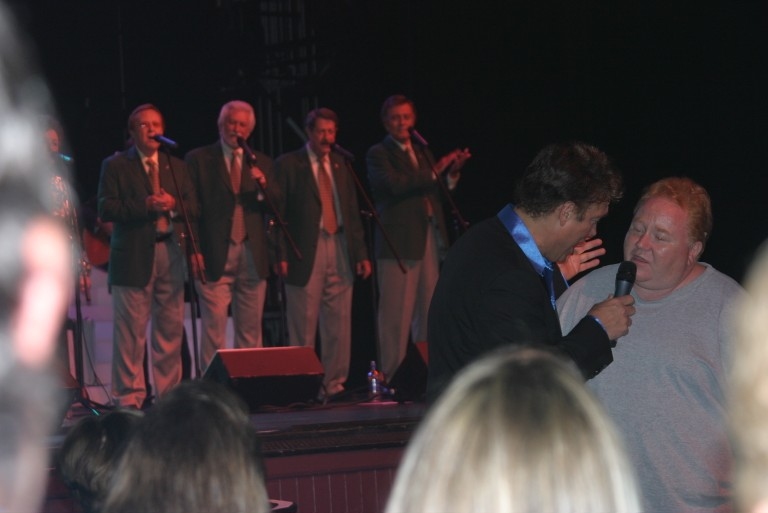 Ronnie picks Mike Friend from the crowd to sing with the Jordanaires
During the course of Ronnie's walk through the crowd he picked someone out of the audience at random to sing with the Jordanaires. This time the lucky guy was Mike Friend of Isabella, MO. It must've been a real thrill for him and a memory he'll carry with him forever. He sang "The Wonder of You" with them. Nice job Mike!

Gordon, Curtis, Louis and Ray - The Jordanaires
Gordon Stoker related the story about how when they appeared on the Ed Sullivan show with Elvis and performed "Peace in the Valley" the executives at CBS were not going to let him perform it. They had said that no way was anyone going to perform a religious song on their network. Elvis then told Ed Sullivan that he had promised his mother that if he ever appeared on the show that he would sing that song for her. Ed said "Let the boy sing what he wants!"

Steve Shepherd, D.J. and Scotty

Steve Shepherd display one of Ronnie's prints
In addition to performing, Ronnie is also an accomplished artist. He's done several paintings with his most recent being one called "The Kings of Hollywood" featuring Elvis and Clark Gable on motorcycles with the Hollywood Hills as a backdrop. It's never hurts to do a little hawking to a captive audience either. At one point Steve display's a print to the crowd that Ronnie painted titled "The World's Greatest Rock 'N Roll Band". They generally sell them autographed at the shows and did so this time. Scotty sometimes has CD's and things available at the show but often its not profitable, the venue often takes a big cut of all the sales. However, fans can get any of his items autographed here online.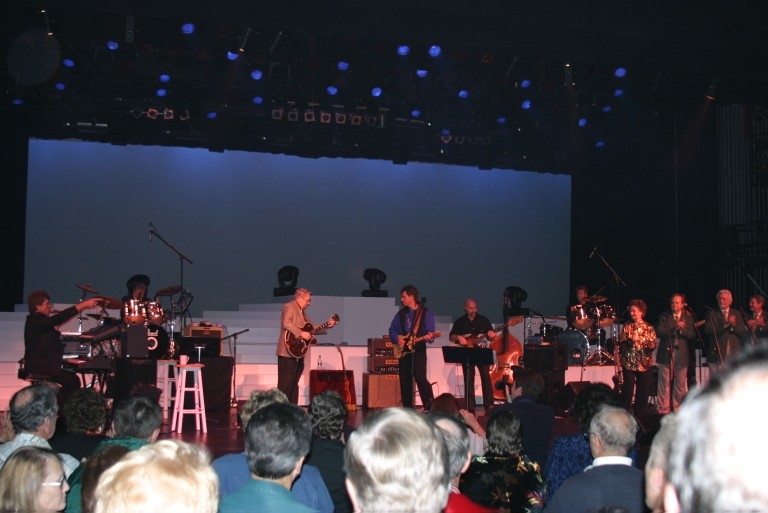 The show getting ready to close - Oct. 31, 2003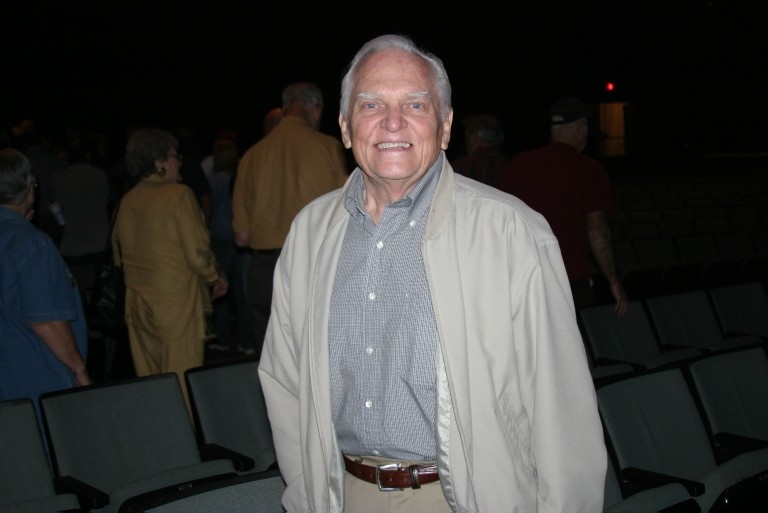 Bob Hubbard

Gordon Stoker and Bob Hubbard
This was the first time the Jordanaires had ever performed in Branson and during the performance they introduced a gentleman in the audience named Bob Hubbard. Bob was originally a lead singer with the Jordanaires from 1948 to 1952 when he left for the Army. After the Army he performed with the Foggy Mountain boys for many years in the Branson area. It was nice to see these guys connect again after many years.

The performers sign autographs after the show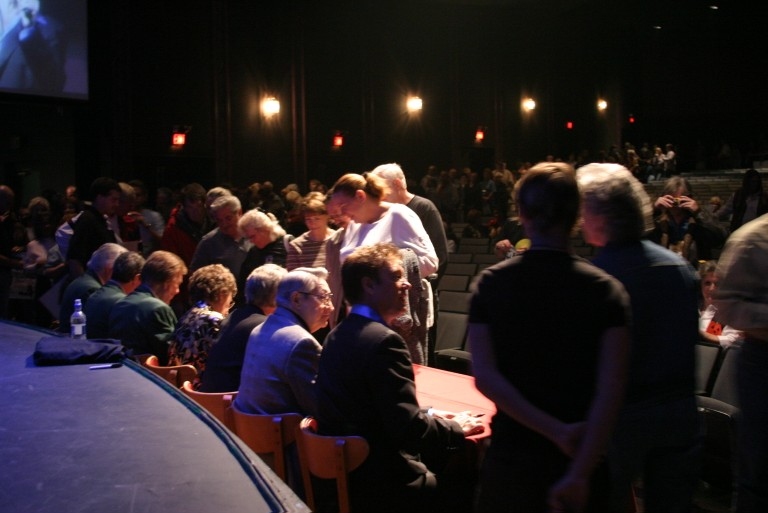 The performers sign autographs after the show
As is almost always the case, the performers all come out after the show and meet and greet the audience. The lines are always long but they stay there signing autographs until everyone that wants to gets the chance to go through.
James V. Roy
November 4, 2003