1975 Super Cycle Stallion VW Trike (by Stires)
Elvis Presley's Motorcycles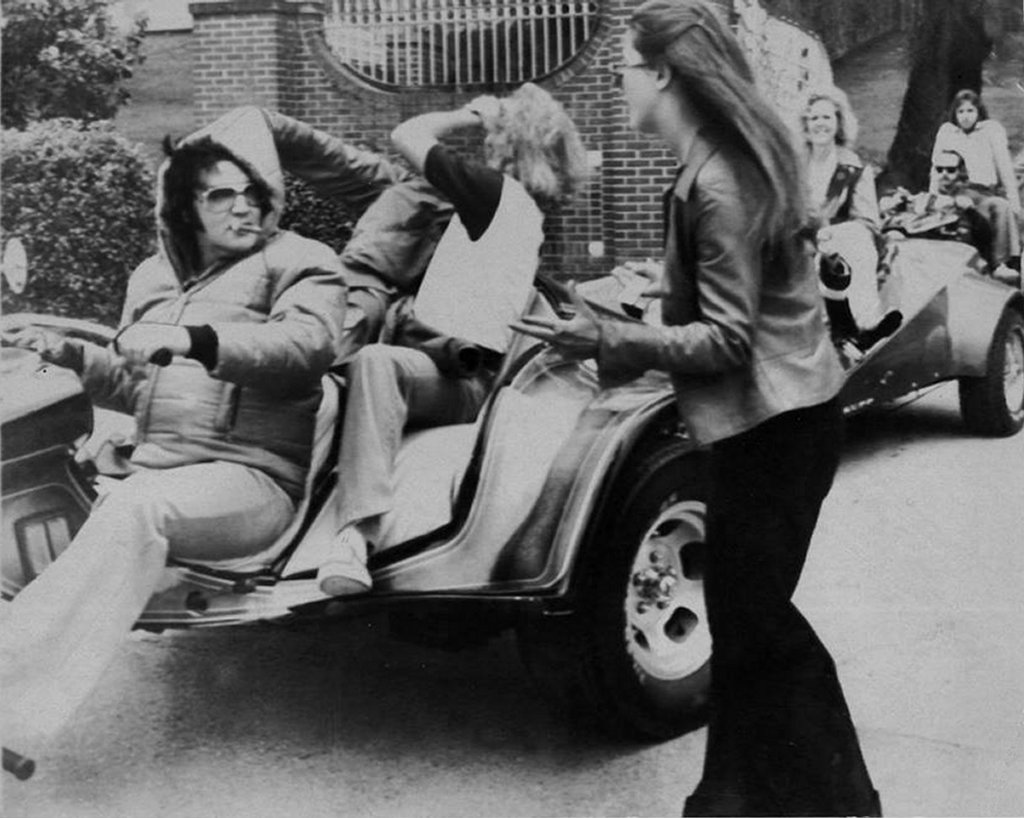 NEW TRIP FOR ELVIS - Jeanette Brazda of France (right) finally gets a glimpse of her idol, Elvis Presley, as the entertainer wheels out of his Graceland Mansion in Memphis, Tenn., on his newest mechanical toy, a three-wheeled Volkswagen-powered cycle. He had been in seclusion for several weeks after being hospitalized for exhaustion, which forced him to cut short a Las Vegas engagement. - Sept. 1975
Commercial Appeal caption, AP Photo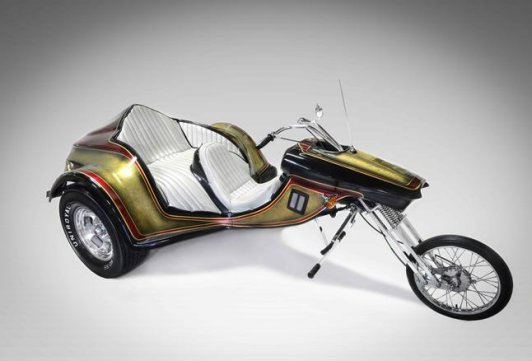 Elvis' Super Cycle built Stallion VW Trike and the ad for the kit from Trikes By Stires
Photo courtesy Visor Down, Ad courtesy ZZ Chop
Within days (or weeks, according to differing sources) of buying his Stinger VW trike from Super Cycle in Memphis Elvis returned and bought another trike. This one was a new Stallion model, a two passenger version also built by them in 1975 from a kit offered by the Garden Grove, CA based company Trikes By Stires.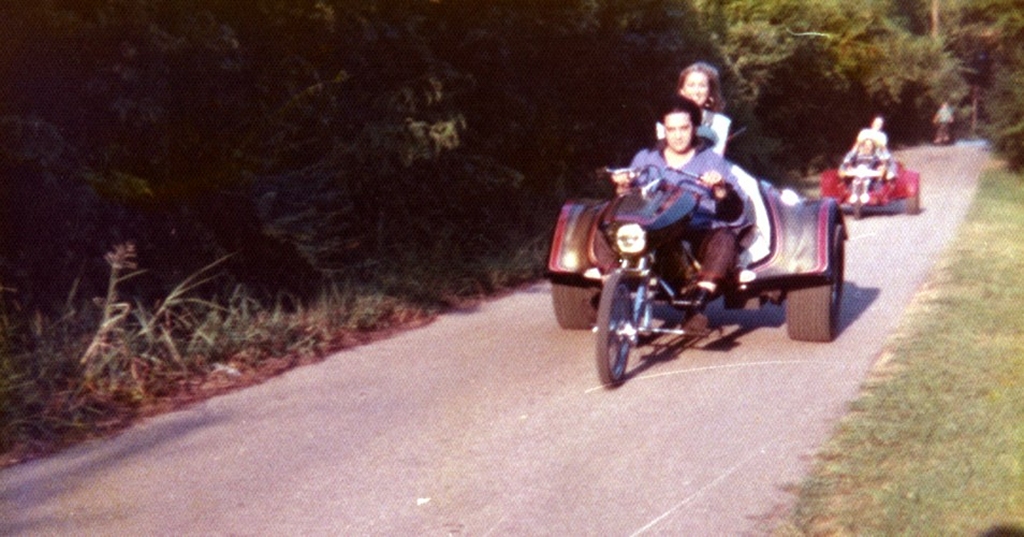 Elvis and Linda Thompson on the Stallion VW Trike followed by Billy Smith on the Rupp Centaur - ca. 1975
Photo courtesy web


Elvis and Linda arriving at Graceland in his Stallion VW Trike, closely followed by the Rupp Centaur - ca. 1975
Photos courtesy web and Paul's Elvis Candid Central
This is the one Elvis has been pictured driving around most, at times with girlfriend Linda Thompson, cousin Billy Smith, one of the Stanley step-brothers, and even Lisa-Marie and Ginger Alden. Like the Stinger, it too was offered by several manufacturers in the early and mid-seventies and one of two models at the time available from Super Cycle. It features a 65bhp, 1600cc Volkswagen air cooled engine.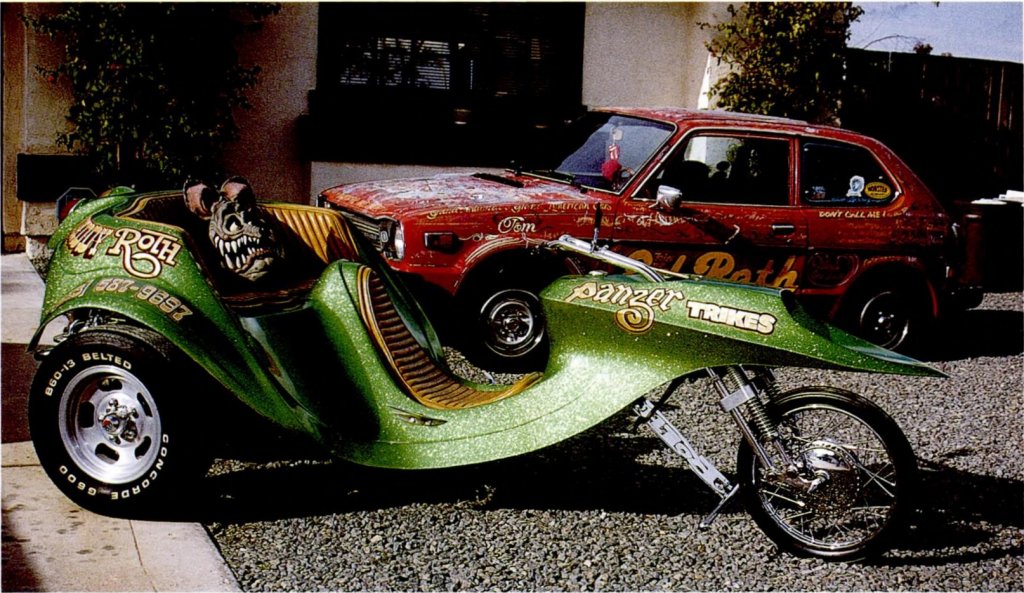 Ed "Big Daddy" Roth's 1969 Panzer VW Trike, the inspiration for the the Stallion model offered by Stires and others
Photo © courtesy "Hot Rods by Ed "Big Daddy" Roth by Ed Roth, Tony Thacker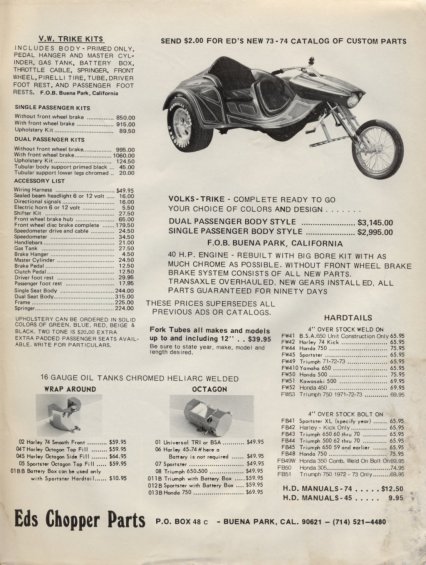 "New from Stires for 1974", the Stinger and Stallion models with optional windshield and a competitor/retailer ad for a Stallion style VW Trike
Ad photos from Choppers Magazine May 74
This model seems to be based on designs and trikes built by Ed "Big Daddy" Roth, a legend in the world of hot rodding, and one of the founders of Kustom Kulture,1 specifically his 1969 Panzer Trike. He is best known for his incredible work creating one-of-a-kind hot rods, and for the creation of Rat Fink, that little green rat that epitomizes the world of rodding.1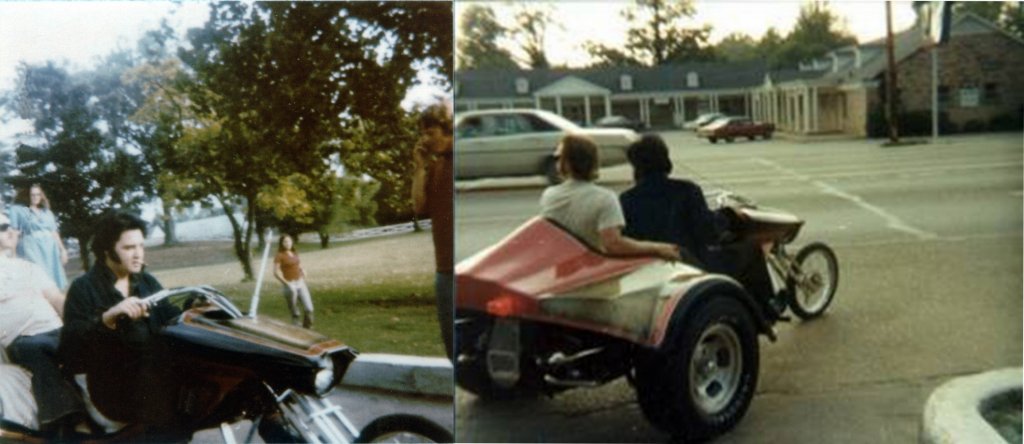 Billy Smith and Elvis on the Stallion VW Trike - ca. 1975
Photos courtesy ebay and Paul's Elvis Candid Central


Billy Smith and Elvis on the Stallion VW Trike - ca. 1975 and one of the Stanley Brothers ca. 1976/77
Photos courtesy Just a Car Guy and Paul's Elvis Candid Central
According to Mike Freeman, Ron wanted to personalize Elvis' Stallion by putting a crown or his name on the front. Elvis wasn't particularly interested, but Ron went ahead and painted "TCB" on the front, putting a lot of effort into the design. The next time Ron saw the bike, he was disappointed that Elvis had put a radio antenna right in the middle of the artwork. "I guess he didn't need to show off," Ron remarked.2

Elvis, Lisa Marie and Ginger Alden on the Strallion VW Trike - April 8, 1977
Photo courtesy Paul's Elvis Candid Central
The Stallion evolved and was available with several options, including windshields luggage racks and even tour packs. By the early eighties Clyde Stires offered five models before selling the operation to Arizona Trikes Inc. in Phoenix. He had employed his brother Gary as a builder until 1976. Clyde went on to start Stires Chemco, Inc. in 1982. Super Cycle continued obtaining kits from Arizona who Ron believes to be still in business and said now only offer one of the models that Elvis built, that being a variation of the Stallion.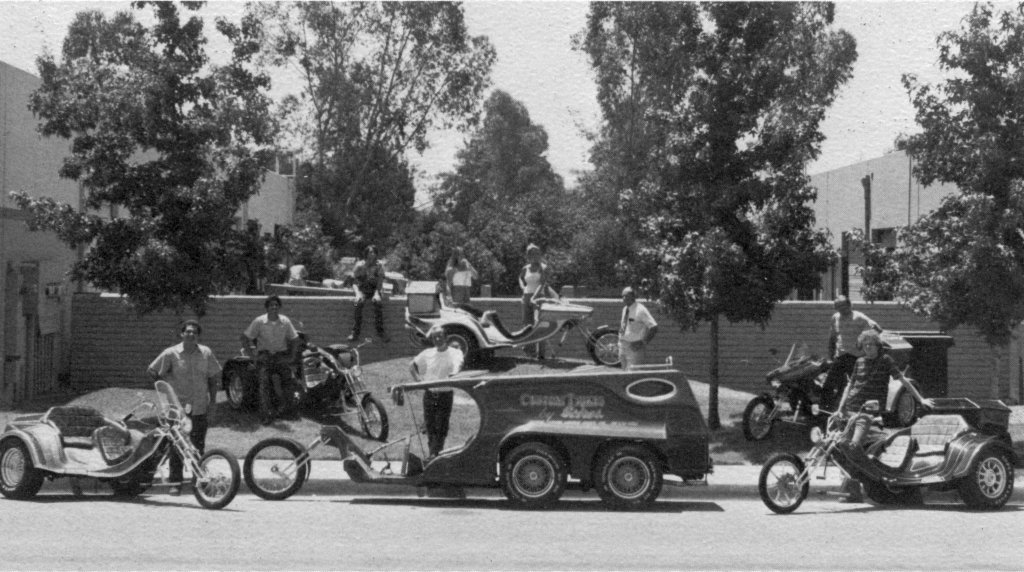 Trikes By Stires catalog photos from the Seventies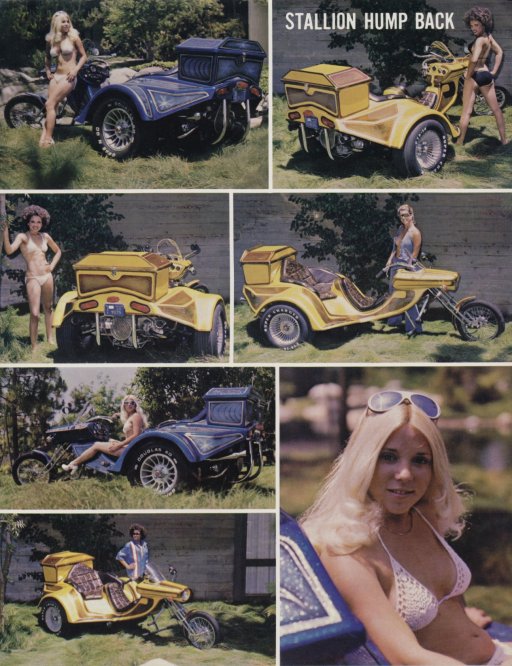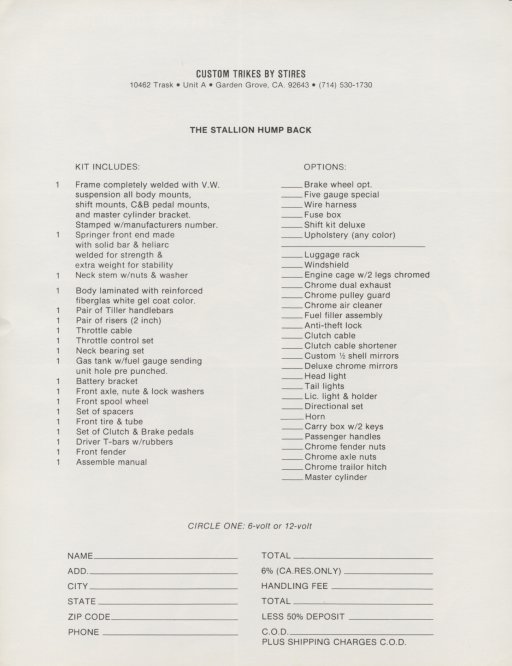 Trikes By Stires flyer for the "Stallion" (Hump Back) model from the Seventies
Around 1981 or 1982 EPE had the Ron and Lew Elliott at Super Cycle restore the trikes, motorcycles and other various vehicles at Graceland for something called "Wheels on Tour." It was essentially a short lived museum on tour of Elvis' vehicles which preceded the Auto Museum. They didn't work on the cars, and Ron said the 1976 FLH that is part of the collection now wasn't there then.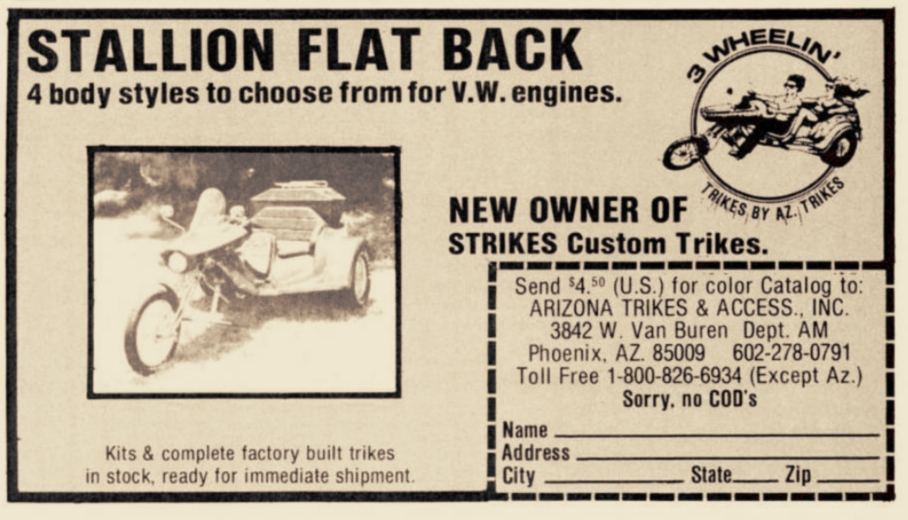 Arizona Trikes advertising as new owner of Stires Custom Trikes
courtesy American Motorcyclist Jan 1986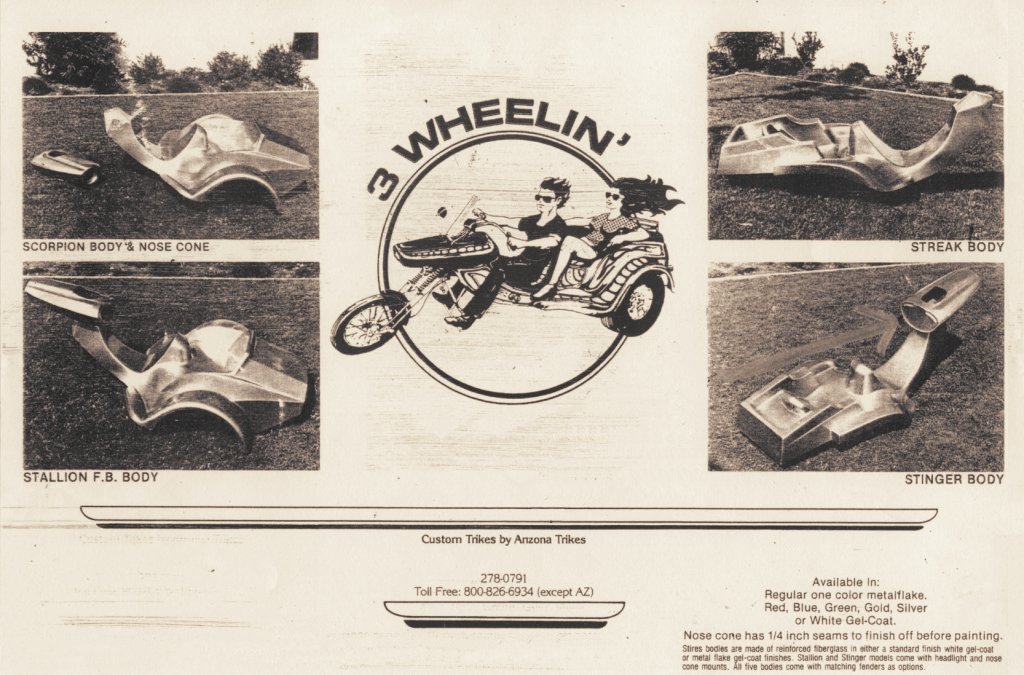 An older Arizona Trikes catalog depicting the kit bodies like those used by Super Cycle for Elvis' VW Trikes, though the Stingers they built had rounded dash boards, not flat as pictured
Catalog scan courtesy Ron Elliott
Around 1983 they assembled a 1957 Harley-Davidson Hydra-Glide like Elvis' for a client for $7500 who then sold it to EPE. The motorcycle was on display at their Heartbreak Hotel for years and is currently featured in the exhibit at the Westgate Hotel in Las Vegas.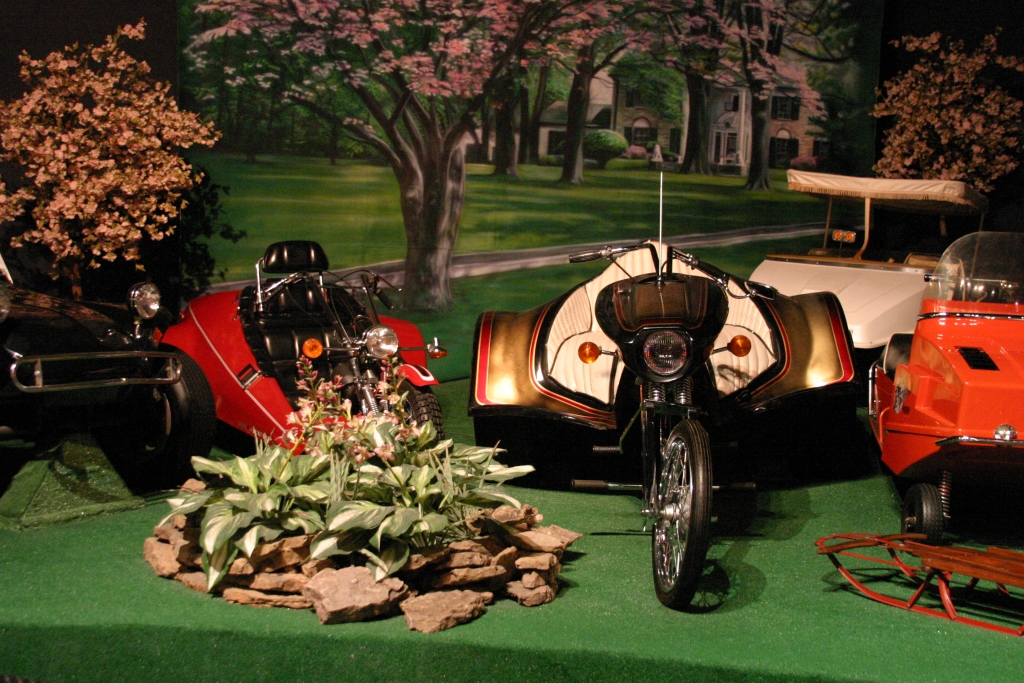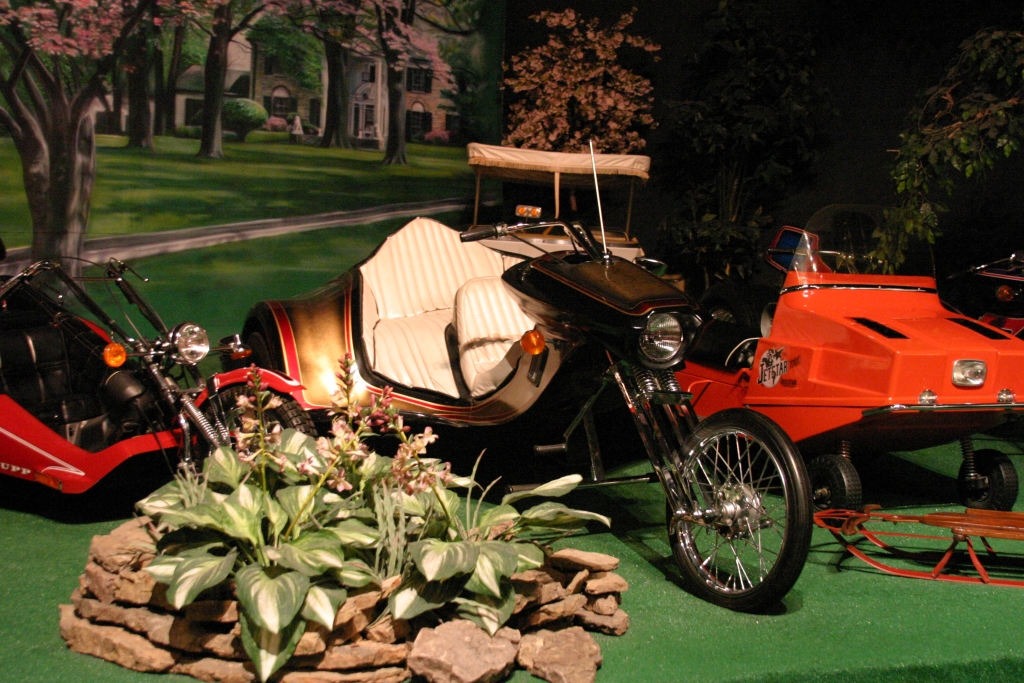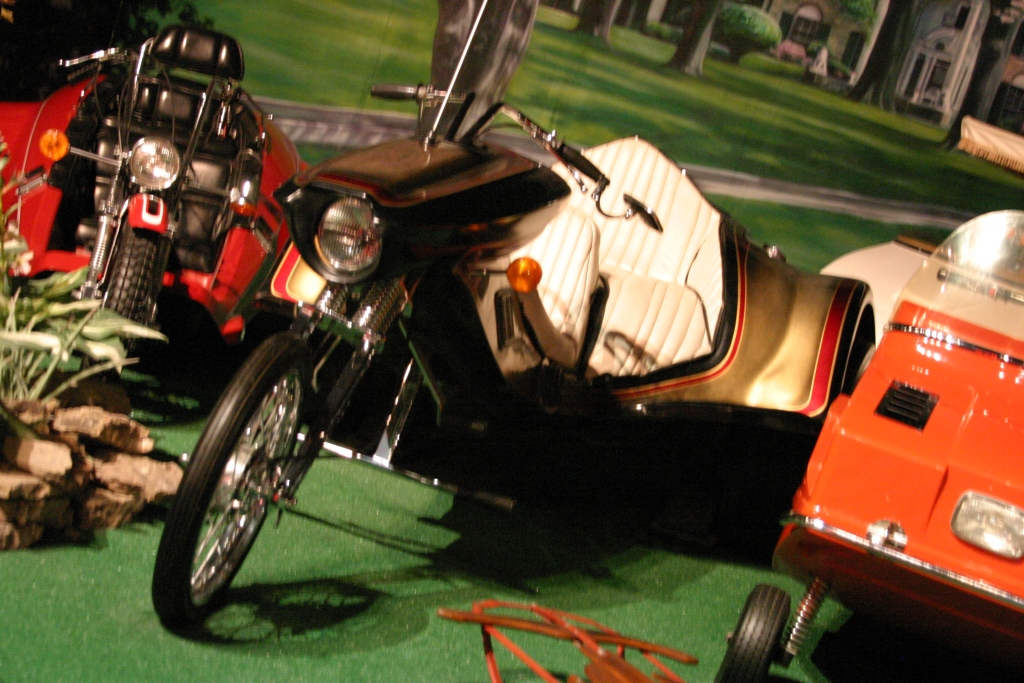 Elvis' 1975 Super Cycle VW Trike (Stallion model from Trikes By Stires) on display in the Auto museum at Graceland - Dec. 9, 2011
Photos © James V. Roy
Of Elvis, Ron said. "He was a perfect gentleman. He called me and my brother Mr. Elliott. He was never presumptuous at all. He was always so appreciative of everything we did."2 Elvis' 1975 Stallion had been on display at the Auto Museum in Memphis for years but as of 2013 at least had been on loan and display at the Rock and Roll Hall of Fame in Cleveland.

Elvis' Super Cycle Stallion VW Trike on display at the Rock and Roll HOF in Cleveland, OH
Photo © Rock and Roll Hall of Fame and Museum courtesy USA Today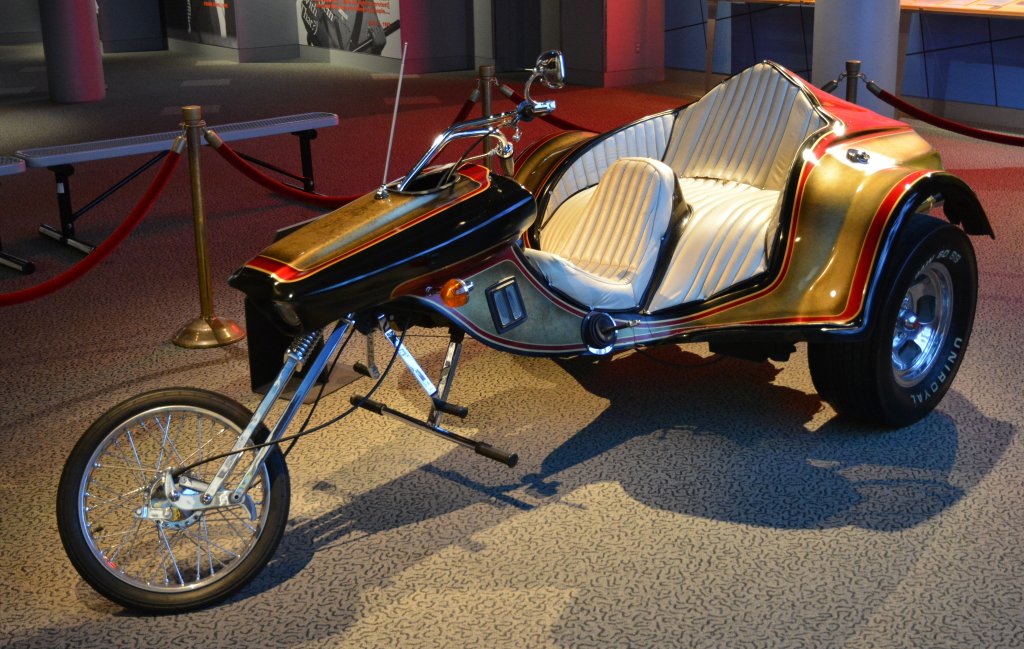 Elvis' Super Cycle Stallion VW Trike on display at the Rock and Roll HOF in Cleveland, OH - Sept 6, 2014
Photo © Peter Miller
Special thanks to Ron Elliott at Super Cycle for his input and assistance with this page. Much of the history of Trikes By Stires presented here was obtained directly from advertising and promotional materials of the day.
page added October 5, 2015
1 according to or excerpt from Ed Roth's Rat Fink
2 according to or excerpt from Memphis: Elvis style by Mike Freeman and Cindy Hazen