1952 Fender Deluxe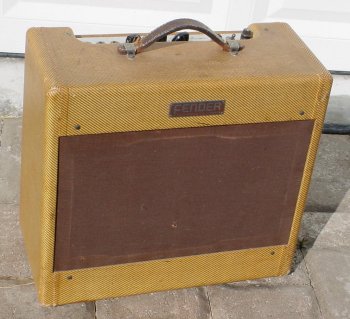 1952 Deluxe like Scotty's
photo© courtesy Craig Brody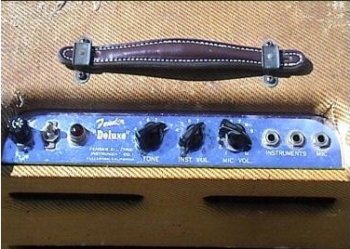 1952 Fender Deluxe control panel
photo found online
Scotty bought one of these, serial #0958 in 1952 along with a Fender Telecaster guitar and used it initially with the Starlite Wranglers, with Elvis on tour and on the early Sun recordings. He traded it in towards the Ray Butts built EchoSonic to O.K. Houck Piano Co. in Memphis on May 24, 1955 receiving $65.00 in credit.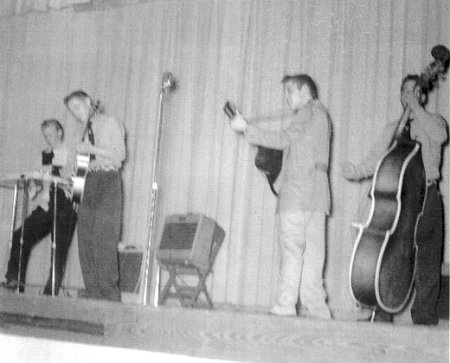 Jimmy Day, Scotty (with Deluxe), Elvis and Bill Black in Dekalb, TX March 4, 1955
photo© courtesy Willie Cox
The wide panel 5C3 Fender Deluxe amplifier was manufactured from 1952 to 1955. It measured 16¼" x 18" x 7½" (41.3 x 45.7 x 19.1 cm) and weighed 26 lbs. It featured a single 12" Jensen P12R speaker, a 6SC7 preamp, a 6SC7 phase inverter, 2 6V6 power tubes, a 5Y3GT rectifier and produced 10-14 output watts.
originally added 2002

I initially reported and listed Scotty's first amp as a TV front Fender Deluxe, which was believed to be inaccurate. It was then believed to be a Fender Champ which also was incorrect. The sales contract for Scotty's EchoSonic reveals that he traded a Fender Deluxe #0958 in on May 24. 1955. Scotty only remembers that it was a small Fender of the wide panel type. The serial number suggests it to be a wide panel design, which resembles the Champ, but the The Fender Amp field guide reports those as made in 1953. Given that I'll assume the guide is not definitive and at present believe it to be a 52 Wide Panel Deluxe. I wish to apologize for the misinformation and confusion.
James V. Roy
November 18, 2003
We recently noticed a picture of Scotty with a Deluxe published in the book "Elvis in Texas" and Scotty identified that amp as his. This should resolve the issue of Champ v. Deluxe though the serial number still suggests a possible mfg. in 1953. Further, an article published in 20th Century guitar magazine listed the ranges for serial numbers of this model that define it as a 5C3 design.
February 13, 2005