Western Union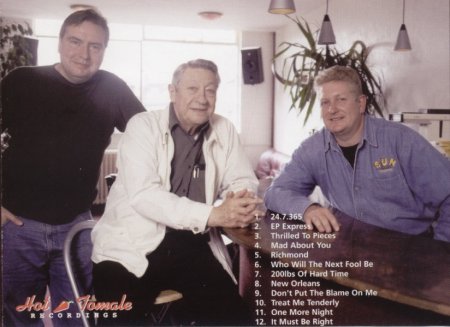 Liam Grundy, Scotty Moore and Pete Pritchard
Photo© George Bodnar
Western Union explores the roots of Rock and Roll, Country Music and Blues. Liam Grundy, Pete Pritchard and Scotty Moore have produced an album based on the music that shook the world.
Scotty Moore is the touchstone and inspiration for this project. Scotty was with Elvis at his first recording session at Sun Records in 1954 and continued as his guitarist for the next fourteen years.
Grundy and Pritchard's album takes us forward to the next phase of Rock'n'Roll roots music, proving its relevance to todays audience.
Produced by
Liam Grundy and Pete Pritchard.
Engineered by
Mick Wigfall, Scotty Moore, Richie Sadler and Steve Parr.
Musicians:
Liam Grundy-Vocals,backing vocals, Guitars and Keyboards.
Pete Pritchard, Double Bass, Bass Guitar, Acoustic Guitar and Backing Vocals.
Scotty Moore-Electric Guitar.
Kevin Woods-Electric Guitar,Acoustic Guitar.
Melvin Duffy-Pedal Steel.
Jim Russell-Drums
Kim Bretton- Vocals, Backing Vocals.
Recorded at:
Sweet Georgia Browns. London.UK
Scotty Moore Studios. Nashville, TN, USA
Chertsey Sound Recordings
Hear No Evil.London,UK
Mastered at:
Soundmastering Ltd, London,UK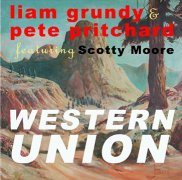 click to sample and order